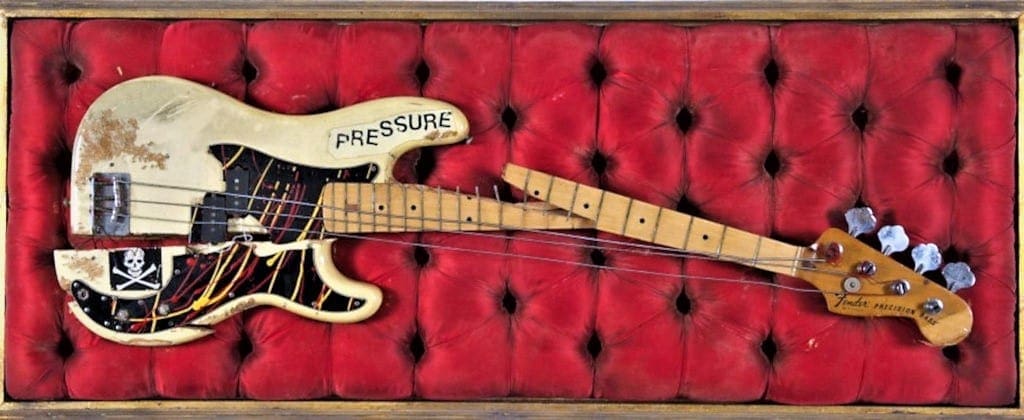 The Clash: London Calling at the Museum of London
Robert Spellman
Posted on 22nd Nov 2019
Forty years this December The Clash released London Calling, UK punk's greatest – or second greatest long player (depending on your poison) – and an LP as famous for its sleeve as its music.
The black and white cover shot, taken by NME photographer Pennie Smith in September 1979, of a buckle-kneed Paul Simonon about to destroy his bass guitar on a New York stage floor is one of rock's eternal images and it's at the heart of The Clash: London Calling at the Museum of London. This free exhibition, centred around the band at the time of the album, features more than 150 items from their personal archive including handwritten notes, clothing, rare film, photos and some superb tat – much of it never before displayed.
Fans can drool at Mick Jones' handwritten notes for the final song sequencing on the album and in one of Joe Strummer's notebooks we learn that the original title for the track London Calling was Ice Age. In another case sits Strummer's typewriter, ancient and skeletal.
We get to see Paul Simonon's studded leather jacket and Joe Strummer's white brothel creepers. There are Topper Headon's drumsticks and the 1950s Fender Esquire guitar used by Strummer on the album. Best of all, lying on red velvet as if exhumed from a coffin, is Simonon's Fender bass itself, split in two and completely wrecked.
---
While at the Museum of London, why not take in the exhibition of Samuel Pepys Silver Plate.
---
Also exhibited are previously unseen Pennie Smith shots from Take The 5th, the band's first tour of North America and preliminary and final drafts of the sleeve's artwork by illustrator Ray Lowry.
Robert Gordon McHarg III, Clash archivist and co-curator of the exhibition says: "Nineteen seventy-nine was a pivotal year for The Clash and the release of London Calling was a defining moment for them, London and music history. The exhibition will allow visitors to understand and explore how this came to be through many unseen personal objects and accounts. All coming together like puzzle pieces to tell the fascinating story of a ground-breaking album."
---
The Clash: London Calling at the Museum of London
22 November to 19 April, 2020.
Review By Robert Spellman.