Think Outside the Box on a California Wine Trip
Matthew Ogborn
Posted on 26th Nov 2019
Matthew Ogborn takes a trip to SLO CAL to take a sideways glance at all the great California wine on offer in the region.
When my wife and I were planning a trip to the States this past summer, we wanted to blend in wine tasting alongside the more traditional family activities with our children. Having interviewed Sideways author Rex Pickett many years ago, I was keen to follow his Santa Ynez Valley recommendation but we kept that on the back burner for a later trip and decided to give the Paso Robles and Edna Valley areas a whirl instead.
One of the great attributes of the San Luis Obispo County region or SLO CAL, where these two burgeoning wine areas are spread, is the short driving distances between everything which meant that we could weave in winery and tasting room visits easily into our days.
SLO CAL California Wine Trip
Another is the fascinating change in weather that you experience driving inland, chilly coastal mornings and heavy, entrancing hill fog burning off into glorious, sunny afternoons free of cloud perfect for the types of wine making a name for themselves around those parts.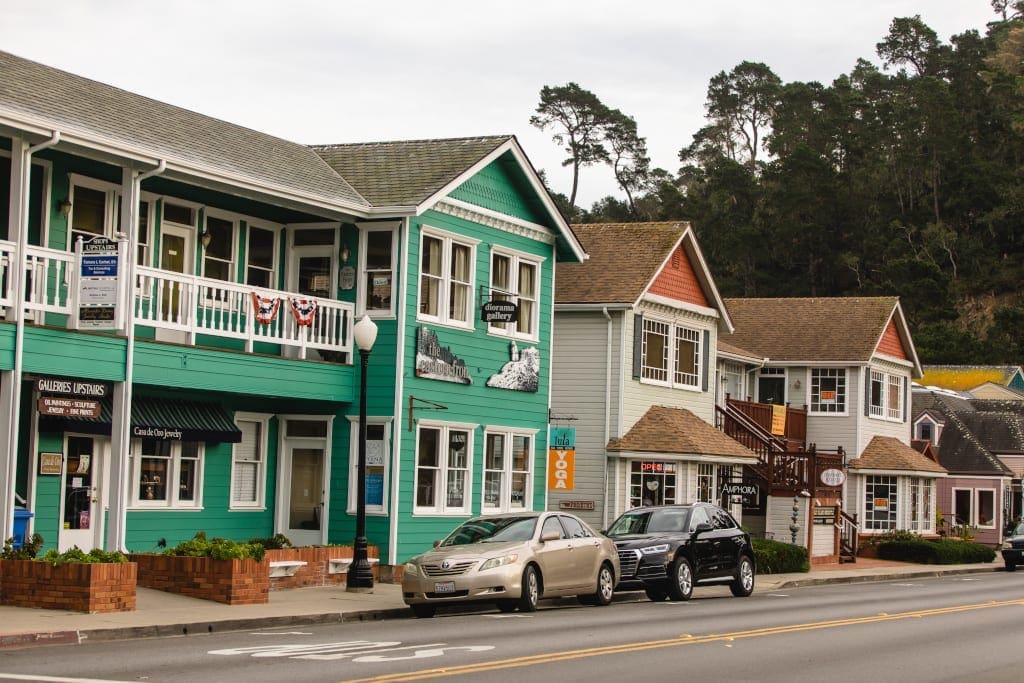 We chose the village of Cambria for our SLO CAL jaunt base and it ended up being the perfect way to ease ourselves into the region's wine scene. Chock full of eclectic tasting rooms, we were able to sample classy fare such as Black Hand Cellars straight out the gate with its Tempranillo heavy Raketir providing a smooth introduction.
Cayucos Cellars was our next stop on the Cambria scene with winemaker Stuart Selkirk's laid-back approach to viniculture drawing in the Friday early evening crowd. Stuart, wife Laura, sons Clay and Ross, and daughter Paige use neutral oak barrels and little intercession with the grapes grown in small Paso Robles and Templeton vineyards. We enjoyed an eclectic flight of wines with the 2013 Grenache and 2014 Petite Syrah popping out.
Edna Valley California Wine Region
We grabbed a coffee first thing in Cambria on Saturday morning where I bumped into a retired guy from Nottingham, who decided to head over the Atlantic for a bike trip down the west coast from Vancouver to San Diego. Twenty years my senior, his zest for life and embrace of the Californian culture in particular whetted our own appetite for more adventure which continued with a trip down to the Edna Valley.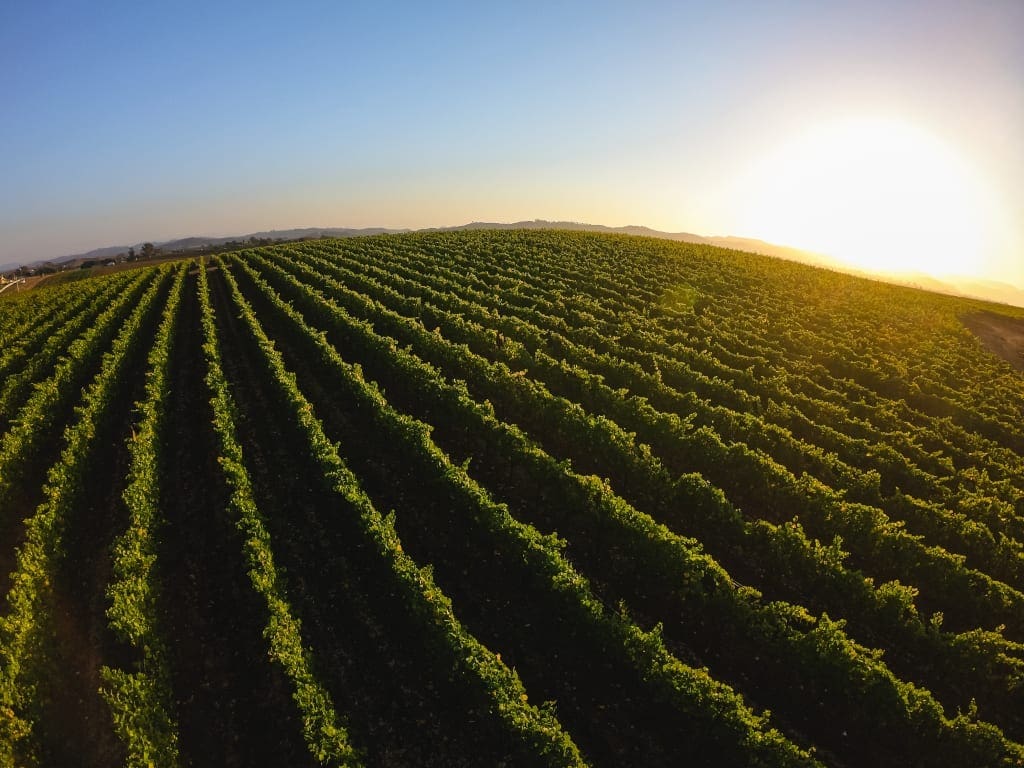 We were lucky enough to get a steer towards high-end wineries Tolosa and Biddle Ranch, who were within walking distance of each other just south of San Luis Obispo. The former produces Pinot Noirs and Chardonnays that arrive through a combination of the cold Pacific wind that sweeps down the coast and funnels into the valley along with the diverse soil types.
Head sommelier Justin Young was a genial estate host who – despite a busy lunchtime crowd – took the time to show me around the stylish winery that owner Robin Baggett brought to fruition. The Tolosa 1772 series was a revelation, the Pinot Noir a great match for the pleasant mid-summer temperature outside while the Chardonnay was also a cut above.
General manager Leigh Woolpert welcomed me to Biddle Ranch's buzzy tasting room with winemaker Ryan Deovlet fast getting a name for his small production Sparkling Chardonnay standing out from the flights on offer. A time crunch sadly meant we couldn't get over to Saucelito Canyon, another highly regarded tasting room specialising in old-vine Zinfandel.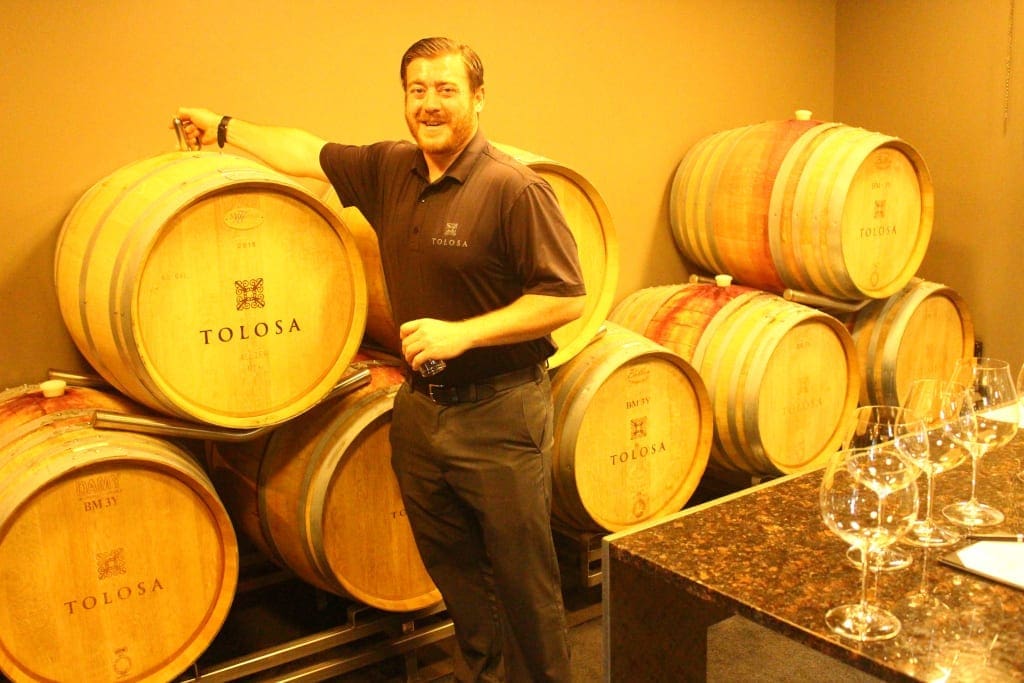 An early evening shopping trip back into Cambria resulted in an impromptu visit to Fermentations, where the lively hosts Cherie and Susan whisked me around a selection of the best Californian wines. Backed by infectious hosting and laughter, I got the chance to taste a vibrant Emmolo Sauvignon Blanc from the Napa Valley along with an Austin Hope Winery Cabernet Sauvignon and J Dusi Zinfandel Port – both from Paso Robles.
Paso Robles California Wine Region
We headed east on Sunday for a trip into the Paso Robles wine region, which is a federally designated American Viticultural Area (AVA) over 614,000 acres with 11 sub-AVAs comprising of 250+ wineries producing more than 60 varieties and countless blends. My wife and I were especially keen to taste the red Zinfandel as we wanted to see if it differed from the mass-produced white Zinfandel that often leaves us underwhelmed back home.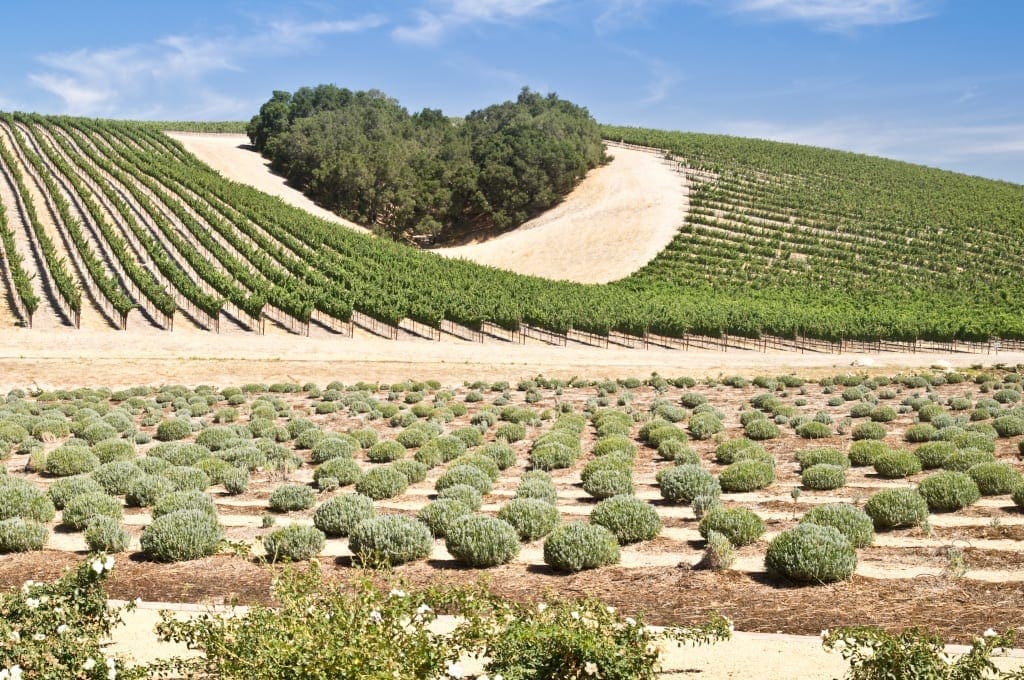 With the Vintage Paso and Harvest Wine Weekend part of the autumn event schedule, we could see why the wine scene has boomed from our own summer experience. Slap bang in picturesque countryside, we followed up a fun trip to Atascadero with a drive down to Tin City that should appeal to any food or drink connoisseur worth their salt.
Levo tasting room was our portal into the vibrant world of Paso Robles winemaking with hosts Lindsey and Rena keen for me to try their signature Petite Syrah. It is a variety we rarely drink, however I was pleasantly surprised by the velvety nature of their standout wine.
---
If Matthew's tales of California wine has given you a thirst, then read Mark Bibby Jackson's adventure Fine Tuning in Tri-Valley California.
---
They were also kind enough to recommend more tasting rooms with Jacob Toft offering an intriguing flight of 2017 Angela's Cuvée and Diana's Chardonnay en route to Brian Benson Cellars where our Zinfandel hunt delivered handsomely. Brian's arresting art lined the walls behind our host Megan, who successfully converted us into purchasing the 2014 Zinfandel – sourced from Arbor Creek Vineyard – complete with one of Brian's yellow label paintings.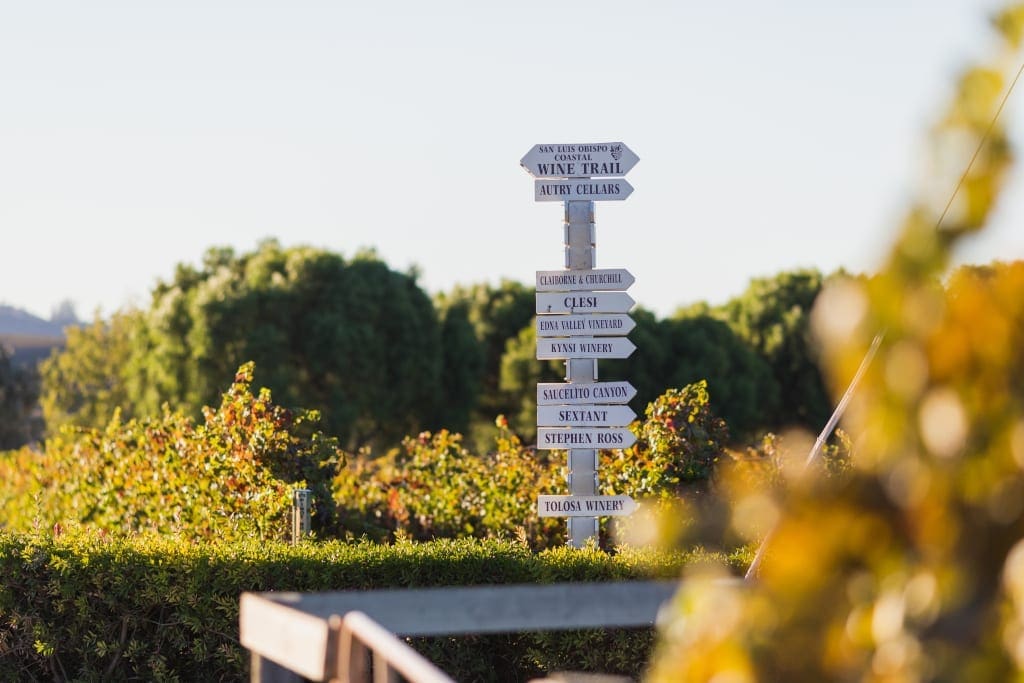 Keen to get out more, we headed north to explore the rolling hills which is where we happened upon Lone Madrone and a little slice of home. British winemaker Neil Collins skipped across the pond in the early 1990s to give it a go and he has managed to create an idyllic spot to sample his wines perched on a hill. My wife and I took turns to sample the delightful 2017 Grenache Blanche hinting at fennel and pear as well as their silky 2017 Chenin Blanc fuelled by an engaging chat with Neil's fellow Brit émigré behind the bar.
Even though our final day was geared more towards the family end of the scale, we did take a charming detour to Timbre Winery tasting room in Arroyo Grande where Bethany treated me to a subtle Pinot Noir and crisp Chardonnay from their terroir-driven winery.
---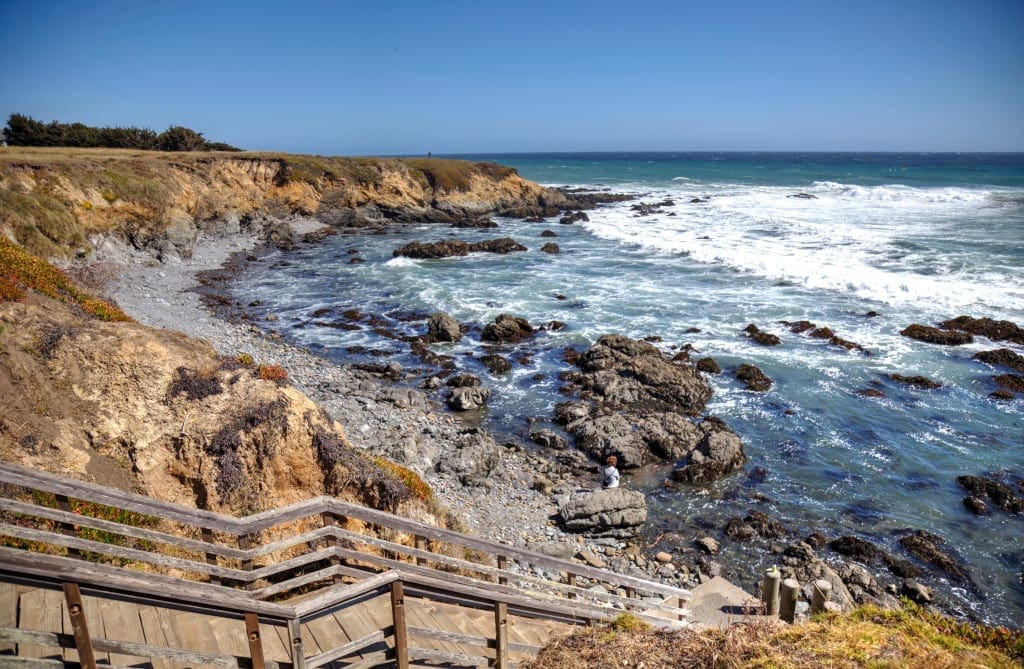 Flights to California
There is San Francisco airport to the north and LAX airport to the south, with San Jose and Oakland airports within reach as well, while Paso Robles has an Amtrak station located at 800 Pine St if you prefer to take the train instead of renting a car out of the various airport outlets.
---
More information on SLO CAL
For more information on things to do in SLO CAL, click here. Unless stated photos from Visit SLO CAL.
Matthew Ogborn
Matthew Ogborn is a freelance photojournalist, author and screenwriter with over 20 years experience producing articles and photographs for several respected worldwide companies and publications. He is currently a lead sport/culture journalist for Red Bull globally and has written travel articles for the likes of ABTA, ITV and World Travel Guide down the years as well as submitting photographs for Rex Features. He has a big passion for covering France, Italy and the USA with an emphasis on culture, food, sport and wine.