Bangkok Attractions – A Nostalgic Journey
Johan Smits
Posted on 13th Dec 2019
In the second of this two-part series featuring his favourite Bangkok attractions, Johan Smits leads us off the tourist trail to five nostalgic gems.
Bangkok Attractions: Scala Cinema
Remember the times when a trip to the cinema was a rare and special event? The Scala Cinema in Siam Square still offers you that feeling of nostalgia. Nothing much has changed in here since it was built in 1967 – the letters of the film names are still put up individually by hand on the old-fashioned display outside, the $4 ticket prices are amongst the cheapest in Thailand and its glorious retro architecture puts any of the modern mega screens to shame.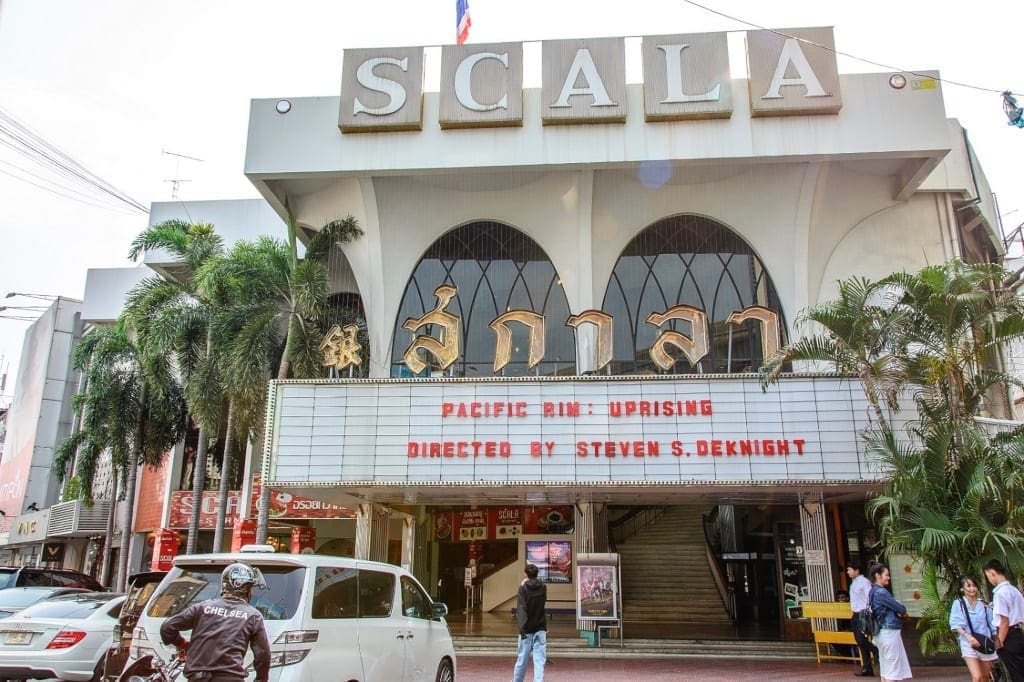 A majestic double staircase, a vaulted ceiling with an enormous art deco chandelier and bronze lights, and wooden ticket stands – stepping into the Scala Cinema is entering a bygone era. Dressed meticulously in black trousers, yellow blazer and black bowtie, the Thai uncle who checked my flimsy paper ticket with my seat number scribbled on it by hand, seemed as if he himself had been transposed from the golden sixties. The Scala screens a mix of blockbusters, indie and old movies – Singing in the Rain was on when I visited – and is possibly one of the last standing retro movie houses in Thailand. What's best, it's surviving smack in the centre of commercial Bangkok.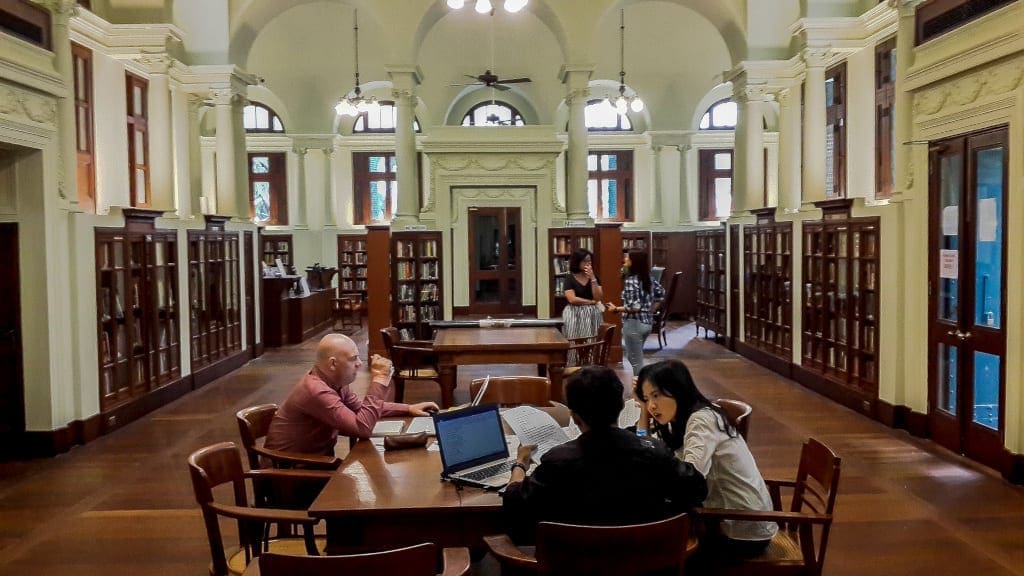 Bangkok Attractions: Neilson Hays Library
Another institution with its existence threatened is the one dedicated to literature. When was the last time you borrowed a book from a library? The Neilson Hays Library might entice you back into the habit. This 1921 building is a gem of classic Beaux Arts style architecture and houses one of the largest collections of English language books in Thailand, including some hard to find volumes on Southeast Asia.
Popular with Bangkok's expat community, the stunning library is open to the public and also hosts a café and two art galleries, one of which is set in the domed former entrance with its beautiful, polished teak floor. Designed by Italian architect Mario Tamagno, the library is a memorial to Jennie Neilson Hays who was a co-founder of the 1869 Bangkok Ladies Library Association. When she unexpectedly died, her grieving husband commissioned this small, literary Taj Mahal in her honour. Described by The Bangkok Post in 1922 as "a grand palace on a small scale", the majestic building incorporates ingenious features such as double walls for air ventilation to keep the bookcases dry in Thailand's tropical climate. If anything, the library and its garden are an elegant escape from Bangkok's buzzing madness.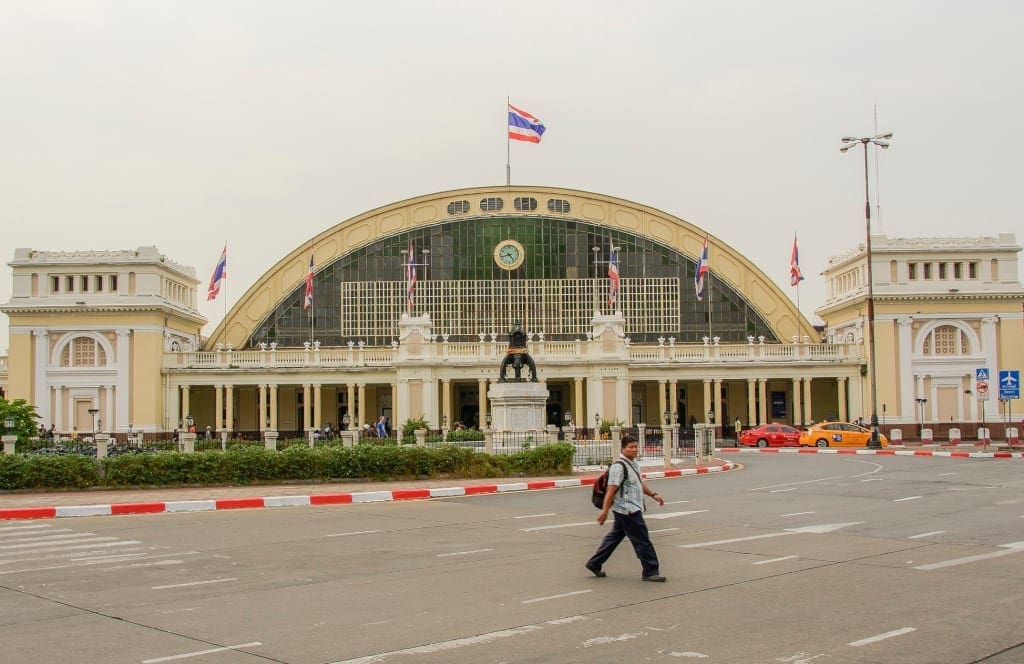 Bangkok Attractions: Hua Lamphong
The library is not the only masterpiece Tamagno left his mark with on Bangkok. Bangkok's railway station, called Hua Lamphong, is another one. This Italian neo-renaissance style building features a half-dome structure flanked by two towers, reminiscent of the grandeur of the World Fair pavilions at the turn of the 19th century. The 1916 station with its stained glass windows and mosaic marble floor exemplifies several of the reasons why I love train travel – it's elegant, effortlessly atmospheric, and – unlike in airports – travellers are relaxed and unhurried.
---
---
This is where I board when travelling to Chiang Mai in the north of Thailand, either on an overnight sleeper train or slowly chugging along during the day watching the landscape pass by. Perhaps it's no coincidence that Hua Lamphong serves as the end station for the historic, luxury Eastern and Oriental Express running between Singapore and Bangkok. But if you want to board in style, do it soon for there are plans to turn Hua Lamphong into a museum in 2021as the mainline station will move to Bang Su.
Bangkok Attractions: The Nightingale-Olympic
West of Hua Lamphong, in Bangkok's Chinatown, is the next of our Bangkok attractions. It's one that mocks sense and time, and is a true ode to Nostalgia – which is why it's so loveable. The Nightingale-Olympic is Bangkok's oldest department store and has been happily stuck inside a timewarp since it opened in 1930.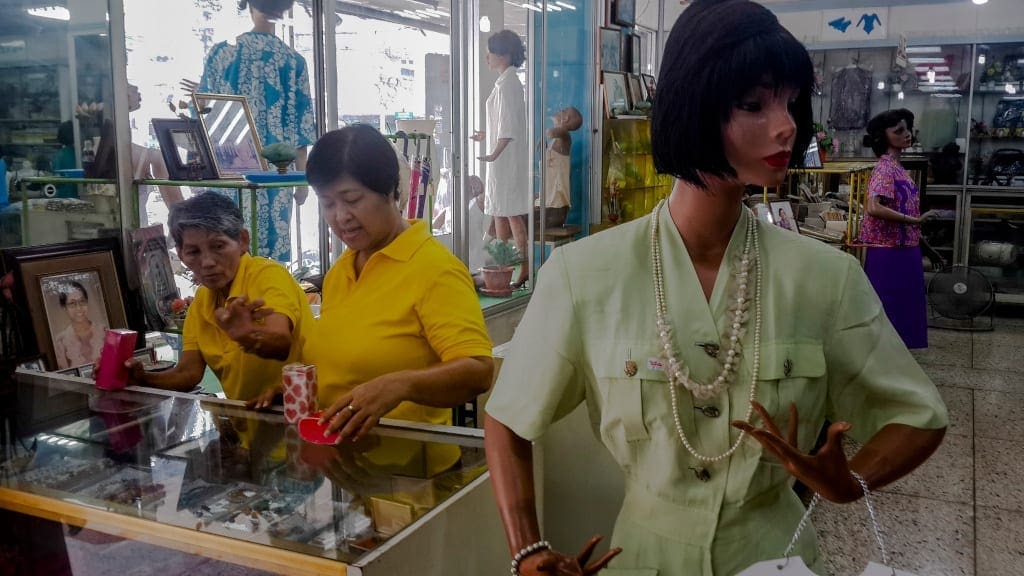 Still for sale here are wooden Wilson tennis rackets, vintage Monopoly board games, 1960s hairnets, perfume bottles by the legendary Elsa Schiaparelli fashion icon, 1950s lingerie Marilyn Monroe might have adorned, Bjorn Borg style tennis shorts, and more – most of it in the original packaging. Judging from the age of the staff – immaculately dressed in canary-yellow polo shirts – employee turnover has been low, while the dusty, cracked mannequins look post-apocalyptic.
When in 1966 the store moved to its current seven-floor building with its Brutalist façade, it must have been very avant-garde. Now it stands as a wonderful refusal to acknowledge the outside world. Aroon Nyomvanich, the 96-year-old lady owner whose fascinating story can be read in a recent BBC article, is her family's last surviving sibling. Uncertainty reigns over who might take over the business, so if you need to stock up on some decades-old hosiery for Granddad, don't postpone.
---
Tip 1
While you're there, taste some of Chinatown's best dim sum at nearby Hua Seng Hong restaurant, 371-373 Yaowarat Rd.
---
Bangkok Attractions: Sol Heng Tai Mansion
Being one of the capital's most authentic neighbourhoods, we stay in Chinatown to visit the stunning Sol Heng Tai mansion. At over 200 years old, the four houses surrounding a large courtyard are an example of Hokkien architecture called si tiam kim or "four golden points" – and among the last pre-Bangkok Chinese houses still standing.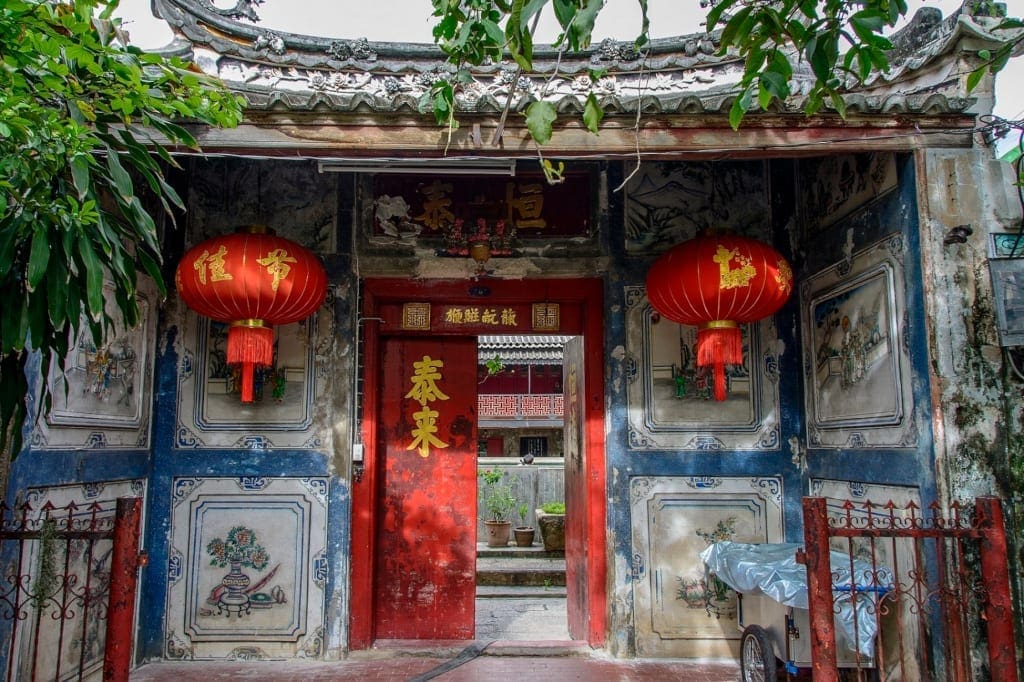 This two-storey mansion is made of carved teak pillars and external brick walls decorated with Chinese porcelain ornaments. But what is most remarkable about this national treasure is that it's not a museum but a functioning family home. The first recorded owner lived during the reign of King Rama II and the current one, 74-year-old Duangtawan Posayachinda, is seventh generation. Her oldest son, Khun Poosak, is a NAUI-certified scuba diving instructor and has constructed a four-metre deep practice pool in the middle of the courtyard. His diving courses help to pay for the enormous upkeep.
"We don't receive state support to maintain the house," he told me somewhat bitterly. "This is a work of love and soul."
There's no entrance fee but you're expected to buy a cup of coffee, and believe me, this historic mansion is a million times more interesting than any Starbucks while Khun Poosak's coffee is as good as any.
---
Tip 2
While you're there, visit the nearby 1787 Holy Rosary, Thailand's third oldest Catholic church, and the adjacent 1804 Hokkien-style Cho Su Kong Shrine.
---
Addresses: 
Scala Cinema
Siam Square Soi 1. Minutes from BTS station Siam.
Neilson Hays Library
195 Surawang Rd. Closest BTS: Chong Nonsi. Visit the library's website for opening times and directions.
Hua Lamphong
Directions: take the MRT (underground) to Hua Lamphong.
Nightingale-Olympic
70 Triphet Khwang Wang Rd. (just of off Pahurat Rd. in Chinatown).
Sol Heng Tai mansion
282 Duangtawan Soi 2, Talad Noi. Visitors welcome by appointment only: +66(0)802187000. This private mansion is tucked away within narrow, winding alleys and a short walk from the Marine Department Pier which can be reached by Chao Phraya Express Boat. Nearest MRT (underground) is Hua Lamphong. See Google maps  for directions.
---
Bangkok hotels & flights
For a room with a view, the Shama Lakeview Asoke Bangkok hotel, well-located on Sukhumvit Soi 16, comes recommended. Alternatively, if you are looking to book another of the many Bangkok hotels on offer, or a flight to the Thai capital, enter your dates in our flight and hotel comparison engine to search hundreds of sites for the best deals:
---
Bangkok attractions photo gallery: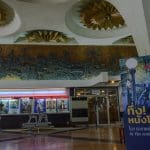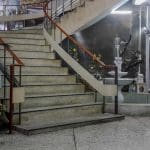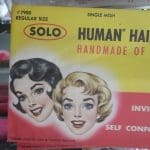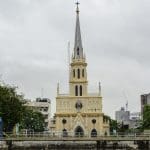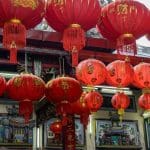 ---
This post was originally written and posted in July 2018 and updated in December 2019.
Johan Smits
Freelance writer, translator, web content developer, author of the novel Phnom Penh Express and Tommy, a short story. Loves trying out local brews, avoids noise. Chronically indecisive about where to lay down his hat. Shortlisted AITO Travel Writer of the Year 2018.