Casa de Campo, Dominican Republic
Mike Pickup
Posted on 16th Dec 2019
Mike Pickup travels to the Casa de Campo in the Dominican Republic in the footsteps of Frank Sinatra, Bill Clinton and Christopher Columbus.
"In fourteen hundred ninety-two Columbus sailed the ocean blue," says the traditional poem. Indeed, it was in December of that year that Christopher Columbus first set foot on what became known as the island of Hispaniola, home to both Haiti and the Dominican Republic. Six years later his son, Bartholomew, founded Santo Domingo, the first city in the Americas and the Dominican Republic's capital.
Many have followed in Christopher Columbus's footsteps and today the country is the most visited in the Caribbean. Tourism is very much at the heart of the economy with a number of major developments such as Casa de Campo contributing to its success.
Casa de Campo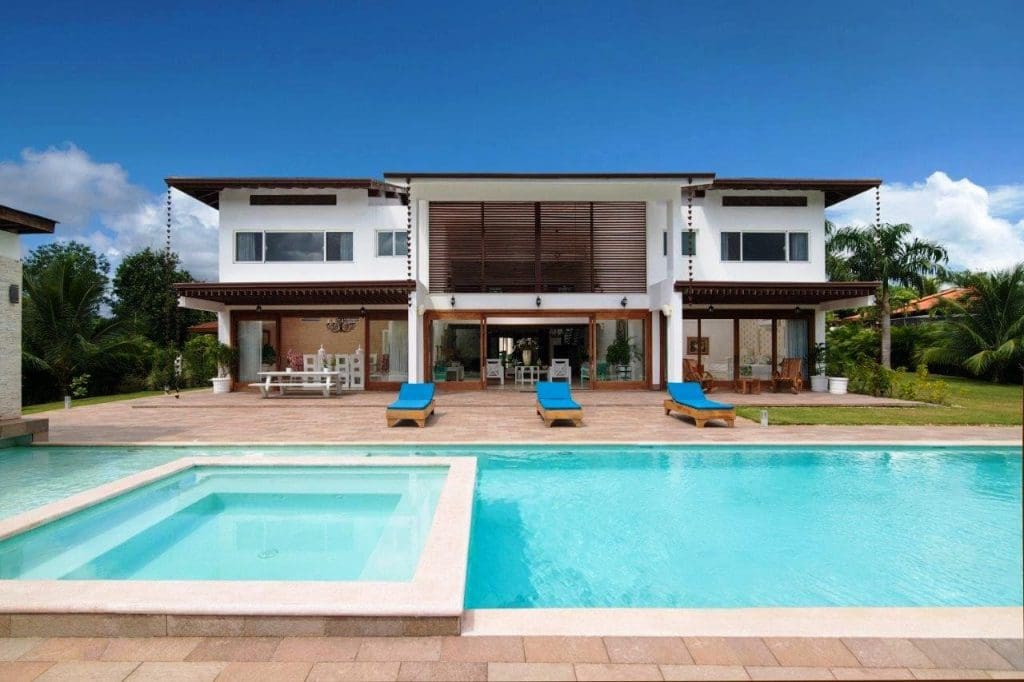 It's difficult to describe the place. Hotel – yes it has 247 rooms – but this vast seven thousand acre development also includes 1,800 villas, a number of which are available to rent. As well three golf courses, one rated as the best in the Caribbean, there are three polo pitches, stabling for several hundred horses, clay pigeon shooting, thirteen tennis courts, a range of water sports and a cigar factory. Of course, there are the usual facilities such as a fitness centre, spa, pools and numerous bars.
For those renting villas, Casa de Campo provides staff to prepare breakfast, and they are also available to provide catering for lunches, dinners, BBQs and more. Hotel guests, however, can opt for an all-inclusive deal.
Guests are provided with buggies. How else could they cope with this huge area? From the hotel reception it is three kilometres to the beach, five to the Marina and seven to the village of Altos de Chavon, with four of the six restaurants in the all-inclusive package being at these other locations. However, in the evening there is also a half-hourly shuttle service from the hotel reception to Altos de Chavon and the Marina for those who prefer not to drink and drive.
Teeth of Dog and the 19th Hole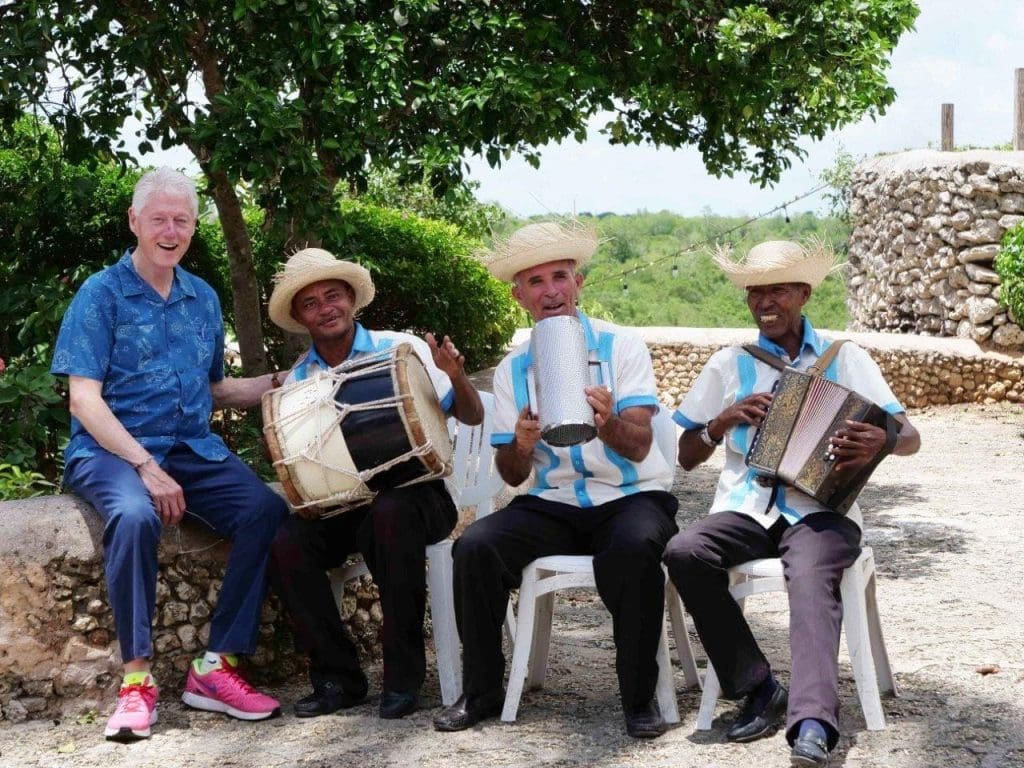 Close by reception, Teeth of the Dog is the name of one of the three golf courses, all of which were designed by the legendary Pete Dye; seven of its holes border the sea, a spectacular setting. It is certainly popular, especially with Americans, and Bill Clinton is a regular visitor.
One of our favourite spots for lunch was the 19th hole, a peaceful terrace overlooking the eighteenth green and on out to sea, where drinks and great toasted sandwiches were provided by attentive and cheerful staff who quickly got to know what type of wine we preferred.
Altos de Chavon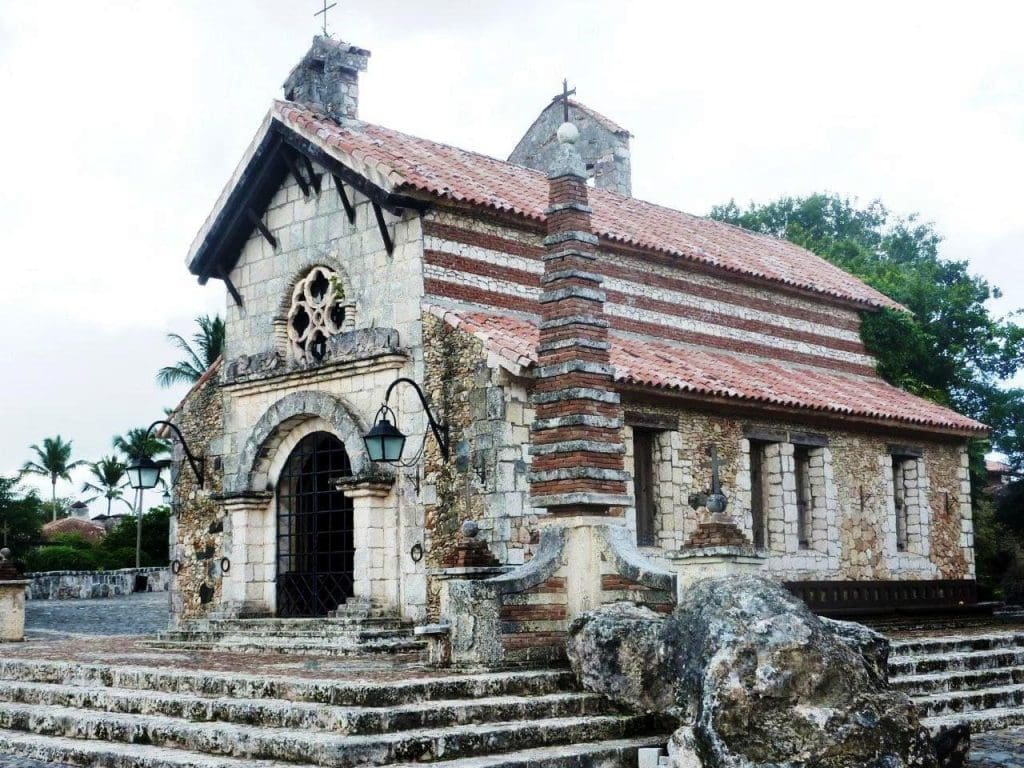 Further away, Altos de Chavon is situated at the far end of the resort. A mock sixteenth century Spanish village, it was built as a film set but never used as such. It's home to a number of restaurants, artisan workshops, a museum, church and night club. Its unique architecture makes it one of a number of locations popular for weddings. We enjoyed a delicious meal at La Piazetta, a delightful and authentic Italian restaurant run by a Venetian who clearly had a passionate interest in serving great food.
There is also a five thousand seat Roman-style Amphitheatre nearby. Opened in 1972, the first performer was Frank Sinatra, clearly a tough act to follow, but many have done so, including Elton John, Andrea Bocelli, Gloria Estefan, Julio Iglesias and Placido Domingo.
Minitas Beach and the Marina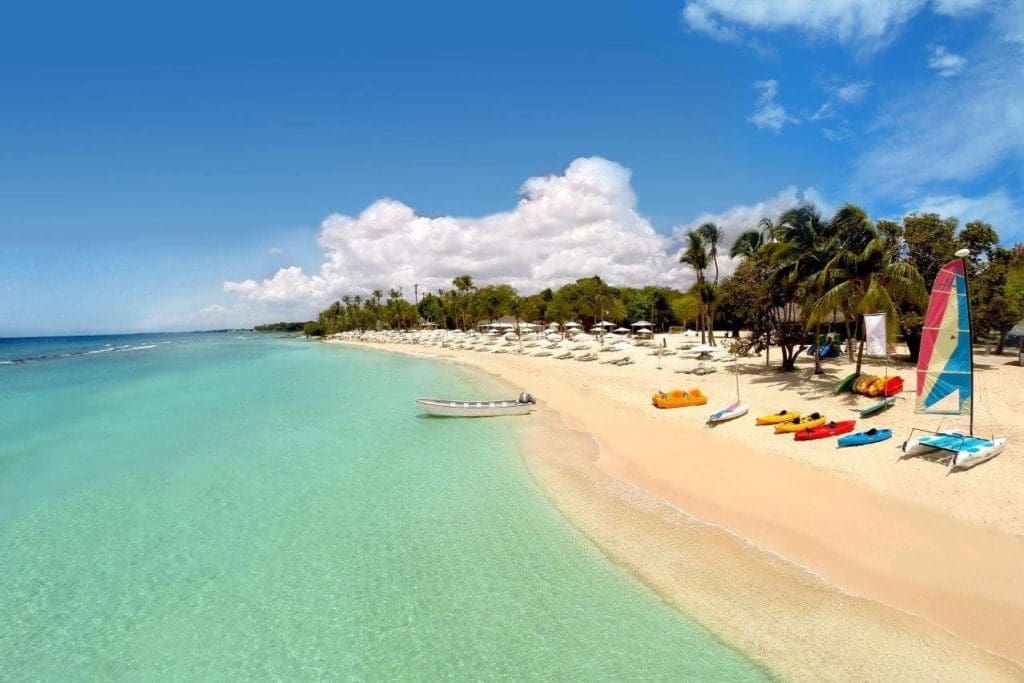 The beach at Minitas includes a beach club with two pools, one for families and the other for adults only. A food cart is available for snacks and there is also a restaurant serving lunch and dinner although it was not included in the all-inclusive arrangement.
---
If you have enjoyed Mike's tales of Casa de Campo Dominican Republic, then read about his Things to Do in St Lucia: Caribbean Paradise.
---
The Marina, crammed with multi-million pound yachts, would not have looked out of place in Monaco. Two of the restaurants on the all-inclusive plan, Pubelly Sushi and La Casita, a Spanish restaurant focussing on seafood, were at the waterside, providing a glamorous evening setting for dinner.
There's no doubt guests are spoilt for choice when it comes to accommodation, activities and dining. Fitting it all in could be the only problem, so don't forget your driving licence for that all-important buggy.
---
Flights to the Dominican Republic
British Airways flies from London Gatwick to Dominican Republic from £463 including taxes/fees/carrier charges. Book online or call 0344 493 0120. I love meet and greet offers valet parking at Gatwick and Stansted airports from £110 a week. Book online or call 0344 493 0120. 
---
Casa De Campo Resort and Villas
British Airways Holidays offers seven nights on all-inclusive basis at Casa De Campo Resort and Villas from £1,695 per person, excluding transfers. The all-inclusive package includes meals at a choice of on-site restaurants, extensive alcoholic and non-alcoholic beverages, unlimited horseback riding, tennis, non-motorised watersports and a four-seater buggy.