Lanzarote: The Beatitude of Nothingness
Mark Bibby Jackson
Posted on 20th Jan 2020
Mark Bibby Jackson returns to Lanzarote one year after walking the length of the island. This time he does absolutely nothing, and glories in it.
It may seem strange but I am writing this article encouraging you not to read it. What is the point in writing something not to be read, you may ask. But there again why travel to places where thousands if not millions of feet have trod before?
In this unrelenting world of information at your fingertips we sometimes forget the essential nature of travel. To explore new places and discover fresh experiences. Naturally. But also to go back in time, to become as one with the past, as much as with the present and the future. No travel writing will ever assist you in doing this, you have to feel it for yourself.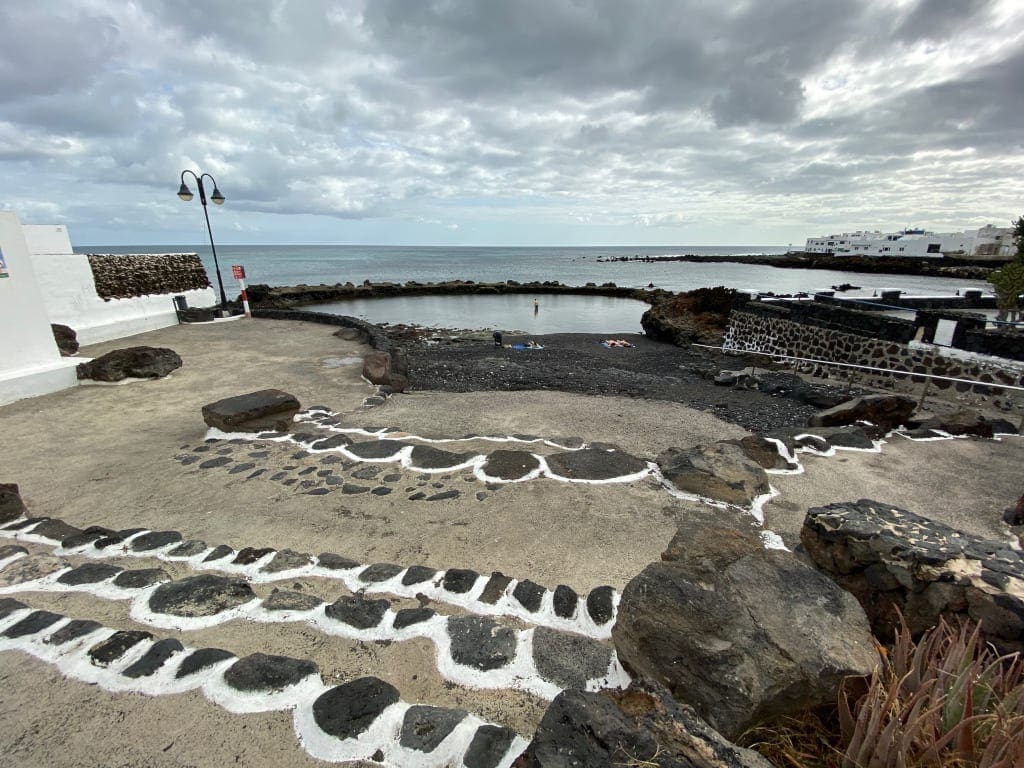 I have visited Lanzarote once before, walking the whole length of the island. My base on that occasion was the small fishing village of Arrieta in the north. Next to it is its even smaller neighbour Punta Mujeres. This was to be my home for five nights.
A Walk Back in Time in Lanzarote
Ambling through the streets of Punta Mujeres – at least in the off-season – is like travelling back in time as if the 20th century let alone the 21st century has by-passed this small village. Nothing seems to happen, each day appears the same.
I am reminded of an earlier journey to Alghero, Sardinia, a town with similar white-washed buildings. There I had paused to take a photograph of a dog lazing on the cobbled stones. I had to wait until I returned home for my black and white image to be developed. For a long time it was my favourite photograph. Now the camera on my mobile phone gives me instant gratification, although the word seems misplaced. Instant, but is it really gratifying?
There are no dogs on the streets of Punta Mujeres, just the occasional car to disturb the peace and calm. Waves slap against the shore invitingly. Eventually, I dip my toes in the cold water timidly, like the reverse of the first creatures that left the oceans to discover land.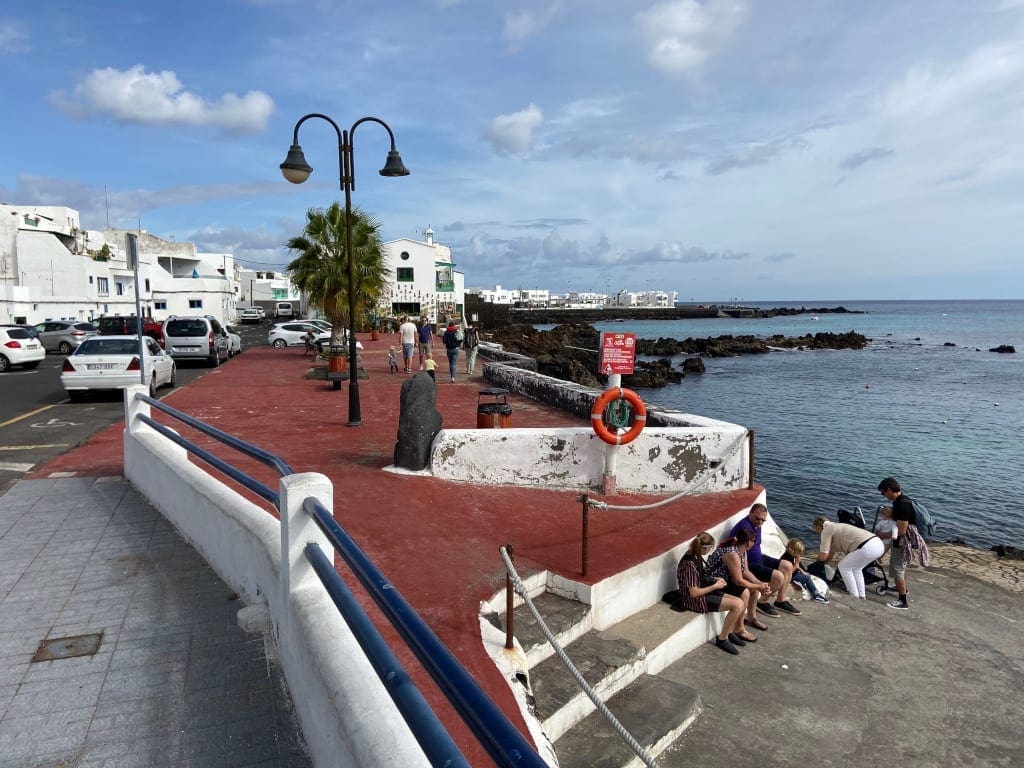 A short distance further along I discover some steps leading to the water, and, encouraged by a Dutch couple who have already braved the cold Atlantic ocean, I take the plunge. It is invigorating.
Afterwards, I lie on the surface of the rocks recalling the times when the waters were sufficient for my holiday pleasure, no further entertainment or distraction required.
Beside the steps, a natural rock pool has been created where a family of touring Spaniards are standing beside the calm waters. Each takes his or her turn to scream testament to the coldness of the water. I ignore them, my badge of honour already safely bestowed.
Fish swim in the rock pool, which is replenished by the lapping sea, while several people snorkel around the rocks.
Pondering the Past
Have we lost ability to appreciate the simplicity of places such as Punta Mujeres?
I ponder this while waiting for my plate of whitebait to arrive at Bar La Piscina, popular with locals and waylaid tourists alike, both seeking some tapas to break up the day.
I continue my walk through the winding streets that remind me of a deserted Cornish village before the advent of tourism. There is no nasal English accent invoking the spirit of Brexit to disturb my calm.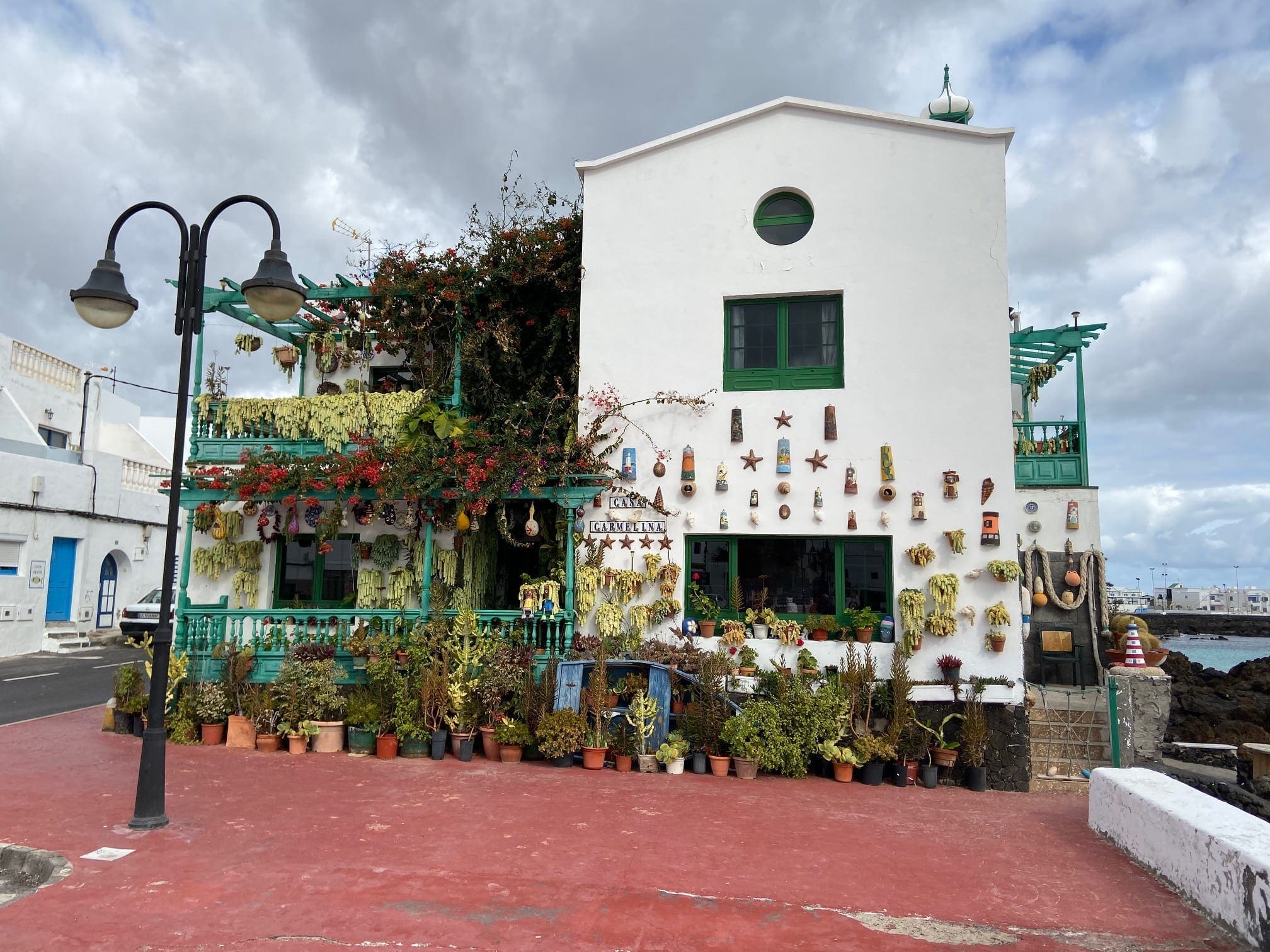 Instead, the sound of coarse Spanish spoken at cafés and bars pervades, but to me this seems like some mellifluous idyll lost in time.
One house breaks free from the shackles of blue and green. A blithe spirit in a land of conformity. Casa Carmelina seems to be a retirement home for all Punta Mujeres' vegetation. Its appeal so strong that a family of passing Chinese tourists – how did they discover this place – take selfies beside it.
Surfers and Arrieta
The previous day we had arrived at our Lanzarote Retreats cottage and stocked up on vital provisions, mainly gin and the excellent local wine from the small minimart up the road. There my organic mix of Italian and Spanish was much appreciated.
That evening we ventured to the local community bar where men are playing boules, while we have some drinks watching the sun set over Arrieta.
After that we dine at Sol y Luna restaurant which has the main attraction of being several doors along from our villa. The owner Luis gives us a warm welcome that will intensify as the week progresses, and we dine on the terrace outside, eating the potatoes for which the island is famed and some local fish, while the waves crash into the rocks beneath us.
---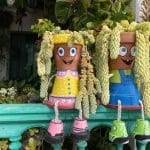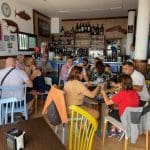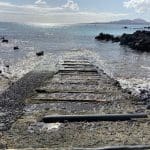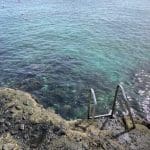 Established Routine
By the third day I have drifted into a routine, replenishing our supplies in the local minimart before making coffee and then taking my mid-morning dip.
This time the Dutch couple arrive shortly after me, and we share vital information about whence we came, confident that our paths will never cross outside of these waters.
In the afternoon we venture as far as Arrieta, passing many a surfer along the way, drawn by the strong waves.
Locals say 'hola' as you pass them. Other tourists give you a knowing nod as if they are part of the secret. They too have discovered the beauty of nothingness.
Eventually we conclude our voyage at Arrieta beach, dining at Casa de la Playa, after sampling some mojitos at the neighbouring bar watching the surfers strut their stuff on the waves. I am not tempted to join them, my daily dip suffices.
At night we take a taxi back to our villa, and the driver Abdul, originally from Morocco and who came to the island many years ago, compliments me on my Italian. I smile, content.
Shooting Pool with the Locals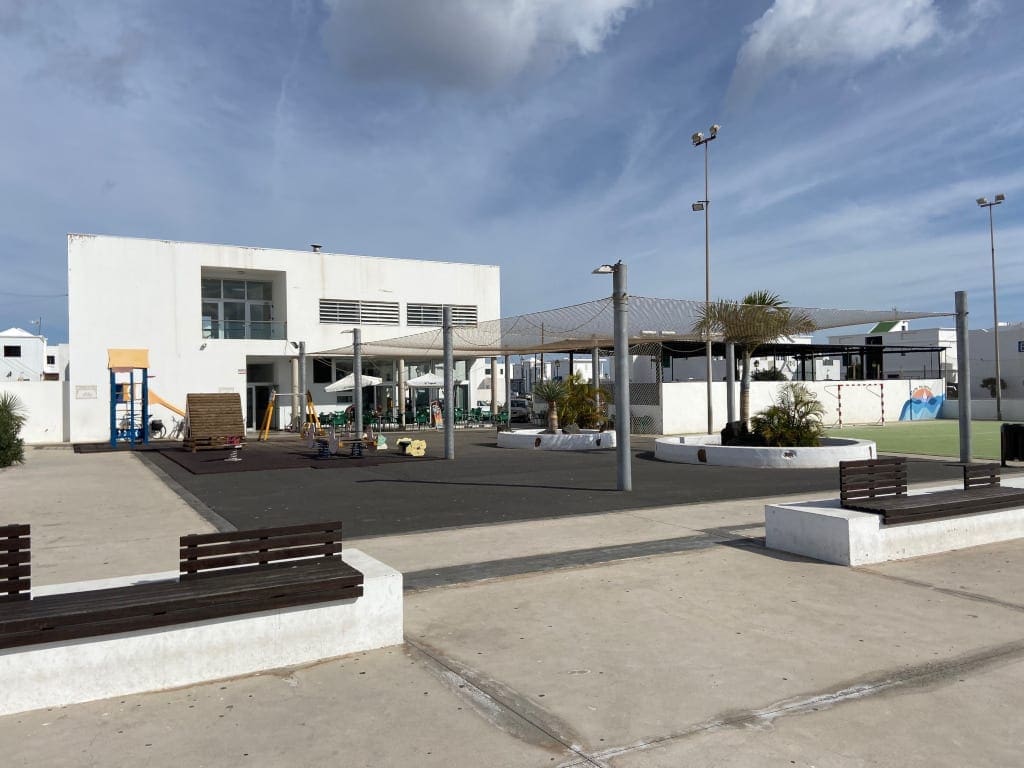 By now I have lost all track of time and feel totally assimilated.
My daily routine has become entrenched, but this time I trace the shoreline northwards out of the village, in the late afternoon as the sun starts to quench its heat in the waters.
A solitary cat scrambles along the rocks hopeful of catching stranded fish.
There is a deathly beauty about the place. The recent rain has encouraged a few sprouts of green to make an optimistic dash for the skies. But this is an island where mere existence is tough. The absence of rain making the struggle eternal though a blessing for the sun worshipper.
In the evening, we enjoy a pre-prandial aperitif at the community centre, where I play pool with one of the locals. Local rules apply, and I come a creditable second.
My conqueror sells cleaning liquids to hotels, I learn between shots in a Babel of tongues. Apparently 80% of the island's employment is related to tourism – the abandoned terraced volcanic fields indicates a movement away from potato growing, although winemaking and aloe vera cultivation are growing in popularity.
Finally, we join Luis and have an Italian-Spanish conversation about the freshness of the fish today, before opting once more for the sama (sea bream), as we do each night, served with the omnipresent potatoes and side salad.
Timanfaya National Park and Home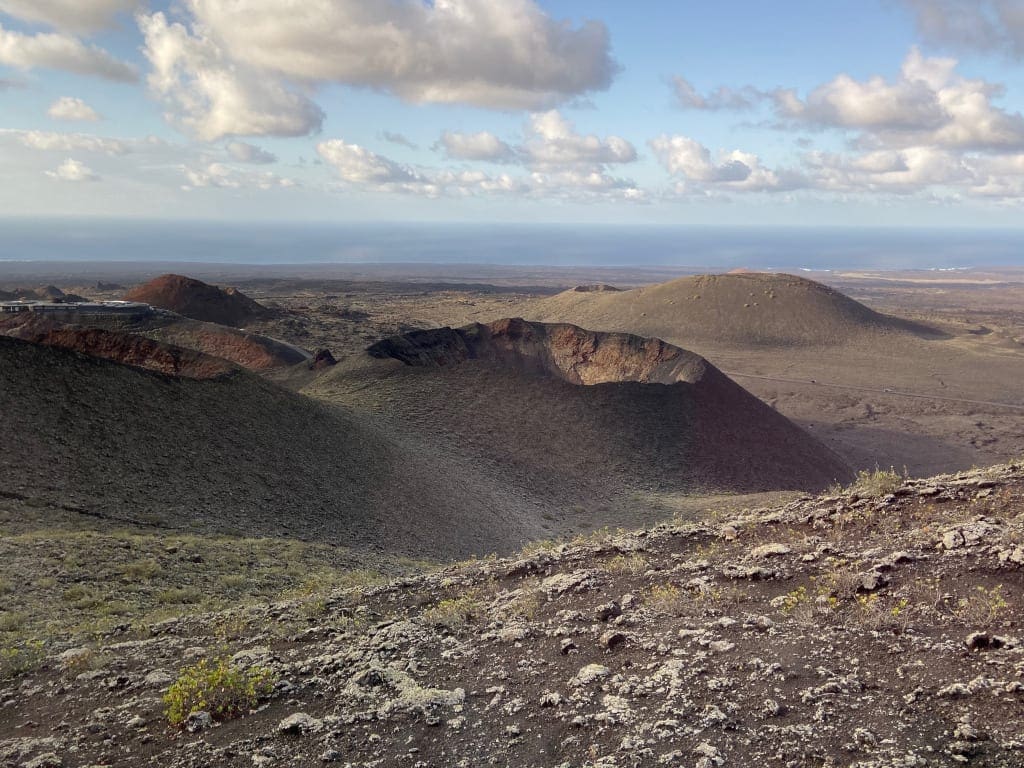 The only break in our routine comes on our final full day when after my morning's dip we venture to Timanfaya National Park and become enchanted by its otherworldly beauty.
But it is back to the community bar, where my pool adversary does not show – perhaps I had scared him off the night before? – and to Luis, his sama and the sound of the ocean crashing against the rocks that we inevitably conclude our journey.
Even the striking French air traffic controllers delaying our return flight by several hours cannot disturb the sense of calm. The beautitude of nothingness. I think I have rediscovered it. If you are still reading this article, then perhaps you should too. Ignore Tripadvisor and travel guides, leave your tablet at home and embrace the moment. Then you might discover a new travel experience, one that is as old as travelling itself.
---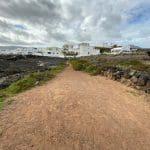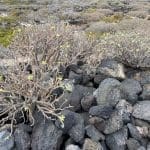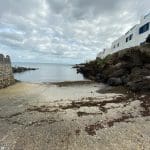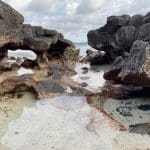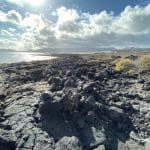 ---
Lanzarote Retreats
If you wish to book a Lanzarote Retreats villa, or stay at the eco-resort in Arrieta, click here.
Things to Do in Lanzarote
If, despite all that we have written above, you still want some guidance on what to do in Lanzarote, then the official tourism website is a good place to start.
Photos by Mark Bibby Jackson.
Mark Bibby Jackson
Before setting up Travel Begins at 40, Mark was the publisher of AsiaLIFE Cambodia and a freelance travel writer. When he is not packing and unpacking his travelling bag, Mark writes novels, including To Cook A Spider and Peppered Justice. He loves walking, eating, beer, isolation and arthouse movies, as well as talking to strangers on planes, buses and trains.