Solo Walking Holiday in the Albanian Alps
Elinor Goodman
Posted on 15th Jan 2020
Elinor Goodman decides to take a solo walking holiday through the spectacular Albanian Alps to reach new heights.
Four hours into a five hour walk on the first day of a walking holiday in the Albanian Alps, otherwise known as the "Accursed Mountains," because they are so wild and inhospitable, I thought I had made a terrible mistake. As the other members of the group strode ahead, I collapsed beside the rocky path gasping for breath.
We had scrambled up 350m to a waterfall, slithered across stepping stones beneath it where I'd lost my footing, skittered back down to the valley and walked beside the river until we reached a tiny café above a natural turquoise pool. After a fairly basic picnic we set out again in the heat of the day on a glaringly white road before climbing up the side of the gorge along a mule track.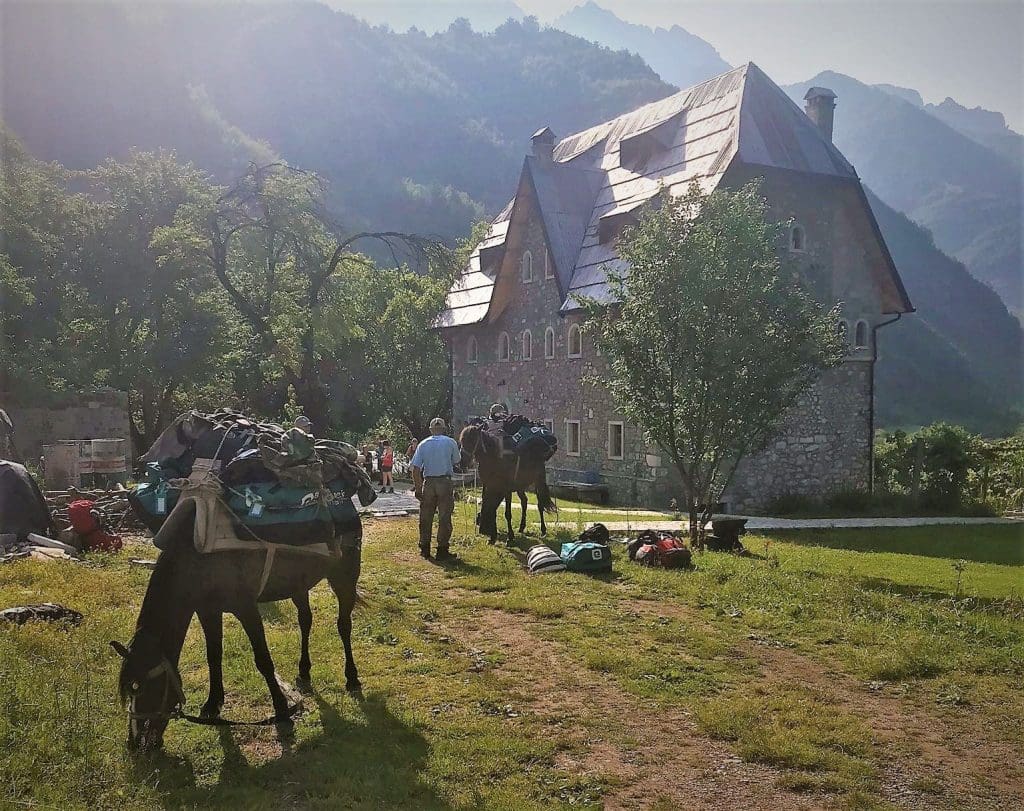 Naturally competitive, I was reluctant to admit defeat, particularly as I was among the oldest in the group, but eventually, palpitating and pouring sweat, I had to tell our guide Arvid I couldn't go on.
An Albanian Alps Dilemma
As I sat waiting for the others to return, I decided I would have to opt out of the next day's hike, but that was taking no account of the geography of these mountains: to get to the next hotel, either you walked the direct 12km-route over the mountain, which involved a 1,200 metre assent, or you took a taxi 260 km back down and around the mountain.
We were staying in the tiny village of Theth surrounded by snow-capped mountains and dense forest. The guesthouse Gjecaj was started by an extremely enterprising woman called Lulja who always wore a traditional white headscarf.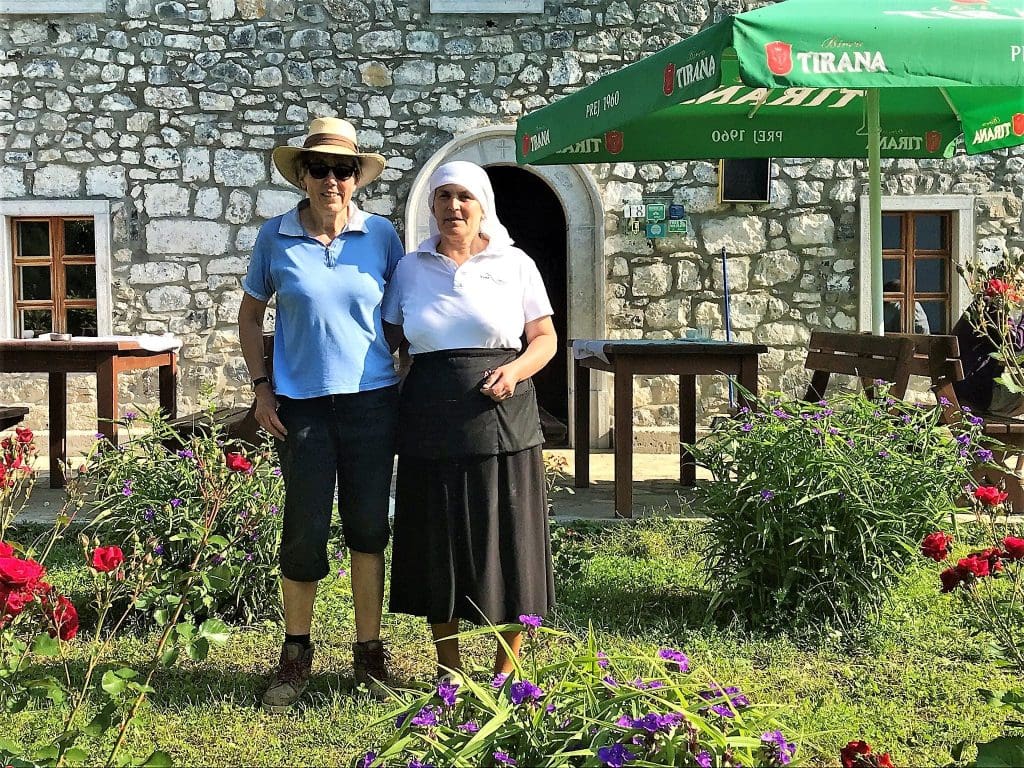 During the 45 years when the Communists were in power Albanians were completely cut off from the outside world and endured the kind of repression that North Koreans are living under now. Private ownership was banned, food strictly rationed and neighbours spied on each other. Even minor breaches of the law, such as a farmer keeping a piglet from a litter, could result in lengthy imprisonment.
After communism collapsed in 1991, Lulja was able to buy back her family's farm house. To make money she made biscuits for an English language school which inexplicably had opened in this most remote of valleys. And on the profits of that, she added two stories to the farmhouse and opened a guesthouse, one of over a dozen in the village.
The Long Trek from Theth to Valbone
The next morning, I looked out of my window to see ponies waiting to take our luggage. They had great wooden saddles on their backs so I concluded that riding would not be a comfortable alternative to walking. Arvid insisted that if I took it slowly, and stopped when I needed, I could manage.
So I set out, my eyes glued to the muscular calves of the person in front, for fear of looking up and seeing the angle of ascent ahead. Half way up we stopped at a tiny café, where drinks were cooled in the water from a stream, and the loo deserved an entry in the Best Lavatory Guide.
It had been gut wrenchingly hard work but the sense of achievement was amazing.
We finally emerged into Alpine meadow, full of flowers, where the ponies ate voraciously. It was wonderfully peaceful, but only 20 years ago this was known as one of the most dangerous paths in Albania – and that was saying something in a part of the country overrun by bandits and riven by blood feuds. Things are safe now for tourists but in Theth we had been shown a three hundred year old tower where even today warring members of different clans are locked up for 15 days by the village elders to resolve arguments.
After another half an hour we reached the 1800-metre summit and the snow line. It had been gut wrenchingly hard work but the sense of achievement was amazing. Over the mountains we could look into Kosovo and Montenegro. The path down was strewn with boulders which made walking very difficult even with poles, though the ponies manged to trot down it.
Albanian Alps Hospitality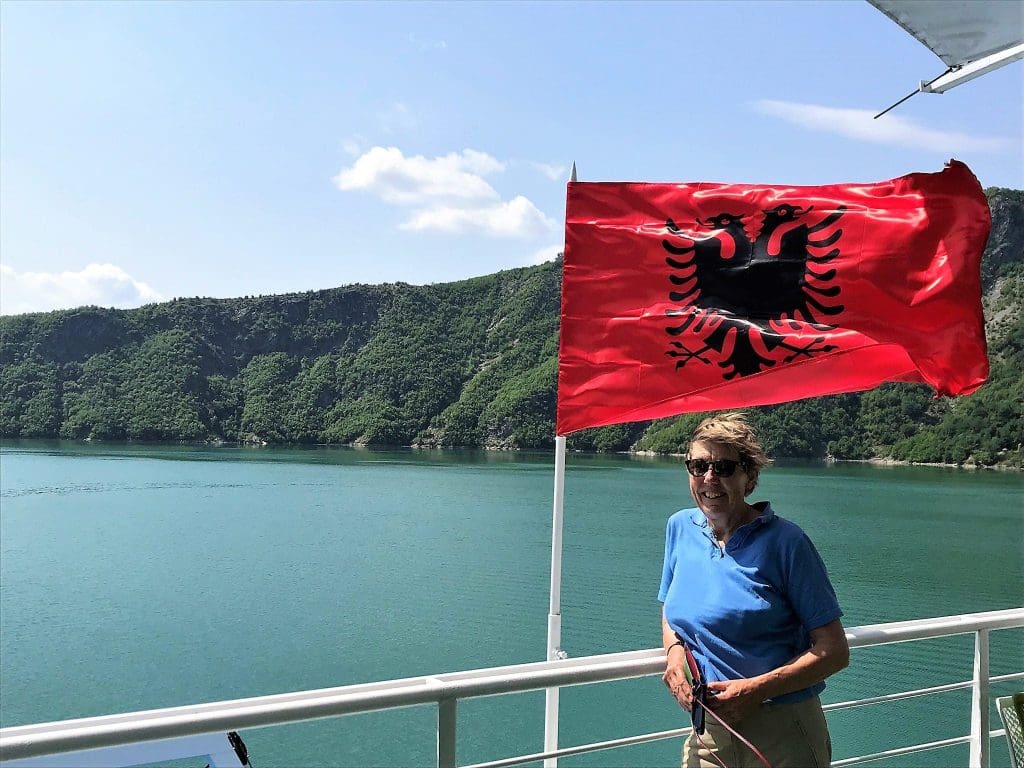 Our hotel was in the old communist retreat of Valbone. – though, apart from the occasional bunker, most traces of the old regime had been torn down. The next day I did opt out of the organised walk and took myself off to on a shorter one. The trail was quite well marked, and I stopped in a meadow where sheep grazed watch over by a huge mountain dog. There was no sound other than those of nature, and I have rarely felt so at ease.
A couple of farmers around my age, offered me drink of mountain water and plate of bread and cheese
A shepherd watched me from the cover of some trees, but not for a moment did I feel threatened. One of the advantages of being an ageing solo traveller is that you are unlikely to attract unwelcome attention. Instead a couple of farmers around my age, offered me drink of mountain water and plate of bread and cheese. Albanians have a bad reputation in London but they couldn't have been kinder, personally I have always found them very friendly in England too.
The next day we took a ferry trip down the dammed up river Din. The others were going onto the world heritage site of Berat, but I had to get back to England. It had been an amazing voyage of discovery.
My Albanian Alps walking had been rated "3" in the brochure – defined as needing to be "moderately fit and possess a spirit of adventure". I am a pretty fit 70 year old, but walking the dog and riding is not preparation enough for a hike like this. But I did it, and reached heights I never thought I could.
---
For more female solo travel adventures in Albania, read Emma Levine's Albania Travel Off the Rails.
---
Walking in Albania
Elinor arranged her walking in the Albanian Alps with Exodus Travel. Guided tours start from £1,049 for eight days sharing room, including flights. Details can be found here.
Elinor Goodman
For 30 years Elinor was the political editor of Channel Four News. She retired early partly to indulge her love of travel. She is divorced and usually travels on her own, sometimes joining a small group but always maintaining her independence where possible. She tries to keep fit by riding and walking her dogs.