5 Unusual Things to Do in Phnom Penh Cambodia
Marissa Carruthers
Posted on 1st Mar 2020
Former AsiaLIFE Cambodia Managing Editor, Marissa Carruthers provides some insight into five of the more interesting things to do in Phnom Penh, Cambodia from sampling the local food to exploring the silk making process.
As a new dawn awakens in the rapidly-developing Cambodian capital, there is plenty more for visitors to see and do away from the traditional attractions of The Killing Fields, Toul Sleng or S-21, the Russian Markeet and the Royal Palace Phnom Penh.
Here are some alternative ideas on what to do in Phnom Penh for visitors wishing to discover contemporary Cambodia.
Prumsodum Ok & Natyarasa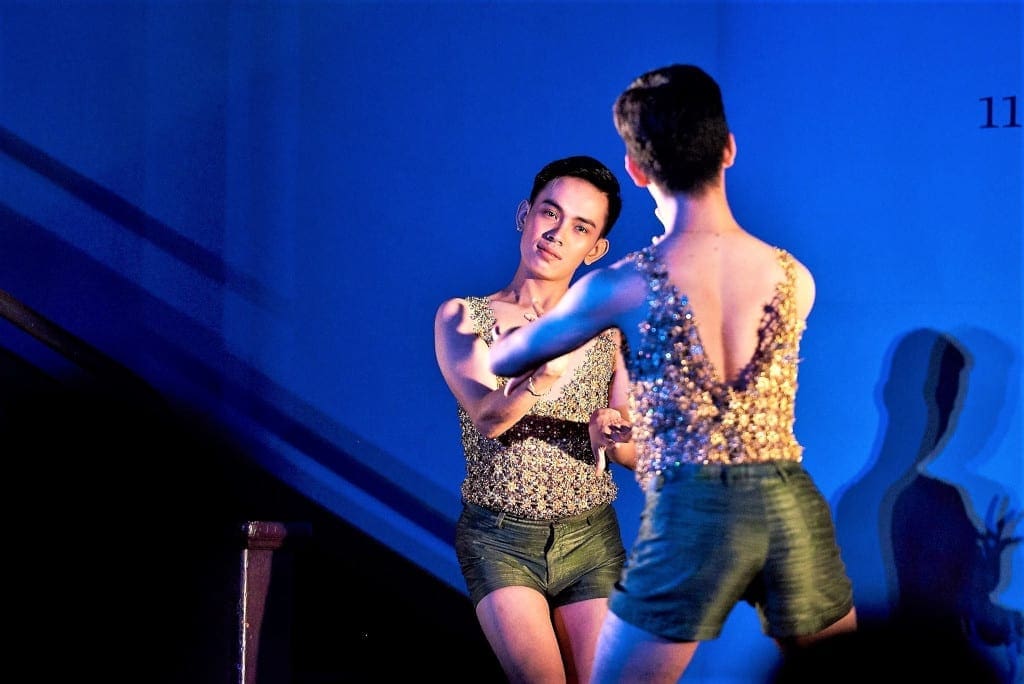 Stunning renditions of traditional dance and performing arts can be seen every evening at the National Museum, thanks to the tireless efforts of Cambodian Living Arts. However, Cambodia's first gay dance troupe is pushing boundaries as well as the art form into a new direction.
Aiming to inject fresh energy into Cambodia's rich heritage, the troupe has been working to give a voice to the country's often silenced LGBTQ+ community. Founded in 2016 by Prumsodun Ok, who was born in America to Khmer refugees, the award-winning troupe restages Khmer classical dances with ground-breaking works that push the art into a contemporary space.
Apsara dates back to the 6th century and etchings of the ethereal dance can be seen inscribed on the walls of many of the ancient temples that dot the country, including Angkor Wat. Traditionally, it was a dance form reserved for women, with apsaras believed to be seductive celestial beings that communicated between gods and kings.
Prumsodum Ok & Natyarasa perform every Saturday and Sunday, from 6.30pm, at Java Creative Café, Toul Tom Poung.
Koh Dach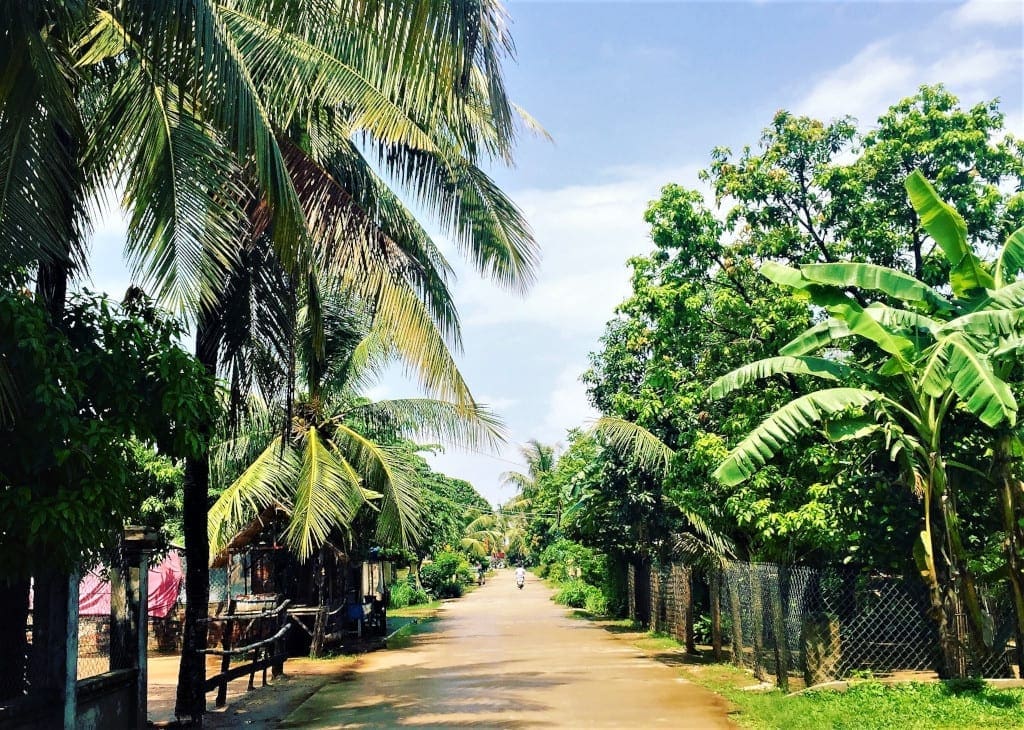 Experiencing Cambodia is all about escaping the city and travelling into the provinces, which cover the majority of this agricultural country. Those tight on time can easily venture into the countryside with a day trip from Phnom Penh to nearby river island, Koh Dach.
A short tuk-tuk ride and trip on the ferry from the capital sits Koh Dach, commonly referred to as Silk Island. Despite only being six kilometres from Phnom Penh, Koh Dach seems a million miles away, where rural life has been preserved on this island in the Mekong River.
Despite Cambodia's rich silk weaving heritage being in decline, Koh Dach is home to an abundance of weavers. Freshly-dyed silk can be seen hanging in the sun to dry in front of homes, where women weave from a handmade loom below their stilted houses.
The Silk Weaving Centre and Village is open to visitors and shows the whole process, from silk worm to cocoon, to silk to fabric. A small restaurant and picnic spot on the river, with a swimming area, are on site.
Offering a glimpse into rural living, a road skirts the island and is ideal for a gentle bike ride past paddies and woodland, through small villages and across shallow streams. Bikes are available for hire at the ferry terminal.
Run by a Cambodian and her French husband, quaint Le Kroma Villa is a great spot to stop for lunch and take a dip in the infinity pool that overlooks the Mekong.
Kbach Gallery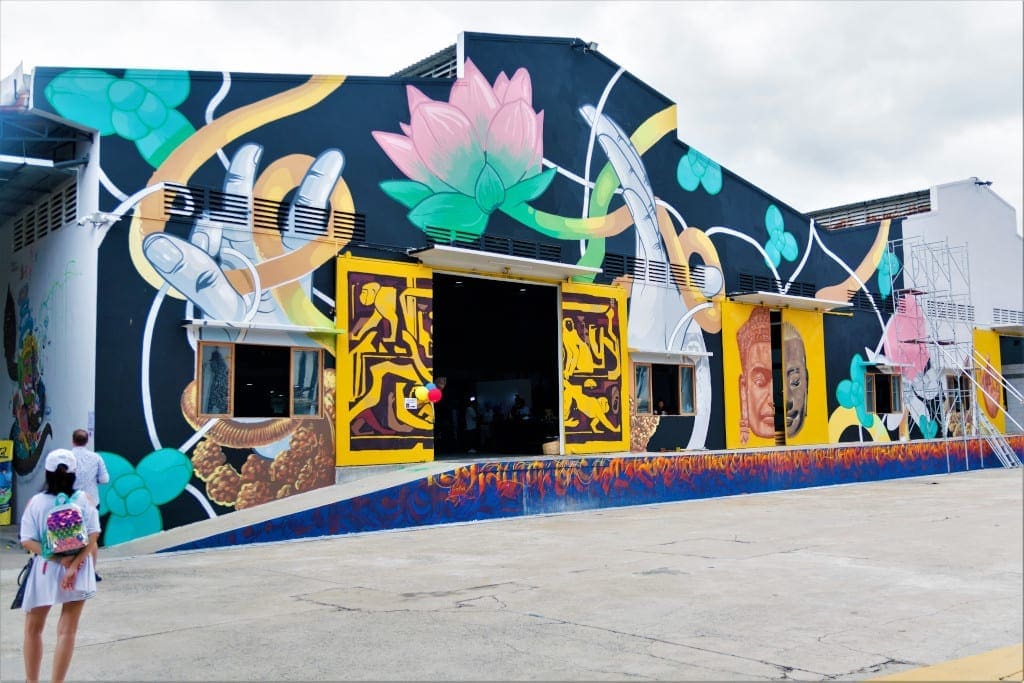 Championing Cambodia's burgeoning contemporary art scene is Kbach Gallery. It opened in 2017 with the aim of elevating the capital's urban art space. It quickly outgrew its first home and in late-2018 relocated to a converted warehouse at Factory Phnom Penh.
As the first of its kind in the capital, the sprawling gallery fuses a range of innovative art from local and international artists. Inside is the work of several artists, with the outside space covered by stunning murals of urban art. Kbach regularly hosts events, including live painting, music and festivals.
Visitors can also enjoy the facilities at Factory Phnom Penh – another relatively new addition to the capital. The sprawling former garment factory site has been transformed into a creative hub home to co-working spaces, a coffee shop, skateboard park and trampoline park Fly Phnom Penh.
Phnom Penh Food Tours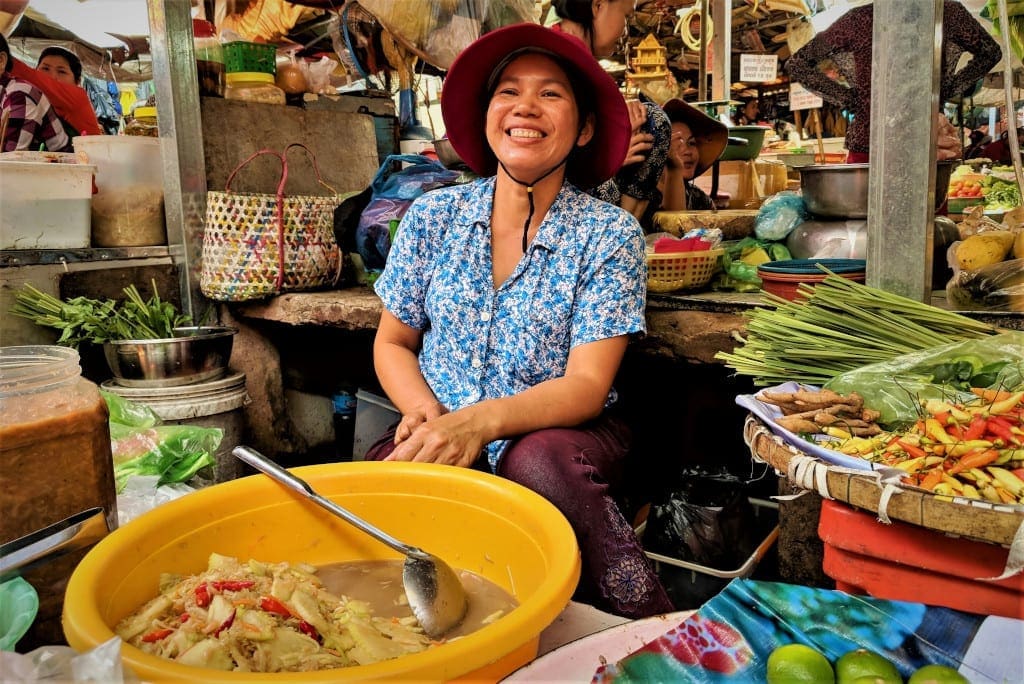 Foodies can get their fix while sampling a taste of the real Phnom Penh navigating the capital off the well-trodden tourist trail. As the sister of the popular Siem Reap Food Tours, visitors can sample Khmer streets snacks at the many local markets, street food vendors and hole-in-the-wall eateries that dot the city.
Led by an informative English-speaking guide, this is a fun way to learn about Cambodian cuisine while exploring the network of back streets and alleys teeming with local life.
Phnom Penh Food Tours has two tour options: morning and evening. The former throws the spotlight on Cambodia's breakfast culture and lively wet markets. Alternatively, the evening tour sees visitors "dine around town" at family-run restaurants and vibrant night markets.
The Silk House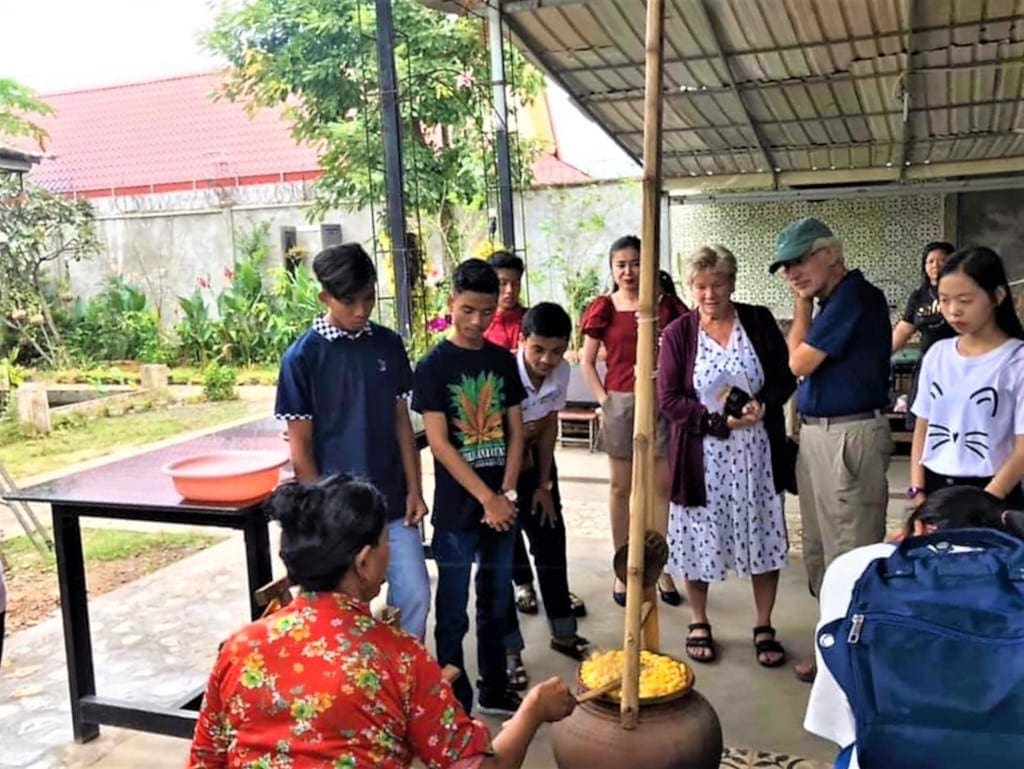 As Cambodia's first interactive silk museum and the brainchild of social entrepreneur Vannary San, The Silk House opened its doors early-2019. San is the founder of Lotus Silk, which trains and employs locals to create a collection of clothing and accessories while helping to revive Cambodia's declining silk industry.
San employs weavers, mulberry growers and dyeing communities to help craft a range of sustainable and ethical fashion products. On the outskirts of Phnom Penh, The Silk House is dedicated to the country's golden silk heyday.
Cambodia was once famed for producing the world's finest silk. However, the industry fell into decline as cheaper fabrics became available. It suffered an almost fatal blow during the Khmer Rouge regime.
Visitors can see first-hand the intricate process involved in creating the luxurious fabric, from silk worm to thread to fashion. They can also have a go at weaving their own fabric and create a dyed shawl to take home.
---
Phnom Penh Weather
The dry season runs from November to March, with the wet season from April to October. December to January is when temperatures are at their best, with March to April seeing the most oppressive heat and humidity. If travelling across the country, consider the 'green season' from April to October, which is when the country is at its most wonderful, with verdant paddy fields and lashings of water.
Phnom Penh Nightlife
The Phnom Penh bar scene used to be the preserve of the seedy and desperate, but in recent years it has undergone something of a transformation. Now, you can discover local craft beer and cider, gin, rum, as well as cocktails and well-priced wine. Start your evening along the riverside as the sun sets and then head to Bassac Lane to continue your fun.
Phnom Penh Festivals
The Cambodia Water Festival (or Bon Om Touk), Pchum Ben, Khmer New Year are the biggest occasions in the packed Cambodia festival calendar.
Travel from Phnom Penh to Siem Reap
Travelling from the capital to Siem Reap, for the majestic temples of Angkor, you can either fly, take the bus or hire a car. Choosing the latter allows you to stop off en route and enjoy the country. For ideas on alternative things to do in Siem Reap, read Beyond Angkor: Siem Reap Art Tour.
---
Another of the great things to do in Phnom Penh is to see the boat races during the annual Cambodia Water Festival, or Bon Om Touk.
---
Hotels in Phnom Penh Cambodia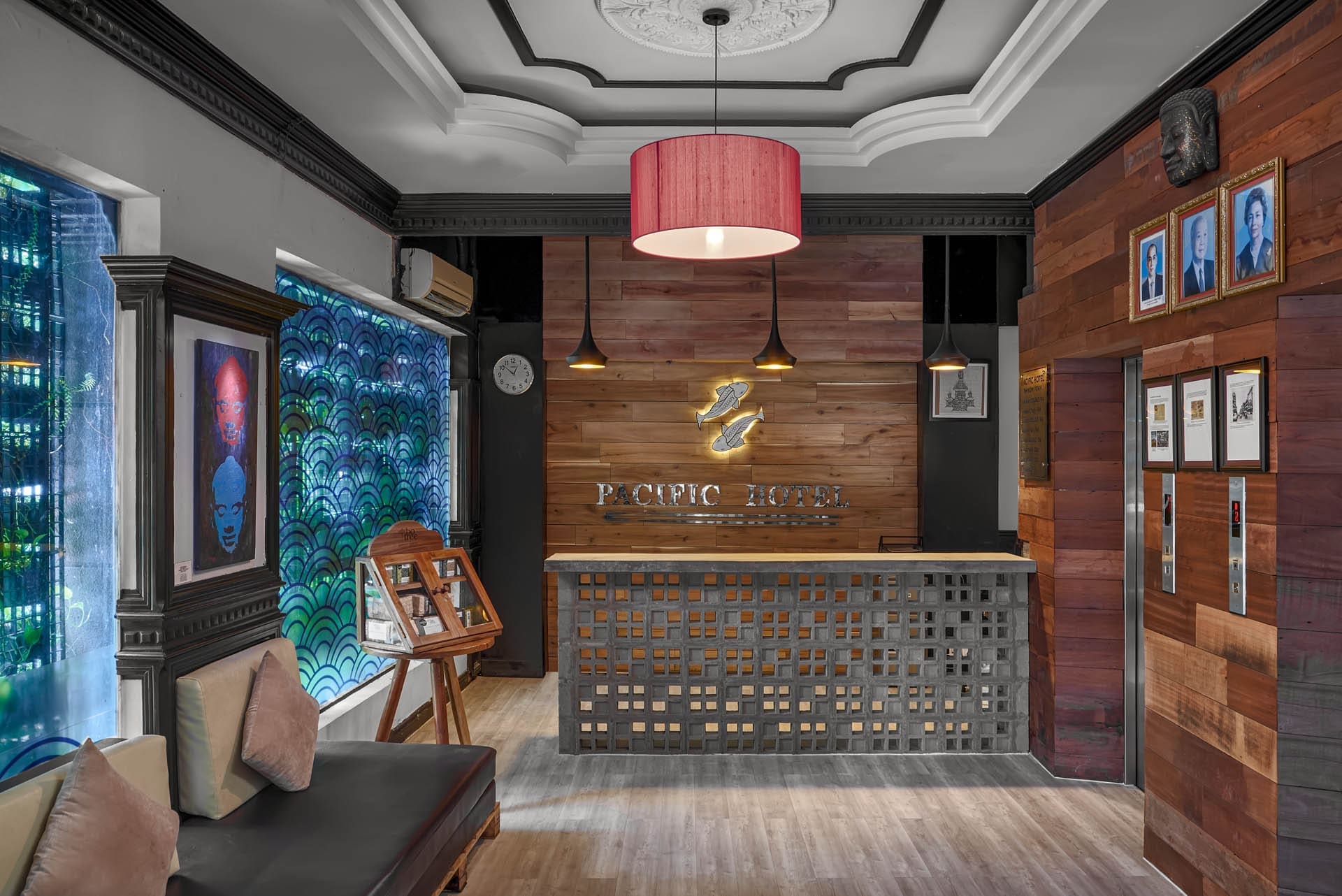 Accommodation in Phnom Penh ranges from the five-star, such as Raffles Le Royal, Sofitel Phnom Penh Phokeethra and the Rosewood Phnom Penh to the budget boutique Pacific hotel. Value for money is great in the Phnom Penh hotel scene. If you are looking for a Phnom Penh hotel, fill in the form below to find the best deals for the dates you wish to travel.
Flights to Phnom Penh
There are no direct flights from London to Phnom Penh, or from elsewhere in Europe or America. However, you can fly via the Middle East, or Bangkok, KL and Singapore. Simply fill your dates in the form below to discover your best options.
---
Other Things To Do in Phnom Penh
For ideas on further things to do in Phnom Penh, try our Travel Guide to Cambodia.
Marissa Carruthers
Marissa inherited her love of travel from her parents, who would entertain her as a child with exotic tales of their adventures across the globe. Her first solo leap into foreign lands was an Inter-railing trip across Europe and North Africa during her first summer at university and, despite two muggings, several dices with death and a terrifying encounter with the monkey mafia, she was hooked.