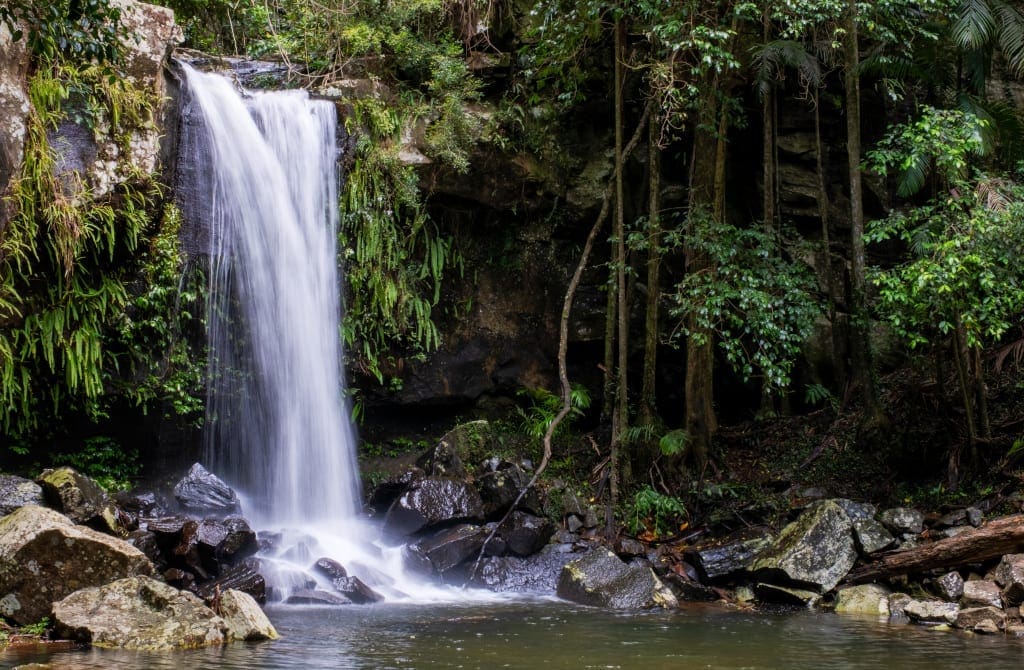 Flying the Empty Coop on Tamborine Mountain
Lynn Gail
Posted on 14th Mar 2020
Lynn Gail explores the Gold Coast's scenic Hinterland on an empty nester mini 'us'cation to Tamborine Mountain.
Are you an empty nester? Have your little ones grown into self-sufficient adults and flown the comfort of your cosy coop?
On researching empty nester syndrome on the Interweb, I found many reports related to people suffering with feelings of loss, loneliness, grief and depression. Many health and medical websites offer solutions – one, was to plan a trip together to rekindle romance. As recent empty nesters, my husband and I had long had visions of regaining a sense of freedom, to carry on where we'd left off all those years ago to raise a family.
Determined not to be a casualty of this proclaimed syndrome, we took the advice and planned a mini-getaway to escape 'branches' from the 'empty nest' falling over our house. Clutching our boarding passes we caught a plane from Perth, Western Australia and headed to the Gold Coast's Hinterland, Queensland, to see if we could regain a sense of the us we knew before tiny people came into our lives.
The bridge sways from side to side, and we waddle along, trying to stay balanced like toddlers who have just learnt to walk
The following morning, we awake to the sweet smell of freshly baked bread drifting through the hatch (designed for delivering breakfast hampers), at our premium spa cottage at Witches Falls Cottages.
We unpack a delicious buffet of everything you'd expect to find in a restaurant, only it's in the comfort and privacy of our rustic cabin. There's no background din, just the chatter of birds singing high in the trees as we enjoy the luxury of taking our time to bring in a new day before we explore the Hinterland's Mount Tamborine.
Tamborine Mountain Rainforest Skywalk
Our first stop is Tamborine Mountain Rainforest Skywalk, an eco-adventure walk spanning over 30 acres of privately owned rainforest.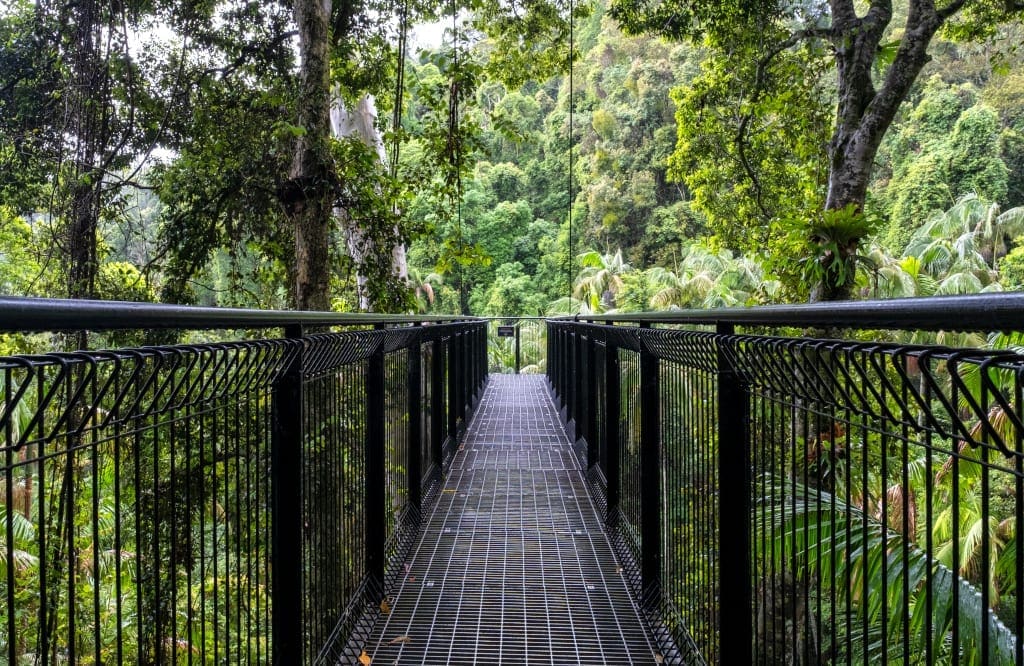 Being February, it's the rainy season and we don ponchos (biodegradable – of course) to stay dry. We wander through lush canopies of 60-metre-high ghost trees, and stroll under hoop pines that, in the unlikely event of snow, would turn the forest into a Christmas wonderland. The refreshing rain has kept the crowds away, and apart from another couple, we have the Skywalk to ourselves.
We stroll over bridges and follow marked forest trails to reach a suspended bridge towering 30 metres above the treetops. The bridge sways from side to side, and we waddle along, trying to stay balanced like toddlers who have just learnt to walk. At the lookout point we peer down, looking through hundreds of species of native plants, to the tiny creeks below. It's energy for the soul, leaving the daily grind behind to walk through rich, organic forest and absorb nature.
Tamborine Mountain Distillery and Songbirds Restaurant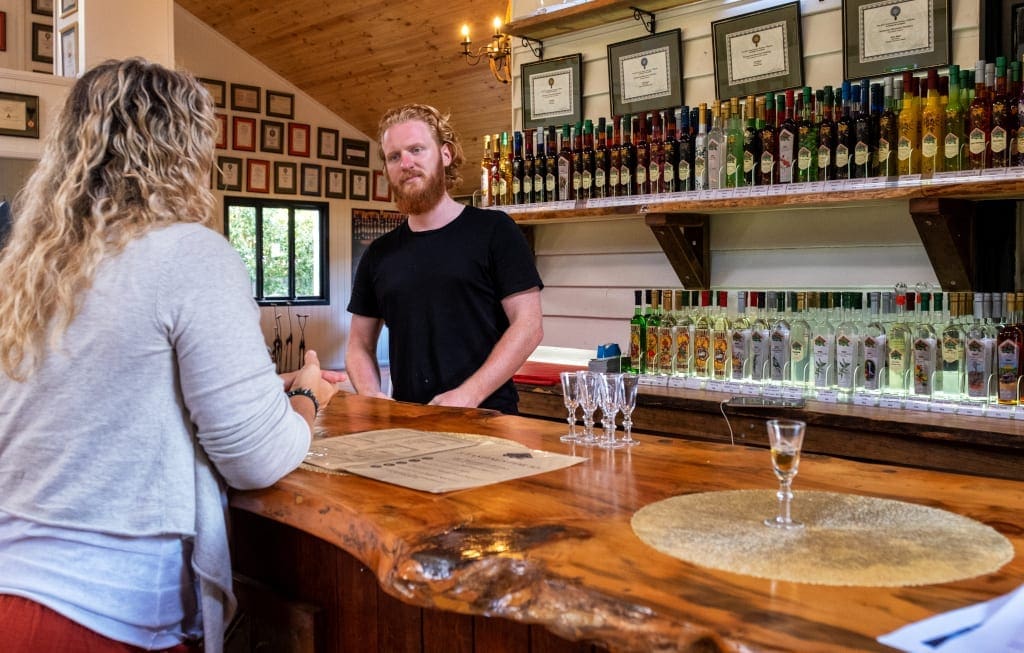 It's too early for lunch, so we pop into the Tamborine Mountain Distillery. With over 300 international awards to their name, the walls are adorned with certificates and colourful hand-painted bottles of fruit and dessert liqueurs. Feeling like we're in a grown-up's candy store, we sample a range of smooth liqueurs. There's even a seed liqueur, Wattle Toffee, which becomes a firm favourite.
We quickly find ourselves relaxing into the getaway groove, and on hearing, just five minutes away, there's a Michelin star chef at the Songbirds Restaurant, we decide to indulge in a four-course degustation lunch. Our family dinners are normally a standard, one-dish-fits-all meal – so self-pampering was on our to-do 'menu'.
Soft music is playing in the background as our friendly waiter, Michael delivers one artfully designed dish after the other, paring each plate with excellent wine.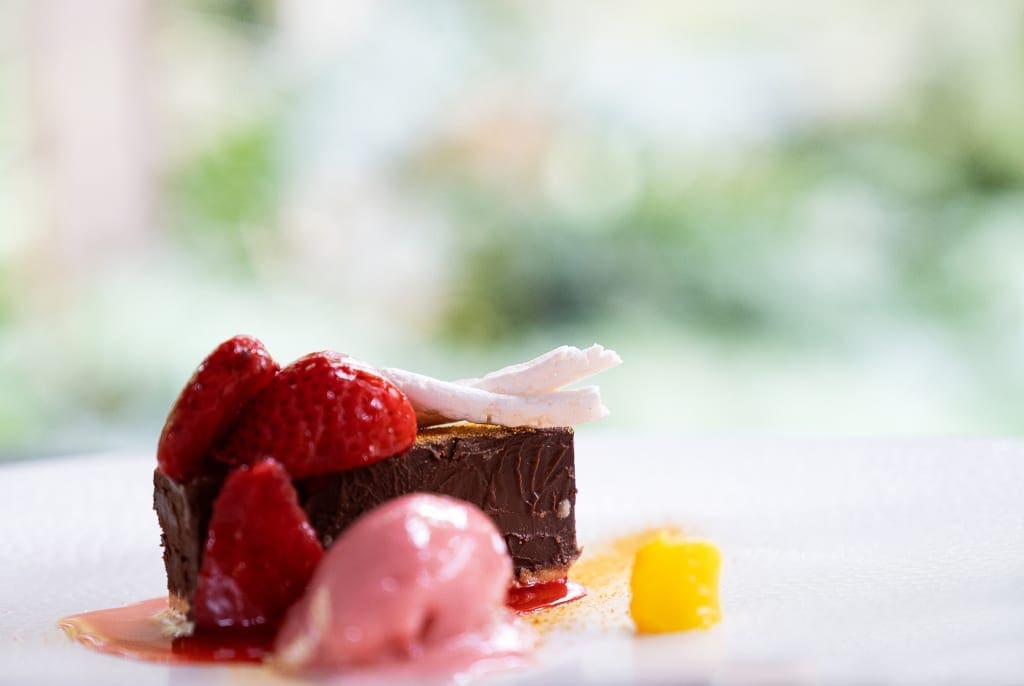 Our taste buds are treated to an infusion of delicate flavours of heirloom tomatoes combined with vanilla and cauliflower puree, and perfect pockets of translucent ravioli filled with pumpkin. The desert though – a heavenly smooth chocolate Belgian tart topped with nasturtium flowers and served with sorbet and rosewater meringue – is the star of the show.
Tamborine National Park
Feeling adventurous after enjoying our fine dining experience, and luxuriating in our newfound sense of freedom, we hastily book an early morning balloon flight with Hot Air Balloon Gold Coast to take us over the Hinterland's far reaching landscape.
Our afternoon continues as we meander to Tamborine National Park, where we follow easy paths to reach Curtis Falls. We pass fig trees with roots large enough to set up home in, and spot red-necked pademelon, a forest dwelling marsupial, scurrying through the forest. Every now and then we pause and listen to birds calling each other through the towering treetops.
The area has recently experienced heavy downpours and the falls are raging over huge basalt columns creating a powerful surge which ripples into still pools at the edge. It would make a perfect place to soak our feet, but access is not permitted due to the protection of the glow-worm and platypus population.
The weather closes in. Heavyset clouds are threatening rain as we head back to our secluded cottage. As the temperature dips, we light the fire, and fill up our double spa-bath. Our BBQ-dinner hamper is delivered discretely on time as rain drips off thick palm fronds brushing against our window. We receive a message letting us know our balloon ride has been cancelled due to possible storms. But it doesn't matter, we're already planning our return to Mount Tamborine's idyllic town, to further explore its extensive Hinterland on our next empty nester's adventure.
---
Tamborine Mountain Photo Gallery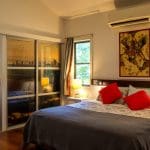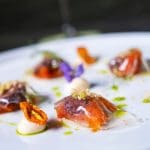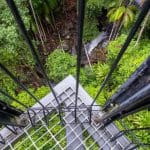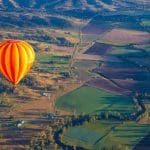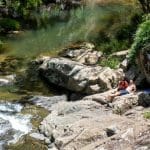 ---
If you have enjoyed Lynn's tales of the Gold Coast, then why not try her whip fighting in Flores?
---
For further information on the Gold Coast
Fo exclusive deals and trip ideas visit: https://www.destinationgoldcoast.com/
Lynn Gail
As a travel photographer and writer, Lynn's journeys have taken her into the humblest of homes where the only furniture is the floor on which welcoming villagers serve food they need for themselves. She has stayed in luxurious, opulent surroundings and experienced 'how the other half live', to realise she's more at home next to a campfire on the Aboriginal homelands in East Arnhem Land, surrounded by the world's oldest living culture. Based in Perth, Western Australia, she writes for several international and Australian travel publications, and supplies imagery to the Lonely Planet Image collection (Getty) and Robert Harding World Imagery. Lover of soulful laughter, swimming and the ocean, clean food, suspenseful movies, and Earl Grey tea. www.lynngail.com; www.instagram.com/lynn_1_gail/