Discovering the Beauty of Bohol Island, Philippines
Marissa Carruthers
Posted on 6th Apr 2020
Just prior to the coronavirus pandemic swept the world, Marissa Carruthers experienced the bounty of breath-taking beauty on Bohol island in the Philippines, which locals are trying to preserve as tourism grows. Maybe you should put it on your list of places to visit once travelling is back on the global agenda?
I stumble bleary-eyed off the ferry and into the blinding sunlight. As the only Westerner in the swarm of disembarking passengers, it isn't hard for Renan to spot me.
He greets me with a warm smile as we walk to the car. I apologise for my sleep deprived incoherence; his lively introduction to the island and the stunning scenery that flashes by are the only things keeping my eyes open.
Renan is the senior sales and marketing executive of South Palms Resort Panglao and I've been invited to spend three days discovering Bohol Philippines. In the wake of the six-month closure of Boracay in 2018, the island of Bohol – home to a breath-taking bounty of natural beauty and a steadily rising tide of tourists – is determined to learn from Boracay's mistakes.
Instead, it wants to create a blueprint for island tourism across Southeast Asia and beyond. Spearheading the revolution are Hope and Anna Uy – two sisters in their early-20s, who are passionate about preserving their treasured home island while sensitively developing its tourism landscape.
South Palms, Panglao Island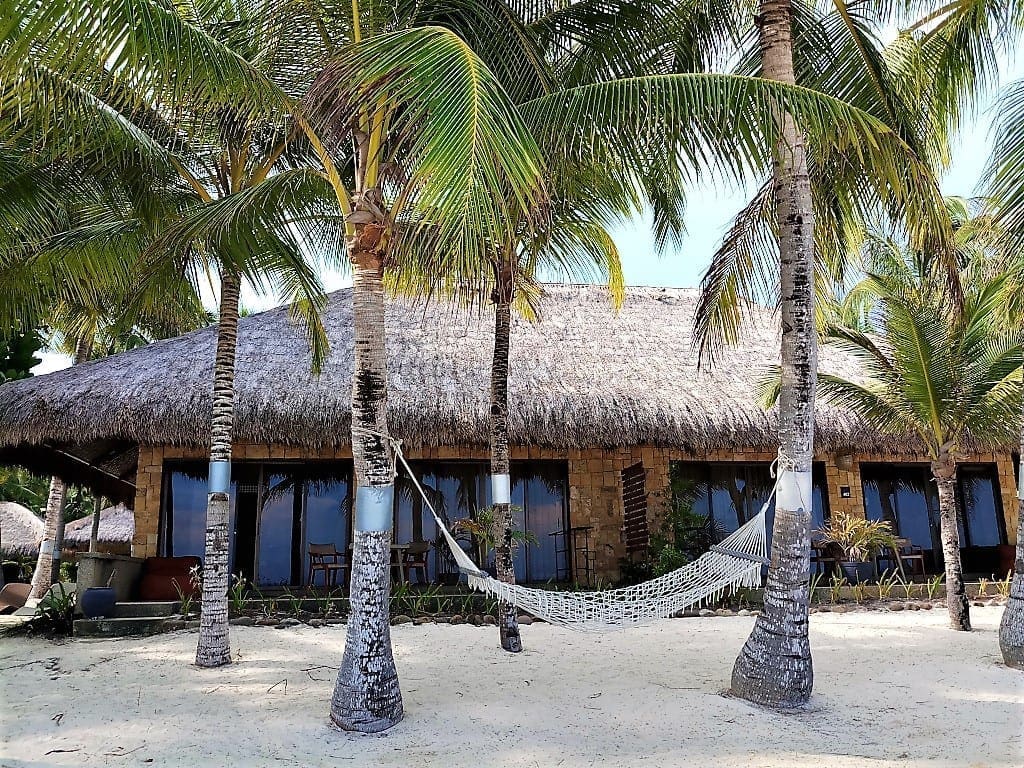 As our car pulls up at luxurious South Palms on the tiny island of Panglao, connected to Bohol by a bridge, my tiredness wanes. Renan leads me past a sprawling infinity pool that looks out over a seemingly endless stretch of blissfully white sands lapped by inviting clear waters.
We walk along a trail that snakes through a small shaded wood that opens out onto lush gardens home to a second pool surrounded by a delicate smattering of villas. I forget my sleep deprivation as my eyes open wide to take in the striking postcard-perfect scenes thrown my way.
I have the rest of the day to myself before attending an early-evening meeting of the recently-formed hotel association and dinner with Hope and Anna. While common sense tells me to fall onto the king-size bed and sink into a delicious sleep, excitement takes over and instead I explore my temporary home.
Spanning 78m², my premium villa boasts a spacious living area and large bedroom, with a bathroom big enough to fit several families inside. The pièce de résistance? The villa sits among a strip of gently wafting palms that flank the beach, meaning both the bedroom and living area open up straight onto stunning sands.
I stave off sleep reading a book in a hammock that rests between two palms in front of my villa. But with the gentle lull of the ocean and the cool sea breeze, it's not long before I nod off.
Panglao : a Sustainable Future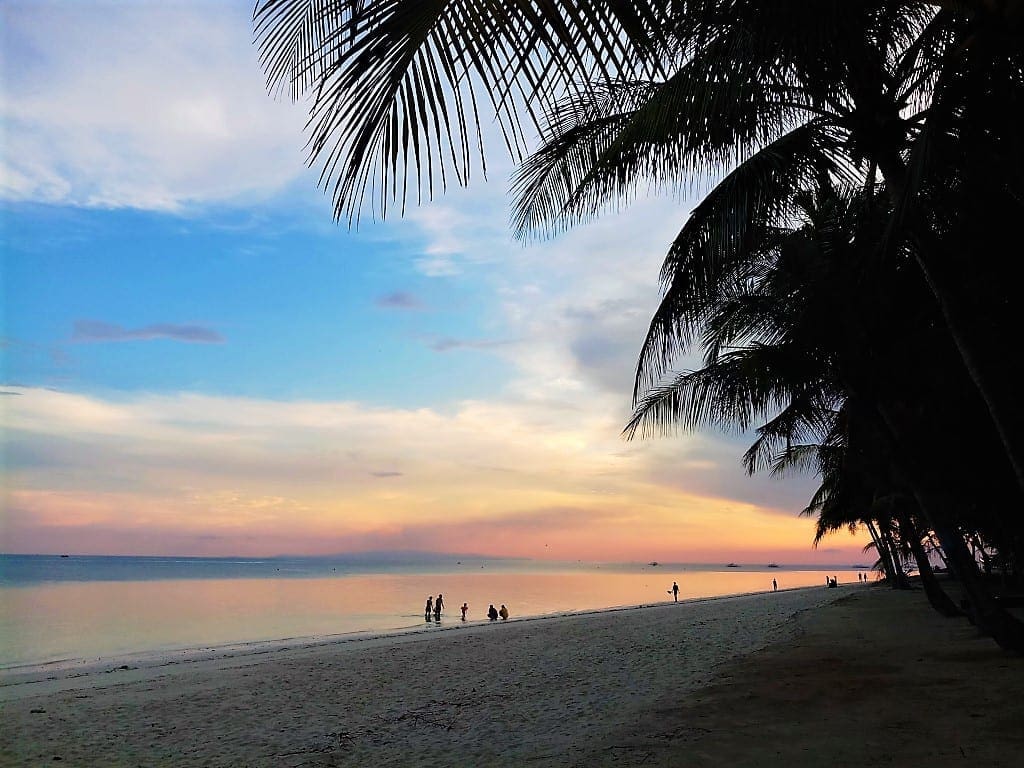 Over wine, platters piled high with plump locally-sourced prawns and seafood, Hope and Anna lay out their vision for the property's next phase of development. Slated to open in 2022 adjacent to the current South Palms, sustainability sits firmly at its core.
The sisters passionately tell me about plans to create a large reservoir to serve as a natural water source and investment in developing the island's burgeoning solar power solutions, innovative composting techniques and waste management.
South Farm is also being built nearby to provide farm-to-table ingredients delivered to the resort's restaurant by electric vehicles, as well as educational adventures for guests. Local produce will be used where possible – the island is big on agriculture and fishing – and Bohol's rich culture and artisanal heritage is set to be entwined in the design. The project will also support tarsier and manta ray conservation – two of the island's treasured residents.
Most importantly, Anna and Hope want guests to sensitively explore Bohol's bounty of majestic natural beauty without leaving behind a footprint. A mantra they want to rub off on the mushrooming tourism industry.
Bohol Chocolate Hills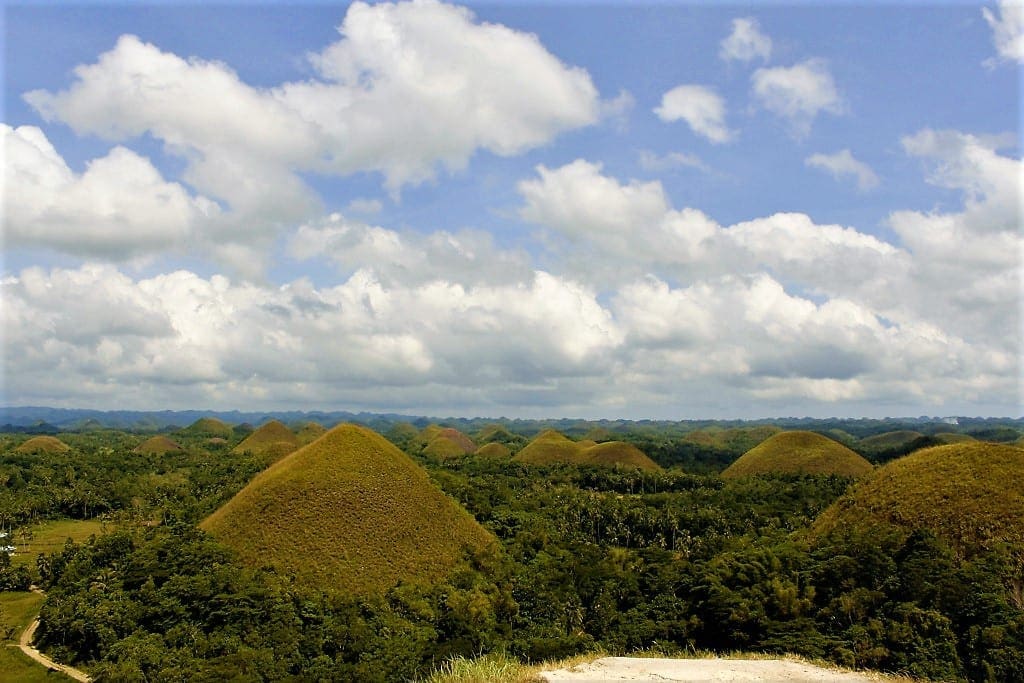 Lack of sleep again heavily tugs at my eyes as our minivan blindly skirts along roads that wind through Bohol's rugged interior. It's a race against time as we hurtle towards Chocolate Hills for sunrise – a guaranteed reward for my 3:30am rise.
Bohol's beauty away from its shores remains a mystery as we travel under the blanket of night, my tour guide Cecile sharing her passion for the island and its treasure trove of nature's gifts along the way.
Sitting as the Philippines' 10th largest island, Bohol remains relatively unknown to the majority of foreigners, who head to Manila, Boracay, Palawan or neighbouring Cebu. The main island spans 3,269km² and boasts a 261km coastline, speckled with long stretches of powder white sands tickled by warm cyan waters perfect for diving.
The wider Bohol province comprises a further 71 small islands, including idyllic 91km² Panglao. Inland, Bohol island is home to diverse wildlife and a colourful patchwork of rolling hills, striking mountains, sprawling paddies and reams of delightful coast.
An incredible hue of greens, oranges and yellows melt into the horizon as the extraordinary landscape of the Chocolate Hills unravels before us
As we step out of the minivan, the first rays of daylight push through the horizon. Beams of red and orange pierce the dark revealing nature's spectacular work of art sprawling below. Rising from a whimsical carpet of mist are the rise and fall of 1,776 hills spanning 50km². An incredible hue of greens, oranges and yellows melt into the horizon as the extraordinary landscape of the Chocolate Hills unravels before us.
While geologists say the conical limestone karsts are the result of millions of years of erosion combined with tectonic shifts, locals have their own theories. The mystical mounds that resemble a scene plucked out of a fairy tale feature in a feast of folklore.
The hills can only be accessed from viewing decks at The Chocolate Hills Complex in Carmen and Sagbayan Peak in Sagbayan. We opted for Carmen, with Cecile claiming it boasts the best vistas. Despite it being a spectacular spot to watch sunrise, even by 7:30am, we had the entire site to ourselves.
Philippine Tarsier Sanctuary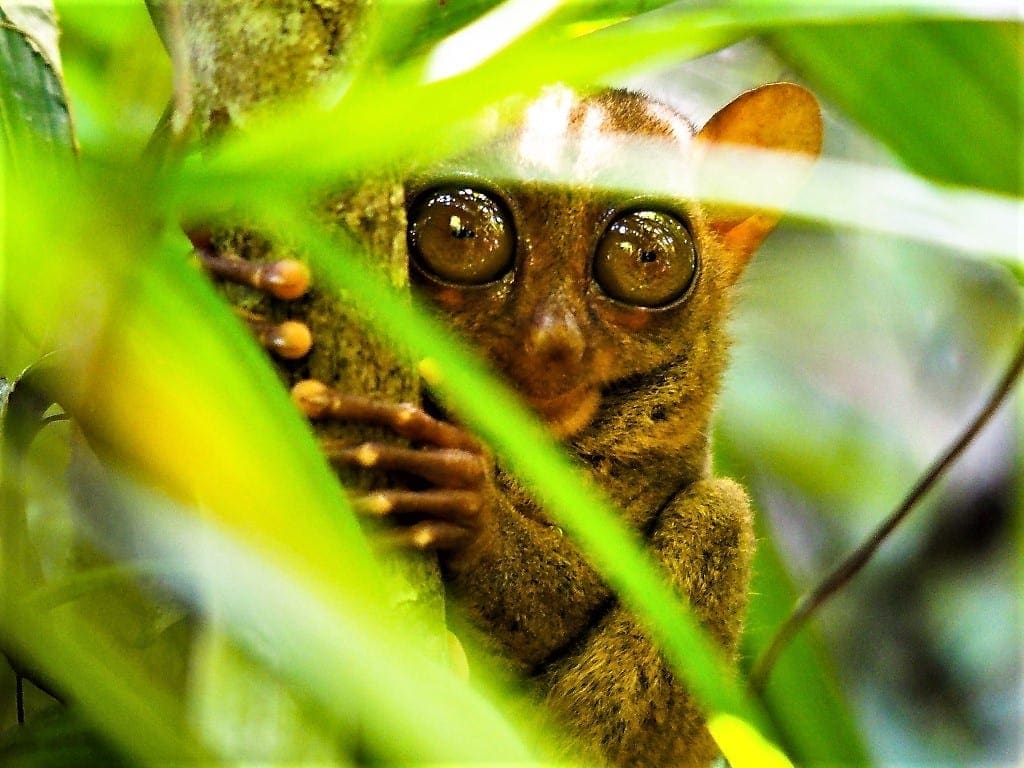 With daylight now on my side, I'm able to soak up the landscapes Cecile vividly described as we drive to meet Bohol's shiest resident, the tarsier. En-route, we stop to explore some of the small towns and villages that dot the vast paddies and rolling hills.
In 2013, the island was struck by a devastating earthquake that reportedly killed 222 and left 976 injured. More than 73,000 structures were damaged, with more than 14,500 totally destroyed. This includes many of the ancient Catholic churches that dot the island, with restoration work still underway at many.
After about an hour, we reach the Philippine Tarsier Sanctuary in Corella. Holding the title of the world's second-smallest primate, the cute creatures hit heights of up to six inches and weigh-in at between three and five ounces.
Native to southeastern Philippines, the ICUN near-threatened species faces a serious fight for survival. Low birth rates coupled with their suicidal tendencies when stressed, exploitative tourism and habitat destruction has seen the population plummet to between 5,000 and 10,000, according to the International Primate Protection League.
Since 1996, the Philippine Tarsier Foundation-operated sanctuary has been working to protect the bug-eyed primates' natural habitat while carrying out conservation work to boost its population.
He carefully parts the leaves to reveal the fluffy species with eyes bigger than brains clinging motionless to branches above
During an introduction, we're instructed to remain quiet, follow our guide carefully and give the animals plenty of space during our 10-minute tour of a small section of protected forest just five tarsiers call home.
As we tiptoe along the trail, our guide occasionally points to a cluster of branches. He carefully parts the leaves to reveal the fluffy species with eyes bigger than brains clinging motionless to branches above. A truly spectacular sight.
Bohol Island Bees
The next day, I find myself clutching a honey frame teeming with bees. I've been reassured they're more interested in getting their work done than harassing me but this provides little reassurance. "Just don't drop the frame," the beekeeper shouts, clearly catching onto my desire to hurl it as far from me as possible.
This is the end of a 30-minute introduction to Bohol Bee Farm, which produces organic fruit and veg, great baked goods, and, of course, a range of honey-based goods. With fishing and agriculture forming a major part of Bohol's economy, the island is home to a swelling number of innovative agro-tourism projects.
Bohol Bee Farm is one of them, and is helping to elevate the island's organic farming landscape while providing a fun and educational experience for guests. It works with farmers across the province, offering training and support in composting, companion planting, and environmentally-friendly alternatives to fertilisers.
As well as home to a highly-recommended restaurant and boutique resort, the farm introduces guests to its organic farming methods and range of herbs, edible flowers and vegetables. It also works closely with local artisans, with a series of workshops onsite.
Working to a tight schedule, there's sadly no time to sample the restaurant's menu. However, Cecile ushers me to an ice-cream stand, insisting it's the Philippines best. I have nothing to compare it with, but, the creamy home-made ice cream is definitely a winner.
---
Read Mark Bibby Jackson's adventures on Bohol island in The Long and the Short of It.
---
Bohol Island River Cruise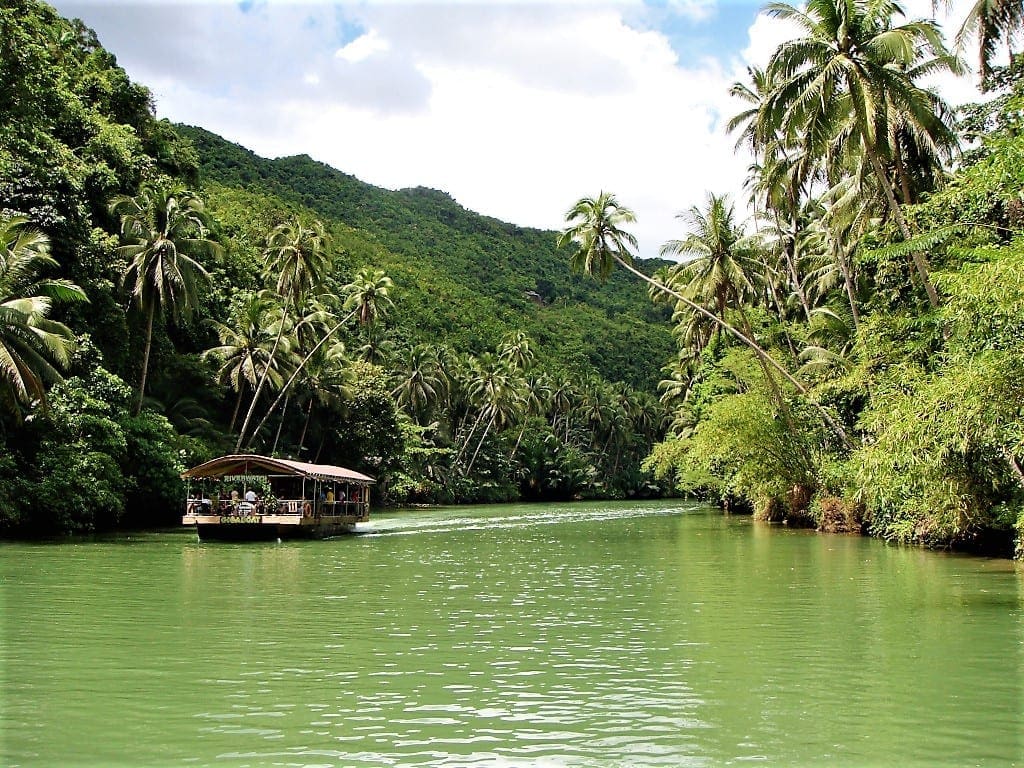 After stopping to explore a handful of quaint towns, we head to the island's iconic Loboc River to board one of several floating restaurants docked on the water. At 12.30pm on the dot, we set sail on our 90-minute cruise along the surprisingly clear jade waters that cut through tropical forest as we leave the town behind.
As we tuck into a tasty spread of seafood, rice, seasonal salads, fried chicken and fresh fruit, we are entertained by local music as we pass by villagers carrying out their riverbank chores and children splashing in the water. On our return journey, we pause at a platform on the water's edge to watch a local troupe of traditional dancers perform.
On dry land, we head back to the resort with the remainder of my time left to lap up my tranquil tropical island setting, take a dip in the warm waters and make the most of my remaining time in this Philippine paradise.
Bohol is home to dense mangroves, wonderful Boho beach precious flora and fauna, coral reefs teaming with wildlife and waters frequented by humpback whales, dolphins and a wealth of other marine life. I only saw a snapshot of the prized natural attractions of Bohol island, but will definitely be back for more.
---
Getting to Bohol Philippines – Bohol Airport
Bohol–Panglao International Airport – the Philippines' inaugural eco-airport – now offers a handful of domestic flights.
Marissa Carruthers
Marissa inherited her love of travel from her parents, who would entertain her as a child with exotic tales of their adventures across the globe. Her first solo leap into foreign lands was an Inter-railing trip across Europe and North Africa during her first summer at university and, despite two muggings, several dices with death and a terrifying encounter with the monkey mafia, she was hooked.