Idle Waters in Constable Country
Roger Hermiston Eileen Wise
Posted on 11th Apr 2020
Although it seems hard to imagine travelling around the country or overseas at the moment, it does us no harm to imagine better times, and to plan ahead for a coronavirus-free future. With this in mind, Roger Hermiston and Eileen Wise discover some Idle Waters in Constable Country.
We were away for the weekend in the heart of Constable country, at the time of year we might have to get used to referring to as 'the flood season'.
'Idle Waters' was the name of our country cottage retreat at Dedham, on the Suffolk/Essex border, but it seemed a singularly inappropriate title that Friday. From our panoramic bay window we gazed out with some apprehension as the relentless rain continued to swell the River Stour, just yards away. A few weeks earlier the waters had apparently lapped up a couple of the steps leading down to the river from the Le Talbooth restaurant opposite.
But gradually the rain eased and worries passed. And on a beautiful, bright if breezy Saturday morning, we were able to relax with our companions, and the cottage started to live up to its laidback name. A place to be restful, to kick off your shoes and settle down with a good book and a glass of wine for a few hours – before setting out to explore the home territory of one of our finest landscape painters.
Staying in Constable Country
It is stirring to think that when you stay in Idle Waters you are actually living, so to speak, in a John Constable painting. The Vale of Dedham (1828 – now hanging in the Scottish National Gallery in Edinburgh)) was one of the great artist's last major depictions of the Stour Valley, completed at the age of 52.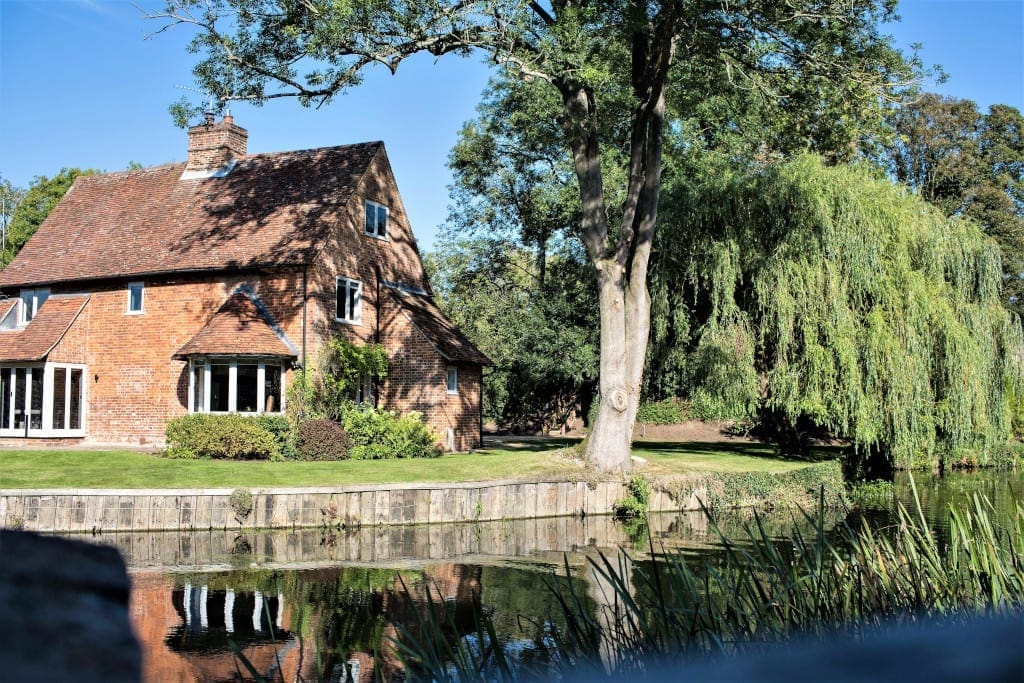 Looking down from Gun Hill, the eye is led from the beautifully rendered Claude Lorrain-like trees in the foreground along the meandering route of the Stour to the distant tower of the gothic Dedham Church (more of that later). And there, in the middle of the painting, on the line of the church, can be clearly seen a reddish coloured thatched cottage. Idle Waters, no less.
This attractive timber-framed cottage actually dates back much further than Constable's day, to the 16th century. These days, fully refurbished, it is the latest addition to the Milsom Hotels stable of hotels and restaurants at Dedham, which includes the aforementioned Le Talbooth, luxury hotel Maison Talbooth (opened in 1969) and Milsoms (hotel and restaurant) – all within half a mile or so of each other.
Inside Idle Waters
The landscape around it may transport you right back to the 18th century, but apart from the oak beams, the interior of Idle Waters is decidedly 21st century. Downstairs there is a spacious open plan fully fitted kitchen and dining area – including washing machine and tumble dryer – with doors leading out to a little patio area, and then the lawn flowing towards the River Stour.
In the sitting room, also downstairs, the best spot is the bay window at the front, with a view of the gorgeous weeping willow tree to your left and a good stretch of the river to your right (a magnificent heron very briefly took up residence there on that rainy Friday).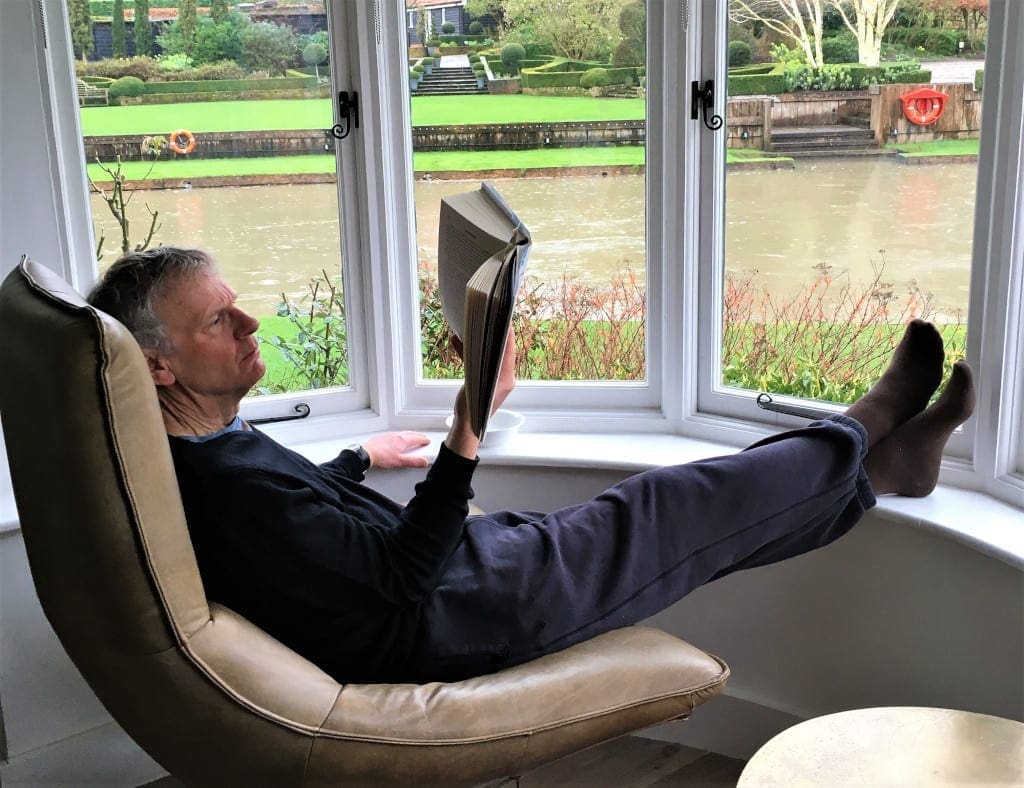 Modern artwork decorates the walls of the sitting room, which features long comfortable sofas perfect for reading, and an inglenook fireplace with a cosy wood burner stove. Upstairs, via a deep carpeted staircase, are two double bedrooms with stunning views out over the Stour. Both are en suite – one with a bath, the other with a shower – and both have fabulous king-sized beds to sink into after a day's walking.
We would have taken the riverside path to Flatford Mill, walking in the footsteps of the young Constable, but the floods had made much of it impassable. So instead we drove to the Flatford hamlet, where we could immerse ourselves in all aspects of the Suffolk artist's life and work.
Constable Country Walk
The permanent John Constable exhibition is a good place to start, with good copies of his best-known paintings on the wall, interesting insights about his upbringing in this area, and the artistic career he was overly keen to pursue from an early age.
Flatford Mill, which was owned by John's wealthy father Golding, features in a number of his paintings. So, of course, does neighbouring Willy Lott's cottage, forever immortalised in the left-hand corner of The Hay Wain. We had to do what thousands upon thousands have done before us and sat on the wall in front of the cottage so the most famous scene in British art was our backdrop.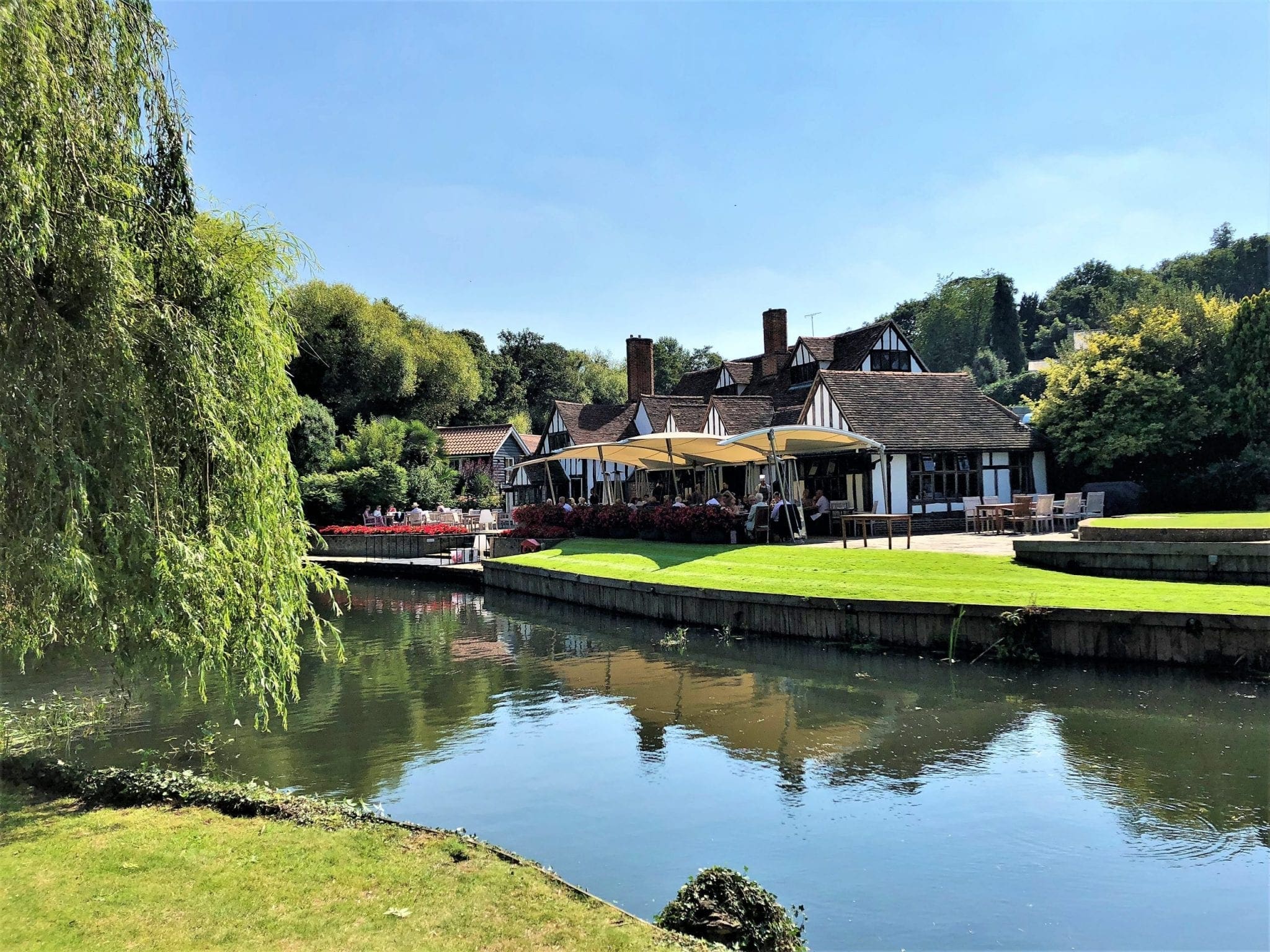 This is excellent, flat, walking country, and although the riverside was denied us, we left Flatford behind and enjoyed a bracing two-mile stretch across fields to the picturesque village of Dedham – where, totally unexpectedly, a rare Constable treat was in store for us.
Dedham Vale and the Stour Valley may have been his domain, but Constable's works nowadays all take their place in the great art galleries or private collections. Little Suffolk and Essex cannot accommodate his works.
Stumbling upon an original Constable
But wait a minute. As we stepped through the big oak door of St Mary's Church in Dedham (the one featured in Vale of Dedham), we gazed upwards at the wall ahead to see a painting, a depiction of Christ, with a white cloak wrapped around him, ascending into the clouds.
To our delight we had stumbled across an original Constable.
The Ascension was one of three religious paintings he was asked to undertake for local churches – and it has an excellent story behind it. It was commissioned by Constable's cousin by marriage, Edward Alston, a brewer, for £200 (around £17,000 in today's prices) to curry favour with the Archdeacon of Colchester, the Reverend John Jefferson, who was responsible for licensing public houses.
However the inducement didn't work. Jefferson refused to license Alston's pubs, and then when he died in 1821, Alston reneged on the contract with his cousin. In spite of his huge financial loss Constable did complete the painting – although some critics reckon the lower half shows less commitment than the upper.
Sun Inn and Le Talbooth
We would have liked to visit the home of the third artist in the great Suffolk triumvirate after Constable and Gainsborough – Sir Alfred Munnings, whose house in Dedham is beautifully preserved and studded with his magnificent equine paintings. Munnings too was no slouch when it came to landscapes, too. But sadly the museum was closed over the winter.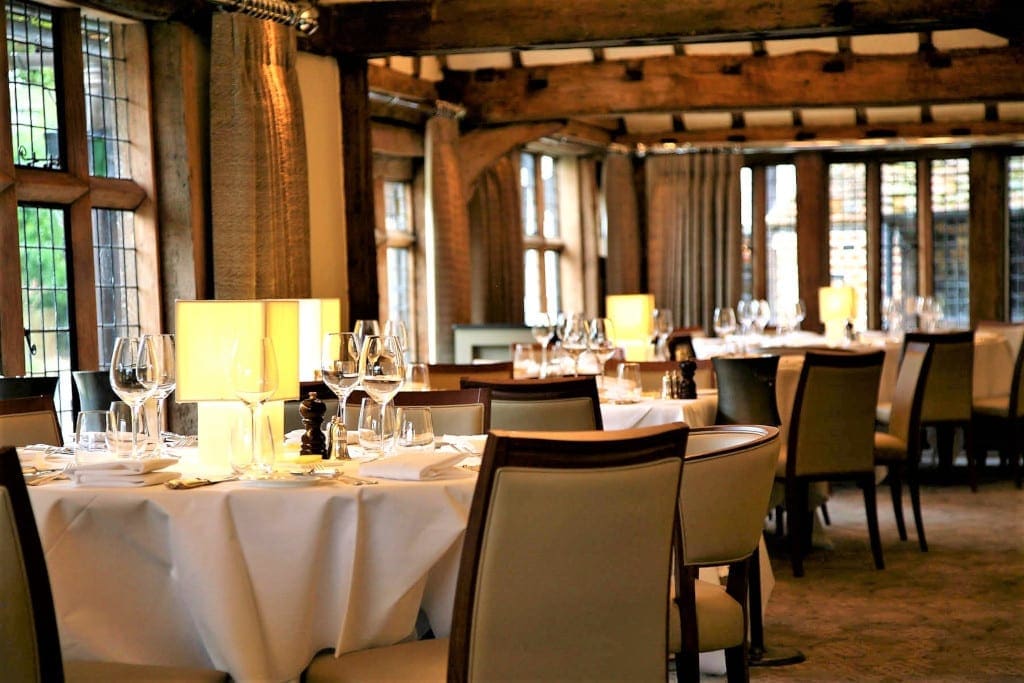 Instead, we made tracks to The Sun Inn on the High Street, to fortify ourselves before the walk back to Flatford into the teeth of a powerful wind. This is a marvellously cosy pub, once a 15th century coaching inn, which served excellent soup and sandwiches in the most convivial atmosphere.
But for our culinary treat of the weekend we took the short walk over the characterful stone bridge on the Stour that separated us from Le Talbooth restaurant, and settled down for a night of fine dining.
Le Talbooth is the oldest of all the Milsom establishments in this little hamlet, having been bought – as a café and tearoom – back in 1952. We had fond memories of a previous visit here, dining outside by the edge of the Stour on a balmy summer's evening.
This time we were able to appreciate the stylish, 'rustic-chic' dining room, and the superb food and attentive yet discreet service that recently garnered the restaurant its third AA Rosette. A summer truffle and manchego cheese ravioli for starters, followed by fillet of dry aged Dedham Vale beef Rossini. Yes, this steak dish is named after the 19th century Italian composer, but the credit for its invention is apparently disputed by three French chefs. A dark chocolate and pistachio delice rounded things off nicely.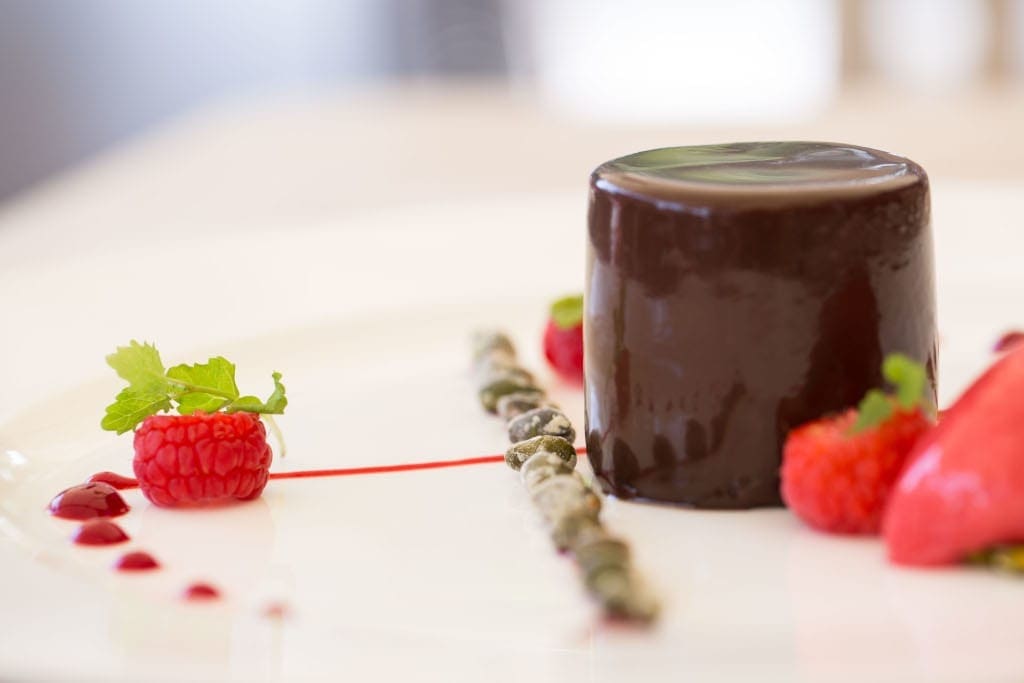 Our group spent Sunday morning reading, playing the oboe, or battling with an addictive word game called Spelling Bee (guaranteed to while away many hours of your life before you know it). Then it was back in our cars to our respective homes in London and Suffolk, having been splendidly relaxed and stimulated by our sojourn in Constable country.
---
Luxury Cottage – Idle Waters
Rates £250 – £400 / night (4 people), or £1,500 for the week.
Roger Hermiston Eileen Wise
Roger was Assistant Editor of Today on BBC Radio 4, while Eileen headed up the global PR for The Economist and Reuters. When not travelling near and far, Roger writes narrative 20th century history books such as 'The Greatest Traitor' and 'All Behind You, Winston', and Eileen now works as a counsellor from their Suffolk cottage. They have a remarkable menagerie including a pony, two donkeys, three cats, two peacocks and a guinea fowl.