Belize Holidays : Jungle and Barrier Reef
James Clark
Posted on 25th May 2020
Back in the days when global travel was 'normal', on his Belize holidays James Clark delved deep into the jungle and ended up swimming with the sharks.
Mayan ruins, tropical rainforests and dramatic coral reefs. Belize could be central America's best kept secret.
On arrival we drove deep into the tropical jungle of western Belize, close to neighbouring Guatemala, to the Ka'ana Boutique Resort, San Ignacio, in the Cayo district. Our day consisted of lunch, swimming in the pool, drinking cocktails and dinner in the hotel's La Ceiba restaurant, featuring seasonal ingredients, mostly sourced from Ka'ana's on-site organic garden.
After breakfast it was already time to say goodbye to the wonderful Ka'ana staff and depart for the Mountain Pine Ridge Forest Reserve to tour Caracol, with Yute Expeditions.
The 52 miles drive took 2.5 hours along bumpy dirt tracks through the rainforest, turned into quite an adventure, but unfortunately we didn't see any jaguars along the route. Jaguars are incredibly shy.
An hour into the drive to Caracol we stopped at Rio Frio Cave, which was a sacred burial site for the Maya. Walking up the steps provided us with an incredible view of the enormous cavern, more than 70 feet high with giant stalactites hanging from the roof of the cave.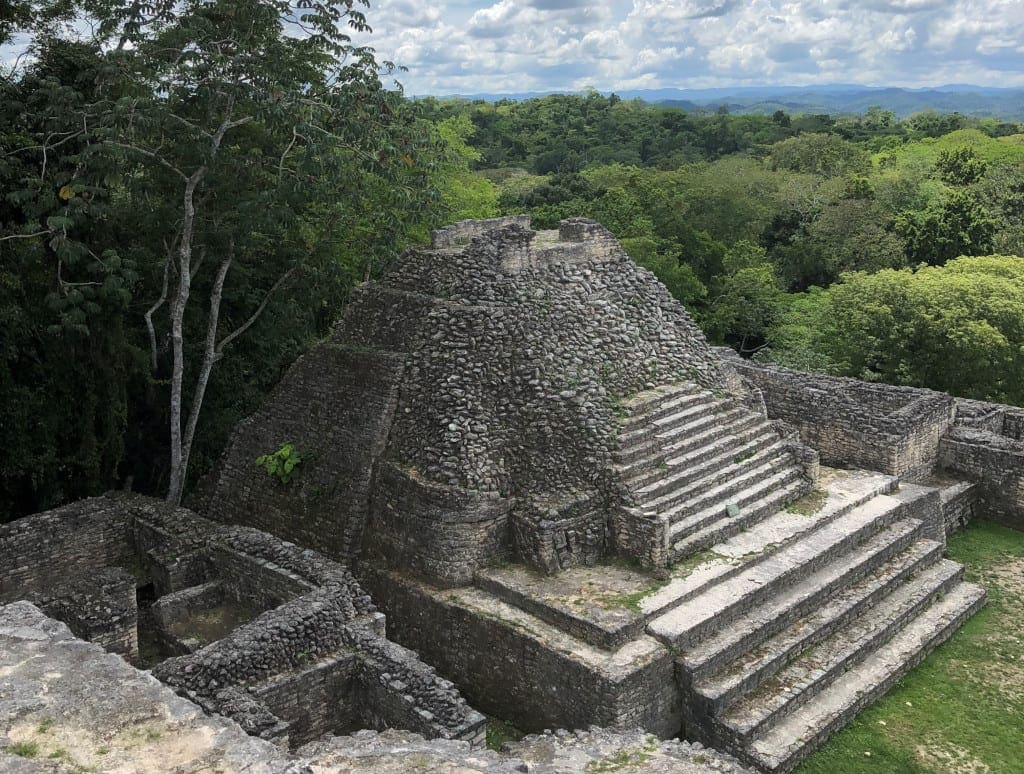 We ventured further into the cave that increased in size the deeper we went. Another giant entrance at the other end almost blinded us for a moment as our eyes adjusted to bright sunlight.
The Mayan City of Caracol in the Belize Jungle
Security was unable to accompany us in to the Chiquibul national park as their vehicle had broken down, but our driver seemed confident that he'd get us to the Mayan ruins at Caracol.
In AD 650, Caracol covered an area much larger than Belize City and supported twice the modern city's population with over 140,000 people living there. It is the largest Mayan city excavated in Belize.
Caracol isn't on to the tourist map, although it really should be. No coach loads of tourists and touts selling keyrings or other tourist tatt here. In fact, apart from the guards on top of some of the ruins we were the only people on the site.
Climbing the giant staircase to the top of Caana 'Sky Palace' was a challenge in the midday humidity, but we were rewarded with dramatic views of the site and the Chiquibul forest reserve below.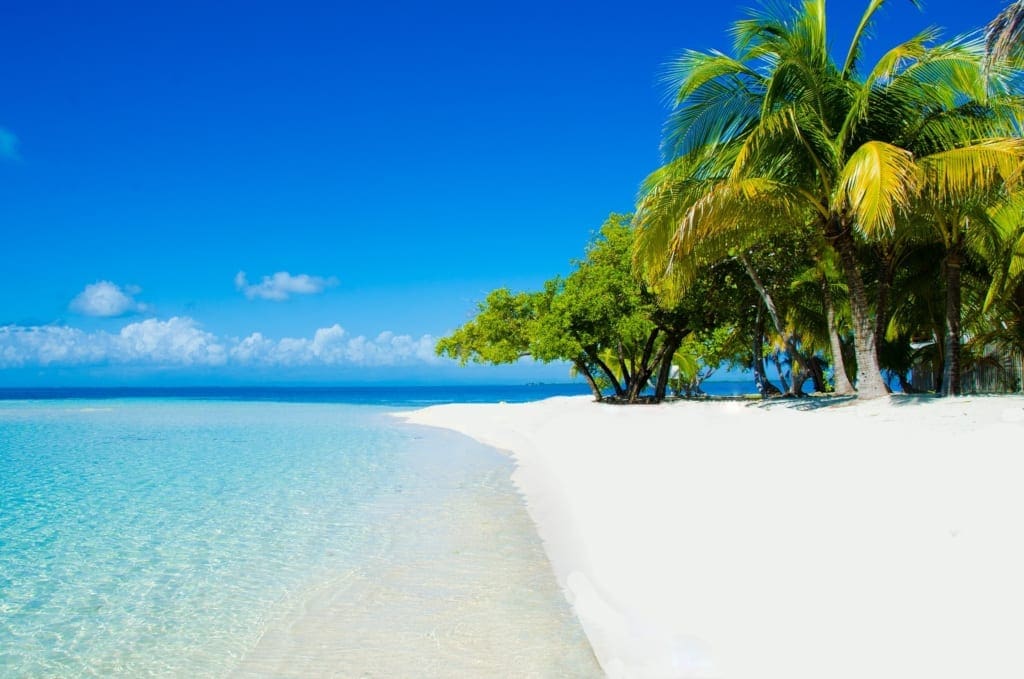 Once we'd wandered around the site and made friends with a tarantula it was time to cool down and head to Rio on Pools, just a short drive from the site. The natural swimming pools hidden within the forest of evergreen and palms trees turned out to be the perfect place to take a swim and connect with nature. The current was strong, but it just swept us into to the next pool.
Belize Beach life
It was a wonderful introduction to the beauty of Belize, but as the saying goes 'no rest for the wicked.' We were soon back on the road and heading to the Naia Resort in Placencia, four hours' drive.
After a well needed sleep we headed to the Cockscomb Basin Wildlife Sanctuary (CBWS) the world's first jaguar preserve to hike the Tiger fern trail (about five miles). There are other easier hikes, but we decided to take the most challenging option as it was rewarded with a double waterfall to bathe in.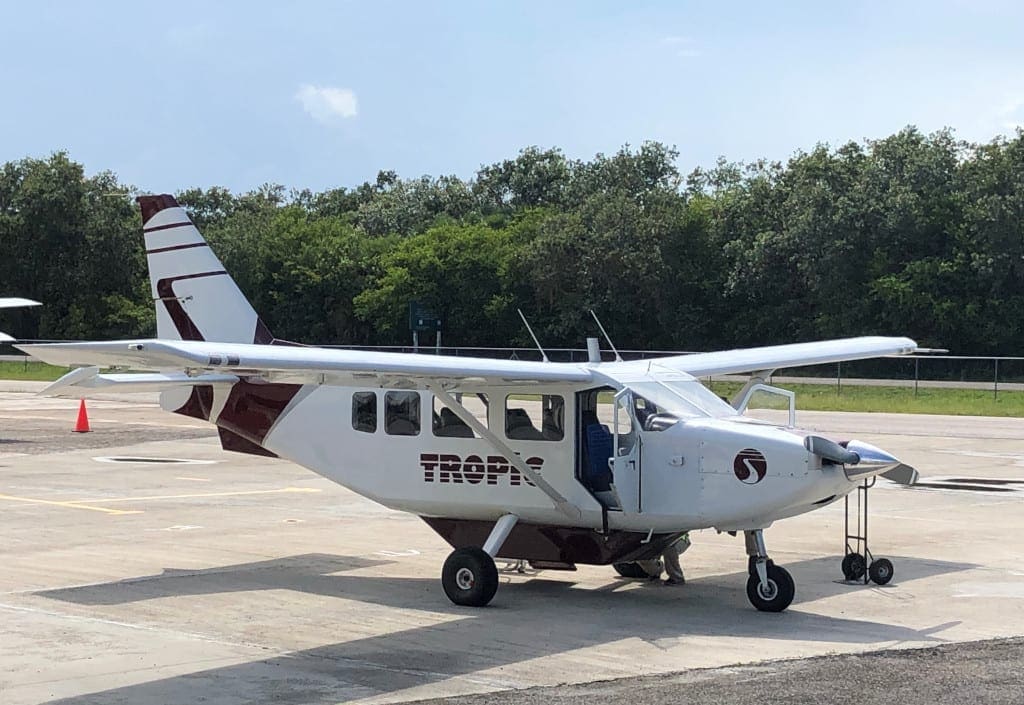 As we made our way through the jungle, the trail itself started off flat. After twenty minutes it begins to ascend. Every ten minutes along the way there were resting benches, which we used to pause for water and regroup. It was seriously hot, but worth it when we reached the top of the ridge, where we could see miles of rainforest.
After a photo break, the trail began to dip into a valley and rocks became slippery. Luckily, there was a flimsy wooden banister near the bottom that we hung on to for balance. I only slipped once. Soon, we could hear the first waterfall, where we swam and cooled down with some small biting fish.
Another Side to Your Belize Holidays
To get to Caye Caulker a small Caribbean Island off the coast of Belize, we took a couple of short flights with Tropic Air, in a plane so small that my head touched the top. What it lacked in size it certainly made up for in friendly and efficient service. Some of the larger carriers could learn a lot.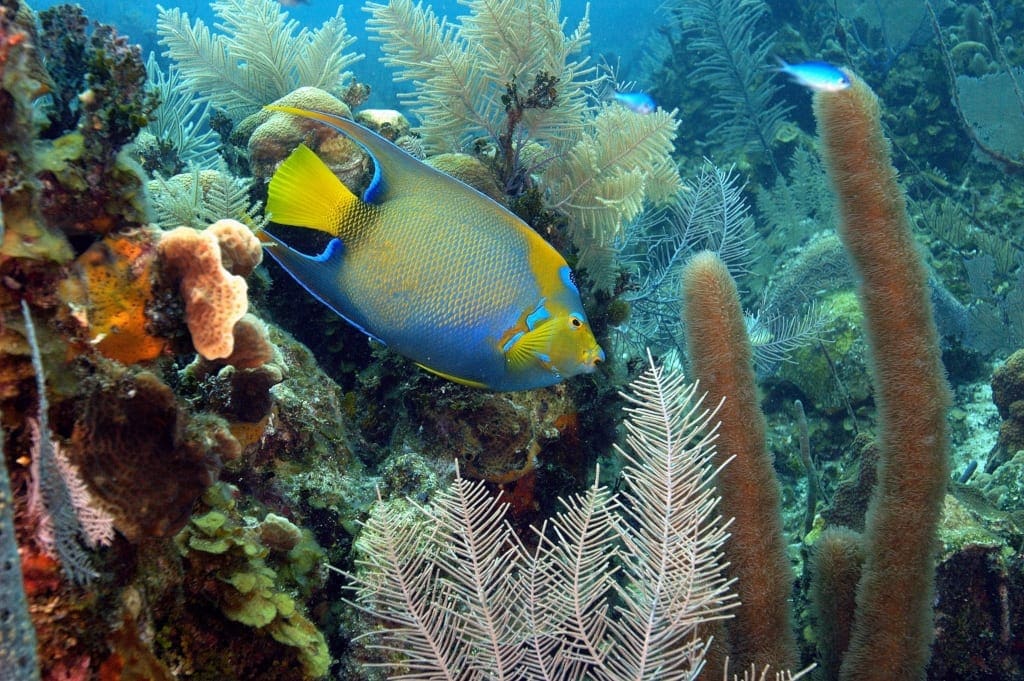 On arrival, we transferred by buggy to the Iguana Reef Inn for our final two nights. It felt worlds apart from the Belize that we'd so far encountered. Mayan ruins and rainforests were replaced with shacks selling rum and beer, colourful wooden buildings, vendors selling conch shells and touts chatting to tourists about reef snorkelling trips, the highlight of Caye Caulker.
The following morning we joined the full day Snorkel & Sail tour with Raggamuffin Tours; with snorkelling stops to the Hol Chan Marine Reserve (the most popular snorkeling destination in Belize), the Coral Gardens & Shark Ray Alley (where I got swept into the middle of a group of feeding nurse sharks) and two sightseeing stops where we swam close to manatees and tarpons.
On the way back to shore copious amounts of rum cocktails were dished up to thirsty passengers; the perfect end to our Belize holidays.
---
For further Belize travel inspiration, read our Top 10 Things to Do in Belize.
---
Belize Hotels and Resorts
Naia Resort & Spa – https://www.naiaresortandspa.com/ – Prices start from US $325
Ka'ana Resort – http://www.kaanabelize.com/ – Standard rooms (Balam Suite) start from USD $299 before taxes. Rate is inclusive of continental breakfast and based on double occupancy
Iguana Reef – https://www.iguanareefinn.com/ – Rates start from $179 – $489 USD + 9% hotel tax nightly
Things to Do in Belize
Cockscomb Basin Wildlife Sanctuary – https://www.roambelize.com/land-tours/cockscomb-basin-wildlife-sanctuary.html
Yute Expeditions (Transfers & Tours) – https://www.inlandbelize.com/
Raggamuffin Tours – Belize diving is rightfully famed. The cost of our one-day sailing and snorkelling excursion is $75 per person – $65US for children under 11 years of age – which includes the Marine Park entrance fee, rental of all snorkel gear, a full lunch on board the boat, fruits and water. http://raggamuffintours.com/hol-chan-snorkel/
Flights to Belize
If you are looking to book a flight to Belize or stay at one of the wide range of Belize hotels and resorts whilst there, please use the form below:
---
For More Information on Belize Holidays
Please visit the official Belize travel website: https://www.travelbelize.org/.
James Clark
James Clark is a UK-based travel writer specialising in adventure and the great outdoors.