Luxury Mexico Travel to Die For
Eileen Wise
Posted on 15th Jun 2020
Before the coronavirus pandemic stopped all travel, Eileen Wise goes on a trip of a lifetime discovering a side to Mexico travel well out of reach of us mere mortals. One for your post-COVID19 travel wish list?
My parents met and fell in love in Mexico so since childhood I have yearned to go to the country they found so romantic and Mexico in the depth of a cold British winter is an appealing prospect.
Our first port of call, Puerta Vallarta is where the azure blue sea of the Pacific Banderas Bay meets the majestic Sierra Madre Mountains.
It's a two-hour flight from Mexico City and was the perfect place to start our holiday. We stayed in the old town up steep narrow cobblestone streets in the charming ancient Hacienda San Angel.
The Hacienda – Puerta Vallarta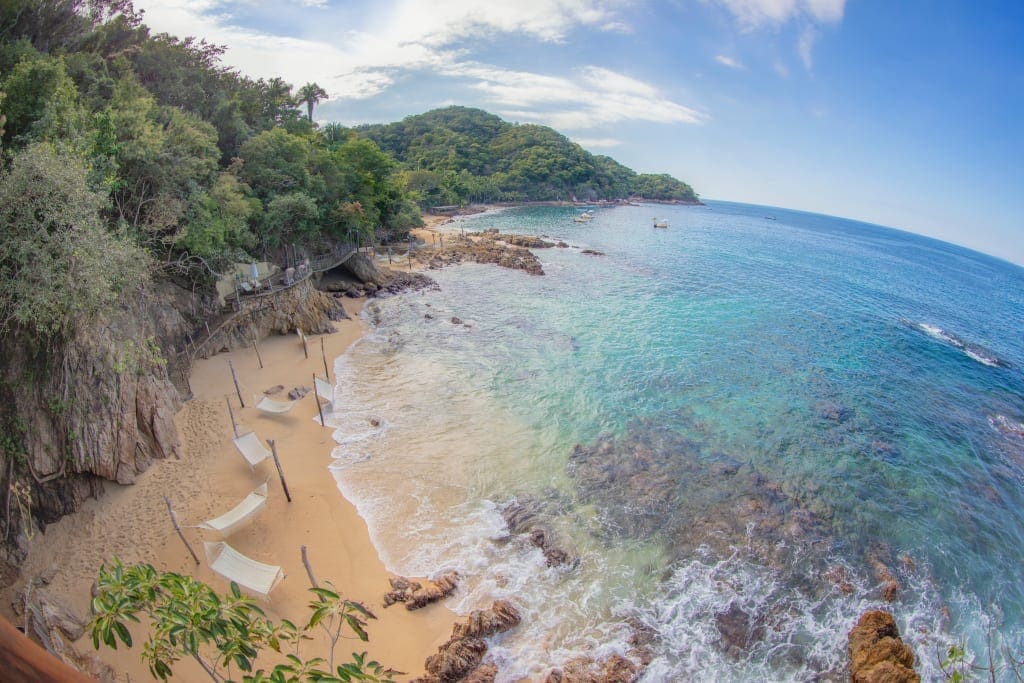 The Hacienda has a really romantic history. In 1963 when Richard Burton was filming The Night of the Iguana, he stayed in Puerta Vallarta with his then new amour Elizabeth Taylor – they'd recently met while filming Cleopatra. He fell in love with the place and years later bought the house which is now part of Hacienda San Angel, for his wife Suzy as a Valentines present. The present owner bought houses either side and today it is a tranquil haven in the middle of a vibrant town. With its old fashioned and charming feel it is like stepping back into history.
There's beautiful European and Mexican antique furniture from the 17th, 18th and 19th centuries dotted all over the place and it has its own small chapel, used for weddings. With only twenty bedrooms and suites you get very personal attention. There is a glorious terraced restaurant high up overlooking the Bay, serving tasty authentic Mexican dishes.
Our bedroom had a painting of the Madonna dating back to 1880 and with its large outside terrace overlooking pretty tiled rooftops towards the sea it was the perfect place to eat breakfast – delicious homemade pastries and mango jam.
Puerta Vallarta has a lovely promenade to walk along where locals build the most amazing sand sculptures. At the opposite end of town from where we stayed, there are lots of large modern hotels and a few big shopping centres to keep tourists who like that sort of thing happy.
On the Road in Mexico
After a couple of nights resting up and enjoying a few margaritas at pretty beach side restaurants we hired a local taxi to drive us three hours north. On the way we enjoyed stunning sea views of the wild blue Pacific Ocean, luscious green fields of banana, lemon and orange trees.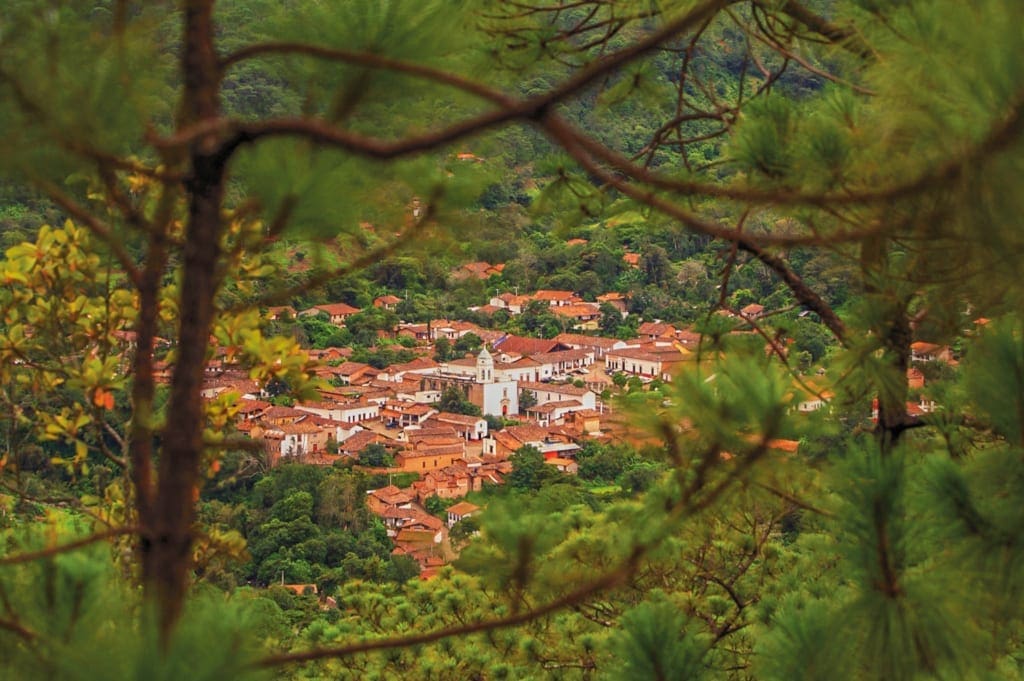 We stopped in a one-street village and ate some great street food – spicy tortillas filled with fried pork mince and chillies, filled with guacamole a crisp fresh salad all cooked on a little gas stove on the pavement. An enjoyable and modest pit stop before arriving at the rather luxurious Las Alamandas Resort.
Las Alamandas and the next two places we stayed in have a common family connection. At one time they were all owned by the late billionaire businessman Sir James Goldsmith, known not only for his successful business career but for his many wives, mistresses and numerous children. His first wife was Mexican and that's when he became besotted with the country buying up large estates.
Luxury Mexico Travel – Las Alamandas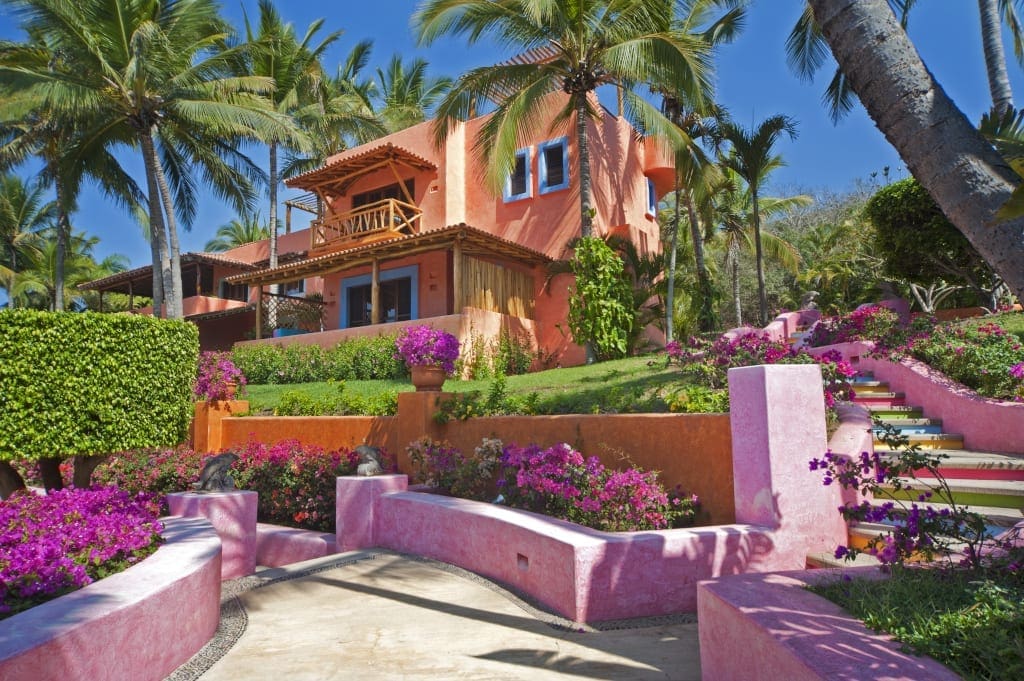 Set back from the road down 2 ½ miles long bumpy dirt tracks, it's a 1,500 acre estate, with beautiful sandy beaches, rugged cliffs and miles of unspoilt lush countryside, full of wild flowers, exotic trees, and with large hidden lagoons frequented by hundreds of different breeds of ducks and wild geese – all around you see the most amazing and colourful bird life.
There are only 22 detached villas on the property – so it never seems busy, even when full. Each villa is decorated differently and all have sea views. They are designed to Isabel's exacting colourful and artistic tastes. The deep vibrant colours ochre, blues, oranges, reds often against whitewashed walls look amazing. One of my dreams has always been to live right by the sea as there is nothing nicer than drifting off to sleep with the sound of the lapping waves. The Pacific Ocean certainly did that and in fact you never had complete silence as the sea was strong and dramatic.
There are literally miles of uninhabited beaches to stroll along – we enjoyed a five-mile walk with only the diving pelicans, strangely attractive buzzards and the odd beautiful brown eagle for company.
Being horse mad I went for an invigorating ride around the estate and a marvellous gallop along a disserted beach. I loved the way the horses roamed wild on the estate, so if you wanted to ride you had to tell them a few hours in advance so they could find and catch them. Other than walking, water sports, fishing, riding, having massages in your villa, swimming in the pool, beach volley ball and table tennis there is not much else to do at Las Alamandas as it is so remote and not near any towns. Although if you want to be energetic and active you can, as it has a gym designed by Robert De Niro, one of Isabel's friends and a frequent guest.
It's the ideal place to relax unwind and recharge your batteries with friendly chatty staff to look after your every need.
Luxury Mexico Travel – The Cuixmala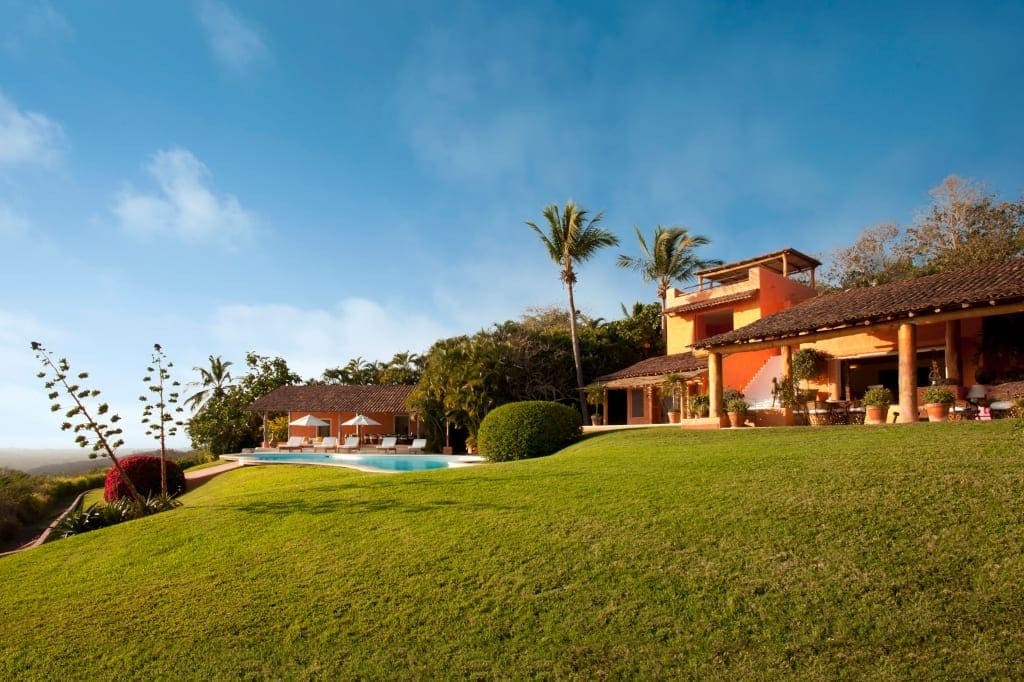 From Las Alamandas we drove for half an hour along the coast to stay at The Cuixmala Estate, which Alix Goldsmith Maraccini another of Sir James's daughters took over after he died.
Cuixmala is a magical and very special place. Set on 25,000 acres of unspoiled land, with abundant wild life this is a nature lovers dream. To reach it you drive a few miles along a pot holed track with magnificent scenery, grasslands, a coconut plantation, mangove swamps a river and lagoons. If you are lucky you might spot an ocelot, even a jaguarondi (a small Jaguar) or a puma.
We saw jabali (a small wild pigs), peccary another breed of small pig, white tailed deer, coyote, iguana and bearded lizards, gheko, hawks, kites, vultures, eagles, woodpeckers and humming birds. It is rumoured to have over 500 crocodiles on the property, we certainly saw a few. The sea is full of different kinds of turtles and during the breeding season the staff gather up the turtle eggs from the beach to save them from ravaging coyotes and other predators, and once they hatch they release them back into the sea.
We were made to feel very welcome by the warm and friendly Maria who runs the place – she took us on a four-wheel-drive tour of the estate to show us the different properties you can stay in. La Loma the house that Sir James had built for himself has only four gigantic bedrooms with ceilings nearly 20ft high and is spread over a reputed 37,000 square feet. It is a strange building, a mix of Mexican, Arabic, French topped and topped with a huge Moorish Dome. It is all painted a bright dazzling white with bright colours provided by the fabrics on the chairs and banquettes. It had the feel of a Maharaja's Palace.
From our casita you could look across the valley at night to find La Loma dominating the sky line, a big bright somewhat out of place beacon. We found the vastness of the rooms rather overpowering but loved the exotic antique furniture spread around the house. You can see why celebrity families or just the very wealthy would want to stay at La Loma – from $10,000 per night – and in the surrounding houses and cottages that come with it.
We just loved our more modest, but still very comfortable Casita (small cottage) which had stunning views of the estate looking out over the estate towards the sea. Down the hill from our Casita you found a large comfortable sitting room with squashy sofas for pre-dinner drinks before dining on the terrace. The food at Cuixmala was the best we had in Mexico. Real home cooking prepared by friendly women in the kitchen right next door to the dining room – it was nice to hear them happily chatting away preparing our tasty meals. They asked us if there were any particular Mexican food we wanted to try and I requested chicken mole – an unusual dish, chicken in a spicy chocolate sauce. Roger was sceptical at first, but like me pronounced it wonderful.
Cuixmala means the soul's resting place which is so appropriate given its proximity to nature. It was really was magical and we loved being surrounded by jungle, nature and the stunning landscape. It's a working organic farm which supplies most of the food eaten by guests at Cuixmala and Hacienda San Antonio the other property owned by Alix.
Being such a special and private place it is easy to understand why the likes of Tom Cruise, Madonna, George Lucas, Mick Jagger, Simon Le Bon, Quentin Tarrantino and others have enjoyed staying there, we certainly did.
Luxury Mexico Travel – Hacienda San Antonio
We spent the last few days up in the mountains a few hours away from the coast at the magnificent Hacienda San Antonio, in the highland state of Colima. How often are you asked when checking into a hotel if you'd prefer a garden view or a volcano view? From our bedroom window we were able to gaze over the smoking Volcan de Fuego which was truly awe inspiring. The luxurious two-storey coral pink Hacienda was built in the 19th Century for a German coffee planter and has been beautifully restored, decorated and added to by the Goldsmith family.
---
Looking for somewhere undiscoverd on your Mexico travel? Try the Marietas Islands National Park in Mexico's Riviera Nayarit.
---
To say the Hacienda is grand is a bit of an understatement. On our first night we were the only guests and dined in front of a huge baronial fireplace, a big log fire roaring away even though it was hardly cold. It was romantic and one felt like royalty in the magnificent surroundings and attentive staff who looked after us so well. The dining rooms, sitting rooms and library are spacious and beautifully decorated. It was peaceful wondering back to our room through the arched building after a long dinner and a slow private dance in front of the fire place.
The garden is beautiful and impressive with arched water fountains trickling into a stream which seem to go on forever, eventually ending up at a huge swimming pool. Lazing around the pool and swimming whilst staring up at the smoking Volcano was quite an experience.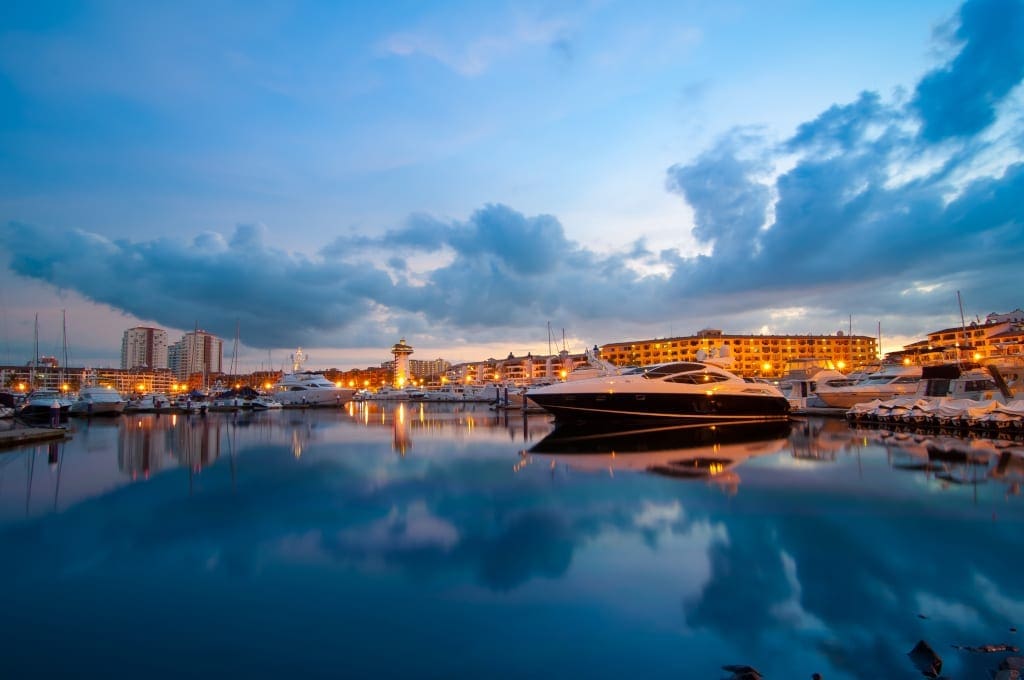 There were beautiful horses kept on the estate and I had one of the most enjoyable rides of my life. Riding through a long cool Bamboo Avenue, shaded forest and climbing up around stunning lakes and crossing pretty meadows was such fun.
On our last day we were shown round the estates own cheese factory, with an enjoyable tasting session and saw the coffee plantation and how the coffee was made. We were able to buy their own branded and sort after Hacienda San Antonio coffee.
What I found most enjoyable was meeting the head gardener Salvador Matias, who proudly showed us round the large organic gardens. The pride he took in his wonderful tomatoes, eight different kinds of lettuce, rows and rows of strawberry beds plus many more exotic fruits and vegetables was moving. I also learnt a lot about cultivating chilies.
This was a trip of a life time in the lap of luxury, staying in remote and truly beautiful places and we adored Mexico and its people.
---
If you are still looking for further Mexico travel inspiration, read Mike East's Campeche Mexico: Another Side of Yucatan.
---
Flights to Mexico
If you are looking to book a flight for your Mexico travel, or alternatively if you are booking hotels in Mexico (and find the above places a bit outside of your budget), please fill in the form below:
For more information on Mexco travel
Click here.
For information on Puerto Vallarta
Click here.
Eileen Wise
Eileen enjoys writing about her travels and in the past when she headed up the PR for organisations such as The Economist and Reuters she travelled the world. She now works as a counsellor and lives in Suffolk with her writer partner Roger and a menagerie of a pony, two donkeys, three cats, two peacocks and four guinea fowl.