St Lucia Holidays with Mustique on the Side
Roger Hermiston Eileen Wise
Posted on 7th Jun 2020
Before the coronavirus, Eileen Wise and Roger Hermiston jet off in the middle of the British winter and fly off to the Caribbean, on their St Lucia Holidays, taking in Mustique.
The first surprise you learn about St Lucia is that it's home to not one, but two Nobel laureates – Derek Walcott, considered the Caribbean's foremost playwright and poet, and Sir William Arthur Lewis, an economist. For an island just 27 miles long and 14 miles – shaped like a mango – that's a mightily impressive achievement. The inhabitants, clearly bright folk, speak English and a French based Creole, the result of their dual British-French heritage.
After an eight-hour flight we walked down the steps onto the runway at St Lucia's small Hewanorra Airport and into the fragrant atmosphere and restorative warmth of the Caribbean.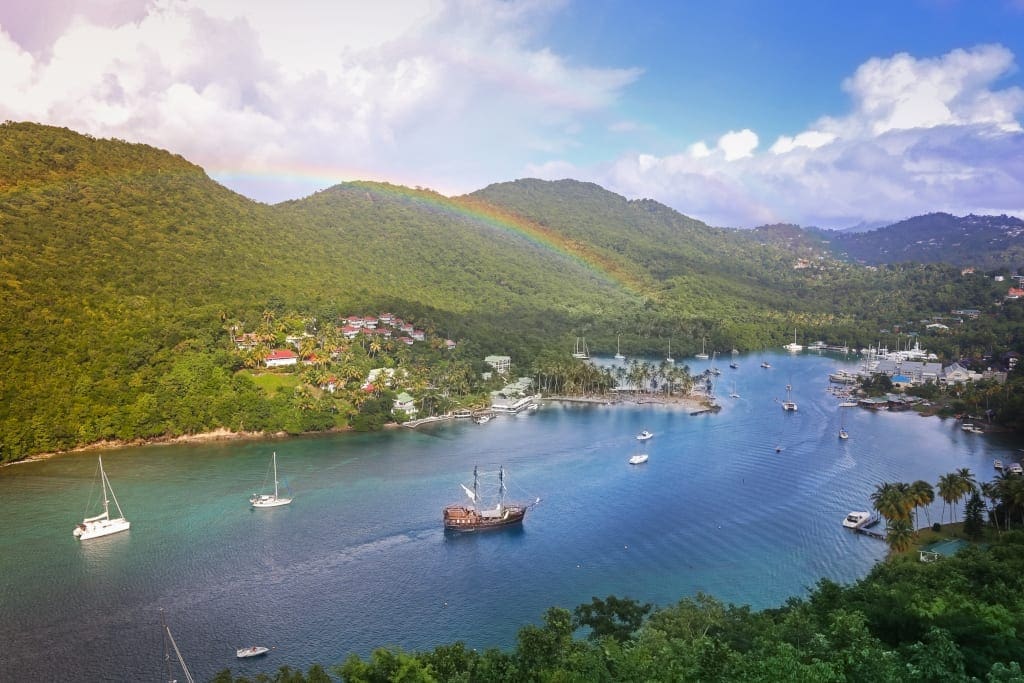 We were met by a friendly driver from Jade Mountain Hotel, our first destination, only an hour's drive heading north. Along the way we saw small colourful houses, often with ponies tethered outside, mingling with lots of grazing goats at the side of the road.
As we headed north the terrain became increasingly hilly. Pretty fishing villages glistening in the sunshine put us in a wonderful mood for the days ahead. On reaching the small coastal village of Soufriere we thought we had arrived, but found ourselves climbing up a very bumpy, steep, single-track road with a huge drop alongside into the ocean. Passing oncoming cars was a rather scary experience. After 10 minutes of holding our breath we arrived at the stunning five star Jade Mountain Hotel.
St Lucia Holidays – Jade Mountain
An impressive modern development perched on the side of a steep mountain, in some ways it has a metropolitan feel about it, but it also has a tranquil beauty, being so close to nature. Jade Mountain was the dream of owner Nick Troubetzkoy who spent years thinking about how to turn his vision into reality.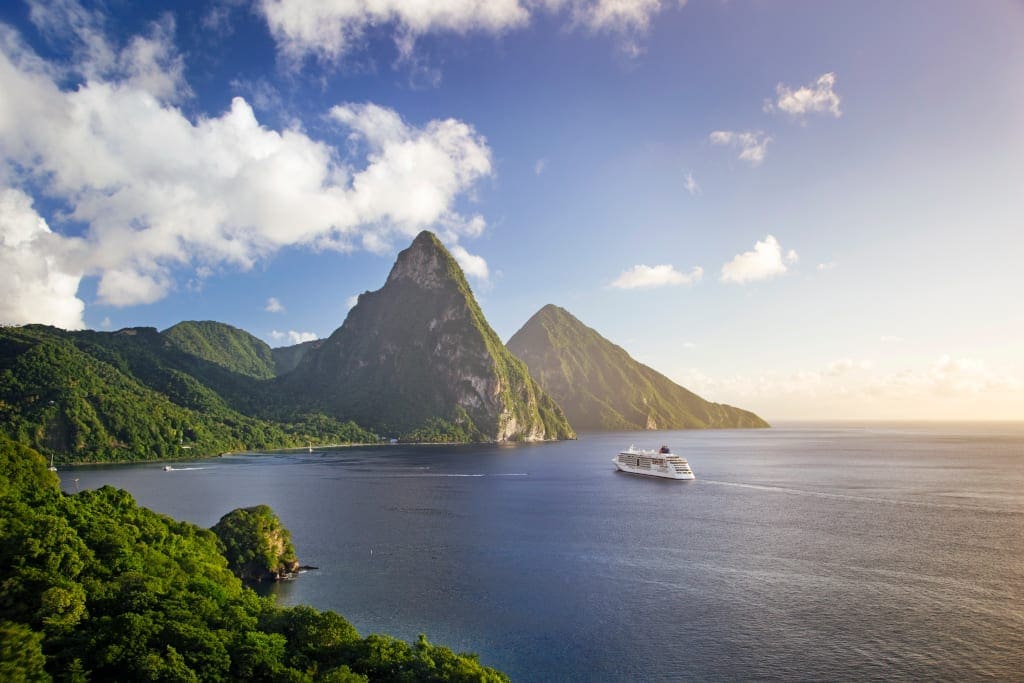 To reach our room we crossed our own 30-foot private bridge. And what a room. To start with it was huge, having its own infinity pool looking out over the stunning Piton mountains (an UNESCO World Heritage site), the most famous landmark on the island.
The room had three walls with the fourth open, looking out to sea. Given the peace and comfort of the room it was very tempting not to stray far from this very private and comfortable haven – staff told us that one honeymooning couple had stayed in the room for five days before surfacing, although that was perhaps not solely about the view.
We enjoyed our private infinity pool from where we watched the exotic, colourful bird life. Whenever we sat down for breakfast, lunch or dinner on the stunning roof-top restaurant cheeky little red and black St Lucian Oriels (indigenous to the island) – similar to our English Robin – hopped onto the table, grabbing whatever they could before flying off with it.
St Lucia Food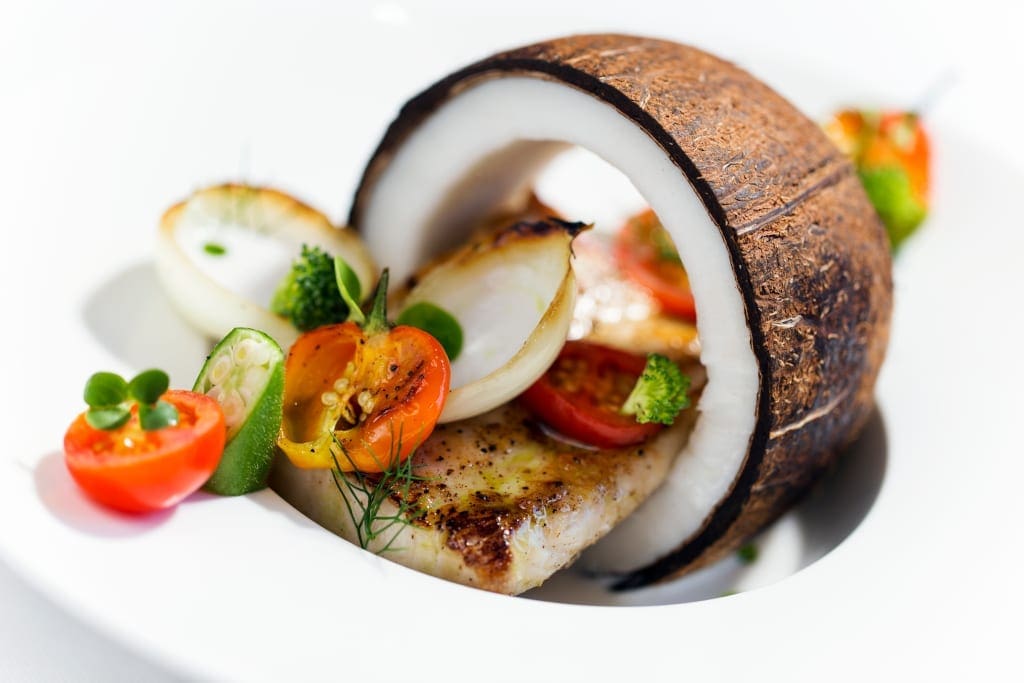 Jade's food was a mixture of fusion with some Creole influences, and the service was impeccable. We have never seen bread served in such a reverential manner, from under a silver service dome – each night the lovely waiter asked us if we wanted herb bread, fruit bread or just good old brown or white bread.
One day the hotel provided us with a knowledgeable guide so we could explore the luxuriant rain forest – a memorable experience as we learned so much about the island's vegetation and colourful bird life.
Lovely as Jade Mountain is, it is cut off from the outside world up its long steep road, so we decided to brave it and hire a four-wheel drive jeep to explore the rest of the island. Driving down that road for the first time was something of a nail biting experience.
St Lucia is a beautiful island to drive around but as a great deal of it is up and down very steep roads it is not for the nervous driver – you would be better off hiring a local taxi.
Castries, St Lucia Capital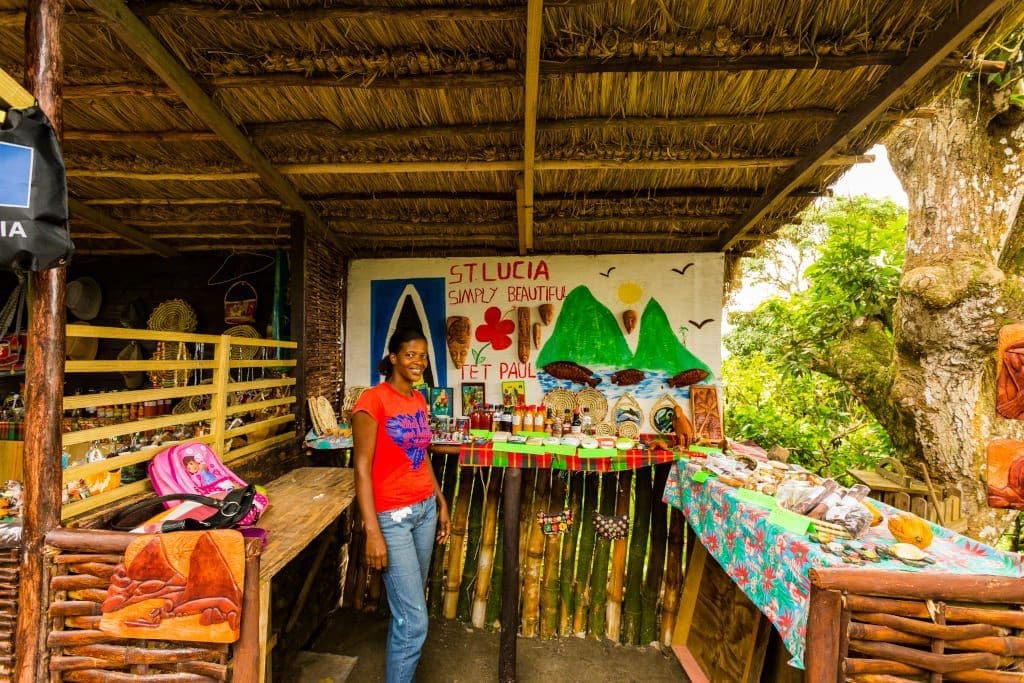 We headed north to Castries, the colourful capital, passing through lots of little fishing villages on the way. In one we met a lovely old boy in a friendly local bar, whom we bought a glass of the island's famed white rum while he regaled us with tales of his past cricketing career. He claimed to be a devilish leg-spinner, with best figures of 7-28 – but then again, it might just have been the drink talking.
Castries was about the size of a small Suffolk market town with a busy port and lively covered market, with more than 300 vendors selling fresh local produce and spices, some of which we bought to take home.
We ate some great St Lucia food, a delicious meal of Creole chicken curry in an alleyway within the market. St Lucians are gregarious, warm-hearted people, and we enjoyed sitting with them watching the world drift by, all the while reggae music playing gently in the background.
Jet-setting in Mustique
After six days in St Lucia it was time to continue on our Caribbean adventure by flying to the small exclusive island of Mustique. It's really not that far away from St Lucia but even so we had to take two small planes – via Barbados – on to St Vincent and finally on a Mustique Airways small private plane. Island hopping is great fun and the views you get in a small plane are amazing.
---
St Lucia Holidays Photo Gallery
All images, credit D Deveaux.
---
For further inspiration, read Mike Pickup's Things To Do in St Lucia, Caribbean Paradise. 
---
After landing on Mustique's very short runway we were whisked off to the Cotton House Hotel. This impressive establishment was built by Colin Tennant (Lord Glenconner) back in the 1970s after he bought the island. Mustique soon became popular with the rich and famous after Lord Glenconner gave Princess Margaret a house for a wedding present, and soon the likes of Mick Jagger bought homes on it, making it a sought after destination for people who could afford the prices.
The island is now owned and run by The Mustique Company which oversees all of the 139 multi-million pound houses scattered across the territory – three miles long and under a mile wide. These magnificent homes vary from two-bedroomed villas up to mansions reputed to belong to heads of state, royalty, celebrities and just incredibly well off people.
The Cotton House is without doubt one of most splendid hotels we have ever stayed in. Beautifully furnished by Oliver Messel, a designer and friend of Lord Glenconner, it is tastefully decorated with some stunning pieces of furniture.
Mustique by Mule
We stayed in a charming seaside cottage, with a lovely veranda and small plunge pool only yards from the lapping waves of the calm light blue sea. One of their personal touches was offering you a choice of 14 different pillows – one for all tastes ranging from a snore stopper to a maternity pillow.
If we ever went back I'd love to experience galloping along the long deserted beaches, taking a swim in the sea whilst clinging to my horse
As you would expect from an island inhabited by the very wealthy it is beautifully kept, and as we chugged along the little roads we found some quiet, rugged beaches, most of them empty which is just the way we like them – total peace and quiet.
The spa offers some relaxing treatments for the weary traveller and we both slept well after a dreamy aromatherapy massage.
The highlight of my visit to Mustique was going to the Sunday morning service at the little village church. I joined about 100 locals to sing my heart out to the most glorious and spiritually upraising gospel songs, complete with rhythmic swaying and lots of hallelujahs.
Three days were not nearly long enough to enjoy the peace and tranquillity of the place. If we ever went back I'd love to experience galloping along the long deserted beaches, taking a swim in the sea whilst clinging to my horse, as I saw some lucky people doing.
Sadly, after our brief St Lucia holidays with Mustique on the side, we had to return to cold England, but we shall return.
---
Alternatively, discover 9 Sea-themed Adventures in St Lucia.
---
Best Time to Visit St Lucia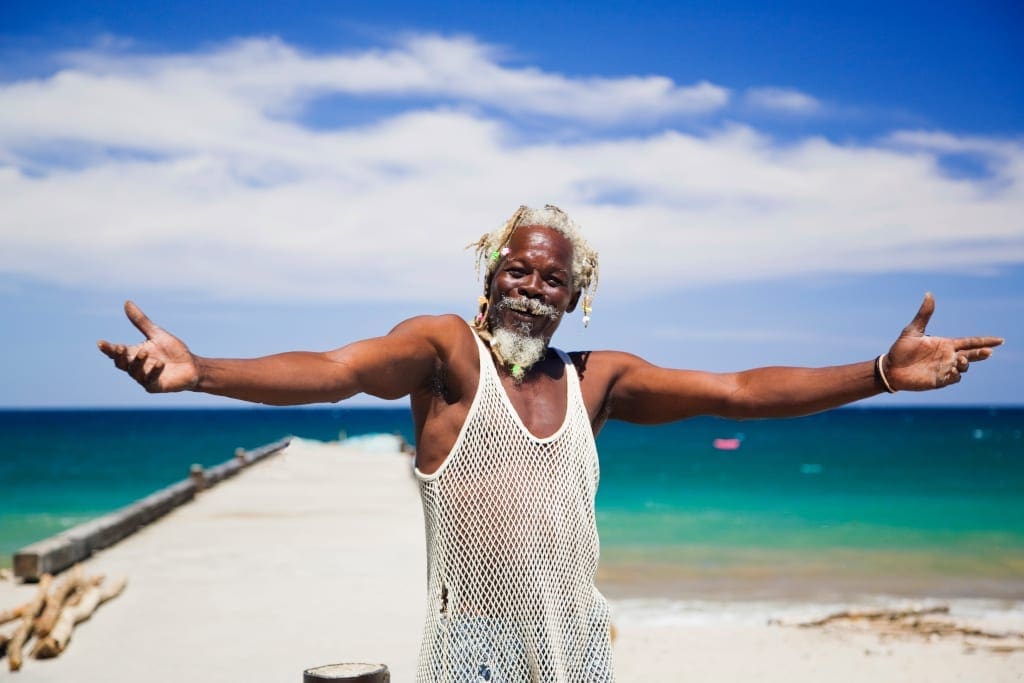 St Lucia has year-round sun with temperatures between 23C to 31C. December to April is the Dry Season, with the Wet Season from June to December. The Hurricane Season is at the same time as the Wet Season. For more information on when to time your St Lucia holidays, click here. If you are looking to coincide your St Lucia holidays with a festival, then it's a good idea to sample the St Lucia Jazz Festival.
St Lucia and the Coronavirus
Due to the coronavirus pandemic all flights to St Lucia were stopped on 18 March, 2020. However, the island has only had 18 reported COVID19 cases, all of whom have fully recovered. Flights from the US to St Lucia recommenced on 4 June, with 1,500 hotel rooms due to re-open subject to receiving a COVID19 certificate. More information can be found here.
The following information relates to pre-COVID19 lockdown.
Flights to St Lucia
The international St Lucia airport is at Hewanorra International Airport (UVF), 40 miles south of Castries. There is also an island-hopping airport, George F.L. Charles, just outside the capital. Several airlines fly from North America to the island. There are also flights from the UK, France and Germany.
St Lucia Hotels
If you are looking to book accommodation in St Lucia or some St Lucia resorts on your St Lucia holidays, please fill in the booking form below:
---
More information on St Lucia Holidays and Mustique
For more information on what to do in St Lucia, Visit the St Lucia Tourism website.
Roger Hermiston Eileen Wise
Roger was Assistant Editor of Today on BBC Radio 4, while Eileen headed up the global PR for The Economist and Reuters. When not travelling near and far, Roger writes narrative 20th century history books such as 'The Greatest Traitor' and 'All Behind You, Winston', and Eileen now works as a counsellor from their Suffolk cottage. They have a remarkable menagerie including a pony, two donkeys, three cats, two peacocks and a guinea fowl.