1066 Country and All That
Mark Bibby Jackson
Posted on 9th Aug 2020
The area around Hastings might be called 1066 Country, but as Mark Bibby Jackson discovers there is more to pique your historic interest than the Battle of Hastings and all that.
The last few months have made many of us re-evaluate our priorities. With most of the things we have taken for granted forbidden us, a simple drive down to the coast suddenly becomes transformed into a grand adventure.
As I drive to Sussex, I feel like a band that has reformed for one more gig, hitting the road after several months of self-isolation. My Mazda 636 purrs as it whistles along the M25, the reborn spirit of adventure clearly agreeing with its internal combustion engine, as even the usually dense traffic on the Dartford Crossing parts to give us unfettered access to the land south of the Thames.
1066 Country is a region rich with history. For many of us, history at school only commenced in 1066 as if the Vikings, Romans and Ancient Egyptians were merely some amuse bouche to the Norman main course. Travelling here is like stepping back into the past as well as perhaps into our future.
Bodiam Castle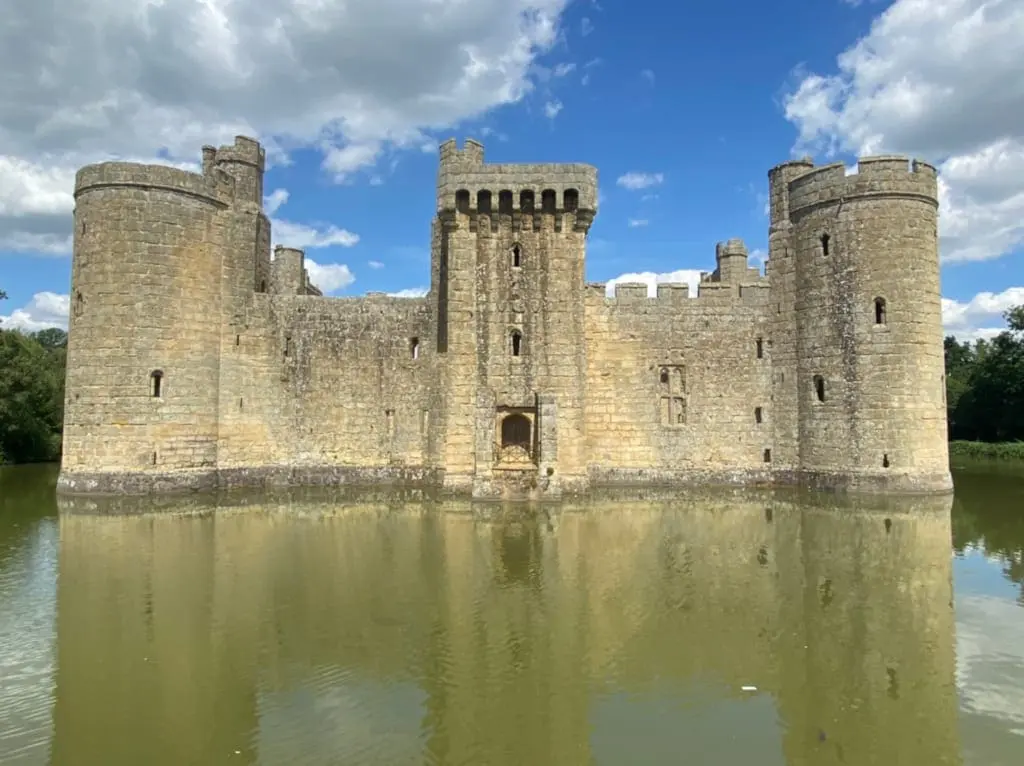 This is a point I discuss with Janet Gardner, Membership and Visitor Welcome Manager at Bodiam Castle, the first stop on my reunion tour of the historic sites of 1066 Country.
Bodiam Castle was built around 1380-85 for Sir Edward Dallingridge, a Knight of the Shire of Sussex during Richard II's era. Although it is hard to imagine now as I stand here surrounded by green fields and a gentle flowing river, Bodiam used to be an inland port, and the castle was built in part to prevent any possible invasion during the 100 Years War, but also Gardner suggests as a status symbol. In its heyday it was quite a sophisticated castle with fireplaces and even internal lavatories.
If Cinderella and Prince Charming were to elope to East Sussex this is where they would set up their abode
Over the years it fell into disrepair and the interior pretty much became a ruin that was restored by Lord Curzon, who owned the castle from 1917. He bequeathed Bodiam Castle to the National Trust, its current owners, in 1926.
A romantic castle – if Cinderella and Prince Charming were to elope to East Sussex this is where they would set up their abode – it is probably most noted for having the oldest confirmed portcullis in the UK, although the undated one at the Tower of London could be older.
The external grounds have been open to the public since June, but numbers are regulated and people have to pre-book online by 3pm the previous day.
Gardner says that the current arrangement "is working well," adding that feedback from the general public since the reopening has been overwhelmingly positive. "They feel they are safe and there are not too many people," she adds.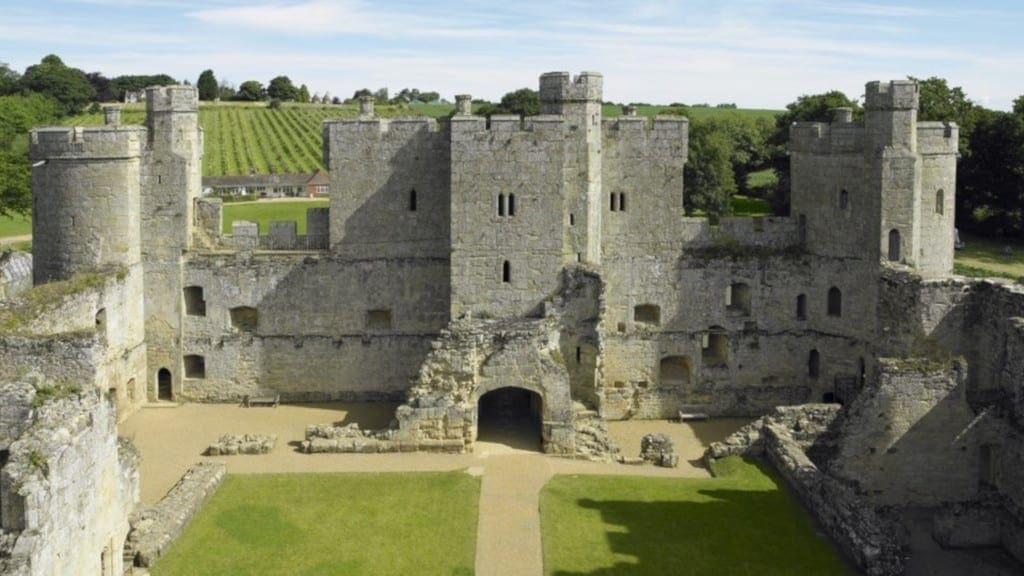 Certainly, the site lends itself well to social distancing. It is large enough to allow you to loiter and still not intrude upon the space of other visitors, let alone disturb the sense of calm.
Could this be the future for many sites up and down the country? Controlled, pre-booked entrance that ensures you can enjoy the attractions, without the cacophony of other tourists disturbing the calm? I for one would not complain if this were one of the benefits of the New Normal.
Gardner confirmed that plans are well in progress to open the castle itself although with a one-way system to be introduced. The small museum and conservation room are both currently shut.
Herstmonceux Castle
Like Gardner, Julie Ryan, Enterprise Director at Herstmonceux Castle, says that the public has been largely supportive of the measures they have introduced.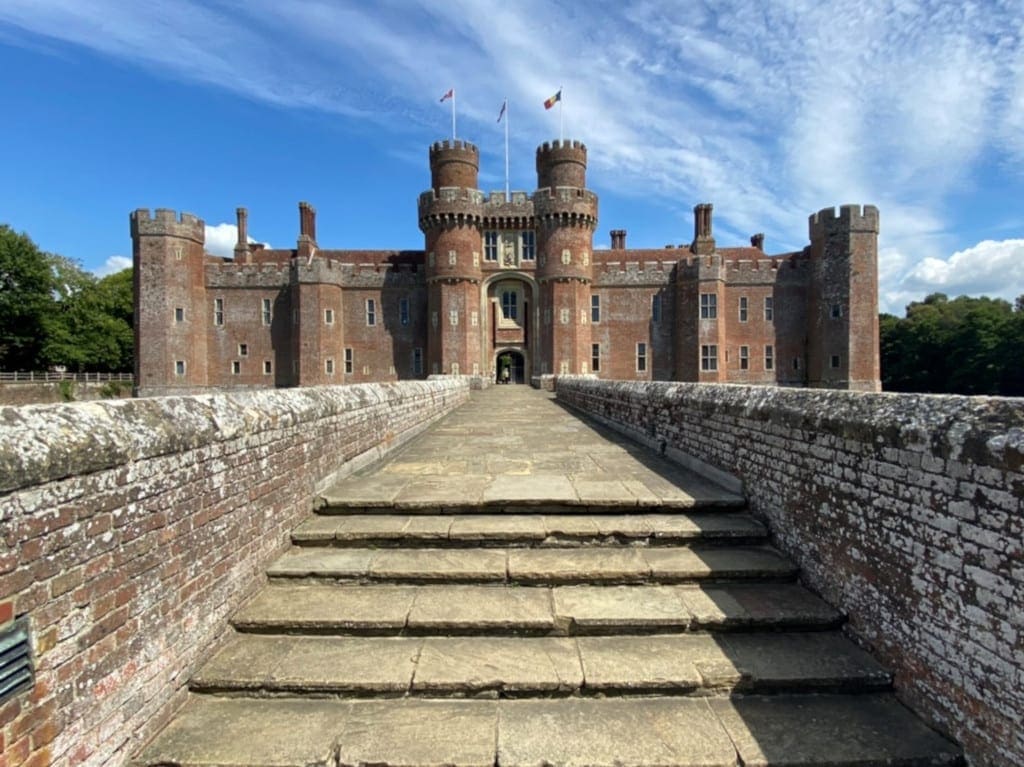 "Everybody who has been has given us good reviews," she says. "People feel safe. It's a welcoming environment. There is so much space here that people can be on their own if they want to be."
Herstmonceux too benefits from being a largely outdoor attraction. Reputed to be the oldest brick house in the UK, its grounds were reopened to the public on 4 July, and according to Ryan it has been as busy as usual, although there have been no tour groups.
The 15th century castle itself is used as an International Study Centre for Queen's University in Canada. Ryan anticipates that it will be reopened to the public in September perhaps with self-guided tours. However, it is the 300-acre estate that includes woodland, formal gardens, some ponds, a folly and a wonderful peacock that really are Herstmonceux's star attractions.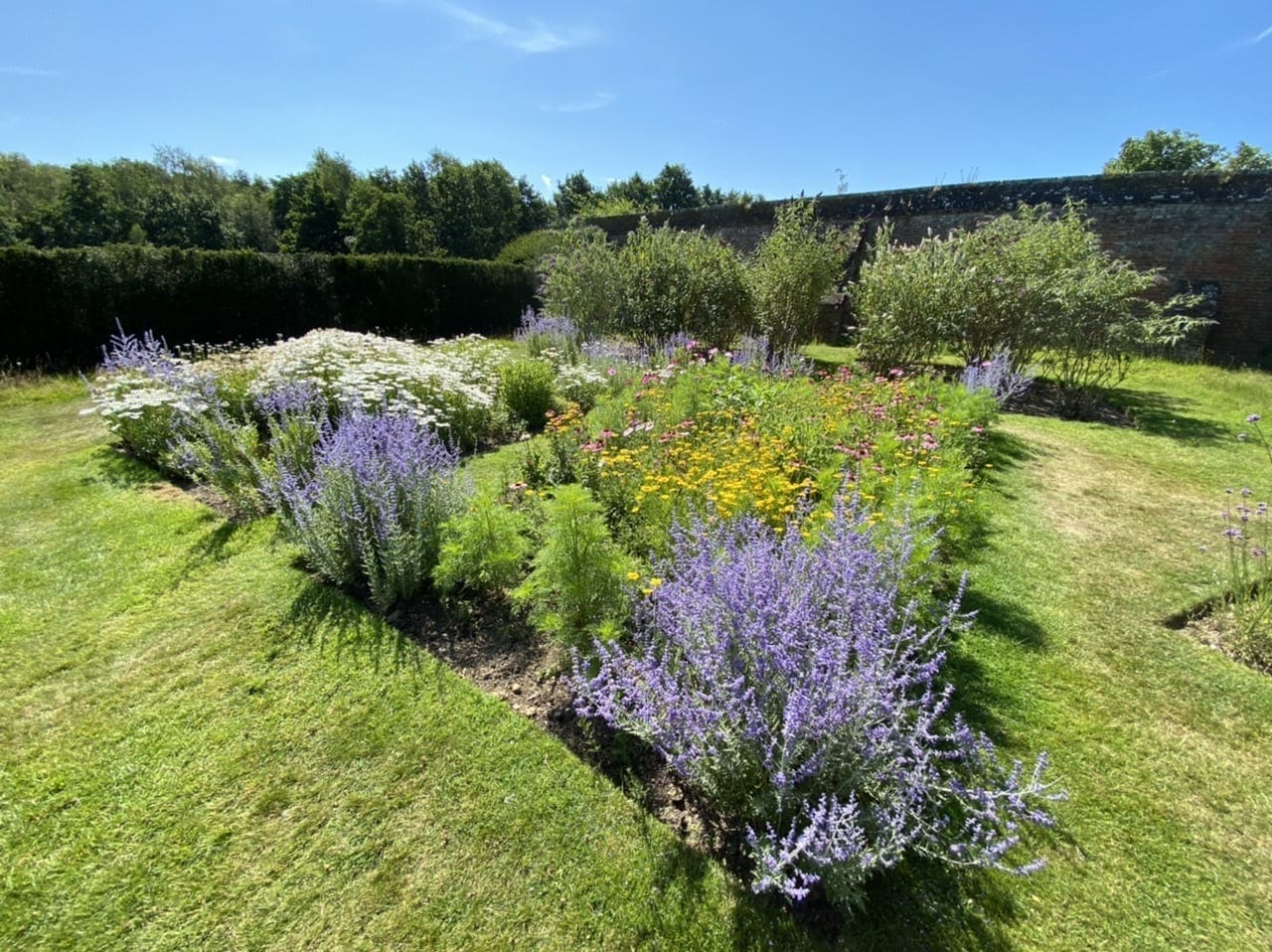 Once more, wandering around the grounds I wallow in the sense of calm and isolation. I do not regret the absence of tour groups for one moment.
The Elizabethan Gardens, which date back to 1570, were painstakingly brought back to their regal splendour by Claude Lowther from 1910, after falling into a state of disrepair as did the rest of the castle. It is here that you can encounter the glorious peacock. Next to them is an Apothecary Garden and the Lower Garden that are dedicated to pollinators and support the local bee and butterfly population. The whole estate is dedicated to ecology explains Guy Lucas, the gardens and grounds manager, who escorts me over his green domain.
However, it is the mock-Georgian Folly created between 1933 and 1946 by Sir Paul Latham that intrigues me most. Like a set in a Hollywood movie, behind its elegant façade lies an elegant walled garden.
Observatory Science Centre
Right next to Herstmonceux Castle is the Observatory Science Centre, which this year is celebrating "25 years of spectacular science". Compared with the other sites I visit on my travels this is a relative babe, however this does not diminish its interest.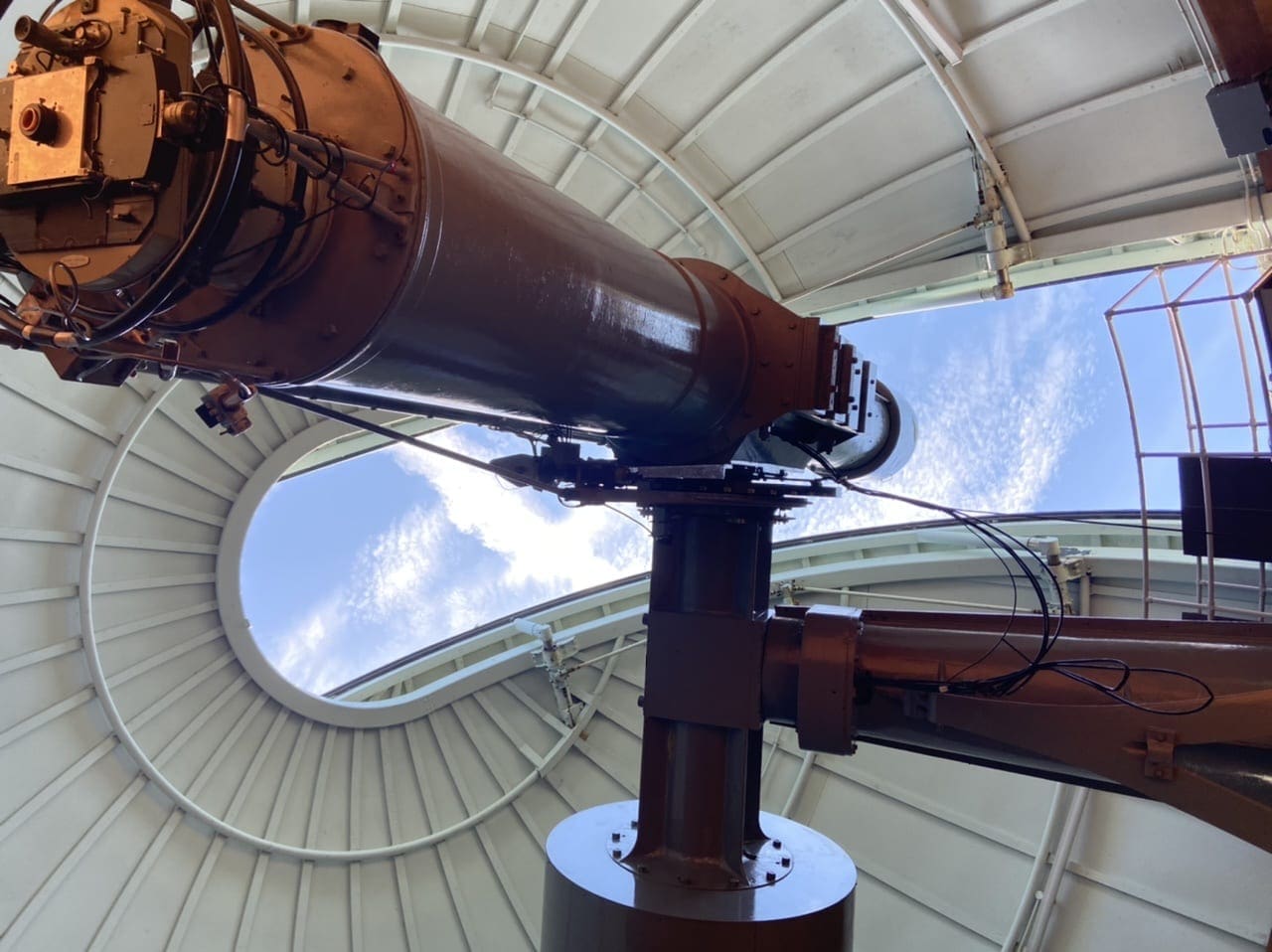 Now, I am no great fan of science, but as a child I loved watching Patrick Moore enthuse about his sky at night. At the Centre you can enter the large copper roofed domes and marvel at the giant telescopes used to purvey the skies, including the one Sir Patrick used back in his moon-mapping days.
Due to the light pollution in London, telescopes were brought here from Greenwich in 1947, and the Royal Greenwich Observatory Herstmonceux became a major global astronomical centre. At one stage it had the world's fifth largest telescope, and the BBC received the Pips from here. However, the centre fell into decline partially due to the same light pollution that had dogged Greenwich. Fortunately, it was bought by the current owners and opened as The Observatory Science Centre in 1995.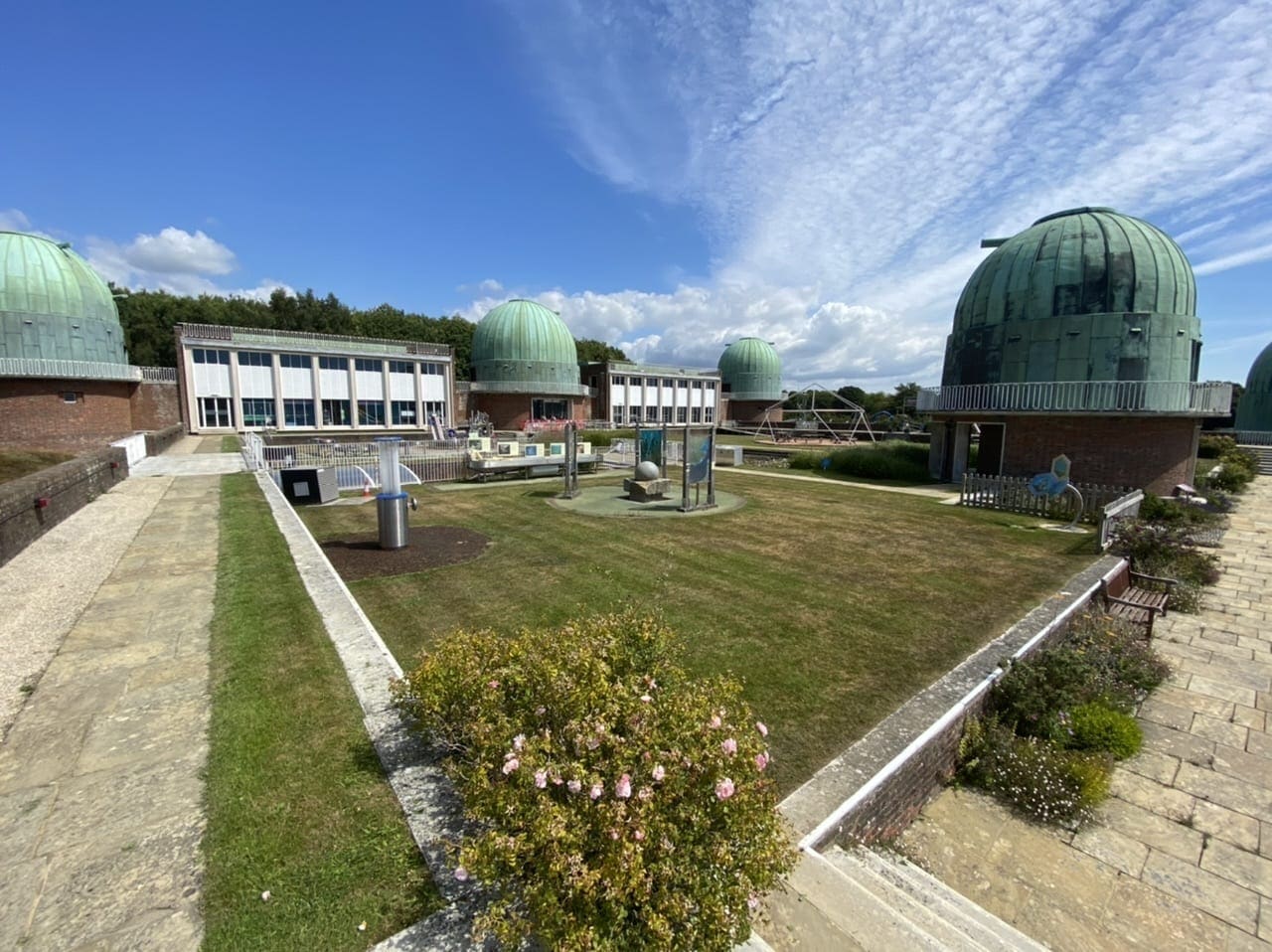 Although, the centre is currently closed to the public, I was afforded a special visit. There are plans to reopen the centre shortly, information about which will appear on the website.
The centre is popular with school trips, but it also has a lot of scientific heritage to interest a more mature visitor. I was shown into Dome E which contains a Thompson Telescope that can only be reached by mechanically raising the floor. The centre has regular stargazing evenings allowing you to gaze into the heavens through the enormous telescope, but as my trip was in the day I had to suffice with the electric shutters opening up before me to reveal the most beautiful blue sky.
A second dome has been turned into an exhibition room which has an interesting display on the history of astronomy and the 323 year history of the Royal Observatory.
1066 Battle of Hastings, Abbey and Battlefield
My tour of historic sites of 1066 Country ends where it all began – or at least modern English history as taught at my school did.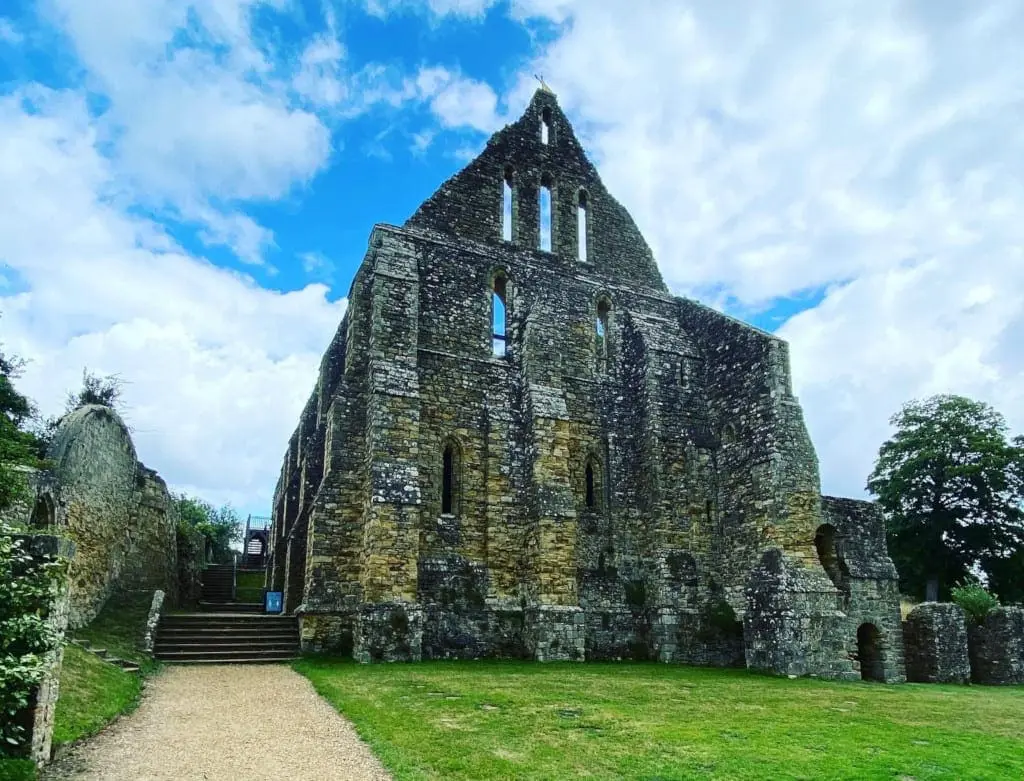 Battle Abbey and Battlefield was one of the first sites chosen by English Heritage to reopen after the lockdown, on 13 June. It is no wonder why. Like Bodiam and Herstmonceux the site lends itself to the external visit – after all most people come here to see the spot where Harold got it in the eye.
The Great Gatehouse which dates to the mid-14th century is impressive enough on its own. From this you are led in a one-way system around the battle field where the Norman invaders confronted the Saxon troops loyal to King Harold.
Although some dispute that the Battle of Hastings was actually fought here, sources recount that William I wanted the abbey built on the actual site of the battle as penance. It is estimated that some five to six thousand men died during the fighting. The original wooden church was dedicated in 1095 on the spot that the battle was fought. The current stone abbey ruins date back to the 13th century.
A stone marks the spot where Harold fell in battle.
---
Battle Abbey and Battefield Photo Gallery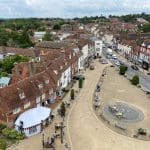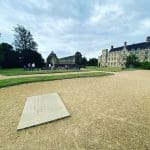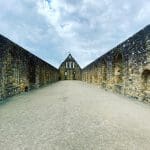 ---
Battle Abbey was a particularly wealthy monastery until the Black Death struck in the mid-14th century and diminished its numbers from 52 to 34 monks. The Abbey never really fully recovered. You can wander around the monks common rooms and dormitories to get a sense of life at the abbey until its dissolution by Henry VIII, who granted it to Sir Anthony Browne, the Master of the Horse, in 1538. He turned the Abbot's lodgings into a palatial home which is now Battle Abbey School.
Currently, tickets need to be bought in advance and visitor numbers are controlled due to COVID-19. Also, the visitor centre exhibition – which I am informed is particularly impressive – is closed, and audio guides have to be downloaded in advance. The splendid Great Gatehouse is however, now open to the public, and contains a small exhibition with strictly controlled numbers.
---
Battle Abbey was not the only place to suffer due to Henry VIII's dissolution of the monasteries. Read Mark Bibby Jackson's account of Things to Do in Bury St Edmunds in a Nutshell.
---
I climb to the roof to see the most splendid view of the town of Battle.
Fortunately, there is no sign of invading Normans but judging by the activity below the country is slowly starting to take its first hesitant steps on the road to recovery. As for me, my road will take me through the Dartford Tunnel and back home to Essex. I feel that my reunion tour might run for quite some time.
---
Places to Stay in 1066 Country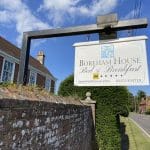 During my travels around 1066 Country I stayed at Boreham House, a Grade II listed Georgian house built in 1796 in the village of Boreham Street.
It provides excellent accommodation with great views of the High Weald, as well as the most beautiful walled gardens.
Owners Sara and Simon Parker have introduced stringent COVID-19 measures to ensure the safety of all guests.
---
A 1066 Country Walk
Read about Mark's adventures as he goes on a 1066 Country Walk from Winchelsea to Hastings.
---
For more information on things to do in 1066 Country
1066 Country makes an excellent destination for a UK staycation. If you want more ideas on things to do in 1066 Country, surf the Visit 1066 Country website.
Cover image courtesy of English Heritage. All other images unless stated by Mark Bibby Jackson.
Mark Bibby Jackson
Before setting up Travel Begins at 40, Mark was the publisher of AsiaLIFE Cambodia and a freelance travel writer. When he is not packing and unpacking his travelling bag, Mark writes novels, including To Cook A Spider and Peppered Justice. He loves walking, eating, beer, isolation and arthouse movies, as well as talking to strangers on planes, buses and trains.