Coffee Clubs: Experience a World of Aromas
Irene Caswell
Posted on 25th Aug 2020
With her travel wings clipped temporarily due to travel guidelines, Irene Caswell has decided to explore the world of Coffee Clubs from her home in the UK.
Trying new food, enjoying unique wines or spirits, and people watching over a cup of the local coffee are a significant part of the travel experience. Pleasurable memories are evoked through our taste buds and olfactory senses. Taste, aromas and memory are closely connected. Back home we fondly recall and perhaps search for that memorable local wine. We might try to recreate an evening over an unforgettable Thai curry, or the experience of an intense espresso at a street coffee stall in an exotic location.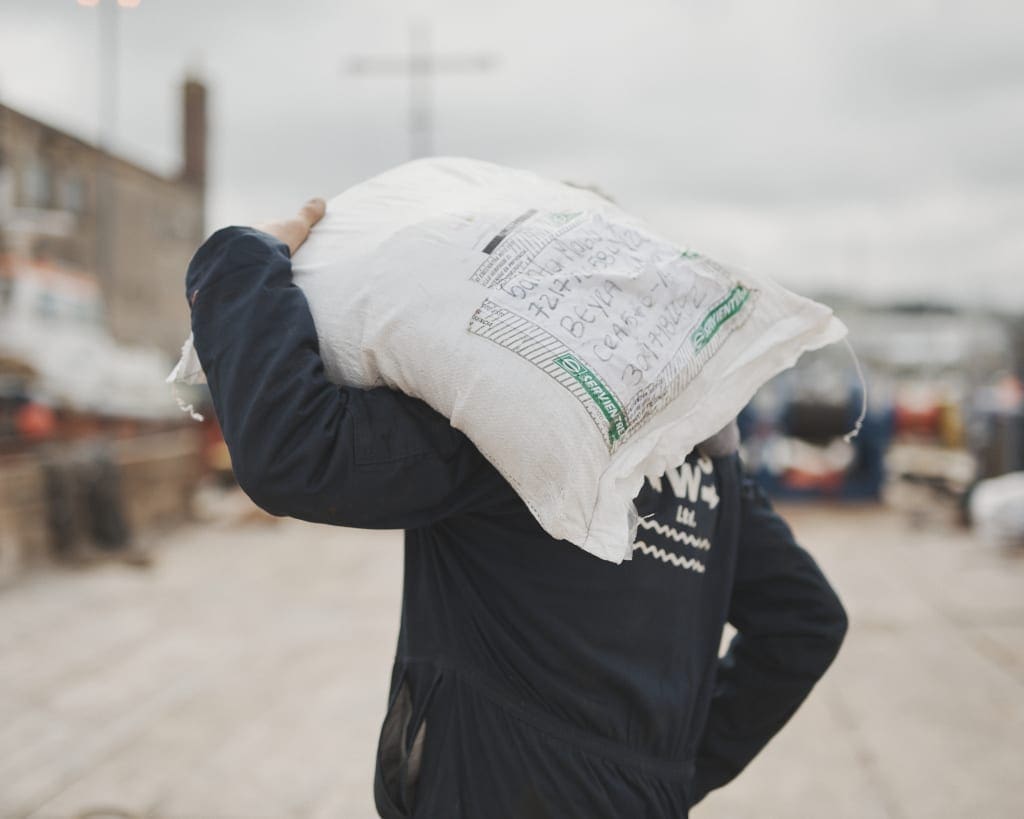 Coffee traces its heritage back centuries to the ancient coffee forests on the Ethiopian plateau reaching Europe by way of Arabia, Persia, Egypt, Syria and Turkey, arriving in the USA in the mid-1600s. Experimenting with world coffees at home is now easier than ever, thanks to the Coffee Clubs springing up in the UK.
Coffee by Subscription
Some 95 million cups of coffee are consumed per day in the UK, with 80% of households buying instant coffee. In the same way that most wine is purchased with the weekly shop, coffee is also bought at the supermarket, where the range is limited. Temperature, climate, soil composition and production methods all impact on wine and food. Coffee is imbued with its own distinctive tasting notes depending on where the cherries are grown.
Coffee clubs source authentic, artisanal coffees from different continents to enjoy at your own kitchen 'café'. They offer access to single estate Speciality Coffees from independent UK roasters who are championing quality products produced sustainably, pay fair prices to local producers, and use packaging that can be recycled.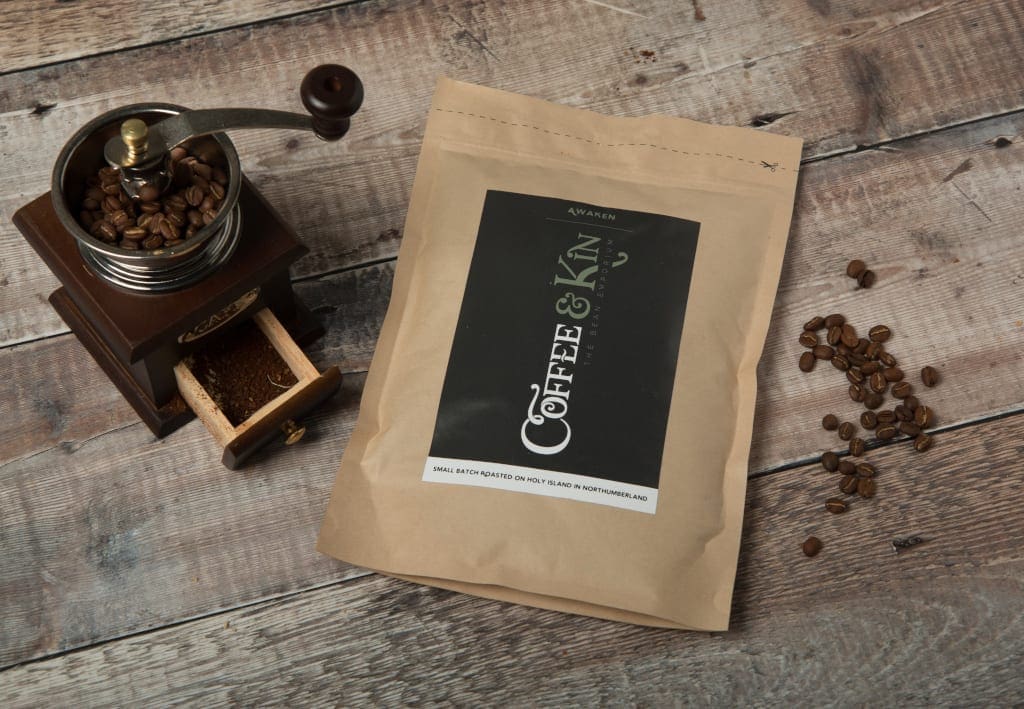 Subscription service options include the opportunity to experiment with different coffees, or a regular supply of your favourite one. Deliveries come with tasting notes and recommendations for brewing. Speciality Coffee has to go through rigorous grading and represents the top 5% of coffee in the world. Lower quality coffee is blended in large amounts that become untraceable. Coffee club products offer products that are fully traceable from the farm to the cup.
Choosing between beans or ground coffee
While coffee roasters recommend grinding the beans at home for the freshest brew, if you order ready-ground it will be super fresh, sometimes ground within 24 hours of dispatch. Look for the date of roasting on the individual packets and choose a grind of coffee to suit your preferred method whether using a state-of-the-art automatic espresso machine, a cafetière or a simple 'dripper' cone.
Here are four independent Coffee Clubs with subscription services and examples to get you started.
Coffee Clubs – COFFEE & KIN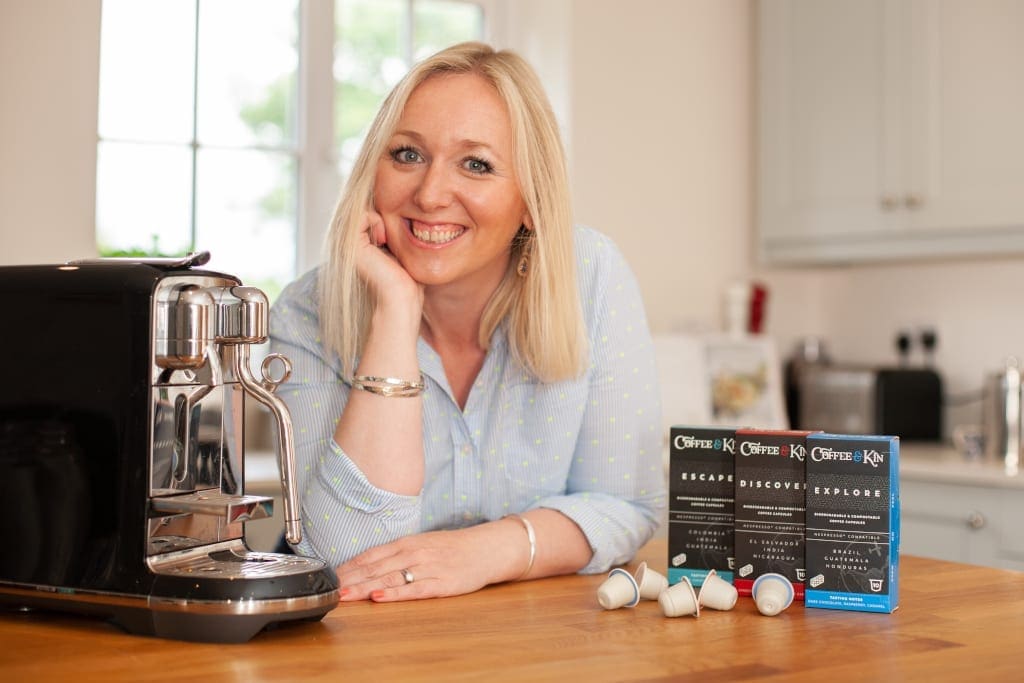 Six years ago husband and wife, Ruth and Mark Oldfield, were introduced to Speciality Coffee by their brother-in-law, a coffee roaster in Adelaide. Previously instant coffee drinkers they quickly became addicted to quality coffee. Back in the UK, they purchased a pod machine but it 'felt wrong' to simply throw away the used capsules. Setting out to find an eco-friendly option led to setting up a subscription service, which also offers whole beans and ground coffee.
Peru Blend
A decaffeinated coffee made with Caturra and Bourbon varieties grown by a group of smallholder farmers at Pomahuaca, Cajamarca. The coffee is handpicked and often dried in batches outside their homes. The brew is full-bodied and packed with flavour with hints of raspberry and overtones of rich chocolate. The decaf process uses water with no chemicals and is classed as organic.
The Coffee and Chocolate Box Subscription includes 250g of coffee beans, ground coffee or 30 Nespresso compatible, 100% compostable pods, and a varying selection of artisan chocolate. £25 per month.
Coffee Clubs – Lost Sheep Coffee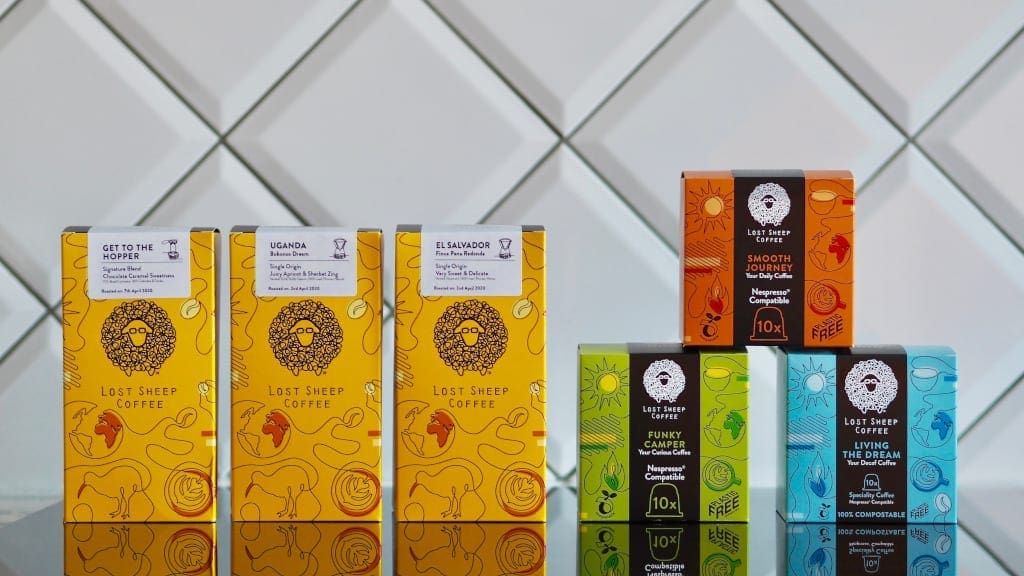 After a year of backpacking in Australia and Asia, Stuart and Sarah Wilson were inspired by the lingering flavours of Melbourne's coffee scene. Starting out with a three-wheeled micro coffee van they specialised in small batches of hand-roasted, single origin coffee. In 2017 they opened a specialty coffee roastery in Whitstable with a 12kg coffee roaster, training areas, coffee cupping (tasting) area and an ambient temp controlled room for the storage of green beans.
 Lost Sheep also offers Nespresso compatible capsules with names like Smooth Journey, Funky Camper and Living The Dream. Certified 100% compostable they are oil based plastic free.
Their coffee farmers are paid up to four times more than standard Fair Trade coffee prices. The coffee is fully traceable back to the fields where it was grown. Packaging is in recyclable bags, and cardboard boxes made from FSC forests.
Brazil, Paranaiba Cachoeira
An Arabica, Red Catuai varietal, from Mr Barbosa, a family coffee farm that began with great grandfather, Elias Barbosa, in the early twentieth century, the coffee is ideal for an espresso or bean to cup machine, or a stovetop coffee pot. With milk it has a suggestion of creamy toffee and classic milk chocolate. If you like your coffee black there is a smooth acidity followed by a hint of strawberry sweetness.
Lost Sheep Coffee price is £8.45 for 220g. Subscribe to save 10%. £7.21 220g. One time purchase £28.95 for 1kg. Free shipping for orders over £19.
Coffee Clubs – Yallah Coffee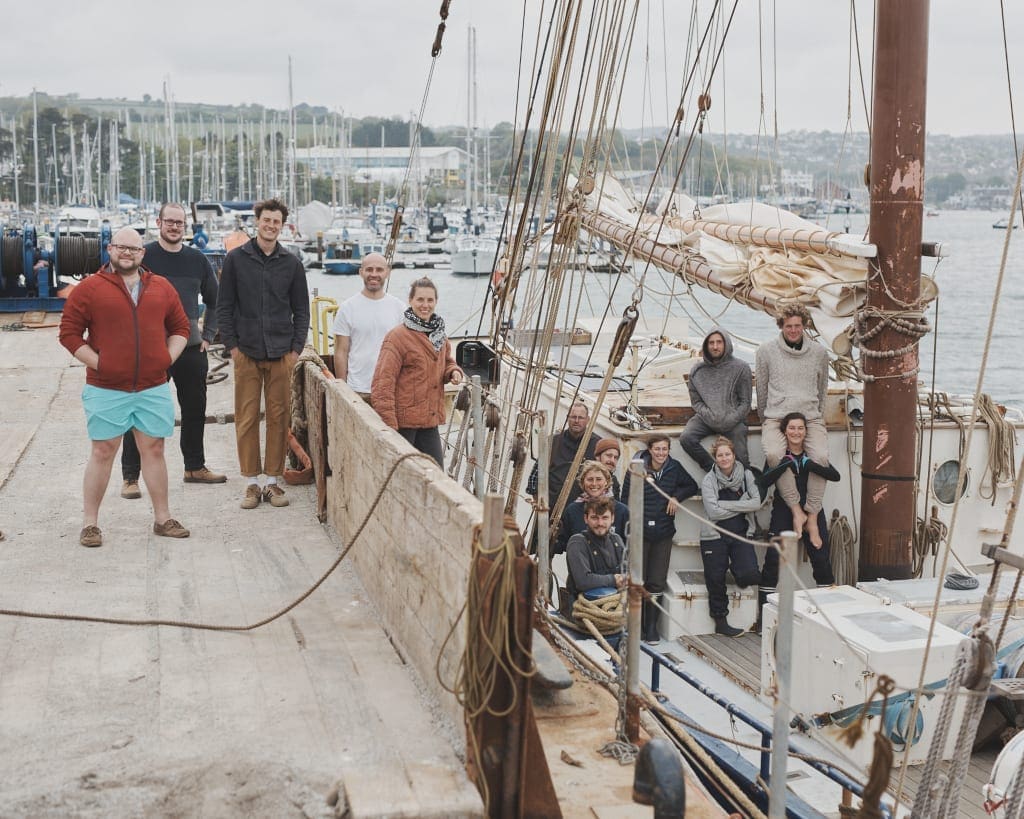 Independent coffee roaster, Richard Blake, sources single-origin character coffee from the best and most sustainable farms. Products are highly traceable, without any blended "cheap components". Yallah pays premium prices and tries to ensure this goes to the workers. This summer, as part of their Spotlight Series, Yallah brought in coffee from the port of Santa Marta, Colombia, under sail power to be unloaded within a few miles of their roastery at Falmouth in Cornwall. The lower transport costs involved meant the price paid to local growers was almost 30% higher than the commodity price. The journey by New Dawn Traders on the French schooner, De Gallant, resulted in a journey with a carbon footprint close to zero.
Yallah roasts every day and aims to ship all orders within 24 hours. Choose whole beans or ground coffee, how often you want a delivery, how many bags and how you want it ground. Delivery is free of charge within the UK. There are three different subscriptions. For example, the Explore Subscription on a weekly basis, for those with an inquisitive tongue and an eye for an adventure, is from £10.
Coffee Clubs – RISE Coffee Box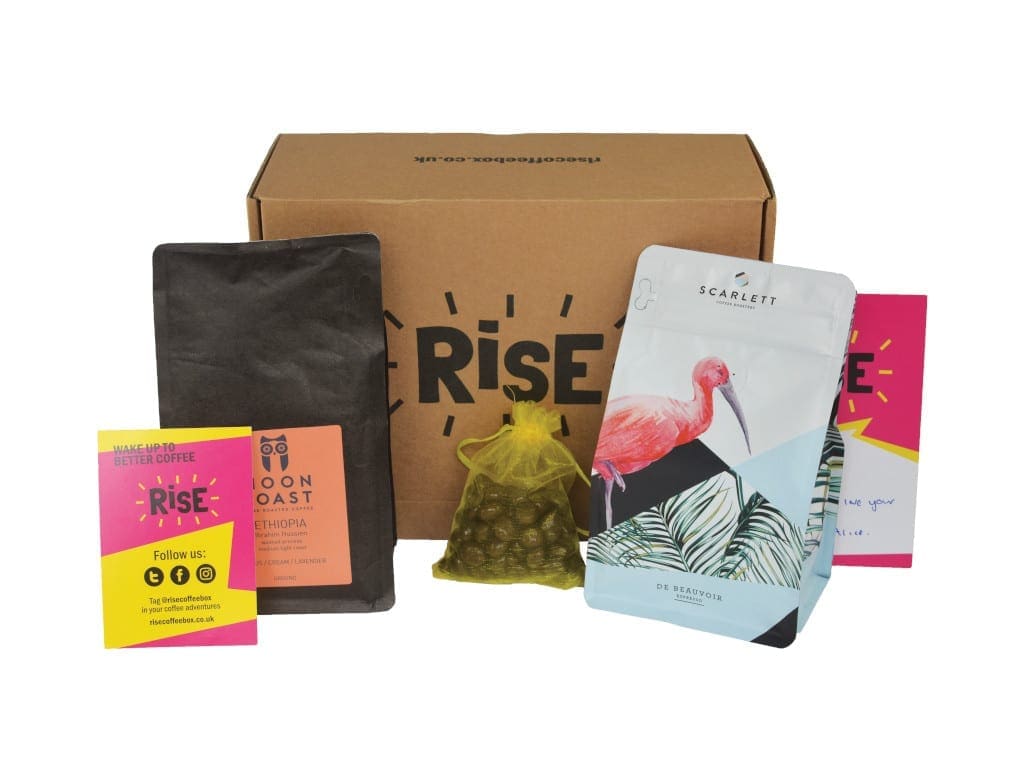 Based in London, Ben Charalambous and Alice Wainwright launched RISE during the Lockdown. The monthly coffee box delivers a varying, curated selection of independent coffees from around the world, accompanied by the growers' story and brewing tips. Ground coffee is distributed within three to four days of grinding.
RISE Coffee Box suppliers are carefully selected to ensure they operate as sustainably as possible, with limited to no plastic, fair wages for the farmers and a proactive stance on climate-friendly production practices.
The box includes two, 200 to 250g bags of coffee, around 20-30 cups from whole beans, slightly more with ground coffee, and a coffee-related gift. The August box included a small bottle of gingerbread syrup and a recipe card for Tiramisu.
Moon Roast, Ethiopia
At his 200 hectare farm in the Limu Kossa district of Jimma, Ibrahim Hussein grows coffee in a natural forest, alongside bee hives and fruit trees. Ibrahim also buys coffee cherries from small outgrowers, maintaining traceability. Moon Roast is flavoursome with citrus notes, cream and a hint of lavender. The recommended method is espresso or dipper filter, and the ideal measurements are included.
RISE Coffee Box subscription price is £16.99 (per month, bi-monthly or every three months). Delivery is free within the UK.
---
Main image – Coffee And Kin.
Irene Caswell
Irene is a freelance writer with a special interest in destinations, arts and culture, food and wine. She believes a life well lived is about experiences and aims to provide readers with informative and evocative stories. Follow Irene on Instagram at @hashtagtravelin.