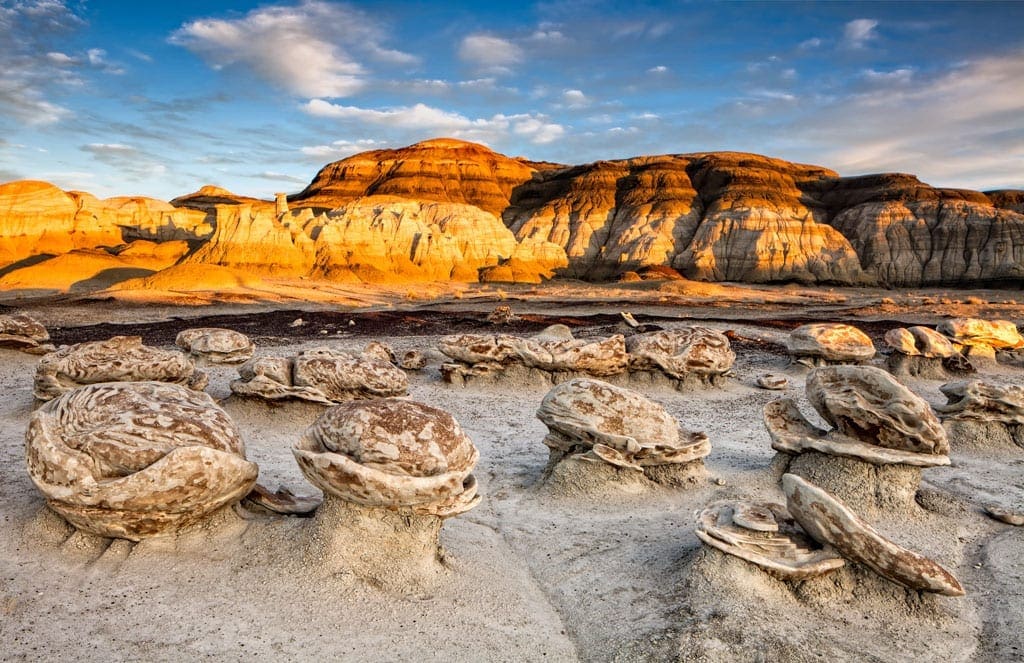 New Mexico Road Trip: UFOs, Ghost Towns & Country Music
Roger Hermiston Eileen Wise
Posted on 5th Aug 2020
On their two-and-a-half week New Mexico road trip Roger Hermiston and Eileen Wise discover a Land of Enchantment and a rich cultural heritage.
You quickly understand why they call New Mexico the Land of Enchantment. Majestic snow-covered mountains, beautiful desert vistas, delightful mountain villages of horse pasture and stylish adobe homes – all spread out beneath a vast, starlit sky. A state – America's 47th – with a vibrant, intoxicating mix of cultures, all seemingly working in harmony. A place which has harboured some of the greatest secrets and mysteries of the 20th century, from the clandestine city that developed the atom bomb to the town still convinced aliens descended upon it seventy years ago.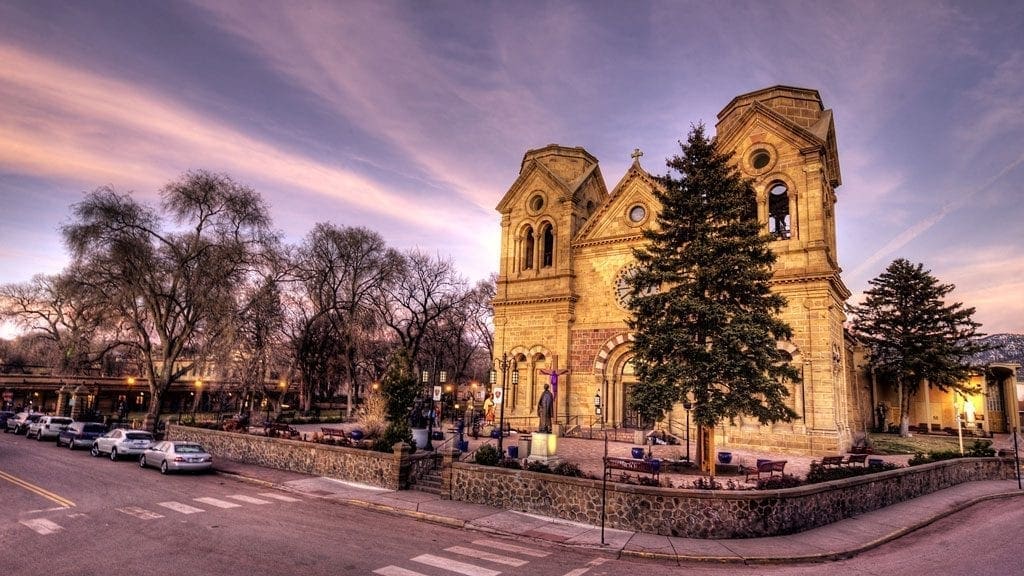 As many did in those days, DH Lawrence arrived in the 1920s to sample the clean air in an ultimately futile attempt to stave off tuberculosis. New Mexico, he said, "was the greatest experience from the outside world I have ever had. It certainly changed me for ever … the moment I saw the brilliant, proud morning shine up over the deserts of Santa Fe, something stood still in my soul … and the old world gave way to a new."
It was this beguiling mixture of ancient and modern that attracted us, along with the stunning views that have always drawn writers like Lawrence and great painters like Georgia O'Keefe – whose distinct flowers, glowing landscapes and images of bones against the stark desert sky are iconic contributions to American Modernism.
In this immense mountain state – the fifth largest by area in the USA – it was not just a necessity but also a delight to roll along the endless, smooth highways. Route 66 passes through New Mexico. We could go miles without encountering another human being, let alone a coyote or a roadrunner, motoring through acre after acre of countryside covered by pinyon and juniper, glimpsing the occasional herd of cattle on a far away ranch, or on one occasion riding on surely the world's longest freight train with over two hundred carriages.
There is little of modern America here. On a sunny day its central plaza is still "a piece of Spain drowsing in an endless siesta"
Chuck Berry would have been an obvious musical choice for our New Mexico road trip, but instead we opted to tune into the profusion of country radio stations as we wended our way south. Willie's Roadhouse with his ensemble of artists and their melancholy yet uplifting lyrics, became the soundtrack to our holiday – the well known, such as Johnny Cash, Dolly Parton and Loretta Lynn, and the curiously-named and less familiar – to us – Lefty Frizzell, Johnny Paycheck and Bobby Bare.
First stop was the state capital, Santa Fe, a chic, stylish city with its distinctive Pueblo (or Native American) style architecture – low-slung, earth-coloured buildings built of adobe brick – and casual laidback feel. There is little of modern America here. On a sunny day its central plaza is still "a piece of Spain drowsing in an endless siesta," just as in Joseph Kanon wrote in Los Alamos.
Our first night we stayed in the Inn of the Turquoise Bear, one of the artistic landmarks of the city. For half a century it served as the home of the renowned poet Witter Bynner and a boisterous gathering place for his friends and visiting luminaries such as Lawrence, who was a great friend, and O'Keefe, along with the likes of WH Auden, Aldous Huxley, Clara Bow, Errol Flynn, Rita Hayworth, Christopher Isherwood, JB Priestley and J Robert Oppenheimer.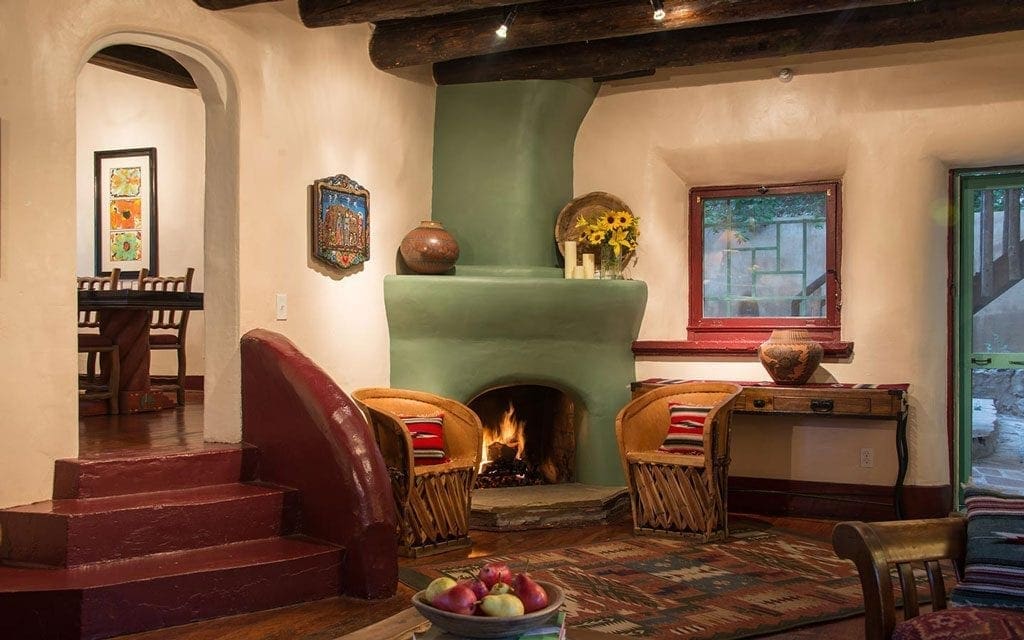 A rambling villa built in the Spanish-Pueblo style, the Turquoise Bear is set in verdant gardens dominated by huge pines, with delightful rock terraces. We stayed in the characterful, beamed Georgia O'Keefe room, a large reproduction of her famous Jimson Weed/White Flower No 1 over our luxurious king sized bed. The speciality of the house is the sumptuous, gourmet breakfast that sets you up for the day, replete with homemade smoothie starter, great pancakes and huevos rancheros. Our host, Dan, made us most welcome, revelling in the history of his inn and providing us with tea, coffee and cakes throughout the day, if we felt peckish.
Further down the road on the edge of the old town is the splendid Inn of the Five Graces, where lush textiles and colourful exquisite furnishings adorn the bedrooms, while the bathrooms are tiled with intricate mosaics. A restful experience; this is high-end luxury, but with a warm ambience and a personal touch inspired by its owners the Seret family.
There's much to hold you in Santa Fe with its galleries, boutique shops, museums and excellent restaurants, including La Plazuela in the historic La Fonda Hotel. Still, we were keen to head thirty miles northwest, to the town of Los Alamos.
---
If Eileen and Roger's New Mexico road trip has piqued your thirst for adventure, why not head south of the border to Campeche Mexico: Another Side of Yucatan.
---
Here in 1942, the most brilliant crowd of scientists ever grouped together lived and worked in this 'secret city', carved out of the mesa, whose very existence was denied to the rest of New Mexico – and the world – while they pursued the Manhattan Project, the creation of the atom bomb that would eventually lead to Hiroshima. The Bradbury Science Museum and Historical Museum between them tell the whole story in fascinating detail, and you can wander around Bathtub Row, Oppenheimer Drive and Trinity Drive to get a good feel for where the likes of the genius leader of the mission, and his colleague the redoubtable US Amy chief General Leslie Groves, lived.
From Santa Fe we headed down to Albuquerque, off the main highway and onto the more scenic Turquoise Trail, stopping off at the old mining town of Madrid where we took a lunchtime drink and exercised our feet to the sound of a country rock band at the rough and ready Mine Shaft Tavern.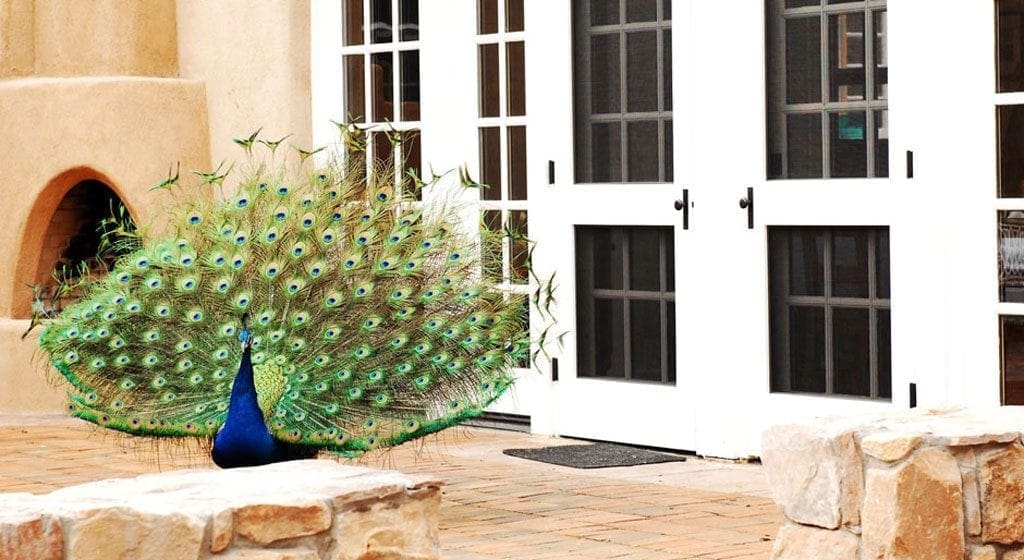 Albuquerque, with its sprawling combination of homes and shopping malls, was more like the quintessential American town. Here we stayed at Los Poblanos, on the outskirts close to the Rio Grande river. This magnificent farmhouse offers comfortable rooms in the classic New Mexican style, complete with four-poster beds, wood-burning fireplaces and hardwood floors – but it's the cuisine that marks it out from its competitors.
Lavender is the speciality of the products grown organically on the farm, and – along with a range of other mouthwatering products – is available in highly inventive forms in the restaurant and farm shop.
We left behind the custodians of our room – a pair of beautiful and very vocal peacocks – and ventured into the Old Town. There we won a certificate of bravery after negotiating the world's one and only Rattlesnake Museum, with its collection of quite unnerving creatures from all over the Southwest.
Chloride was like something out of a James Stewart film, perhaps Bad Day At Black Rock
But we were keen to be Kings of the Road once more and head down south, and so with Roger Miller crooning away we took to Interstate 25 and made our way down to the wonderfully named town of Truth or Consequences – after a famous TV quiz show of the 1950s. Here our refuge was media mogul's Ted Turner's soothing Sierra Grande Lodge and Spa, where we pampered ourselves with the superb array of hot tubs the inn makes available to its guests.
The Geronimo Trail­ – as the locals call it ­– made for a fascinating day trip west. Open range cattle greeted our arrival in the ghost town of Winston, where the beautifully stocked grocery store also had a large selection of handguns for sale. A postcard underneath the counter gave a clue to the political affiliation of these parts – although the state as a whole voted for Hilary Clinton – depicting a pretty girl leaning down her lips on a toilet seat with the words 'I Kissed a Democrat'.
Neighbouring Chloride's glory days were in the 1880s, after silver was discovered in nearby hills and the subsequent rush saw eight saloons, three stores, two butchers shop, a hotel and at least two brothels springing up in just two years. The activities of this vibrant little town were chronicled in its very own paper, The Black Range. Chloride was like something out of a James Stewart film, perhaps Bad Day At Black Rock.
Once gold became the monetary standard in the 1890s, Chloride began to decline. But thanks to the herculean efforts of resident Don Edmund, much of the old town has been restored to give a real flavour of what life was like in those rough-hewn times. The Hanging Tree, in the middle of the town, was not, we discovered, for public lynchings, but rather a place for the inhabitants to hang around.
Another superbly atmospheric 'ghost' town that drew us back to the Old – and Wild – West, was Lincoln; the stamping ground of Billy the Kid, the amoral outlaw who shot and killed at will in the ferocious County Wars of the 1890s, before being run to ground further north by Sherriff Pat Garrett. Don't believe the saccharine legend.
Here you can walk round the County Courthouse and see where Billy was incarcerated while awaiting his hanging, and then stroll over the road to the Wortley Hotel where – foolishly – a deputy allowed him to have dinner. Billy escaped, shooting dead his host on the way out.
The town itself has entered into the spirit over the years by adding motifs of saucers and little green men to its shop fronts
While Billy the Kid's story is fact embroidered in legend, twelve miles east, at the town of Roswell, the truth surrounding a very strange incident in July 1947 is very much up for debate. For the US Air Force, one of its weather balloons – and its cargo of dummies – crashed into a field that day. But many remain convinced that this was an astounding intergalactic event, that the balloon was an alien craft, and the dummies the three dead bodies of visitors from outer space.
The Chicago Daily News's front page story of July 8 was 'American All-Stars Win 2-1'; perhaps the editor was hedging his bets about the second lead –'Army Finds Air Saucer on Ranch in New Mexico'.
The UFO Museum and Research Centre in Roswell sets out the case for – and against – an alien landing, in painstaking yet exciting fashion. And the town itself has entered into the spirit over the years by adding motifs of saucers and little green men to its shop fronts. The 1947 affair has become the town's brand.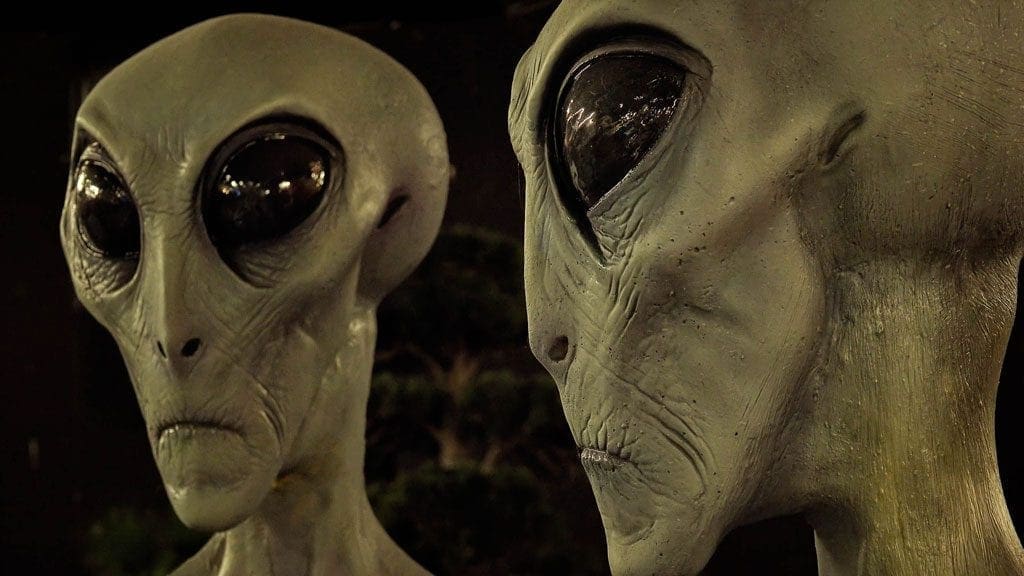 ---
For more American mystery, read about the Mothman Festival in West Virginia.
---
While in the southeast, we enjoyed a terrific stay at the town of Ruidoso, a great draw for outdoor sports lovers, with excellent winter skiing, summer hiking and fishing, and championship golf courses. Here, we stayed at the spacious casita – one of Escape Resort's properties – quietly tucked away in woods off the main road. At breakfast time, it was a delight to watch a herd of deer wander over to our back gate.
Back on the road, Johnny, Dolly and the gang sang us all the way 200 miles back up north to our last port of call, the village of Chimayo, just north of Santa Fe, en route to the artistic community of Taos in the foothills of the spectacular Sangre de Cristo Mountains.
Supplicants and pilgrims from all over the world flock to the village church, the Santurio de Chimayo, mainly to scoop up a handful of dirt from its antechamber, thought to have healing properties – some even eat it. We, however, were pilgrims at the table of New Mexico legendary restaurateur Florence Jaramillo, or Mrs J, who runs a superb restaurant, Rancho de Chimayo, famed for its inventive New Mexican cuisine.
Now in her 80s, the Connecticut-born chef still keeps a firm hand on the tiller of her creation – as we discovered in an absorbing hour-long conversation. Rancho has been going since 1965, and has earned her a Lifetime Achievement Award from America's National Restaurant Association. After a sumptuous meal of enchiladas enveloped in green and red 'Christmas' chillies, we staggered back over the road to a cosy room in Mrs J's restful hacienda.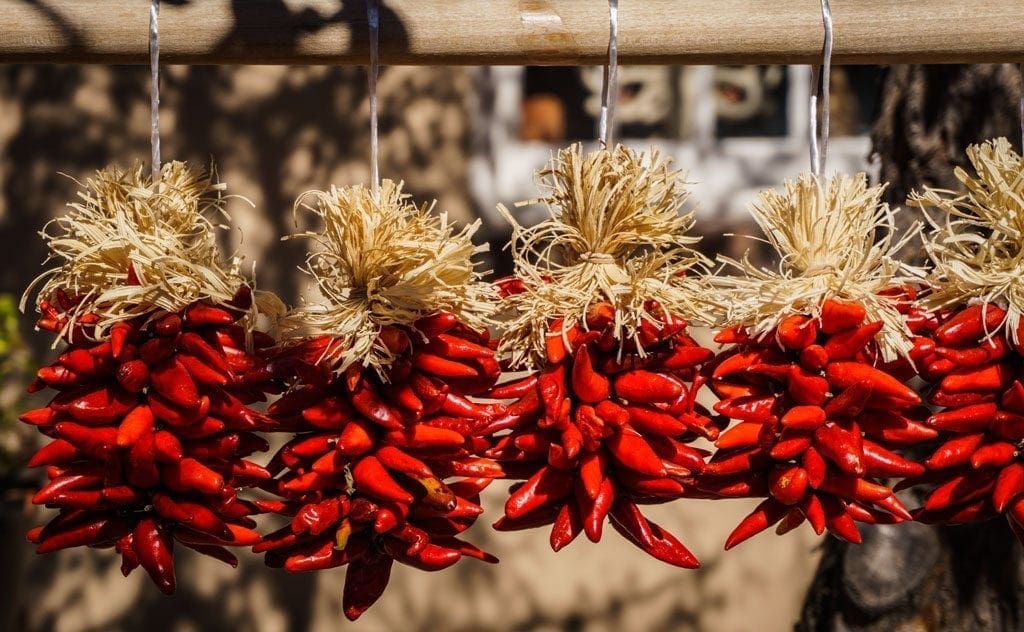 Our two-and-a-half-week New Mexico road trip culminated with a stunning flight over the Rocky Mountains to Colorado; the perfect way to say au revoir to this magical state – truly a land of great beauty and cultural contrasts.
---
To get to our New Mexico road trip, we flew Virgin Atlantic from London Heathrow to New York and United Airlines from New York to Santa Fe.
Roger Hermiston Eileen Wise
Roger was Assistant Editor of Today on BBC Radio 4, while Eileen headed up the global PR for The Economist and Reuters. When not travelling near and far, Roger writes narrative 20th century history books such as 'The Greatest Traitor' and 'All Behind You, Winston', and Eileen now works as a counsellor from their Suffolk cottage. They have a remarkable menagerie including a pony, two donkeys, three cats, two peacocks and a guinea fowl.