Norfolk Walks as Travel Businesses Reopen
James Clark
Posted on 16th Aug 2020
With international travel low on many people's agendas, and UK travel advice as changeable as the weather, many are choosing to head to the open spaces of the UK for a staycation. James Clark suggests that Norfolk walks should be on your compass. 
With more us considering travelling closer to home this year due to unusual travel restrictions and fear of getting stuck on foreign soil, we decided to grab our back packs and set out to discover what walking in Norfolk has to offer.
Norfolk Walks: Sheringham Circular walk (6 miles)
Thanks to excellent Greater Anglia train services we arrived in Sheringham and wandered to The Esplanade to start the Sheringham Circular walk. It's a wonderful walk along clifftops between Sheringham and Weybourne with stunning views of the sea and far more expansive landscapes than expected, including farms, parklands with deer, quiet marshes, fens and the grasslands of Beeston Common, and home to various species of dragonfly. The walk has everything that lovers of the outside (and that day wind and rain) could hope for.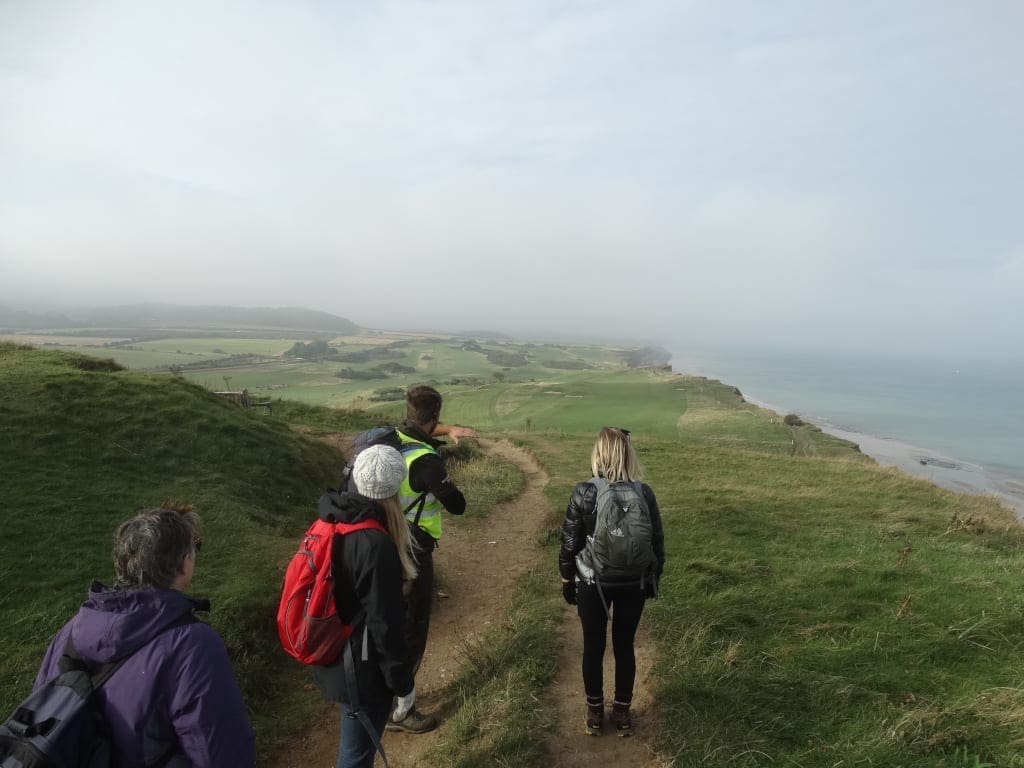 As we headed between the clifftop path and Sheringham Hall in Sheringham Park we were lucky enough to watch a couple of steam trains chugging past as we crossed the Poppy Line railway.
Later that day, we wandered back towards Sheringham (a former fishing village that developed as a resort in the late Victorian period) to The Two Lifeboats, situated on the seafront where we were staying for the night.
The public house is steeped in history. In (approximately) 1720 it was a coffee shop and Fisherman's Mission. It is named after the Augusta & Duncan lifeboats that rescued a crew of eight from the wreck of the Norwegian brig on 6 December 1882.
Now the upstairs rooms have been modernised and are refurbished to a high standard.
After having a shower we popped down to the restaurant for the obligatory seaside Fresh haddock fillet deep fried in our own beer batter served with chips and garden peasFresh haddock fillet deep fried in our own beer batter served with chips and garden peasfresh haddock cooked in beer batter, chips and garden peas. Following a good night's rest we were treated to cooked to order poached eggs on toast for breakfast before heading back on to the Norfolk Coast Path in the direction of Weybourne Beach.
Walking in Norfolk Walks from Sheringham to Holt (8 miles)
As we passed some fishing boats we turned in land and walked through the wooded valley to the end of the path, where we crossed the A149, turned left onto the path and walked behind the roadside hedge into Kelling Heath, enjoying a combination of high ground, long seaward views, and heathland habitats.
A couple of hours later, we arrived at Byfords Posh B&B in Holt where we were greeted warmly, had our temperatures checked and given some advice about the way things were being run in these new and uncertain times, dropped off our bags and headed out for more walking to Holt Country Park. It took us about 20 minutes to get there from Byfords, but we still managed to get lost.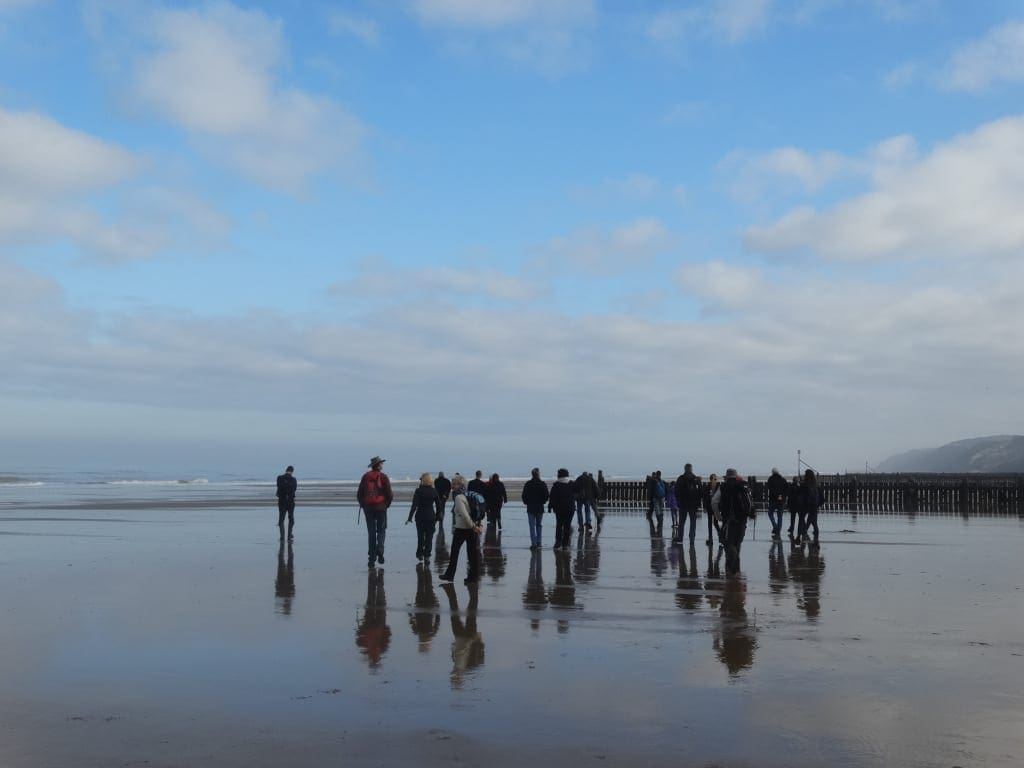 Holt Country Park is set in 100 acres of tranquil woodland, dominated with Scots pines and native broadleaves. As we walked deeper into the woods following one of the coloured trails, we spotted an abundant array of wildlife including goldcrests, greater spotted woodpeckers, and deer.
But as all great walking days go, eventually enough was enough and we returned to Byfords for dinner and much needed rest.
Our bedroom was large and airy, with a great fireplace, exposed beams and flint work, a bed with a wooden headboard that reached up to the ceiling and a window seat offering views over affluent Holt.
Byfords is part of a family of businesses which includes some of Norfolk's most loved restaurants; The Pigs in Melton Constable, The Assembly House in Norwich, and The Dial House in Reepham.
That evening we dined in the restaurant. Byford's food is all about making the most of local produce from North Norfolk. I had pan seared cod, vegetables and a glass of Sauvignon Blanc – The Fellowship from New Zealand.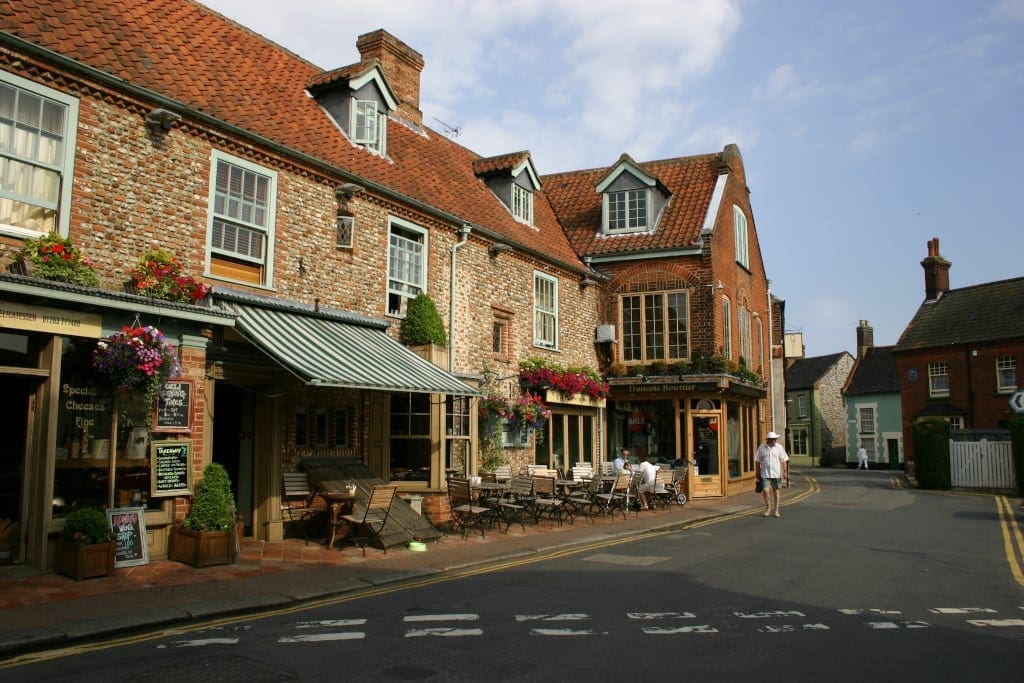 After a great sleep I enjoyed breakfast kedgeree with delicately smoked Cley haddock, prawns, rice and poached egg that was once again cooked to order.
Summer breaks (through to September) – two-night B&B stay with dinner on the first night, prices from £295 and Autumn breaks (October to December) – two-night B7B stay with dinner on the first night from £250.
---
Neighbouring Suffolk also has plenty to offer, read Mark Bibby Jackson's Things to Do in Bury St Edmunds in a Nutshell.
---
A Norfolk Hike from Holt to Blakeney 5.3 miles
After breakfast, we walked back in the direction of the coast to Blakeney Point, a National Nature Reserve situated near to the villages of Blakeney, Morston and Cley next the Sea.
Its main feature is a 6.4 km spit of shingle and sand dunes, but the reserve also has salt marshes, tidal mudflats and reclaimed farmland. We encountered a couple of dead ends before reaching the coast at Cley next the Sea, but the warmth and calmness surrounding us made it all worth it.
A Norfolk Walk to Far? Blakeney to Mundesley (21 miles!)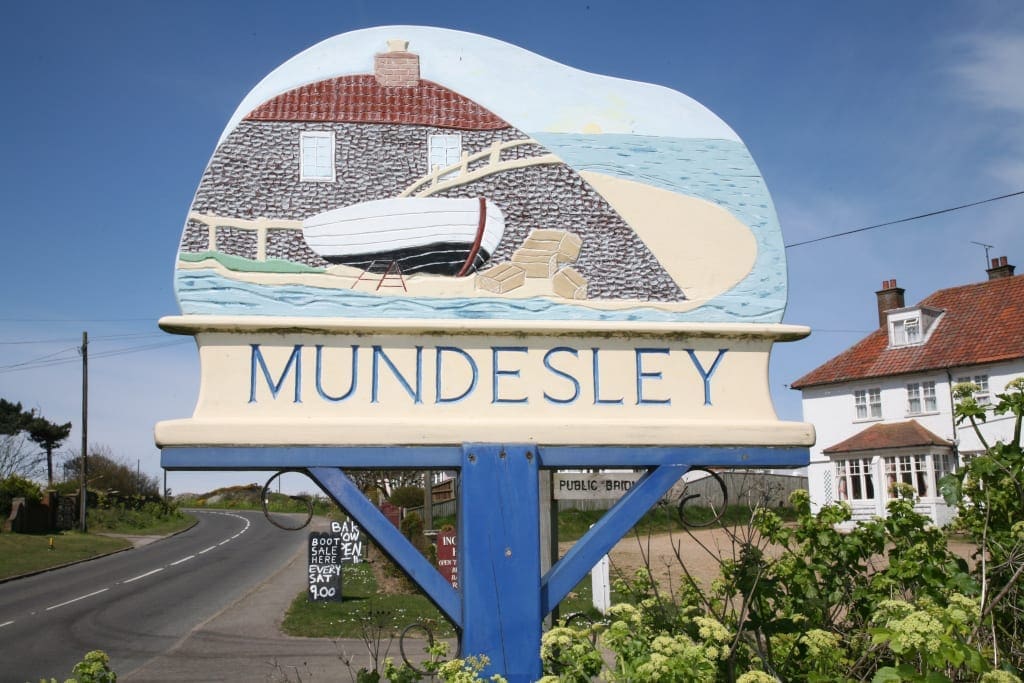 We hadn't quite thought out how far Mundesley was from Blakeney, but the sea breeze was calming and the sun had decided to grace us with an appearance, so we followed the Norfolk Coastal Path through Sheringham, Cromer and Overstrand to The Lookout in Mundesley for our final night's stay. It took us just over four hours, but we didn't stop en-route.
The Lookout offers sensational sea views and access to the beach, and red skies that blazed well after 10pm. Both the garden and balcony were fantastic places to sit, chat, eat and drink well into the evening.
And if you don't feel like walking in Norfolk you can always catch the Norfolk Coasthopper bus.
---
Things to Do in Norfolk
For more ideas on Norfolk walks, or anything else for that matter, trek to the Visit Norfolk website. If you want a bit more structure to your Norfolk Holidays, consider this offer by One Traveller.
James Clark
James Clark is a UK-based travel writer specialising in adventure and the great outdoors.