100 Queen's Gate Hotel: Door to Door
James Clark
Posted on 31st Oct 2020
James Clark spends a night in the UK capital taking full advantage of 100 Queen's Gate London's door to door chauffeur offer.
The doorbell rang bang on time to announce that our chauffeur had arrived, part of the 100 Queen's Gate London door to door package.
To encourage visitors back to the UK capital, the 100 Queen's Gate hotel, part of Hilton's Curio Collection, has launched a new return door to door service covering a 100 miles radius of South Kensington. We were keen to try it out.
Door-to-door Experience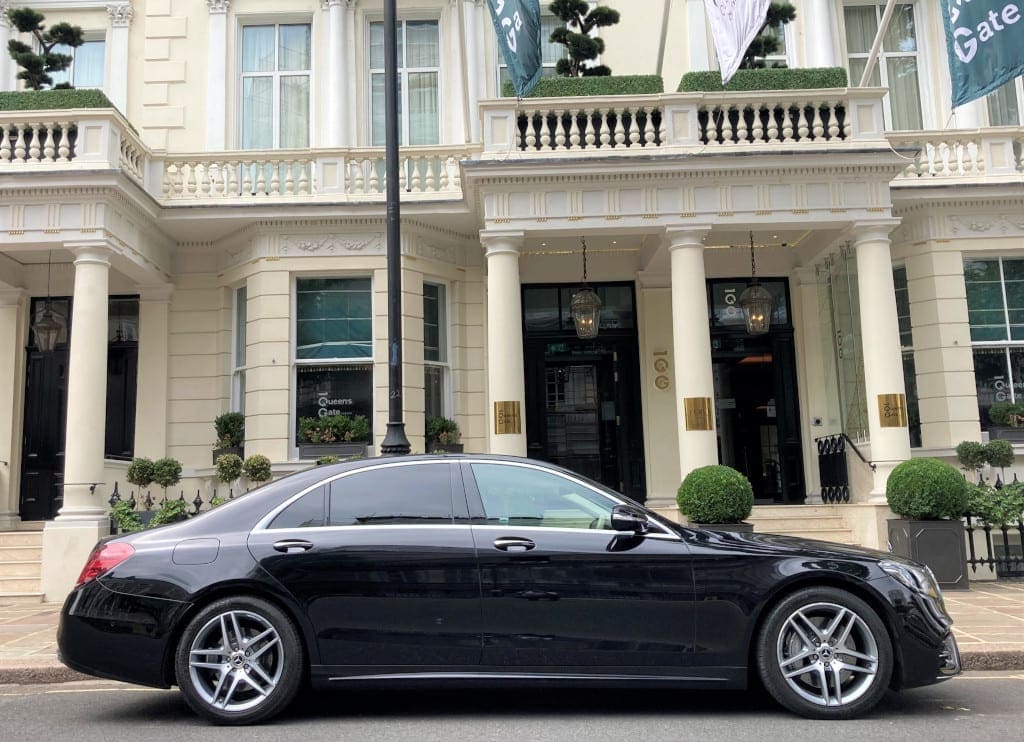 The journey was enjoyable and relaxing we hardly felt a bump on the road, and we relished the idea of not having to use TFL across London. Last time I was on public transport there were far too many people not wearing masks for my liking.
The hotel is located on Queen's Gate, one of the borough's most sought after addresses.
On arriving at the hotel, we were greeted warmly by very professional and friendly staff and told about the Covid safety measures in place as we had our temperatures taken by a high-tech machine.
100 Queen's Gate – A Victorian Gem
The hotel's interior is quite striking with a real Victorian feel about it, including two giant Chinese vases and coloured glass panels behind reception as well as crystal chandeliers enhancing the beauty of the grand staircase.
As we wandered around the hotel we couldn't help but spend time looking at glass cabinets displaying items that former resident and a well-travelled aristocrat William Alexander collected including porcelain, keys, stamp collections and magnifying glasses, and a library perfect for that Instagram shot. In fact, the entire hotel is perfect for that Instagram pic.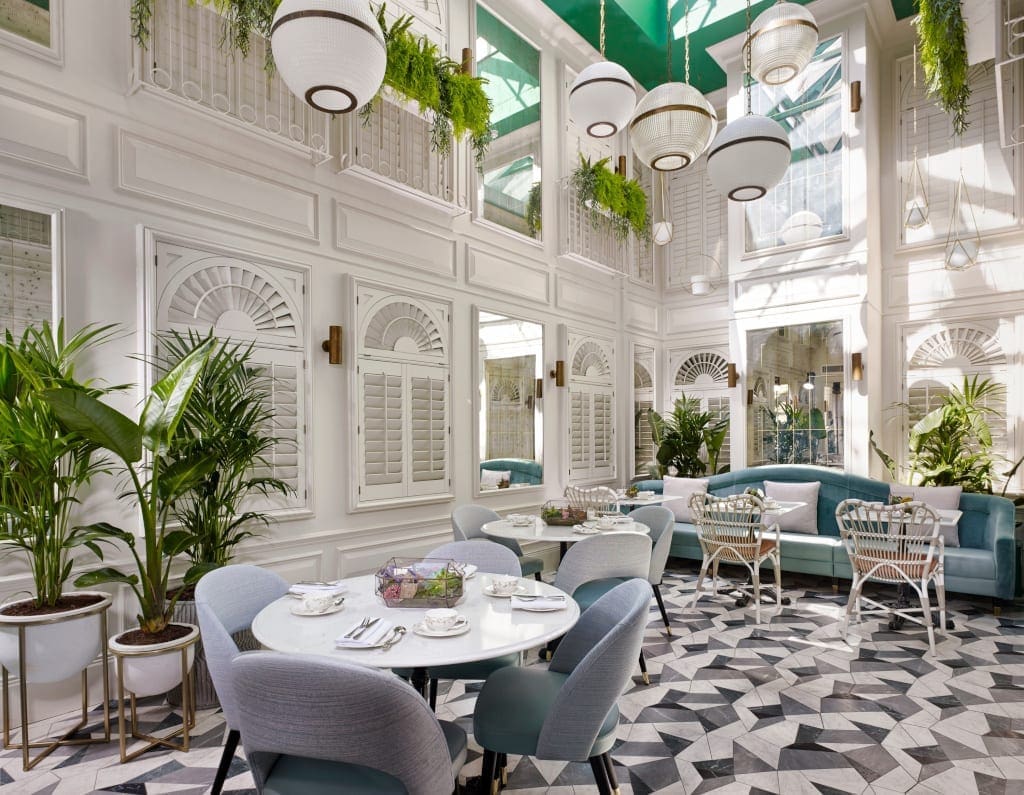 Agatha Christie Suite
We checked into the Agatha Christie suite – named after the former author and South Kensington resident – and were blown away by our place to stay. Our bathroom came with good quality Floris toiletries and fluffy bathrobes.
Afterwards, we headed back to the lobby and were taken to the ESQ bar, modelled on a Victorian parlour bar with patterned carpets and ornate wooden carvings, for a gin and tonic. All part of the door to door deal.
---
Looking for a London hotel? Why not try The Stafford: a London West End Delight?
---
London without the Crowds
We had more than one, before taking a walk around the Royal Borough of Kensington and Chelsea, which was quieter than I had ever seen it before. This only added to the magic of the stay. Who doesn't dream of wandering around one of my favourite museums the V&A without the usual crowds?
There is also a generous number of places to eat, bars and shops in the borough. South Kensington has it all, which makes 100 Queen's Gate hotel and the door to door service ideal during Covid restrictions. There is no need to go further afield.
Dinner at ESQ Bar
We decided to return to the ESQ bar to eat that evening in view of the self-playing piano, but there's also the hotel's W/A Kensington award winning British – French bistro and Botanica which draws inspiration from an authentic Victorian orangery serving afternoon teas to enjoy.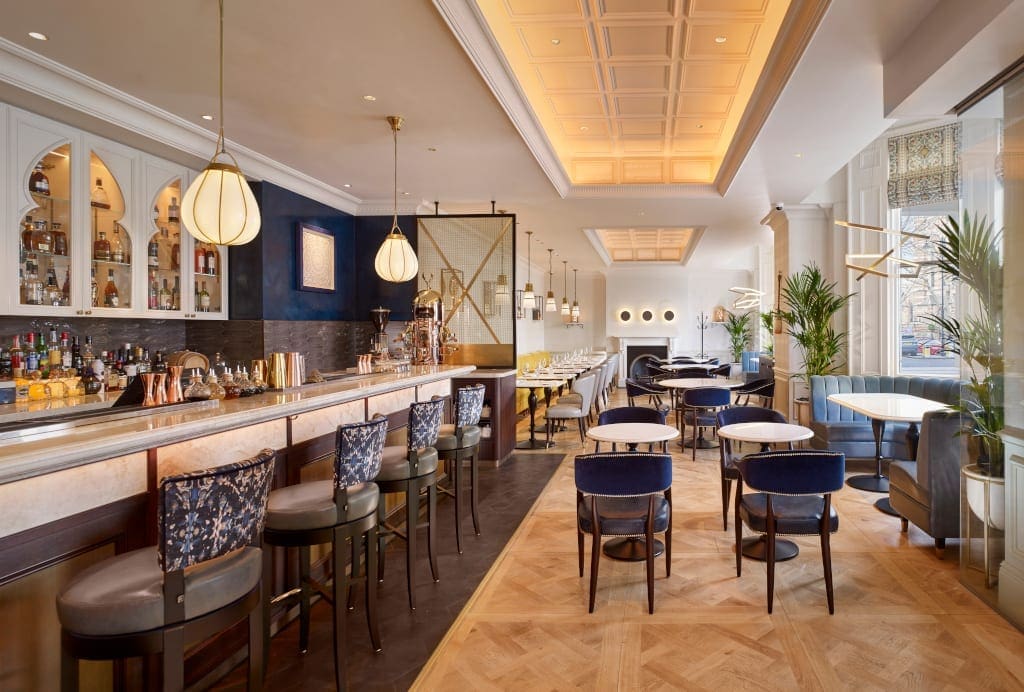 To start, I had crispy pork belly with pickled grapes, apple cream and rye crumbs and Dijon & herb crusted rack of lamb served with ratatouille, potato au gratin topped with parmesan and onion gravy for main. While my partner enjoyed the Alaskan pink salmon fishcake with mixed leaves and tartar sauce to start followed by grilled chicken breast with pea risotto for main.
We also enjoyed a bottle of Baron Philippe de Rothschild Sauvignon Blanc Pays d'Oc, France El Velero Blanco and a bottle of Bouchard Aîné & Fils Chardonnay, Vin De France. Both cost £30 per bottle.
The food and wine were good and the full English breakfast in the morning was outstanding.
Thanks to the 100 Queen's Gate for the invite, our chauffeur for putting up with us talking and laughing on both journeys, and to the staff at the hotel for making the experience special. Also, the Floris toiletries gift set was a nice touch.
---
100 Queen's Gate Hotel Door to Door Package
The package is available to guests within 100-mile radius of the South Kensington hotel, with prices starting from £399 for a one-night B&B stay and chauffeur experience. However, for guests looking to extend their staycation, 100 Queen's Gate London is offering a complimentary extra night on all bookings to stay before 30 June, 2021 as long as it's booked before 31 December, 2020. The hotel will also include a complimentary voucher up to the value of £150 to enjoy in either the W/A Kensington or Botanica.
---
100 Queen's Gate, Curio Collection by Hilton, London
For the 100 Queen's Gate's Winter of Wonder package click here.
Cover : 100 Queen's Gate © Matthew Shaw
James Clark
James Clark is a UK-based travel writer specialising in adventure and the great outdoors.