Ray Harryhausen: Titan of Cinema
Irene Caswell
Posted on 27th Oct 2020
The pioneering and unparalleled work of Ray Harryhausen (1920-2013), the cinematic titan whose films shaped the face of modern cinema, is the focus of a new exhibition. Ray Harryhausen: Titan of Cinema opened on 24 October at the Scottish National Gallery of Modern Art as part of the late filmmaker's centenary celebrations.
Born in California during the Great Depression, the Academy Award-winning filmmaker Harryhausen is widely recognised as a trailblazer. His pioneering work, from conception to realisation, elevated stop-start motion to an art form in cinema between the 1950s and 1980s. For instance, Clash of the Titans (1981) and Jason and the Argonauts (1963), inspired some of the world's greatest living filmmakers, including Steven Spielberg, George Lucas, Sir Peter Jackson and Guillermo del Toro, who directly cite Harryhausen's films as the reason they became filmmakers.
The exhibition is the largest and most comprehensive display ever shown and showcases the original models brought to life on screen in a pre-CGI era.
Fans will delight in seeing the iconic skeletons from Jason and the Argonauts, the Cyclops from the Sinbad series, and the trademark UFOs from 1956's Earth vs the Flying Saucers. Also on display are the models that inspired blockbuster films, such as Lord of the Rings, Star Wars, Jurassic Park, Pan's Labyrinth and Mars Attacks!
Further items document not only Harryhausen's life story but cinematic history. The posters, personal memorabilia, original photographs, storyboard illustrations and drawings featured are all from Harryhausen's personal collection.
Ray Harryhausen – Inspired by King Kong
As a teenager Harryhausen was massively inspired after seeing King Kong at Grauman's Chinese Theatre in Hollywood in 1933 and a diary entry for 1939 notes that he went to see the film for the 33rd time. Titan of Cinema covers the beginning of his career and goes on to tell the story of how a young boy became so enraptured by the work of special effects supervisor, Willis O'Brien, he began experimenting with stop-motion animation in his back garden, and went on to devote his entire life to filmmaking.
Included in the exhibition is an original film poster for King Kong alongside a marionette made by a teenage Harryhausen and inspired by the gorilla and artwork from Mighty Joe Young. The latter was the first film on which the young filmmaker and mentor O'Brien worked together, with Harryhausen producing most of the accomplished animated scenes. The film's massive success helped launched his 80-year career.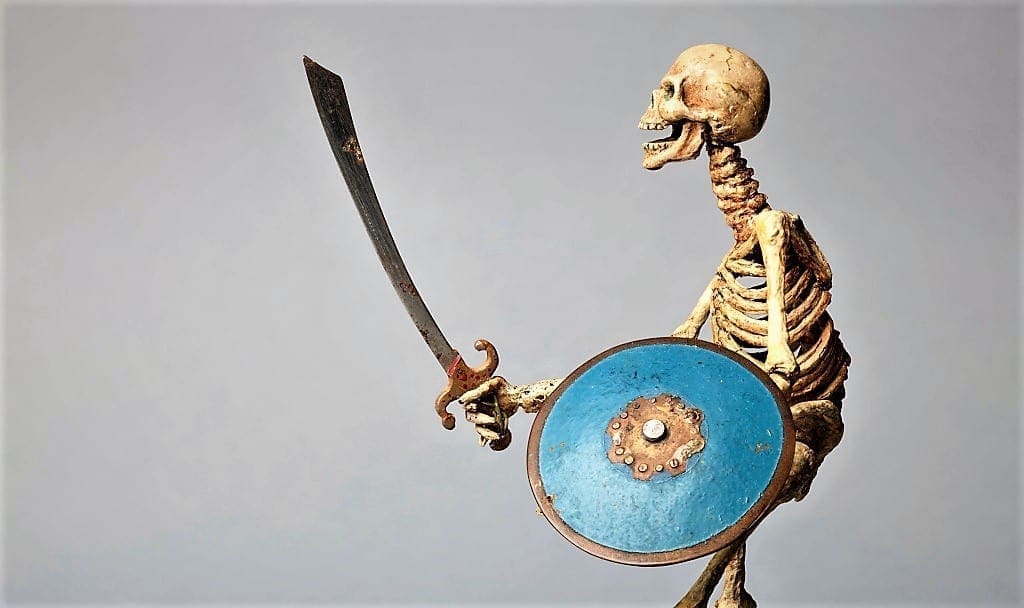 Harryhausen and Dynamation
Film producer, Charles H. Schneer, Harryhausen's long-term friend and collaborator, coined the phrase Dynamation to describe his unique process which successfully integrated animation and live action.
Harryhausen used perspective to portray scale and movement in ways that were both breathtaking and cost-efficient. As larger stage sets gave way to smaller models and inventive perspective techniques, it freed up budget to allow for even more exciting shots. Two-inch-tall figurines became towering, realistic monsters. A fleet of flying saucers seamlessly crossed the skies in Earth vs the Flying Saucers (1956).
Forty years later, Tim Burton paid homage in Mars Attacks! (1996) replicating both the models and scenes in Harryhausen's original film. The original UFO creations are in pristine condition and feature in displays that reveal his Dynamation process.
About Art History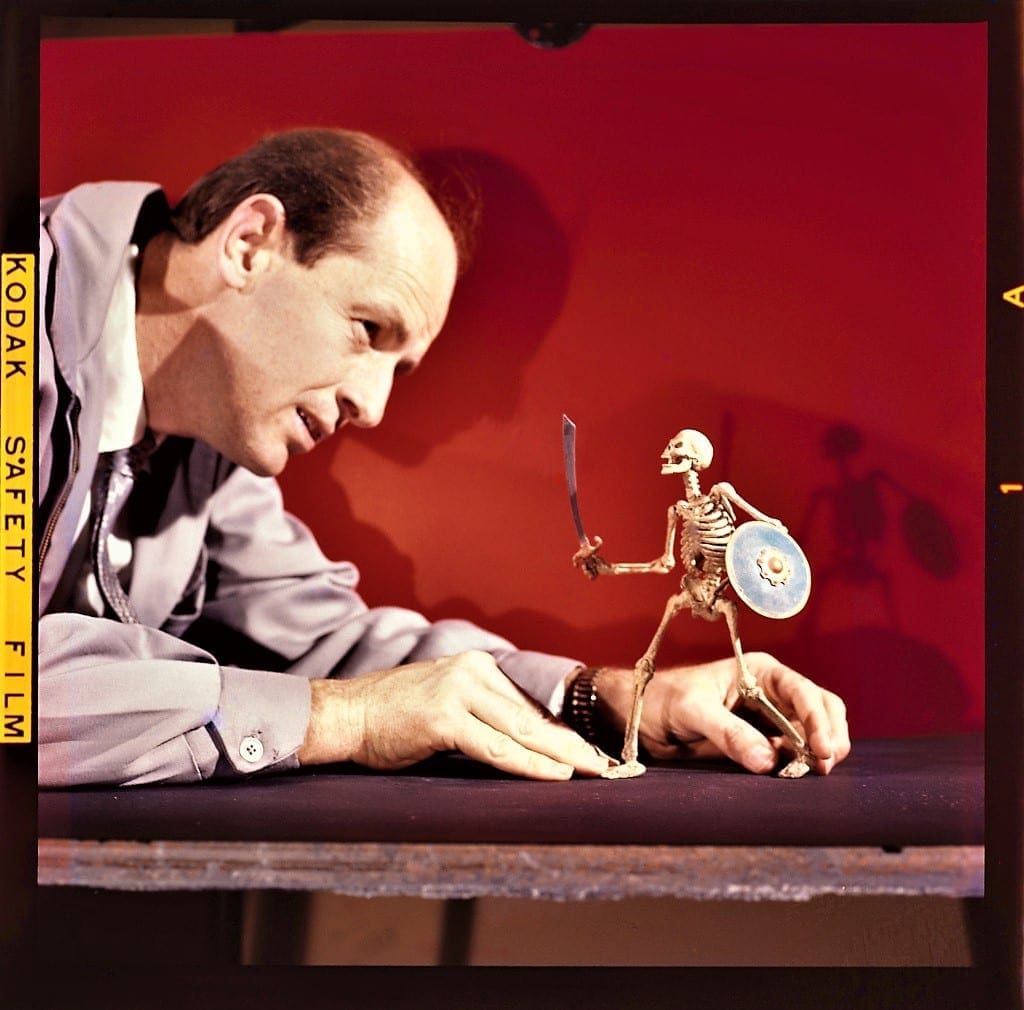 Talking at the preview about what particularly attracted him to a major exhibition of Harryhausen's work, Simon Groom, Director of Modern and Contemporary Art at the National Galleries of Scotland said, "All great artists change how we see the world… the exhibition is about art history".
Harryhausen's love of art included Joseph Michael Gandy (1771-1843) whose epic painting, Jupiter Pluvius, will be concurrently shown at the Scottish National Gallery. Gandy's paintings taught him "to think big and give my imagination free reign".
Harryhausen was an accomplished draughtsman, skillfully illustrating the storyboards on display. The influences of further artists and writers can be seen in the dramatic backdrops, scenes and creatures of his films. He worked closely with lifelong friend, sci-fi writer Ray Bradbury, and clearly he took inspiration from ancient Greek mythology as well as the work of HG Wells (1886-1946) and Jules Verne (1828-1905).
Ray Harryhausen: Titan of Cinema – the Book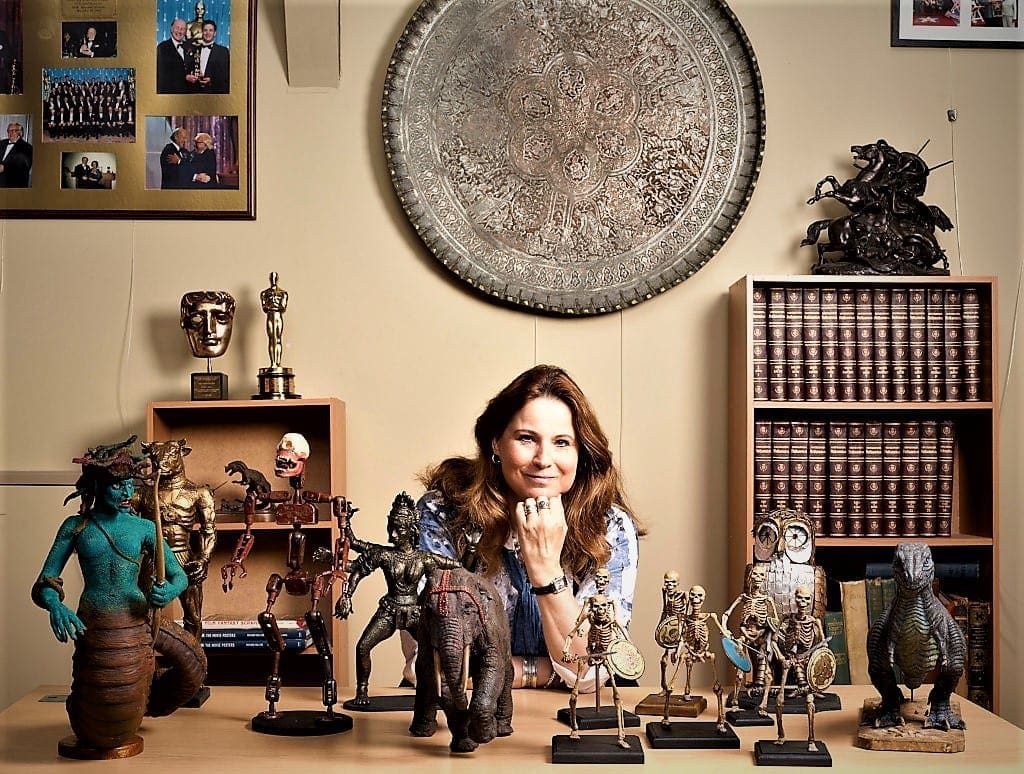 A book Ray Harryhausen: Titan of Cinema by the filmmaker's daughter, Vanessa Harryhausen, accompanies the exhibition. Part biography and part exhibition catalogue it marks the first time Vanessa has spoken about her father's work in detail.
Harryhausen left his collection, which includes all of his film-related artifacts to The Ray & Diana Harryhausen Foundation which he set up in 1986 to look after his extensive collection, to protect his name and to further the art of model stop-motion animation.
The iconic filmmaker left behind a large body of work, with around eighty film projects never realised, and there are over 50,000 items in the Foundation archives. The exhibition is the largest ever in the scope of Harryhausen's work and a unique opportunity not only to explore his ingenuity and remarkable legacy but also to learn more about the history of cinema.
---
Ray Harryhausen: Titan of Cinema
Runs at the Scottish National Gallery of Modern Art (Modern Two) 24 October to 5 September, 2021. Tickets: £14 can be purchased here. Visitors can book tickets up to three months in advance.
Background image : Ray HARRYHAUSEN (1920-2013), Skeleton models from Jason and the Argonauts, 1963, Collection: © The Ray and Diana Harryhausen Foundation Photography: Sam Drake (National Galleries of Scotland).
Cover image: Medusa model from Clash of the Titans, c.1979, © The Ray and Diana Harryhausen Foundation. Photography: Sam Drake (National Galleries of Scotland).
Irene Caswell
Irene is a freelance writer with a special interest in destinations, arts and culture, food and wine. She believes a life well lived is about experiences and aims to provide readers with informative and evocative stories. Follow Irene on Instagram at @hashtagtravelin.