Sustainable Christmas Gifts for Gourmets
Irene Caswell
Posted on 10th Nov 2020
Irene Caswell takes a virtual trip to Santa's grotto and returns with some sustainable Christmas gifts suggestions especially for gourmets.
Food and drink is one of the special delights of travelling. It connects people. Sharing a meal or a glass of something delicious is nurturing and companionable. This Christmas while we wait to hear whether we will be able to get together with extended family and friends, and real-time shopping is restricted by lockdown, an epicurean gift ordered online and delivered direct is the perfect solution.
The quality of the food we eat is critical to our health and wellbeing, while supporting independent growers, farmers and producers is essential for sustainable living. It is the food that we pay the most for that are especially at risk of fraudulent practices, such as honey, olive oil, coffee and wine. Traceability not only ensures the quality of a product but enables fair pricing and best practices.
Here is a round-up of unique gifts produced in a sustainable manner to transport the senses, create festive goodwill and connect with the world around us, through our sense of taste and smell.
Sustainable Christmas Gifts : Italian Oils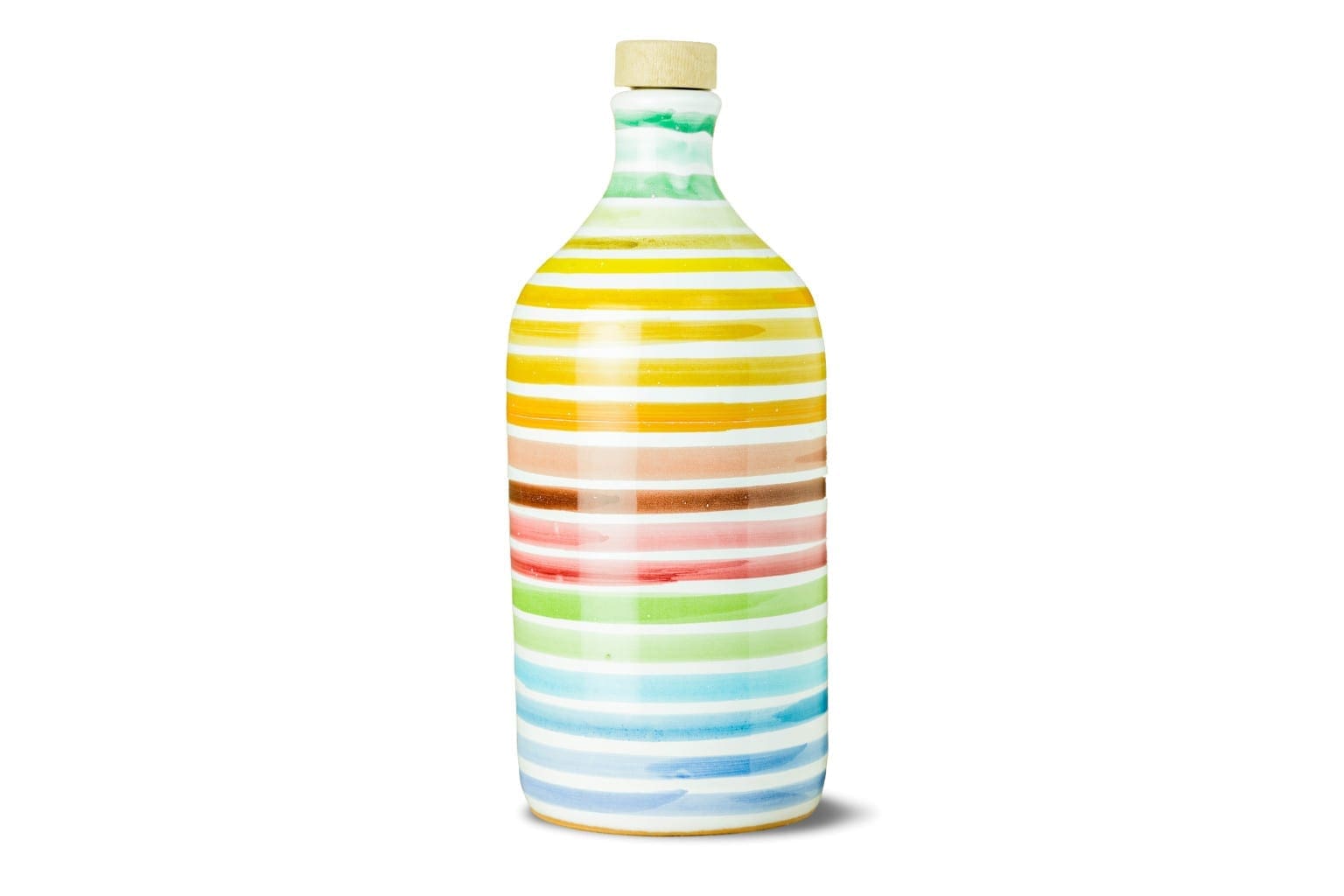 The Red Beetle selects pantry staples from across Italy after screening each item in their range, personally meeting producers and tasting everything for full traceability and authenticity. For instance, olive oils from Frantoio Muraglia, a family business in the Apulia region, made from handpicked olives pressed cold in an ancient stone press. Each oil has its own unique tasting notes and is presented in beautifully hand crafted ceramic bottles that bring the bright colours of Italy into the kitchen. Look for the Gold Beetle Certified™ product label. Extra Virgin Olive Oil by in a Handmade Ceramic Bottle from £29.50, 500ml. Free delivery within three to five days.
UK-exclusive Organic Wines
Purchase Italian fine wines, exclusive to the UK, and have them gift-wrapped for delivery direct to the recipient's door. Independent Wine specialists source award-winning wines from small boutique wineries, often third generation producers, working directly with producers to secure the best bottles. Highlights for the festive season include two premium wines from the Italian Chianti Classico mountains. A complimentary gift wrapping service is available. Next day free delivery to mainland UK.
Gagliole Organic Super Tuscan 2016 | Colli Della Toscana Centrale IGT is produced in the Super Tuscan style from hand-picked Sangiovese and Cabernet Sauvignon grapes. This wine has a deep ruby colour with powerful fruity aromas of strawberry, redcurrant and black plum, layered with coconut, vanilla, chocolate and a hint of mint. Three generations of the Bär family are involved in the small organic vineyard that generates most of its electricity from solar panels. Luxury B&B accommodation is available at la Valetta on the estate, something worth remembering for better times. Gagliole organic Super Tuscan 2016, £37.06.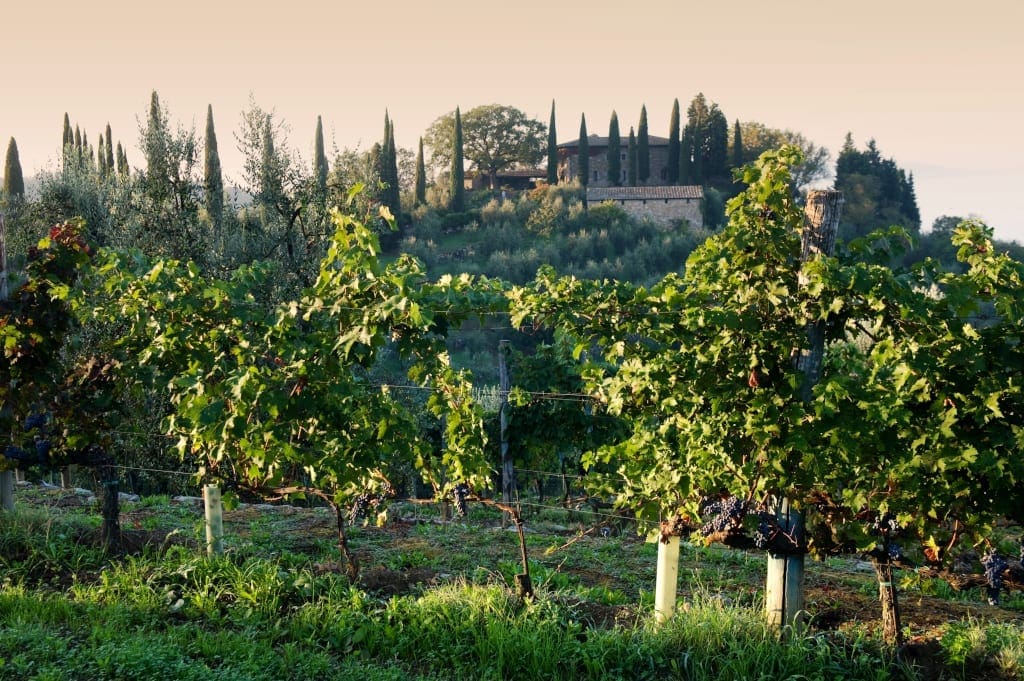 Ridolfi Brunello di Montalcino DOCG 2015 | Decanter Silver Medal will transport you to the cooler north-east corner of the Montalcino in Tuscany. The landscape here is dotted with oaks, chestnut trees, olive trees, pines, vineyards and, of course, cypresses. The wine is made from 100% Sangiovese grapes carefully hand-picked to ensure the very best quality. With a medium garnet colour and aromas of red berries such as raspberry, strawberry, red cherry and hints of spicy cinnamon, prune and dried cranberry. The small private Ridolfi winery uses organic growing practices such as 'sexual confusion' to fight the grapevine moth and avoid the use of insecticides. The soils are fertilised naturally with the use of barley and organically certified farmyard manure. The wine is a keeper, at least 20 years, but it is unlikely to last that long. Brunello di Montalcino, £36.88.
Environmentally Friendly Coffee
Apostle Coffee (see main image) is a family run roaster based in a converted stable in Shropshire. They source coffee beans from farmers worldwide who uphold organic and sustainable practices and regenerative agriculture. Fair prices for the growers are guaranteed.
They feature three blends, either Organic Single Estate, Organic Espresso or a Decaff (made by the sparkling water method) as ground coffee or whole beans and available in a gift box or as part of a Brew Kit. The Devil's Chair, for instance, is an Organic Espresso Blend from Columbia, part of a cooperative and a Fairtrade Access Fund partner, which offers support to 1,400 families in the southern Cauca region.
The Apostle roastery is 'off grid' being powered by wind, solar and natural gas. Their carbon footprint is 'inset' by planting endangered Black Poplar trees. Orders are available as a carbon offsetting subscription or a one‑off purchase and are sent out in letterbox friendly, 100% compostable packaging.
Subscription includes a starter pack, complete with a refillable Apostle Jar, and a certificate detailing the endangered tree that has been planted for you as part of a woodland regeneration project. From £6.99 for 225g. Gift Subscription from £28.95 for three months.
---
For more caffeine inspiration, read Irene's Coffee Clubs: Experience a World of Aromas.
---
Single Source Honey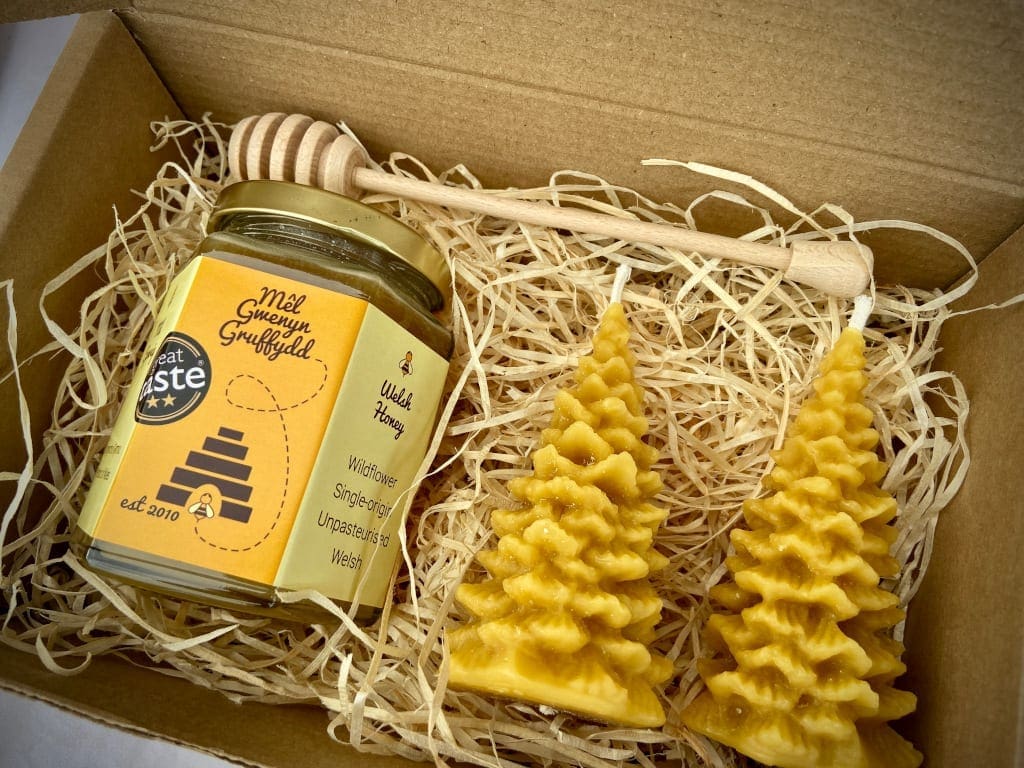 Master Honey Sommelier and beekeeper, Gruffydd Rees, produces honey from individual, single sites at the Bryn Bach farm nestled in the Tywi Valley, Carmarthenshire, where an abundance of rainfall ensures the famously green and lush grass and wildflowers. The unspoilt countryside, with no commercially grown crops, is the ideal location for the Mêl Gwenyn Gruffydd hives. The unpasteurised (raw) honey undergoes minimal filtering and is alive with enzymes. It is full of blossom with a primrose yellow colour and a rich, deep flavour that develops in the mouth.
This small independent farm aims to raise awareness of the massive environmental problem of pollinator decline. Rees is a regular expert speaker and runs an Adopt A Beehive scheme and workshops such as a One Day Beekeeping Training for Beginners. Gift vouchers are presented in a luxury gift box. Price from £115 per person. Mêl Gwenyn Gruffydd Welsh Wildflower Honey from £4 for 142g (50z) to £16.50 for a 1kg glass jar.
Artisan Gifts from Melted Inside Artisan Marketplace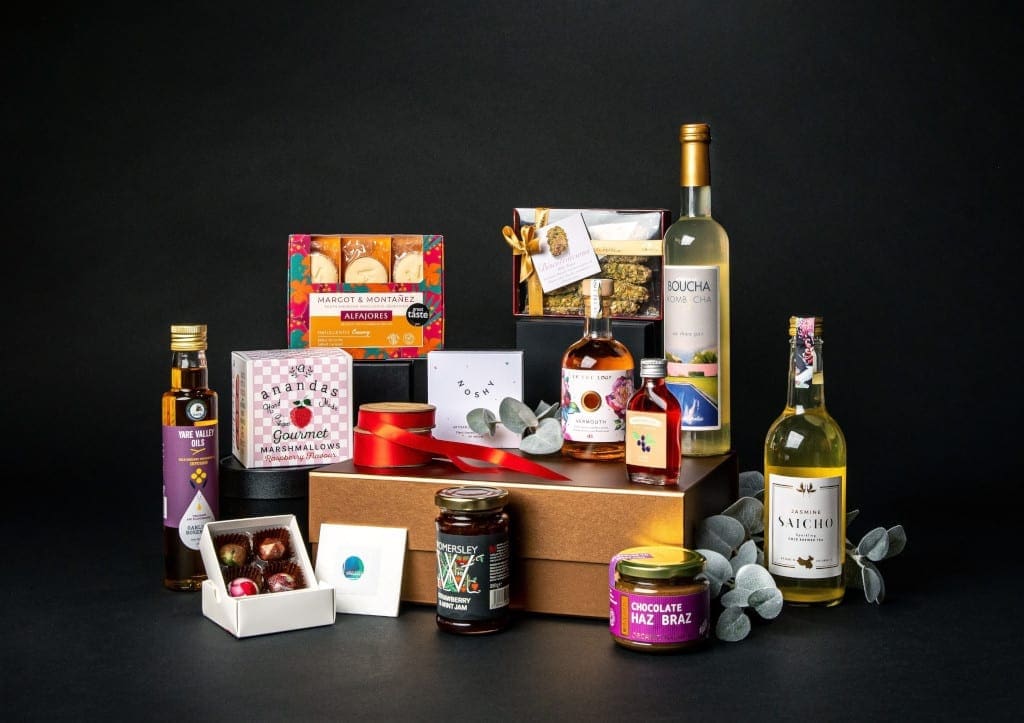 To make gift shopping even simpler it is possible to support small, independent UK artisan makers and producers from one site. Melted Inside offers 'real food from real people'. Provenance is important and the independent producers featured all believe in knowing where the food we eat comes from, who makes it and how it is made. Artisan produce ranges from chorizo to curry sauces and fig relish to gin.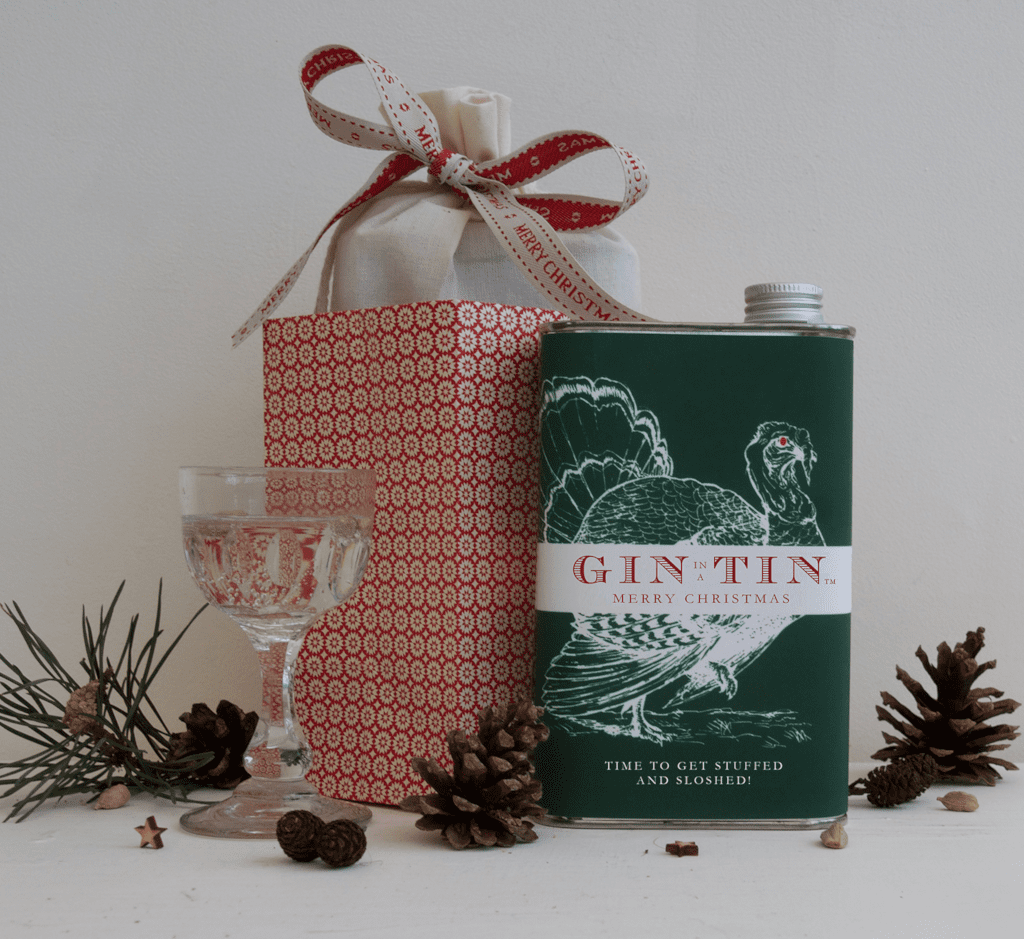 A range of hand crafted, bespoke gins in stylish and individual tins. Special Christmas Gin Gifts 2020 are inscribed 'time to get stuffed & sloshed' and aim to wish all a Merry Christmas this coming December, wherever that may be. The blend has distinctive notes of orange peel, allspice and nutmeg and other botanicals. The festive tins showcase a festive turkey. Prices from £35 for a 50cl tin. For a small additional charge you can include a cotton gift bag and a personalised gift card to enable the gift to be sent direct.
Non-alcoholic Boucha Kombucha
Created by artisan brewers, Boucha Kombucha is a sparkling, low sugar, organic alternative to wine with hints of gooseberry and quince and echoes of a dry white wine. Kombucha is imbued with gut-friendly enzymes and antioxidants. The bottle features a fine art label and makes for an elegant gift. Boucha Kombucha Original, 500ml, £30. Delivery free on orders over £60.
Melted Inside options include individual items or one of the lovingly curated gift boxes for 'different personalities' such as The Students Stockpile Gift Box at £69 or The Family Favourites Gift Box £79. Some producers offer free shipping.
---
For another Christmas Gifts suggestion why not consider purchasing some unique photos and help support rangers combating poaching in Africa with Art for Rangers?
Irene Caswell
Irene is a freelance writer with a special interest in destinations, arts and culture, food and wine. She believes a life well lived is about experiences and aims to provide readers with informative and evocative stories. Follow Irene on Instagram at @hashtagtravelin.