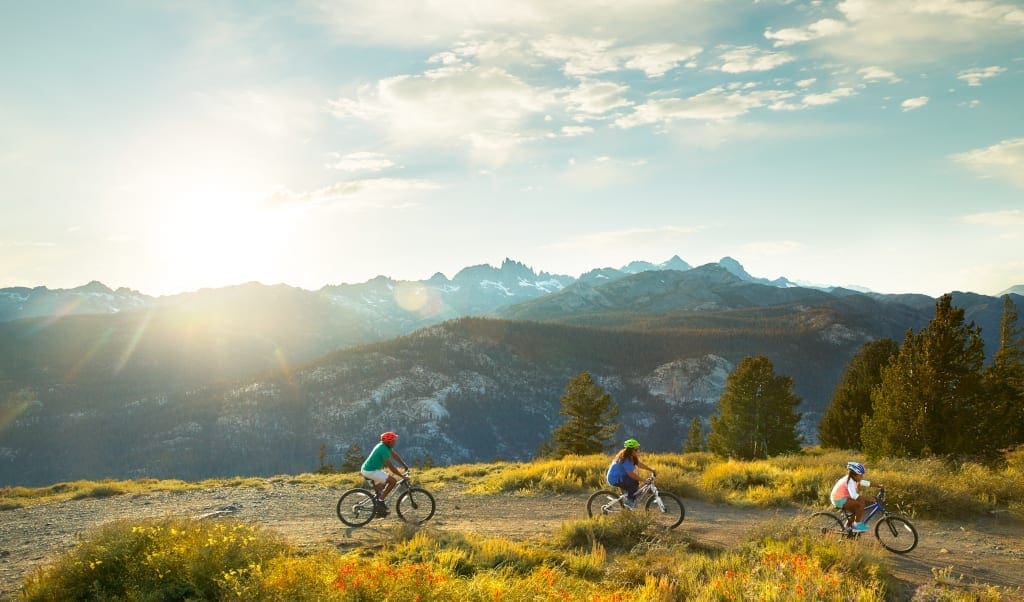 9 Eco-friendly Travel Hotspots for 2021
Travel Begins at 40 Editor
Posted on 16th Dec 2020
Green travel can mean much more than simply carbon offsetting the emissions from your flight. In many ways travel can be good for the environment with many countries and tourist boards creating campaigns designed to give back to local communities and help wildlife thrive.
Many places and hotels are committed to being sustainable and to reducing waste and energy consumption helping the environment where possible.
Read on for many more eco-friendly travel hotspots to visit in 2021.
Atlas Kasbah Ecolodge, Morocco
Atlas Kasbah Ecolodge is situated ten minutes from Agadir and 2.5 hours from Marrakech. Atlas Kasbah is one the most famous sustainable tourism eco hotels in Africa, perfect for those looking for a well-being stay in Morocco to discover and recharge their batteries in Berber country. The accommodation hosts a treatment centre that has been carefully designed to be ecological and responsible. Guests can enjoy a salt pool, Atlas mountain white quartz and wild flower bath, therapeutic salt cave, and energising massages, yoga and meditation. Each treatment and beauty product is based on exchanges and collaboration with ethical cooperatives sharing the philosophy of preserving the planet's natural resources.
Badger Creek Ranch, Colorado, USA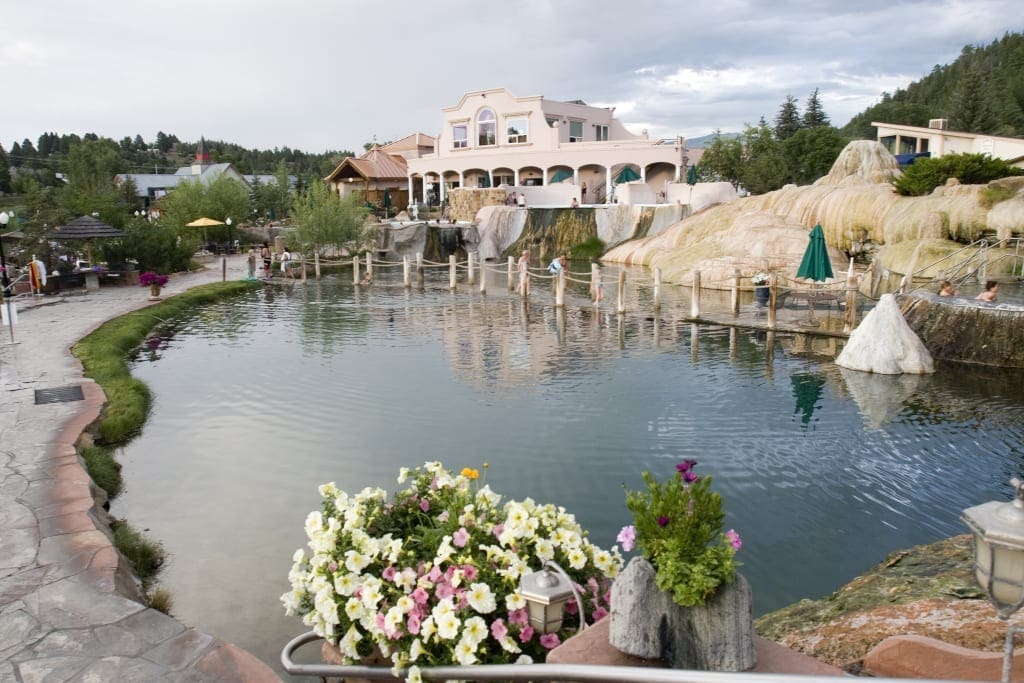 With four national parks, eight national monuments, 41 state parks, 960 wildlife species and 6,000 miles of rivers, the numbers don't lie: the great outdoors is Colorado's calling card, and residents and visitors alike agree it's worth protecting. In 2017, the Colorado Tourism Office and Leave No Trace Center for Outdoor Ethics formed a ground-breaking alliance and introduced the jointly-created seven Care for Colorado Principles which encourage consideration when travelling. Enjoy the geothermal energy in Pagosa Springs, home to the world's deepest geothermal hot spring aquifer that powers local businesses, craft beer making as well as recreation. Stay at Badger Creek Ranch – an off-the-grid property, relying solely on solar power for its energy use. The ranch composts all organic materials including manure from the animals and scraps from the kitchen. This compost is then reused as fertilizer for the ranch's garden and hay meadows. 
En Tetiaroa & Bora Bora, Tahiti
The Brando is a luxury resort that relies entirely on renewable energy sources including solar power and coconut oil. All building materials used are of local or certified origin, renewable, or incorporate recycled components. A pioneering deep seawater air-conditioning system keeps the hotel cool and all guests are provided with free bicycles to get around the island, further reducing the carbon footprint. The owners also built an Eco-station gifting it to the Tetiaroa Society; a non-profit organisation established to allow scientists to lead research into sustainable interdependence. For more information on Tahiti tourism, click here.
Hoshinoya Karuizawa, Japan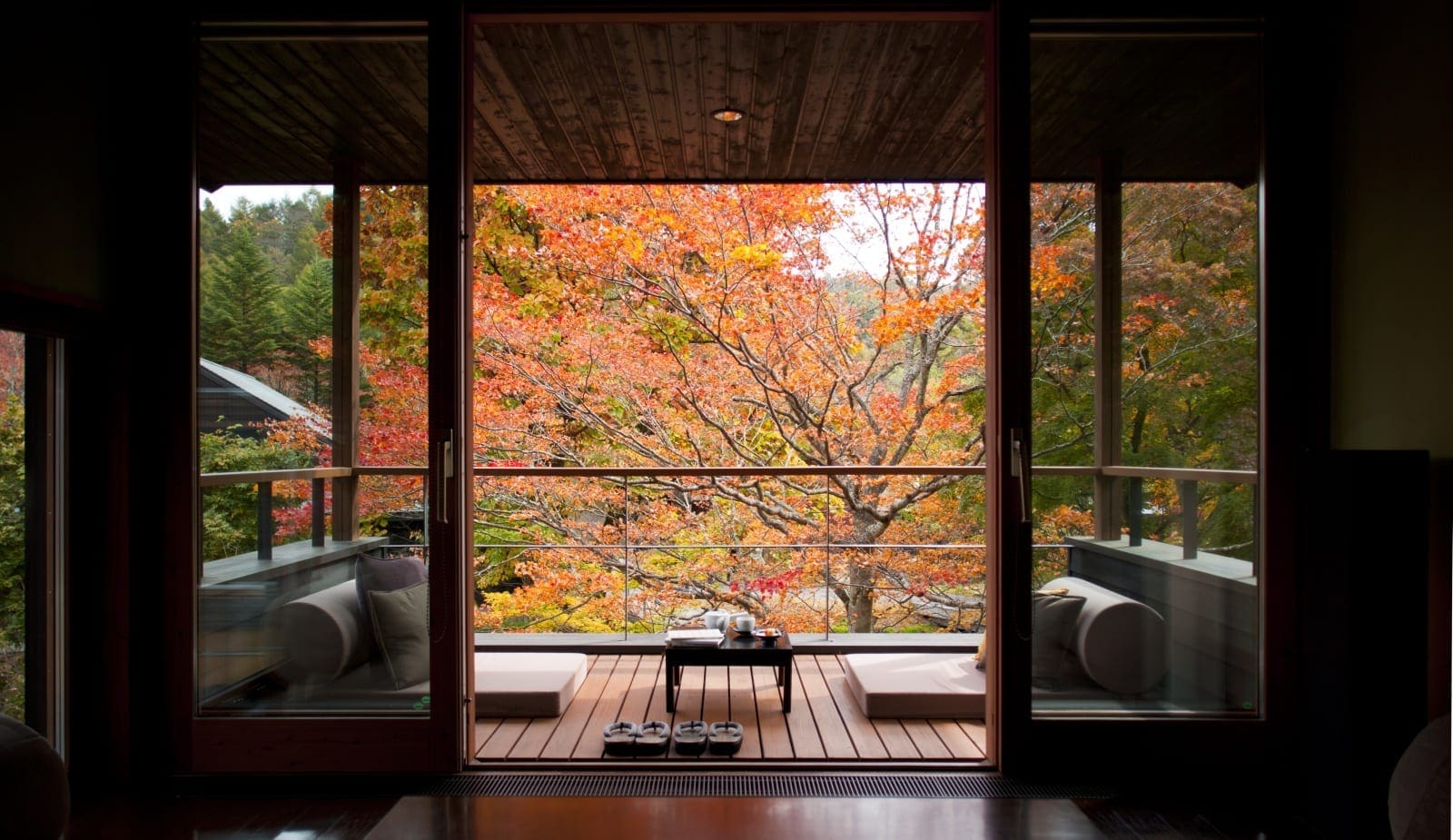 Hoshinoya Karuizawa preserves the exceptional natural scenery in which it is set; 90 minutes from Tokyo by bullet train, the resort sits on a lake beside Mt Asama and feels a world away from the neon capital. The river running down the mountain plays a key role in powering the property, generating hydroelectricity through a system simply called 'Energy In My Yard' (EIMY), which provides 70% of the resort's energy. Guests can enjoy award-winning eco-tours, acclaimed bird watching and healing hot springs during their stay.
L'Ermitage d'Akchour Ecolodge, Morocco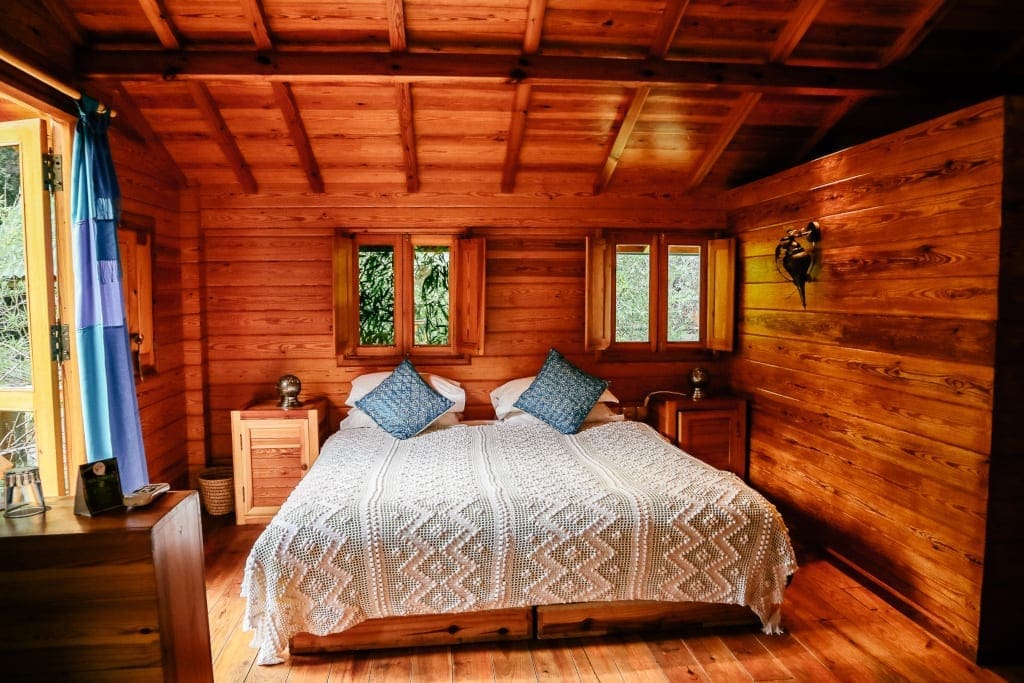 Ermitage d'Akchour is an eco-lodge integrated into lush nature. Not far from Chefchaouen, in the Talassemtane National Park, the area is located by the water and waterfalls. This eco-lodge is a place of rest and rejuvenation and preserving privacy. The architecture of the lodge blends into the mountains as a result of the architect combining stone and wood. Visitors to the lodge can relax on loungers which are set in the shade of hundred-year-old olive trees and others by the river. Additionally, guests can enjoy natural swimming pools, aromatic garden features with open grassy space and the smells of a lemony refreshing scent. The eco-lodge was created in a unique space in the heart of the valley and which is its watchman, protector and incubator of a harmonious and sustainable development for the valley and its surrounding areas.
Ouirgane Ecolodge, Atlas Mountains, Morocco
Ouirgane Ecolodge is an eco-friendly accommodation in the Ouirgane & Toubkal National park. Located 70 minutes from Marrakech, at the foothills of the Toubkal summit (4,167m) in Maghira village beside the National Taghrghourte Reserve. This eco-lodge integrates sustainability, innovation, respect for the environment and the appreciation for the local Berber cultures. A number of concepts are implemented at the lodge including the use of mixer taps, intelligent irrigation for the garden: well water, drop by drop system, use of biodegradable cleaning and bathroom products, use of renewable energy technologies and the implementation of the 3RV rule: reduce, reuse, recycle.
Post Ranch Inn, Big Sur California, USA
Post Ranch Inn is a stunning eco-luxury property perched on the 1,200 ft above the Pacific ocean on the cliffs of Big Sur. Each structure on the 100-acre property represents an innovative green building approach, featuring bio-structure architecture and using natural materials of glass, wood, stone and COR-TEN steel, and, when possible, passive solar heat. Other green initiatives include using hybrid Lexus vehicles to transport guests around the property; water is pumped onsite and bottled into renewable glass bottles; landscaping uses native plants and is drought-resistant. In addition, the grounds provide a habitat for the endangered Smith's Blue Butterfly, California Red-Legged Frog, Western Pond Turtle and California Condor.
The Little Nell Aspen Snowmass, Colorado 
For eco-friendly hotel stays, visitors should check out The Little Nell. Previously rewarded with the Colorado Hotel and Lodging Association's Hospitality Green Award, the hotel uses energy-efficient lighting throughout, has cut CO2 emissions by 300 tons a year and powers its largest suite by a 5,000-watt solar panel system. Guests staying at the hotel can help protect and sustain the local environment with a nightly $2 donation to their Environmental Foundation, which is a nonprofit employee organisation dedicated to protecting and preserving the regional environment.
Under Canvas Glamping Resort, Groveland, Tuolumne County, California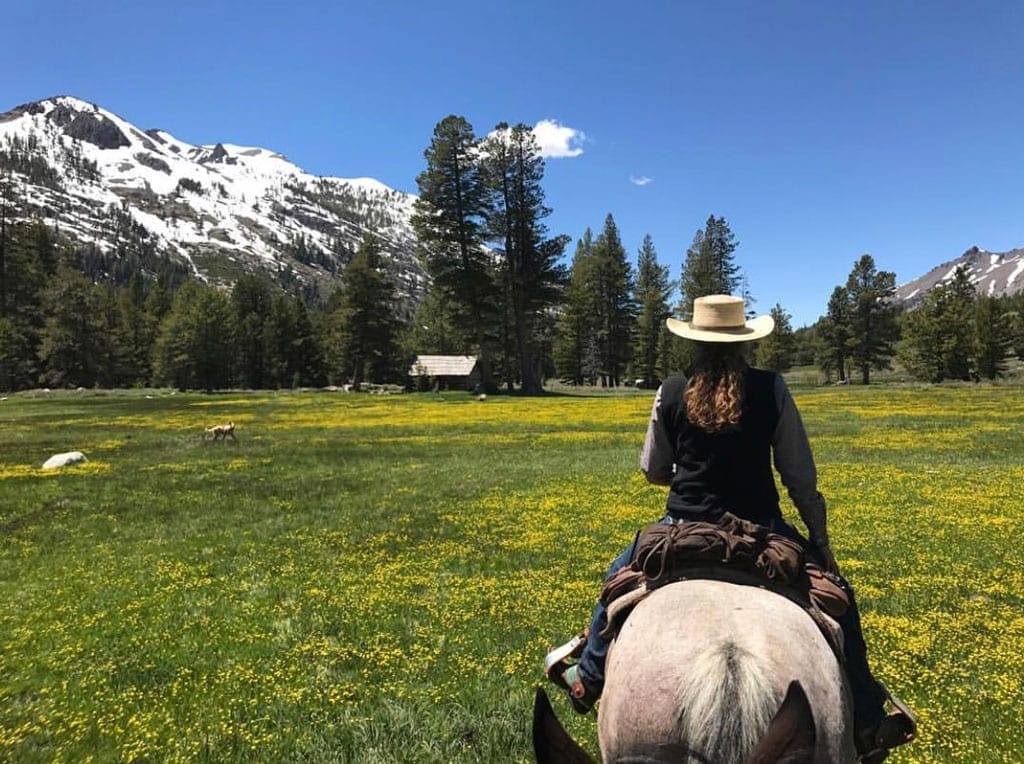 In 2021 and a California first, Under Canvas Glamping Resort will open in Groveland. With 99 seasonal glamping units, the business prides themselves on its sustainability practices. Nearby attractions in Yosemite National Park include the mighty Hetch Hetchy Reservoir and Tuolumne Grove of Giant Sequoias for multiple hiking opportunities and chasing waterfalls, not to mention proximity to the High Sierra and historic towns in the Gold Country.
Travel Begins at 40 Editor
Travel articles, news, special offers, festivals and events from the Travel Begins at 40 Editorial team and our global network of travel industry contributors.