A Summer Gastronomic Trip to Verbier Switzerland
James Clark
Posted on 7th Dec 2020
James Clark discovers he has bitten off more than he can chew on a gastronomic summer journey to Verbier Switzerland.
Verbier is not the first place that springs to mind when thinking about a summer break, but Climate Change has brought transformation, and the Swiss ski resort has started to reinvent itself as an all year-round destination.
Verbier has high hopes for e-biking and plans to become Europe's number one e-biking destination, so we planned our trip around the Rando Gourmande du Verbier E-Bike Festival.
We decided to take the Gourmet Hike, a six-point path around the valley to be treated to a different local platter or glass of wine at every stop. It was a great way to spend the day and the sun was shining on us apart from a heavy downpour at the start of the tour.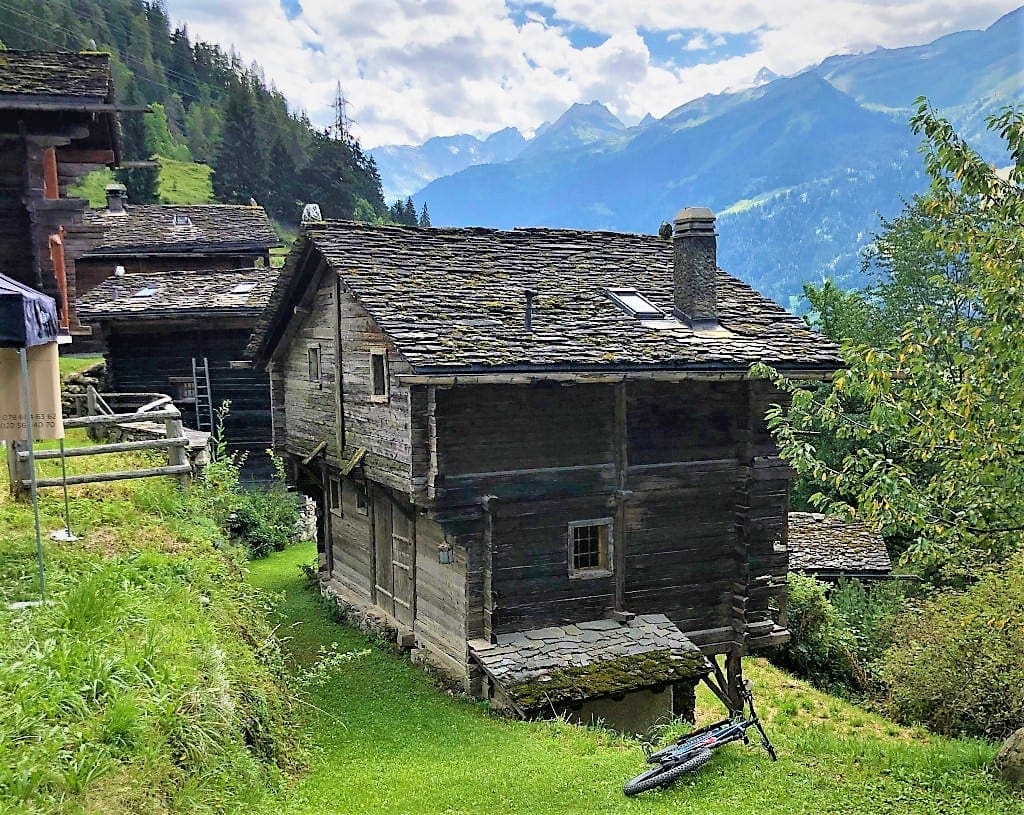 The e-bike law is strict in Switzerland with e-biking prohibited for children under 14 and permitted for those 14-16 years old with a moped license. Wearing a helmet is mandatory for everyone regardless of age.
A Gourmet Day in Verbier Switzerland
The next day we took the cable car to La Tzoumaz to forage for weeds, plants and flowers on a two-hour trek to La Maison de la Forêt, a Swiss chalet high above the valley.
Our mountain guide Cherries, a qualified botanist, was full of stories and valuable information about every plant that we picked. We paid attention, as none of us wanted to eat the wrong thing and end up with stomachache or worse.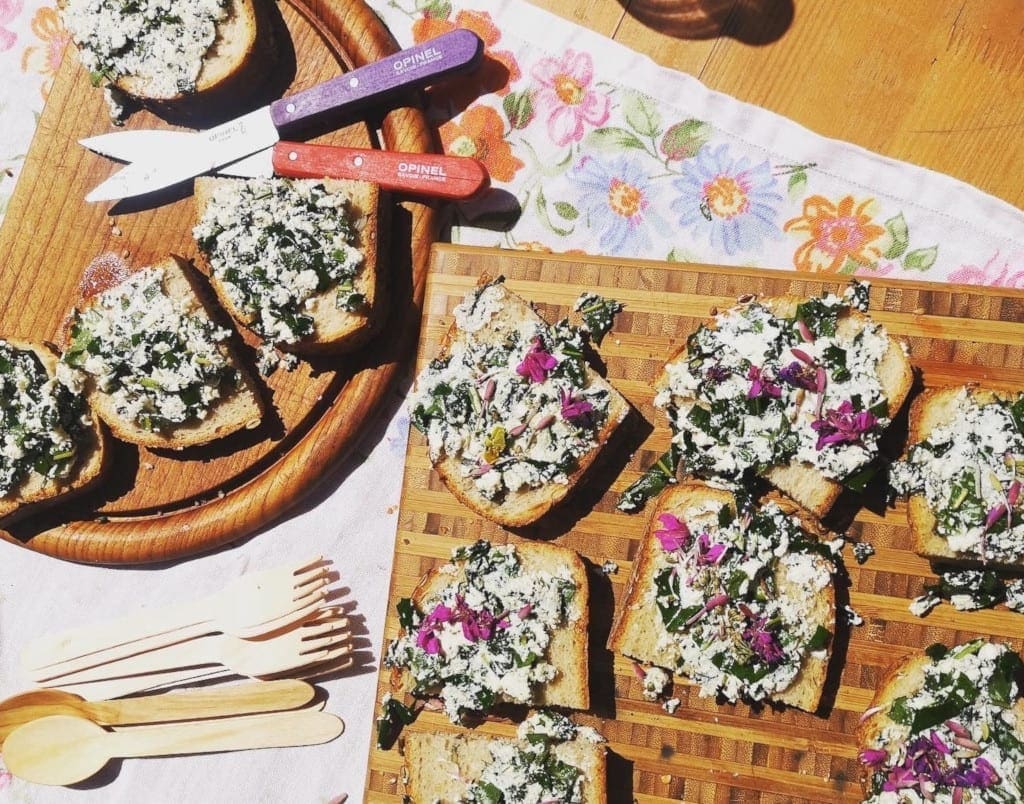 Some of the plants we were familiar with such as nettles and spinach, but others like yarrow leaves, which is used to stop bleeding and Alpine ginseng we were not.
Before preparing lunch, we visited a local cheesemaker for some a low-fat soft cheese made from whey, the substance that is left behind from raclette. Up until recently it was thrown away, but as with many things that we used to dispose of, it has become fashionable to eat it.
At an outside table at Maison de la Forêt, we emptied our bags, checked everything we had picked was edible and prepared our lunch with fresh bread, cous cous, olive oil and the cheese.
Some of us were a little apprehensive when it came to the eating part of the experience, but everything tasted wonderful and as expected – fresh. Who would have known that daisies taste that good?
Swiss Slow Food Movement
After lunch, we headed back to the Hotel Bristol Verbier for a quick shower and change before heading to Sarreyer, a small village, to learn about the Swiss Slow Food Movement.
Locals have restored a 19th century mill which does far more than I was expecting. It is used to cut trees to build chalets, make flour and press apples into juice. Who doesn't love a multi-tasking device?
After a display of the mill's abilities, we were treated to cheese and meat from the local Ferme des Glariers and absinthe and gin distilled by the Edelweiss Distillery using local plants before moving on to Café du Mont-Fort for more food.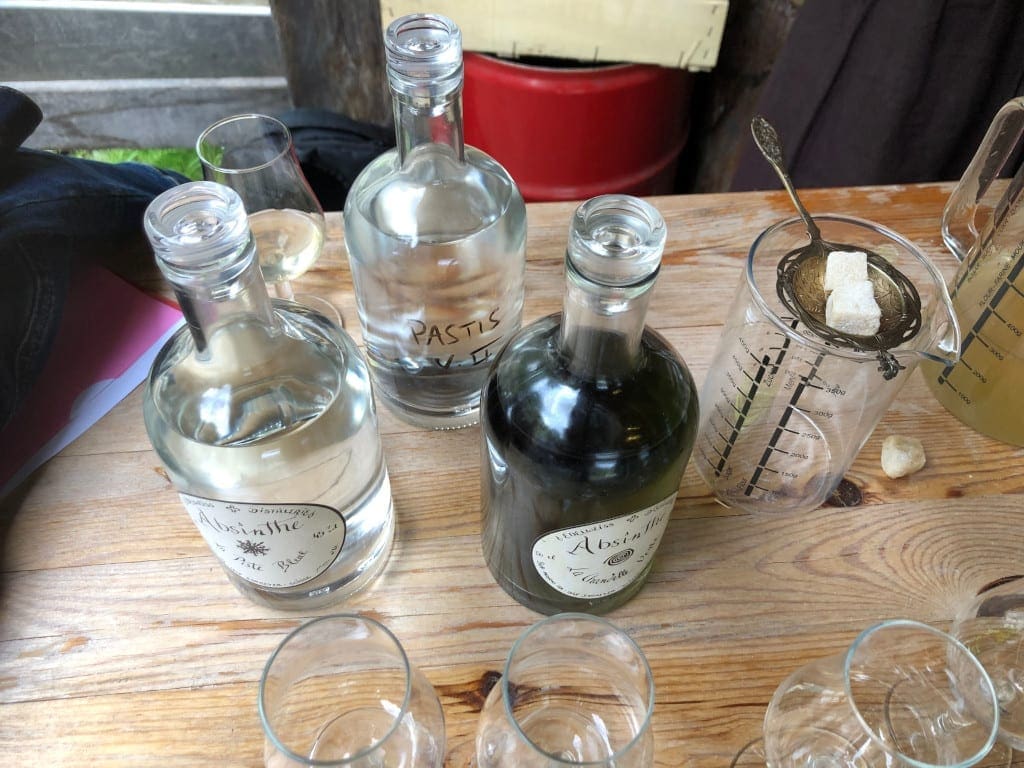 The Café du Mont-Fort, has recently been re-opened by the community. It was closed on my last visit to the region five years ago but has since become a hive of activity and younger people have started to return to the village since it reopened.
We enjoyed nettle and wild garlic tagliatelle, and some chocolate creations from local master chocolatier Raphaël Thoos. Not only did it look exquisite, it tasted amazing. Every mouthful melted on the tongue.
After dinner, we headed back into Verbier to try out a couple of local bars. On my last visit it was a lot busier, but let's not forget that things are different everywhere this year.
---
Read about Mark Bibby Jackson's summer exploits in the \alpine nation in Treking the Aletsch Glacier, Switzerland.
---
Encouraging Tourists to Verbier Switzerland
To reassure visitors back to Verbier the tourism board is focusing on much smaller events than usual and encouraging people to spread across the valleys.
One of the great schemes developed is that if you book a one-night stay in Verbier you will get rewarded with a free VIP pass, allowing travel across the cable car network, and discounts on local activities. This pass really can save you a lot of money.
The following morning, we checked out of the hotel and walked through mountain tunnels to the top of the dam in Mauvoisin for brunch with Palp festival organiser Michel May.
Palp music and culture festival usually takes place in early summer, but this year it was forced to start later and continue until November.
We managed to catch an hour of the festival before heading back to Geneva by train to catch the flight back to London Heathrow.
---
SWISS
SWISS offers weekly flights from UK and Ireland to Geneva and Zurich. One-way fares start from £80 to Geneva and Zurich including all taxes, fees and surcharges and one piece of hand luggage. Fares including checked baggage start from £130 one way including taxes, fees and surcharges. For more information visit: swiss.com
Verbier Hotels
Hotel Bristol Verbier, Route des Creux 4 1936 Verbier Tel: +41 27 771 65 77 Web: https://www.bristol-verbier.ch/
---
Things to Do in Verbier Switzerland
Experiences available in the resort of Verbier Switzerland can be found at www.verbier.ch
---
Overnight at Heathrow Airport
I stayed for one night at the newly refurbished Hilton Garden Inn London Heathrow Airport. I was impressed with the measures put in place due to COVID.
The hotel is a five-minute Hoppa Bus ride from Heathrow Airport, with easy transport links to central London.
Main image : Mountainbiker on the road in Verbier bike park. Biker: Carston Oliver. Copyright: Switzerland Tourism –  swiss-image.ch/Grant Gunderson
James Clark
James Clark is a UK-based travel writer specialising in adventure and the great outdoors.
Subscribe to our newsletter