Montenegro: Responsible and Sustainable Tourism
Travel Begins at 40 Editor
Posted on 17th Jan 2021
Aleksandra Maksimović, Managing Director of Communications, National Tourism Organisation of Montenegro, explains how responsible and sustainable tourism are key to the country's development plans.
In Montenegro we are extremely committed to the development of responsible and sustainable tourism, which enables a better and safer life for all layers of our society.
Globally, since 2004, eco-tourism has been growing three times more than the tourism industry overall. We try to take advantage of this fact by offering our tourists an authentic product, preserving nature and involving other entities in order to become a so-called green destination.
National Strategy for Sustainable Development
In 2016, the Government of Montenegro adopted the National Strategy for Sustainable Development until 2030, which sets out the principles, strategic goals and measures for achieving the long-term sustainable development of society, considering the current situation and international obligations, primarily those contained in the United Nations Agenda on sustainable development by 2030.
All relevant assessments given so far for the National Strategy show that this is an exceptionally high quality framework for the implementation of Montenegro's sustainable development policy, and Montenegro is among the first countries to fully translate the goals and tasks of sustainable development into the national framework.
Tourists, especially the category we strive for, are generally very environmentally aware, so a healthy environment increases their choice for vacation. In that sense, Montenegro really has something to offer.
Our country, thanks to its rich physical and geographical diversity, has a great potential for the development of rural tourism, but also has an already developed core with numerous examples of good practice.
Montenegrin villages, whether located in the hinterland of the Adriatic or in the north of the country, abound in untouched nature, are rich in water, with a small population, and are true green oases. Each of them is authentic, special and different and they attract many visitors from Europe and from the world who have a unique opportunity to experience the culture, folklore and gastronomic features of the traditional environment.
---
Eco-certificates as a quality improvement in tourism
The National Tourism Organization of Montenegro and the Ministry of Sustainable Development and Tourism provide funding for the introduction of environmental certificates 'Travellife' and 'EU Ecolabel' in partnership with the UNDP Office, with the support of the project Development of Low Carbon Tourism.
A total of 26 international certificates of sustainability in tourism have so far been awarded to accommodation facilities, hotels and apartments in Montenegro, in the southern, central and northern regions.
The certificate of sustainability is a "green stamp" that confirms that the accommodation facility creates a sustainable tourism product, saves energy and water, as well as consumables with well-defined procedures.
Spreading environmental awareness among hotel staff and guests is the goal of all eco hotels. Green hotels harmonise the quality and comfort of the offer, emphasising that the impact on the environment is minimal, and that tourists from the destination take away memories and beautiful experiences, leaving only traces of steps taken on eco trails, in national parks, along lakes and rivers.
As part of this incentive measure, the EU Ecolabel certificate from rural areas was awarded to the Ethno Village Nevidio and the Plužine Inn "Eko Piva". Jela Natural Resort, Rožaje, is also in the process of certification.
---
Why not follow our #sustainablesunday series? Read about Valencia and why sustainability is vital to the tourism of tomorrow. 
---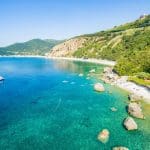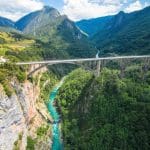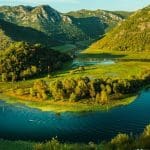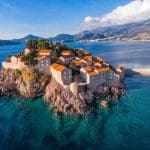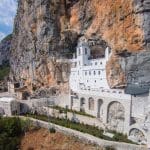 Rural Responsible and Sustainable Tourism
Previously we worked intensively on increasing the number of rural households in Montenegro, so we currently have 111 rural households that offer nature lovers a variety of tourism facilities such as staying in authentic wooden huts and stone houses, numerous 'rural activities', such as caring for animals, mowing, harvesting fruit and herbs, as well as opportunities for hiking and biking and active holidays.
In most villages and katuns, home-made food is served. Guests can choose to prepare dishes from local products, but also actively participate in the production of cheese, wine, olives, teas and other products for which Montenegro is recognised.
Our challenge is not only to continue tourism growth in general, but also to ensure that it is growth that is sustainable, balanced and brings direct and long-term benefits to the population of Montenegro, with the protection and preservation of natural resources, which is the prime driver of tourism development. That is what we have to do and what we are already doing.
With a smart policy of redirecting tourism investments to the north, adequate waste disposal and adequate response to all the challenges posed by mass tourism, we protect the environment and build tourism on the principles of sustainability.
---
To learn more about responsible and sustainable tourism in Montenegro
Visit https://see.montenegro.travel/en.
Main image: the old town of Kotor. 
Travel Begins at 40 Editor
Travel articles, news, special offers, festivals and events from the Travel Begins at 40 Editorial team and our global network of travel industry contributors.