Amber Kampot Cambodia Luxury Resort
Marissa Carruthers
Posted on 17th Feb 2021
Marissa Carruthers checks-in at Amber Kampot, the first luxury resort in the southern Cambodia riverine town, and experiences the rapid change taking place.
As our boat meanders along a stretch of the Preaek Tuek Chhu River that runs into the Gulf of Thailand, Lundy points to a small island that rises from navy waters. A tuft of palms dance in the gentle breeze as the warm hues of Golden Hour work their magic on our surroundings.
"This is where we're going to host private dinners for guests," says Lundy eluding to one of many exclusive experiences being curated for guests at Amber the first five-star resort in Kampot. The remote river islet shrinks into a mound of sand as we cruise past mangroves and a verdant patchwork of paddies and farmland that stretch to a horizon dominated by dramatic Bokor Mountain.
I've been a regular visitor to Kampot province since moving to Cambodia in 2012. In fact, without it I doubt I'd still be here as it quickly became a key ingredient in my capacity to cope with Phnom Penh's cacophony. On arrival in the laidback town, the buzz of my brain unwinds in rhythm with the gentle curves of the rural province's spider's web of waterways.
Lazy Kampot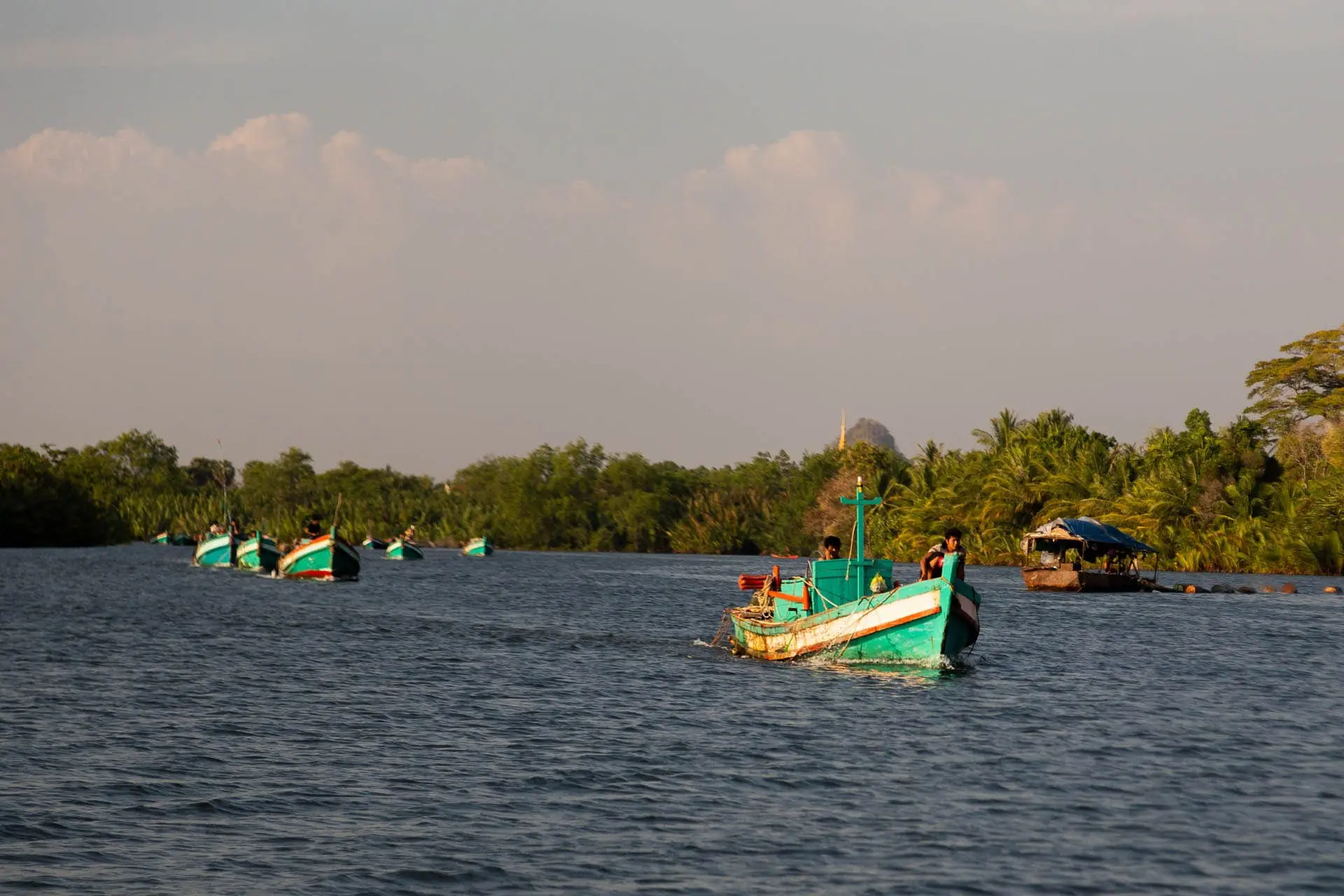 Then, the town was mainly reserved for city-dwelling expats like me seeking an escape, a handful of jaded expats trading in chaos for calm and a few reluctant-to-leave backpackers hypnotised by Kampot's neglected charm and long, lazily stretching days.
A smattering of guesthouses dotted the compact town and a sprinkling of basic accommodation and dainty boutique resorts could be found perched on the banks of the river to the north of Kampot.
Those seeking a slice of luxury tended to steer clear of the hippy vibe and beatnik bob around Kampot market, instead chasing the faded glamour of nearby coastal Kep, which served as a retreat for the country's elite during colonial days up until, like the rest of the country, it was obliterated by the Khmer Rouge.
---
Discover more about Kampot's charm by looking at Joe Ogden's Timeless Images of Kampot.
---
A Town in Flux
Fast-forward to today and huge change hovers on Kampot's hazy horizon. As the sun melts into the silhouette of rolling hills, our boat passes families playing on slender sandy shores punctuated by mangroves and wafting palms. Most astonishing are the swathes of razed land that scar the agricultural landscape; quietly poised to pounce on the imminent development boom.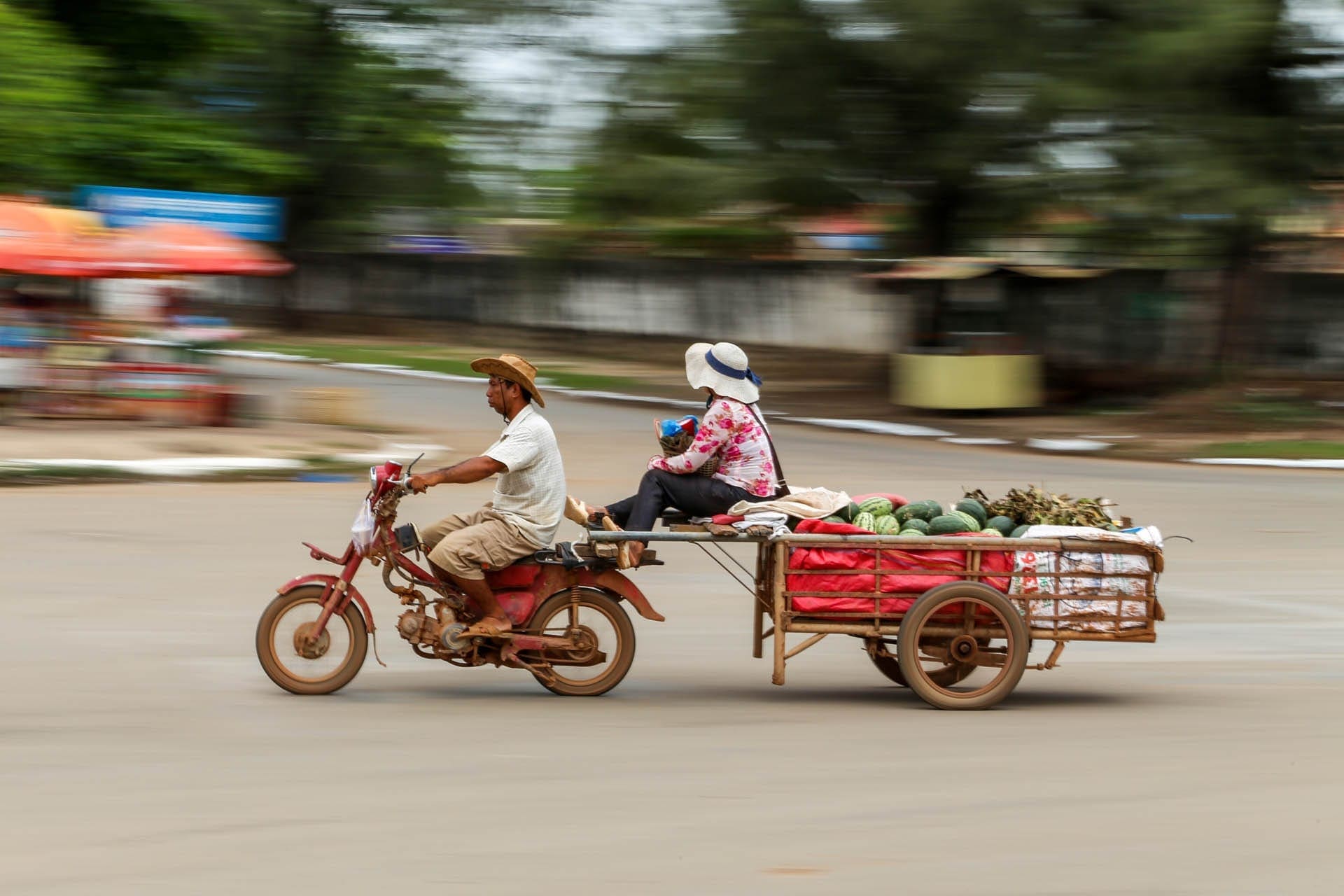 The usual battered wooden fishing boats I usually use to navigate the waters have been replaced by a freshly-painted equivalent. There's no stale water sloshing in the bottom and the faint stench of fish is replaced with the mouth-watering aroma of canapés that sit next to cocktails creatively concocted by Lundy – Amber Kampot's food and beverage manager.
Amber Kampot – a New Chapter
The opening of the province's first five-star resort marks the start of a new chapter for the area, where time is starting to speed up. In the town's historic heart, a 42-storey, twin tower development on the riverside is one year into construction, and a port slated to welcome cruises from Vietnam's Phu Quoc and Thai islands is scheduled to open in 2022. Swathes of land are being eyed up by investors for their tourism potential.
Despite unknown change teetering on the horizon, for now Kampot has retained much of its magnetic rustic charm; a charm that is starting to seduce a new form of clientele in the form of upmarket travellers wanting to check-in to check out the latest hot property, Amber.
While much of the world's tourism has ground to a halt and hotels worldwide are struggling to survive, Amber's owners decided to plough ahead with plans to open the property in the midst of a global pandemic. In September, it started welcoming guests for a soft opening, and it seems word quickly got about.
Bucking the Global Trend
Since late-2020, Instagram-able Amber Kampot has been fully-booked most weekends. And it is reporting about a 15 percent return rate – all during Covid times. This has been fuelled by a flurry of factors.
As of writing, Cambodia has still recorded zero coronavirus deaths and the infection rate sits at about 450, of which most are imported and caught at the border thanks to tight entry restrictions imposed since April 2020. This has sparked a domestic tourism drive across the country. Throw into the mix Amber's heavily-discounted rates, with villas starting from US$348 a night, and it is piquing the interest of grounded Cambodians and expats curious to stay at one of the country's latest luxury offerings.
A Hidden Amber Gem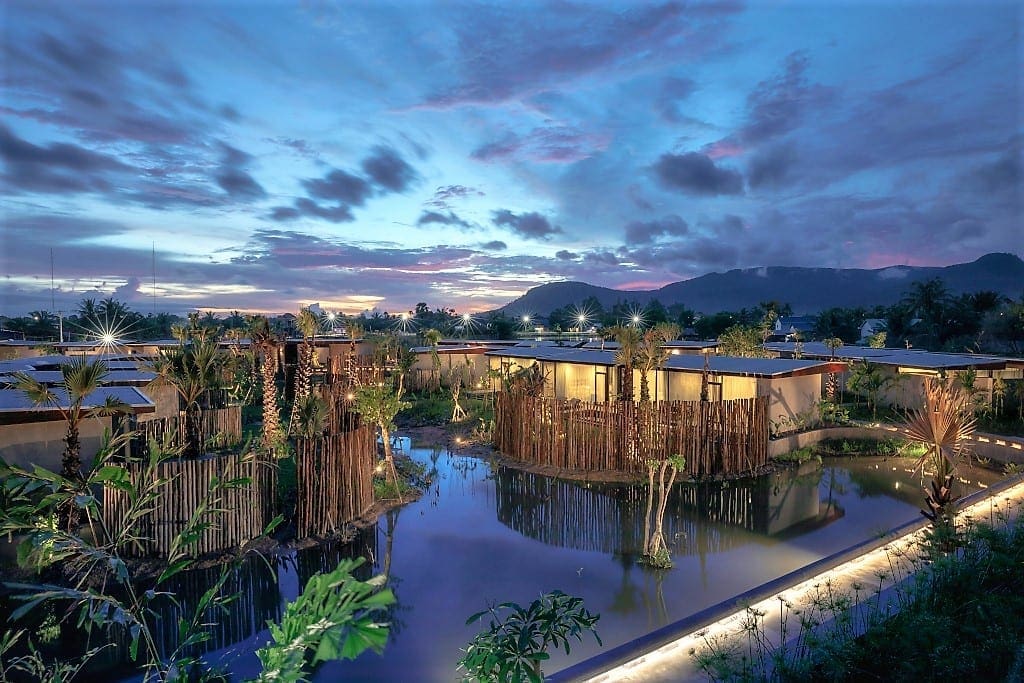 Hidden along a dusty countryside lane on a peninsula that sits opposite the town, Amber Kampot blends into its natural surroundings. Overlooking the river, the resort sees 25 villas dotted around a lagoon that winds through tropical gardens. During our stay, huge work was starting on re-landscaping the grounds to replicate a natural rainforest – a move that will undoubtedly further add to Amber's appeal.
The design sees subtle nods to Khmer architecture blend with modern minimalism. The open-air lobby and adjacent ARVI restaurant emanate a sophisticated contemporary flair. Sharp lines contrast with the gentle curve of a spiral staircase, while blocks of neutral tones are given a splash of colour through vegetation and vibrant décor.
The theme continues in the villas, which each come with a private pool and deck, a bedroom with seating area and a spacious bathroom with two sinks, a standalone shower and separate toilet. A deep outdoor bath tub sits in a small central open-air courtyard packed with lush greenery.
Giant floor-to-ceiling windows and patio doors ensure light floods into the space from dawn to dusk. However, light sleepers need not fear as black-out curtains keep the room dark for as long as rest calls – trust me, getting out of the cloud-like bed is likely the only challenge a stay at Amber brings.
Elsewhere, an infinity pool flanked by a wooden deck and stylish sun loungers seemingly tickles the river. This is the perfect spot for sun downers carefully-crafted at the poolside bar before heading to Amber Spa by Samata for a relaxing early evening pampering.
Dining at Amber Restaurant Kampot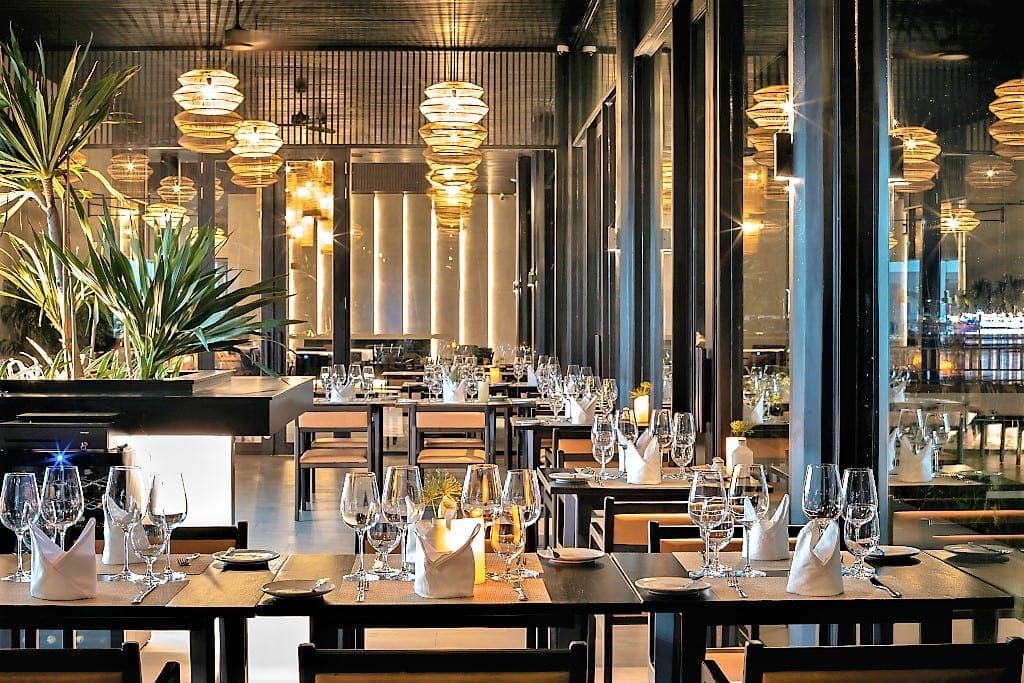 Breakfast, lunch and dinner are served at ARVI, a stylish indoor and outdoor space that boasts relaxing riverine vistas. Headed by seasoned executive chef Toek Manghout, the menu flirts with a fusion of flavours from east and west.
Each dish is plated like a piece of art, with stand-out options including the seafood bouillabaisse, a fragrant fish broth filled with squid, prawns, tomatoes, garlic, herbs and a sprinkling of chili to give it a kick. The crab cake is another must-try. Crispy breadcrumbs encase tender crab meat and potato, perfectly complimented by a tangy Kampot pepper sauce and the fresh crunch of a nashi pear salad.
While weekends are often busy, during our mid-week stay we have the resort to ourselves. This, inevitably, has meant Amber Kampot has scaled back operations until Cambodia starts welcoming outside visitors once again. In the meantime, finishing touches are being added and operations smoothed out.
---
To discover more things to do in Kampot, read Mark Bibby Jackson's Lost and Found in Kampot.
---
Amber Kampot Experiences
More authentic experiences are being curated in addition to the sunset cruise – the exclusive dinner on a private river islet being one. Additionally, when international travel resumes, a larger boat will be brought in to collect cruise clients from the new port, which general manager Ayub Yulianto predicts the majority share of overseas guests will come from.
As I sit down next to the pool with a cocktail in hand watching the sun sink into the horizon, I receive a notification on my phone. By sheer coincidence, it's a Facebook memory reminding me that it's eight years since my first visit to Kampot. Oh, how times have changed.
---
Images of Amber Kampot Cambodia
---
Amber Kampot
For more information about the resort, or to book your stay, click here. Images courtesy of Amber Kampot Resort unless stated. 
Marissa Carruthers
Marissa inherited her love of travel from her parents, who would entertain her as a child with exotic tales of their adventures across the globe. Her first solo leap into foreign lands was an Inter-railing trip across Europe and North Africa during her first summer at university and, despite two muggings, several dices with death and a terrifying encounter with the monkey mafia, she was hooked.