Extreme E Racing and Sustainable Tourism
Pauline Ronnet
Posted on 15th May 2021
Pauline Ronnet examines the connection between the Extreme E racing series and sustainable tourism.
The connection between sport, climate change and tourism may not seem obvious at first thought. But combating climate change is partly about bringing people together – and few forms of entertainment have the ability to bring people together like sporting events, while a thriving tourism industry can be a force for community empowerment.
Recently, millions watched as the first climate-concerned sporting event took place when the electric motorsports Extreme E series had its first season in AlUla, an ancient and beautiful region in Saudi Arabia's Medina region.
Extreme E Racing
It all started in 2018, when diverse representants of various sports leagues, clubs, federations and committees began a collaborative effort with UN Climate Change to launch the United Nations Sports for Climate Action Framework. The initiative was set up in order to bring together athletes, sports organisations, Extreme E teams and fans to raise awareness of the need to keep global warming well below 2°C by 2050, as detailed in the 2015 Paris Agreement.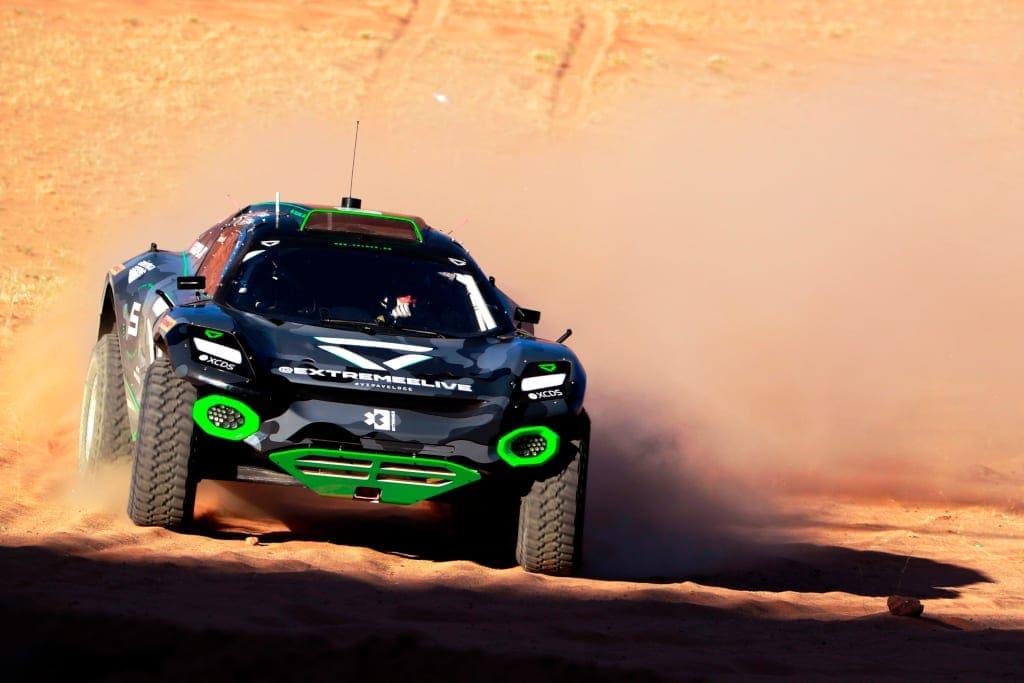 The same year, the founders of the popular electric motorsport Formula E developed the idea of a race with a purpose: the Extreme E series. The aim is to bring awareness to the damaging effects of climate change in five rare and unique ('extreme') world locations. Popular with tourists due to their cultural heritage and natural beauty, they are also representative of different environments on Earth: deserts, oceans, glaciers, the Arctic and the Amazon Rainforest.
By blending the excitement of racing with science-based narratives, Extreme E aims to deliver a message about living a more sustainable lifestyle and to showcase the performance of electric vehicles. The racing team will also be accompanied by a team of scientists and a laboratory on their voyage across the world as they put their Legacy Programmes into action to create lasting environmental and social benefits in each location visited.
The Extreme E car runs on hydrogen fuel cells with water as their only waste-product, whilst unavoidable carbon dioxide emissions are offset via ALLCOT certified global programmes. The lack of spectators avoids the needless waste, consumption and travel emissions associated with crowds: instead, the races are broadcast live on the BBC. Each Extreme E car contains one male and one female driver sharing equal responsibilities to promote gender equality, itself a climate change issue.
AlUla: Responsible Tourism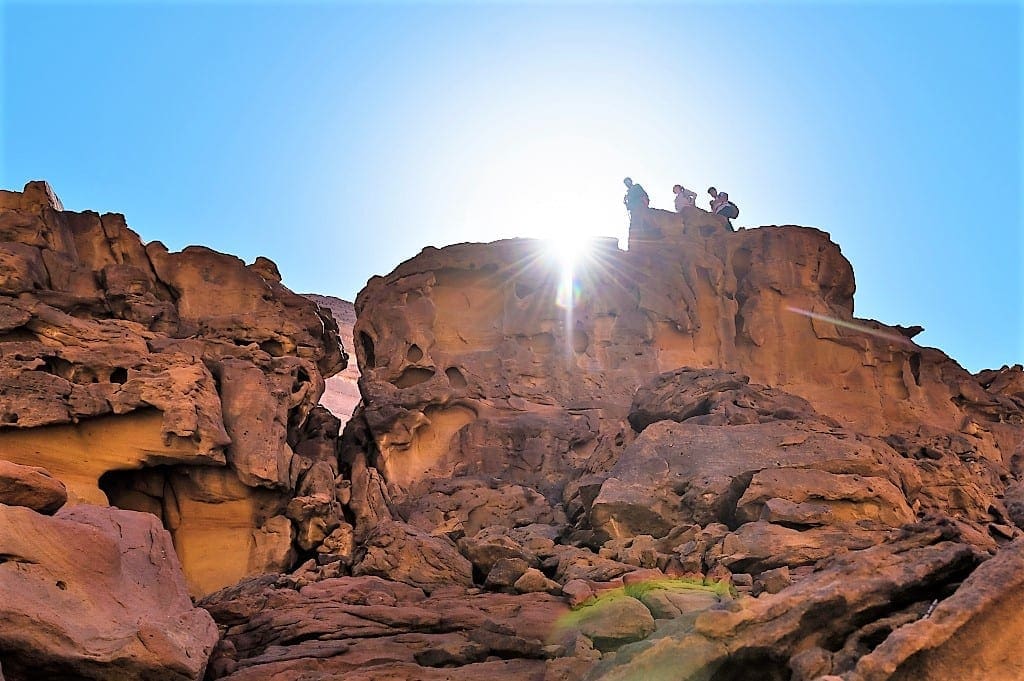 Though currently dubbed a 'hidden gem', AlUla will be opened up to responsible tourism in 2021 to meet growing interest. New resorts will be built complete with restaurants, spas and a pool deck, and activities such as hiking trails, star-gazing and farming experiences will be promoted. This will help Saudi Arabia's economy to divert from oil by focusing on tourism as the country transitions to renewables.
A UNESCO World Heritage Site, AlUla is a living museum of ancient tombs from past civilisations, striated rock formations and a green oasis of palm trees in the desert. This makes it all the more worth protecting from the various specific climate change threats the region faces. Extreme E's Legacy Programme for AlUla includes planting a billion native citrus and acacia trees before 2030. This will help combat desertification at the desert's fringes, which is a result of the wider region's interconnected climate system becoming disrupted by climate change. Nearer to the Red Sea coast, litter clearance, fence construction and nest relocation will help protect hatchlings of the endangered Hawksbill Turtle from rising tide levels and erosion of the coastline. A sponsor of the race will also provide technology resources to enable local women to sell their crafts online.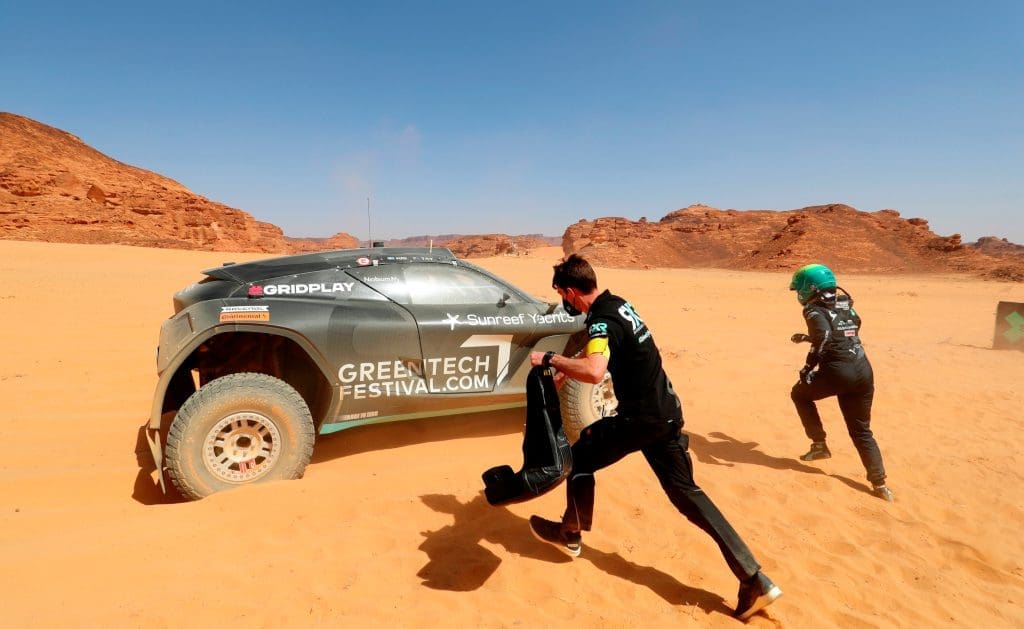 If more sports follow suit, the global sports industry, which produces a carbon footprint equivalent to that of a small nation state, could endow itself with a real purpose, influencing their millions of fans in an impact that could ripple out beyond the sports sector.
---
For more information on Extreme E racing
Click here.
Cover image: Jenson Button (GBR), JBXE Extreme-E Team, prepares in the pits during the Desert X-Prix at AlUla on April 03, 2021 in AlUla, Saudi Arabia. (Photo by Sam Bloxham / LAT Images)
Pauline Ronnet
Pauline is an intern at the sustainability mobility consultancy Fly Green Alliance, which works with stakeholders to commercialise sustainable aviation fuel for airlines. She grew up in France and has a degree in Biology from Imperial College London.