Berne to Be Wild in Switzerland
Mark Bibby Jackson
Posted on 23rd Jun 2021
Mark Bibby Jackson discovers the myriad of things to do in Berne Switzerland, a cultural and culinary capital with a laidback Bohemian vibe and a remarkable outdoor culture.
My heart raced, my breath vanished, and for a brief moment I wanted to be anywhere other than where I was. Then, gradually my body started to acclimatise to the chill temperature of the River Aare's glacial waters and, recalling Bernhard's instructions, I swam a few strokes into the middle of the river to join the rest of my group.
Before long I was drifting with the current, right in the heart of Berne, as the Parliament Building appeared before me. This is just not something you can do on the Thames – at least not while living to tell the tale.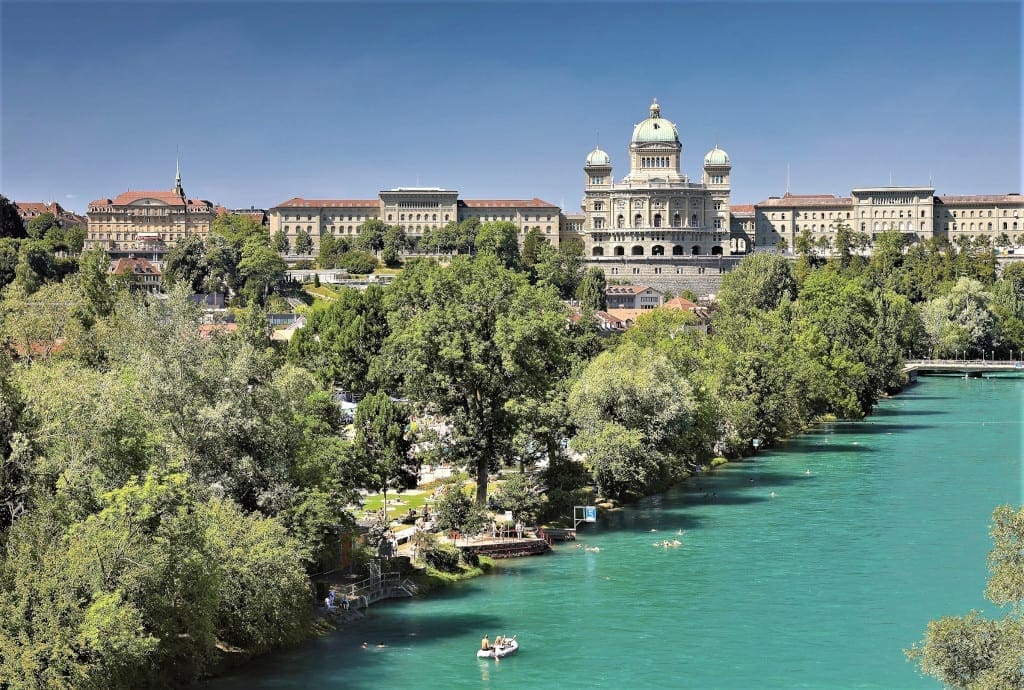 This is why I had volunteered to come to the Swiss capital – along with an intense longingness for travel that only a lockdown in Essex can generate – to go wild in Berne, a city that fully embraces nature.
Funicular to Gurten Mountain
A few hours earlier I had taken the funicular to the Gurten, the belt that lies just above the city.
A hotel was built here in 1899; the first in Switzerland to have running water and electricity we are informed, primarily for the wealthy British tourists who used to take their vacations in the Alps. At 858 metres the Güsche, as the locals call it, was a perfect place for the travelling Brits to acclimatise for a few days before heading off to the High Alps. Inevitably a golf course and vineyard followed.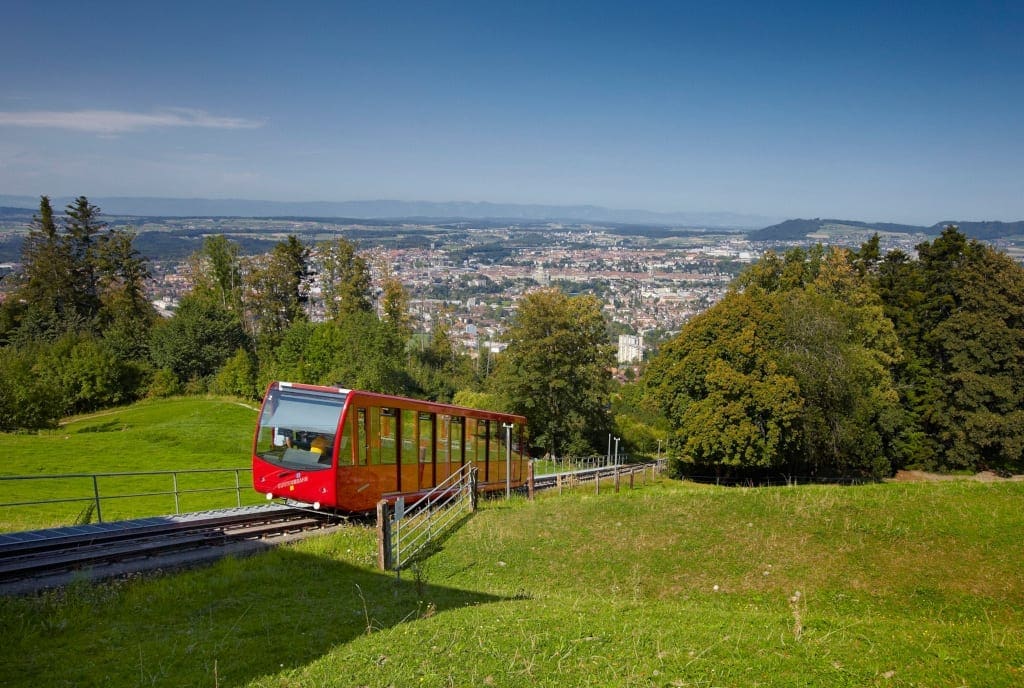 In the 90s the Gurten was converted into a park for the people of Berne, and after a few failures, it has been converted into a sustainable outdoor attraction with sweeping views down to the city below and across the Bernese Oberland. The golf course was converted into land for cows to graze and people to walk, although Frisbee playing seems permitted. The area is also car free.
The Gurtenbähnli, the first electric funicular in Switzerland – runs every 15 minutes, and has good connections to the heart of Berne by bus. So, within half an hour of leaving downtown Berne we were dining in the most wonderful fresh air.
The food at Gurtners restaurant was appropriately healthy, a light salad followed by a vegetable flan. Sufficiently filling to provide us with energy for our swim ahead, but not so heavy as to provide that sinking feeling.
Wild Swimming in the Aare
Each summer citizens of the capital of Switzerland take to the waters and wild swim in the Aare. From a distance it seems a most relaxing affair but close up the river's swift current made me question the wisdom of the venture I was about to undertake.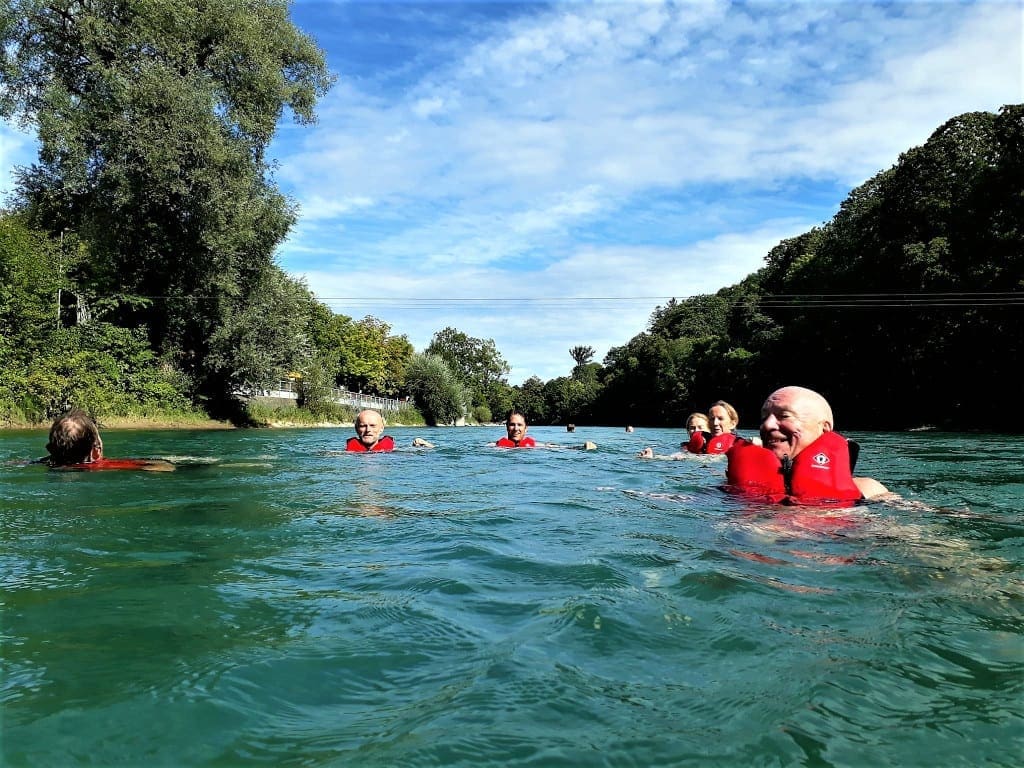 You do not have to be a devotee of Lawrence's Sons and Lovers to realise the peril that lay ahead. We had seen a large threatening weir earlier that morning from the gardens behind the Münster church on our Berne city tour. I was determined to get out of the water in time.
After our dinner at Gurtners, we returned to our hotel to collect our swimming gear. A short stroll downhill led us to the Marzili, a vast expanse of grass with an inviting 50-metre open-air swimming pool within sight of the Parliament Building. It is also on the banks of the river Aare.
Here we met Bernhard Fleuti, from the SLRG (Lifeguard Association) of Berne, who gave us instructions on the do's and don'ts on wild swimming in the Aare as well as a map of the stretches of the river where you can safely swim, and reassuringly our safety vests. The weir was most definitely off limits.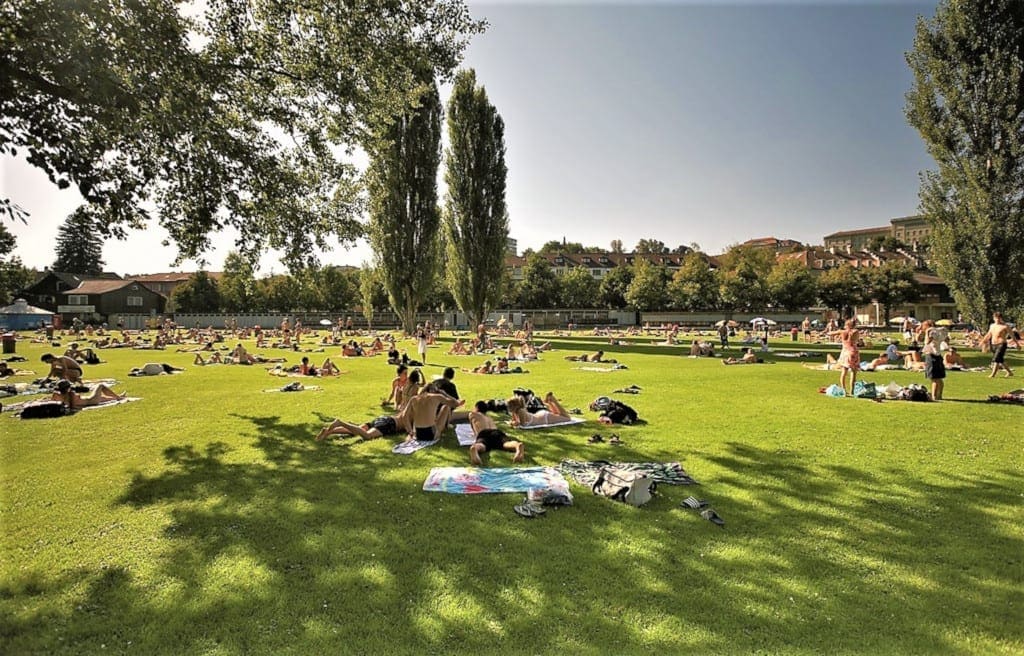 Bernhard led us to the exit point, a channel which we would shortly – if all went according to plan – swim along at the end of our swim, before re-entering the Marzili. Then, we walked a few hundred metres up river to take the plunge.
After the initial shock of the temperature of the water – it seemed much colder than the 18C advertised – the sensation was one of overwhelming bliss. At one stage I almost veered into a dinghy but really it was easy to float on the water, courtesy of the life vest, and watch the twin banks drift by us. The experience seemed far too short as the Parliament Building came into view, so we all decided to have one more go.
This time we walked further upstream to a campsite beside the river. Now a veteran I threw myself into the river and even posed for the camera as Bernhard took photographs to commemorate our experience.
Although you can wild swim in the Aare by yourself, I really would recommend chatting to the locals at the Marzili, and make sure you have checked where you are going to swim, and most importantly where you are going to exit the river, before you take a dip. The experience was wonderful, but it does carry a certain element of risk you should manage.
Beers and Dining by the Aare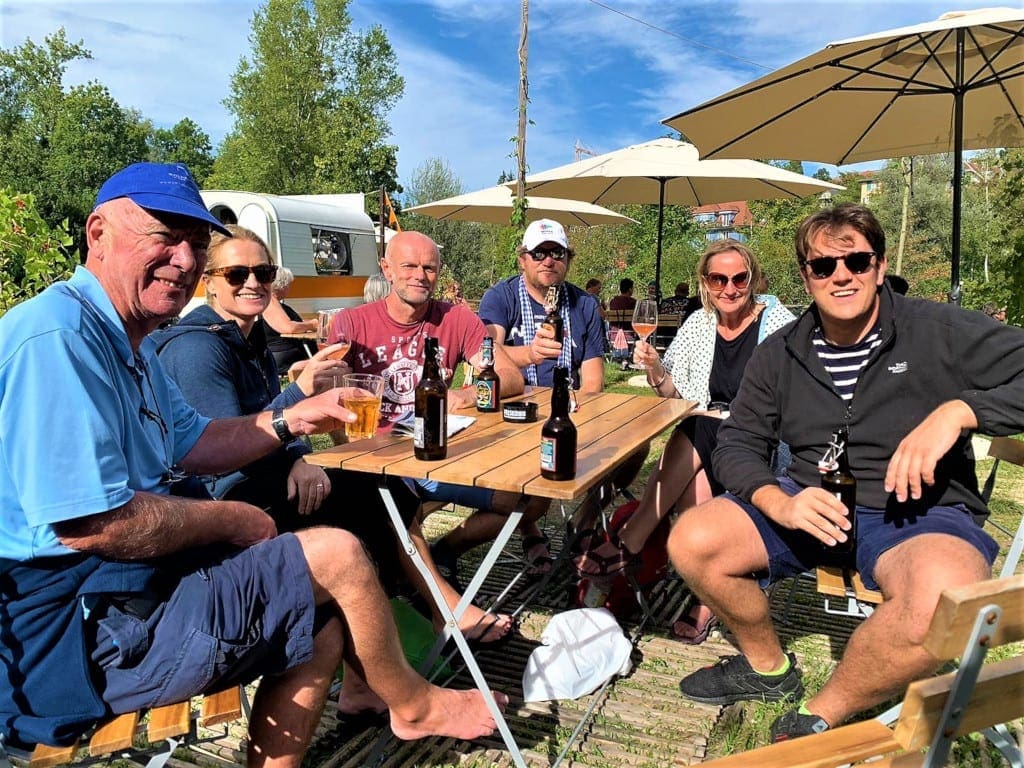 After our exertions I felt in dire need of a beer. Fortunately, I was not alone in this thought. While walking upriver we had noticed a pop-up bar, and it is to here that we retired for some tasty local craft beer.
Later that evening we returned once more to the banks of the Aare to dine at Dampfzentrale restaurant.
I started with a wild pea salad which continued our virtuous day's dining, before having a freshly caught fish – potentially pike perch – which no doubt had been swimming in the Aare shortly prior to us. An tasty dish, the fish was cooked to perfection and served with some interesting polenta arancini, although I question the need to add a strawberry to the dish.
All this was washed down with excellent Swiss wine, a much underrated treat. It was the most wonderful way to conclude our day on the wild side in Berne.
---
If you have enjoyed reading Mark's Berne adventures walk then why not read his Hiking in the Jungfrau Swiss Alps with Sherlock, and Treking the Aletsch Glacier, Switzerland.
---
Things to Do in Berne on the Wild Side Photo Gallery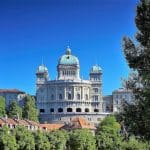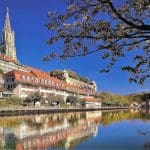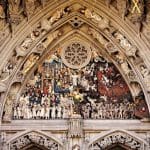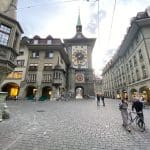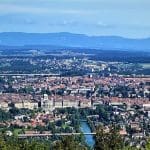 ---
Berne Necessities
Berne City Tour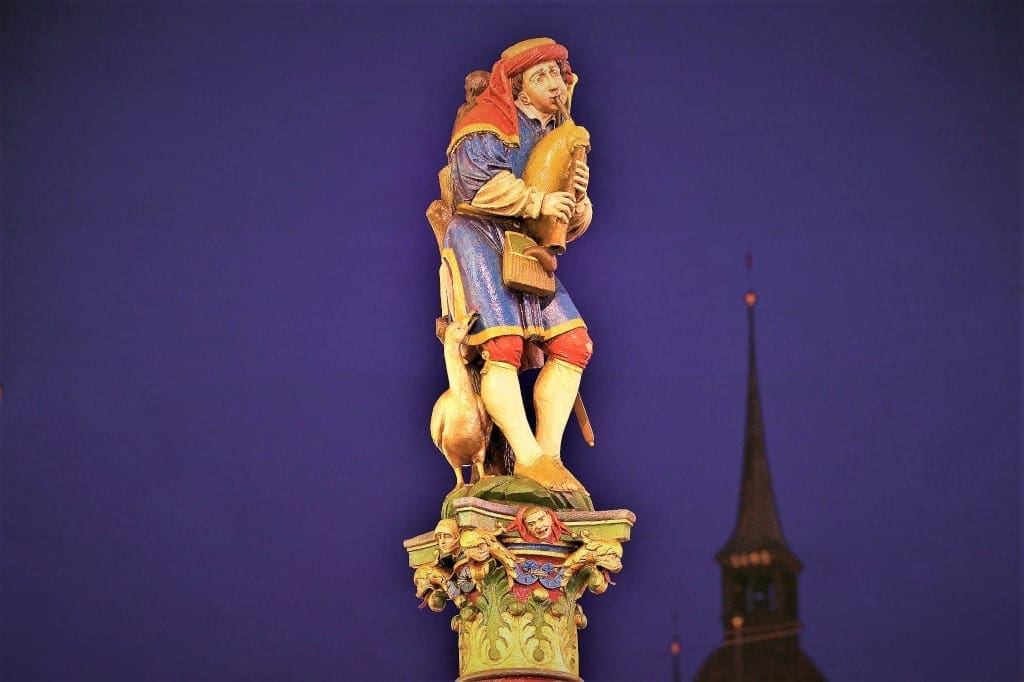 The previous day we had taken a day's tour around Berne, which took in many of the wonderful sites in this ancient city. The oldest part of the city dates back to 1140, and it was Unesco-listed in 1983. Our tour started at one of the 11 colourful fountains dotted around the city and built around the 1540s. This one was of an ogrous man eating children – clearly Berne might please Unesco but perhaps not Unicef.
After that we visited the wonderful Zytglogge clock tower that used to be a women's prison and now has a gentleman's urinals outside of it – make of that what you like. It strikes each hour on the hour with a most elaborate routine that is well worth viewing.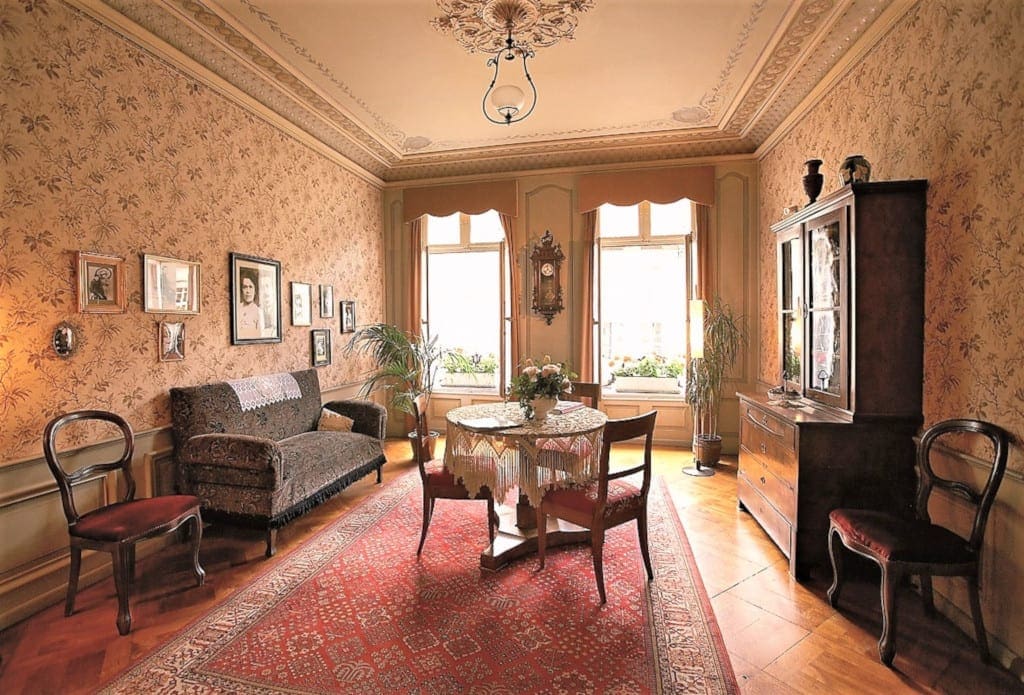 Other attractions a few minutes' walk from the Zytglogge include Einstein's House, where the scientist developed the Theory of Relativity when living here between 1903 and 1905 while lecturing at the university. Münster church is also impressive, but not as much as the stream running along the main Gerechtigkeits street, which at one stage seemed to actually flow up hill.
Above all else the great appeal of Berne is that it is such a walkable city, especially for a capital. Although if you are flagging, there are numerous cafés and bars for you to take a break and people watch from the terrace.
Berne: What's in a Name
Legend has it that the name Berne is derived for the local word for a bear. The story goes that the Count said the town should be called after the first animal that they killed, which happened to be a bear. However, it is more likely the name comes from an older Roman settlement with a similar name. The association with bears has remained, although perhaps you might wish to avoid visiting the bear pit, which at least in my opinion lacked sufficient space for the three bears kept there.
---
Swiss Travel System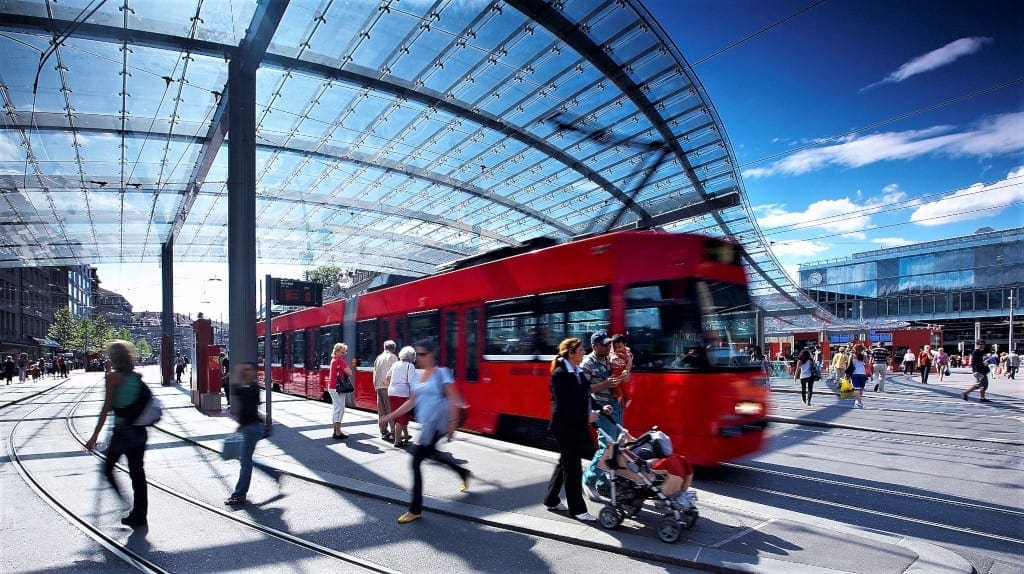 The Swiss Travel System provides a dedicated range of travel passes and tickets exclusively for visitors from abroad. The Swiss Travel Pass offers unlimited travel on consecutive days throughout the rail, bus and boat Swiss Travel System network. This pass covers scenic routes and local trams and buses in around 90 towns and cities. The Swiss Travel Pass also includes the Swiss Museum Pass, allowing you free entrance to 500 museums and exhibitions. Prices from £186 for a three-day pass. For the ultimate Swiss rail specialist call Switzerland Travel Centre on 00800 100 200 30 or visit www.swisstravelsystem.co.uk.
SWISS
SWISS offers weekly flights from UK and Ireland to Geneva and Zurich. One-way fares start from £80 to Geneva and Zurich including all taxes, fees and surcharges and one piece of hand luggage. Fares including checked baggage start from £130 one way including taxes, fees and surcharges. For more information visit: swiss.com
Holiday Extras
In order to avoid crowded London Underground trains, I opted to park my car at Heathrow with Holiday Extras, the market leader in UK airport parking, hotels, lounges and transfers. I used Maple Meet and Greet at Terminal 2, London Heathrow Airport which cost £65.99 for three days' parking (price searched on 1 September 2020 for arrival on 13 October 2020). It really was simplicity itself, as there is a desk in the short stay car park (Level 4) of Terminal 2. To book, visit HolidayExtras.com or call 0800 316 5678. In 2019, customers who pre-booked their parking with Holiday Extras saved an average of £100 each against the price they'd have paid on the day, the company claims.
---
More Things to Do in Berne and Switzerland
Visit www.MySwitzerland.com or call the Switzerland Travel Centre on 00800 100 200 30 (freephone) for further inspiration on things to do in Switzerland. For ideas on what to do in Berne, click here.
All the photos courtesy of Bern Tourism, unless stated.
Mark Bibby Jackson
Before setting up Travel Begins at 40, Mark was the publisher of AsiaLIFE Cambodia and a freelance travel writer. When he is not packing and unpacking his travelling bag, Mark writes novels, including To Cook A Spider and Peppered Justice. He loves walking, eating, beer, isolation and arthouse movies, as well as talking to strangers on planes, buses and trains.