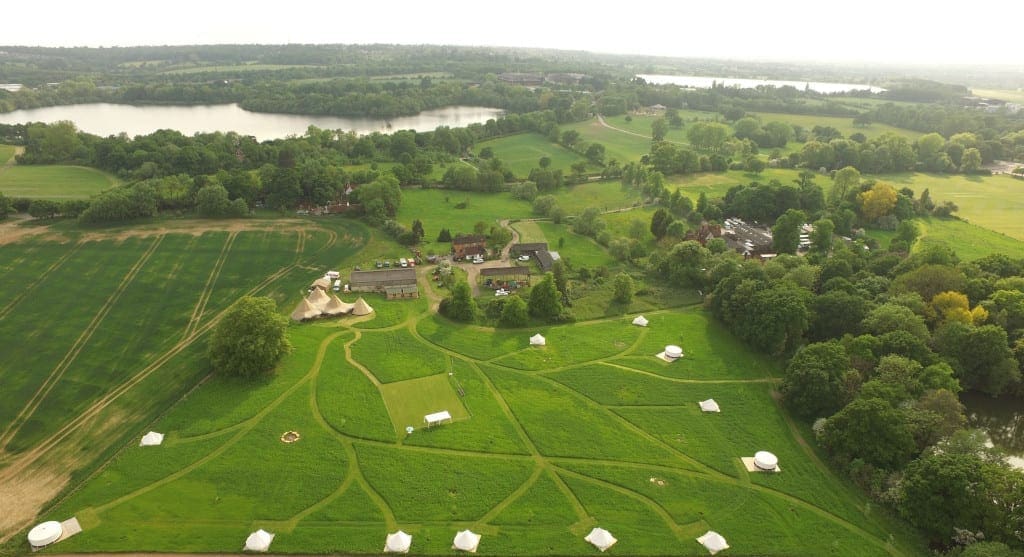 Home Farm Glamping on the Jubilee Line
James Clark
Posted on 3rd Jun 2021
Day trips from London are getting closer and closer as James Clark discovers when he goes glamping on the Jubilee Line – well almost – with Home Farm Glamping.
We didn't expect to find a glamping site so close to London, but after a short tube journey on the Jubilee Line to Stanmore, and a ten-minute taxi ride to Elstree & Borehamwood, we were standing in the Home Farm Glamping barn with two of the team, Alice and Cam.
Home Farm Glamping
Home Farm Glamping is part of the Aldenham Estate. The main field is surrounded by eight bell tents (sleeps four) and four yurts (sleeps five) from British tent makers BCT Outdoors. All the tents come with their own decking platform, somewhere to sit, a fire pit, barbecue and tons of space.
As the site had only just reopened, we were keen to find out what the team were doing to meet Covid secure standards. We had nothing to worry about. Onsite there's a shower and a toilet block and each tent has its own hot water shower and flushable toilet. Home Farm Glamping is perfect for city dwellers used to comfort.
For once, we'd planned our stay in advance, and placed an order for Campfire Gin from the local Puddingstone Distillery, based in Tring. We ordered a week before our arrival and entered CHEERS on the order form, resulting in us qualifying for free delivery. The gin was awaiting our arrival, which we enjoyed while chatting outside our bell tent in the sun, until hunger started to set in.
Warm Welcome at the Waggon & Horses
Fortunately, we didn't have to think too much as Cam came along and suggested the Waggon & Horses pub, a 30 minutes' walk from the site.
He pointed us in the direction of the pub, and off we headed through woodlands and passed a lake. It all went well until we reached the road and forgot our ongoing directions. It was clearly the Campfire Gin's fault.
Seeing our state of confusion, a man pulled over in his car and after we managed to convince him we weren't serial killers he gave us a lift. I'm not promoting hitchhiking in anyway, but we were both very happy and as we chatted with the driver, I started to like Hertfordshire even more.
We were greeted warmly at the entrance to the old English pub, and taken to the big beer garden outdoor area. It was spacious and warm thanks to outdoor heating. We felt immediately at home as the attentive staff came over and took our orders from the largest pub dinner menu I have seen. On further investigation – namely me chatting to every person within earshot – I was pleased to discover that ingredients were locally sourced where possible.
The previous proprietor still works at the pub, and she looked after us spectacularly. She enjoys the staff, locals, and atmosphere and decided to stay on.
Tucked up in Tent
As last orders were called one of the team ordered us a taxi and we were back at the site and tucked up in bed within 20 minutes. The bed and the Egyptian cotton sheets were comfortable, the duvet kept us warm, and we slept through to 7am.
In the morning, we were grateful for the sealed plastic box delivered by Cam the afternoon before that was filled with crockery, glassware and kitchen implements. Coffee is especially important to me in the morning, so I grabbed the mugs and headed to the open barn to make coffee and start my day.
I can imagine that the barn is a great place to hangout out if you're feeling sociable, and chat, eat, drink and play table tennis. It also has fridges, a pizza oven, tea and coffee making facilities, microwaves, comfy sofas, and the all-important phone charging facility. The Home Farm Glamping team have thought of everything.
Things to Do at Home Farm Glamping
There is plenty to do on site, including yoga, massages and facials in the beauty tent, and forest bathing and bushcraft lessons with registered charity The Wilderness Foundation.
As we were only there for one night; we were more than happy to ramble around the 150-acre estate for a few hours before heading back to London.
I left the site with a smile on my face. Thanks to Alice and Cam for thinking of everything and making our stay one to remember.
---
Home Farm Glamping Information
Pricing and availability can be found here. In term time, Bell tents start from £125 per night sleeping up to four people, and Yurts from £175 sleeping up to five people. The prices do vary if it's a weekend or school holidays, there is a table on the above link.
To book, click here. Unfortunately, we hadn't been organised enough to prebook Sainlo Event's BBQ boxes, breakfast or lunch, but what a great option.
The At Home Farm Live food and music festival is happening this summer with a season of intimate outdoor events running until September.
---
Article was first published on our sister website: www.londonbeginsat40.com.
James Clark
James Clark is a UK-based travel writer specialising in adventure and the great outdoors.