Along the Hockney Trail in the Yorkshire Wolds
Mark Bibby Jackson
Posted on 11th Sep 2021
Mark Bibby Jackson drives through the Yorkshire Wolds following the Hockney Trail to the coast.
As my satnav provides uncertain directions I begin to sense a certain futility to my actions. I am on the Hockney Trail in search of the landscapes made famous by Yorkshire's finest artist. As we criss-cross our way through the country roads I pull in to study my map further. It does not help. A car stops, and its driver asks us if we need any help. After a short explanation he says "Follow me", for my impromptu guide turns out to be local artist John Geekie, who has painted the same landscape as David Hockney over a number of years.
Hockney Trail : Three Trees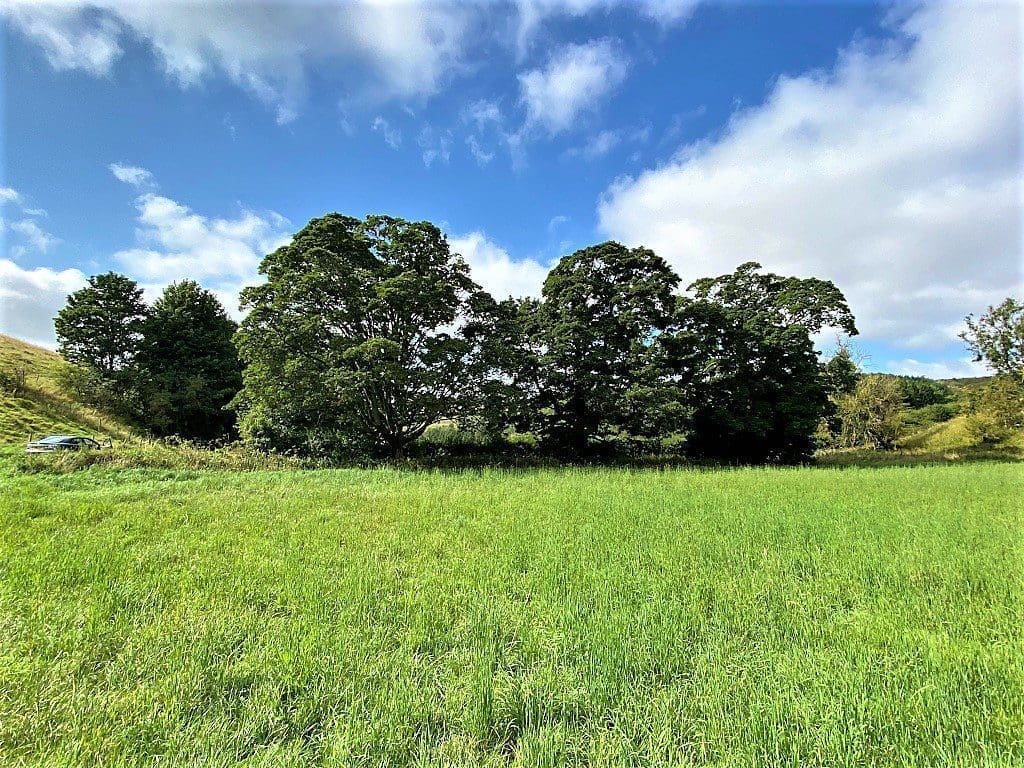 Within a few minutes we are staring at the 'Three Trees Near Thixendale'.
"Really it should be the 'Three Trees of Burdale'," explains John. "Or at least that is what the local famer calls it."
True enough beside the road is a small stone, declaring that we are standing in Burdale and not Thixendale.
What is undeniable is that ahead of me stands the three sycamore trees that David Hockney painted from Summer 2007 to Autumn 2008. John explains where Hockney used to sit in the middle of a 'private' field, and I clandestinely follow his trail and endeavour to recapture the master painters art with my iphone, rather unsuccessfully.
David Hockney Landscapes : Bigger Trees Near Warter
The Three Trees is by no means the only painting the artists created in the Yorkshire Wolds. Indeed driving through the countryside after the more dramatic beauty of the North Pennines, I am struck by how much both landscape and sky resembles a vast canvas.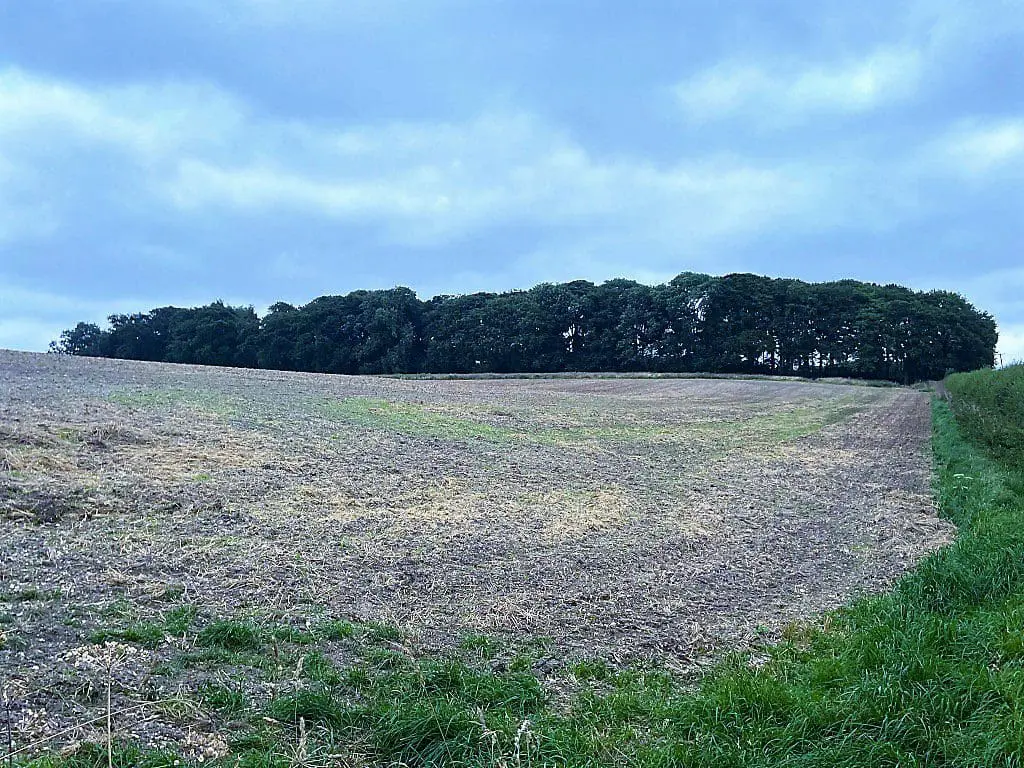 Hockney was born in Bradford also in Yorkshire, and many of his landscape paintings reflect the Wolds.
A few miles away are the Bigger Trees Near Warter. This time I feel I have no need for John's guidance as I detect a row of trees standing in line beside the B1246 – although now as I look at the photograph I have taken I am uncertain as to whether my trees are in fact Hockney's trees.
Created in 2007 the painting is Hockney's largest work, and one that he donated to the Tate in 2008, saying, "I thought if I'm going to give something to the Tate I want to give them something really good. It's going to be here for a while. I don't want to give things I'm not too proud of."
Robert Fuller Gallery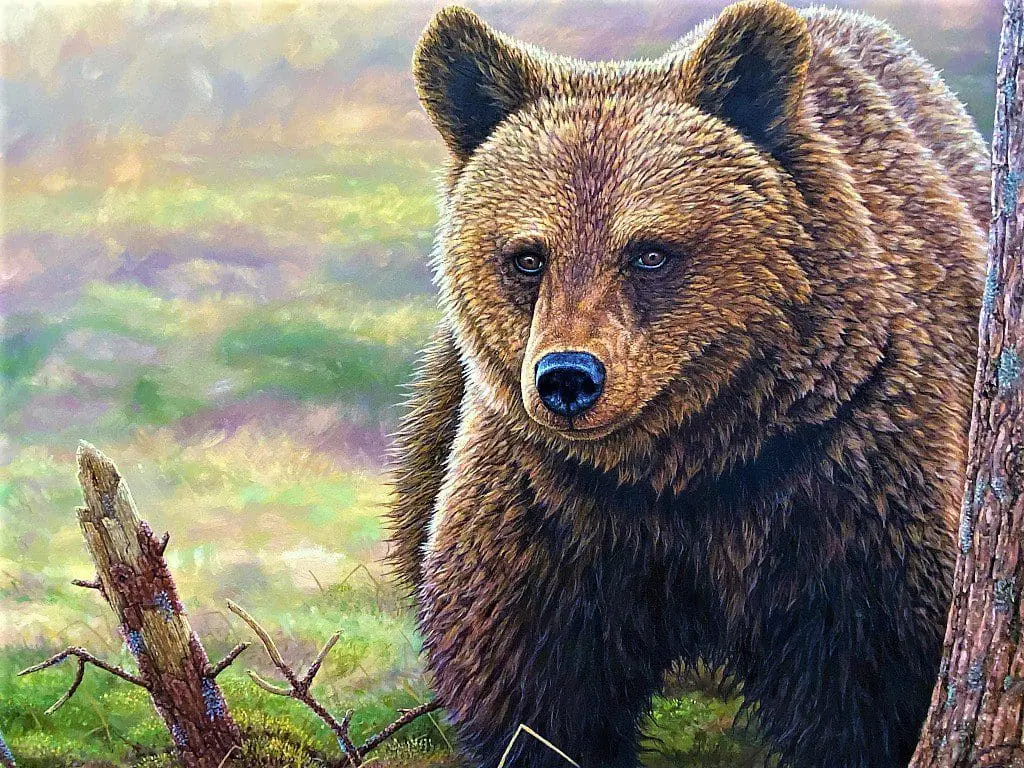 Hockney is not the only artist who has been inspired by the Yorkshire Wolds. Just along from the Three Trees is the studio, workshop, gallery and animal playground belonging to wildlife artist Robert E Fuller. We pass John Geekie once more as we approach, this time with his easel hard at work.
If you imagine that the Robert Fuller Gallery is just another art shop then you should think again. At the front several paintings created by Fuller are hung and available for purchase, but it is towards the rear that the real interest lies.
A line of TV screens show footage of a barn owl nesting its young from Live Cams streaming to Fuller's million or so followers across the world. Then I am fortunate enough to be shown the studio where Fuller creates his lifelike paintings from photographs. This is not part of a normal tour. After that Will, one of the young team of staff that helps run the centre, takes time off from cutting a video to show me around Fuller's gardens, with its spectacular views (see main image).
In total there are 100 cameras in Stoat City and Weasel Town, where the local animals are fed and come out to play, judging from the children's playground set up. Some of the animals are rescued and have been handed to Fuller over the twenty-odd years he has lived here.
It is a wonderful 360-degree set-up and quite impossible to leave without taking a memento of the visit.
St Michael and All Angels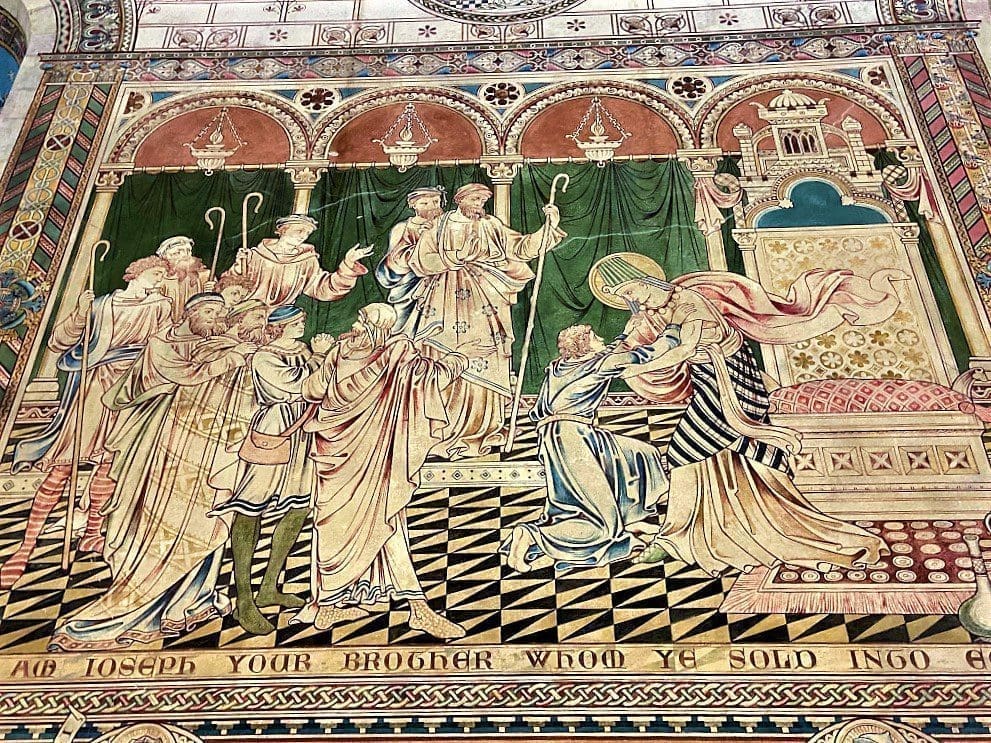 The previous evening we had pulled in to our accommodation at the Church Farm Cottages in Garton on the Wolds.
Our host Alison Botten escorted us around the church. From the outside it resembled a perfectly normal 12th century church that you might find in any village across the country. But St Michael and All Angels is no ordinary church; it's a Sykes church – a distinction that had eluded me before my visit to the Yorkshire Wolds.
Sir Tatton Sykes, the local baronet, paid for the rebuilding of the chancel in the Norman style in the mid-19th century but it was his son, also Sir Tatton, who paid for the lavish wall paintings which were completed in 1876. They really are quite amazing, and worth a visit – and a stay at Alison's excellent cottages – on their own, even if you are no Hockney fan.
Sledmere House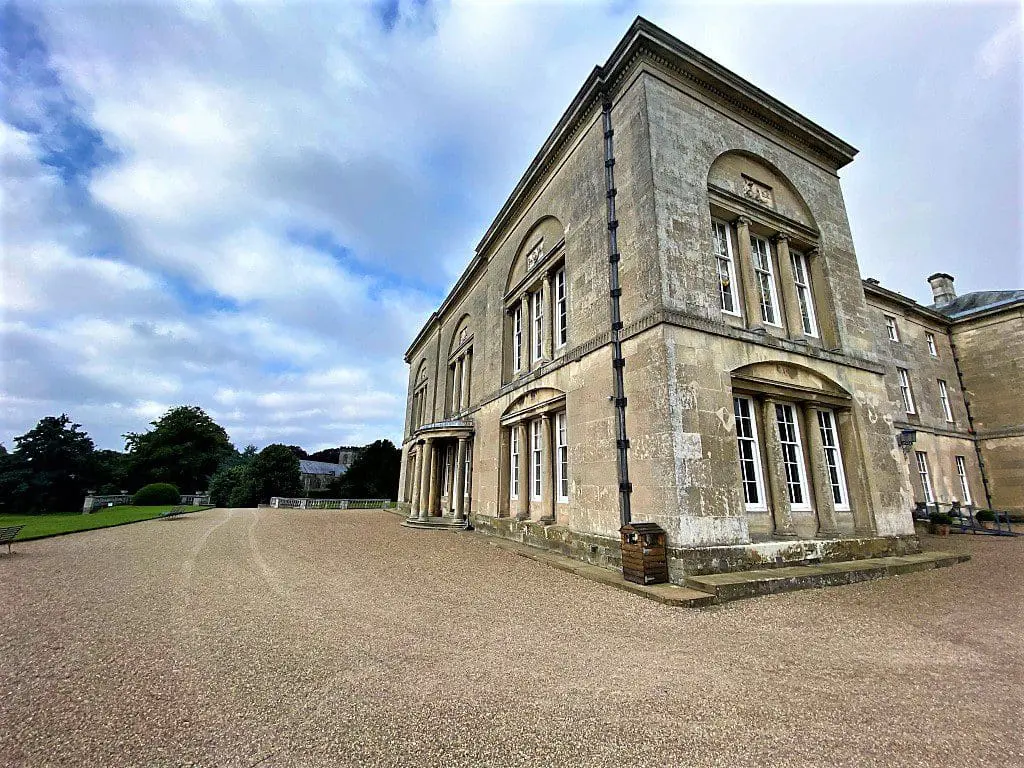 Sir Tatton lived in Sledmere House, a Georgian Manor House that was gutted by a fire in 1911 and faithfully rebuilt prior to the end of the First World War. To a certain extent this is the most remarkable aspect of the house – that it was rebuilt at all, or at least while young men across Europe were losing their lives in the most pointless of conflicts.
The house makes for an interesting tour, with a wonderful library upstairs and the most distinctive Turkish Room downstairs. This was designed for Sir Mark Sykes by Armenian artist David Ohanessian and is a replica of an apartment in the Yeni Mosque in Istanbul. A lover of the Orient, Sykes was co-author of the secretive Sykes-Picot Agreement in 1919, that carved up the Middle East.
There are strong links between David Hockney and the Sykes family. According to our guide Hockney has celebrated at least one of his birthdays at the Sledmere House. He is also a close friend of Christopher Simon Sykes, who has written two biographies of David Hockney as well as one of Sir Mark Sykes, The Man Who Created the Middle East.
Bempton Cliffs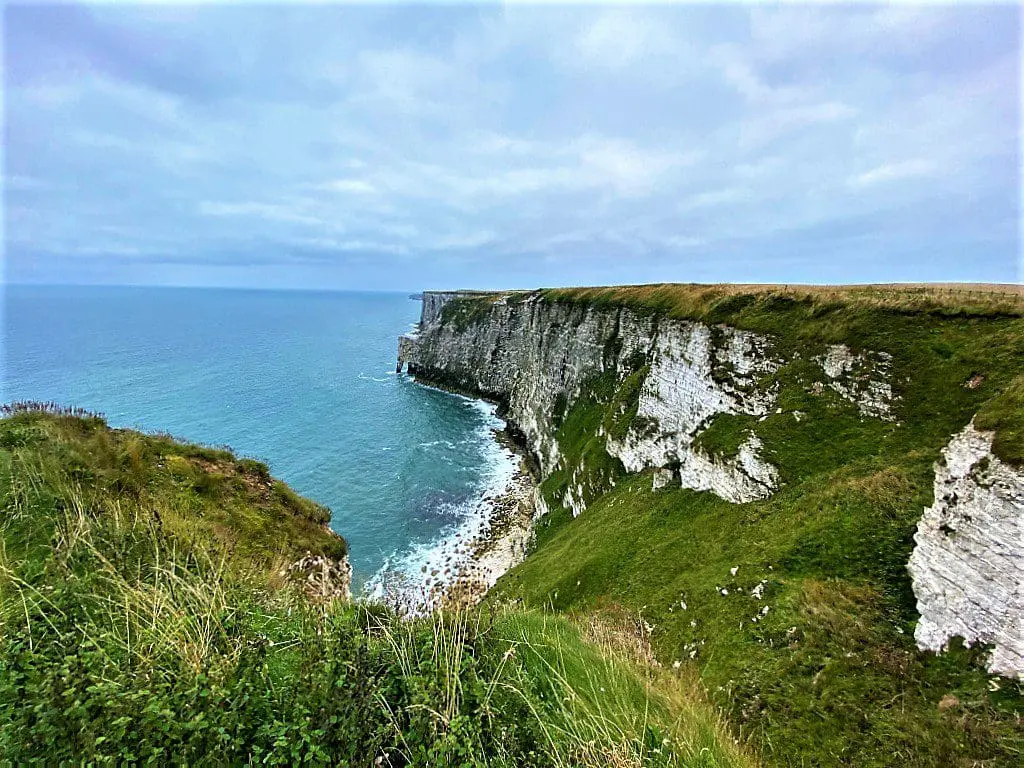 The last part of our journey around Hockney country to Bempton Cliffs has no connection with the artist, although I am sure he has frequently walked along the coast path from nearby Bridlington, where he has a home and studio. Along the way we pass by Woldgate Wood, where Hockney has created several of his works.
The amazing cliffs are home to various sea birds that come here to nest. At its peak there can be some half a million birds at Bempton, which is protected by the RSPB. From its six viewing points you can see gannets, guillemots, razorbills, kittiwakes and puffins. A black-browed albatross has even been spotted in recent years.
A short, easy walk takes you from the centre to the cliffs, where the older gannets sweep in with feed for their young, while the juveniles hang around the top of the cliffs awkwardly not quite sure how to find their mate.
---
Hockney Trail Photo Gallery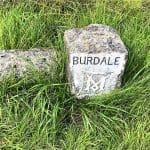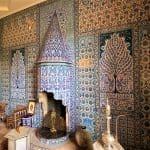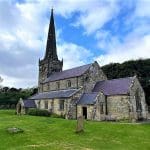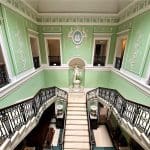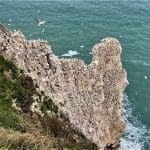 ---
Apparently the gannets stay here until October before they fly out to sea. The best time to spot the puffins is from April to mid-July.
As we are departing the message goes around that a minke whale had been spotted just off the main viewing platform. Now that was not something I had not expected on our travels through Hockney Country.
---
If you wish to further explore the Yorkshire Wolds, you could always try the Walking East Yorkshire Festival.
---
Accommodation in Yorkshire Wolds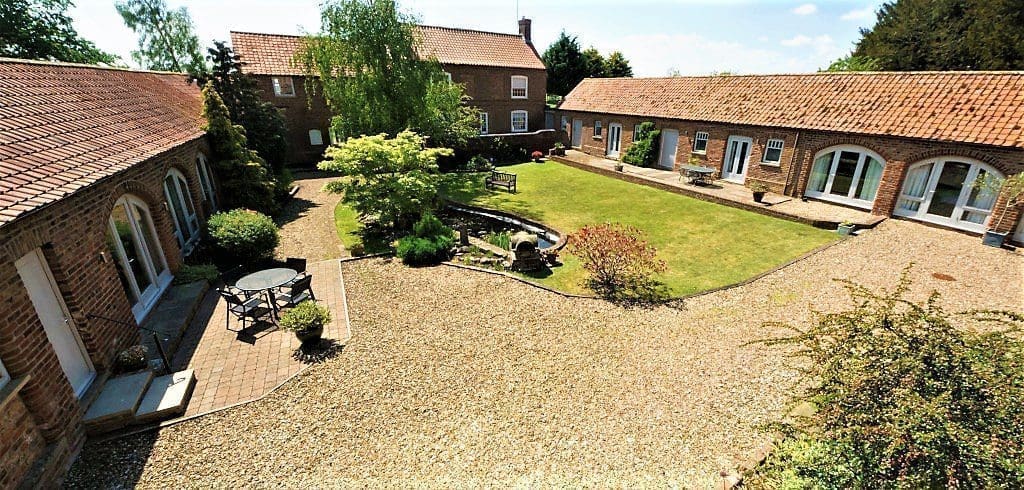 We stayed at the excellent, well-equipped, spacious and immaculate:
Church Farm Cottages, Pump Lane, Garton on the Wolds, YO25 3ES.
T: 01377 255639
W: http://www.churchfarmgarton.co.uk
Pubs in Yorkshire Wolds
We also dined at two excellent highly-recommended pubs. Both had wonderful food and the staff were extremely friendly.
The Triton Inn
Sledmere, YO25 3XQ,
Wolds Inn
Driffield Road, Huggate,YO42 1YH.
T: 01377 288 217.
---
Things To Do in the Yorkshire Wolds
For further information and inspiration, visit: www.visithullandeastyorkshire.com.
All photos by Mark Bibby Jackson.
Mark Bibby Jackson
Before setting up Travel Begins at 40, Mark was the publisher of AsiaLIFE Cambodia and a freelance travel writer. When he is not packing and unpacking his travelling bag, Mark writes novels, including To Cook A Spider and Peppered Justice. He loves walking, eating, beer, isolation and arthouse movies, as well as talking to strangers on planes, buses and trains.