Sailing a Wherry Boat on the Norfolk Broads
Mark Bibby Jackson
Posted on 2nd Sep 2021
Mark Bibby Jackson chills out while sailing a wherry boat on the Norfolk Broads before having a go himself.
I am not a natural sailor. I was scarred for life by a boating experience as a teenager when a friend of my mother took her – and me – on a boating trip. I spent the weekend being barked at while sheltering from wind, rain and captain. So, quite how I came to be standing behind the tiller of a Norfolk Wherry on a Friday afternoon was beyond me.
The day had started pleasantly enough. We met on the wherry Ardea moored at Wroxham for some coffee and de-brief before our morning sail along the Norfolk Broads.
History of the Norfolk Wherries
The first thing to note about wherries is that these are no motorised pleasure boats chartered by unskilled drivers out for a day trip along the Broads. They are proper sailing boats and have to be hired along with a Wherry Trust specialist skipper and small crew, which makes it even more perplexing that I managed to get my hands on the tiller.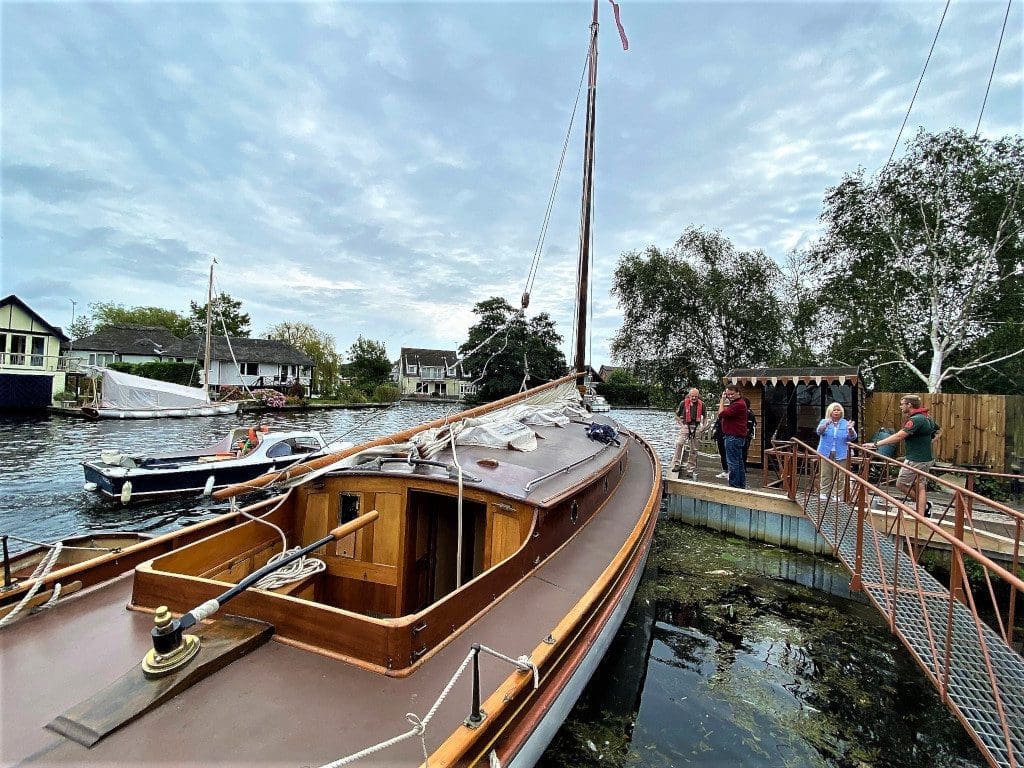 The original wherries were based on Keel boats, which in turn were based on a Viking design. The Keel boat design needed modification to also navigate the narrow, shallow waterways of Norfolk, under sail.
By the 1880s the first pleasure craft wherries were appearing on the now popular Norfolk Broads. The interiors were fitted out with all the latest Victorian and Edwardian luxuries for this very upscale holiday choice. By 1900 there were over 100 pleasure wherries on the Broads.
Stepping on board the Ardea, named after the Latin for heron, I am immediately taken by how luxurious it is. This is not the basic narrow boats I occasionally rode along while in my youth – normally crashing into locks.
Built for Hollingsworth of Bourne and Hollingsworth fame in 1927 in Lowestoft, the Ardea sailed up to Kiev and around Europe. The last pleasure craft wherry to be built, it once belonged to a Parisian madam and was used by her girls when 'resting'. The most striking element of the lavish interior is the amazing amount of teak used. Clearly, no expense was spared. Rescued in 2005, she was brought back to Norfolk for renovation.
By 1927 the pleasure craft wherry had evolved into a wherry yacht which included a well for steering and a counter deck. There are only three of the at least fifteen originally built vessels remaining: Olive (1909), Norada (1912) and White Moth (1915).
Sailing a Wherry Boat Along the Norfolk Broads
Having assembled, we decamped to the White Moth upon which we sailed from Wroxham along the river Bure. Along the way we were passed by many a pleasure boat impervious to the 4mph speed limit. We laid back and watched the banks of the river pass us by while taking in the verdant views.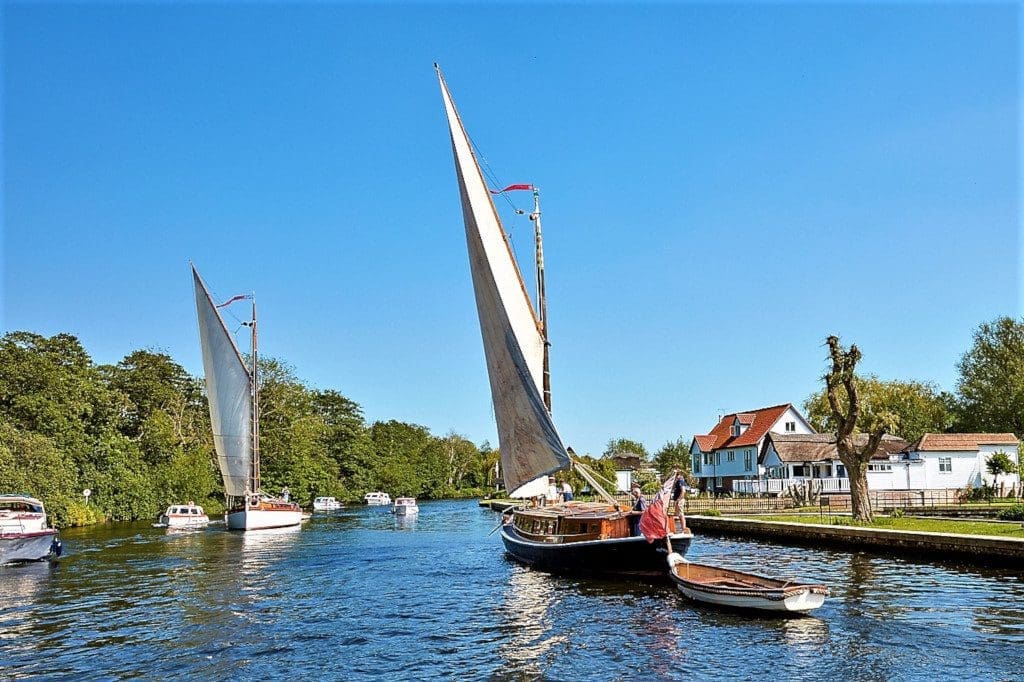 Stretching into neighbouring Suffolk, The Norfolk Broads are Britain's largest protected wetland. The broads themselves are the vast manmade ponds were created by ancient peat digging. Eventually abandoned these had filled with water by the 14th century, creating a perfect landscape for a vast range of wildlife, as well as sailing boats.
Almost immediately I settled into the natural flow of our journey. I am an advocate of slow travel, and sailing upon a wherry is nothing if not slow. Somehow all those niggling concerns that had kept you awake at night drift off with the current like debris from one of the pleasure boats. Time did not seem to stand still but go into reverse.
Taking the Tiller 
After an infinite while we entered Wroxham Broad. This is where local kids learn to sail in their small dinghies seemingly impervious to our vast vessel careering towards us, then veer off with the skill of Ben Ainslie. Fortunately for us our captain Dean Howard despite his tender years was an excellent navigator, and we passed safely to the bank of a small island when we had lunch, and a bit of fruitless otter spotting.
After lunch I was casually passing from the front of the boat to the rear – nautical terms are beyond me – when Dean asked if I wanted to have a go.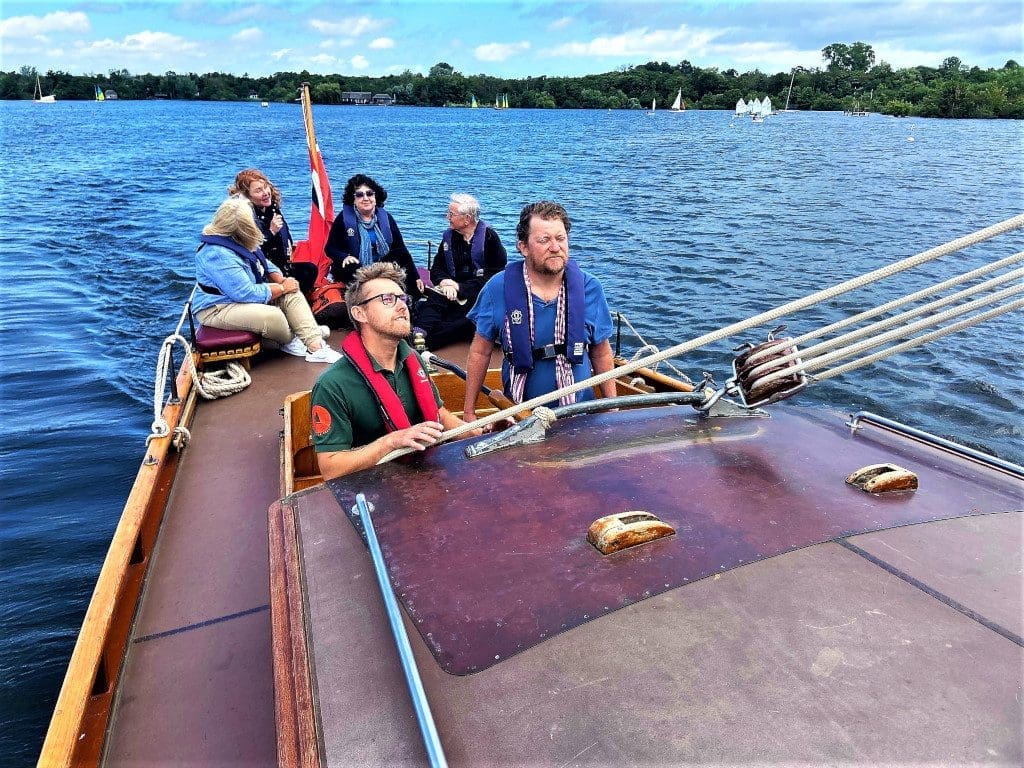 For a moment I stood paralysed. I had never driven a boat let alone sailed one, and judging by my driving skills around the M25 I am hardly a Lewis Hamilton behind the wheel. However, remembering the advice I give others while travelling I left my comfort zone and joined Dean in the pit, soon to have tiller in hand or rather back.
That was the first lesson I learned. Handling a tiller is something you had better do with your back, unless you wish to catch your fingers, which anyway should be feeding the rope. Fortunately for all of us, Howard fed the ropes while I backed the tiller.
The second thing I did wrong was to stand on the wrong side of the tiller – you should be on the same side as the sail. The third was to instinctively point the tiller in the direction Dean instructed us to go which had quite the opposite effect. Sailing at Paris for the 2024 Olympics looks a long way off for me.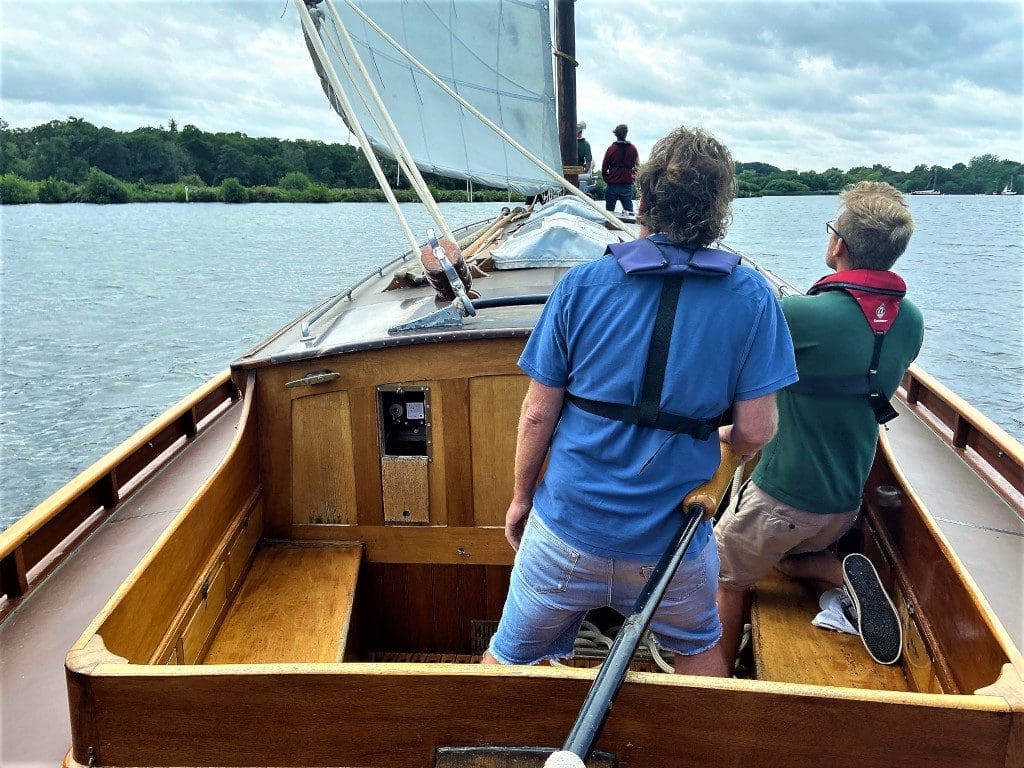 However, instructed by Dean who demonstrated a patience that my mother's friend had singularly lacked, I soon learned the rudiments of how to steer the boat, and most importantly how to avoid the little kids in their weaving dinghies.
Before long I even found myself enjoying the experience as Howard showed that a quivering of the sail indicated we should change direction, which necessitated I had to do more than just lean on the tiller. It really was quite physical, but exhilarating as you feel the wind in the sails and suddenly take off.
Eventually, I handed the tiller over to another of our group. Afterwards we swapped our sailing tales just like Shaw and Dreyfuss in Jaws.
An Egyptian Connection
Dean took over the tiller on the way back to Wroxham harbour for the end of our sailing on the Norfolk Broads, but not the conclusion of our trip.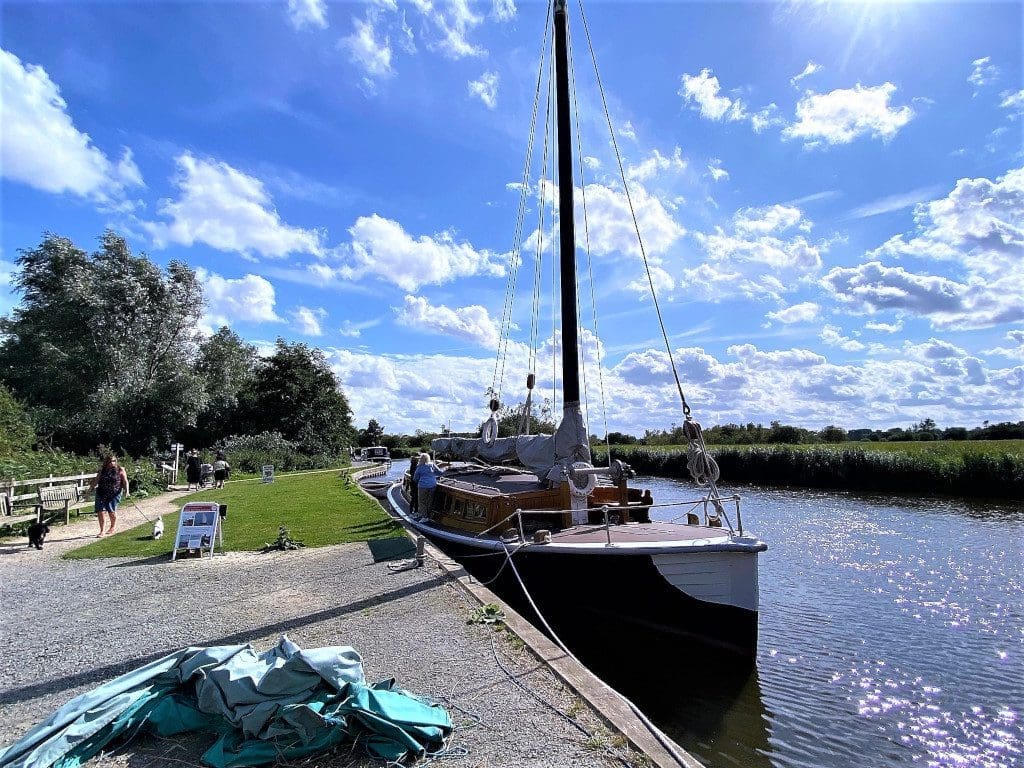 A short drive took us to the grounds of How Hill, nearby which another wherry was berthed on the river Ant.
Hathor (1905) was built Ethel and Helen Colman, daughters of Jeremiah Colman (of mustard fame), as a memorial and pleasure craft following the death of their brother Alan from TB. He had passed away in Egypt following a fulfilled last wish to sail on the Nile to Luxor. As a result, Hathor, named for the goddess of love and joy, was designed on an Egyptian theme.
If anything Hathor is even more ornate than White Moth and Ardea. Each room has different Egyptian symbols such as papyrus and scarab. It is also remarkably light with the wood a mix of ewe, sycamore and inlaid with teak.
Sleeping 12 Hathor would make for a great weekend away on the Broads. Unfortunately, I had to return home to Essex after a wonderful day's sailing. Still, there is always next time.
---
If you are planning to spend longer in the county of Nelson, you could always try Rewilding at Fritton Lake, or staying at Backwater on the Norfolk Broads.  
---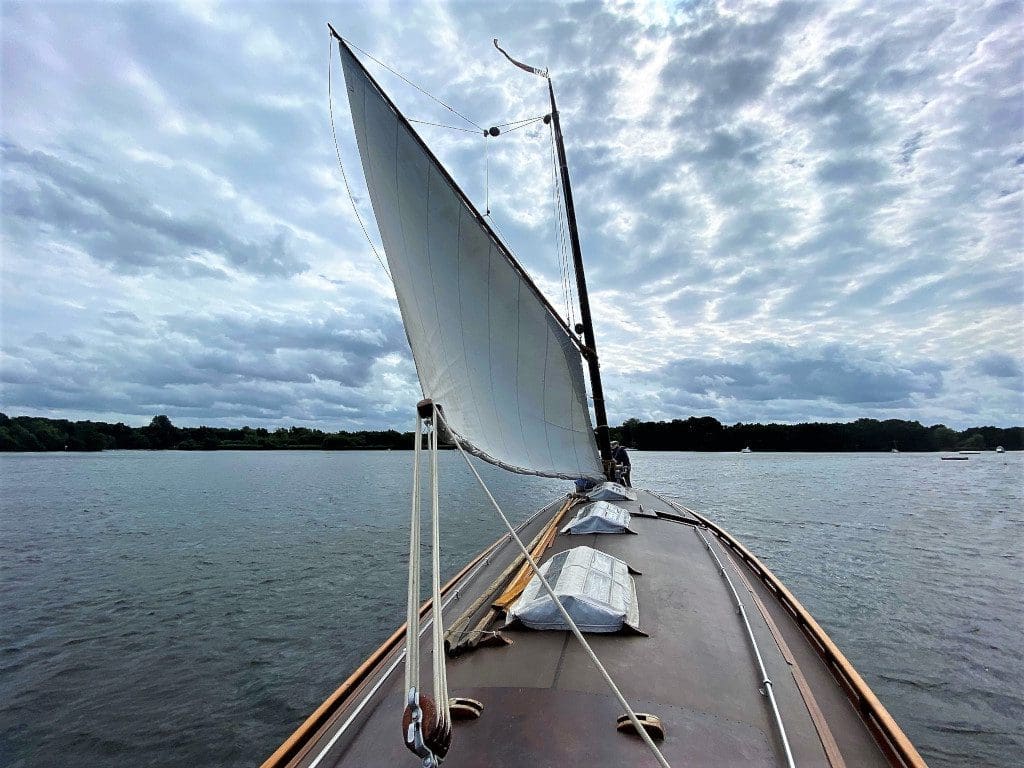 ---
Norfolk Broads Boating Holidays with Natural Britain
Natural Britain works in partnership with the Wherry Yacht Charter Charitable Trust and offers two ways of experiencing the Norfolk wherries. You can book onto a regular 'scheduled' sailing; available most weekends (and some weekdays) between May and September for £49 per person per day. Or, for your own private skippered charter – for a day or several days, prices are £420 per day or £950 for a weekend. The wherries vary in size and specification and have a variety of cabins, saloons, toilets, simple showers and even a small piano on board most.
Natural Britain has a strong sustainability ethos, and the wherries conform to this, mainly powered by sail apart from when a novice like me loses the wind. There is no motor on the Hathor.
For details visit www.natural-britain.com/sail-on-a-wherry-norfolk-broads.
---
Main image : Wherry yacht White Moth from Ardea supplied by Natural Britain.
Mark Bibby Jackson
Before setting up Travel Begins at 40, Mark was the publisher of AsiaLIFE Cambodia and a freelance travel writer. When he is not packing and unpacking his travelling bag, Mark writes novels, including To Cook A Spider and Peppered Justice. He loves walking, eating, beer, isolation and arthouse movies, as well as talking to strangers on planes, buses and trains.