A Wales Road Trip through History
Roger Hermiston Eileen Wise
Posted on 17th Nov 2021
Roger Hermiston and Eileen Wise go on a Wales Road trip staying at a plethora of wonderful paces and exploring the history and cuisine of the Principality.
To Wales in autumn – 'damp, demanding and obsessively interesting', in the words of the great (half-Welsh) travel writer Jan Morris. Eight thousand square miles of the most exhilarating and wildly fluctuating landscape to explore – ridges, valleys, mountains, lakes and passes, wild rambling moors, and never more than fifty miles from the sea.
We set off from Suffolk in our elderly Audi 4 Cabriolet (more of its woeful fate later) with the top down on an unusually balmy late September day, aiming to cover a good slice of the central and southern half of the country, primarily the smaller, quieter villages and towns. We have visited the Hay-on-Wye literary festival numerous times over the years so we opted to begin in familiar territory nearby, staying at the five star, Grade II listed Llangoed Hall, close to the village of Llyswen on the banks of the River Wye.
Llangoed Hall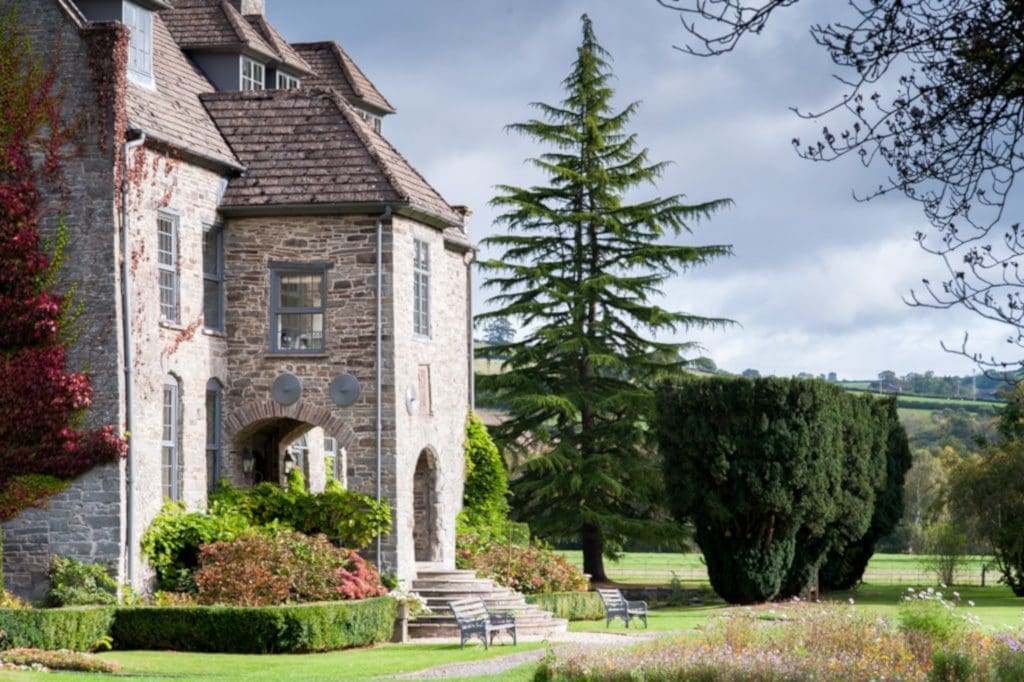 This majestic country house hotel is cloaked in fascinating history and mythology. Some historians will tell you a building has stood on this riverside site since 560 AD – and what's more, that it was the very first Welsh 'parliament', the legendary White Palace.
Certifiably the core of the present house was built in Jacobean times, and then – back into the land of mystery – it turned into a castle at some point and was, and is still, often referred to locally as Llangoed Castle. Then in 1912 the young Welsh architect Clough Williams-Ellis (later much celebrated, and knighted) took on his first commission and gave it its present character by transforming it into the last of the great Edwardian country houses.
Llangoed today, you feel, is still very much in the spirit of Sir Bernard Ashley – fashion fabrics millionaire and widower of Laura – who bought it and opened it as a hotel in 1990. He envisaged an Edwardian house party atmosphere, where guests would arrive, tired from their travels or the travails of the working world, to be cossetted by their hosts as if they were indeed friends and not simply visitors renting rooms and patronising the restaurant.
Laura Ashley
'I want a great handsome house, classic in proportions, filled with comfortable antiques and pictures that make you linger in the gallery on your way down to dinner', Sir Bernard explained. 'A house cheery with blazing wood fire in winter and where, in summer, the breeze is sweet-scented from its gardens'.
The hotel's artwork that Sir Bernard largely assembled is quite extraordinary, ranging from huge, formal oil portraits to intimate and economical pencil sketches. At the core of Llangoed's collection are superb paintings from the British Modern movement (1880 to 1930), led by James McNeil Whistler and his pupil Walter Sickert.
Also on the wall, behind glass in the Garden Room, is an historical item, a revered relic whose influence far outstrips any of those brilliant Post-Impressionist artists. It is a rather ordinary looking grey, striped tabard (apron), seemingly mended at one point with a safety pin. It was the first garment Laura Ashley ever produced, the first step on her road to revolutionising the look of British middle class homes with her floral designs.
Our elegant room on the upper floor, in the North Wing, had an Ashleyesque feel, with rich fabrics, a deep comfortable sofa and a four-poster bed. We had needed a glass of the helpfully-provided sherry to calm the nerves after an adventurous excursion down through the expansive gardens to the river, where we had contrived to find ourselves encircled by a group of excitable young cows.
And so to dinner. Sir Bernard wanted the modern-day equivalent of the Edwardian mix of 'the best of British fare, supplemented by the discoveries of the Continental Grand Tour'. A rich Comte cheese tart, tender loin of local venison and sweet vanilla panna cotta fitted his bill perfectly.
Road Trip to Wales – Llangoed to Llandovery
Departing Llangoed, we drove south into Carmarthenshire, stopping for provisions in the rugged market town of Llandovery – where our second animal adventure awaited us. The booming voice of an auctioneer attracted our attention, so we wandered over to a huge barn where a sheep sale was underway, attended by a sizeable gathering of ruddy-looking local farmers and their families.
Eileen got there first, and as I arrived she waved her hand at me from amongst the crowd. The auctioneer promptly called out to her to check whether she was putting in a bid for a £400 ram. Cue smiles and laughter from the assembly, and mild embarrassment for Eileen as she hastily withdrew her 'bid'. We do have a large menagerie at home but a sheep would be one too many.
Mansion House Hotel, Llansteffan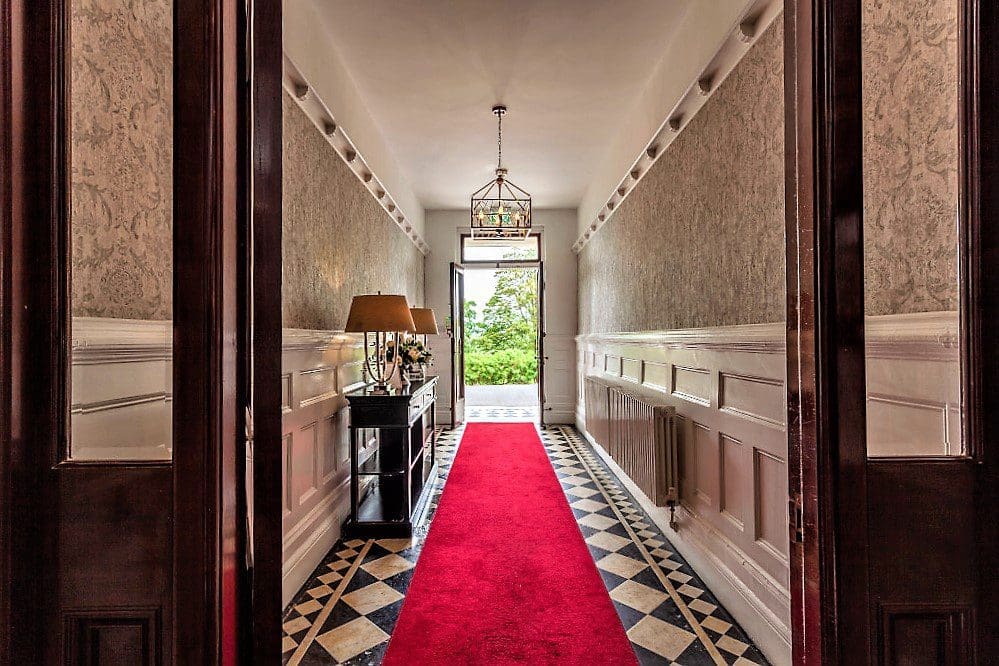 It was an hour's drive to our next destination, the Mansion House Hotel in the pretty village of Llansteffan, home to the impressive ruins of a Norman castle sited on a wooden hill. The Mansion House itself has the most glorious position set in five acres of garden on a headland looking out over the Towy Estuary, with stunning views of the river as it wends its way down to the sea. Sunsets here are quite magnificent.
Husband and wife team David and Wendy Beaney (she is a native of Carmarthanshire) – and their four children also chip in and help too – bought this Georgian house in 2012 and have lovingly restored it to its original glory, while adding a modern touch or two along the way. The local staff go out of their way to welcome you and make this a very relaxed place to stay.
All the rooms are named after Welsh hill farms and ours, Bri, in an annex to the main house, did not disappoint with a particularly comfortable bed and a super-efficient shower. We dined in the excellent Moryd restaurant (with two AA rosettes), where the highlight was the line-caught sea bass with pesto, balsamic potatoes and black garlic butter.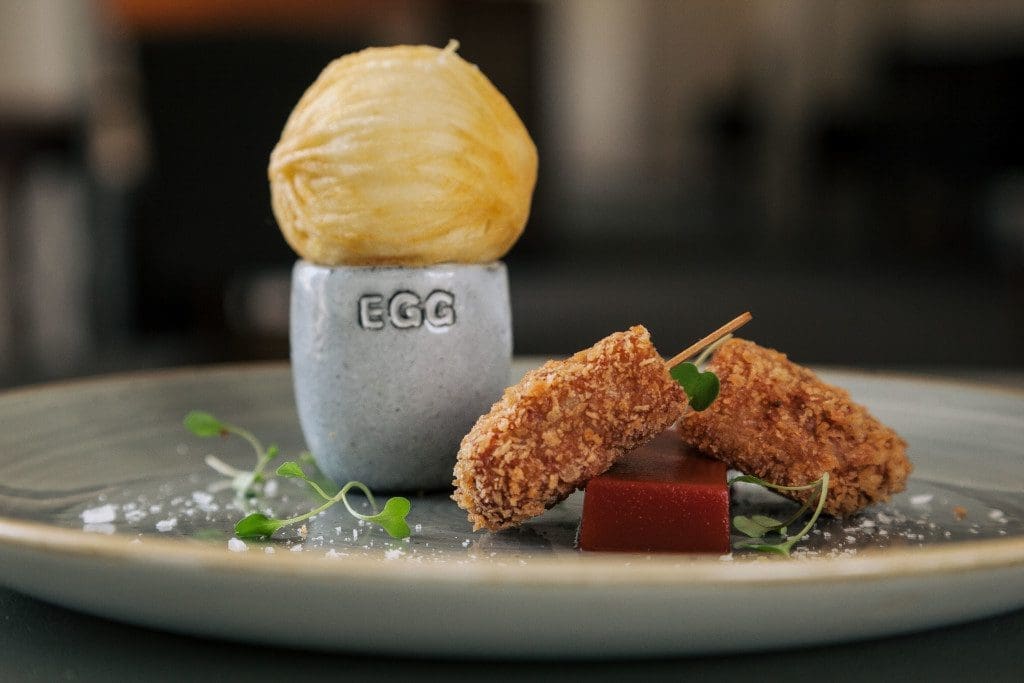 Dylan Thomas, Laugharne
All roads in this part of the county inevitably lead to the nearby village of Laugharne, where the legend of Dylan Thomas is writ large. This was where the brilliant, but troubled, poet lived for the last four years of his life until his untimely death in 1953, aged 39, in New York City.
Here you can visit the Boat House where he lived with wife Caitlin and their three children, his 'sea shaken house on a breakneck of the rocks' (from the poem 'Prologue'). From here Dylan would gaze out across 'the mussel-pooled and the heron-priested shore' ('Poem in October') to the low, green-crested Lanstephan peninsula, where he spent much time as a boy.
Climb forty-one steps back to the coastal path and walk twenty yards or so and you come across a nondescript writing shed on the cliff edge, where Dylan wrote latterly some of his best-known poems, including 'Under Milk Wood'. It was pouring down with rain on the day we visited and the shed was locked, but even just peering into it evoked a writing day back in 1952.
The curtains were partly drawn to keep out the sun. The poet's tweedy jacket was slung over the back of a simple wooden chair at a red desk, where loose paper and pens were at the ready, a brown bottle sat in front of him, a dark wooden freestanding bookcase to his left and some interesting modern portrait sketches on the wall. In the middle of the room stood a wood-burning stove to bring much-needed warmth to this former garage. Then of course, he would have had that stupendous, inspirational view.
A Wales Road Trip Too Far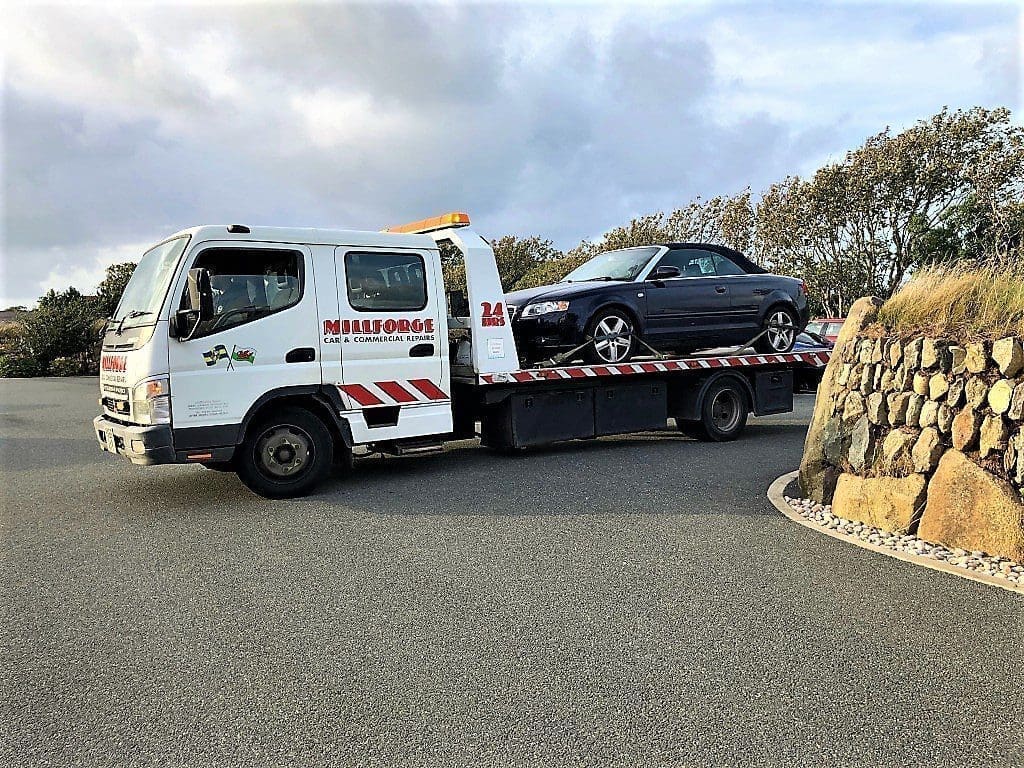 Laugharne was the place where our much-loved Audi started to give up the ghost. The alarm started sounding worryingly on the road down to the village and all the symbols on the dashboard began flashing like a pinball machine. The good folk at the Clifton Garage reset a clearly damaged computer, and the car appeared back to normal for a few days. But during our stop at Roch Castle a few days later the warning signs were back, and ultimately she would have to be towed 300 miles back to Suffolk, serious amounts of water having clearly penetrated the works.
We ploughed on further south with our hire car, our next stop being Trefloyne Manor close to the walled, characterful town of Tenby on the spectacular Pembrokeshire coast. Trefloyne has an 18-hole parkland golf course attached, set in rolling countryside in the Ritec Valley with impressive tree-lined fairways, but I had left the clubs behind so I could only look on enviously from the balcony of our Hayloft Mezzanine Suite, located in the converted coach house away from the main – primarily Victorian – building.
Trefloyne Manor
Once part of a barn used to store food, it had a rustic elegance with sloping ceilings, wooden beams and exposed brick. Inevitably perhaps it was a quirkily shaped suite, with the bedroom up in the attic, the bathroom on the middle floor and a beamed comfortable sitting room downstairs.
It came as no surprise to learn that the Benyon family, who own and run Trefloyne, opened their doors to NHS workers during the pandemic lockdown. We were struck by the buzz of the place and the genuine enthusiasm of all the staff.
A Wales Road Trip : Tenby to St Davids
We were keen to explore Tenby, an attractive town with characterful narrow streets winding down from a medieval centre. A prosperous port in the 14th and 15 centuries, it remodelled itself as a fashionable resort in Victorian times. On a shivering, sodden walk on Castle Hill, overlooking South Beach, we peered out through the mist to the ghostly shape of St Catherine's Island, topped by the remains of one of 'Palmerston's Follies'.
A string of these stone forts was built along the south coast in the early 1860s as the British prime minister prepared for likely invasion by Napoleon III with his iron-clad battleships. Even from our rain spattered vantage point it was clear that the Tenby fort was one of the most impressive of its kind.
From Tenby we headed further west on a 45-minute journey towards another historic town – St Davids. We halted a few miles outside to settle into our latest accommodation with a difference, the extraordinarily preserved and restored Roch Castle Hotel, built by Norman knight Adam de Rupe in the 12th century.
Roch Castle Hotel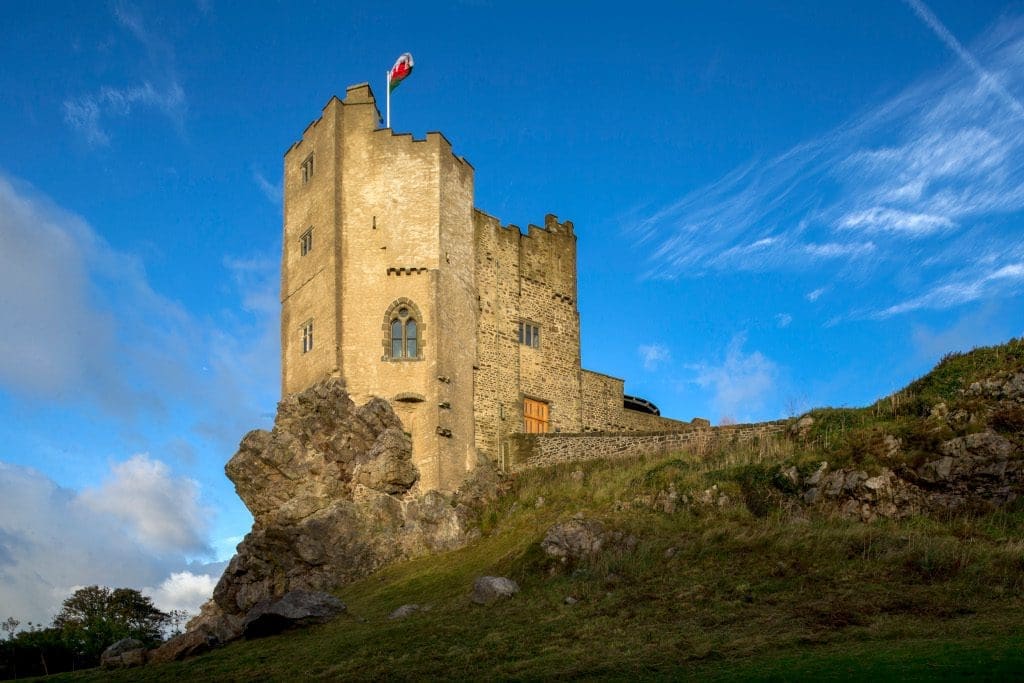 The ghosts of the English Civil War and its aftermath linger within these imposing stone walls. The Walter family who lived here backed Charles I, but fled when Cromwell's forces attacked and burned it. Later the pretender to Charles II's throne, the Duke of Monmouth, occupied Roch until he launched his rebellion, which ended in defeat at the Battle of Sedgemoor and his own beheading.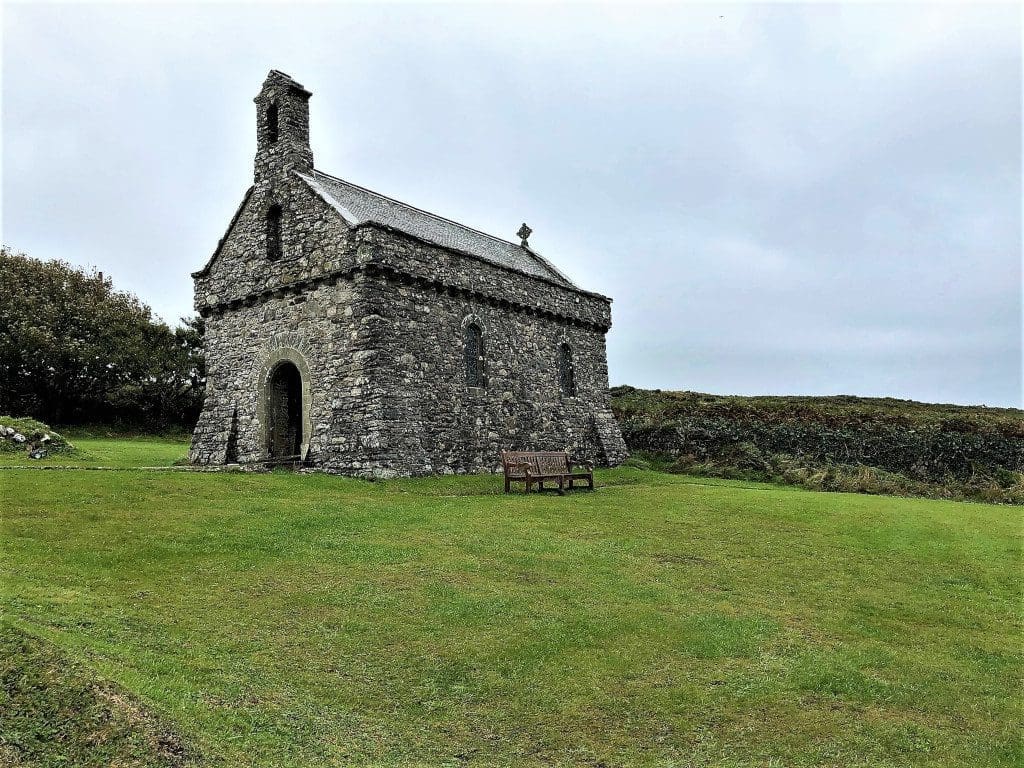 The castle's charming and helpful manager Lily guided us up the steep, narrow, winding staircase, passing turreted windows which would have once launched arrows at armies below, to our room, Ap Gruffydd, one of six and named after the great Prince who defied the English in the 13th century.
If the journey from the fortress felt like going back nine centuries, this was now definitely 21st century comfort. The king size bed was luxurious, the bath was simply enormous, and best of all was the armchair by the double aspect windows, from which you could immerse yourself in your book while looking up now and again to enjoy the panoramic views out over Pembrokeshire.
We stayed put to fully appreciate our room but there is a bright expansive Sun Room where you can enjoy a drink, or a cosy study if you really seek solitude. There is no dining here (unless you book the whole castle) but breakfast was excellent, with hearty porridge and then Eggs Benedict to follow.
Onwards we went to Wales's westernmost point, the cathedral city of St David's. Really it's just a village with only up to 2,000 inhabitants, but of course its importance lies as the country's spiritual and ecclesiastical centre.
St David's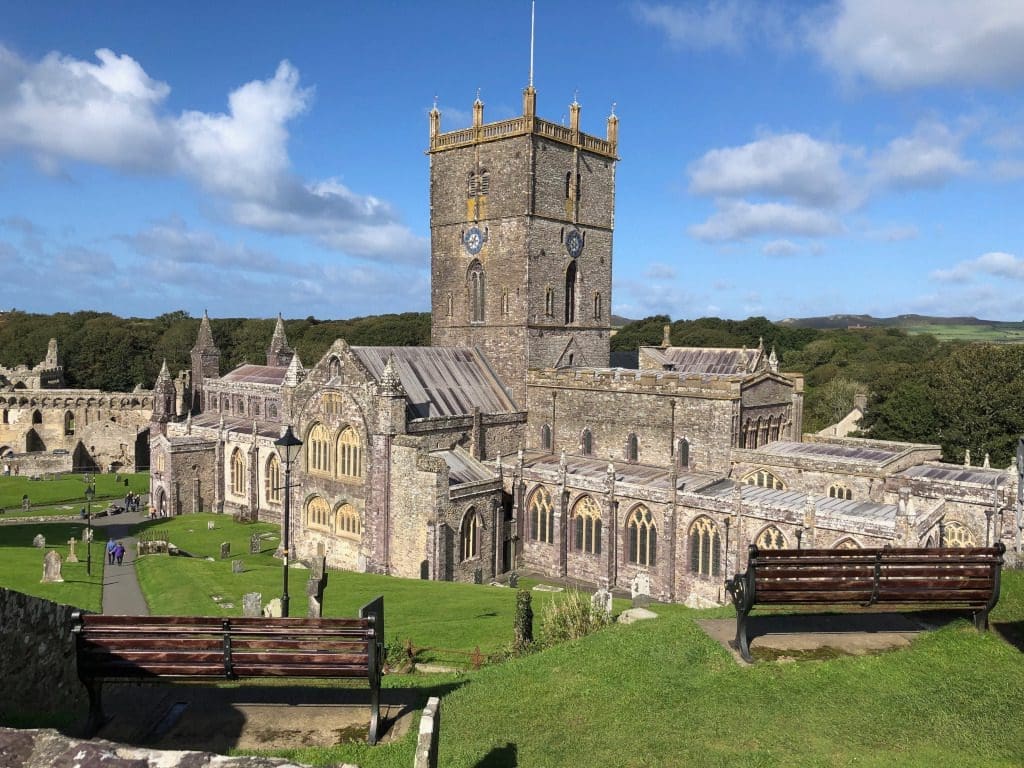 The cathedral, built in 1181, reached via the Thirty-Nine Steps (representing the thirty-nine tenets of Anglicanism), is architecturally splendid and packed with fascinating stories amongst its plaques and tombs. For example Edmund Tudor, 1st Earl of Richmond and father of King Henry VII, is buried here.
But what stays with you the most is the advice – paraphrased but etched many times into the Cathedral walls – that Wales's patron saint delivered to his followers in his final sermon a week before his death. 'Be joyful, keep the faith, and do the little things' – as simple and as good an outlook on life that any of us, believers or non-believers, would do well to follow.
Twy y Felin : Contemporary Art Hotel
Our resting place for two nights in St David's was the Twy y Felin hotel, which means 'mill tower' in Welsh, and indeed includes a windmill dating back to 1806. The Llangoed had a magnificent collection of classic paintings, but Twy R Felin was consciously remodelled and renovated to reopen in 2015 as Wales's first 'contemporary art hotel'.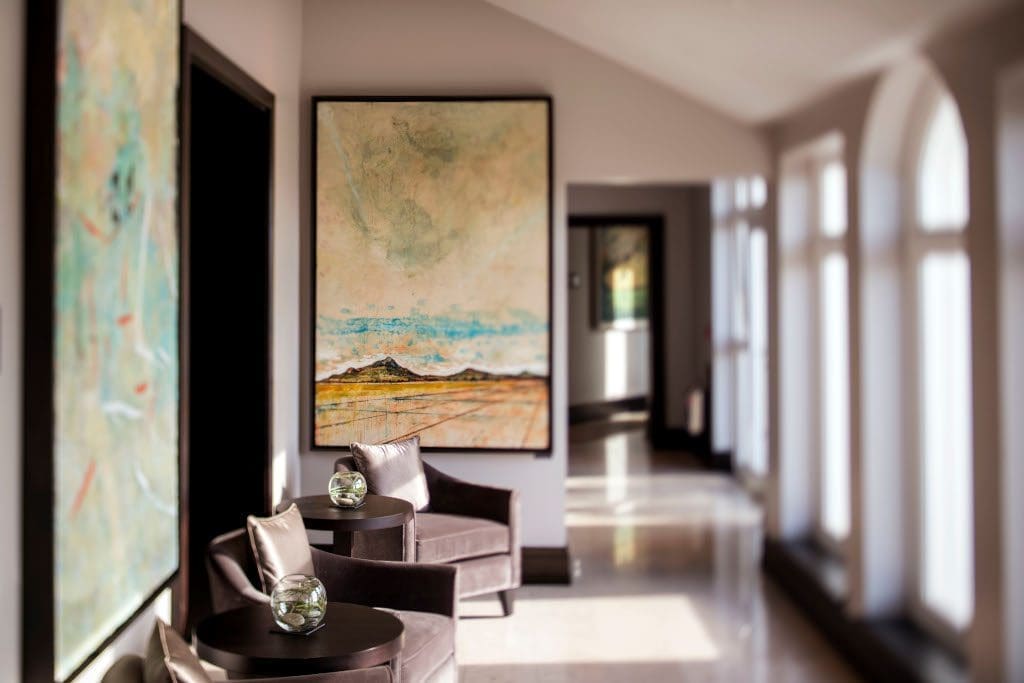 So it is like stepping into an art gallery – especially the vast, vaulted main lounge where scores of striking, colourful abstract canvases adorn the walls. Many were commissioned to evoke the Pembrokeshire landscape, but there are striking portraits too. A trio of the latter has pride of place in the dining room – a rather sinister spray painted depiction of Welsh icons Anthony Hopkins, Richard Burton and Catherine Zeta-Jones, blood seemingly dripping from their eyes, done by South Wales urban artist Charles Uzzell Edwards, whose nom de plume is 'Pure Evil'.
However nothing can put you off your food in Twy R Felin's Blas restaurant. It was quite simply a superb culinary experience, the best (of a high quality bunch) on our trip. My starter of chicken parfait with apricot, peanut and toasted brioche, followed by pan fried halibut, roasted carrot, mussel sauce and sea herbs, were so wonderful I had them two nights running.
The rain eased off enough for us to stride out on a spectacular three-mile coastal walk, stopping to admire a lovingly constructed (in 1935) little chapel in the name of St Non, mother of St David. It was built by a Carmarthen solicitor, Cecil Morgan-Griffiths, who used stones from old abandoned cottages in St David's to try and recreate as near as possible the old ruined chapel of St Non's which lies in an adjoining field.
Only twenty-five feet long by twelve feet wide, it has a beautiful stained glass depiction of the patron saint, and a windowsill where people have left poignant keepsakes of their lost loved ones. A restful place, but brutally exposed to the elements and because of that no services are held here anymore.
Dr Beynon's Bug Farm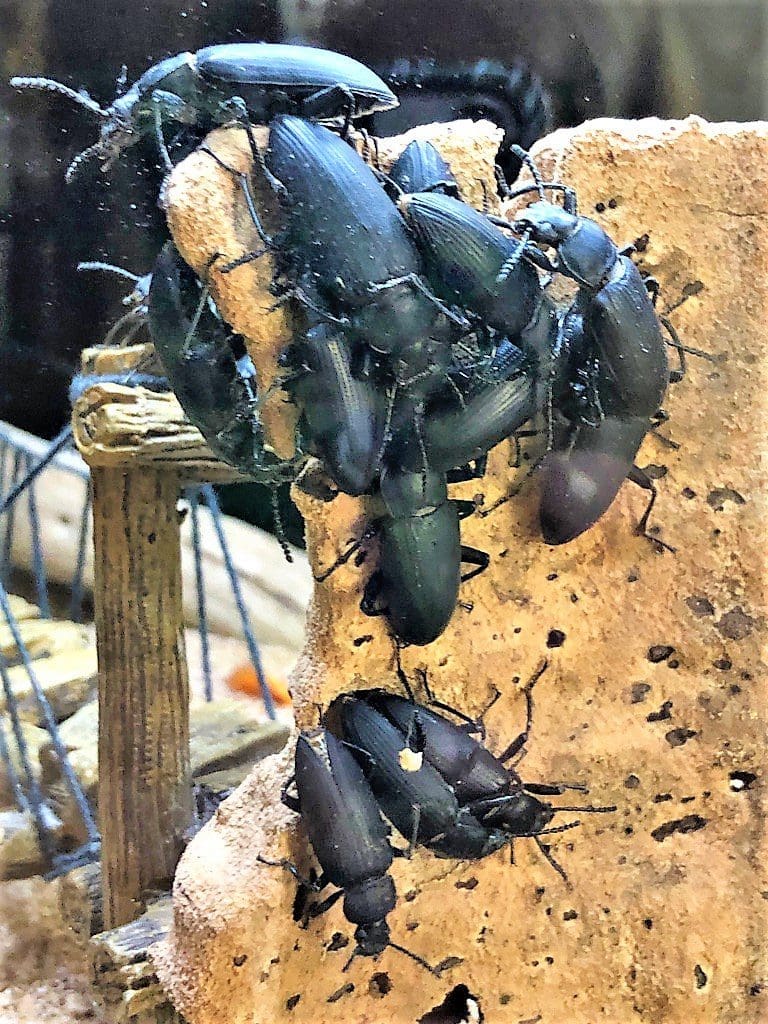 From this reflective spot we drove just a few miles out of St David's for a completely different experience. We paid a visit to Dr Beynon's Bug Farm, a scientific research centre and working farm in its own right, but a living museum of creepy crawlies – and also featuring the UK's first edible insect restaurant.
Although tempted by the latter's chocolate chip Cricket cookies, we concentrated on getting close up and personal with some extraordinary specimens of tarantulas, cockroaches and stick insects. Our guide was young Callum Nicholls, hugely engaging and supremely knowledgeable, who spun us a brilliant story about the work of an army of ants, and who does his very best to change people's views of spiders, turning fear into mere curiosity, and then respect.
The spiders on show here are given real characters – witness Arlan the adolescent Martinique Pinktoe tarantula, or Rosie, the aged but docile Chilean Rose from the same species. There are easy to understand boards which cogently explain the bug world and its vital importance to the world's eco system. A really different and fascinating experience.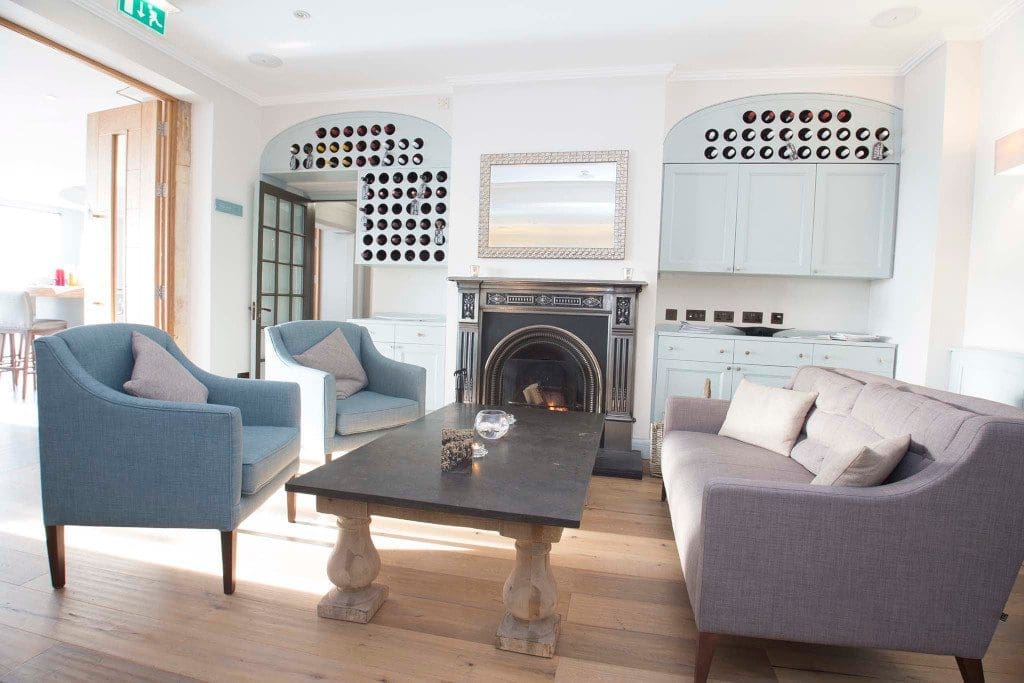 The final leg of our trip took us on a two-hour journey east to the attractive Victorian seaside town of Penarth, 'the garden by the sea', lying just across the Barrage from Cardiff Bay, and a traditional place of rest and relaxation for the capital's residents.
Most visitors are drawn to the town's well-kept Esplanade and its recently renovated pier, which stands majestically looking out over the Severn estuary. It was a lovely, bright, breezy Sunday afternoon, and we strolled past the superb Art Deco pavilion to the end of the pier to watch the gathering of fishermen working to haul in their catches of whiting, mullet, cod and bass.
---
If Roger and Eileen have made you wantto go on a Wales road trip, follow Mark Bibby Jackson as he returns to the principality of his birth to explore the countryside and castles of Wales.
---
Holm House Hotel
We had an excellent tapas lunch at the Esplanade's Casa de Margarita before settling down for our final night on Welsh soil at Holm House Hotel, previously a private accommodation on Marine Parade that has been dubbed 'Millionaire's Row'.
We had the best room in the house, Flat Holm – which you can see from the room's little balcony on a fine day – named after the island six miles out in the Bristol Channel which is now a prime nature reserve and a key breeding colony for lesser and great black-backed gulls. In 1897, Flat Holm famously received the first ever radio message across water by Marconi.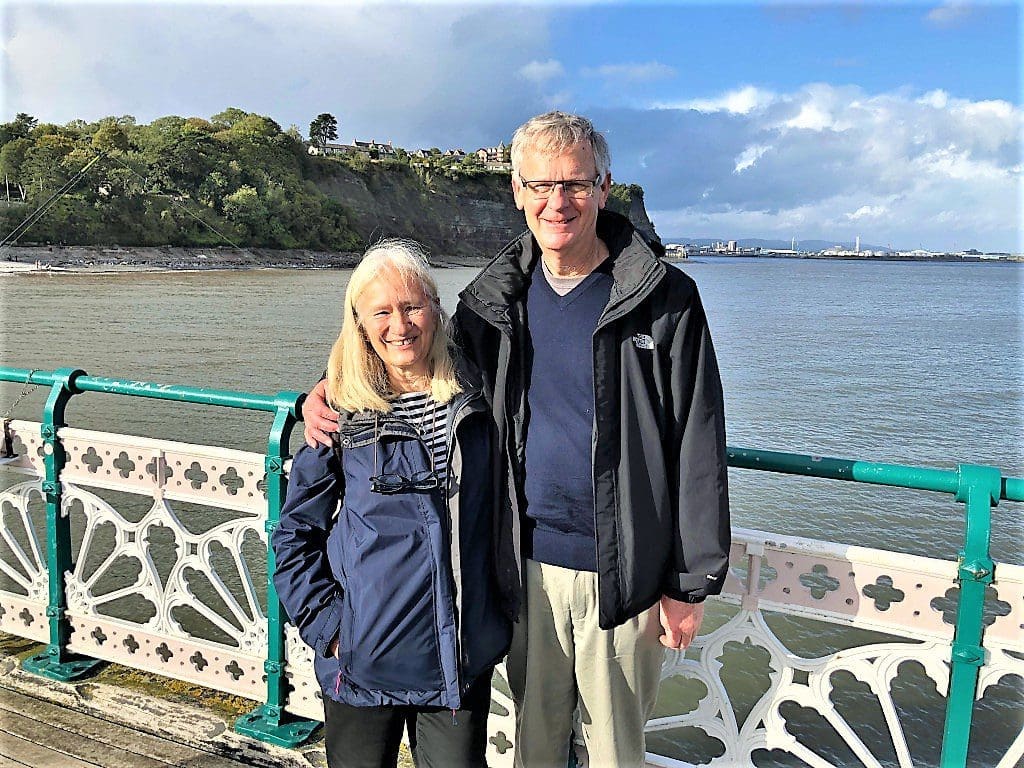 The rain had receded and the sun was out so reading a thriller on the balcony, whilst gazing out over the hotel's pretty garden to the Bristol Channel beyond, was a most pleasurable experience. The suite had a most comfortable king sized double bed, sofa, and an old fashioned free standing copper bath in the corner of the bedroom.
Holm House has an excellent restaurant, and a spa which we didn't have time to sample but which has built a good reputation. But its biggest selling point has to be the enthusiasm of the staff, for whom no little request seemed to be too much trouble they were so friendly and engaging.
We left Penarth on the Monday for the four-and-a-half drive back to Suffolk in our Citroen hire car; our Audi was stranded somewhere on the back of a trailer in the Pembroke Docks. The breakdown had failed to take the edge of what had been a joyful (as St David would have it) journey through the land of the Red Dragon.
---
For more information on Wales Holidays
Go to https://www.wales.com/visit. To discover more about Pembrokeshire click here. Book a stay at Holm House through Welsh Rarebits at www.rarebits.co.uk  or call 01570 470785. B&B from around  £100 for two sharing, Dogs welcome in selected rooms (extra).
Roger Hermiston Eileen Wise
Roger was Assistant Editor of Today on BBC Radio 4, while Eileen headed up the global PR for The Economist and Reuters. When not travelling near and far, Roger writes narrative 20th century history books such as 'The Greatest Traitor' and 'All Behind You, Winston', and Eileen now works as a counsellor from their Suffolk cottage. They have a remarkable menagerie including a pony, two donkeys, three cats, two peacocks and a guinea fowl.