Rectory Manor Hotel, Suffolk
Roger Hermiston Eileen Wise
Posted on 30th Mar 2022
Roger Hermiston and Eileen Wise take the shortest of journeys to stay at the nearby Rectory Manor Hotel, Suffolk.
We reckon we're familiar with all – or nearly all – of the many excellent hotels in our picturesque corner of Suffolk. But there was one glaring omission, one place we had strangely not visited despite excellent reports along the grapevine. So we aimed to put that right as a Valentine's Day treat.
The Rectory Manor Hotel in the village of Great Waldingfield is just under ten miles from our front door. It is a relatively new boutique country house hotel, having opened its doors just over a decade ago. It's the pride and joy of the Lawrenson family, who lovingly restored the main house to its Georgian glory, as well as revitalising the garden and converting the former coach house and stables into lovely rooms.
A Warm Welcome at the Rectory Manor Hotel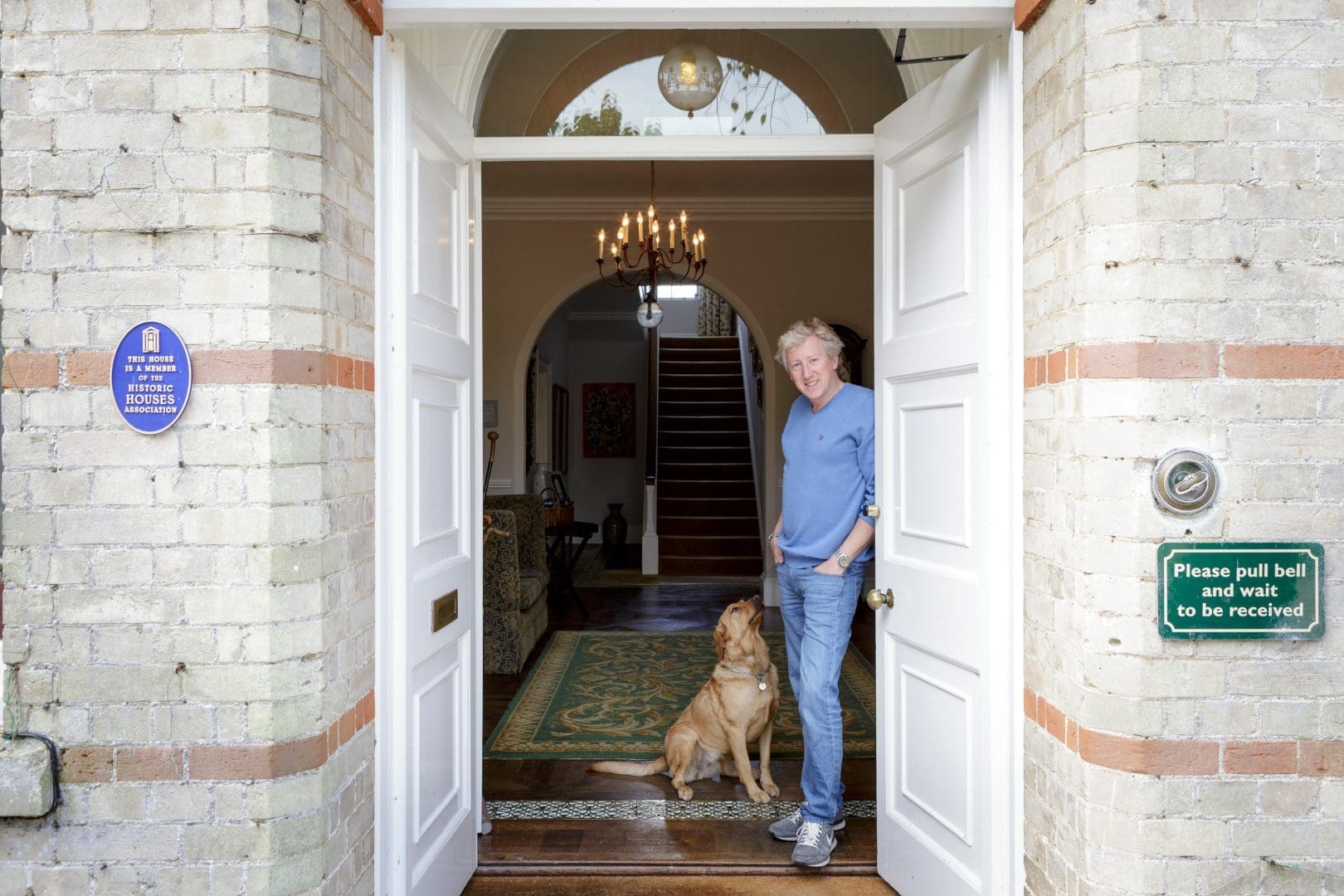 We had read that – most unusually – the Rectory Manor employed a butler and were looking forward to a friendly if formal meeting at the front door. Well, we certainly received the former from housekeeper Vicki, but for the time being there is no butler in residence. There have been a couple in the past – Tom and George – but for now there is no permanent replacement. Perhaps the experiment is over – but surely there must be a would-be young Jeeves out there in East Anglia?
The enthusiastic Vicki was a more than satisfactory replacement, and she had begun to settle us in when Frank Lawrenson, the owner, who is a real force of nature, appeared on the scene to welcome us warmly. This is still very much a family home, with Frank's children in situ somewhere in the big house, and that homely atmosphere prevails throughout.
Rectory Manor Hotel Rooms
There are seven rooms for guests, three in the main house and four in the converted stable block. We had one of the former on the first floor, the elegant Morning Room, so called because its aspect and the large windows overlooking the gardens and the rolling Suffolk countryside allow the morning sun to flood in.
There wasn't much of it on this day in mid-February, but there was much else to compensate. We had a splendid, spacious four-poster bed, beautifully hand carved by the Woodcarvers Guild company. Then there was the enormous ensuite bathroom, the highlight of which was a fine roll-top bath stationed right in the middle.
The pictures and reproduction tapestries are highlights of the guest rooms, and whilst lying in the Morning Room's bath it was a treat to contemplate a huge mural covering the entire wall of JW Turner's epic depiction of Venice's famous 'Bridge of Sighs'.
Downstairs, a feature of the cosy sitting-room is the lovely grand piano, with photographs of memorable family occasions on top. A bookcase on the far wall contains plenty of interesting old and new titles, and there's a sofa and plenty of comfortable chairs to curl up in.
Dinner at No 10 and Breakfast at the Rectory Manor
Dinner is not served at the Rectory Manor – but the options in nearby Lavenham and Long Melford are many. We decided to meet friends for dinner at No 10 in Lavenham, where we enjoyed a really top-class meal while – amongst other things – debating our strategies for that new worldwide phenomenon, the word game Wordle.
Although there is no dinner, breakfast at the Rectory Manor is quite the occasion. That's not just because of the food, although our poached eggs on toast and homemade mulberry jam sat at the medieval rectory table certainly did the trick.
A Fascinating Family History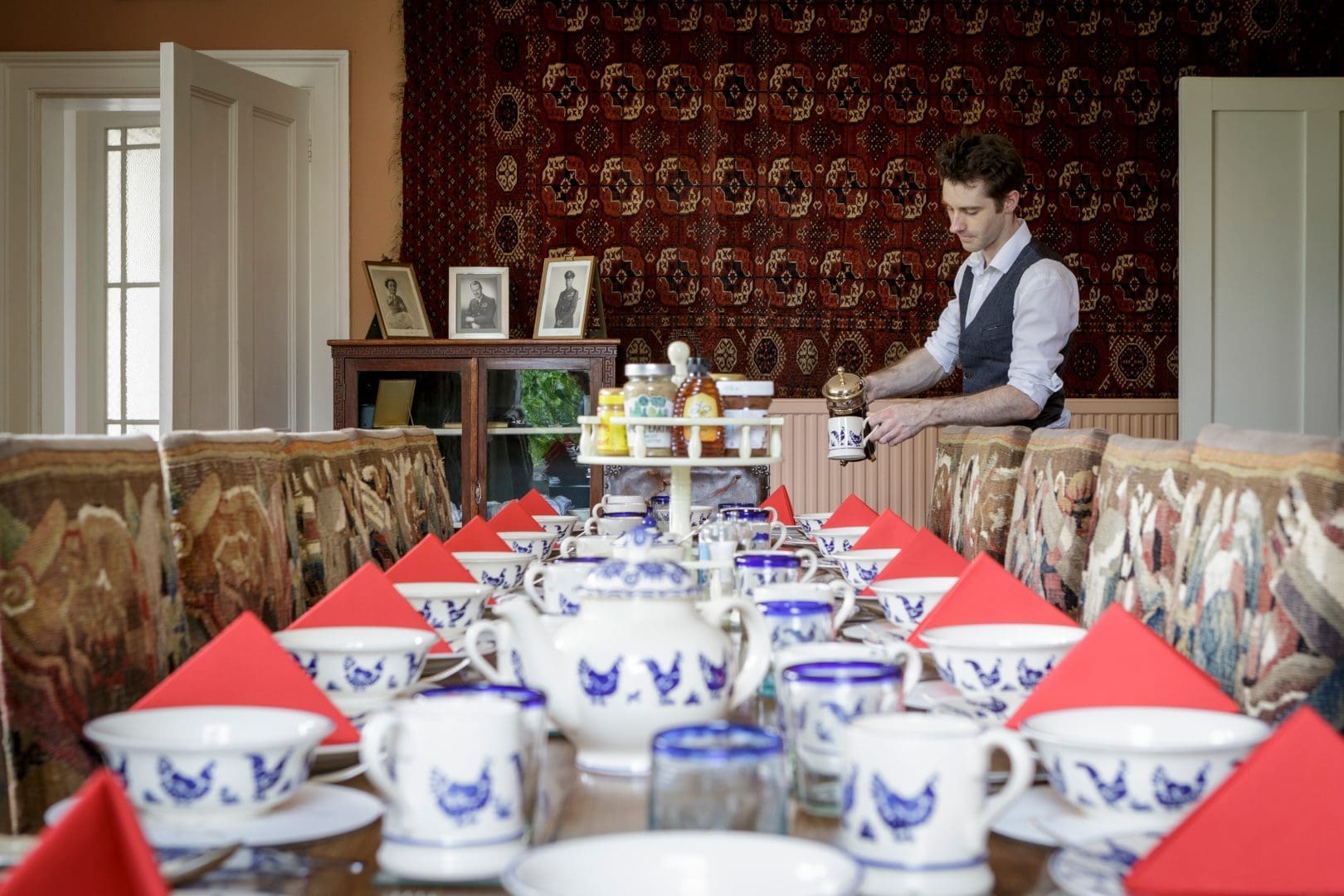 But the dining-room is much more than an eating place, it's a museum of sorts too. Frank has used it to showcase his own family's fascinating history with portraits, antiques and ornaments relating to his many illustrious ancestors – none of whom seem to have had a dull life but were invariably war heroes, adventurers or spies.
There are other non-family exhibits (royalty and wartime events to the fore) to be seen as well and Frank – who has much else that is not on display – has an idea of extending this history show and eventually establishing a full-scale museum at the hotel.
He is particularly proud of one of his direct ancestors, the great Georgian prison reformer and philanthropist Elizabeth Fry, whose portrait has pride of place in his study. Elizabeth didn't live here, but one man who did provides the historical icing on the cake for the Rectory Manor.
History of the Rectory Manor
The house, which dates back to the 14th century, has been upgraded at various times over the years and currently retains its Georgian style and charm. But back in Elizabethan times it was home to a uniquely gifted priest who through his poetic and musical genius earned himself a place in the annals of literary achievement.
His name – which sadly few will recognise – was John Hopkins, the Rector of Great Waldingfield from 1562-70, but just as importantly the co-author of the first English metrical version of the Book of Psalms – the third best-selling book of all time.
Psalms originated in the very early Christian church, poems designed to be sung by the faithful. Hopkins and his collaborator Thomas Sternhold arranged them in a metre, with a regular rhythm, which made it easy for Elizabethan churchgoers to sing. They were the best-known verses of their time, sung by nearly every Englishman, woman and child all across the land. Of the 150 psalms, Hopkins was the most prolific translator with 61 to his name. The book – outsold (yes, you've guessed it) only by The Bible and the Book of Common Prayer – has had over 600 editions.
A remarkable man then, whose creative brilliance truly had influence on British society, as it helped bind together the new Church of England as it sought to pull itself clear of the Catholic past. As well as being a psalmodist and clergyman, we know Hopkins was a real shepherd as well as a shepherd of men. In his will, written thirteen days before his death (he is buried in neighbouring St Lawrence Church), he left ten lambs for his older daughter Martha to care for.
An outdoor swimming pool, croquet lawn and tennis court are available for visitors to the Rectory Manor at more clement times of the year. But we had thoroughly enjoyed our winter break at this comfortable, fascinating hotel – and in twenty-five minutes we were home.
Rectory Manor Hotel
Roger Hermiston Eileen Wise
Roger was Assistant Editor of Today on BBC Radio 4, while Eileen headed up the global PR for The Economist and Reuters. When not travelling near and far, Roger writes narrative 20th century history books such as 'The Greatest Traitor' and 'All Behind You, Winston', and Eileen now works as a counsellor from their Suffolk cottage. They have a remarkable menagerie including a pony, two donkeys, three cats, two peacocks and a guinea fowl.