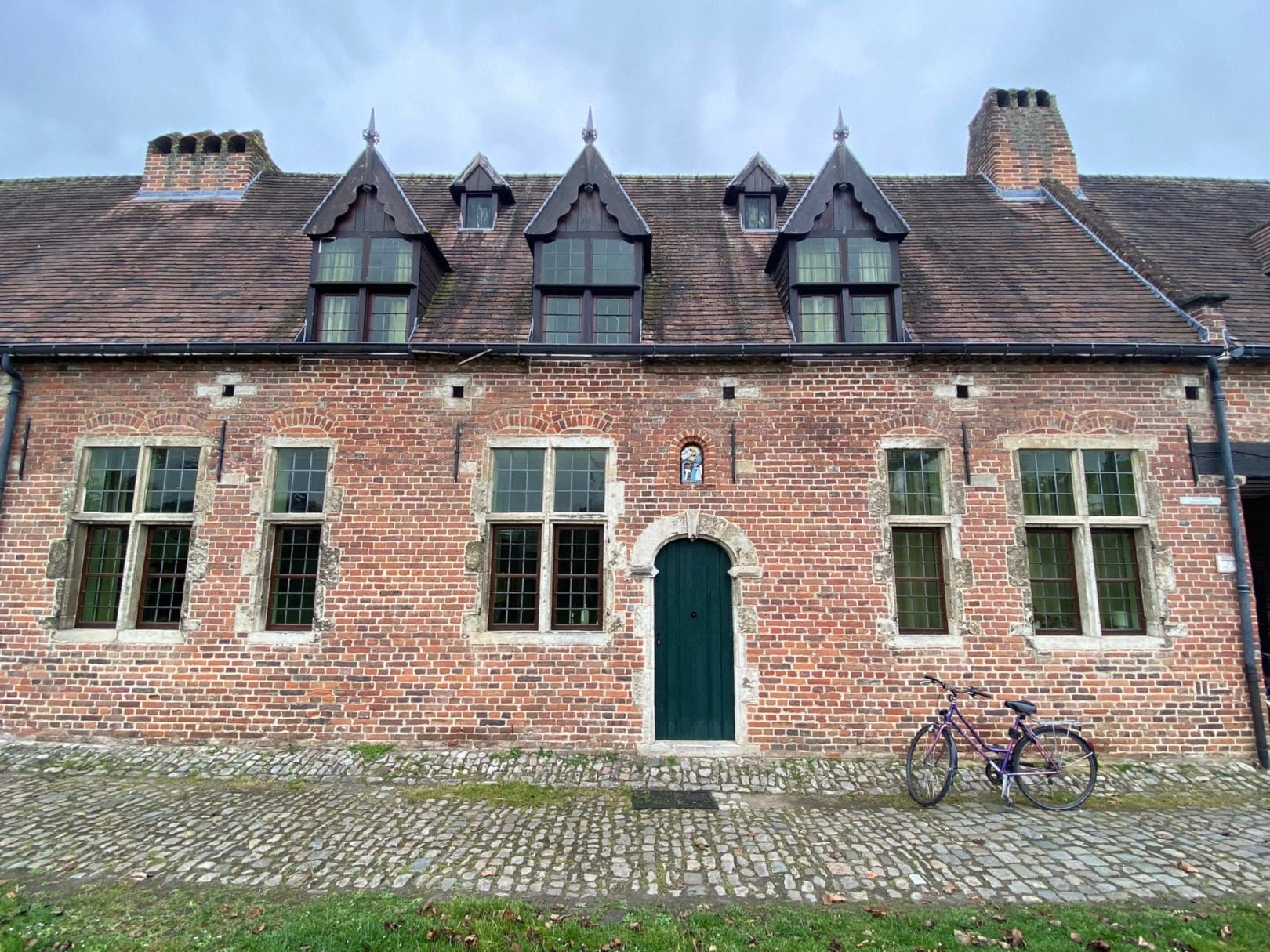 Befriending Proud Margaret in Leuven Belgium
Mark Bibby Jackson
Posted on 19th Apr 2022
Mark Bibby Jackson goes on a tour of Leuven Belgium, a town with the oldest university in Belgium and the home of Stella, where he gets a glimpse of the potential future of tourism.
It is towards the end of our pub tour of Leuven that our host Geert informs us that the town's Old Market is younger than its Big Market. It is also bigger – well this is Leuven, a town where nothing is quite what it seems. Geert has no idea why this is so, but he does know an awful lot about Leuven's beer and pubs.
Leuven Belgium Beer Tour
Geert has run his beer tours of Leuven since 2015. My crawl is on the Friday evening, with a second round on Saturday afternoons.
Our beer tour of Leuven starts at Leuven Leisure where Geert pours us a glass of sparkling wine, although it is not. Instead De Vlier is a champagne beer that is served in a flute. It's a demi sec, with the slightly sweet taste provided by a touch of elderflower juice.
After a brief history of the Town Hall – more of that later – Geert escorts us to our first pub – De Fiere Margariet. This is even older than the three main buildings in the Old Market and is named after Proud Margaret, the folk saint of barstaff.
---
Story of Proud Margaret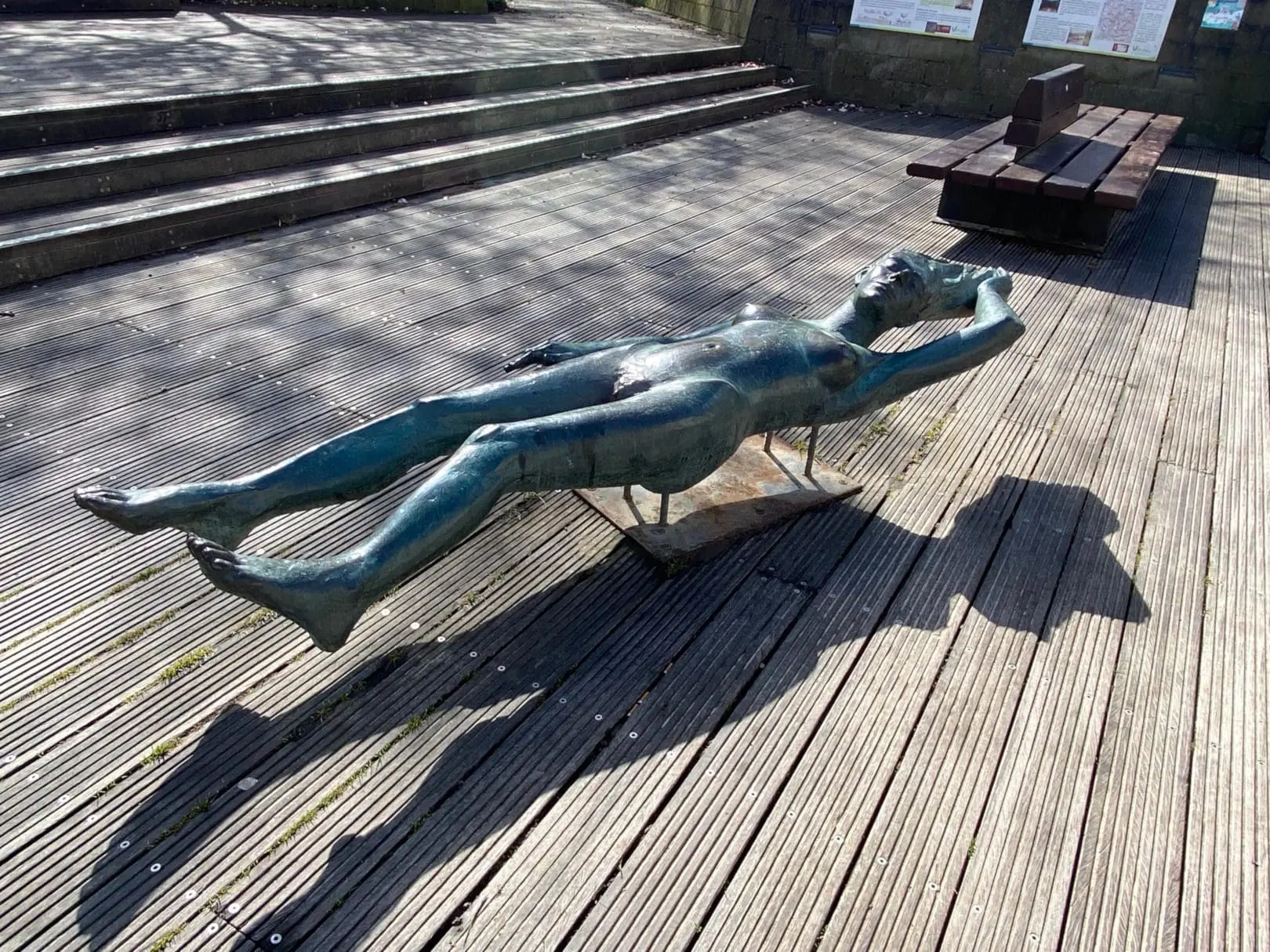 Everywhere in Leuven they will tell you the story of De Fiere Margariet (or Proud Margaret) who has a statue beside the river Dyle as well as her own chapel in Saint Peter's Church. I heard three versions of her story in one day. Each started with some travellers (bandit or hermits depending on the storyteller), asking Margaret's parents for some wine. As Margaret pops out to get it her parents are robbed and killed.
Margaret returns either to be accused of her parent's murder, or for the robbers to attempt to rape her. The second version tends to make more sense as Margaret resists and chooses death over losing her virginity – hence 'proud' Margaret. Either way her dead body is thrown in the river where she is born against the current back to Leuven, carried by either fish or dolphins. This miraculous event proves her innocence and the true culprits are executed.
---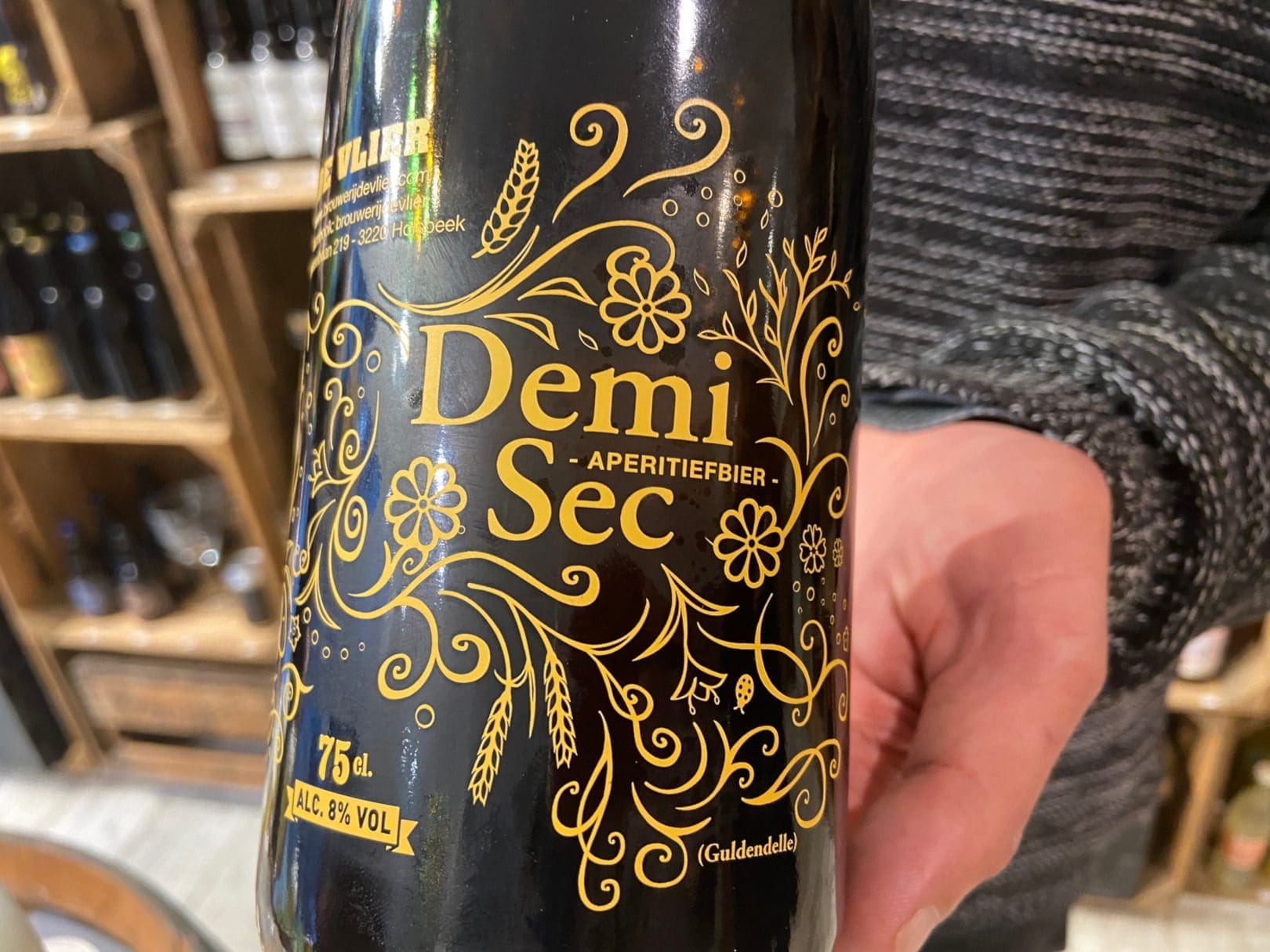 I had popped into De Fiere Margariet the previous evening. Then the friendly managers Ron and Ben had guided me through the beer of Belgium. So as I enter this time Ben greets me as though I am a regular while Geert escorts us upstairs. He has chosen a wheat beer which seemed to get the consensus of our group as the best beer of our tour.
From one of the oldest bars in Leuven to one of the newest, Malz is a very recent addition to Leuven's beer life. We enjoy an IPA from the local De Coureur brewery. One more bar whistles past where we sample the Gouden Carolus bruin beer I had loved so much in Mechelen. Finally we end our bar hop in the Old Market, which claims to be the longest bar in Europe. Ours serves a very quaffable chocolatey brown beer from another local brewery.
Leuven Town Hall Belgium
Geert's beer crawl of Leuven is not the first tour I take of Leuven. In fact it is the third. The first took place on my first evening when I was escorted around Leuven Town Hall by Dirk Bouts.
The Town Hall is one of three buildings constructed around the Grand Market, designed by the same architect Mattheus de Layens. It was built between 1439 and 1469. The other two are St Peter's Church and the Tafelmond. St Peter is the patron saint of Leuven. All three are late Gothic.
If you like your buildings to be highly decorated then Leuven's town hall is for you. At the very least it is busy, with some 236 statues around it. However, what stands before you now is not how the building has always appeared. The statues themselves, which represent famous people from Pope Adrian VI to Erasmus, as well as Napoleon, were placed here after 1850. However, the carvings beneath them depicting scenes from the Bible are original.
Town Tour of Leuven Belgium
Much of what surrounds Leuven Town Hall including part of St Peter's Church were restored in the 20th Century after the Flames (or Sack) of Leuven from 25 to 26 August, 1914. Advancing German forces destroyed 2,000 buildings as well as killing 249 civilians. The only nearby building to be left untouched was a restaurant with 'American' in its name, as the Germans feared that destroying it might bring the Americans into the war, I'm informed. In fact the place had nothing to do with the USA.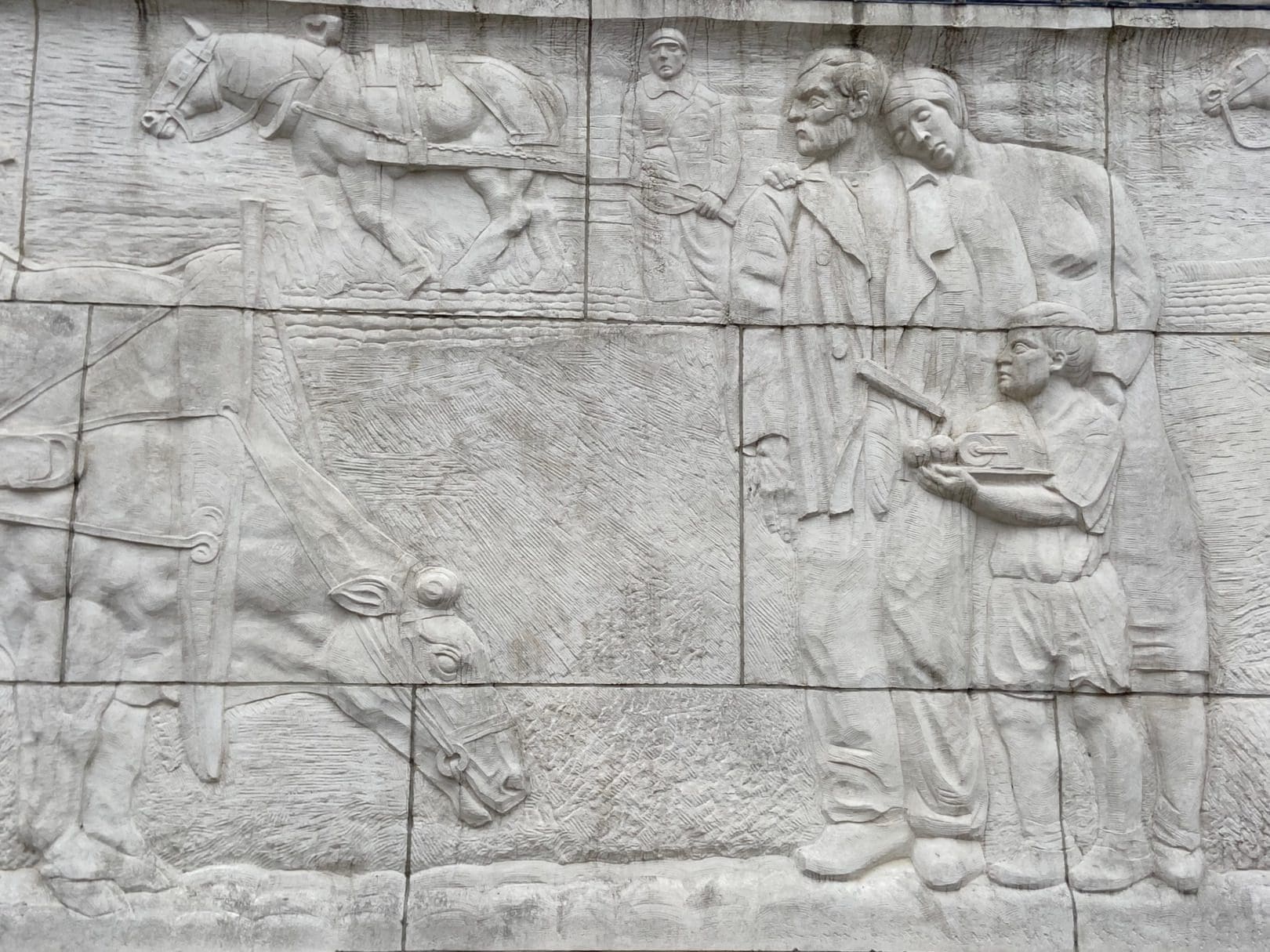 Many of the restored buildings contain have a sign with the date 1914 on their façade to signify they have been restored. Some of these can be seen around Martyr Square opposite the glorious Railway Station that was built in 1837.
It is here that we start our tour of Leuven the following day with local history treacher Lut Rampelberg, next to the memorial to the victims of the World Wars. One of the restored buildings is the beautiful Hotel La Royale within whose De Klimop I had enjoyed a wonderful meal the evening before.
From here we walk to the Leuven University Tower which, unsurprisingly given the ambiguous nature of the town, is not the original one.
Leuven University Tower and Library
The Catholic University of Leuven Belgium was founded in 1425, the oldest university in the country. However, the original tower and library were destroyed by the Germans in 1914, when 30,000 volumes were burned. The new tower was built in its current location with American money – the adjacent square is named after Herbert Hoover – and the library restocked. It is the tallest tower in Leuven.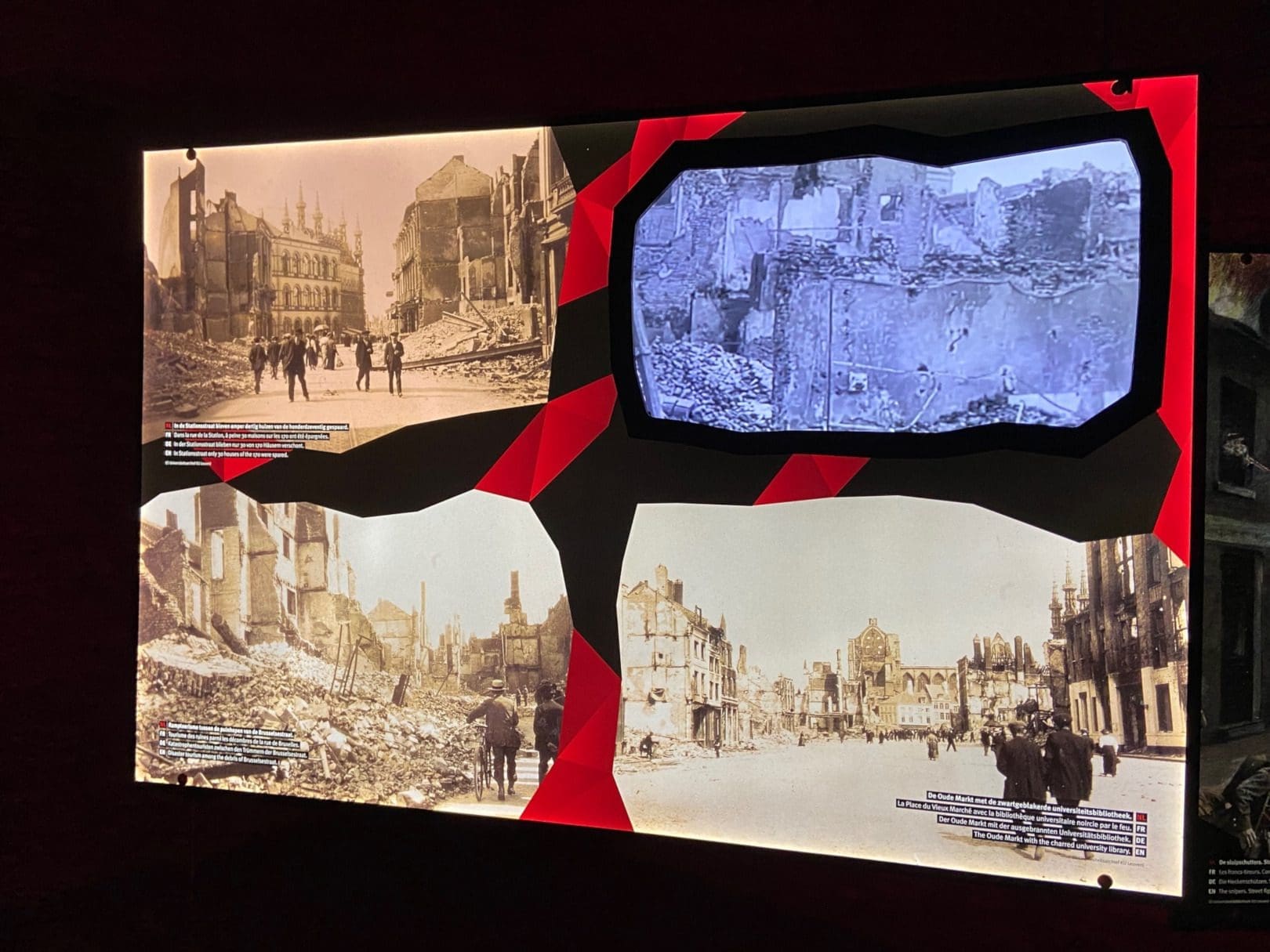 Unfortunately history was to repeat itself when Hitler's army occupied Leuven and destroyed some 900,000 volumes between 16 and 17 May 1940.
You can visit both the tower and the library. The former has great views of the town, the latter earnest looking students.
Grand Beguinage Leuven Belgium
By-passing the Old Market, we then visited the Grand Beguinage (main image), which was founded in 1232, and became one of the beguinages listed by Unesco in 1998, together with Kortrijk, Mechelen and Bruges.
Beguinages were places of worship popular in the middle ages as unlike nunneries, entrants did not have to take a vow of poverty or marry Jesus. Many wealthy and influential women sought refuge there. In the 17th century almost 300 beguines lived in the Grand Beguinage, Leuven. The last beguine died in 1985, and the beguinage is now owned by the university, ideal for scholarly post grads seeking refuge.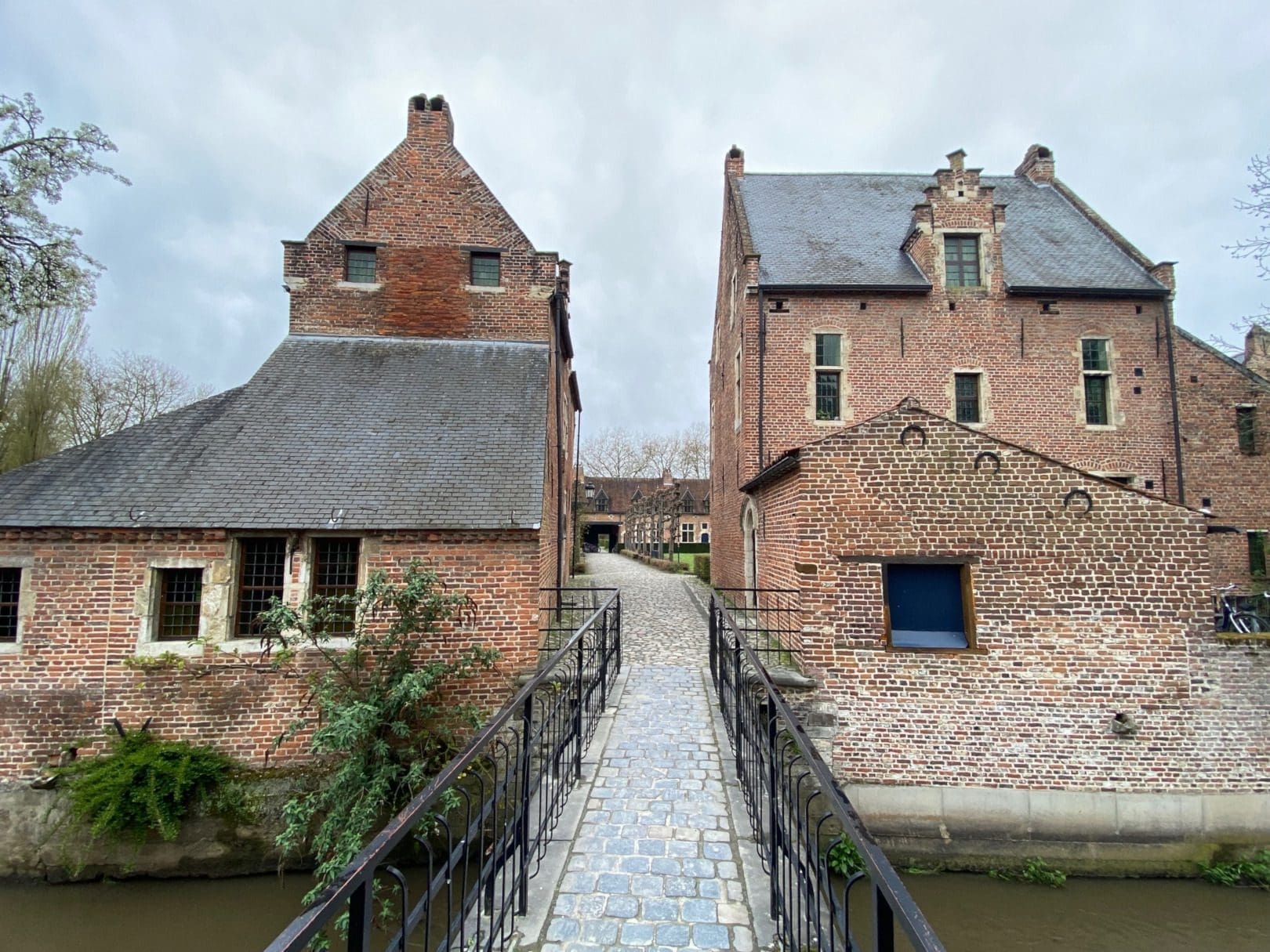 The place is incredibly peaceful, with the only noise that of birdsong, at least on our visit which coincided with university holidays. The Dyle river passes through it.
Home of Stella Artois
Our tour of Leuven concluded at De Hoorn Brewery, which itself was founded in 1366, but was purchased by the Artois family in the 17th century. Stella Artois has been brewed here since 1927. En route we passed the Botanical Garden – the oldest in Belgium –, a statue of Proud Margaret beside the river, and the Small Beguinage. We also briefly visited Saint Donatus Park which is one of the few places where you can see part of the old 12th century city wall, which originally measured 2.7 kilometres and had 31 towers.
I lunched at the café in De Hoorn which had a wholesome aubergine and courgette soup as well as some crispy shrimp croquettes with salad. A glass of Stella seemed obligatory.
St Peter's Church and M Leuven
Before setting off for my Leuven pub tour with Geert, I had just enough time to visit two of Leuven's main cultural attractions. I had admired St Peter's Church from the outside but now was my turn to venture inside. The tourism department had arranged for me to try out one of their hololens.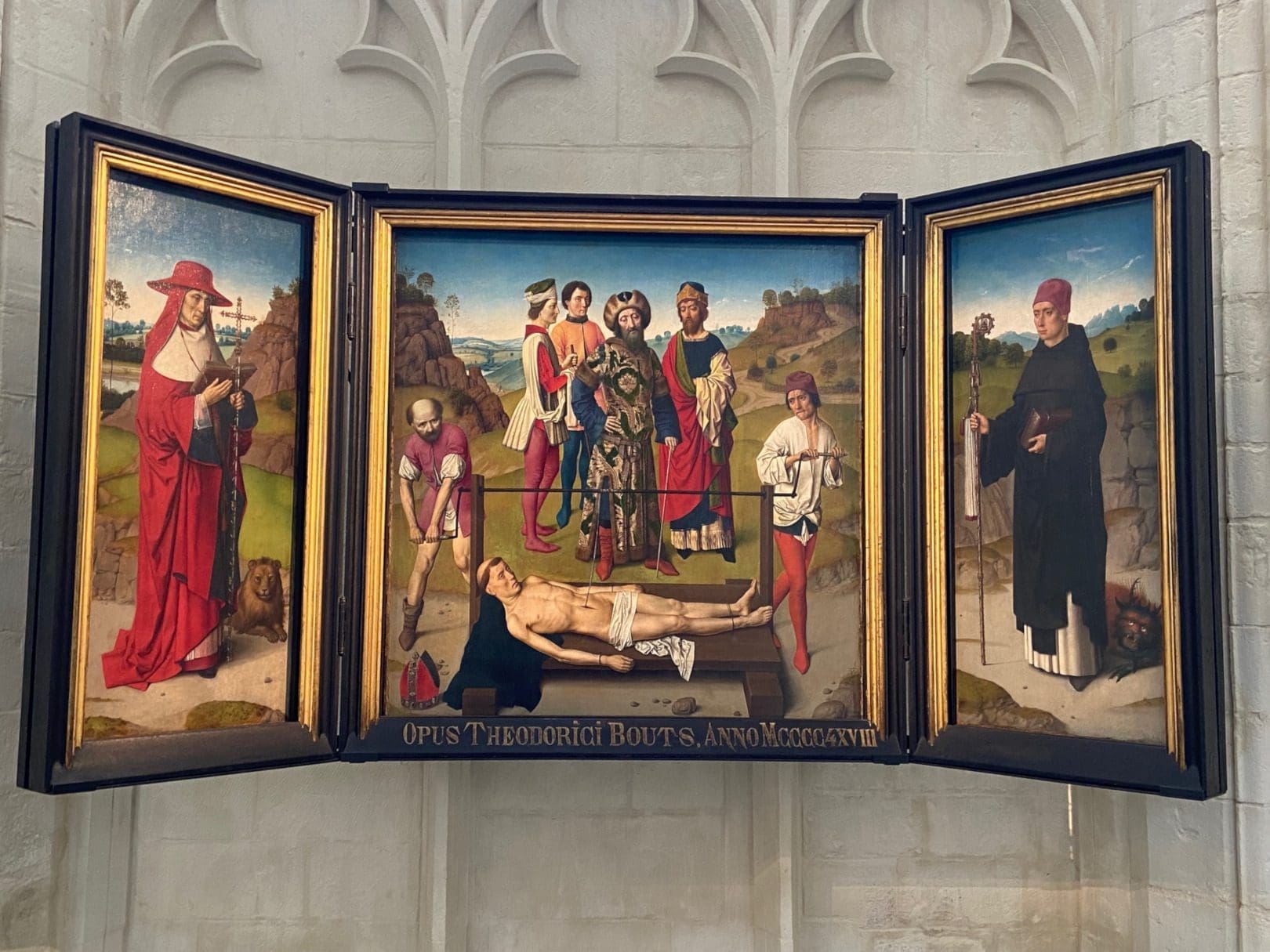 After a short introduction where I learnt the rudiments of how the contraption worked, I wandered around the church pointing vaguely into thin air as I loitered beside various points of interest for a hologram to suddenly appear in front of me. Quite what the other hololensless visitors thought of me I dare not think.
I found the Edelheere Triptych really impressive, as was the Last Supper by Dirk Bouts for which the church is famed. There is also a chapel for breweries – in the 15th century there were more than 50 breweries in town, in part due to beer being safer to drink than water. There is also a chapel for – you've guessed it – Proud Margaret.
This I follow with a visit to M Leuven which has a fine collection of medieval art and more contemporary work. The museum has a wonderful temporary exhibition featuring the work of Egyptian artist Wael Shawky, which runs until 28 August 2022. In Dry Culture Wet Culture Shawky challenges traditional historical interpretations of the Middle East while looking at key societal issues such as migration form an Eastern perspective.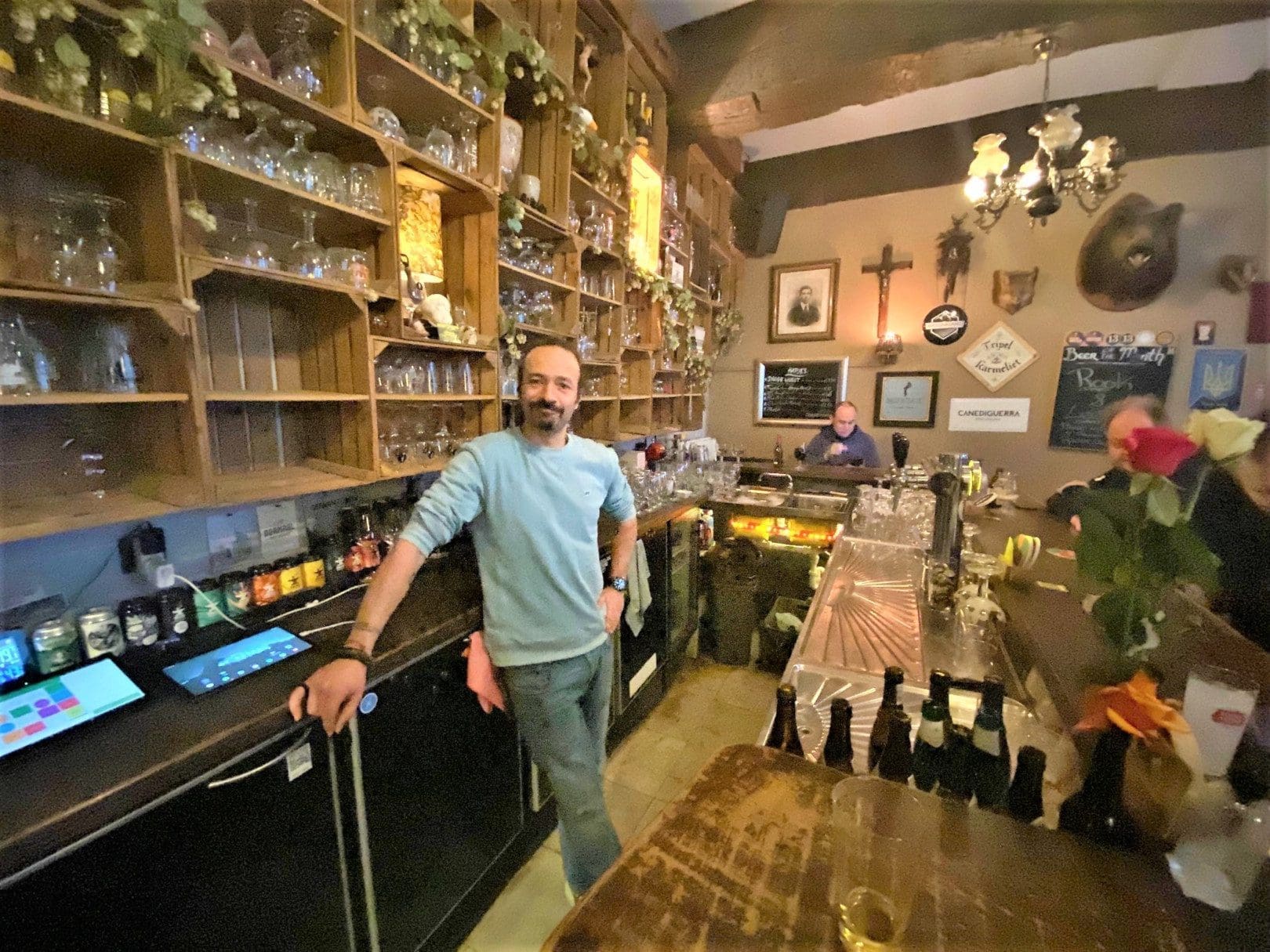 After diner at the contemporary Italian restaurant Baracca, where I had a wonderful tuna steak, and Geert's pub crawl, I conclude my visit of Leuven by returning to De Fiere Margariet where Ben greets me as if I am a local. As I depart he says 'see you tomorrow', and as I explain that I am just travelling through he sounds surprised – clearly Margaret is not too proud to accept me as a guest.
---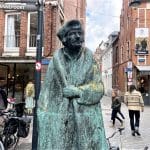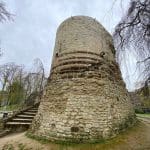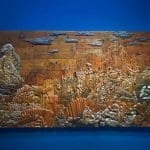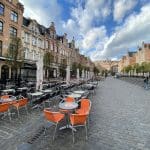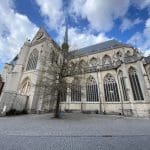 ---
Leuven Belgium Climate Neutral Future
One of the most noticeable and pleasurable features of Leuven is the total absence of cars. They are actively discouraged which allows people to cycle around freely, or walk. Quite what it feels like when the 50,000 students are added to the local Leuven population of around 100,000 inhabitants I do not know, but surely this is the future of travel as well as town living. The town has launched the Leuven 2030 project to become climate neutral by 2030.
Zythos Beer Festival
Each year Leuven hosts the Zythos BierFestival. In 2022 it is from 23 to 24 April, and will feature around 100 breweries. Also from 21 to 22 May, the town will host the 6th Leuven Beer Innovation Festival at the Velodroom, Leuven. Smaller than Zythos, this will allow you to explore the most creative of the up and coming beer in Belgium.
Accommodation in Leuven Belgium
Mark stayed at the Park Inn Hotel, Martelarenlaan 36, 3010 Leuven. The Leuven hotel is located next to the railway station, allowing really quick access to the excellent Leuven Brussels railway service.
Eurostar to Brussels
Mark travelled by train from London to Leuven Belgium. First taking the Eurostar from London St Pancras to Brussels Midi, and then the connecting train from Brussels to Leuven Belgium, which took about twenty minutes. He offset his train journey with Trees4Travel.
---
Leuven Belgium Things to Do
For more ideas on what to do in Leuven Belgium, click here.
Mark Bibby Jackson
Before setting up Travel Begins at 40, Mark was the publisher of AsiaLIFE Cambodia and a freelance travel writer. When he is not packing and unpacking his travelling bag, Mark writes novels, including To Cook A Spider and Peppered Justice. He loves walking, eating, beer, isolation and arthouse movies, as well as talking to strangers on planes, buses and trains.