Best Ways to Visit Scotland this Spring
Travel Begins at 40 Editor
Posted on 1st Apr 2022
Spring has officially sprung. Along with longer days and higher temperatures comes the urge to explore the wonderful landscapes our island has to offer. There are so many highlights to be seen when traveling by car, ferry, train, or bike so here is a breakdown of each to help you decide how to travel for your Scottish adventures this Spring.
Driving is an easy way to discover the country
Driving around Scotland allows you to escape the main tourist areas or simply by visiting at your own pace, with complete freedom. You'll be able to explore Scotland's diverse landscape, from lush farmland to gorgeous castles and breath-taking lochs, all at your leisure.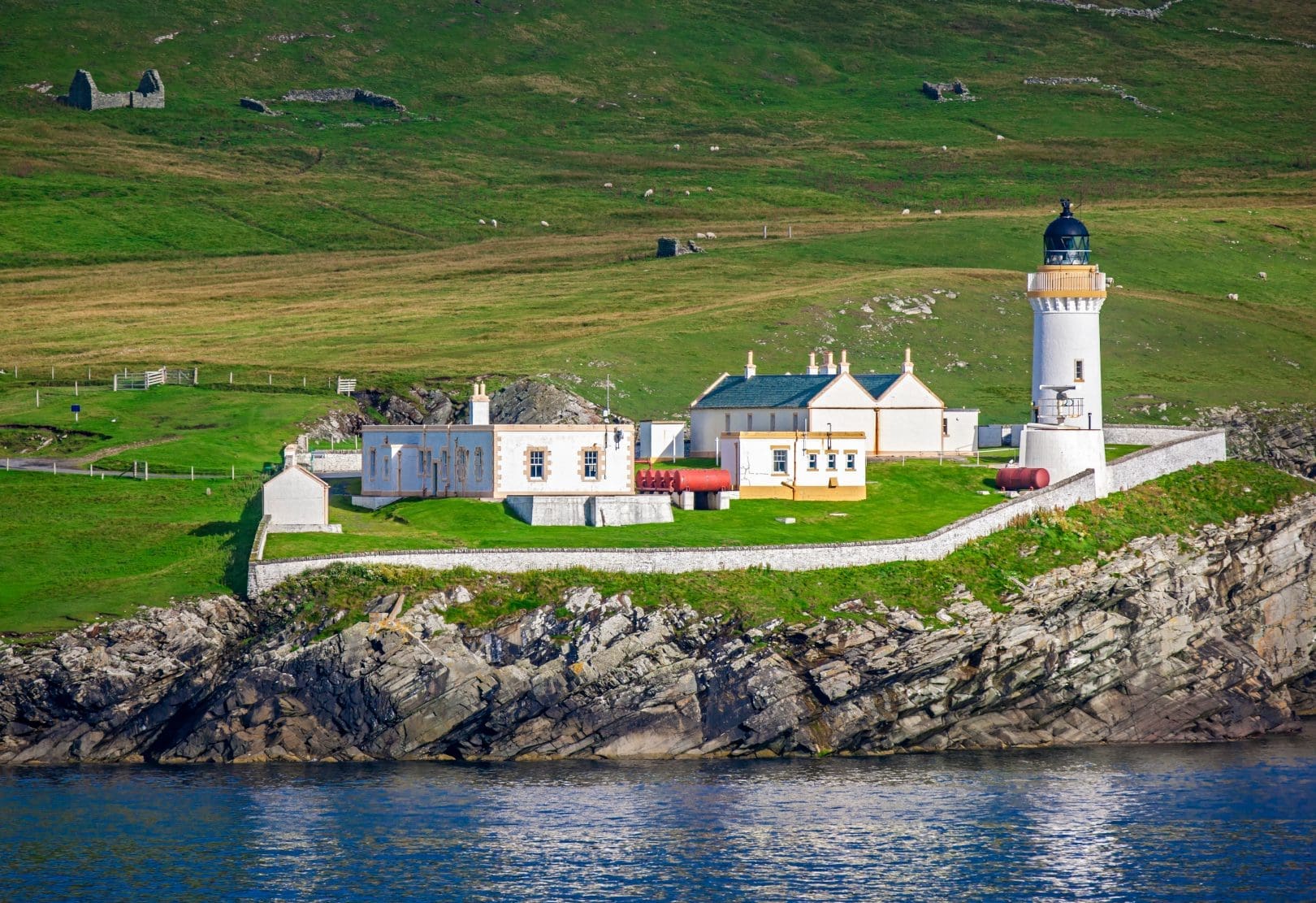 The North Coast 500 road is the focus of Scotland's most well-known road trip route. It begins and ends in Inverness, looping around the Highlands. Because of the route's popularity, it's worth planning your journey well in advance and booking your accommodation in good time, to avoid any stress on your journey.
Taking the train offers many benefits
For example, many of Scotland's railway lines run through gorgeous scenery that you otherwise may not get to see. Free from the restrictions of driving, you can stretch your legs, kick back with your favourite book and even have a beer should you so desire.
Travelling by train is also more environmentally friendly than a car journey, as it almost always results in less greenhouse gas emissions. While driving, you can plan your exact route yourself, Scotland is extremely well connected by rail so provides plenty of destination options so you can explore the country to its fullest.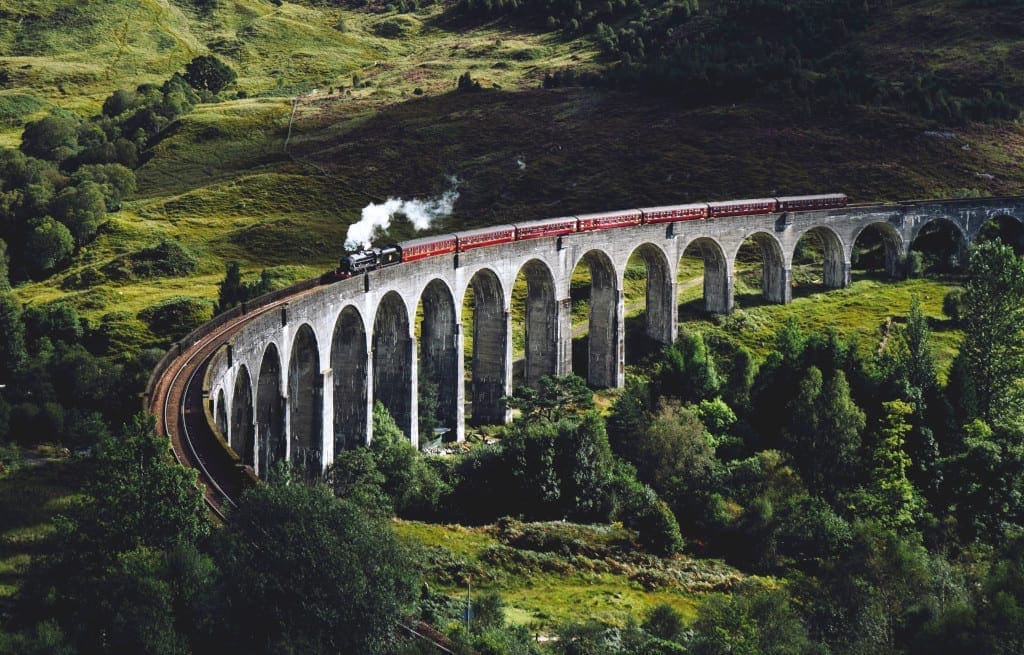 The ferry: useful to reach Scotland and visit some of the "900 offshore islands" scattered all around the country.
Scotland's 900 islands are broken down into four main groups: Shetland, Orkney, the Inner Hebrides and the Outer Hebrides. The Shetland islands are the UK's most northern point. Out of 100 islands, fewer than 20 are inhabited.
The Orkney islands, on the other hand, contain UNESCO World Heritage Sites, white sandy beaches, and breath-taking wildlife. This makes the Orkneys a highly popular tourist destination. If you want a chance of seeing the Northern Lights too then the best time to visit is during autumn or winter.
The Inner Hebrides can be reached from Glasgow – the most popular island is Skye, which is home to some of the country's most iconic attractions, such as Dunvegan Castle, Talisker Distillery and the Fairy Pools. Finally, the Outer Hebrides are often considered the best destination for those looking for a UK beach getaway, thanks to their powdery white sands and clear blue waters.
Scotland's cycle routes are known to be among the "wildest and most beautiful in the UK". Check out the best Scottish cycling trips:
Loch Katrine and Duke's Pass is a 76km -ong route with an elevation gain of 1,113m. Your journey starts and finishes in Callander, taking you on a challenging journey with ever-changing gradients – which is worth it for the descent with views over the Trossachs,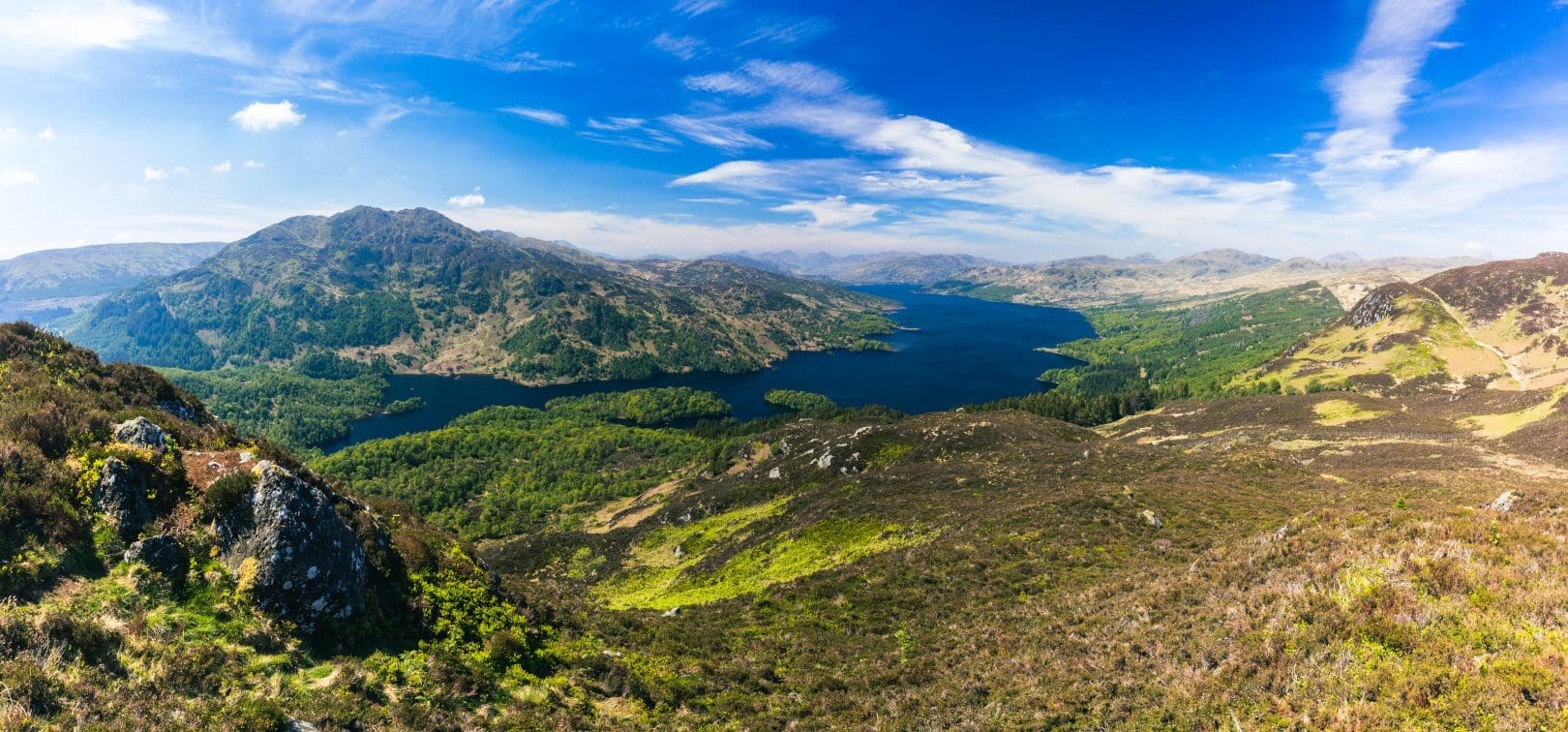 Callander to Loch Katrine with a ferry is a route that makes for a more relaxed and quiet day out. It is very family friendly, as it is possible to take the ferry across the Loch to avoid the hilly area on the north side of the Loch.
Glen Ogle, Lairig Nan Lunn and Ben Lawyers is a route that offers something a bit different, taking you on a tarmacked old railway trail. And on the return journey, you will get a beautiful view of it from the main road.
By foot: One of the most iconic routes is called "The West Highland Way" starting from Glasgow.
Scotland is famous for its varied and gorgeous walking and hiking, from coastal trails to mountain climbs. If you are looking for a challenge, the West Highland Way is a 96 miles long route option, stretching from Milngavie to Fort William, boasting diverse scenery from the countryside to lochs, moorlands and mountains. This requires thorough planning though, and the length of each stage of the walk should be determined by your physical fitness, as well as opportunities to explore areas of interest along the way.
Travel Begins at 40 Editor
Travel articles, news, special offers, festivals and events from the Travel Begins at 40 Editorial team and our global network of travel industry contributors.