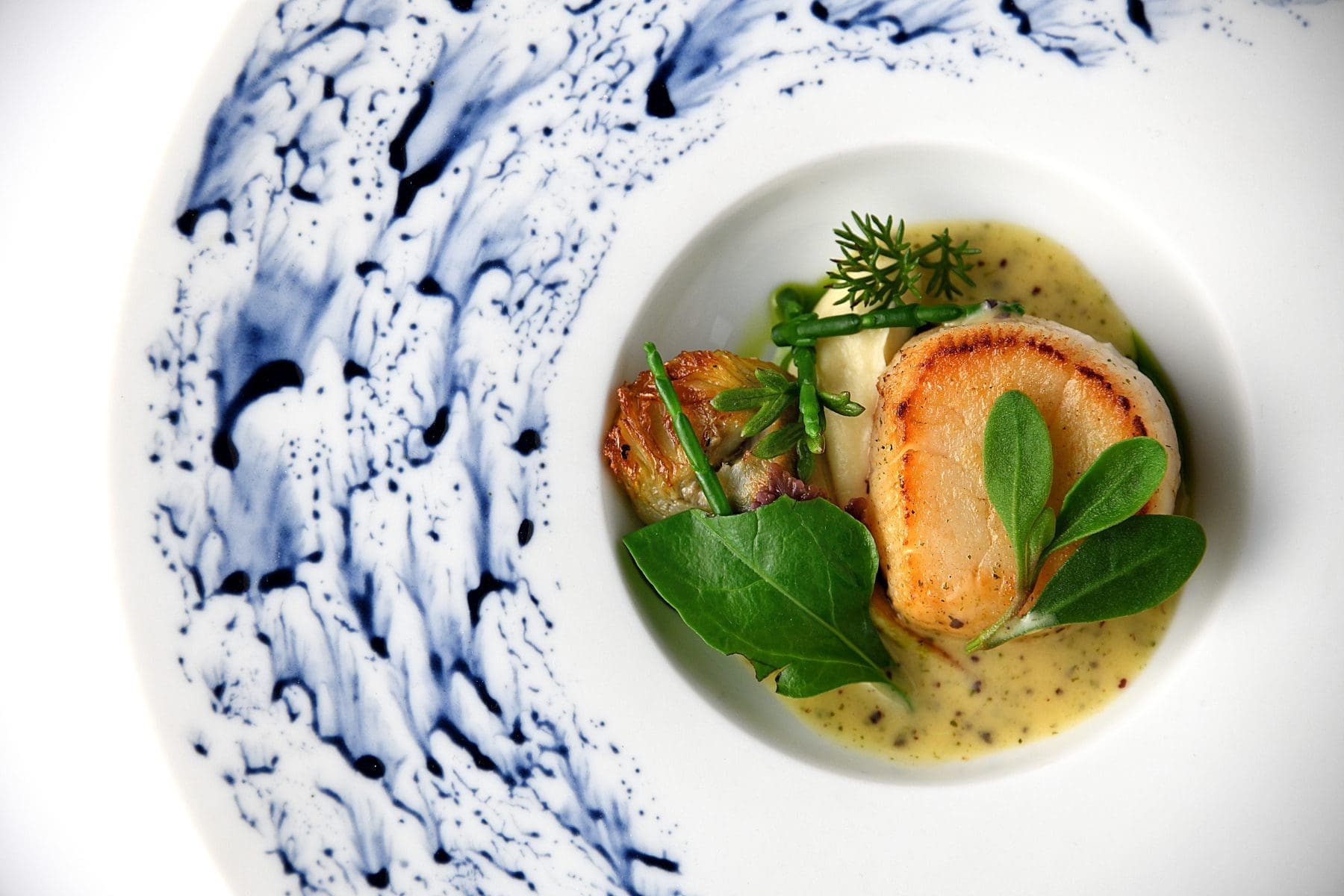 A Seafood Symphony at Lympstone Manor Devon
James Clark
Posted on 2nd Jun 2022
James Clark visits Lympstone Manor Hotel to discover a veritable Babette's feast in Devon courtesy of Michael Caines and a posse of international chefs.
There has been a lot of talk around celebrity chef Michael Caines getting behind the wheel of Lympstone Manor hotel, near the city of Exeter in Devon.
Five years ago, Michael visited the dilapidated building, and fell in love with its potential. Today it stands proud complimenting the natural surroundings around the hotel.
The point of my visit was to join Michael, some of Relais & Châteaux's UK & Ireland chefs, and guests, for a Seaweed Symphony highlighting the delicious and regenerative bounty of the sea.
Getting to Lympstone Manor Devon
I took a taxi from Exeter St Davids – one of three main train stations in what looked to me to be a small city. I found myself being driven into the grounds of the property in about 20 minutes and was immediately overwhelmed with views of the manor and gorgeous location. I felt immediate excitement and ready to begin my Lympstone Manor adventures.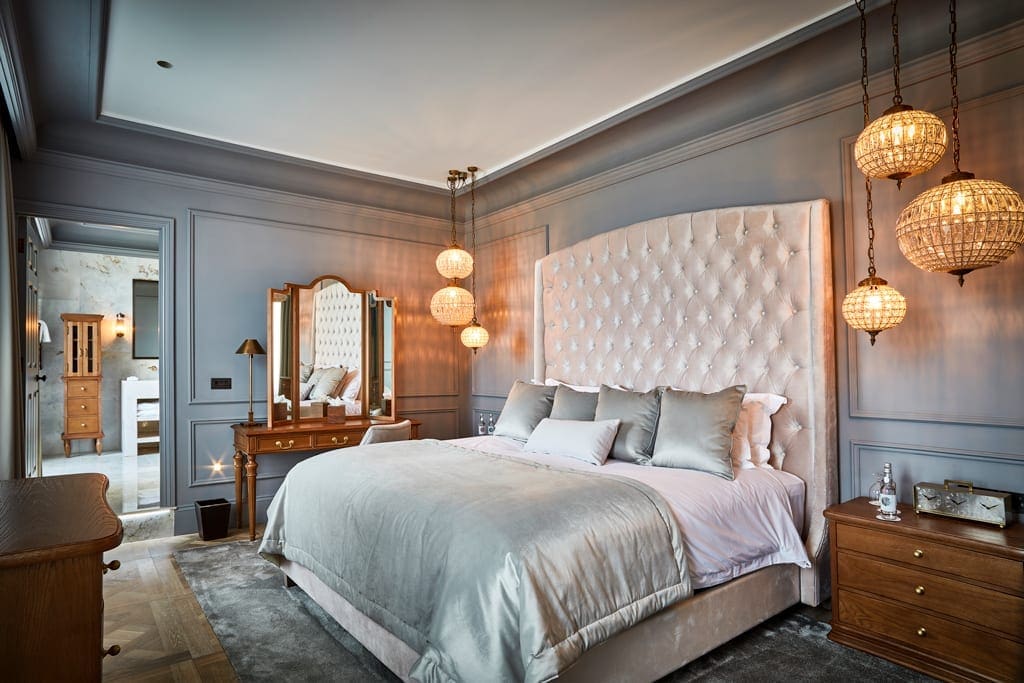 I was welcomed warmly by members of Michael's team on the steps of the manor. I was keen to see what my suite for the night looked like, but I did not have to wait long. I was quickly taken upstairs to my large and beautiful suite on the second floor.
The Rooms at Lympstone Manor Hotel
The suite had a lounge, bedroom, a dressing area and a spacious bathroom with two gold roll baths and a separate power shower with appreciated complimentary L'Occitane toiletries. Unfortunately, I did not get the time to try out one of the two baths, but it's on my things to do list on my next visit. I settled into the beautifully furnished and comfortable lounge area feeling grateful for the magnificent views of the Exe Estuary, as well as the gin tray and fruit platter presented perfectly on the teak coffee table, while I enjoyed a moment of calm.
I hung my suit for the evening in the large wardrobe and decided to head out for a walk around the property to enjoy some of the amenities. On my walk I noticed that the lower floor properties had their own patios, outside seating, fire pit and an outdoors bath overlooking the perfectly manicured lawn and surrounding natural beauty.
Lympstone Manor Hotel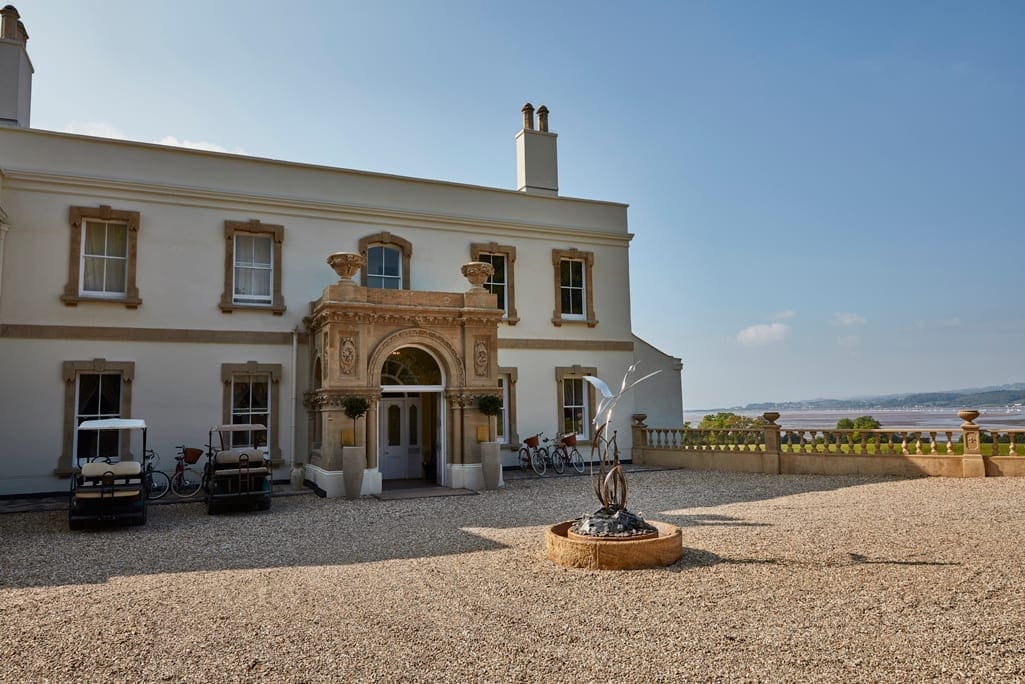 The grade II listed house has 21 luxurious guest rooms and suites, named after different birds from the Exe estuary which you may see from the hotel.
The classic and elegant interiors do not look out of place with the age of the property. To give it a modern touch large artworks from recently established art exhibition and sales company Fine Art @ are positioned on the hotel's light coloured walls, enhanced further by natural light pouring in through large windows. The artworks of land and sea by the likes of Wendy Adams and Laurence Hudson are for sale.
The Swimming Pool and Pool House
The new and heated outdoor pool sounds good on paper, but to take a dip in the warm water with sweeping views across the hotel's amazing grounds and Exe estuary is something special. It is the ideal spot to bask in that all important vitamin D, relax and unwind. There is also a tennis court, a lawn area for wellness activities such as yoga and a pool house shower and changing rooms.
The new pool house's food and beverage menu is relaxed and casual. Think brunch, local seafood, salads, pastas, grilled meats, delicious desserts, and a well-stocked bar with a generous looking cocktail list. Its open seven days a week from 11am-3pm and 5pm-8pm.
Michael Caines and his Wines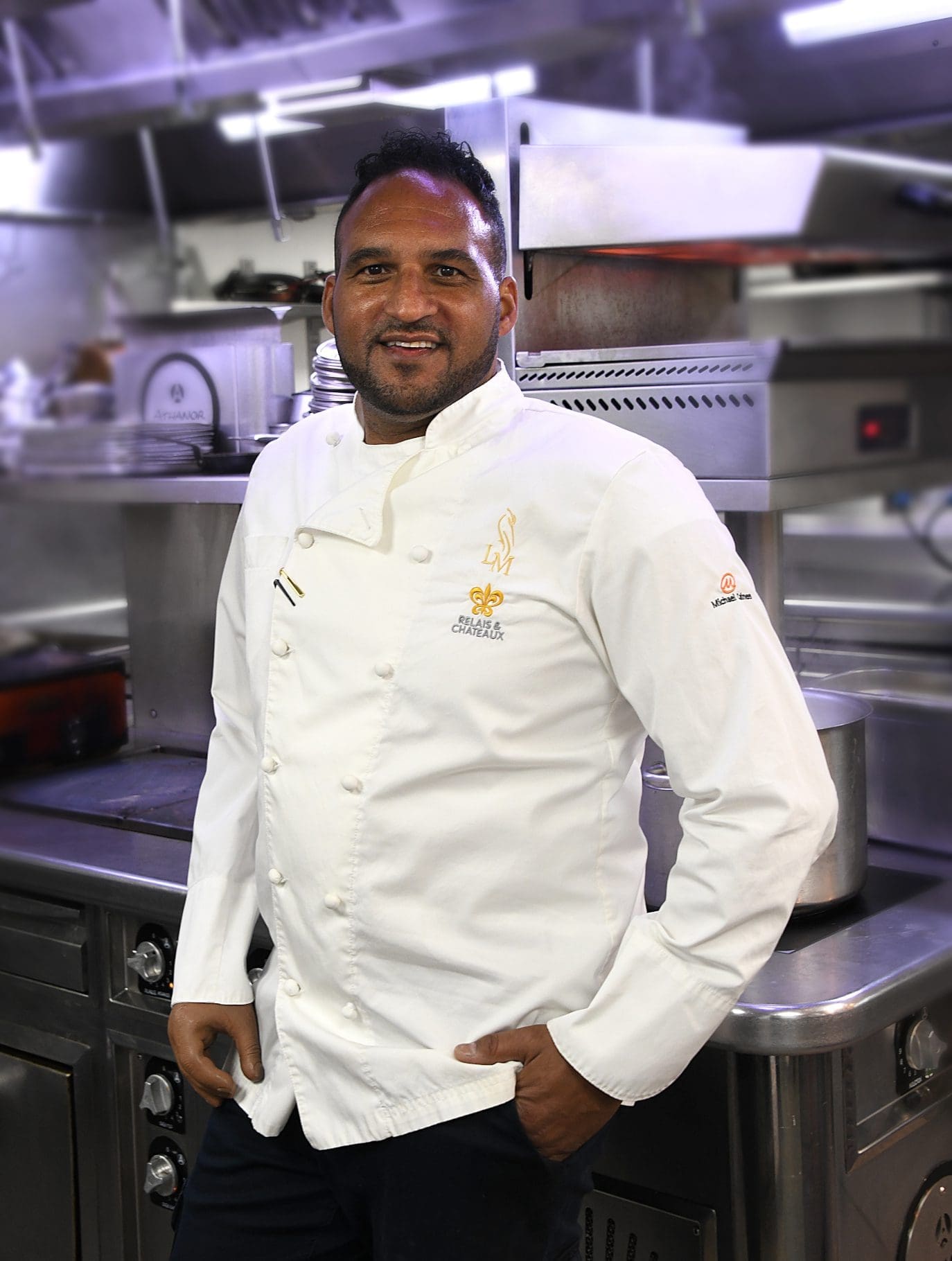 It is here that I met Michael and chatted about his passion for English wine. In 2018, Michael and his team planted 17,500 vines (Pinot Noir, Pinot Meunier, Chardonnay) with the desire to make some of the finest English sparkling wines in Devon. In 2020 the first harvest took place. Fast forward to 2022 and a selection of wines have been produced with the help of Lyme Bay Winery, located close to nearby Axminster.
The top players for this year include the Lympstone Manor Pinot Noir with black cherries, raspberries, and bramble fruit with subtle notes of toasty oak, and the Lympstone sparkling wine with blackberries, cherries, and smoky chocolate. I happily sampled and enjoyed both as I discovered more about Michael's vision and the predominant reason for my visit – A Seaweed Symphony. Allow me to explain.
A Seaweed Symphony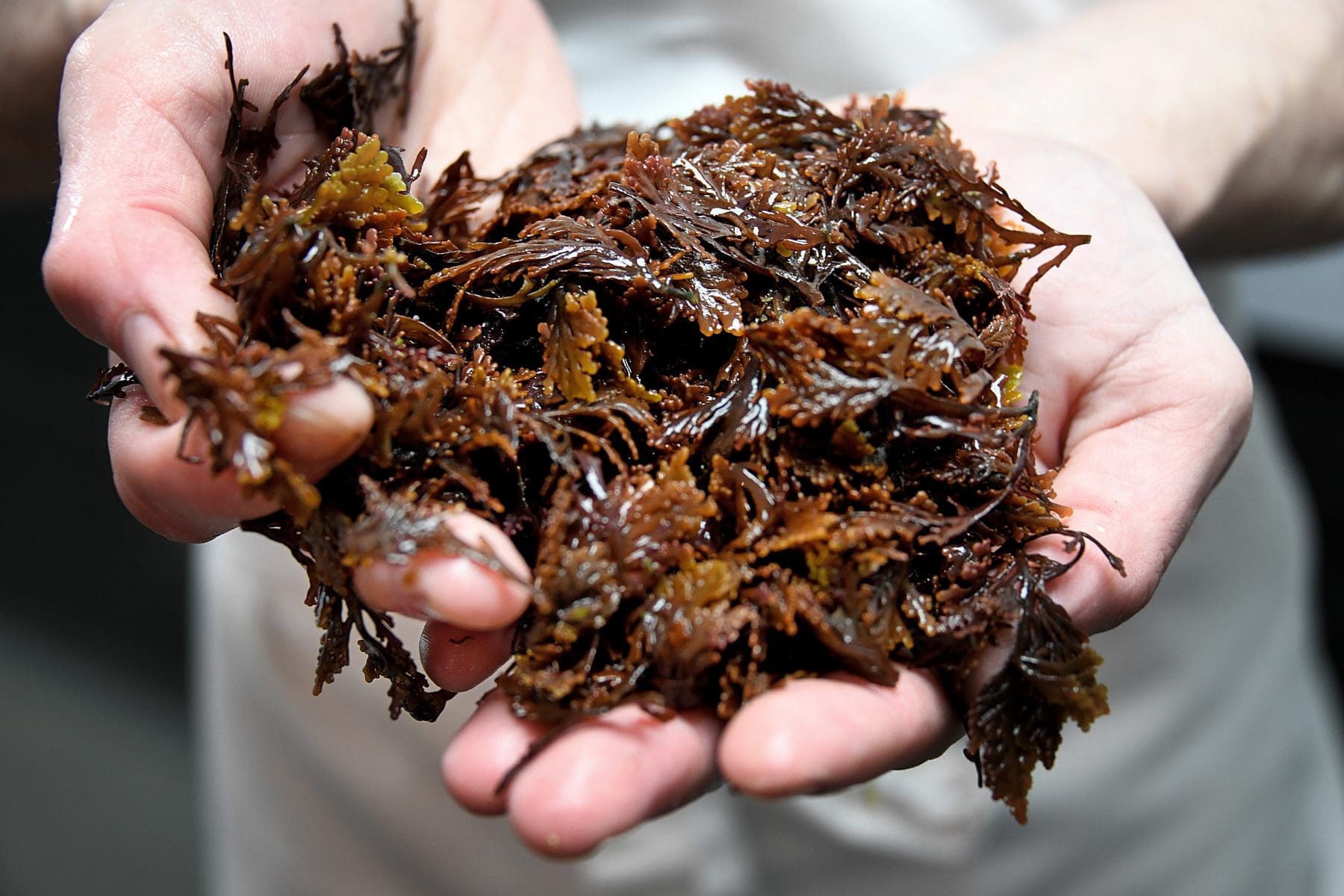 Earlier this year, the United Nations announced that 'Revitalisation: Collective Action for the Ocean,' to be the theme for this year's World Oceans Day which is taking place on 8 June to raise awareness of restoring life in the ocean. Regenerating the oceans is close to Michael's heart.
"Lympstone Manor is in an outstanding location just by the sea, overlooking the Bay of Lyme and the Exe Estuary," he says. "We champion the best seafood ingredients on our doorstep and in doing so, reduce food miles, and in a sustainable way by buying what's in season, as well as lesser-known fish.
"We feel passionate about including seaweed on our menu and incorporating it into our cooking because it's so versatile to be able to shine a light on this excellent product around UN World Oceans Day."
The Start of the Evening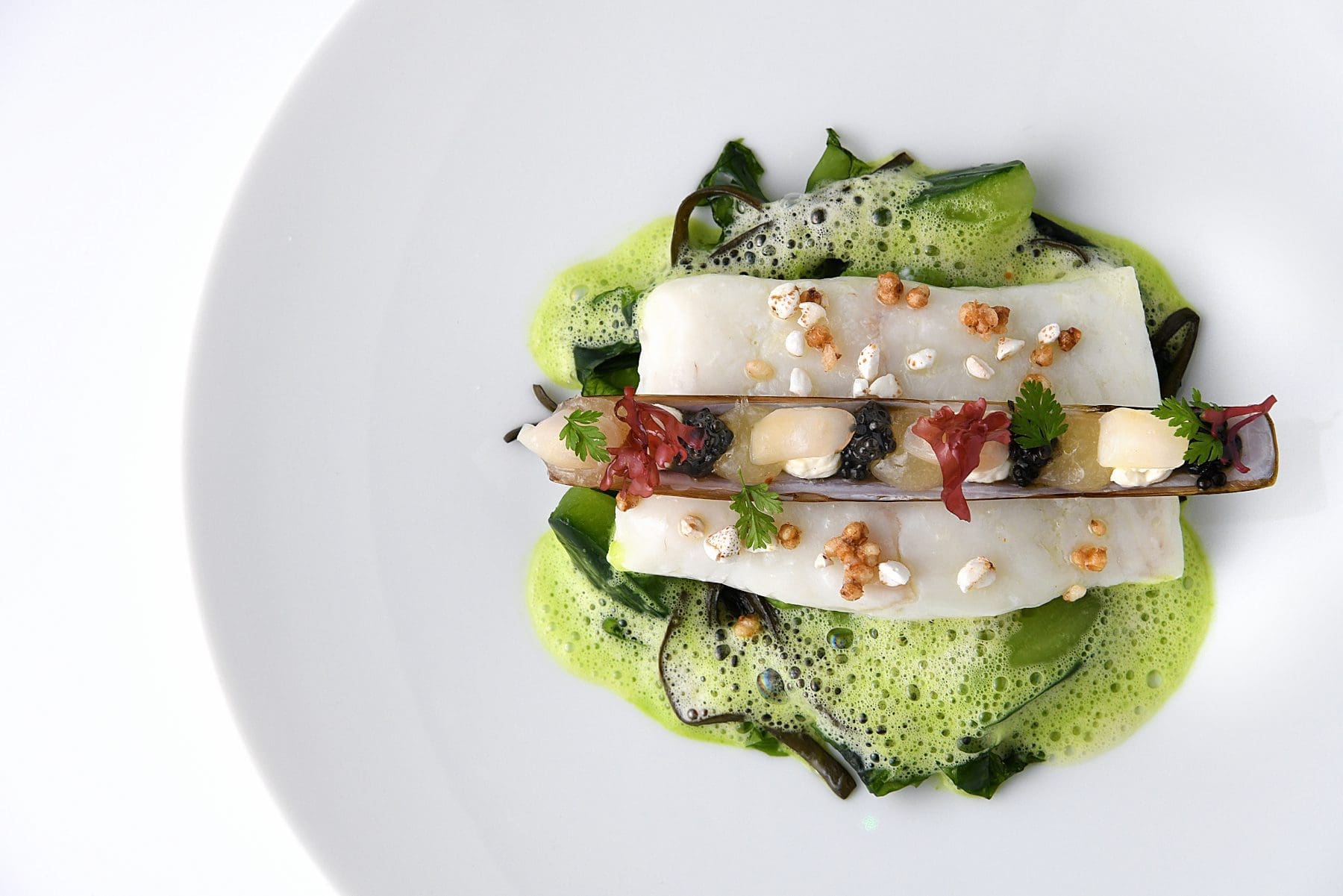 After a long, hot and powerful shower, I headed downstairs to the Lympstone Manor restaurant for a couple of glasses of champagne, canapés prepared by Michael himself and mingling with the other guests, including one woman that had arrived that day from Canada.
The canapés included pea and mint choux, mint gel and wild sea pea, tartlet of smoked salmon mousse with trout roe and wild fennel, shellfish tartlet, pickled carrot, and tomato jelly and tagette flowers, seaweed tuille, smoked mussel emulsion and crispy tube of smoked turbot roe emulsion with seaweed and mustard vinaigrette. It was a wonderful way to start the event that set the standard for what was about to come.
The Chefs and their Dishes
Gareth Stevenson, the head chef at Palé Hall in the north of Wales delivered succulent roasted monkfish, poached Conwy mussels, spinach puree, laver bread and beurre blanc to the table. For those of you that do not know laver is an edible seaweed with a reddish-purple and green colour that becomes black when dry.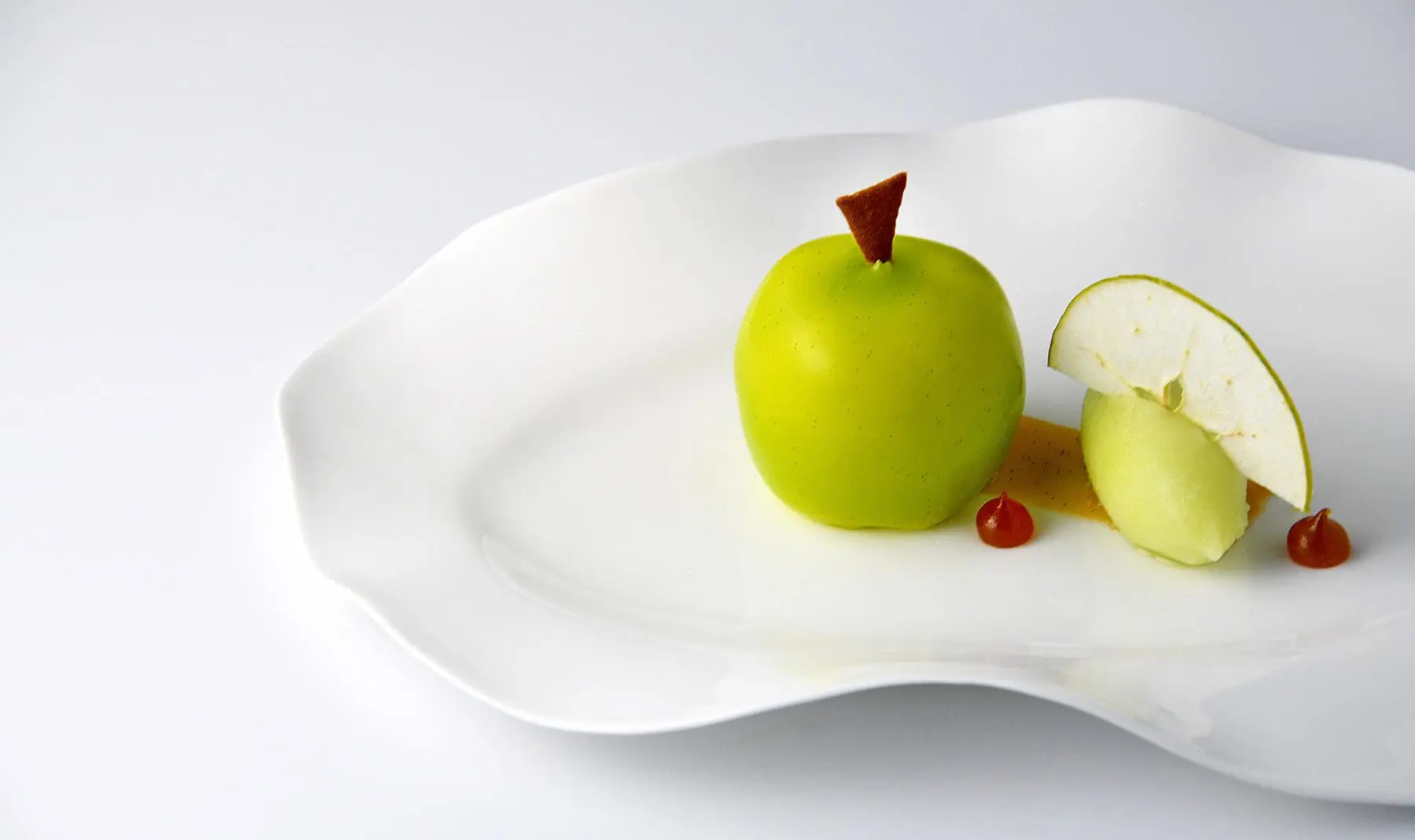 Aaron Patterson, head chef director at Hambleton Hall in Rutland continued the seaweed theme with fillet of turbot, sea spaghetti, razor clams and Exmoor caviar. Sea spaghetti's smooth strips can grow to an impressive three metres in length.
James Coffey, executive chef at the Park Hotel Kenmare in Ireland delivered seared scallop, artichoke barigoule, and sea vegetables, including samphire (technically not a seaweed as it grows in the tidal zone on beaches and marshes), sea beet, orache (mountain spinach) and sea aster (see main image). The fact that it was foraged by his own hands from the local coast made it extra special.
Calum Innes, the head chef at Airds Hotel and Restaurant on the west coast of Scotland continued with roasted Scottish langoustine tail, pepper dulse beurre blanc, and samphire and bergamot gel. Dulse is a salty seaweed that forms dense clumps of about fifty centimetres in diameter.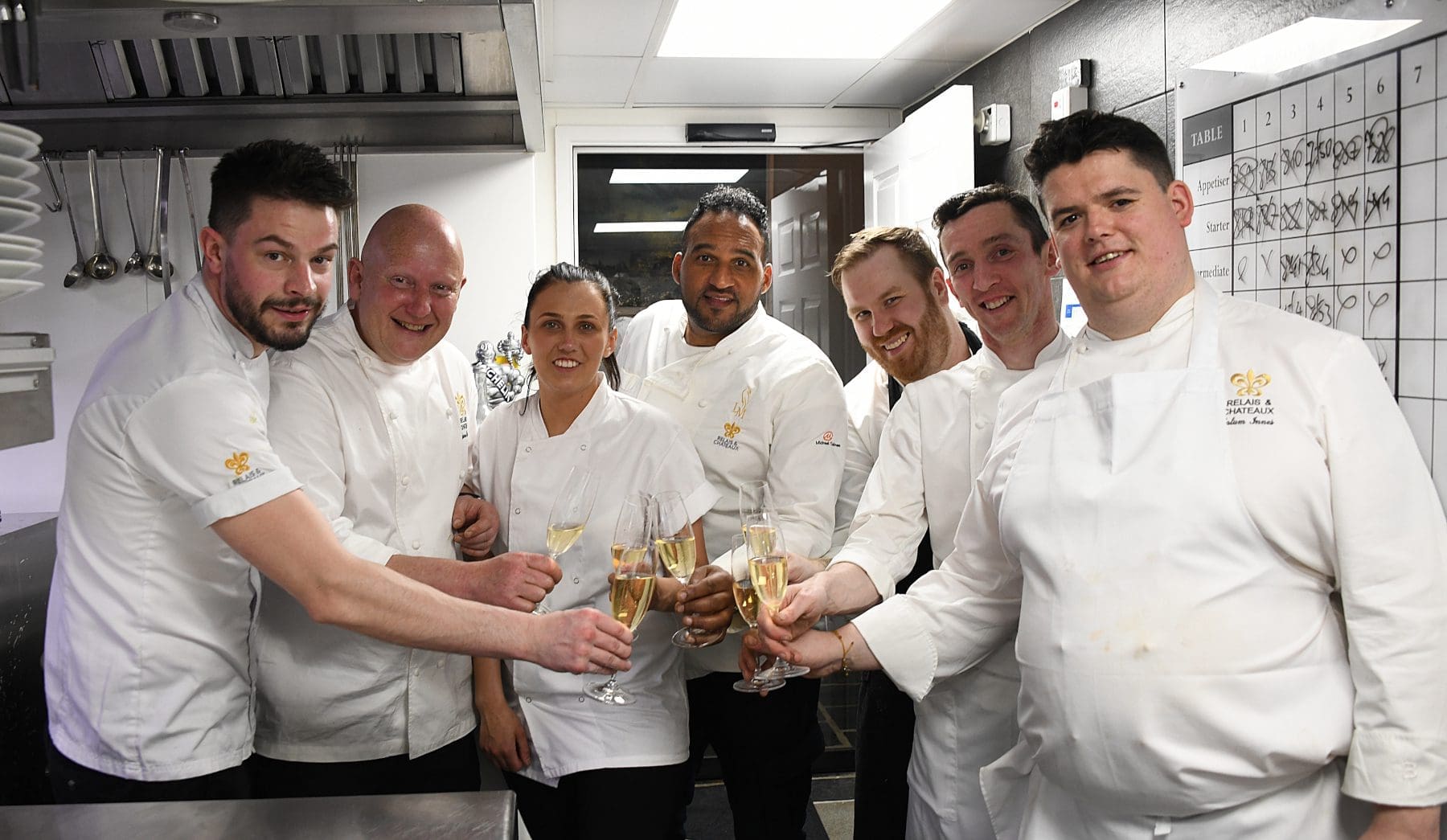 The Seaweed Symphony extravaganza finished with apple mousse, caramelised apple gel and green apple sorbet prepared by Michael.
With an extremely fully and happy belly I decided it was time to retire for the perfect night's sleep before breakfast.
---
Alternatively, why not see Michael in action at the Taste East Devon Food and Drink Festival in September.
---
Michael Caines Collection
The Michael Caines Collection currently comprises of Lympstone Manor, The Cove in Maenporth, The Harbourside Refuge in Porthleven, as well as Mickeys Beach Bar and Restaurant and Café Patisserie Glacerie on the Exmouth Sideshore.
Lympstone Manor Hotel
Nightly rates in the main house at Lympstone Manor available from £395 per night including breakfast and based on two sharing. Lympstone Manor Shepherd's huts are also available. Bookings available here.
Information about Relais & Châteaux hotels can be found here.
James Clark
James Clark is a UK-based travel writer specialising in adventure and the great outdoors.