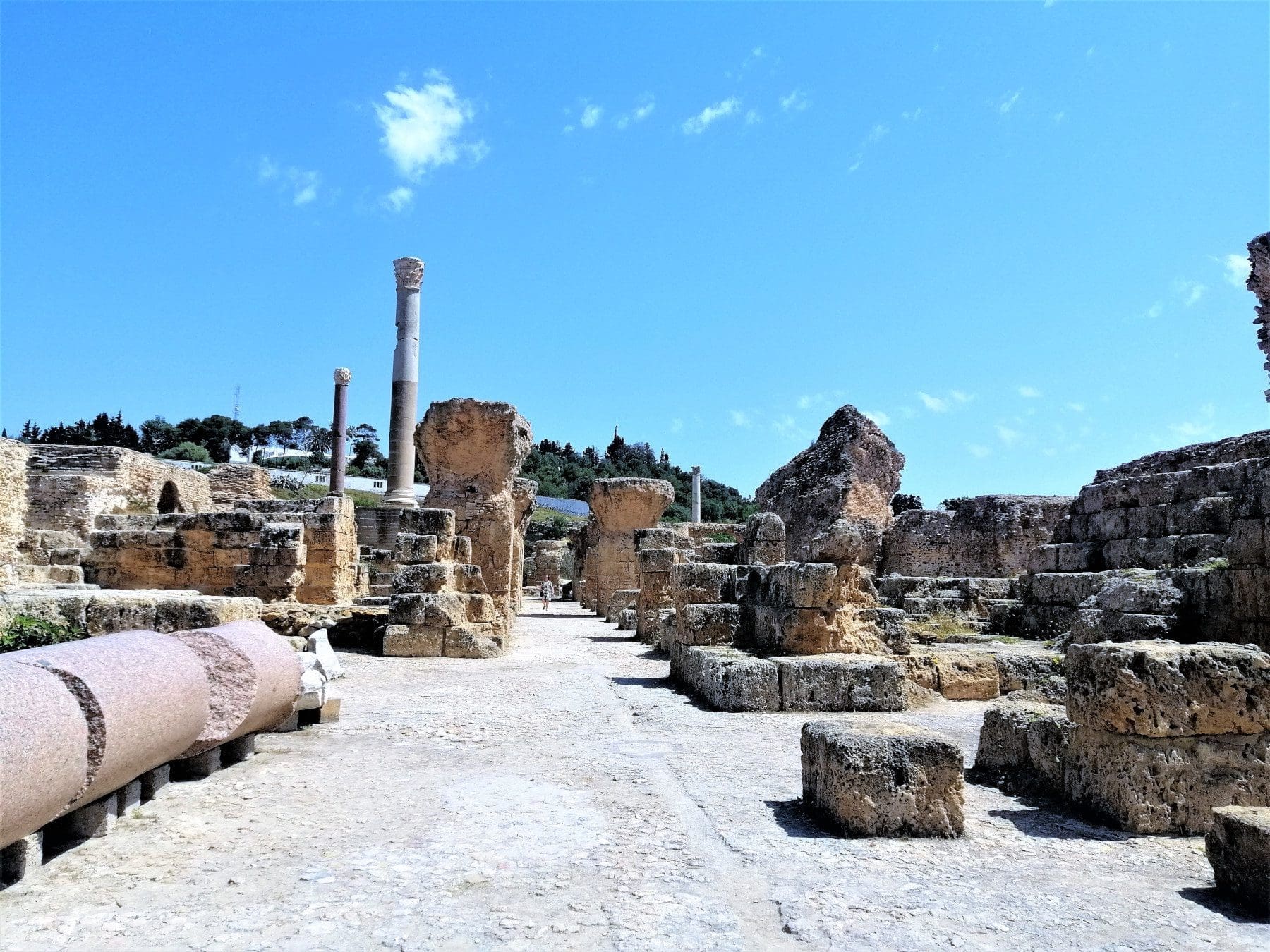 It's Time to Tune in to Tunisia
Marion Ainge
Posted on 4th Aug 2022
Marion Ainge soaks up sunshine, souks, the Sahara and seafood on her trip to Tunisia.
Holding up a statuette as I pass by, the young stallholder calls out, "This is the Queen of Carthage. She is as beautiful as you are!"
I bet he says this to all the 'girls', but I can't help smiling, and if it helps his trade, good luck to him.
Visting Carthage Tunisia
Dido was the first queen of Carthage and founder of the ancient North African city in Tunis in the 9th century BC. Once a powerful city, Carthage was destroyed then rebuilt by the Romans, and as an archaeological site it remains an outstanding tourist attraction with Roman Baths, amphitheatre and a Roman villa.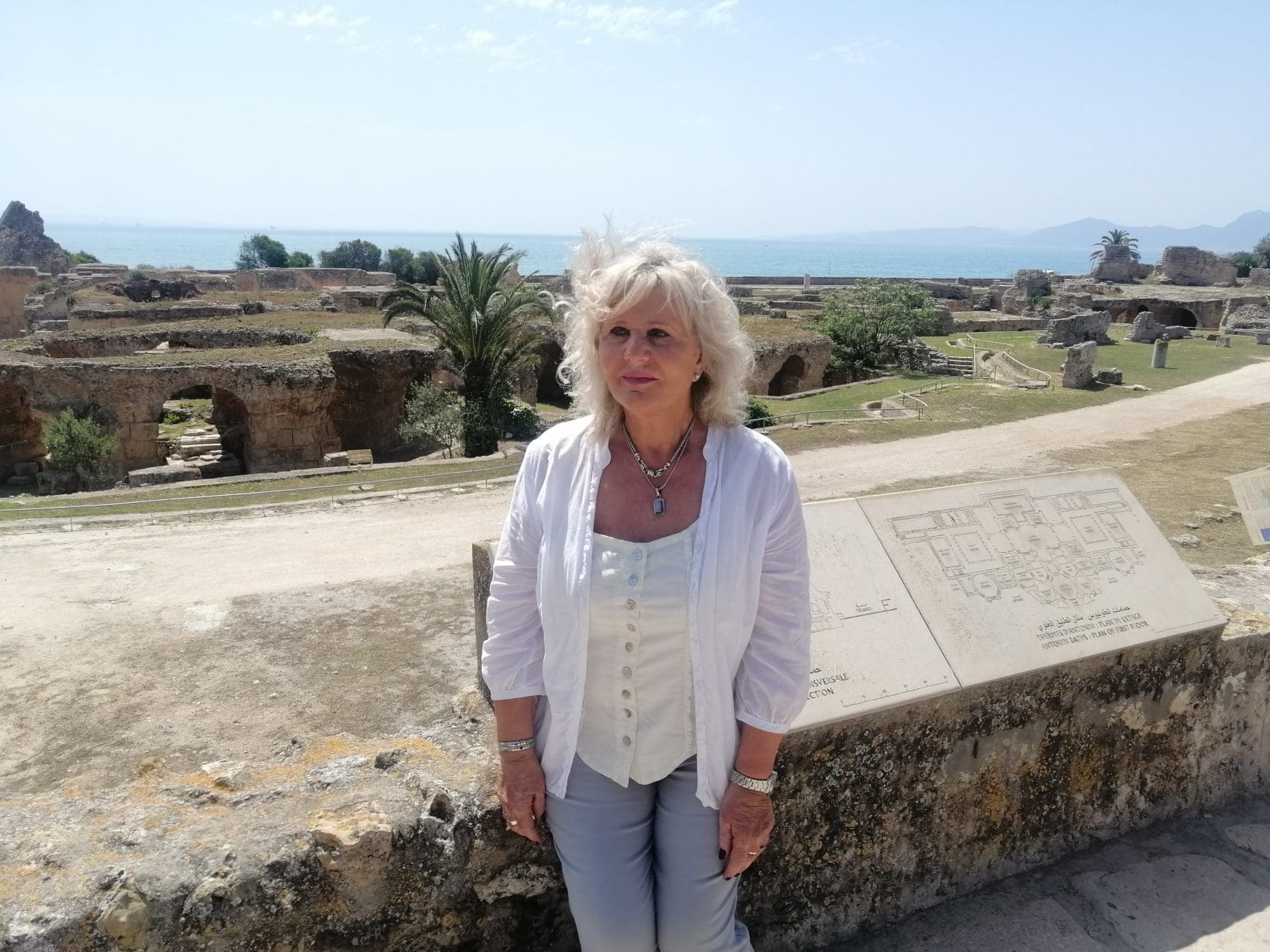 Not far away, we wander the myriad of cobbled streets of the blue and white splashed Moorish village of Sidi Bou Said. Set on a clifftop overlooking the shimmering turquoise Mediterranean, harbour and marina, it's an artisan haven with fascinating little shops, cafés and back alleys, and spectacular views. Many Tunisians spend weekends here. In 1956, Tunisia gained independence from France, but French is still widely spoken here plus different Arabic dialects.
Ghriba Festival, Djerba
An hour's flight from Tunis take us to the idyllic island of Djerba, which is about the size of the Isle of Wight. Djerba lies just off the south east coast of Tunisia and links to Tunis via a Roman causeway. We're here for the Ghriba Festival, where around 1,000 local Jews meet with thousand of pilgrims of Tunisian Jewish descent who come over from France, Spain, Israel and other countries to gather in and around Africa's oldest synagogue, the prominent Ghriba. They light candles, take part in processions, play music, dance, feast and pray.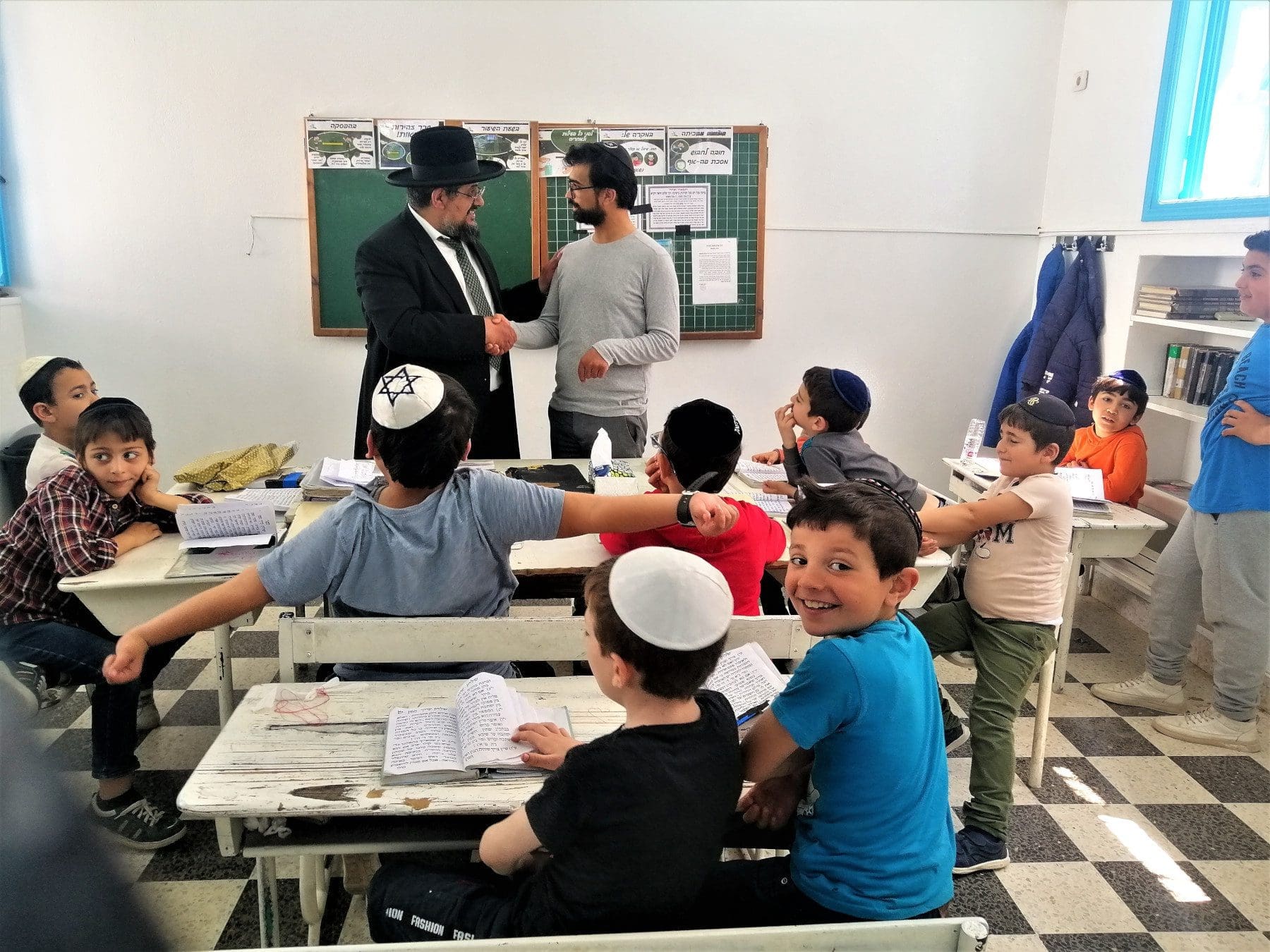 At a Jewish boys' primary school, we peep through latticed windows and doorways to watch students at work. Wearing their traditional harmulkes (skull caps), some of these cheeky, inquisitive youngsters turn to grin at us. The most revered Tunisian Rabbi visits each classroom to bless the students. Although I'm not Jewish myself, respectfully, I tie a scarf loosely on my head before I stand next to several visiting rabbi outside.
Reviving a Tourism Sector
The Ghriba Festival marks the launch of the Visit Tunisia project, a five-year government plan to promote the revival of the Tunisian tourist sector. Our base is the beautiful Royal Garden Hotel, where, at an international press conference, the Tunisian Minister of Tourism, Mohamed Moez Belhassine, explains that the ministry's goal is to welcome nearly 5.7m tourists in 2022. Hopefully, this will include many UK visitors, as the white velvet beaches, crystal blue waters, year round warmth, sunshine and stunning hotels make Tunisia a great holiday destination.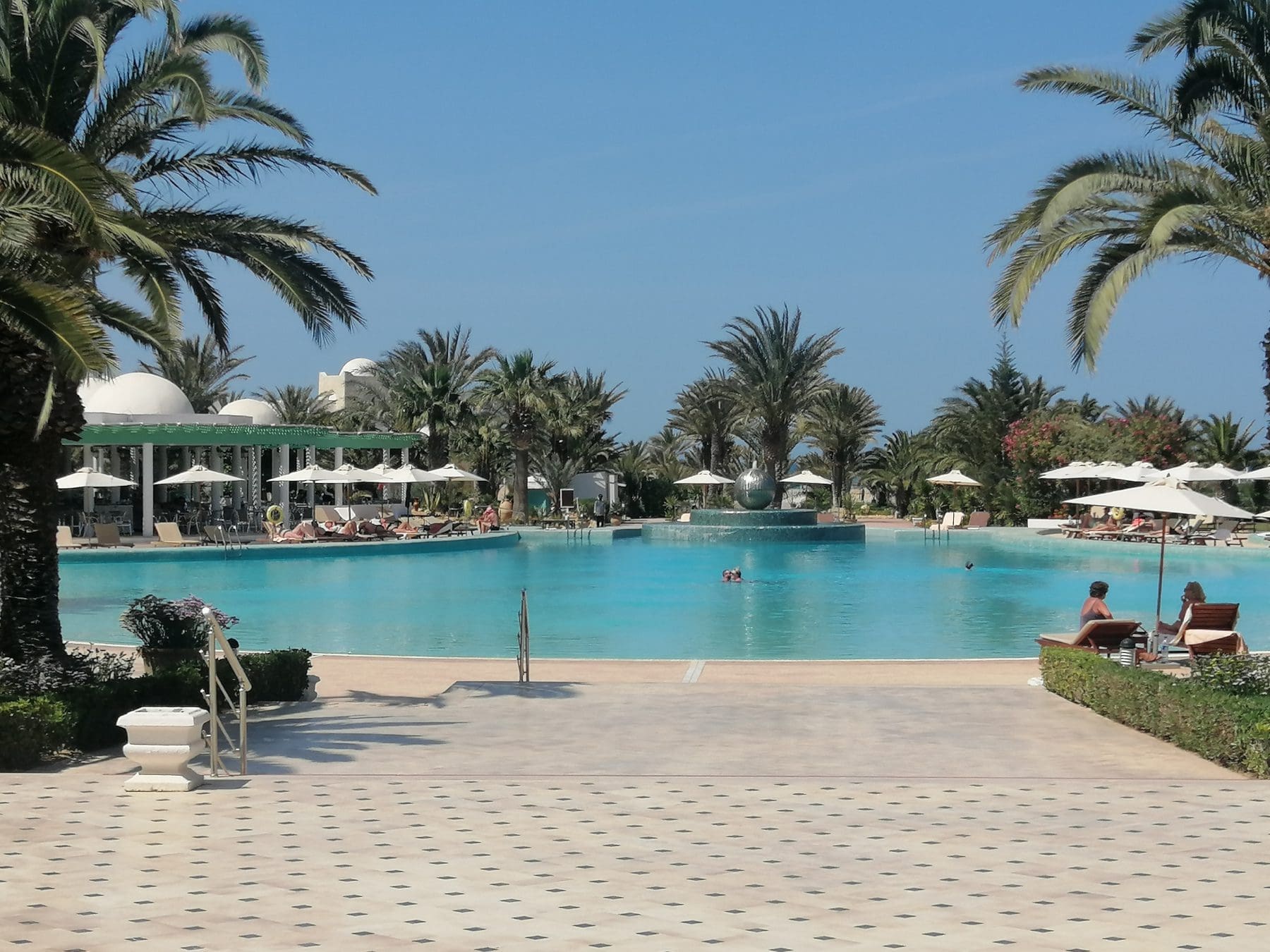 There's so much to see and do – history, culture, colourful souks/markets (unbelievable prices but do barter) stylish resorts, pretty villages, family accommodation and camel rides. Everything is so cheap. One evening, my round of drinks – two spirits, two cokes and a glass of wine – cost the equivalent of £5. You can get a three-course meal for the same price. All this and only a three-and-a-half hour flight from Heathrow (Tunis) or Manchester (Hammamet).
Star Wars and the Sahara
After a drive along, long straight roads, within the searing hot 'spaghetti western' desert – it was 35C – we reach Tataouine. Star Wars fans will know this is the town which inspired the name for the home of series' hero, Luke Skywalker. May the force be with you. The set of the first Star Wars' film, shown in 1977, is now the Hotel Sidi Idriss. Within the grounds, a family of huge model dinosaurs stand guard. Nearby we look at the crumbling remains of Chenini, a Berber village. Here, legend says that the Mosque of the Seven Sleepers marks the spot where seven men, persecuted for their religion and imprisoned in a cave for many years, emerged alive.
A few kilometres away, the Dakyanus Hotel is our oasis in the desert. The stunning stone features make it feel like a small palace and the staff are charming. On the cool terrace we lunch on fresh fried fish, salad, potatoes and lots of side dishes. The pool is so inviting that one of our group decides to take an impromptu dip. There's a Bedouin camping facility, but I'm not sure if you can park your camel there.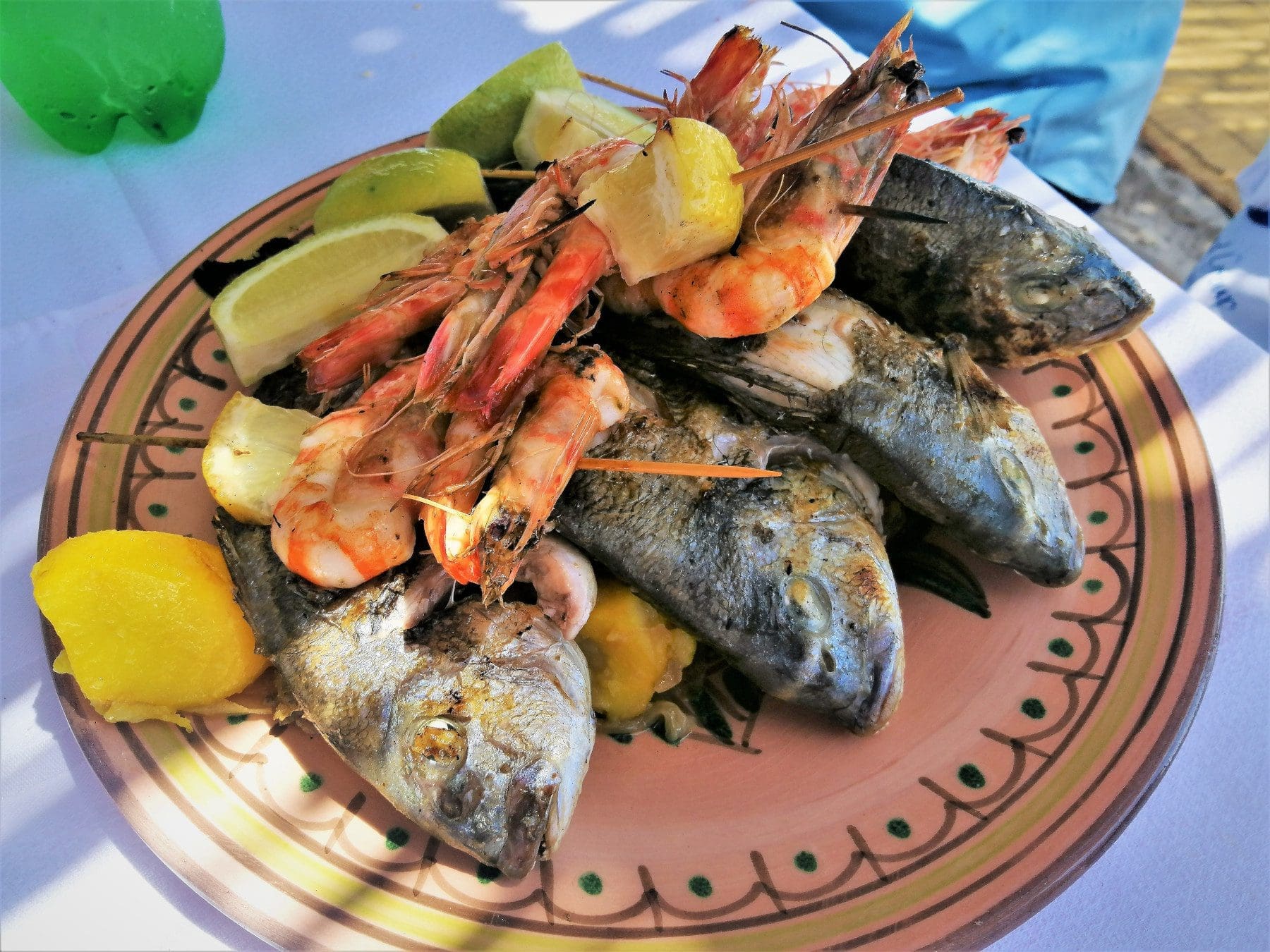 At the exquisite Golden Carthage Hotel in Tunis, we chat over pre-dinner drinks on the terrace when we receive an unexpected invitation to dine at the hotel's Indian restaurant, Calcutta, reportedly the best in Tunisia. The food is sublime.
In La Marsa, we eat at the harbourside Restaurant Haroun, reputedly the best on the island. The food keeps coming – olives, mussels, sweet tomatoes, aubergines, freshly caught sea bass, squid, prawns and more. Another day, we join others to board the restaurant owner's magnificent wooden 'pirate' ship, bound for Flamingo Island, a deserted Paradise. The young male crew entertain as they leap from beam to deck, flex their muscles, swing ropes about and perform a hip-rolling dance for us. You Can Leave Your Hat On….I did, it was getting hotter.
I'm certainly staying tuned to Tunisia!
---
Flights to Tunisia
Tunisair flies from Heathrow to Tunis; AirFrance from Manchester to Tunis (via Marseille); Easyjet from Manchester to Hammamet.

For more information on Tunisia
Visit: www.discovertunisia.com.
Marion Ainge
Independent and ready to go! North West UK-based travel journalist (former newspaper women's editor/columnist) loves life and new adventures.
Subscribe to our newsletter