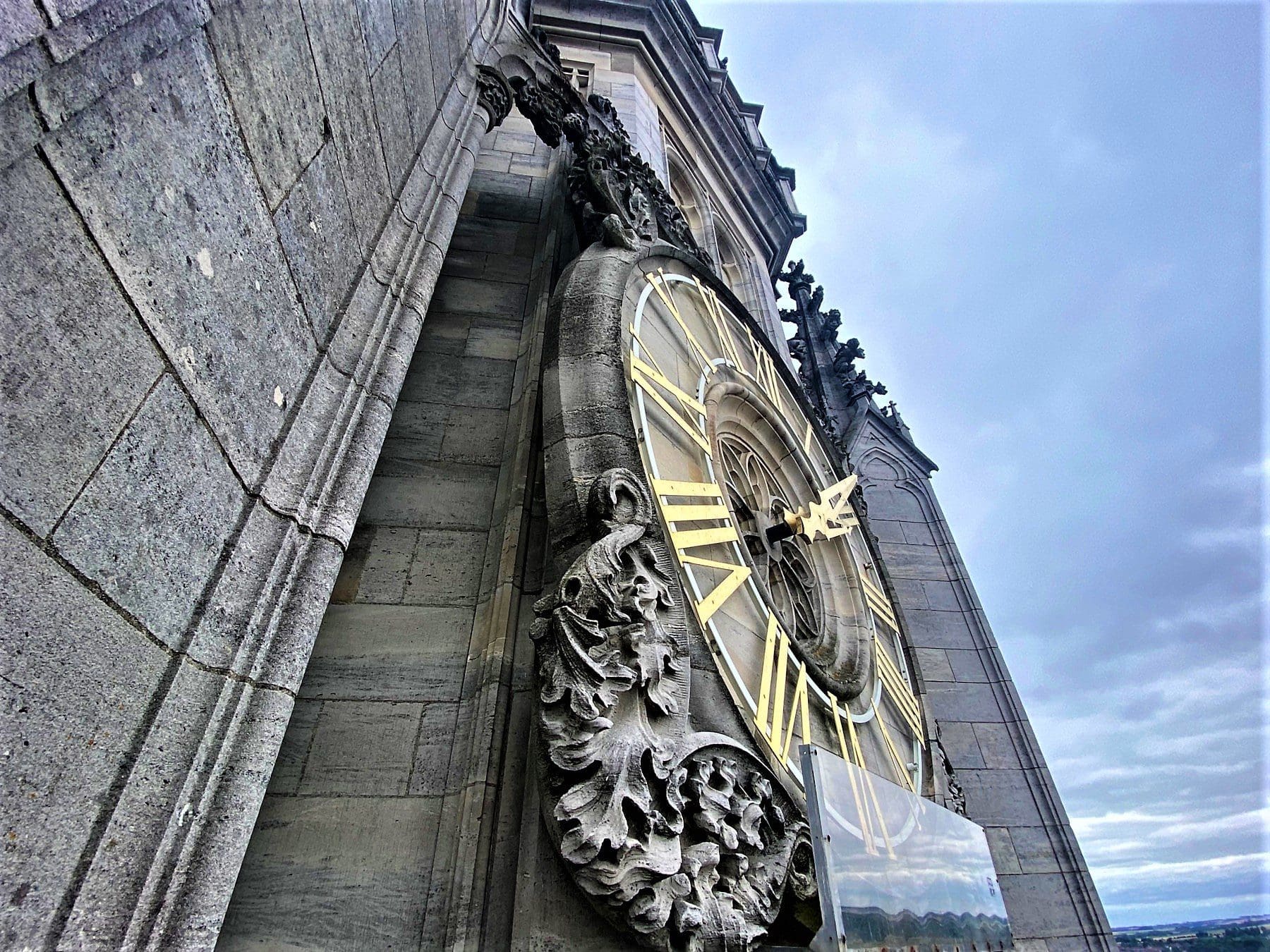 On the Trail of the Battle of Arras France
Mark Bibby Jackson
Posted on 29th Aug 2022
Mark Bibby Jackson travels to Arras France to visit a memorial to those who died in the Battle of Arras, as well as discover the local beer.
Initially it might appear that Lille was an unusual choice as one of the host venues for the Rugby World Cup 2023. Football, perhaps, as in 2021 the local team won Ligue 1 for the fourth time, and the city boasts a modern and impressive stadium, but rugby surely not. But the relationship between rugby and this part of northern France is one steeped in a tragic history, as I discover on my visit to neighbouring Arras.
Faubourg d'Amiens Cemetery : Arras Memorial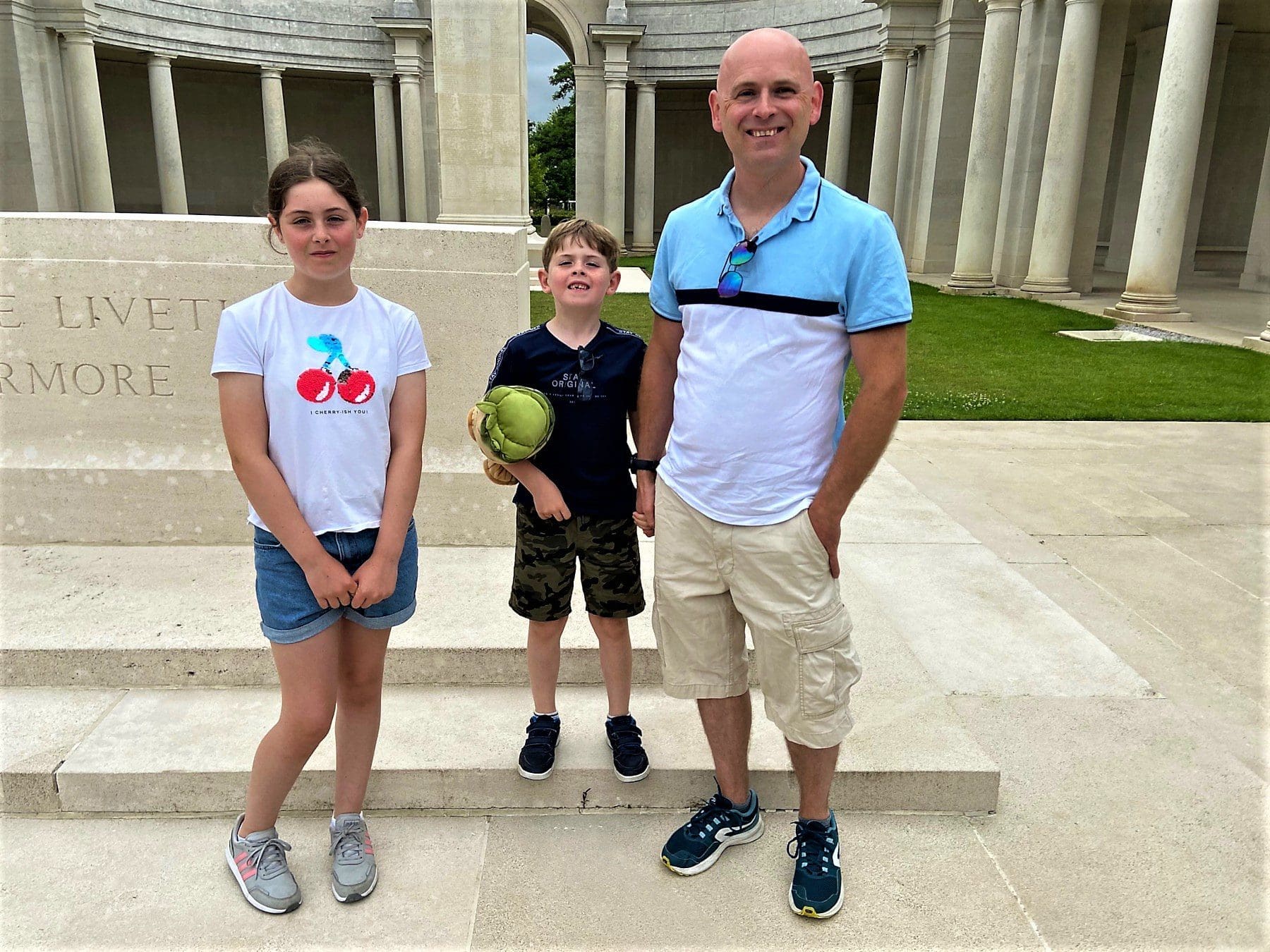 It is at the Faubourg d'Amiens cemetery that I bump into Stephen Galloway, a Glaswegian on holiday in France with his family. He is looking for the grave of his great grandad, William McCoid, a lance corporal in the King's Own Scottish Borderers, who fell in the 'Great War'. "Moving," explains Galloway of the experience. "Nobody in the family knew him." Galloway's grandmother was born on the same day that her father died.
Galloway's great grandfather is one of 2,650 Commonwealth burials at the cemetery, 10 of which are unidentified. The cemetery, designed by Sir Edwin Lutyens, with sculpture by Sir William Reid Dick, is tended by the Commonwealth War Graves Commission. It is a moving place.
Some of the fallen were rugby players.
Lieutenant John George Will, known as The Flying Scot, played seven tests with Scotland. Will was a pilot, and it is thought he was shot down by Lothar von Richthofen, brother of the Red Baron. South African Sergeant Septimus Heyns Ledger played four tests. He was killed on Friday 13 April 1917, during the Battle of Arras.
The Battle of Arras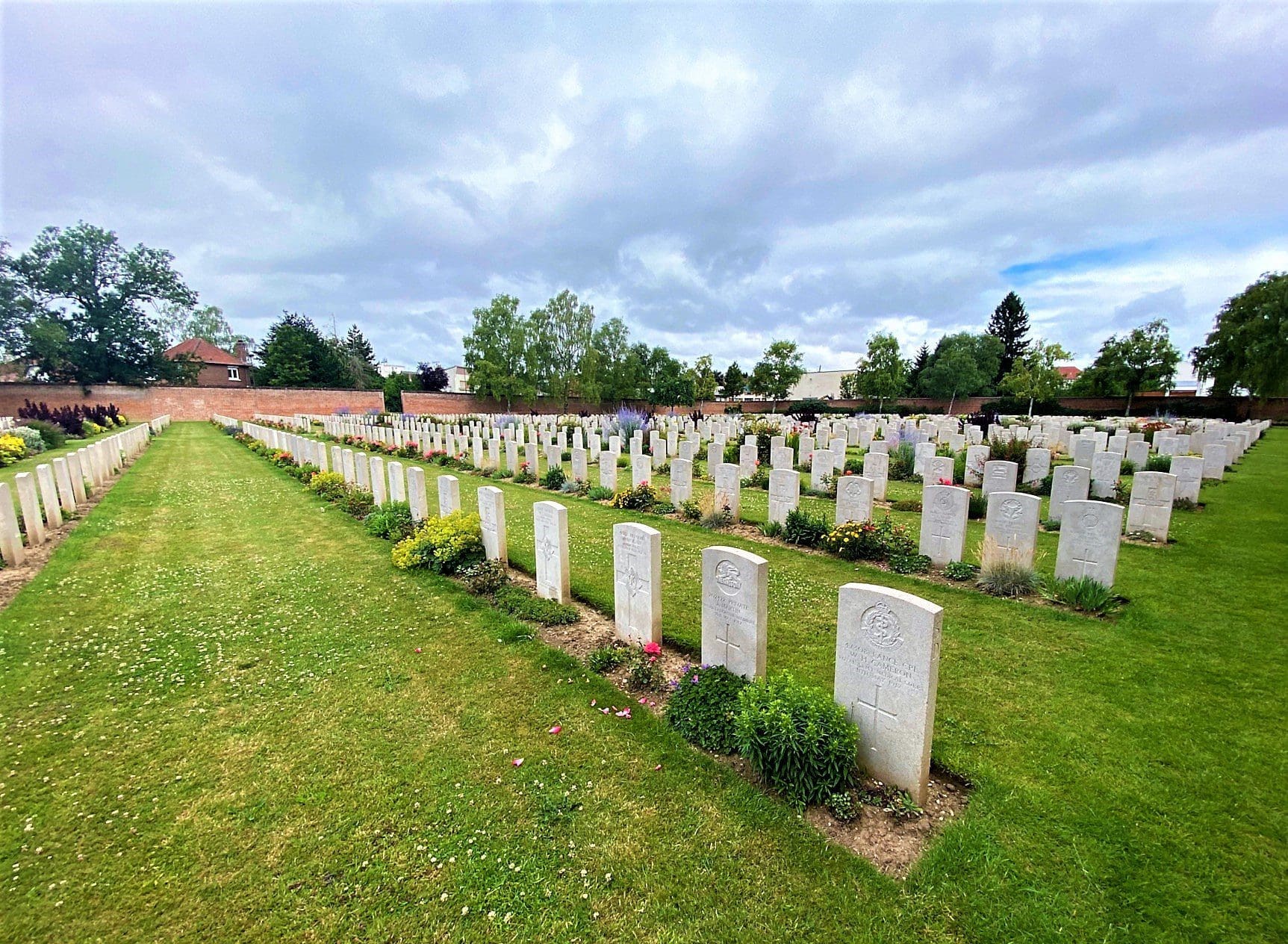 It is estimated there were 150,000 Allied casualties, and an equal number on the German side, in the battle waged from 9 April to 16 May 1917. Another rugby player, this time league, Jack Harrison who played for Hull FC and won the Victoria Cross posthumously went missing during the battle. He scored 52 tries in the 1912-13 season, a club record that still stands, helping the club win its first Challenge Cup. Harrison was seen to fall in the field having blown up a German battery in the battle.
"You would like to think when he was dashing across that battleground… his rugby skills would have come into play," says Bill Dalton, Hull FC historian, as reported in the BBC. Stories like this helped create a narrative that rugby was a noble sport, and that many a player fell an honourable death in the war.
"England international Jack King wrote in his last letter home before being killed in August 1916 that 'so long as I don't disgrace the old Rugby game, I don't think I mind'," writes Tony Collins in English Rugby Union and The First World War, quoting the Yorkshire Rugby Football Union commemoration book.
The reality was that 27 English internationals – out of 160 who fought – died in the war with another dying afterwards from his wounds. Just like the other soldiers buried at Faubourg d'Amiens, they were casualties of a pointless war, but this did not change the patriotic narrative. By the end of the war Rugby Union had replaced Football as the main sport played in English Public Schools.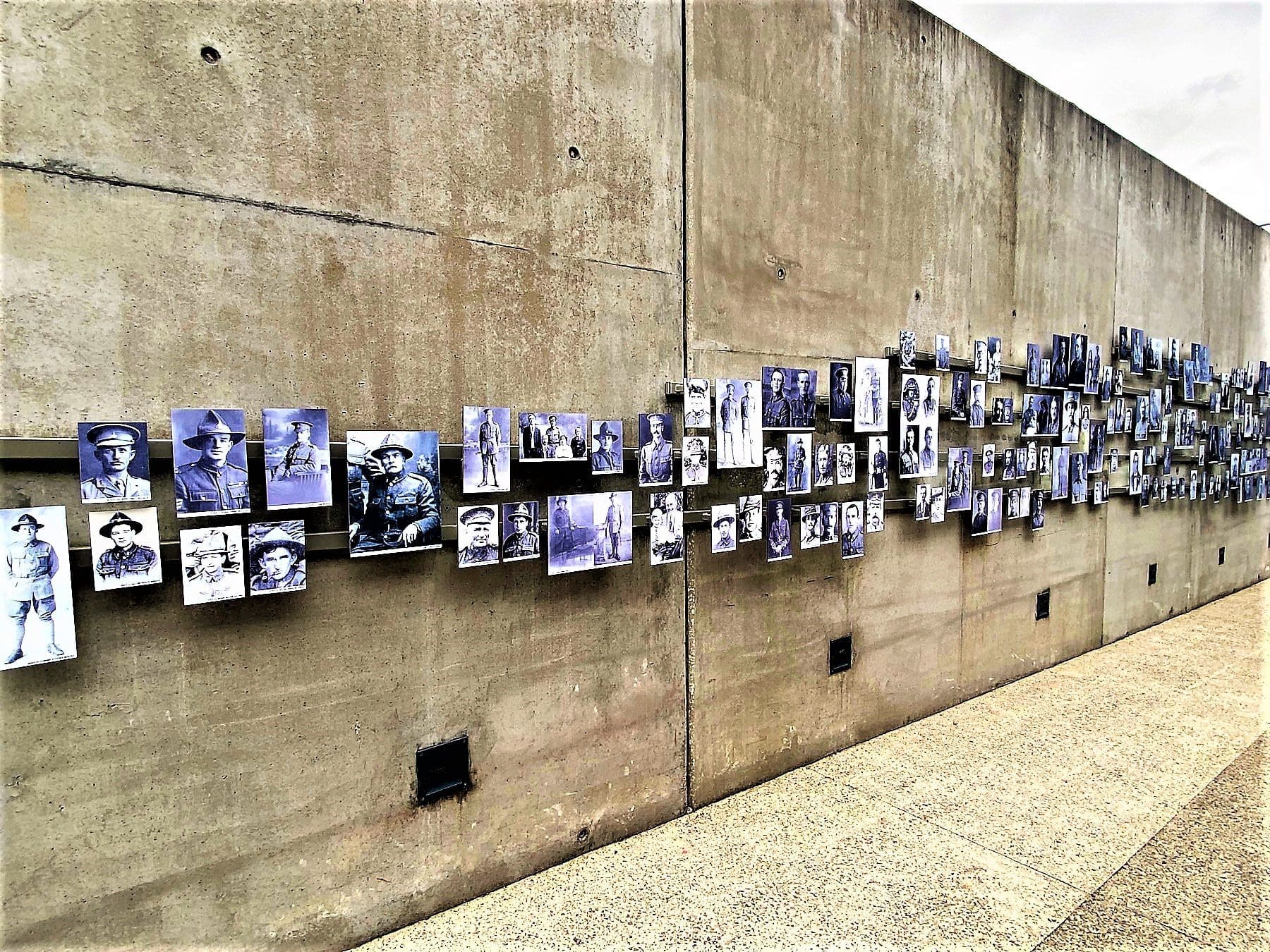 In 1917, the Somme Cup was contested between teams from Allied divisions. The Trench All Blacks, drawn from the New Zealand Division, conquered all before them – an omen perhaps for the 2023 Rugby World Cup.
Wellington Quarry
The story of the Battle of Arras is told at the Wellington Quarry, a few miles outside of Arras.
I join a tour that starts in the small museum above the tunnels built by a team of 450 professionals miners who travelled from New Zealand to Arras, arriving in March 1916. Photographs of the survivors line the walls leading down towards the museum.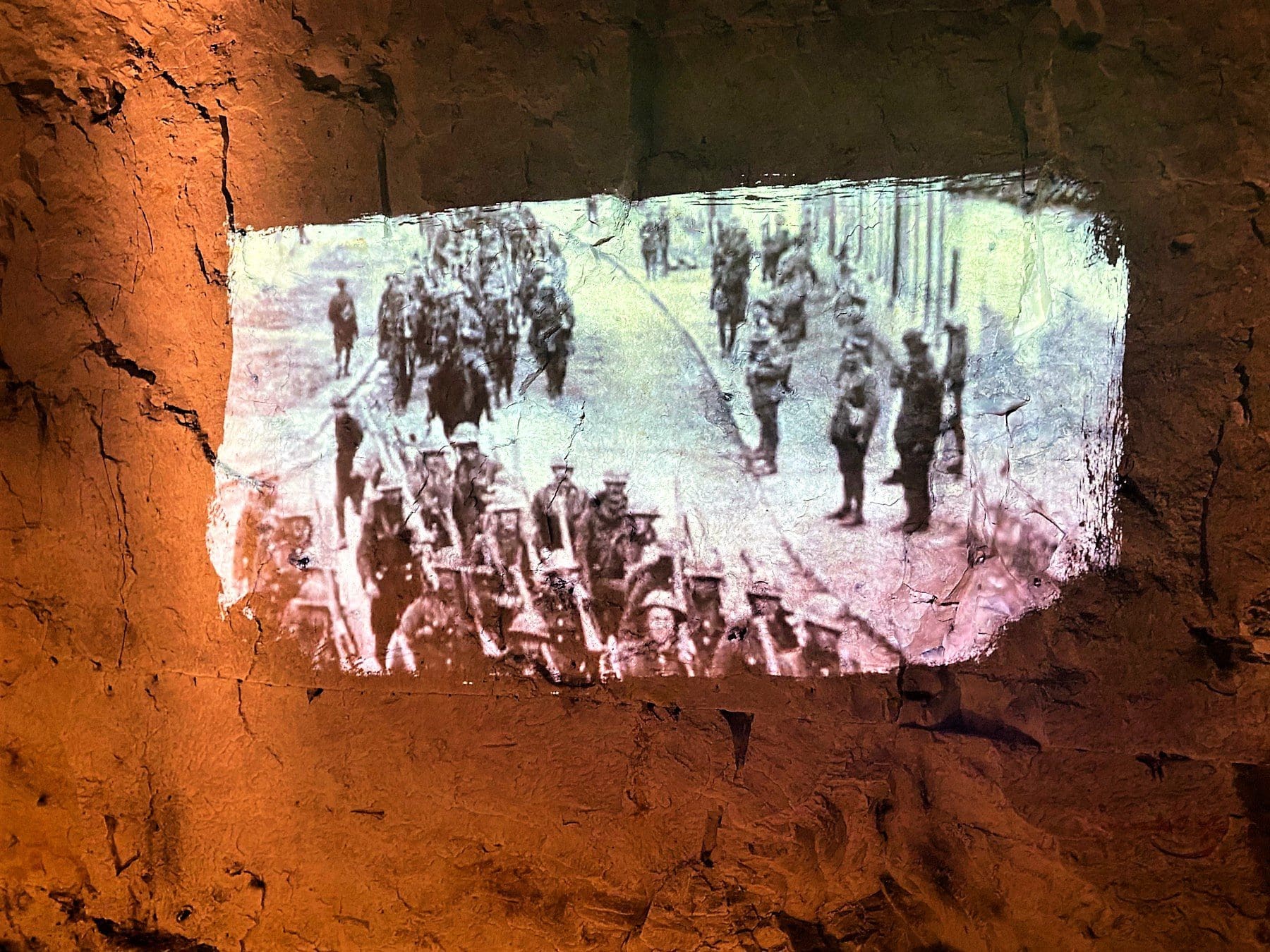 After that we descend 20 metres into the quarry, through an extraction shaft dating back to the Middle Ages. Fortunately, the tunnels are quite spacious, so I do not feel claustrophobic as I feared, and the temperature is a constant 17C. The tour is well presented with interesting films from the era shown on the walls, although I would not recommend taking small children, as it lasted more than an hour – there is a shorter tour for kids. There are touching stories of soldiers writing letters to loved ones before the battle. Some survived, some were wounded, some died.
Arras was aimed as a distraction by the British, so the French could strike further south and drive back the German forces in the Chenin des Dames. It was a dismal failure.
Arras France : a City Rebuilt
Situated some two kilometres from the German Front Line, the town of Arras, like Mechelen on the Belgian side of Flanders, was seriously damaged during the First World War. It is estimated that some 80% of the town was destroyed during the fighting. It was rebuilt between 1920 and 1935.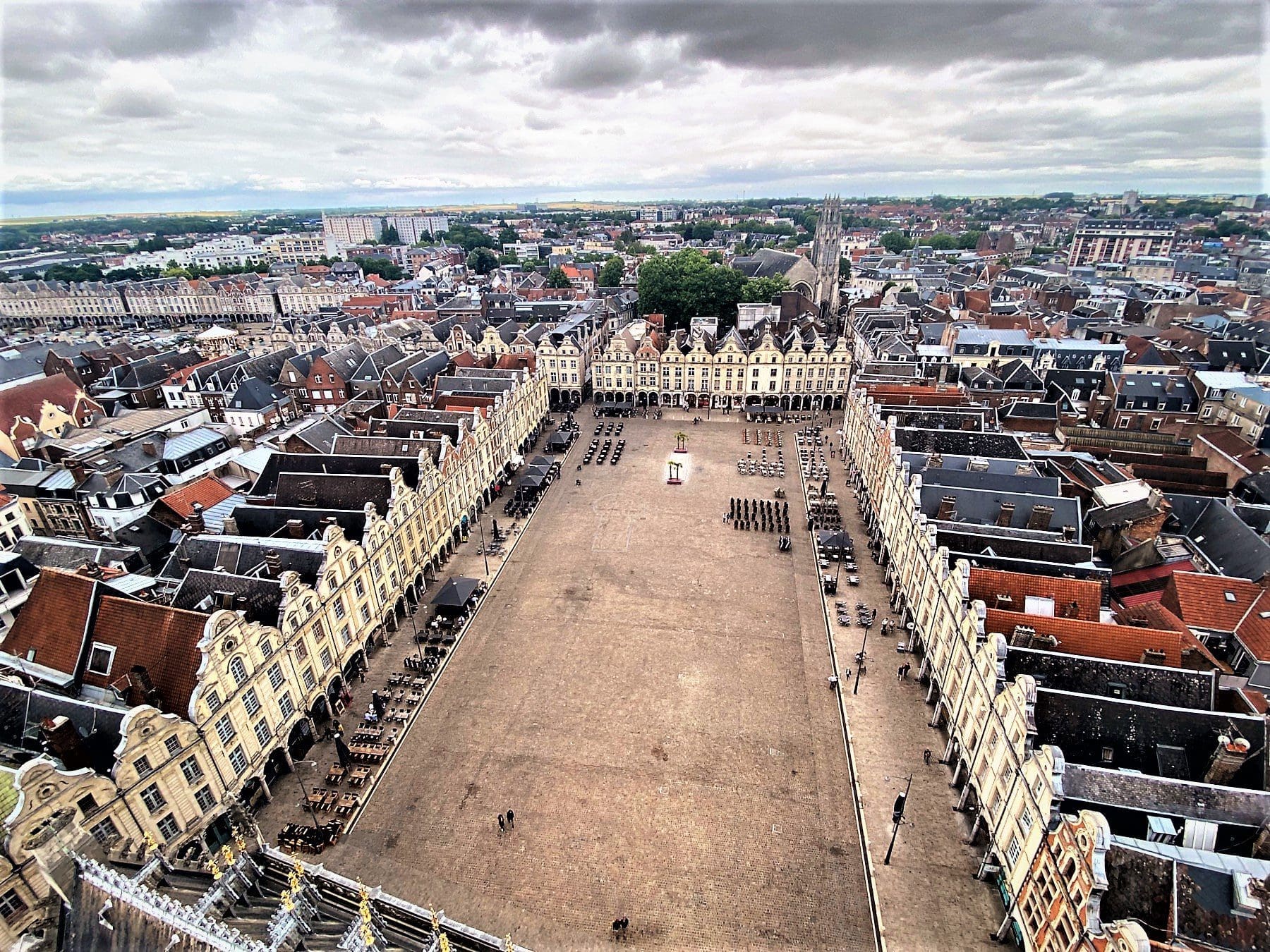 The Grand Square was reconstructed on the same footprint as before. Next to it is the magnificent Square of Heroes (Place des Heros) with its Town Hall and medieval Flemish Gothic Belfry, which offers great views of Arras, and only has 40 steps to ascend.
Arras was a rich trading city in the middle ages. It has distinctive narrow, long houses built from local limestone. White stone indicates the building survived the First World War, yellow marks a restoration. You can see bullet holes on some of the older buildings.
Beer of Arras
There are also plenty of bars and restaurants in Arras to sit outside and do some people watching over a beer or coffee.
The previous evening we had sat outside Chez Marcel, a craft beer bar with a great array of beers and equally impressive cheeses. Something of a celebrity in these parts, Marcel, opened the bar in December 2017. On our visit there were 10 craft beers to choose from, I opted for a stout with hazelnut and chocolate notes. It was excellent, as was the mature gouda cheese that accompanied it. This was the first time I have enjoyed gouda – a cheese previously I have found to be grossly over-rated.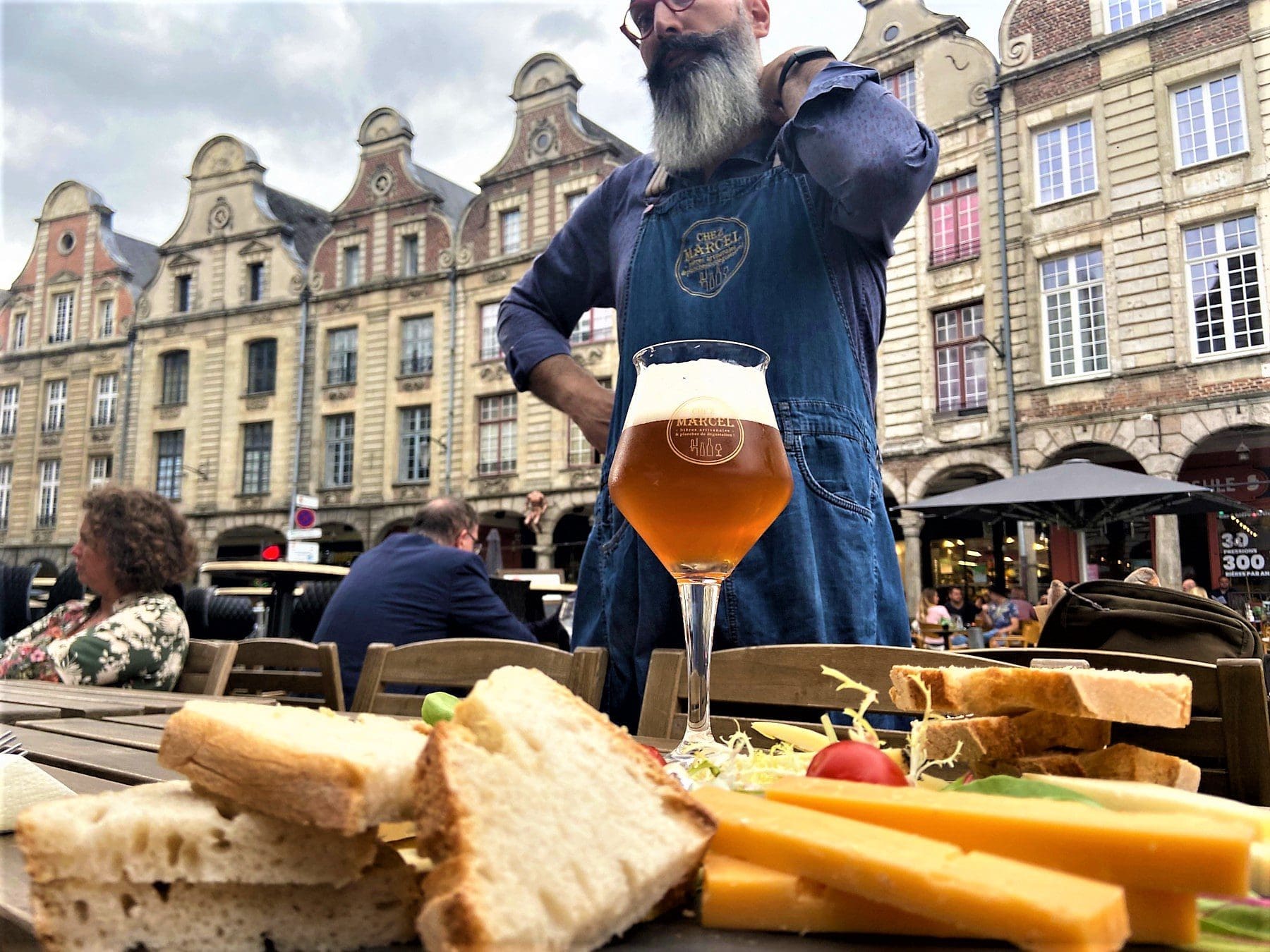 After Chez Marcel, I dined outdoors at Le Silex on the Grand Place, watching the world pass by, as well as an entertaining bout of road rage on the streets, while eating some excellent tuna.
Judging by my brief stay Arras restaurants are excellent, the following day after my visit to the Wellington Quarry, I enjoyed an brilliant courgette gazpacho at l'Œuf ou la poule, a delightful little bistro close to the twin squares.
After lunch I had just enough time to pick up my bags from my hotel before taking the train to Lille, the next destination on my trip through northern France.
---
Arras France Photo Gallery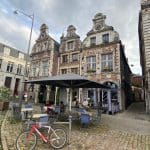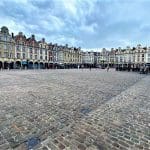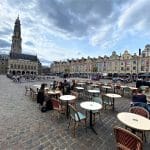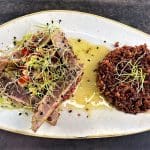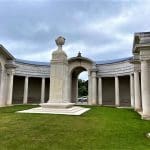 ---
Getting to Arras France
Eurostar runs several trains to Lille Europe station from London St Pancras. The journey time is around 1 hour 15 minutes. From here it is about a 40-minute train ride from Lille to Arras, although you have to switch stations from Lille Europe station to Lille Flandres station.
Arras France Hotels
Mark stayed at the brilliant Arras Hotel Mercure Centre Gare, 58 Boulevard Carnot, 62000 Arras, close to the railway station.
Information About Things To Do in Arras in France
To discover what else you can do in Arras, visit: https://www.arraspaysdartois.com/en/ or https://www.tourisme-en-hautsdefrance.com/.
---
All images: Mark Bibby Jackson
Mark Bibby Jackson
Before setting up Travel Begins at 40, Mark was the publisher of AsiaLIFE Cambodia and a freelance travel writer. When he is not packing and unpacking his travelling bag, Mark writes novels, including To Cook A Spider and Peppered Justice. He loves walking, eating, beer, isolation and arthouse movies, as well as talking to strangers on planes, buses and trains.