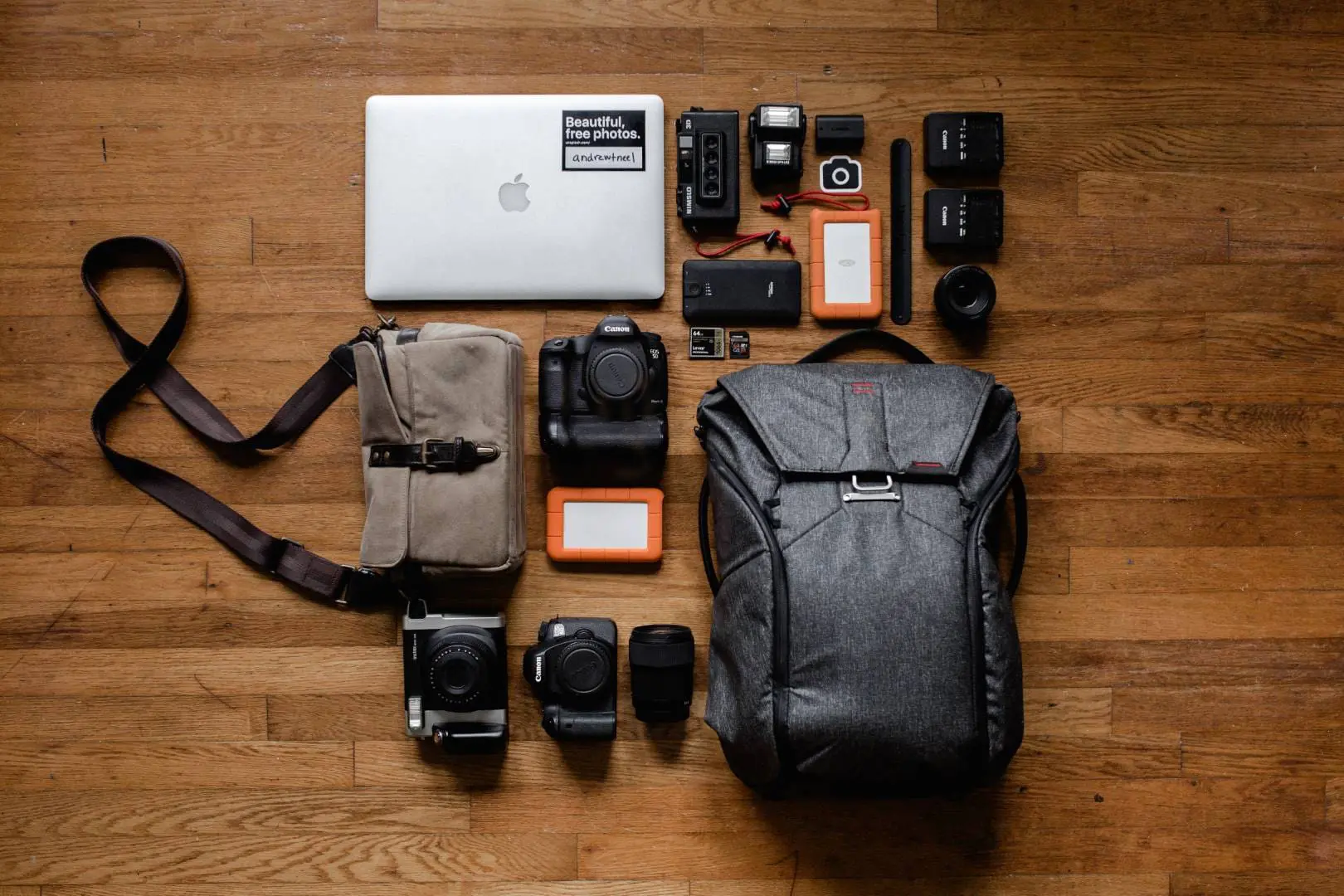 Tips for Buying a Travel Camera Bag
Joe Ogden
Posted on 24th Aug 2022
Whether you're a keen travel photographer or just starting out as a hobby, a camera bag is an essential piece of equipment. So how do you find the best camera bag for travel photography?
(This post contains affiliate links. As an Amazon Associate we earn from qualifying purchases.)
Large or small camera bag – what gear do you want to carry?
If you're travelling then you won't want to bring every piece of camera gear you have, but you will need the essentials. At the bare minimum you will need to bring your camera body, at least one lens, perhaps a compact travel tripod, a spare battery, lens cleaner and spare memory cards. It helps to have some extra space for other personal items such as a rain jacket and water bottle.
Specific situations may require more lenses. A telephoto lens is useful but can be bulky, so make sure to get a camera bag that is large enough to fit everything you might want to bring, even if you don't always take everything at once. In situations when you don't bring your telephoto lens, you can use the extra space to fit a tripod or other items.
Small camera bags are more suited to holding just one mirrorless camera with one lens but that might be all you need. Having a smaller camera bag is also a benefit when travelling by air. If your camera bag or backpack is on the smaller side it will count as a "personal item" instead of hand luggage on most airlines, allowing you to bring it on your flight alongside a carry-on case.
How to find the best camera bags?
You can search online or visit a nearby camera shop. As with most things you will likely get better prices and selection online, but it helps to be able to try the product at a shop. Before you visit a camera shop you should do some research online.
There are a variety of camera bag brands out there. Popular ones include Peak Design, Tenba, Lowepro, Billingham, Vanguard and more. Some people rate the Amazon Basics range as a good budget option, but you might compromise on style.
Some camera bags can get quite pricey, personally I like Vanguard bags for a good balance of cost and quality. I own both this Vanguard shoulder bag and this Vanguard camera backpack. Both fit a 70-200mm telephoto lens, compact tripod (either inside or strapped to the front), a DSLR body, one to two extra lenses, such as a 24-70mm or 17-40mm, and even a slim laptop. I don't like to carry the shoulder bag far when fully laden but the bag itself and straps are good quality and sturdy – my shoulder will give way before the bag does.
It's a good idea to invest in a quality camera bag that will last for years, but there's no need to go over the top. Some of the brands become very expensive. While the difference in quality between a £20 bag and £100 bag can be significant, the difference between a £100 bag and a £300 bag is minimal. You might end up paying a premium just because of the popularity of the brand name or styling.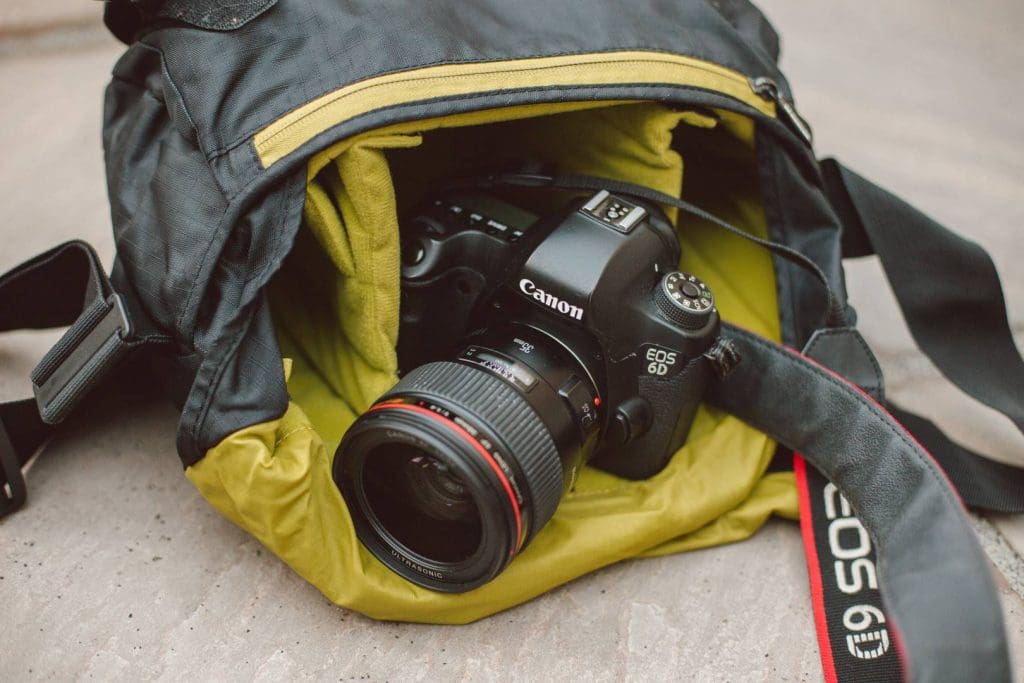 Camera shoulder bag vs camera backpack
Shoulder bags are more convenient and often more stylish, but a backpack will be much kinder to your body if you are carrying heavy equipment for a long period. You can find large camera shoulder bags that will easily fit your camera plus multiple lenses and a tripod, but carrying more than a few kilos on your shoulder is going to cause long term pain and discomfort. If you regularly carry a lot of gear or when you're always out hiking, then it is best to look at a backpack. If you need to buy a new one, check out this guide for the best camera backpacks for hiking.
If you travel light then you might prefer the shoulder bag, messenger or sling style. Shoulder bags are more convenient to access without removing the bag. You can also use it to change lenses inside while out and about, keeping everything shielded from the elements.
Both camera shoulder bags and backpacks often come with external straps and attachments for tripods, so you can save space inside. But it does look quite conspicuous to be carrying a tripod strapped to the outside of your bag and could make you a target for theft. It might be fine if you're going hiking but is not really suited to urban environments. I usually prefer to fit the tripod inside the bag.
Modern camera backpack designs often unzip from the back panel, so they keep your gear secure when on your back as they can only be opened by taking them off. This is a trade-off for convenience, but certainly gives you piece of mind.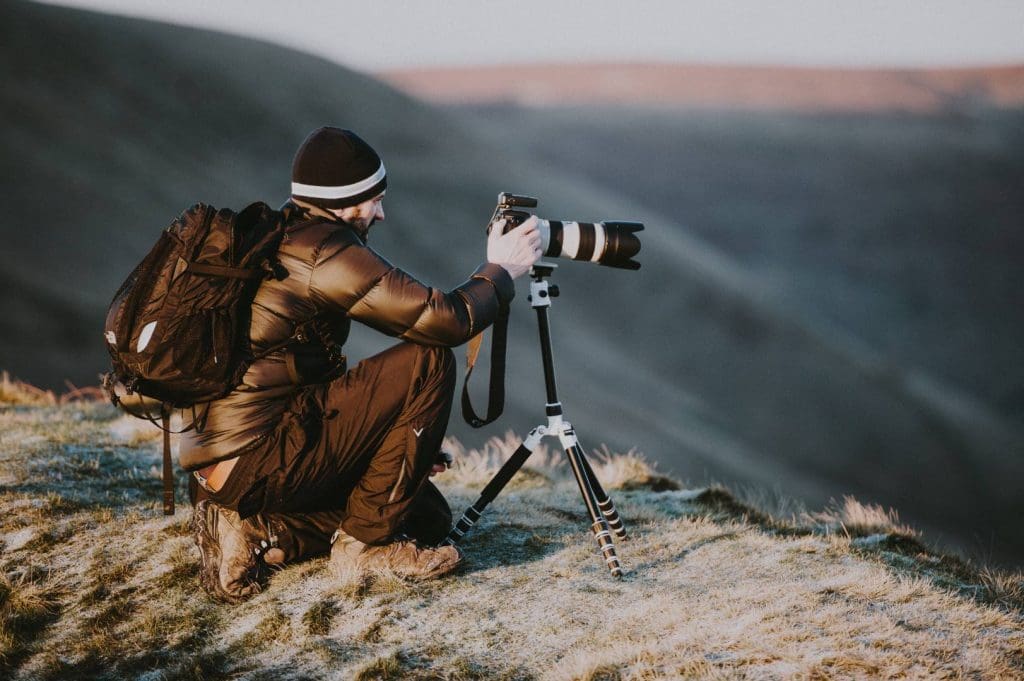 Durability and weatherproofing
A camera bag should protect the contents, and that often means fending off the weather. Many camera bags come with a rain cover included, but if yours doesn't you can often find low cost rain covers for backpacks at sports stores or online. The bag itself should be durable enough to handle knocks, scratches and splashes without you worrying about your gear inside. It's good to have a zip – waterproofed if possible – many shoulder bag and messenger style camera bags only have a flap and this makes it easy for dirt, dust and water to get into the bag.
The camera bag strap and connectors are going to take a lot of strain. You don't want them breaking at a crucial time so this is one reason it pays to invest a little more in your bag and get one from a trusted brand name.
Your bag will typically come with a padded camera bag insert and dividers. A good travel camera bag will have a variety of Velcro dividers that you can reconfigure to fit around your gear. A sturdy and well-packed camera bag will withstand a fall off a chair or table with all the contents intact.
---
There are hundreds of camera bags to choose from and it is one of the most important bits of equipment you can buy. It's no use having great camera gear if you leave it at home – you need to be able to comfortably bring it with you while travelling. I hope these tips help you find the best camera bag for travelling.
Joe Ogden
Joe is Travel Begins at 40's webmaster and resident photographer. As a career freelancer and lifelong traveller he was a "digital nomad" before they had a name for it. He's based in Phnom Penh, Cambodia from where he travels the region while keeping an eye on website alerts.