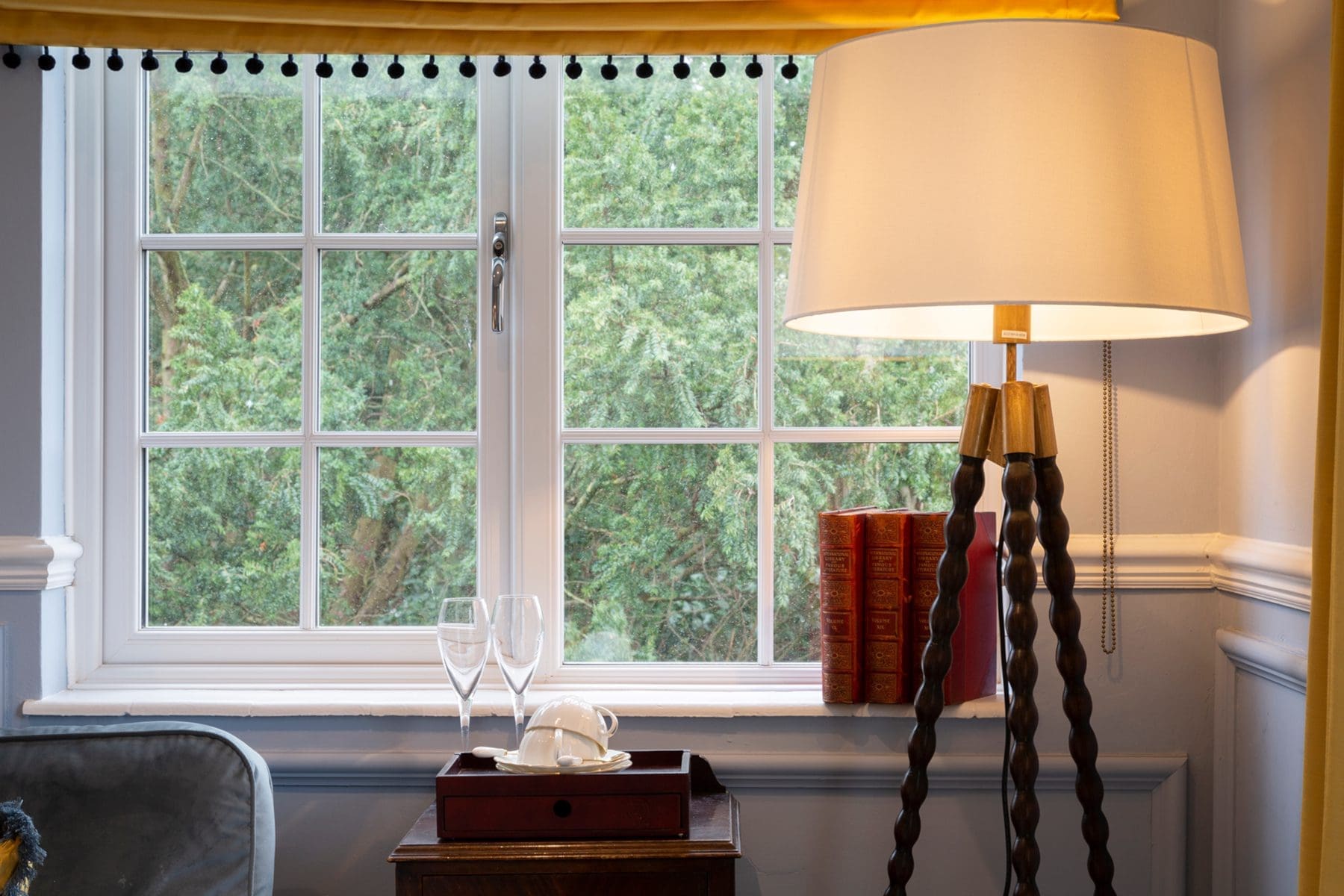 Worlington Hall Hotel: Fit for a King
Roger Hermiston Eileen Wise
Posted on 17th Aug 2022
Roger Hermiston and Eileen Wise visit Worlington Hall near the town of Mildenhall in Suffolk for a delightful dinner.
It's one thing to claim that the rooms in your country house hotel are 'fit for a king' – quite another to offer to guests the actual bed that one of the country's best-known monarchs slept in.
But that moment will come soon when restoration work is complete and Worlington Hall Suffolk is able to offer eight or nine bedrooms to stay, rather than its current three. All are named after monarchs – Elizabeth, George and Louis are currently available – and the one with the historic bed to lie in will be named Henry, after the royal with six wives.
Worlington Hall and Henry's Bed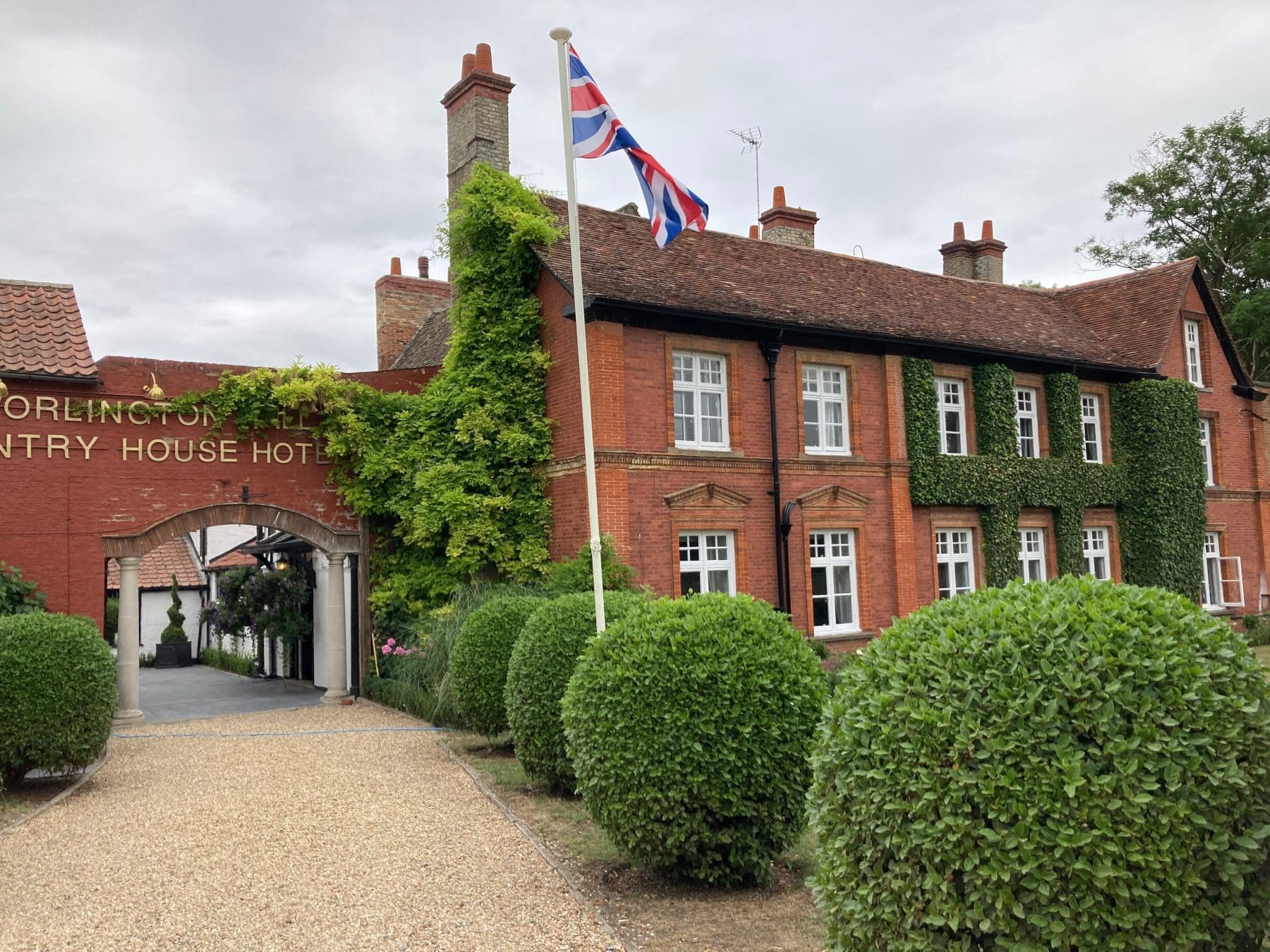 Worlington's co-owner Louis Waters inherited Henry VIII's bed from his grandfather Terry, who picked it up from East Barsham Manor in Norfolk. The manor was a regular staging post for the Tudor monarch on his Royal Progress through East Anglia – he's recorded as staying there at least five times, especially in the early days of his reign (before the break with Rome) when he would make the pilgrimage to the nearby notable Catholic shrine of Our Lady of Walsingham.
Henry's bed will fit in neatly with the history of Worlington Hall, as it was built as a family home in Tudor times (albeit in 1570, in the reign of Henry's daughter Elizabeth) – although significant alterations to the elegant Grade II listed, part timber-framed building would come in Georgian and Victorian times.
Worlington Hall's past history is certainly an attraction – but this is a dynamic hotel very much rooted in the present and planning for an exciting future. It was bought just over a year ago by Louis (who has a farming background) and Michael Platten (who combines hotel ownership with a part-time job as a dentist in Bury St Edmunds).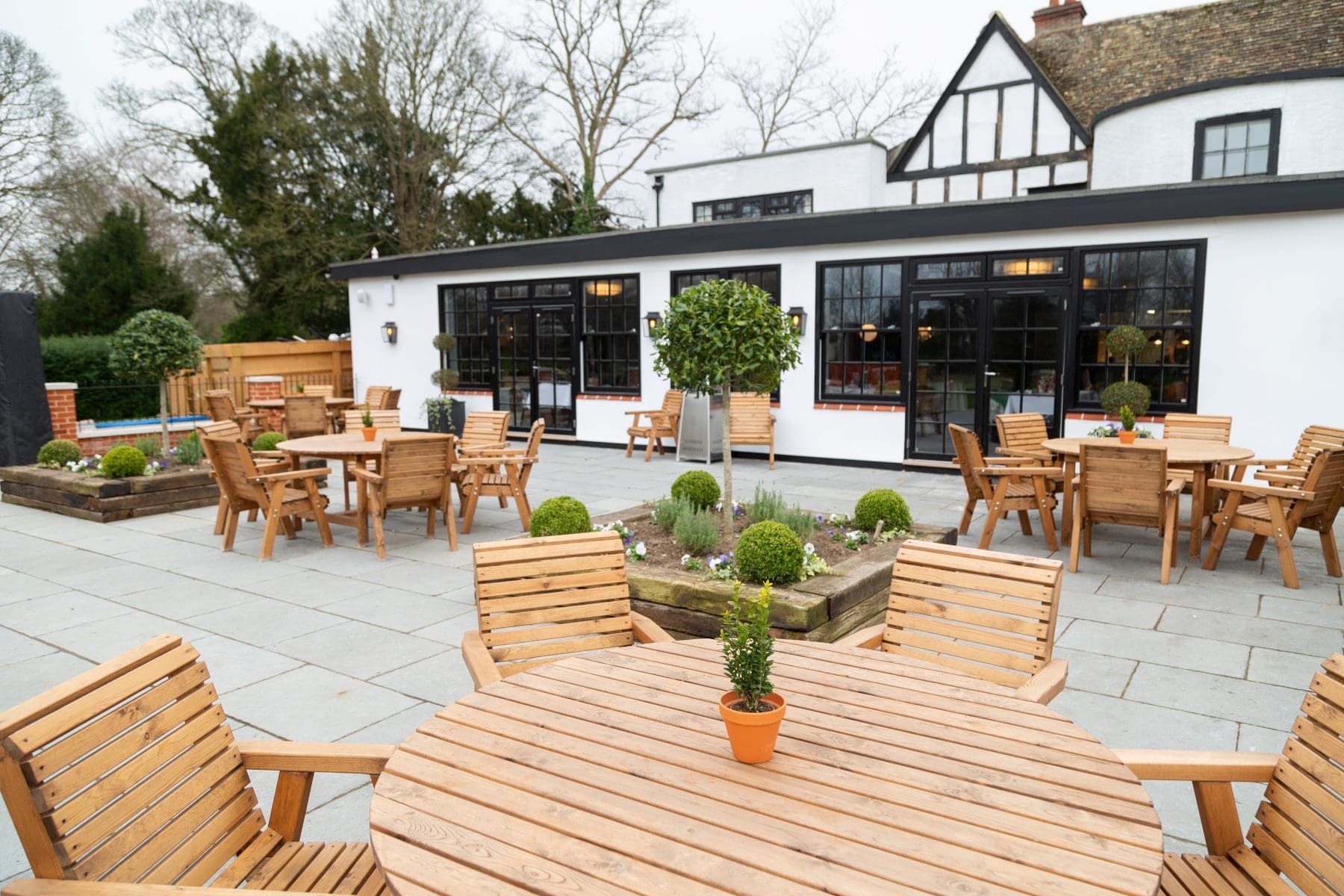 Village of Worlington
The hotel sits on the edge of the pleasant village of Worlington (population around 500), close to the market town of Mildenhall and within striking distance of Newmarket and Bury St Edmunds. Worlington boasts a pub, a medieval church, a village hall and a thriving cricket club, and nothing much disturbs its tranquility – unless it's the apparently unanimous opposition (judging from the boards in gardens) of locals to a major solar energy project planned for nearby.
There is evidence of Roman and Saxon settlements here, and Worlington was listed in the Domesday Book as having a mill and two fisheries. The River Lark, which crosses from Suffolk into Cambridgeshire and flows past Worlington, is thought to have been used for navigation since Roman times, and was certainly a vital commercial route (transporting barley) in the 18th and 19th century.
These days it's much quieter, with only the odd fisherman or walker in evidence on its banks. One of the delights of staying at Worlington Hall is the two-hundred yards or so stroll down its five-acre grounds to the River Lark, passing on the way a large pond inhabited by a delightful family of runner ducks. A glass of wine on the River Bar terrace by the river, while observing the piebald pony in the field beyond and watching a heron swoop onto an old tree trunk, is a splendid way to pass a warm summer's evening.
Worlington Hall Hotel Owners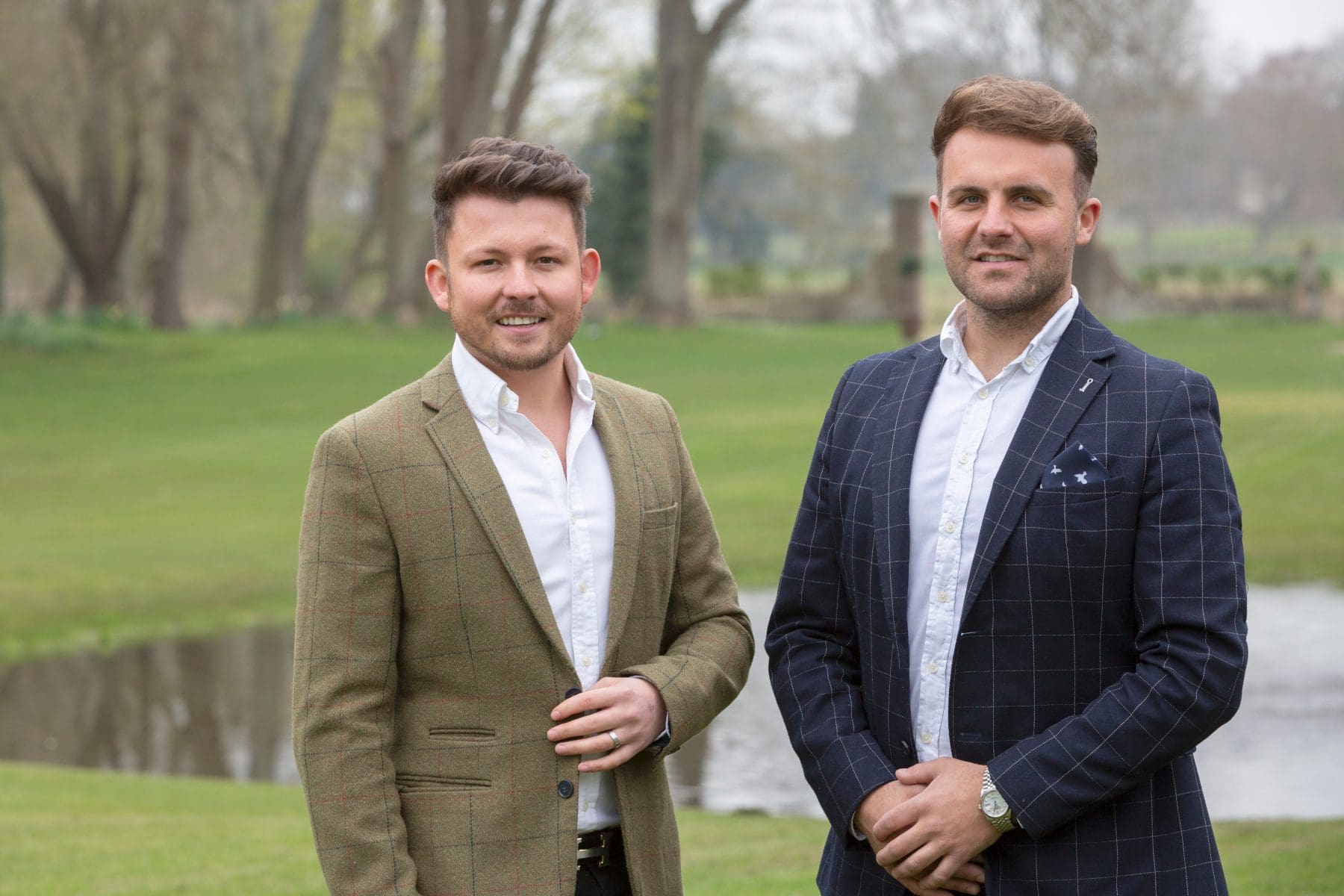 Worlington Hall has been a country house hotel for long periods of its history, but when Louis and Michael bought it last year there was much work to be done to bring it up to a high class standard. You have to say they have succeeded admirably.
The light-filled, spacious Worlington restaurant – with an extensive terrace beyond the French doors – is a splendid space. The darker Birnam Bar, with its extensive range of cocktails and gins (Louis reckons tequila will be the next obsession for drinkers), is warm and inviting. Then there's the relaxing Lounge, with its mixture of art deco and countryside flair.
We were delighted to see the walls of the hallway decorated with the famous illustrations of the American ornithologist and artist John James Audubon (we have a calendar of his work at home) – gorgeous, characterful drawings of the birds of the continent. Overall Worlington Hall has a fresh, vibrant feel to it, modern but still with the authentic feel of a traditional country house.
When we visited Louis and Michael were very much present, working at the bar, guiding and advising guests. They have clearly recruited well because all the staff were immensely welcoming and helpful. And for the vital position of Head Chef they have attracted one of East Anglia's best, Jordan Bayes, formerly chef patron at the award-winning Tuddenham Mill.
Dining at Worlington Hall
A welcoming bottle of prosecco awaited us in our light, airy room, the Elizabeth, which has a lovely view from a private balcony down the grounds to the River Lark. Stylishly decorated in a palette of pale pink, the room has a most comfortable king-sized bed, and a sofa where we could flop and read. The stylish bathroom featured an impressively large bath.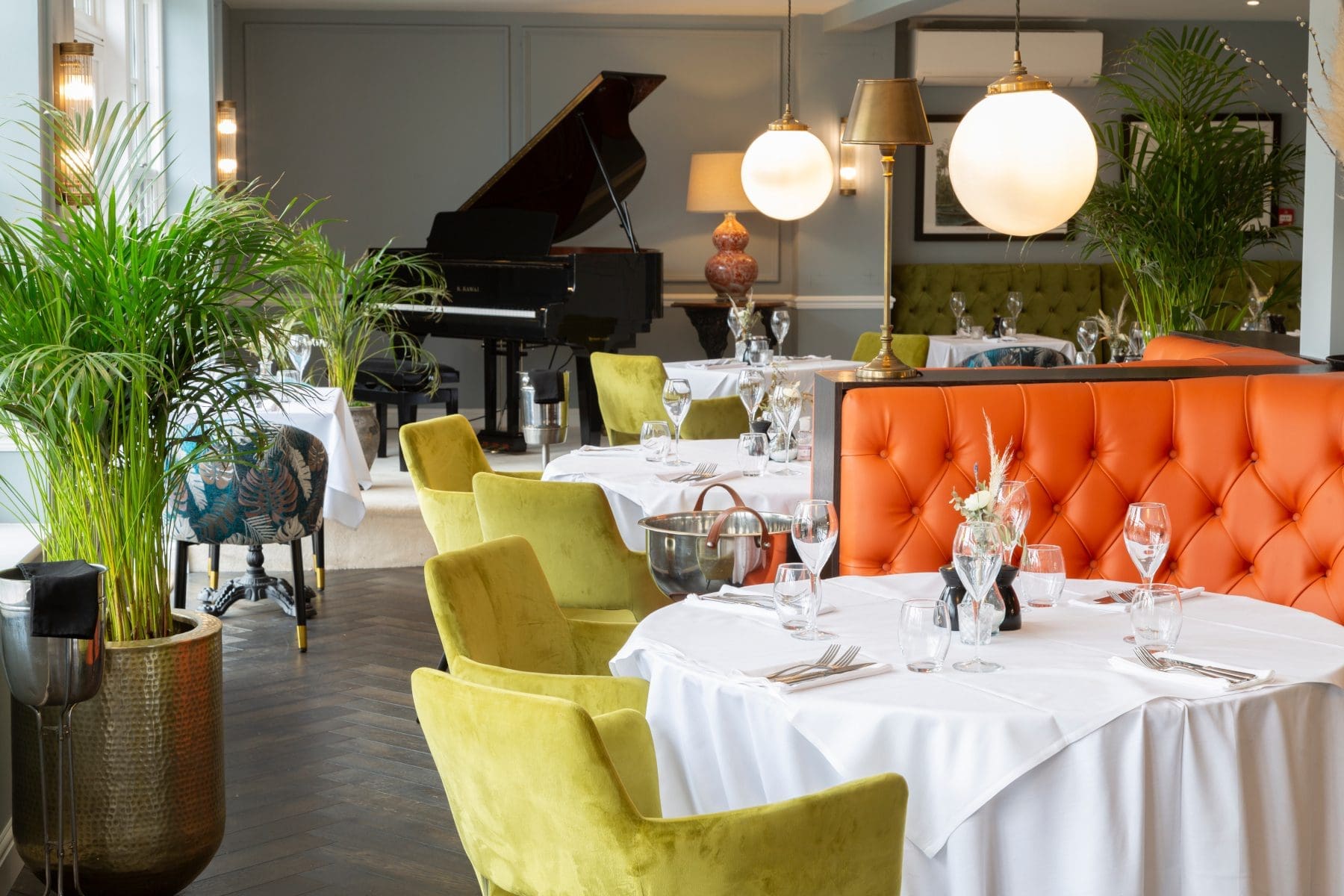 We had deliberately reined back on our food consumption during the day so we could do full justice to our eagerly-awaited dinner. We were not to be disappointed by the Worlington Hall menu. Polenta and parmesan croquettes with a tomato fondue made for a mouth-watering starter, followed by a main course of chicken supreme, basil gnocchi, Padron peppers and natural yoghurt – with some wicked truffle chips as an accompaniment. Slow cooked peaches with mascarpone and almond biscotti rounded off a sumptuous meal, all washed down with a dry white from a good-sized wine list.
We were impressed – but given our experience not surprised – to see the restaurant so full on a weekday evening. Apparently Jordan's traditional Sunday lunches also do a roaring trade, while the hall's private dining room is well used. The food is excellent, the surroundings most pleasant, and the service attentive.
Nearby Attractions
This part of Suffolk is something of a hidden gem, much less frequented than the coastal hotspots of Aldeburgh and Southwold but a great location nonetheless for – amongst other things – a day at the races in Newmarket, or visits to the attractive towns/cities of Bury St Edmunds and Cambridge.
Mention should be made too of the magnificent heathland golf course just down the road from the hotel – the Royal Worlington and Newmarket Club, home to the Cambridge University Golfing Society and described as the 'Sacred Nine' by that doyen of sports writers Bernard Darwin (grandson of Charles). Royal Worlington, founded in 1893, has consistently been rated one of the world's best nine hole courses.
The youthful duo of Louis and Michael have clearly brought energy and imagination in reviving Worlington Hall and making it an essential venue for visitors wanting to sample this quieter part of beautiful Suffolk. They will also have the locals packing in to sample the excellent food.
---
Worlington Hall Hotel Suffolk
For more information or to book a room, click here.
Roger Hermiston Eileen Wise
Roger was Assistant Editor of Today on BBC Radio 4, while Eileen headed up the global PR for The Economist and Reuters. When not travelling near and far, Roger writes narrative 20th century history books such as 'The Greatest Traitor' and 'All Behind You, Winston', and Eileen now works as a counsellor from their Suffolk cottage. They have a remarkable menagerie including a pony, two donkeys, three cats, two peacocks and a guinea fowl.