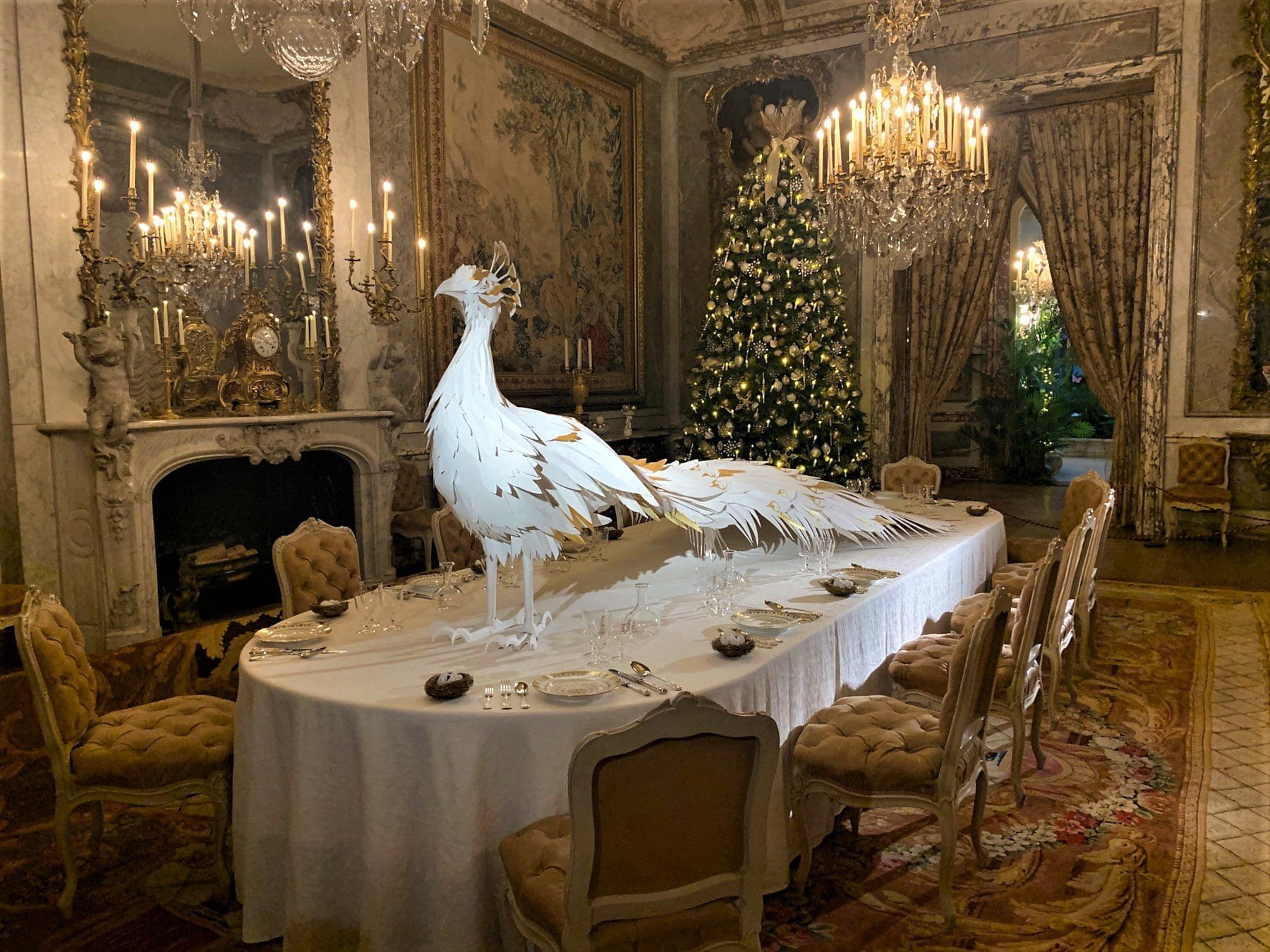 Christmas at Waddesdon Manor 2022
Neil Hennessy-Vass
Posted on 22nd Nov 2022
Neil Hennessy-Vass visits Christmas at Waddesdon Manor and declares that the festive season has officially commenced.
After a hiatus of two years (we all know why) that glorious Victorian confection built by Baron Ferdinand de Rothschild, Waddesdon Manor is back for its 20th year celebrating Christmas in the way it knows best, in full glorious technicolour, lights, sound and action.
The French 16th– Century style château is the perfect backdrop. It's all here in phantasmagorical abundance both inside the Manor itself and the across the vast elegant gardens. In addition, there's a top-notch Christmas Fair majestically laid out in front of the Manor's facade, with plenty of scrummy food and drink to choose from and plenty of seasonal gifts.
Lighting Up Waddesdon Manor
It takes an army of Santa's helpers to put this kind of show on, I was talking with Pippa Shirley, Director of Collections at Waddesdon about the sheer quantity of light bulbs used in making this the best country house Christmas experience bar none. So, are you ready?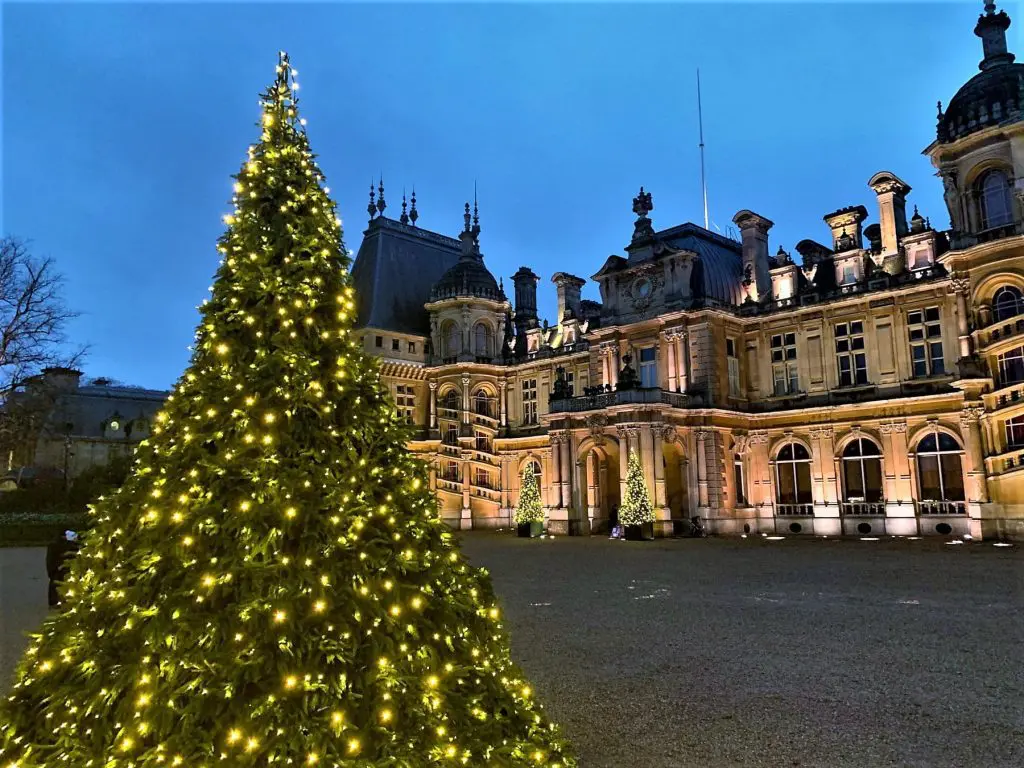 There are 10k key lights, 3800 baubles, 2.5k illuminations on the garden light trail, 100k fairy lights, the main Christmas tree indoors (there are many to look at) has 10k light pixels, all sophisticatedly assembled by a team of 10 people over two weeks. And it's spectacular to say the least. A specialist company, Lumanism looked after all the lighting needs and interior designer Jane Le Bon curated the indoor displays. One of which is a gigantic paper peacock atop an enormous dining table in the Dining Room, designed by renowned paper artist Andy Singleton.
Pippa Shirley says, "Waddesdon is breath-taking at any time of the year, but at Christmas, it has a particular magic. I really hope this year there is something to surprise and delight everyone, whether a first-time visitor or one of the many who tell us that their Christmas begins at Waddesdon. It's a place where memories are made"
Waddesdon at Christmas
The wonderland theme of this year's celebrations is divided into themes within the sumptuous rooms including the Conservatory and Red Drawing Room and of course the excellent collections of silver, porcelain and art still adorn the place, see how many Gainsboroughs you can spot as you wander around?
Out in the gardens this year's light trail is the longest yet, twinkling stars, orbs of lights that pulse in time to music, and down by the Stables is a 22-foot Christmas tree with thousands of light changing pixels. The inherent stock of trees and shrubs get a full make over, cunningly lit in imaginative ways, the front of the main building is swathed in different coloured lights, wonderful as the sun sets, the darkness provides the perfect foil.
The Food Village is new, with a cornucopia of take away food and drink to stroll the grounds with and if you fancy a sit down then there's always Christmas Afternoon Tea in the Manor Restaurant, fish and chips at The Stables and plenty of cakes and biscuit treats not least their superb in-house crumble topped mince pies.
Yes, I think Pippa is right, the Christmas countdown starts when you've visited Waddesdon Manor, it's impossible not have a smile on your face as you meander around and take it all in.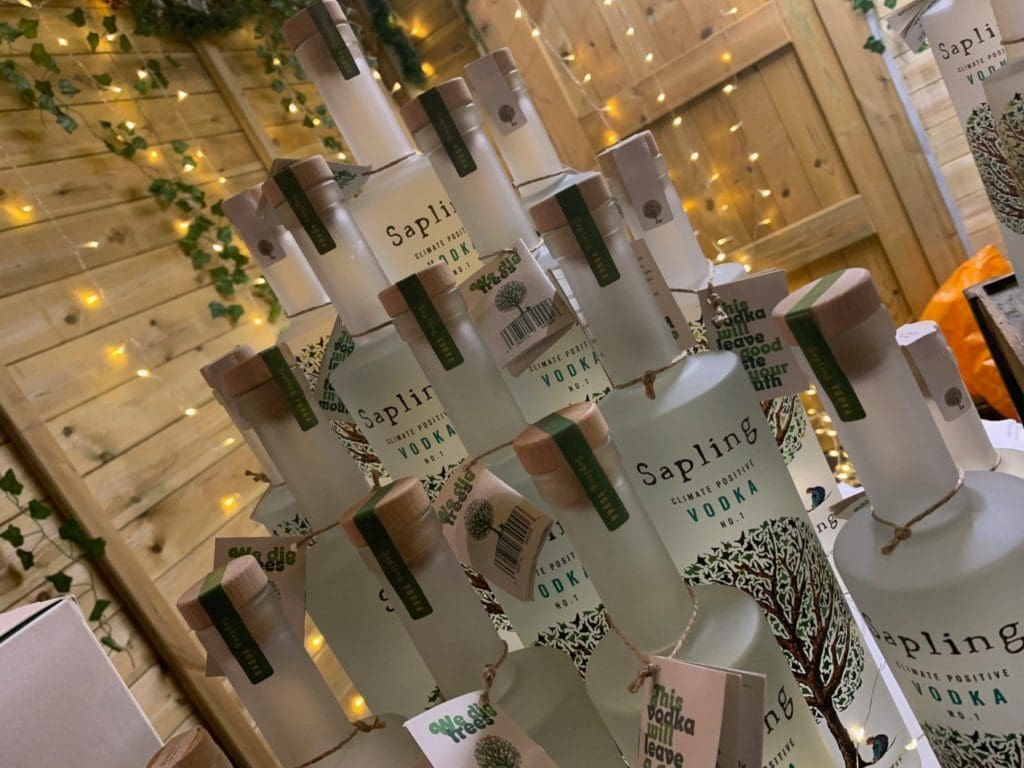 ---
Discover what Mark Bibby Jackson thought about the manor house in his Great Escape to Waddesdon Manor. 
---
Christmas at Waddesdon
Is open now until 2 January 2023 12pm – 7pm. Booking is advisable as it can be very popular. National Trust members get a discounted rate on entrance to the house and grounds.
What's on at Waddesdon Manor
For further information of what is happening for Christmas at Waddesdon click here where you can also book tickets.
Neil Hennessy-Vass
With careers encompassing broadcasting, photography and food the next adventure for Neil was to take up travel writing. His natural curiosity has meant the last 10 years have been spent trotting around the globe writing about and photographing all he experiences. Never happier than ordering a rare Bourbon in some far-flung bar while checking to see his passport isn't out of date, preferring to take the path less trodden even if it takes a little longer. Neil is an award-winning journalist and photographer who lives in London, France and on things that move.