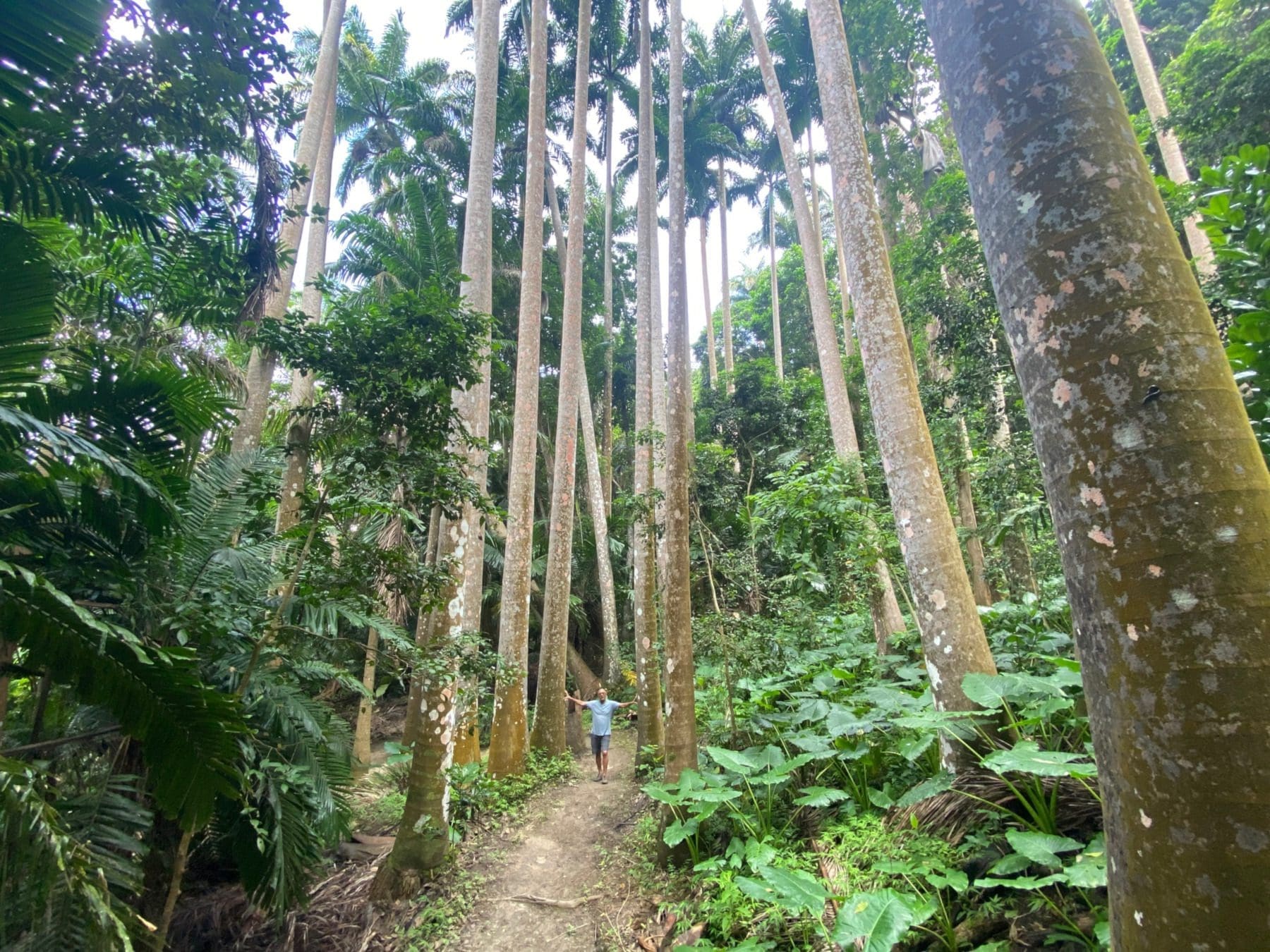 Unearthing Sustainable Barbados Tourism
Mark Bibby Jackson
Posted on 28th Nov 2022
For most visitors Barbados is an island of beaches and possibly rum, but there is so much more to the country as Mark Bibby Jackson discovers investigating sustainable Barbados tourism.
With jet-lagged eyes I awake to the most glorious sunrise glittering on the soothing Atlantic waters, hurriedly put on my bathers and take the short stroll to the narrow, rocky beach. At the headland by Surfers' Point, a group of fishermen are staring blindly into the distance. I stroll into the Atlantic and awaken myself as best I can in the knee-deep waters. It feels even more than the few thousand miles I have just travelled from autumnal England.
A Friendly Welcome
I chat briefly with one of the fishermen, Shawn, 48, who drives a taxi for a living. He is having no success with his fishing – "the fish have gone to church," he tells me, this being a Sunday. Not that this seems to deter him. "If I could fish every day I would, but I have to go to work."
A taxi driver, Shawn has found the covid years tough, but he is hoping that the visitors will return now that all Barbados travel restrictions are relaxed. I reassure him that my Virgin Atlantic flight was full.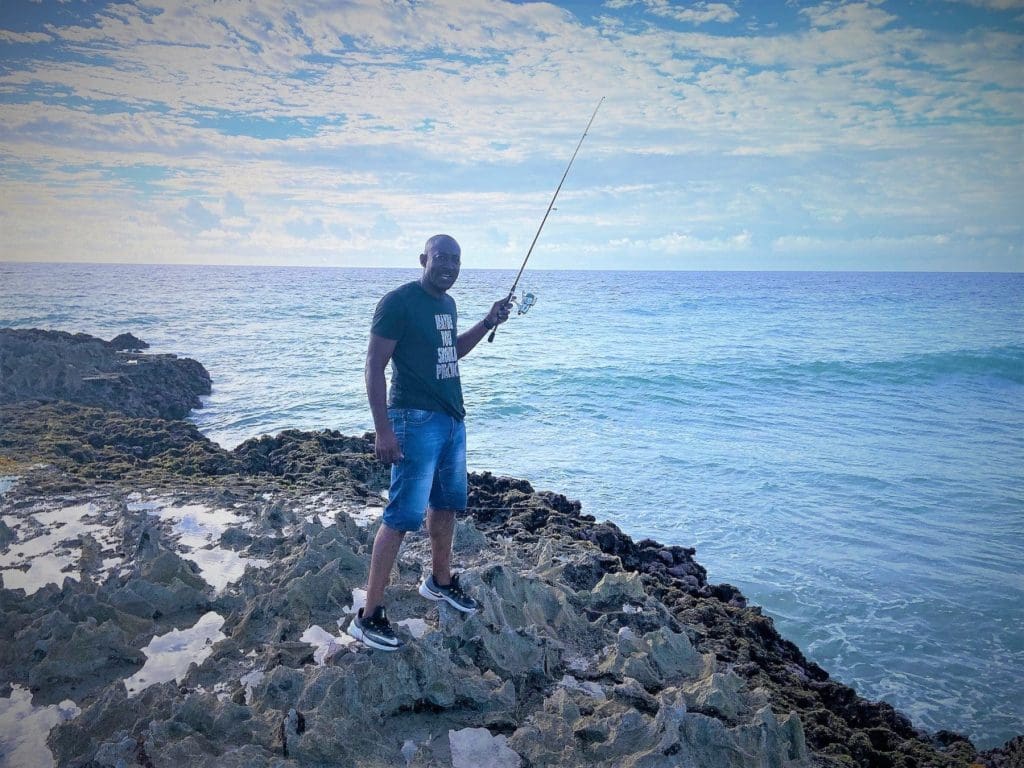 To Barbados beaches and sun you can add hospitality and friendliness. Later that morning I am given a lift by James to the local mini-mart to stock up on provisions for my apartment and get a fantastic saltfish patty from Soutee's across the road. I am here for the annual Barbados Food and Rum Festival, but this simple offering is a match for anything I am to taste later in the week.
Together with his sister Liesje, James is opening Ocean Blue resort next to Ocean Spray Apartments where I am staying. Liesje takes me on an impromptu tour of the Moroccan inspired resort that should be open by the time you read this article.
On my walk back from the mart I become something of a tourist attraction, chatting to local Bajans about the Tory leadership pantomime, King Charles or cricket. The previous night I had joined the locals sharing a beer at the rum shop Buffys.
Coco Hill
The hospitality continues after lunch as Mahmood, who owns Ocean Spray, takes me to his other venture Coco Hill, one of the few remaining stretches of tropical forest on the island.
"Climate change started here in Barbados," says Mahmood tracing the existential threat back to the development of sugar cane plantations on the island by British settlers. At one stage Barbados, according to Mahmood, was the richest spot in the Empire.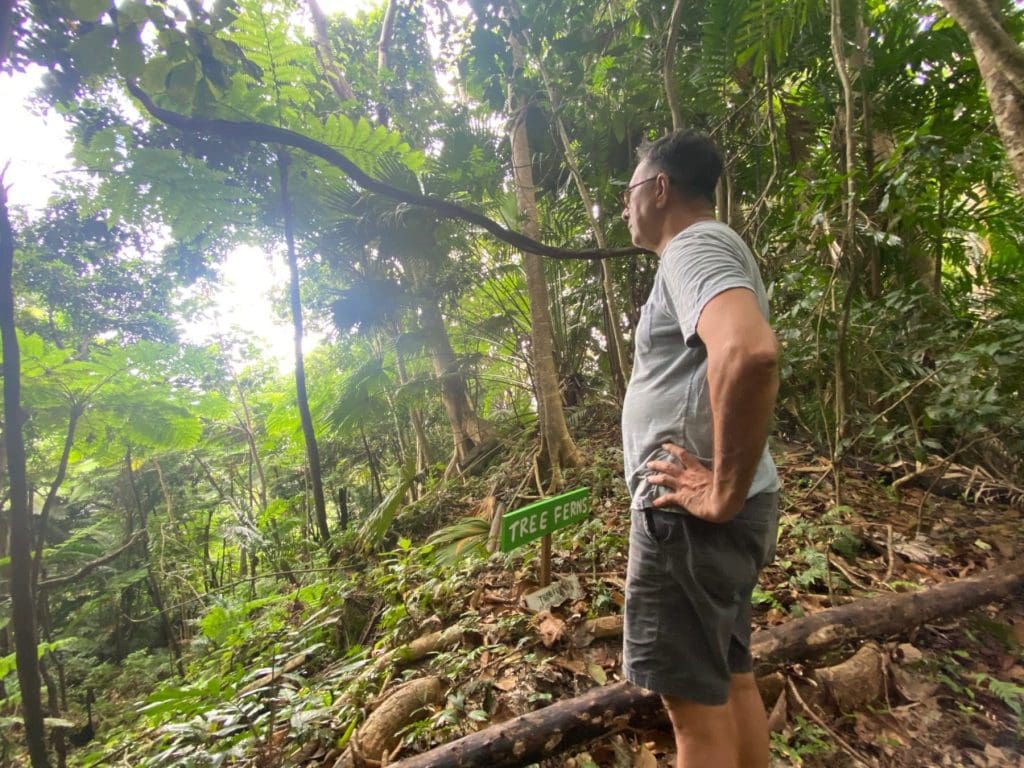 The plantations took over from the natural vegetation on the island. At Coco Hill Mahmood is trying to reverse this trend, growing trees and grasses that are native to the island. Essentially this is a 22-hectare food forest, and a wonderful example of the positive role regenerative tourism can play.
In the eight years since he acquired the land he has planted 80 types of fruit trees, as well as bamboo, bananas, ginger, turmeric and naturally coconut, including seedlings of species that used to be endemic or were brought in during colonial period and have since disappeared. He has a nursery and is planning to replicate terraced farming techniques.
As I walk across the well-marked trails it is hard to imagine that 100 years ago most of this land was covered by sugar cane. I bump into Michaela, an American out for a walk with a friend in the cooling forest. She has held yoga classes here – "it was amazing," she tells me.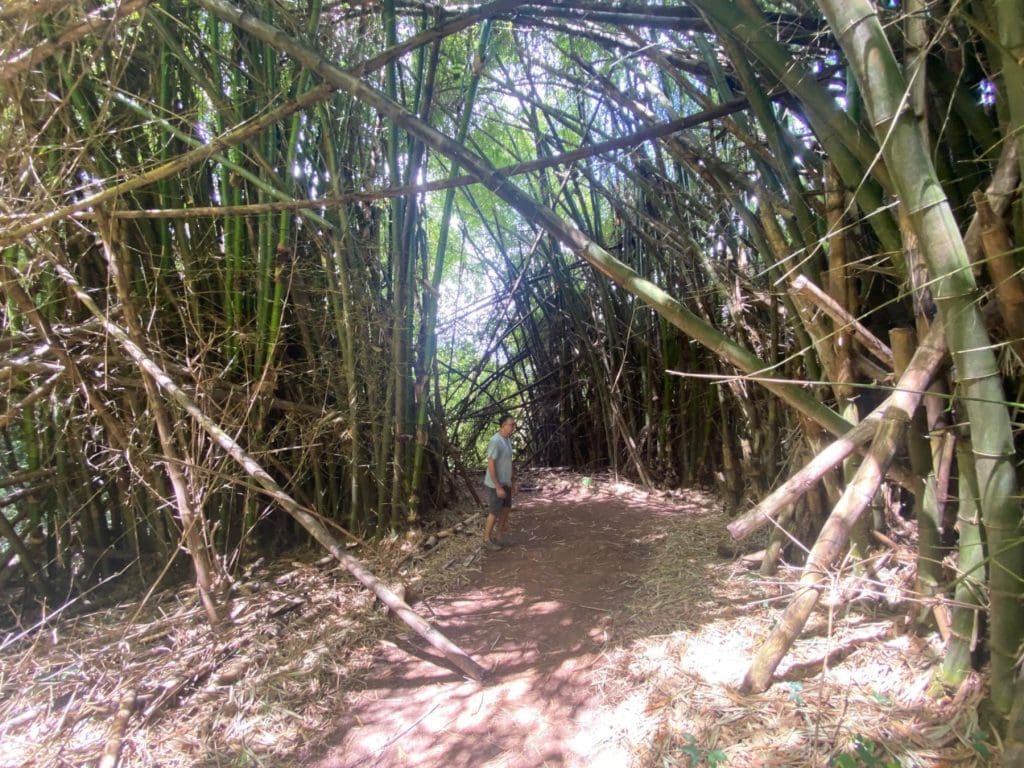 A little later a tiny black hummingbird flits across my bath.
Coco Hills has three trails including one that leads through an ancient tract of forest, with the most incredible 100-foot high Royal Palms (see main image) situated in an area Mahmood has dubbed The Cathedral. Visiting it is almost a religious experience.
It's great to see the forest living, although this comes with its own complications. Mahmood cuts the trails himself, aided by some volunteers.
The only problem with Coco Hill is that currently you can not stay the night here. Mahmood is seeking funding to fix this, believing that endeavours such as Coco Hill represent the future of tourism in Barbados.
"The tourist profile of Barbados is changing and it needs to change," he says. Mahmood is not alone in this belief.
WIRRED in Barbados
Following Mahmood's suggestion, the following day I head for WIRRED (Walker Institute for Regenerative Research Education and Design). Up to recently the area used to be a sand mine – they are still extracting sand in parts – but seven years ago the owners Ian and Julie McNeel decided that instead of landfilling they would create a nature reserve, giving back to nature what they had taken away.
It reminds me of my recent trip to Brandenburg's Lake District which has been created from disused open cast mines over the past 50 years. Just like Coco Hill, WIRRED is a wonderful example of regenerative tourism.
The Sand Hole, as locals call it, is open to the public with walking and driving tours, as well as school visits. It contains 134 species of trees as well as its own nursery, in what my guide Wendell informs me is an edible forest. There is also a monthly eco-market.
In the centre is a large lake. Driving above it you have the most amazing view down to Walker's Beach and the coast. "You can't come to Walkers and not take a photo from viewpoint," says Wendell.
The reserve also has a bird station where they track the many migratory birds, as well as an education centre and a soup kitchen, run by Julie McNeel where slow food is provided for the poor. They have just started producing their own wine too. "The Napa Valley of Barbados," says Wendell.
PEG's Farm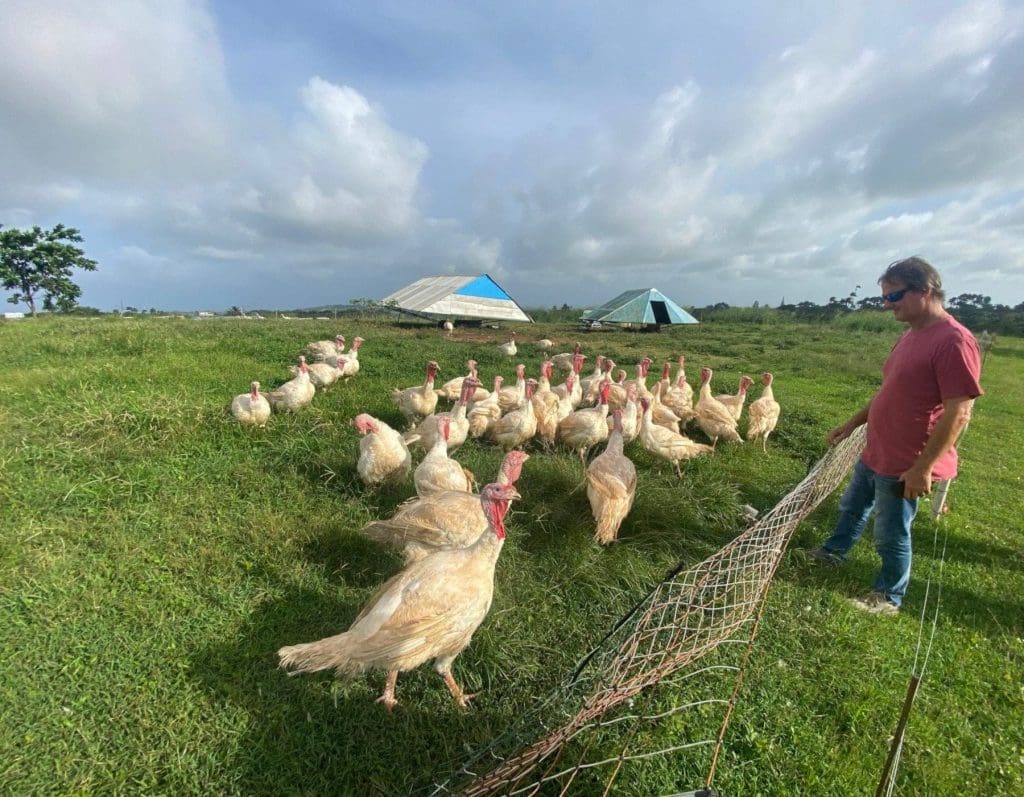 Over the next few days I find myself growing increasingly restless, I bid adieu to the tranquility of my solitary beach where the sound of crickets lull me to sleep, to check into an all-inclusive resort along the south coast. Despite the really high standard of the rooms and the extremely friendly service I find myself craving for solitude, which I find briefly as the sun rises or sets and my fellow guests are either in bed or preparing for the evening ahead.
It is only once the Barbados Food and Rum Festival has concluded that I am free to roam the island once more. The second of Mahmood's suggestions was for me to visit PEG (People Environment Growth) Farm.
Just like Coco Hill and Walkers Reserve, PEG Farm is a relatively new experience, established by Paul Bourne a little over nine years ago when he leased just over 100 acres of land which used to be a sugar cane plantation.
Paul has followed the principles of biodynamic agriculture established by Rudolf Steiner in the 1920s.
A rally cross driver and surfer, Paul had no experience of farming before setting up PEG Farm, although his family made their money through importing goods from major brands such as Nestlé to the island. He admits that PEG Farm is his payback time.
He first shows us his medicinal garden before leading us to the area where the chickens, turkeys, cows and pigs freely roam. The nomadic chicken farm, like the one I had seen in the Wilder Kaiser in Austria, is run by his son and has 4,000 birds, who lay 100 dozen eggs per day, protected from dogs and monkeys by an electric fence.
Paul also leases land to local farmers, hoping they will follow him in implementing the practices of biodynamic farming.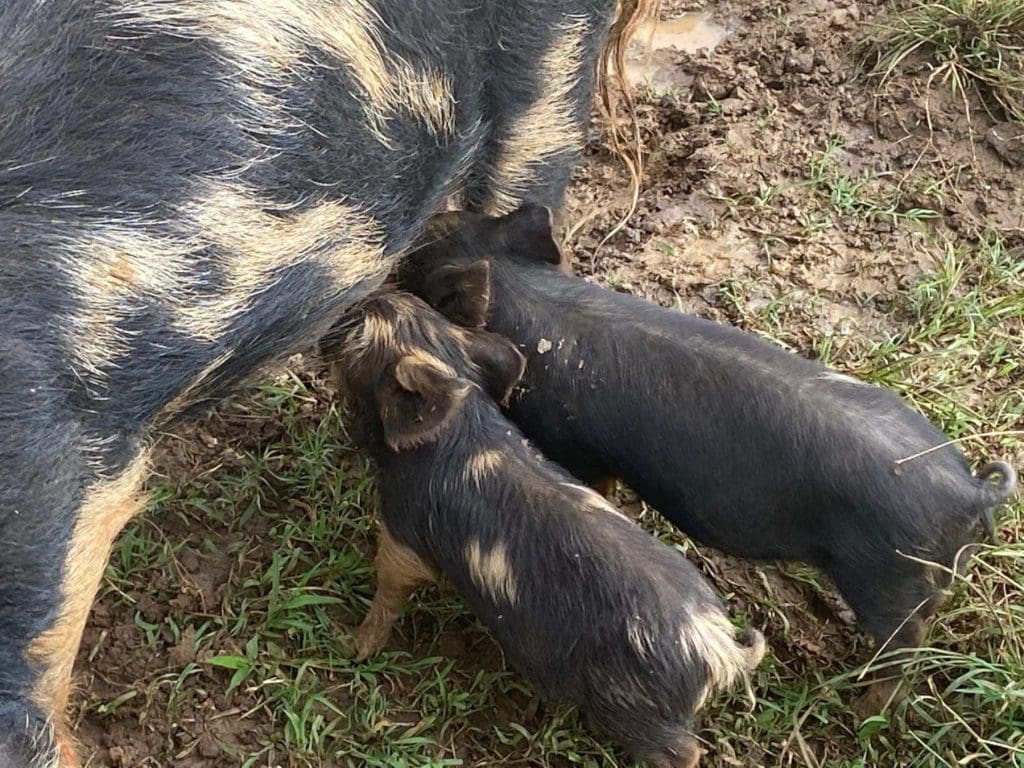 "This isn't going to happen with me alone," he says. "There is so much room for improvement. I want to see food growing in Barbados."
What strikes most as Paul shows me around the farm is his passion for the project, something shown by Mahmood and Wendell as well.
PEG Farm also has the most amazing view down to the Atlantic Coast and the wonderful town of Bathsheba. As a surfer Paul would look up to the Hackelton's Cliff. Eventually he made a few calls and bought the land around it. He needed land high enough that it would not become contaminated by non-organic neighbours. Hackelton's Cliff was so named after a certain Hackelton who rode over the cliff on his wife's favourite horse, in revenge for her claiming a lover.
Currently, in addition to tours and eating at the farm-to-fork restaurant, which was sadly closed during our visit, people can camp in the valley.
Like Mahmood he feels that sustainable tourism is the future for Barbados. "There is more and more awareness of these issues," he says, adding that he has plans to open an eco-resort, presumably without horse riding, along the cliff.
Welchman Hall Gulley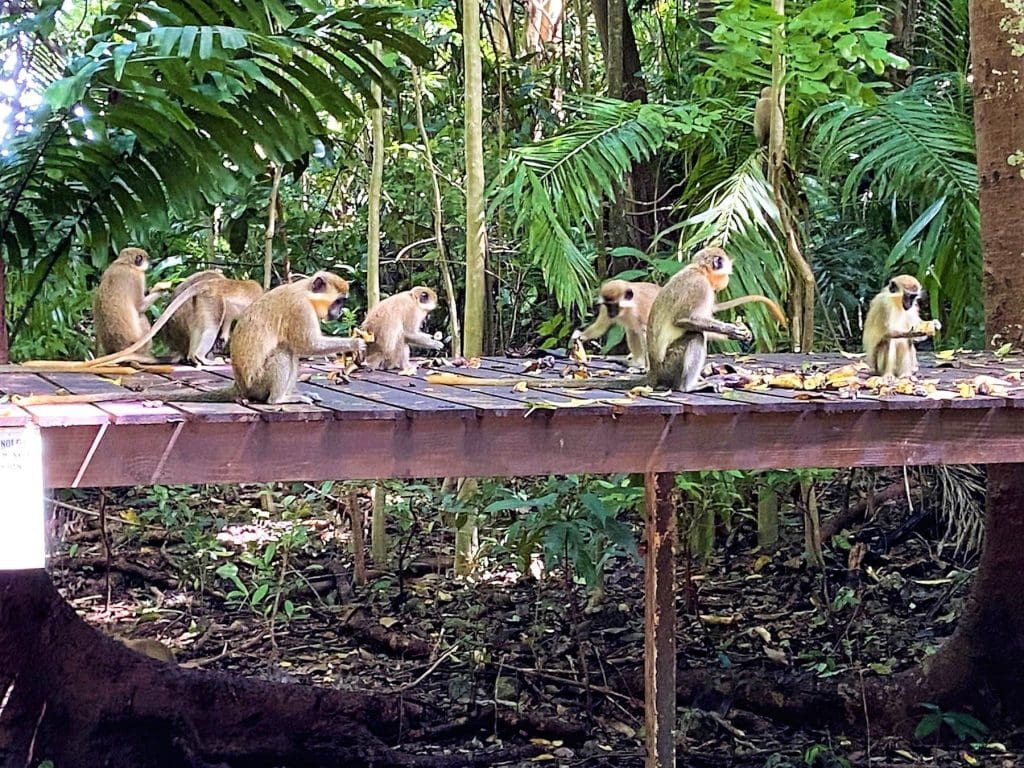 On my final day I visit Welchman Hall Gully, a tract of secondary tropical forest that has been leased and preserved by Debra Branker for the past 16 years, although it is owned by the Barbados National Trust. The gully was left alone by the plantation owners as you couldn't really grow sugar cane here.
The star attraction for most is seeing the two troupes of Barbadian Green Monkeys that live and feed in the gully – I was fortunate enough to coincide my visit for feeding time.
Debra, who has a BA in Environmental Studies and an MSc in Ethnobotany, wants to promote Welchman Hall Gully as a sustainable tourism destination and carbon sink. Currently, she runs day camps and education programmes – the following day a school trip with 80 kids was due.
"The kids that come here fall in love with nature and they want to protect it as adults," Debra says, as she leads me on a walk around her reserve, on the very accessible path towards its cave.
While Coco Hill, Walkers Reserve and PEG Farm show the role tourism can play in the regeneration of Barbados' natural environment, Welchman Hall Gully demonstrates the importance in preserving what we currently possess – and the importance of living in harmony with nature and the existing wildlife. It makes for a wonderful conclusion to my tour of sustainable Barbados tourism away from the beaches and the rum.
---
Barbados Eco Lodge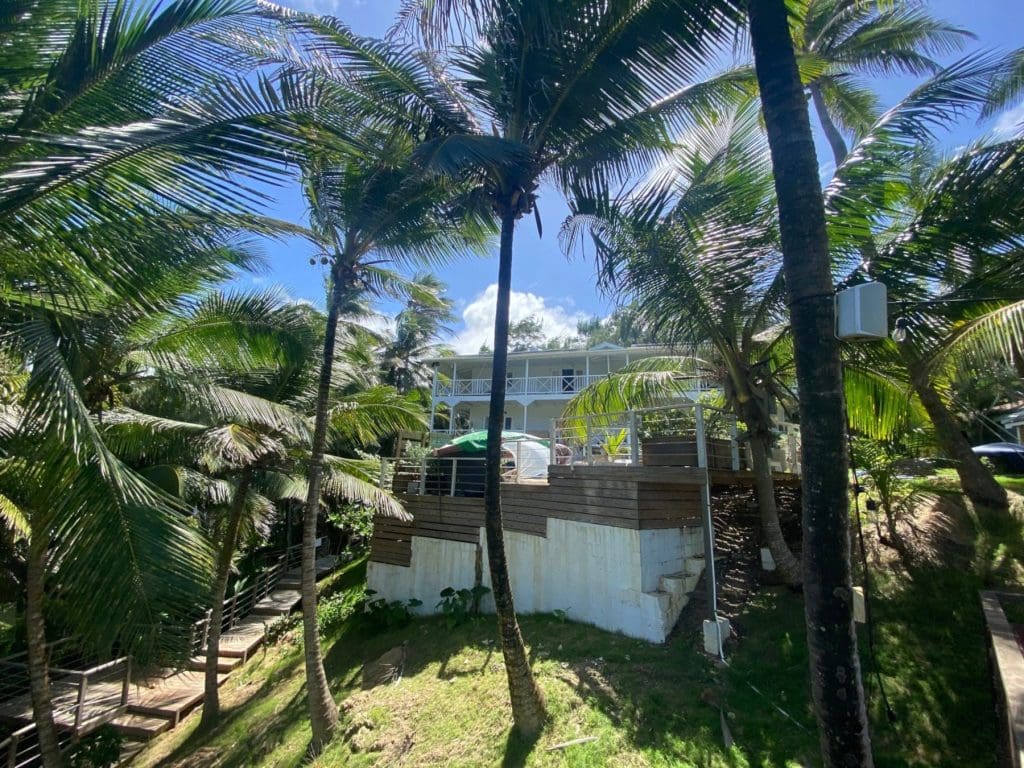 If you are looking for eco friendly Barbados hotels – at least while Mahmood and Paul are still planning their resorts – we recommend you visit Eco Lifestyle Lodge on the Atlantic Coast close to Bathsheba.
This Boho eco lodge has 10 room as well as a plant based, vegan, pescatarian restaurant. Eco since 2018, the owners have just installed solar panels which they hope will reduce their non-renewable power consumption by 30% with the ambition of going totally off grid within two years.
Green Globe Certified, they minimise their carbon footprint by buying food from local farmers, recycling food scraps into compost for those farmers, using recycled furniture in rooms, and banning plastic where possible. They also have electric charge points to encourage guests to arrive by electric car.
The resort also has a sister company Eco Sky Water, which uses local non-groundwater in compostable bottles made from corn, in what it claims is the "first truly sustainable bottled water company" in the world.
---
More Things To Do in Barbados
For further inspiration on what to do in Barbados read Mark's 11 Things To Do in Barbados.
---
Barbados Tourism Information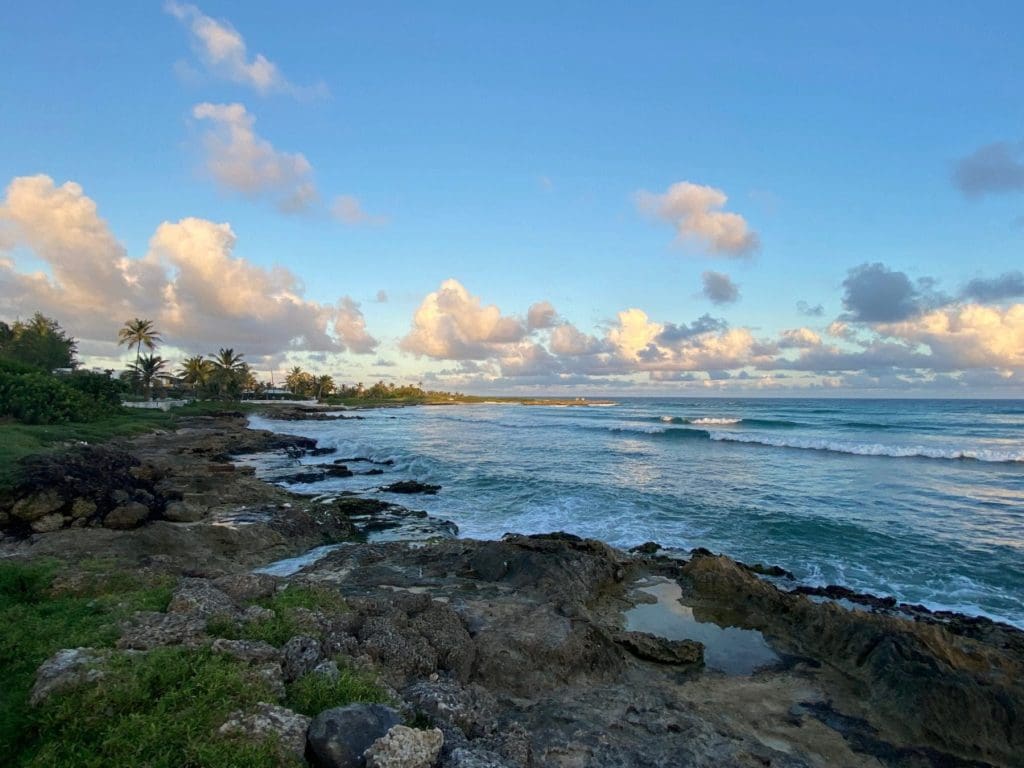 For Barbados tourism advice and things to do on your Barbados holidays, visit: www.visitbarbados.org.
Barbados Flights
There are daily Barbados flights from London Heathrow Heathrow with Virgin Atlantic.
Mark parked his car at Heathrow with Holiday Extras, the market leader in UK airport parking, hotels, lounges and transfers. Every thirty seconds, a Holiday Extras customer saves £100 on their airport parking. Booking airport parking means you can enjoy more holiday with less hassle, plus with Flextras, if you need to cancel or amend you can without charge. Ten days parking at Heathrow Terminal 3 Blue Circle meet and greet is available from £190. To book, visit https://www.holidayextras.com/ or call 0800 316 5678. Price searched on 11 November 2022 for arrival on 18 November 2022.
---
All photos: Mark Bibby Jackson
Mark Bibby Jackson
Before setting up Travel Begins at 40, Mark was the publisher of AsiaLIFE Cambodia and a freelance travel writer. When he is not packing and unpacking his travelling bag, Mark writes novels, including To Cook A Spider and Peppered Justice. He loves walking, eating, beer, isolation and arthouse movies, as well as talking to strangers on planes, buses and trains.