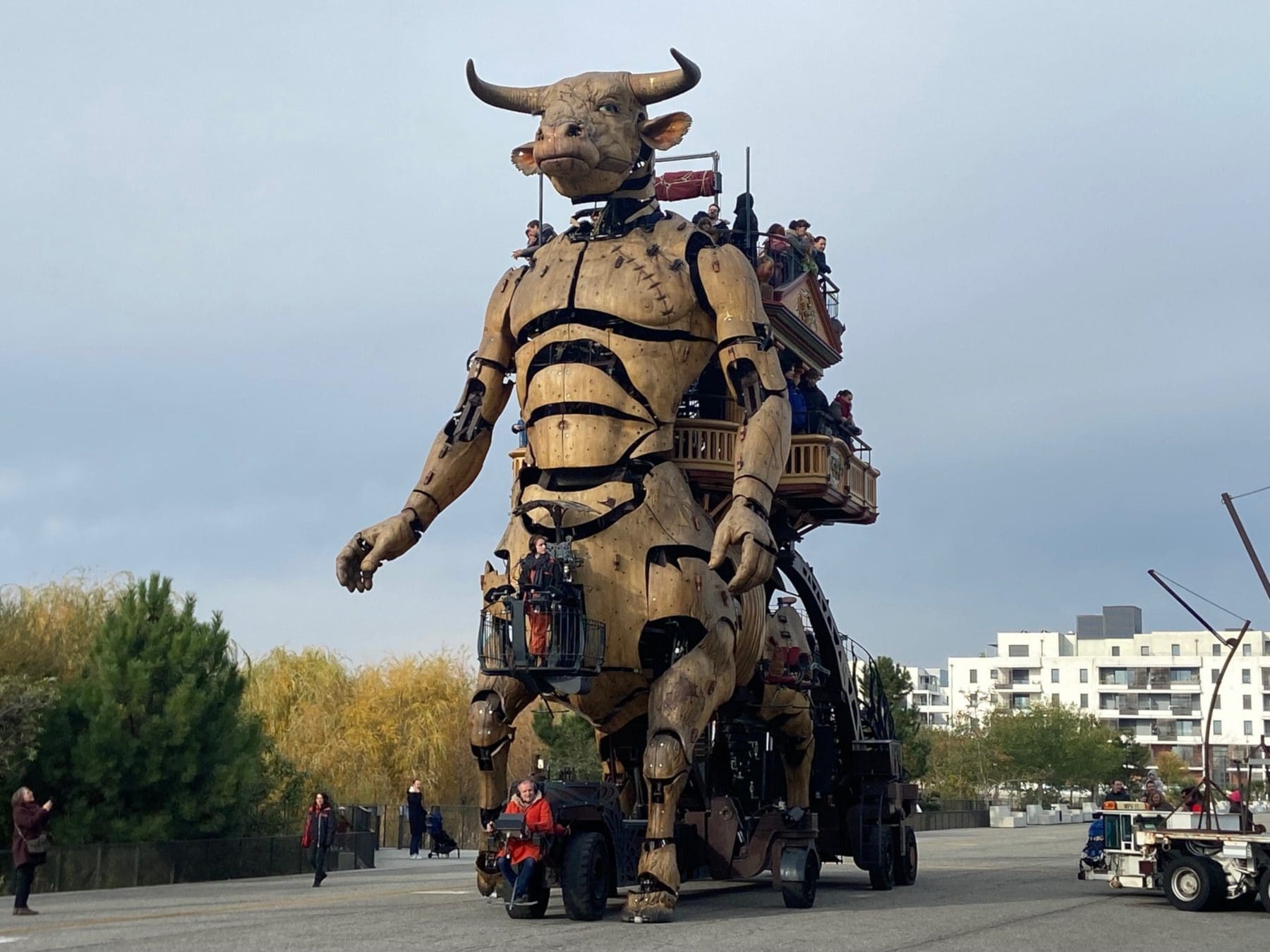 5 Things To Do in Toulouse France in Two Days
Mark Bibby Jackson
Posted on 16th Jan 2023
Is Toulouse worth visiting? Mark Bibby Jackson visits the fourth largest city in France, and stands in awe at the Halle de la Machine before making a pastel fabric in his things to do in Toulouse.
A vast Minotaur fire breathing from its mouth walks towards me along the wide boulevard. Fearlessly I move closer for the perfect shot. As it approaches I can feel the water vapour cascading down upon me – it is water not fire from its mouth. Fortunately for me, this creature has not escaped his Cretan Labyrinth, but is one of the amazing creations of La Machine housed at the Halle de la Machine in Toulouse.
1 Things to Do in Toulouse – Visit Halle de la Machine
The inspiration of the incredible minds of artistic director François Delarozière and Pierre Orefice, the street theatre company has been around for a couple of decades. They opened Les Machines de l'île in Nantes in 2003.
Their first giant spider was built for Liverpool when it was declared European Capital of Culture in 2008. Since then they have taken their giant machines around the world. Although their workshop is in Nantes, it is in the Halle de la Machine in Toulouse that the machines are stabled, and on display.
Not everything at the Halle de la Machine is XXL, but each is unique. We are shown a series of mechanical contraptions that play music. Each has been made from parts of machines – apparently windscreen wiper motors make are very popular. They even have mechanical concerts at the Halle.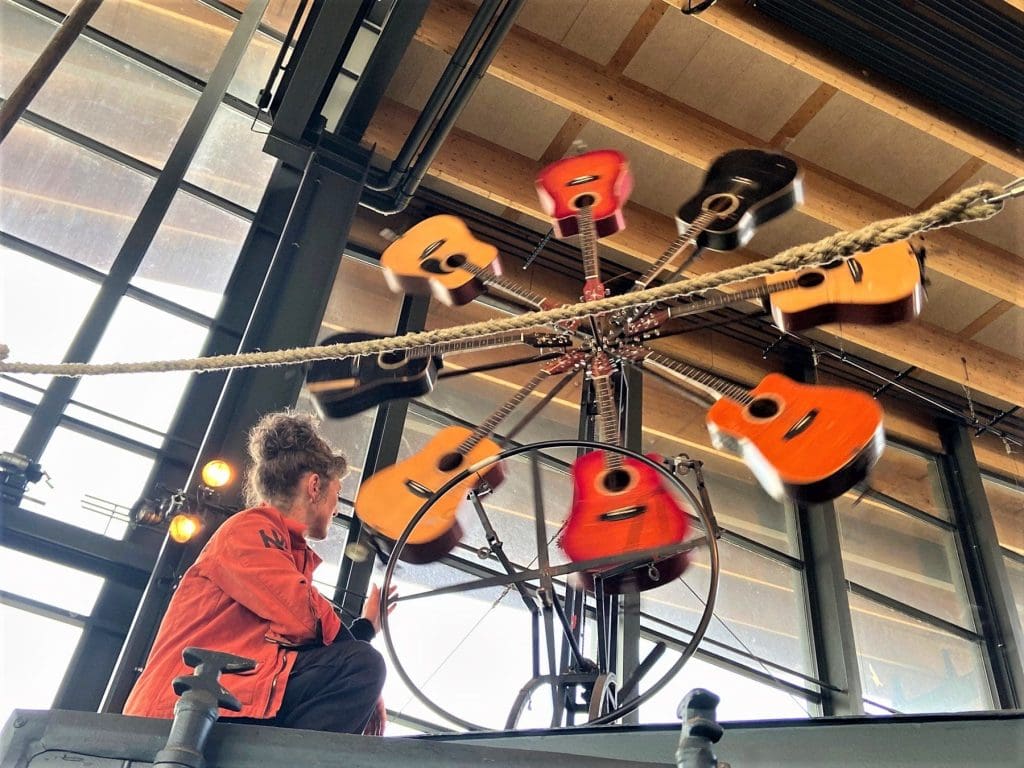 My favourite music machine is a guitar wheel that consists of several guitars, designed by one of the troupe who fell in love with a flamenco dancer who would not give him the time of day. He created the machine for her, and she fell in love with him. They married, had kids and are still together.
At the end of our visit we are shown a table where dinner is served in the most convoluted, mechanical manner. Bread is delivered tennis style thought the air. Wine is served robotically. It seems most complex and takes several people to operate, as do the giant machines.
However the highlight of a visit to the Halle de la Machine has to be a ride upon the Minotaur. Viewed from beneath it was a magnificent sight. The company combines music and science in the most incredible way and really is an absolute must for any kid to visit on a trip to Toulouse, although it is great fun for adults as well.
2 Visit L'Envol des Pionniers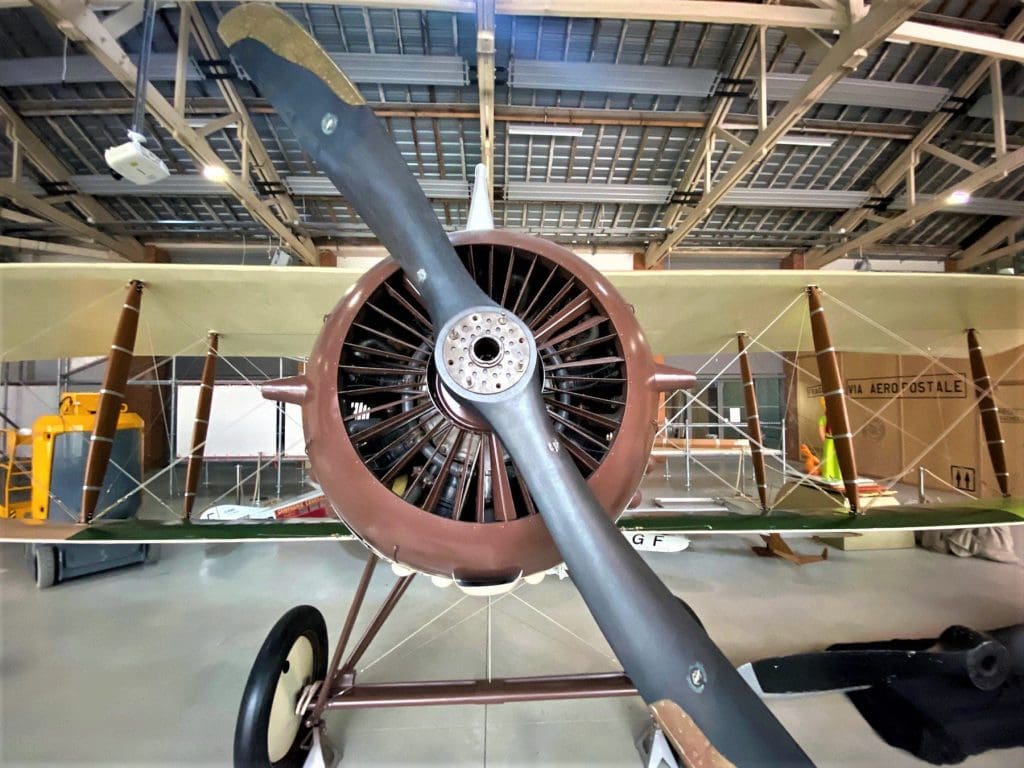 Toulouse is better know for a different type of machine – airplanes, along with Toulouse rugby. A few hundred metres from the Halle de la Machine – we passed the Minotaur en route – is the museum L'Envol des Pionniers. This has a permanent exhibition on how the aeronautical industry took off in Toulouse, as well as the advent of the French air mail service and its early pioneers.
At the forefront of this was Pierre-Georges Latécoère, the founder of the aeronautical industry in the city, who in 1917 was asked to set up a factory here to make planes. Over the years Toulouse became a major aeronautical city, including acting as the maintenance hub for Air France for 70 years.
Latécoère also developed the air mail service in France as well as creating a route to Santiago in Chile. The story of this crazy concept in told in an exhibition at the museum. One of the pilots was Antoine de Saint-Exupéry, the author of The Little Prince, which was inspired by events he experienced after a crash in the Sahara Dessert in 1935.
L'Envol des Pionniers has an exhibition on decarbonising planes that started on 17 December, 2022.
3 Shop at Victor Hugo Market
The previous day we visited Victor Hugo Market, one of the three covered markets in the city all dating to the 19th century, with our tour guide Jessica from Taste of Toulouse. This is hard to imagine as you stare at the hard Brutalist exterior which was created in the last century to create paid parking spaces in the city centre, once the old market was demolished.
Inside are some 80 or so vendors, selling food and wine from 7am to 1:30pm, except Mondays.
If tripe, sausage and charcuterie is you, then this is your market. There is also excellent seafood and bread, as well as wine, cheese and chocolate for the less carnivorous. After an hour or so shopping, we settled down to a picnic beside one of the wine stores for a most enjoyable lunch. The pairing of oysters with a sparkling wine from a local female wine producer proved a great hit with our group. The Toulouse sausage was also very popular.
4 Take Two Tours of Toulouse
After lunch we went on the first of two tours of Toulouse – the second was after my brush with the Minotaur – which I will poetically segue into one event.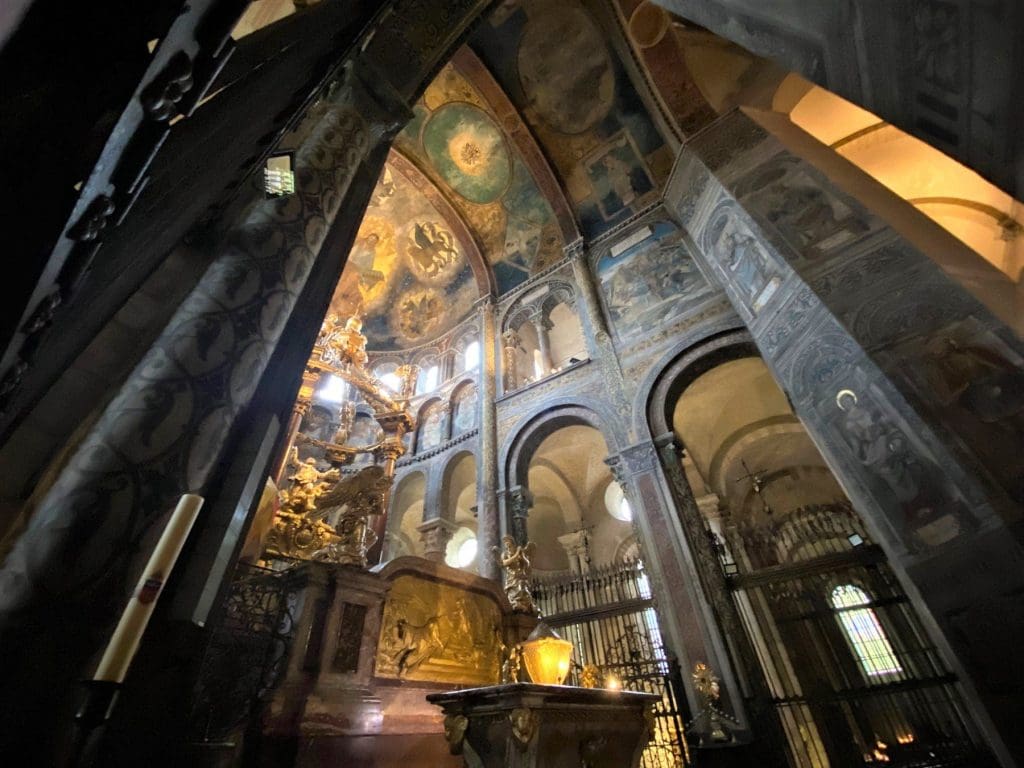 Toulouse has a long history, the Romans called it Tolosa, and there are many really interesting buildings including St Etienne Cathedral and the Basilica of Saint-Sernin, which has the most amazing crypts. The city is eminently walkable, although there is also an efficient metro if you start to feel tired.
For me, one of the most fascinating buildings is the Public Library built between 1928 and 1931, which has some really interesting socialist-style murals. It is still functioning so you can pop in to see the students hard at work. Next to it is the beautiful 17th Century Carmelite chapel, which is also well worth visiting.
The second tour was run by the excellent Penny Dickinson, a long-time Yorkshire Toulouse expat, of Toulouse Walking Tours. Penny gave us wonderful insight into some of the more eccentric parts of Toulouse – did you know that the inventor of the leotard – Jules Léotard – used to clean windows in Toulouse?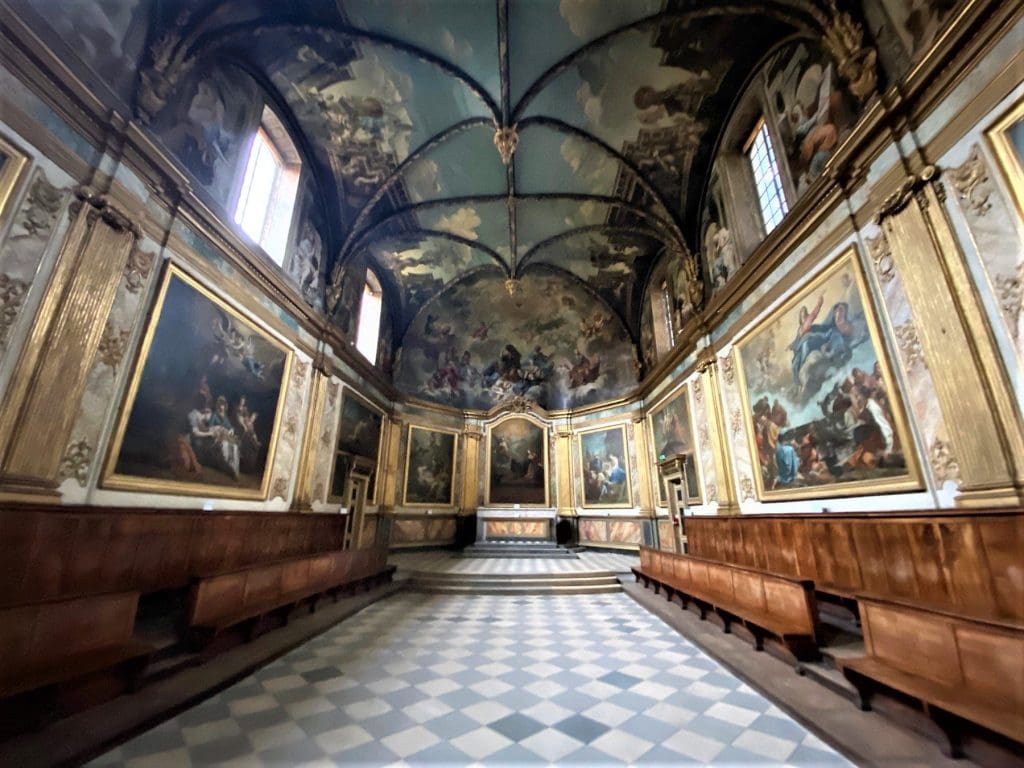 Toulouse also was a centre of resistance in the Second World War, along with Lyons. Penny showed us several plaques around the town dedicated to people who sheltered Jews and fought the Nazis, some of whom lost their lives or ended up in concentration camps.
Although the centre of city is now the stunning Place du Capitole, which housed the annual Toulouse Christmas Market during our visit, prior to its creation (1730-1855), St George's Square was the heart of the city. Now, this is a buzzing place with a children's playground in its centre above where public executions took place.
5 Learn How to Dye with Pastel
Toulouse is known as the Pink City, although in reality it is more terracotta-orange – they say it is more pink in the sun. However, arguably it should be regarded as the blue city, as it was the centre of the medieval pastel, or woad, industry. Merchants such as Pierre d'Assézat accumulated great fortunes trading the "blue gold" used to dye garments blue. The trade reached its peak between 1450-1560, before the introduction of indigo from India wiped it out in the 18th century.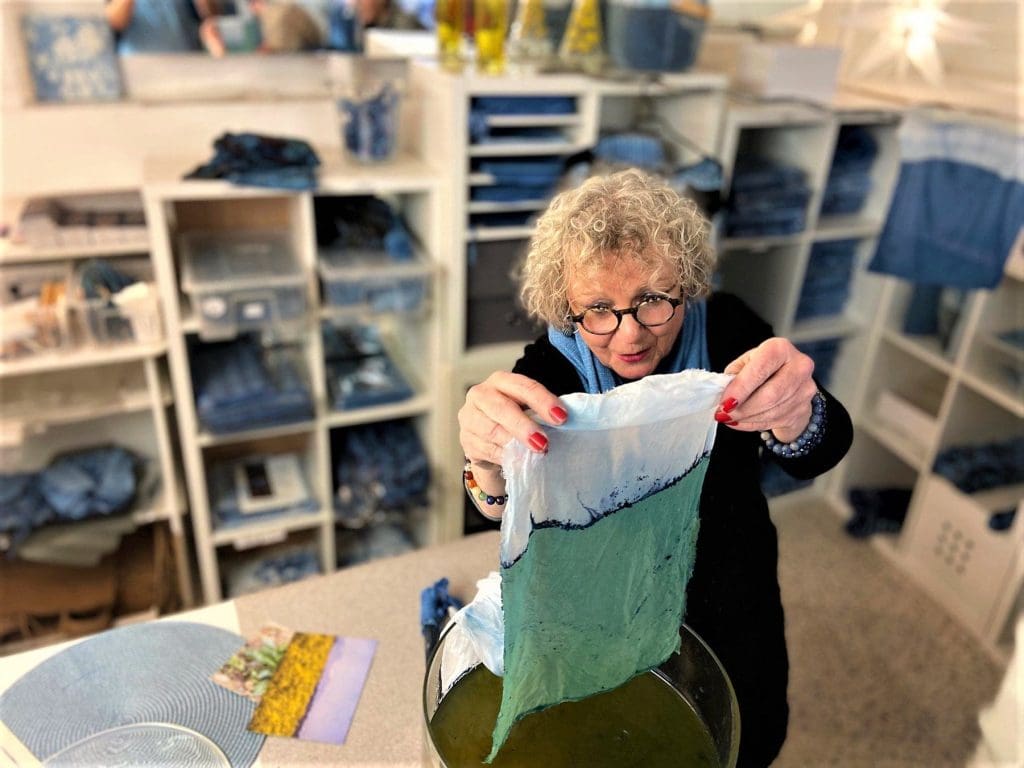 Pastel dyeing technique was only revived by Denise and Henri Lambert, founders of Bleu de Lectoure, in the 1990s. In addition to dyeing, pastel can be used in painting, cosmetics, medicine and aeronautical paint – handy for Toulouse.
This tradition has been continued by Annette Hardouin and Yves Patissier, founders of AHPY, who create their unique pastel-dyed designs in Toulouse. A few years ago they opened a shop in the heart of the city, and it is here that Annette demonstrated to us how to dye fine cotton fabrics blue. The brief workshop was illuminating and simple, although Annette had to hold my hand as I dipped my material into the dye. Just like I had felt when creating stained glass in Monthey, being creative while on a trip can be a very rewarding experience.
Annette runs three-hour long workshops, if you want to discover more about the dyeing process. They also have plans to open a pastel museum opening in Toulouse in Spring 2023.
Perhaps they should create a pastel coloured Minotaur, that certainly would be a sight to behold on my next visit to Toulouse, a very colourful and surprising city.
---
Things To Do in Toulouse Photo Essay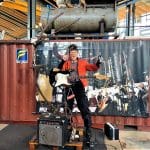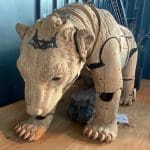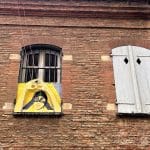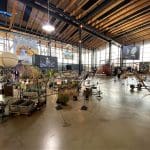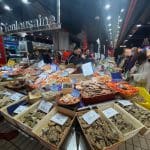 ---
Toulouse Hotels
We stayed at The Social Hub, Toulouse. Predominantly aimed at a student market, there are also comfortable rooms for more mature visitors to Toulouse. Great for brushing up on your table tennis skills if you can get on the table.
Toulouse Restaurant
Highly recommended is La Gourmandine restaurant next to Saint Etienne Cathedral. The fish was excellent with mackerel as a starter and hake as a main, all served impeccably in a stylish contemporary setting.
Best Things To Do in Toulouse
For more inspiration on what to do in Toulouse, visit the local tourism website for Toulouse holiday inspiration, click here.
Getting to Toulouse
Toulouse flights are simple and cheap. Ryanair flies from London Stansted to Toulouse Airport. Alternatively you can take the Eurostar from London St Pancras to Paris Gare du Nord (2 hours 16 minutes), and then the TGV to Toulouse from Paris Montparnasse (approximately 4.5 hours).
---
All photos: Mark Bibby Jackson
Mark Bibby Jackson
Before setting up Travel Begins at 40, Mark was the publisher of AsiaLIFE Cambodia and a freelance travel writer. When he is not packing and unpacking his travelling bag, Mark writes novels, including To Cook A Spider and Peppered Justice. He loves walking, eating, beer, isolation and arthouse movies, as well as talking to strangers on planes, buses and trains.