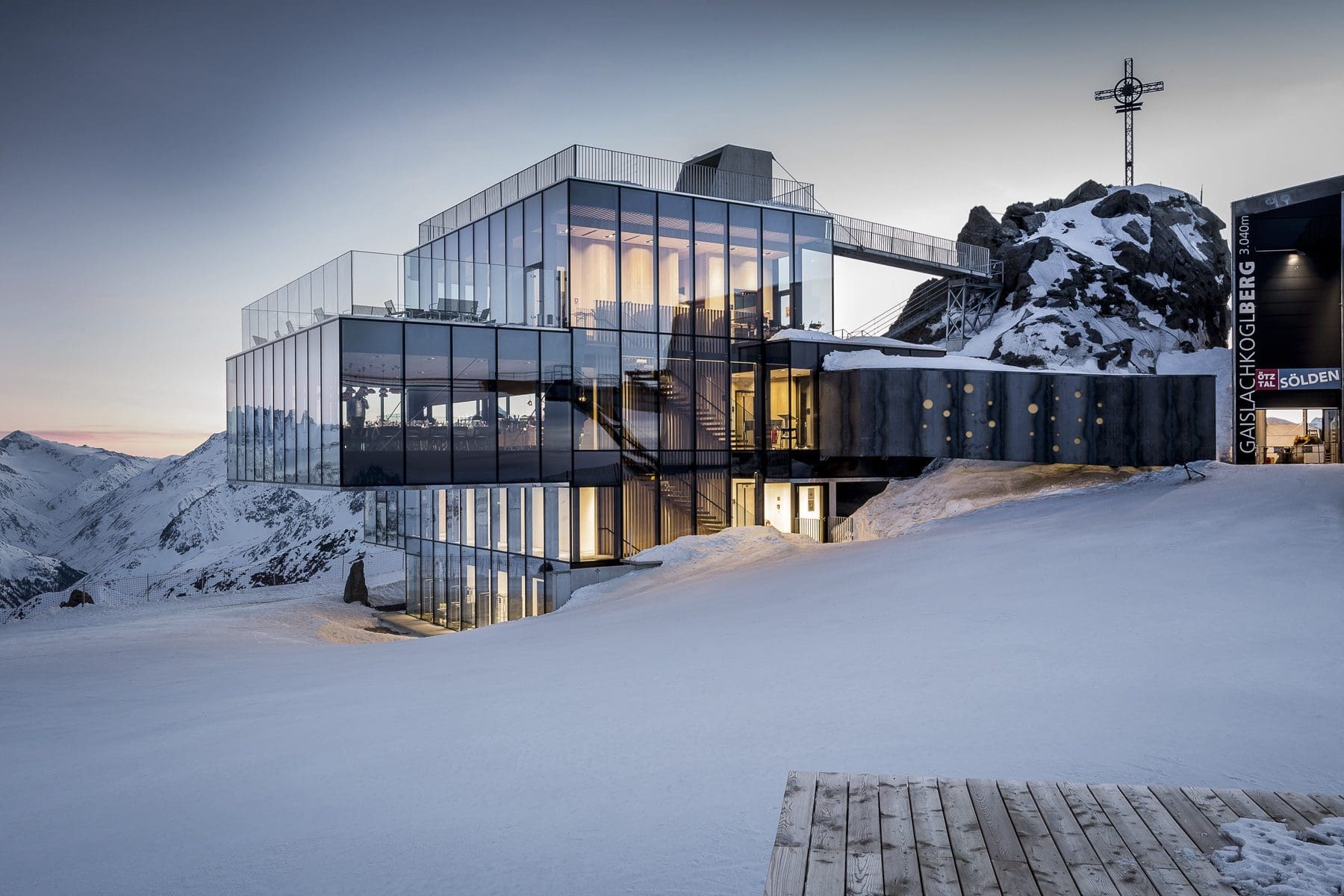 In The Footsteps of James Bond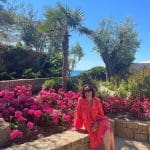 Maria Boyle
Posted on 24th Jan 2023
Maria Boyle and daughter Daisy follow in the footsteps of James Bond as they visit Sölden in Austria and enjoy the 007 lifestyle both on and off the slopes.
Holiday like James Bond? Why yes – as long as I am not required to put myself in danger and kill anyone!
Funnily enough, in the last 12 months, my holiday destinations have, by chance, followed in the footsteps of James Bond movies.
Following James Bond 007
First up was a winter weekend visit to the pretty village of Andermatt in Switzerland to explore the 'swisstainable' resort. Its Alpine location featured in 1964's Goldfinger and saw Sean Connery famously pursue James Bond villain Goldfinger along the legendary Furka Pass in his Aston Martin DB5.
Next was a summer trip to the picturesque Unesco World Heritage site and ancient Italian city of Matera which was the backdrop to the opening scenes of the most recent Bond film, No Time to Die. These saw Daniel Craig involved in a high-speed car and motorbike chase around its winding streets.
But by far the best Bond 'holiday' experience came on a recent visit to Sölden which is located in Austria's Tyrolean Alps. These feature in 2015's Spectre – more of this later – and myself and my 19-year-old daughter's mission was to enjoy the James Bond lifestyle both on and off the slopes.
While I was channelling Bond in spirit, in reality I wasn't. Ever since my first ski trip some 25 years ago, I have diagnosed myself with mappophobia: an inability to read a map and in particular ski maps which send me over the edge. In one recent case, my lack of map reading led me to a completely different resort and then having to call a taxi to get back to my hotel. Thankfully, getting to small village Sölden did not require any MI6 planning given it is an easy and straightforward one-hour drive from Innsbruck airport. So far so good.
---
If you are not into skiing then you can always visit the Austrian Tyrol in the summer too. Join Mark Bibby Jackon as he discovers local tourism in the Wilder Kaiser.
---
Luxury at the Foot of the Slopes
Our base for our four-night stay was the family-owned Das Central hotel, which as its name implies, is right in the centre of Sölden.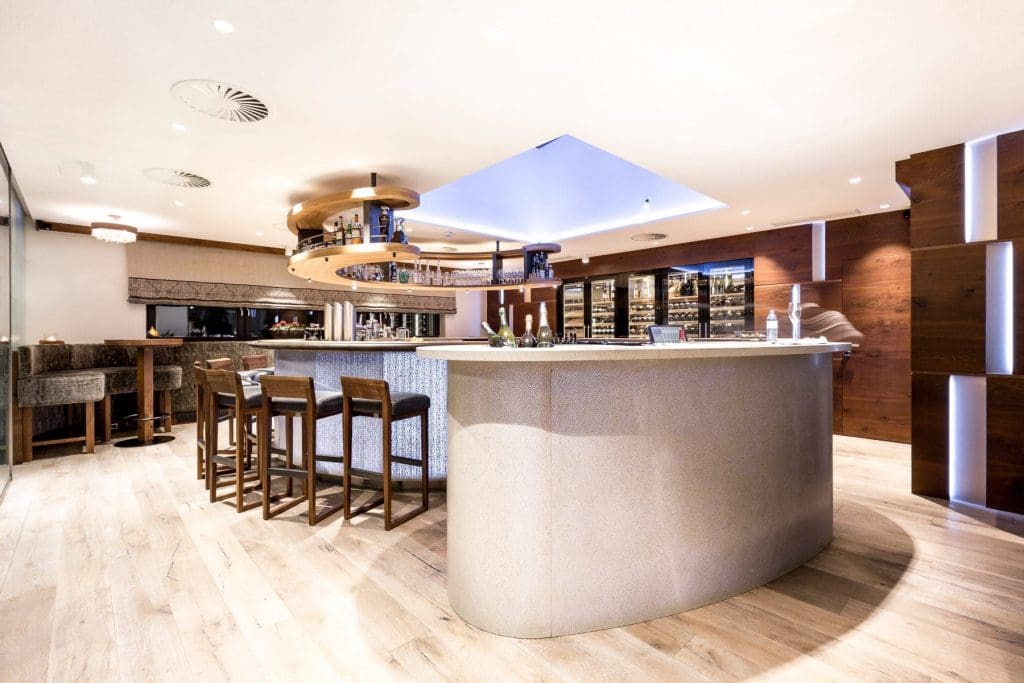 As soon as we entereted the five star,125-room property, we instantly felt the Bond vibes with lots of luxurious cues – be it the laid-back comfy seating in the communal areas, roaring fires, a stylish curved bar area, perfect for a Vesper martini – shaked not stirred of course – along with a well-stocked wine cellar, cigar room, gym, spa and a choice of restaurants.
We settled in to our two-bedroom, two-bathroom suite which was stunning: stylish and contemporary designed, extremely comfortable with views of the snowy mountains, and we even had our own private sauna. 007 eat your heart out!
After quickly unpacking, we went to hire our skis, poles and helmets. This was super easy as right next to the hotel is Intersport Glanzer Rent. We were looked after by their knowledgeable and efficient staff. Having picked up kit in record time, we took it back to our designated heated ski locker in the basement of the hotel.
With time on our hands before dinner, we had the choice to visit the hotel's gym, participate in one of its daily classes or head to the hotel's impressive three-storey 1,500 square metre wellness area. Neither of us needed persuading and we robed up ready to explore the spa's vast space which included relaxation rooms, a large indoor pool, ten different types of steam rooms and saunas including Finnish, Infrared and Hot Stone as well as 16 treatment rooms. Bliss.
The hotel continued to impress throughout our stay with its excellent food and drink offerings. Its Feinspitz restaurant is where we had breakfast each day, serving a selection of fresh egg dishes cooked to order, muesli, fresh bread, and yoghurts made locally. The tea bar had more than 20 different teas, and fresh juices. Hands down, the choice and quality of foods and drinks was the best we have experienced in any ski hotel.
We also enjoyed a five-course dinner here most evenings with a choice of menus for meat and fish eaters as well as vegetarians. Service was excellent throughout.
Another evening we decided to have fondue in the hotel's wine cellar where we were able to choose from five different fondue variations, but the highlight of our stay was the most extraordinary dinner in the hotel's Ötzaler Stube restaurant created by head chef Michael Kofler.
Located in an atmospheric 50-year-old Swiss private dining area, it is the only restaurant in Sölden that boasts three toques by Gault & Millau. We opted for the six-course menu and enjoyed magnificent dishes including local Danube salmon from nearby Längenfeld and Wagyu bavette followed by mouth-watering desserts and local cheeses.
Licence to Ski
After a few missed years on the slopes due to Covid, together with my fear of the dreaded ski map, we decided to hire a guide for our first day on the slopes to show us around the ski area and also to check our technique. The hotel recommended Sölden-Hochsölden, the biggest and oldest ski school in the area. Eddie, an English-born ski guide, really helped us get our ski mojo back. As we whizzed around the mountain, he told us all about Sölden and the Alpine Ski World Cup which takes place every October, showed us where Spectre was filmed on the mountains, guided us down some great runs, suggested others to do during our stay, and patiently showed us where we were on the map after each run. We topped off our first day with a delicious lunch at the new Falcon restaurant which can be found at the middle of Gaislachkogl gondola and then headed in to Sölden for a spot of Apres Ski. It was the perfect first day back on our skis.
Day two and three we were skiing without Eddie but a miracle of the ski kind happened. I finally mastered the art of ski map reading. With a spring in my skis, I guided us around the mountains (although did have a hiccup when we went down a ski lift instead of up on one occasion).
007 Elements and Ice Q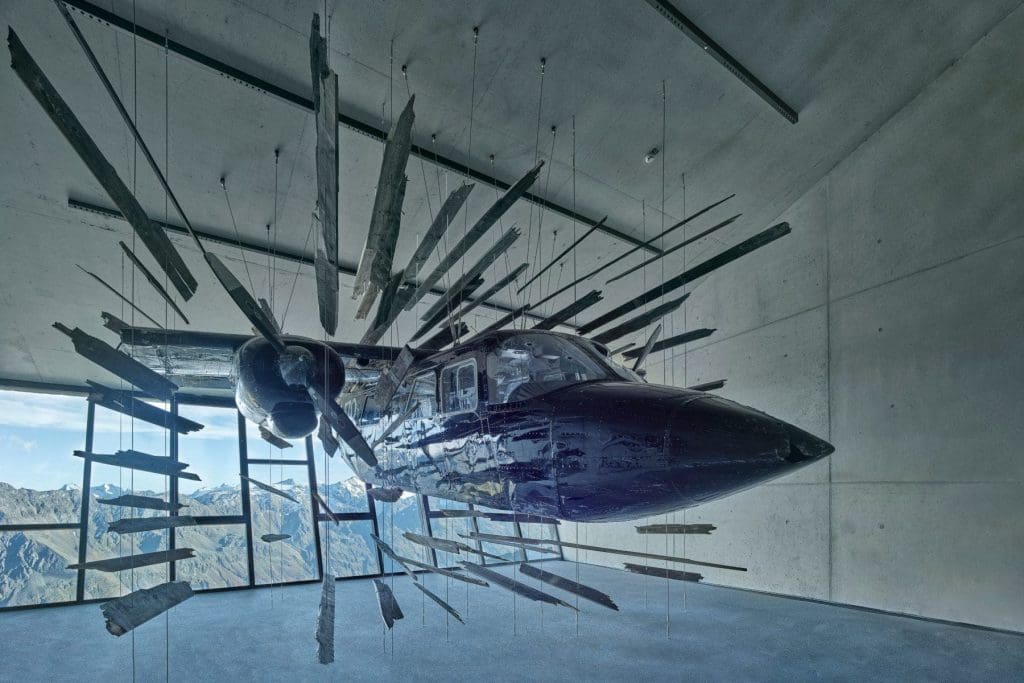 On our final day, after four hours of non-stop skiing and feeling invincible like Bond himself, we decided to pay a visit to 007 Elements, the world's first and permanent James Bond cinematic installation on the summit of the Gaislachkogl mountain 3,048 metres high, reachable by cable car.
007 Elements' experience has been cinematically designed so it is as engaging as any Bond film and appeals to all ages, skiers and non-skiers alike. While it mainly focuses on Spectre, due to the location, other James Bond films are also featured. We were led to nine high tech 'galleries', each dedicated to an aspect of filmmaking that define a James Bond film. A number of the exhibits are interactive with state-of-the-art technology and it really was a brilliant way to spend some time learning the films. Our favourite part was seeing all the behind-the-scenes filming linked to Spectre and being in the actual location it was filmed in as well as the aircraft which features in the thrilling glacier chase.
To finish our Bond experience we visited Ice Q, Austria's highest which is located toque-rated gourmet restaurant which is directly next to 007 Elements. The spectacular building was designed by Innsbruck-based Architect Johann Obermoser and teeters over the Öztal Alps. With 900m² glass facade providing panoramic views of the snowy mountains and is instantly recognisable if you have watched Spectre: it's the home of the futuristic Hoffler Klinik, where Bond first meets Dr. Madeleine Swann.
Diners can choose between different menus and dishes created by head chef Klaus Holzer and they arrived in a constant stream. Ingredients are locally sourced, beautifully presented and tasted delicious. It was certainly a meal to remember and we accompanied the meal with a glass of the famous Pino 3000, a wine aged at 3,048m in the restaurant. Thanks to the change in oxygen content and the low atmospheric pressure, the wine is significantly more fruity and fresh and was the best pinot we have ever tasted.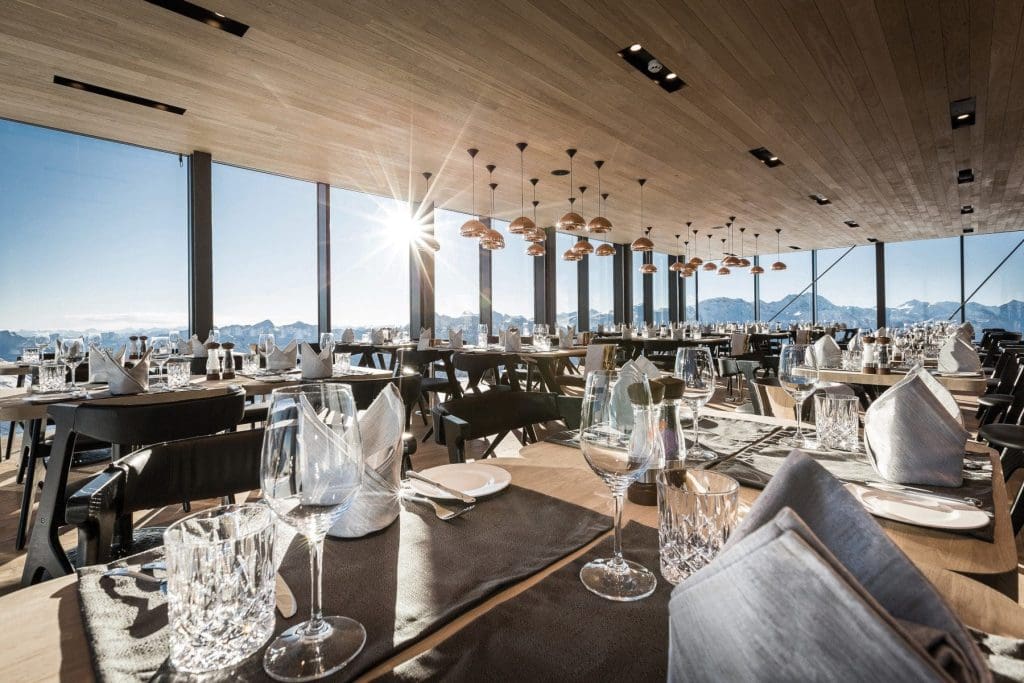 Sold on Sölden
Due to its high altitude, and the fact that most of the skiing is done above 2,000 metres, Sölden is pretty much snow guaranteed from November until May. It boasts more than 146 kilometres of ski slopes, has the longest ski run in Austria (a blue too so easy to master for most skiers). It is also Austria's only ski area to have three peaks above 3,000 metres accessible by mountain gondola.
While I have been fortunate to ski in a number of Europe's top resorts over the years, Sölden is easily the most impressive. Eschewing Austrian efficiency at every touch point, the ski domain with its 31 lifts runs like clockwork, especially as it has two of the most powerful lifts in the world operating at ski stations Giggijoch and Gaislachkogl which means waiting times are literally unknown. Music to any skiers' ears, especially at peak times, and one that James Bond would surely approve.
---
Wein am Berg
2023 will be the 20th anniversary of Wein am Berg, the annual gourmet food and wine festival which takes place in Sölden, Austria on 20-23 April. The festival celebrates and brings together the finest sommeliers, wine growers and international chefs from the region for a weekend of food and wine tastings high in the Austrian Alps, as well as guided skiing with world champions and former Olympians. Prices starts from €1920 per person in a double room for three nights at Das Central. This includes the three-day Wein am Berg programme and ski pass for the world champion skiing.
---
Getting To Sölden
Based on flights, private transfers and seven nights half board accommodation at Hotel Das Central, Sölden, trip with Ski Solutions are from £2,025 per person.
BA and Easyjet fly London to Innsbruck, prices vary pending time of travel.
Things To Do in Sölden
Visit the tourist information website https://www.soelden.com/winter
Ski hire https://www.glanzer.at/en/intersport-rent.
---
Main image: iceQ by Rudi Wyhlidal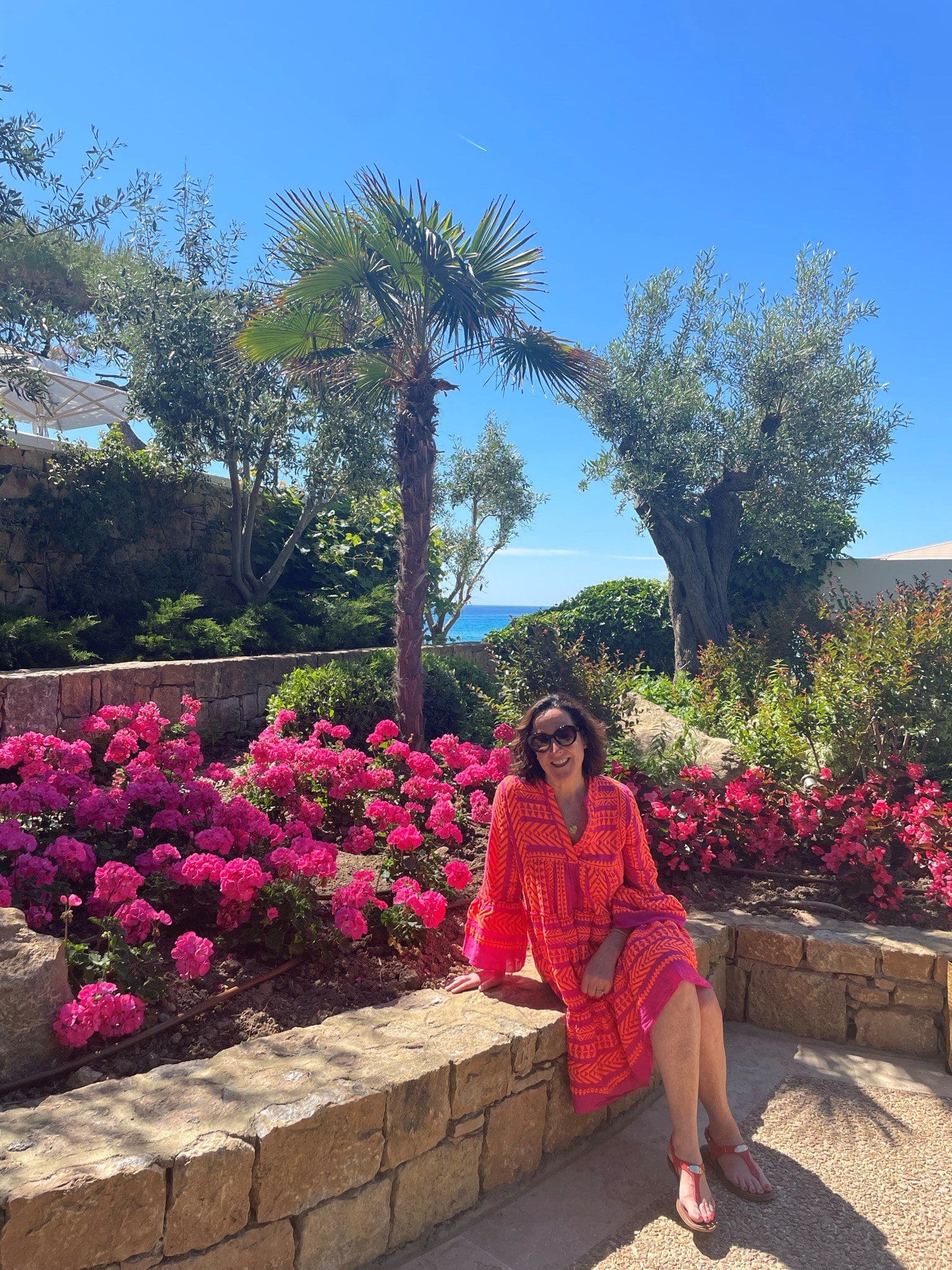 Maria Boyle
Maria is a luxury travel writer and also consults luxury brands on PR. Her passion for travel started in her teens and has taken her around the world. Favourite destinations include Costa Rica, South Africa and Italy.