Why Is Paris Known as the City of Love & Romance?
Travel Begins at 40 Editor
Posted on 4th Feb 2023
Have you ever wondered why Paris is known as the "city of love"? Many people think of Paris when they think about romance. There are a lot of things to commit in Paris for lovers trying to spice up their relationship. It makes sense why so many couples pick that location to celebrate their love.
So, whether you're looking for an excellent location to stay, a romantic spot to eat, or something new and exciting to do with your partner, Paris offers it all. Read on for a list of the most romantic activities in the city of love if you're seeking suggestions on making your upcoming trip to Paris particularly special.
The Most Romantic Activities for Couples in Paris
Suppose you have booked flights to Paris now; these are some of the romantic locations in Paris, regardless of whether you enjoy stunning scenery or want to treat your loved one to a fancy meal.

Champagne at the Eiffel Tower's Top Sparks All of Paris's Romance
At the Champagne Bar on the Eiffel Tower's top floor, take in the breathtaking views of Paris while enjoying some champagne. It's an excellent idea for a date in Paris! Enjoying a glass of champagne and the stunning view from the upper side of the Eiffel Tower are among the most romantic things in Paris. It's well worth it, particularly on a unique vacation like a honeymoon or anniversary!
Smooch at the Montmartre Wall of Love
The Wall of Love, also known as the Mur des Je t'aime, is a romantic must-see in Paris. This blue wall in the romantic Montmartre area has "I love you" scrawled in over 250 languages! Take some pictures and even share a kiss after finding the sentence on your tongue. The fact that this is free to do also makes it among the most romantic cheap things to do in Paris!
Go on a Seine River Sunset Cruise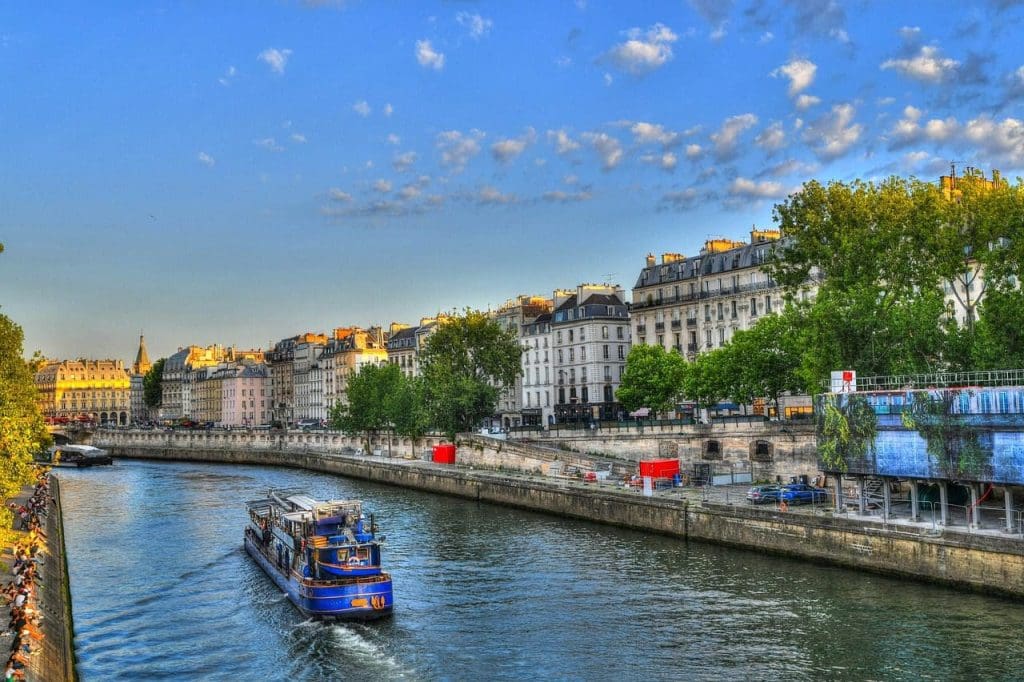 There is nothing more beautiful in Paris than taking a boat along the Seine, particularly during the golden hour when you can take in the calm wind of the river while admiring some of the city's most popular tourist attractions against the backdrop of a stunning sunset. The phrase "city of light" comes to life as you gaze at the sparkling lights of well-known French sites like the Eiffel Tower, Notre Dame cathedral, and the Musée d'Orsay. To top off your romantic evening on the Seine, you can raise a glass of France's finest champagne to celebrate your love. To full enjoy this experience we suggest you read this guide before booking any trip.
Pose for a Photo at the Love Lock Bridge
Taking a photo at the love lock bridge is one of the romantic activities for couples in Paris. The Pont des Arts Bridge used to be the most popular location to lock love padlocks, but that had changed in recent years when the volume of the locks got too much for this old bridge to bear, resulting in significant structural damage.
As a result, panels were installed in place of the rails on the Pont des Arts to stop lovers from installing additional locks. Even if you can't add locks anymore, you may still visit the Pont des Art and take a photo while expressing your love.
Watch a romantic movie or play.
Attending a play, movie, or performance at the theatre is among the exciting and romantic activities for couples in Paris. And obviously, not every play or movie will be romantic; thus, before choosing which one to watch, know precisely what it is about. Folies Bergère, Opéra Garnier, and Théâtre des Variétés are a few of Paris' largest theatres that often provide outstanding performances.
Final Thoughts On The Very Romantic Things To Do In Paris
If you're a couple looking for romantic places to visit in Paris or just romantic things to do in the city of love, this post inspired you and showed you many possibilities on what's doable with your loved one.
Travel Begins at 40 Editor
Travel articles, news, special offers, festivals and events from the Travel Begins at 40 Editorial team and our global network of travel industry contributors.