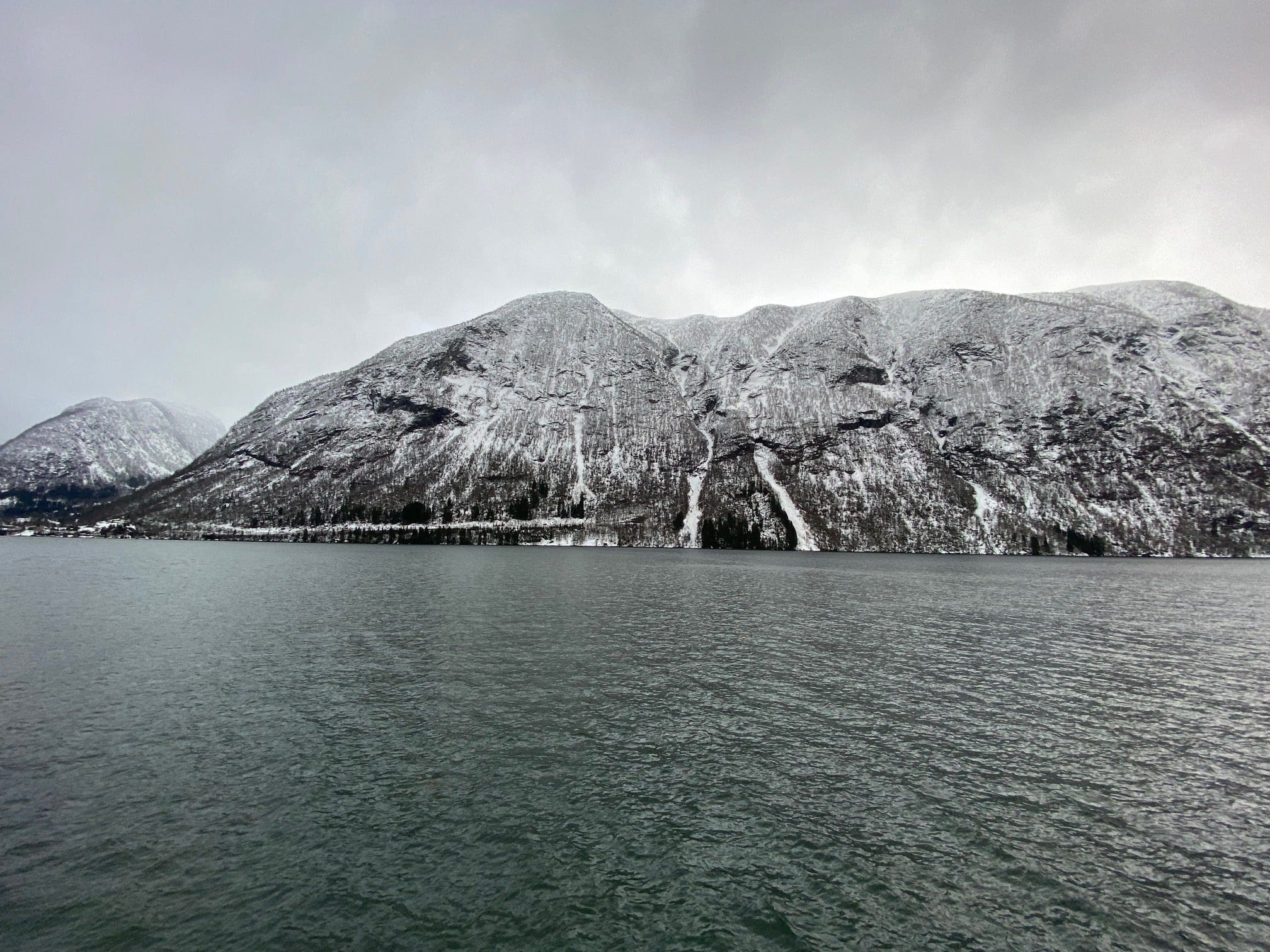 Fjærland Fjord Norway and a Ride on the Flåm Railway
Mark Bibby Jackson
Posted on 18th Mar 2023
On his journey through Norway from Bergen to Tromsø, Mark Bibby Jackson discovers an unexpected pleasure in Fjærland, Fjord Norway, and rides the Flåm Railway.
Sometimes it is the unexpected that delivers the most pleasure. When I saw the schedule for my winter's trip to Norway I confess I flipped through the middle bit excited as I was to be visiting beautiful Bergen and Arctic Tromsø. However, isn't it the filling in the sandwich that proves tastier than the two slices of bread?
Fjærland, Fjord Norway
Our short flight from Bergen to Sogndal with Widerøe was not one I was looking forward to. The weather had moved in for the kill and we wondered whether the flight would be cancelled. Entering the small, twin-propellor plane with a middle seat in the back row just like a school bus, did not reassure. One of our group gripped her partner's hands so tightly throughout the flight that we feared he might require plastic surgery.
However, the flight was much, much smoother than anticipated, with hardly any turbulence. Apparently the planes are made in Canada and ideally suited for Arctic conditions. We even managed to have some coffee on board without spilling a drop.
At Sogndal Airport we were met by Adrianne Kvam from Wonderlust, who really has to be the best driver in Norway, and taken to Fjærland Fjordstove hotel. Our wonderful host Inna Jorddal gave us a brief introduction to the hotel and area, before telling tales of being a German growing up in Russia over a bottle of wine into the early hours.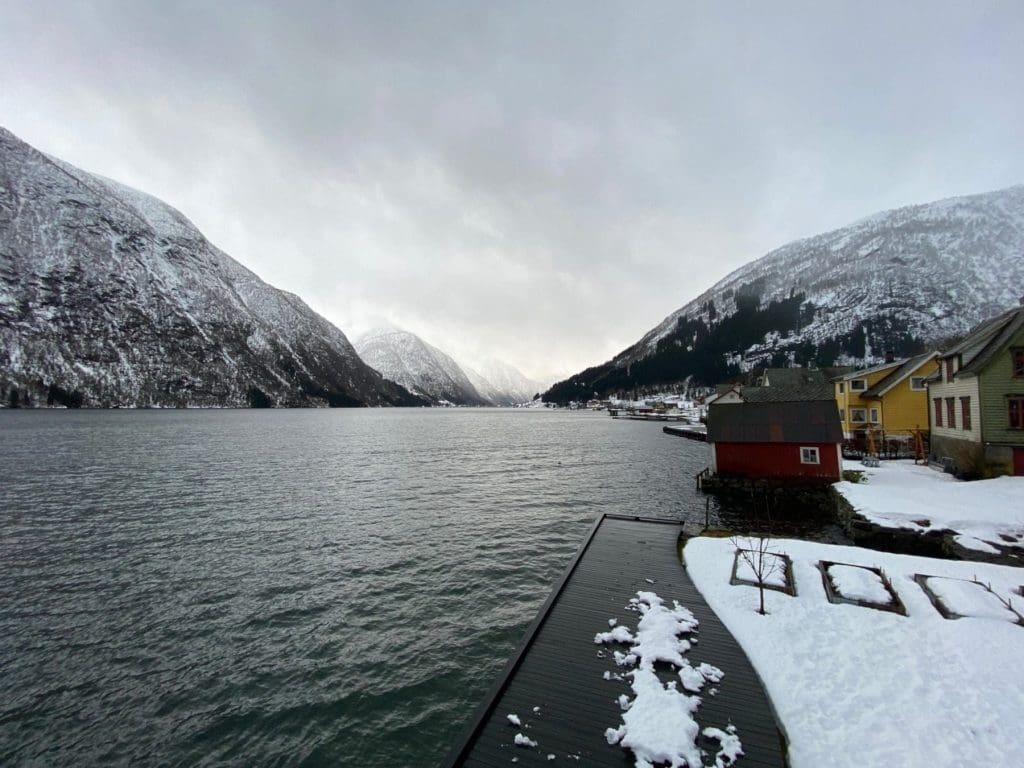 Waking Up in the Fjærland Fjords
As we arrived late at night we had not yet seen the amazing view of the Fjærlandsfjord right outside the window of our Fjærland hotel. Although the weather that was to dog us throughout our trip was still lingering, we could see the steep slopes across the far side of the fjord although sadly we could not glimpse the Supphellebreen Glacier, as you can on clearer days.
Fjaerland is a tiny village – apparently there are 300 inhabitants. Tourists have been coming here by boat since the mid 19th century to see the glacier. However, the construction of road tunnels towards the end of the last century that made Fjaerland accessible by road, also led to a decline in its popularity with tourists. So, the inhabitants came up with a novel approach to keep the town alive by converting vacated buildings into book shops, and Fjaerland into an international book town, very much on the model of Hay-on-Wye, with its own festival in mid June – in 2023 it will be on 17 June.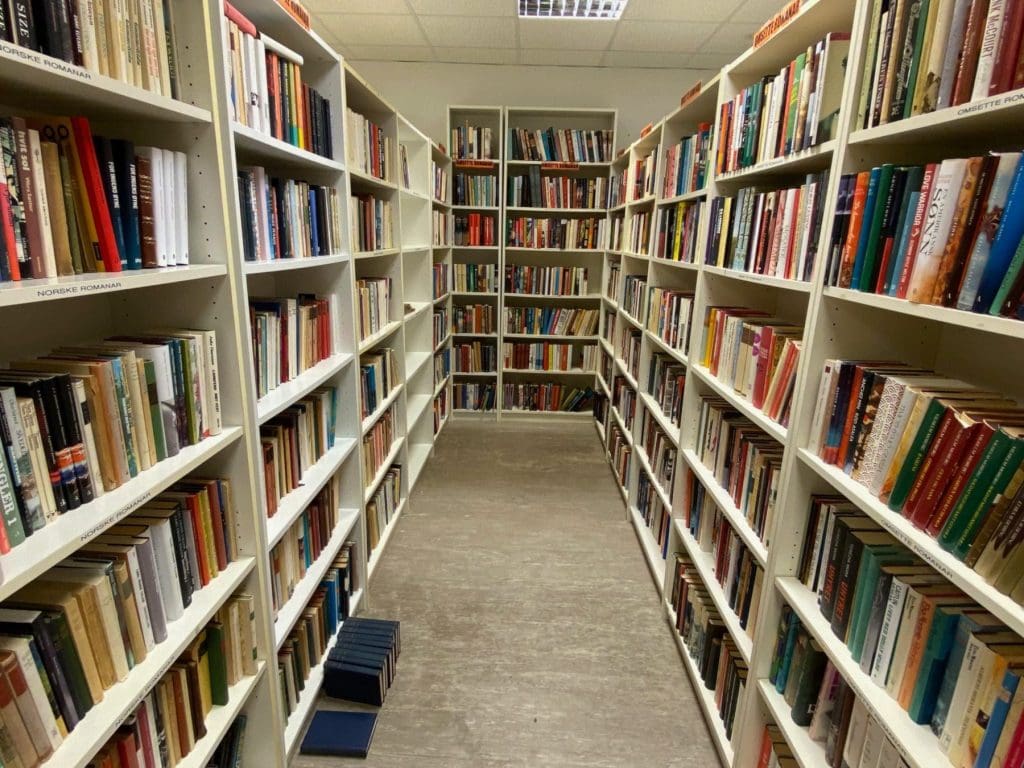 There are some 200,000 second-hand books, many in English, you can buy as well as 10 book shops according to the website, although I only popped into one of them.
A Fishing Trip on Fjærlandsfjord
From Fjaerland you can go on excellent hikes as well as glacier walks, or kayak on the fjord. We went on a short fishing trip with captain Thor from Balestrand Fjordangling, who showed us the tricks of the trade when not posing for tik tok videos. Our first boat caught a cod which we had as a ceviche for lunch back at the hotel, while our boat hauled in jelly fish – at least we looked the part. It was great fun.
After that we had a sauna beside the fjord. Originally, we had intended to take a floating sauna on the actual fjord, but the waters were too rough. But sitting by the window and cranking up the heat to drive away the less hardy members of our group we could still enjoy beautiful views from our static sauna. None of us ventured for a dip in the fjord to cool down.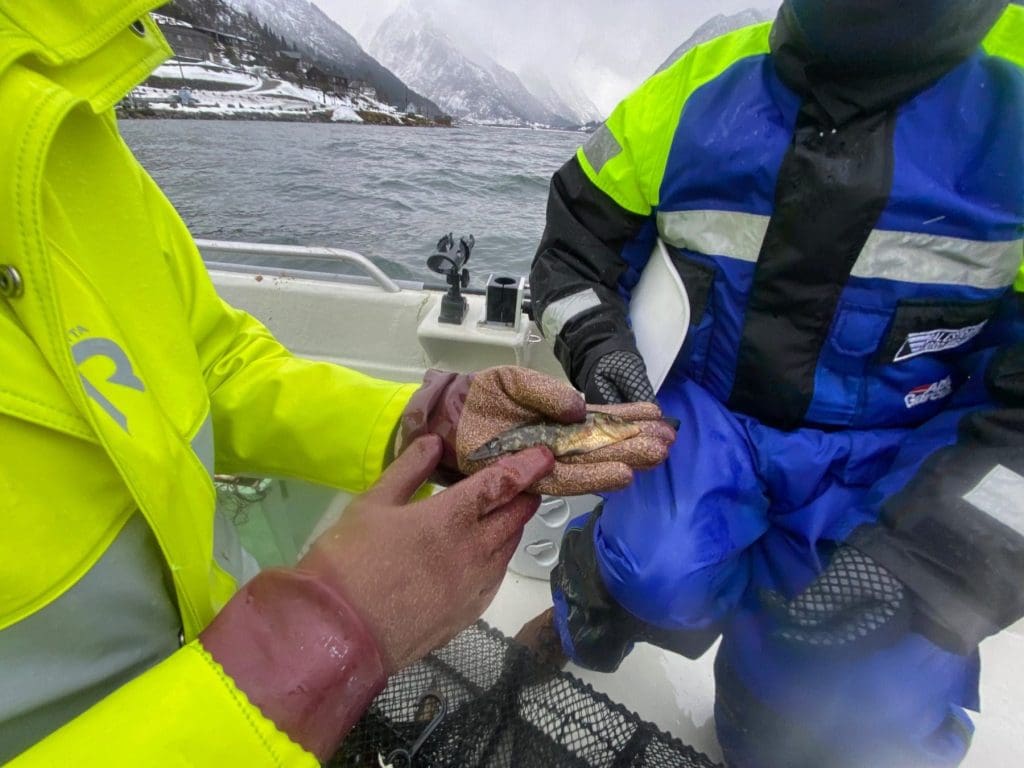 Fjærland Fjordstove is one of those hotels that encourages you to linger longer. The hotel dates back to 1937 when they used to have shared bathrooms on each floor. Now rooms have en suites, but much of the original character has been preserved, with each room unique in design. In keeping with the theme of the town, one of the rooms has its very own library, ideal for bookworms looking for a snug place to sleep.
Glacier Museum and The Longest Tunnel
Checking out of the hotel we visited the Norwegian Glacier Museum a short drive away. I am a hard one to please with museums, but even I was left impressed by the short film screened there. Hold on to your seats for an amazing flight over the glacier. Sadly, climate change is threatening glaciers across the globe as I discovered at the Aletsch Glacier in Switzerland, and Norway is not exempt, so the museum has educational components on both how glaciers were formed and are now endangered.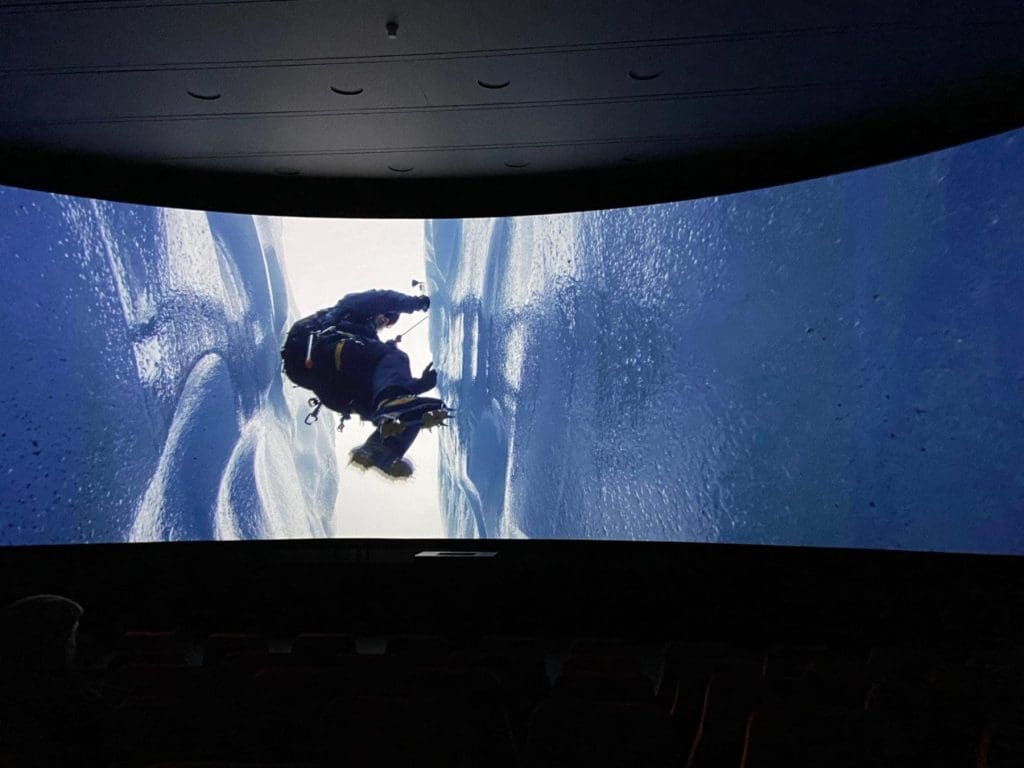 By the time we left Fjaerland a real storm had settled in. At times on our drive to Flåm visibility was reduced to a few feet, but fortunately Adrianne proved to be an excellent driver. Along the way we passed through the longest road tunnel in the world as well as taking a short ferry across the Sognafjord, which is the third longest fjord in the world and the longest fjord in Norway. It flows all the way back to Bergen.
Norway's Best at Flåm
Flåm was a small agricultural town before tourists arrived in the 19th century, predominantly to fish. Now it has become a major tourist attraction, mainly due to its proximity to the Unesco World Heritage Site Geirangerfjord and the Flåm railway, which is widely regarded as one of the most scenic rail journeys in the world.
The town receives around half a million visitors each year, although we were assured by Anne Hirth, our host at Fretheim Hotel, part of Norway's Best, that the numbers are well managed. Hopefully, as Anne studied responsible tourism at Leeds Beckett University under Howard Goodwin's tutelage, she knows of what she speaks.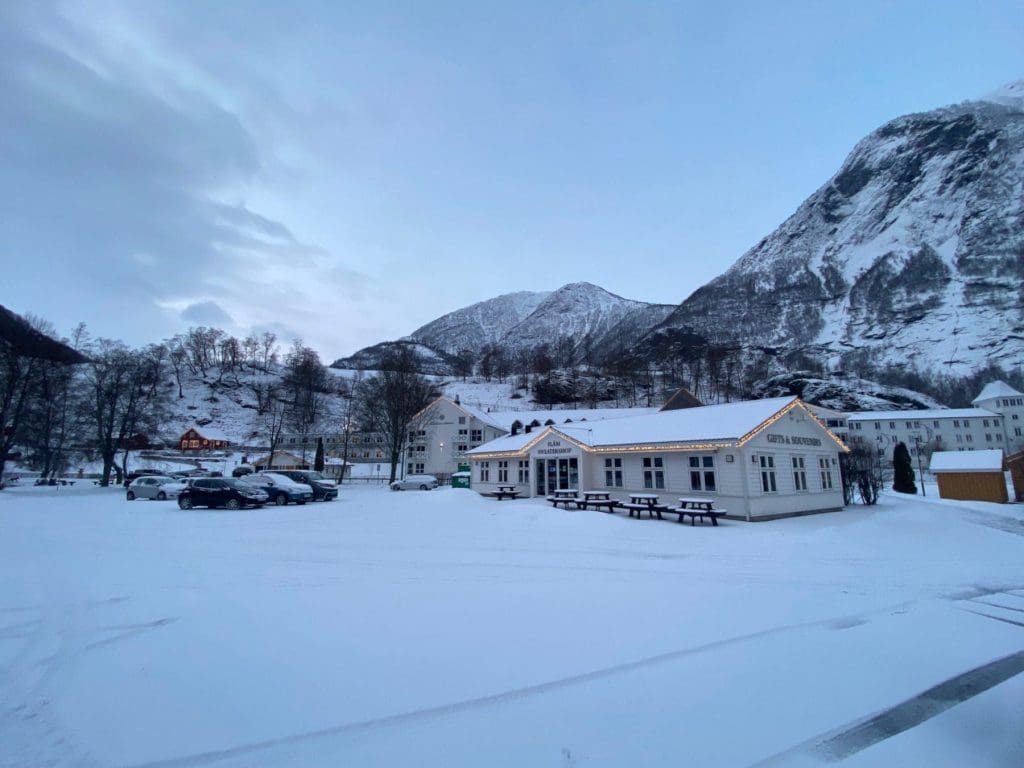 The original hotel was built in 1874, and we were fortunate enough to stay in the American wing which is full of character. The main part of the hotel, where the restaurant, bar and lobby is located is a much more modern construct. However, it has great views from its monumental glass windows.
Our dinner was excellent, after which a couple of our crew popped to the local microbrewery for a couple of pints of the local stout to fortify us for the day ahead.
Snowshoe Hike at Stegastein
Prior to my visit to Norway, I had never snowshoed. So, as we drove up the Aurland mountain for our Snowshoe hike, I had images of me donning a pair of tennis rackets and falling flat on my face.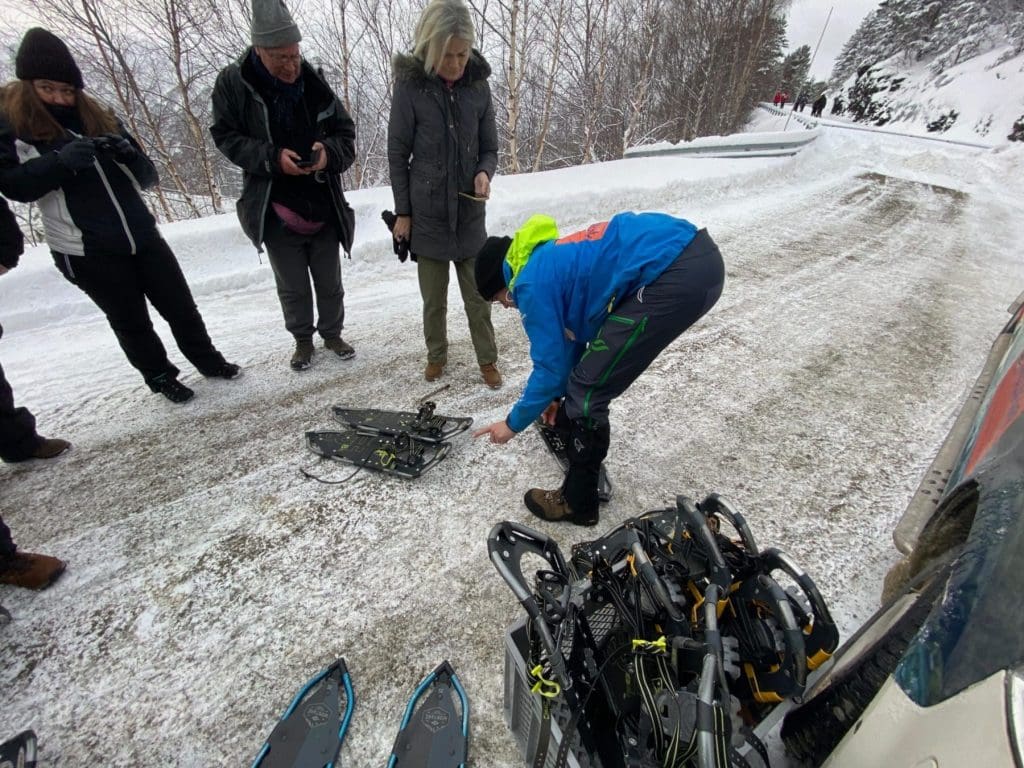 However, after a few tentative steps – think Bambi on Ice – I quickly got into the swing of things. It was great fun to walk through the deep virgin snow, and even better to see some blue sky and excellent views near the Stegastein epic viewpoint. I even participated in our in promptu qualifying race for the snowshoe race in the Norwegian Reindeer Racing Championships to be held in Tromsø later in our trip.
Unfortunately, I was not able to bring back gold in Tromsø as I tripped up on a RIB trip by Winter Fjordsafari along the Aurlansfjord later that morning. The boat trip took us as far as the Nærøyfjord, and would have been spectacular in better visibility and less icy temperatures. Alternatively, you can take a leisurely and sustainable Fjord Norway cruise along the Aurlansfjord on the all-electric Future of the Fjords ship.
A Ride on the Flåm Railway
Our brief sojourn in Flåm ended with a mad dash for the station where we waited briefly on the platform like characters out of Dr Zhivago. Fortunately, Flåm station is right next to the Fretheim Hotel so we could quickly change out of our wet clothes before our ride on the Flåm Railway (Flamsbana Railway).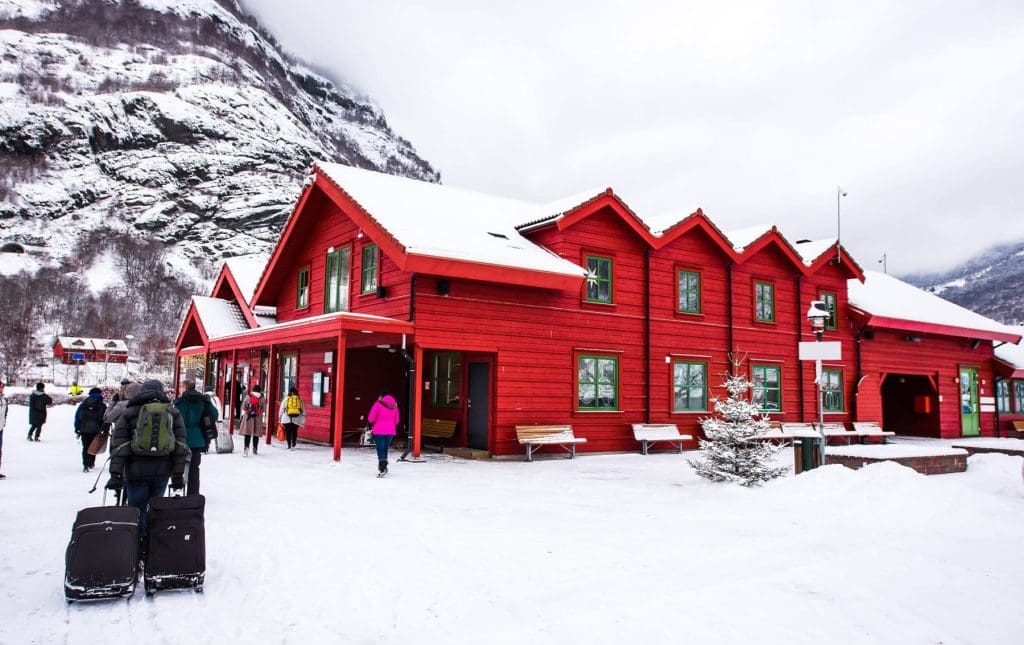 Construction started on the railway in 1924, eventually being completed in 1940. The railway is 20 kilometres long with 20 tunnels, and a 1 in 18 gradient, making it one of the steepest railways in the world (excluding cog railways like I had experienced in Switzerland).
The Flåm Railway is one of the leading tourist attractions in Norway. Along the way we stopped at a waterfall where Huldra, a mythical female creature with blond hair and a cow's tails is said to lure travellers, but not in winter apparently when she pops off to Tenerife. The trip is very windy allowing beautiful snowy views on either side.
Far too quickly our train stopped at Myrdal where we changed for our train back to Bergen, along scenery that matched that along the Flåm Railway.
Back in Bergen we had a wonderful spooky meal at Skyskraperen restaurant up Mount Ulriken, before taking the flight north to Tromsø for the final leg in our winter's trail through Norway.
---
Fjord Norway Photo Gallery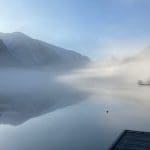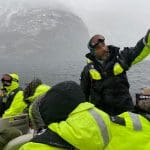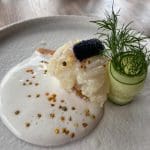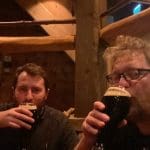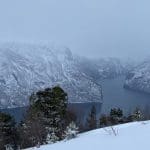 ---
To discover more about the wonderful seafood in Fjord Norway, click here.
---
Widerøe Airline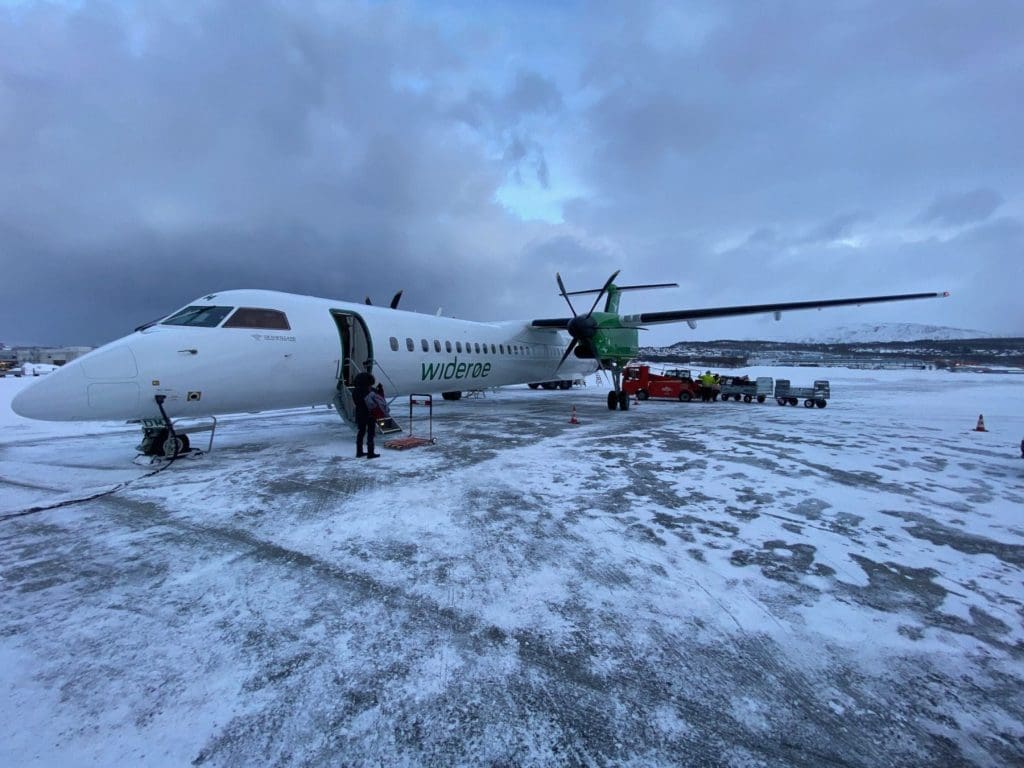 Mark was a guest of Norwegian airline Widerøe, in partnership with the tourist boards of Fjord Norway and North Norway. Widerøe flies daily from London and twice daily from Aberdeen (once on Saturdays) to its hub at Bergen, from where there are frequent connections to Sogndal and other towns and cities in Norway.
Holiday Extras
Mark parked his car at Heathrow using Holiday Extras, the market leader in UK airport parking, hotels, lounges, and transfers. Last year most of their customers saved at least £100 on their airport parking vs the price they'd have paid on the gate. With Flextras, if you need to cancel or amend you can without charge. Seven days parking at Purple Parking Meet and Greet, Heathrow Terminal 2, is available from £125.09. To book, visit https://www.holidayextras.com/ or call 0800 316 5678. Price searched on 22 February 2023 for arrival on 23 March 2023.
Flåm Railway Norway
You can purchase Flam railway tickets here.
Accommodation in Fjord Norway
We really do recommend that you stay at both or either the delightful Fjærland Fjordstove hotel or historic Fretheim Hotel of Norway's Best.
Further Information on Fjord Norway
If you would like further information about things to do in Fjord Norway, visit www.fjordnorway.com. For inspiration on Sognefjord, go to www.sognefjord.no.
Mark Bibby Jackson
Before setting up Travel Begins at 40, Mark was the publisher of AsiaLIFE Cambodia and a freelance travel writer. When he is not packing and unpacking his travelling bag, Mark writes novels, including To Cook A Spider and Peppered Justice. He loves walking, eating, beer, isolation and arthouse movies, as well as talking to strangers on planes, buses and trains.