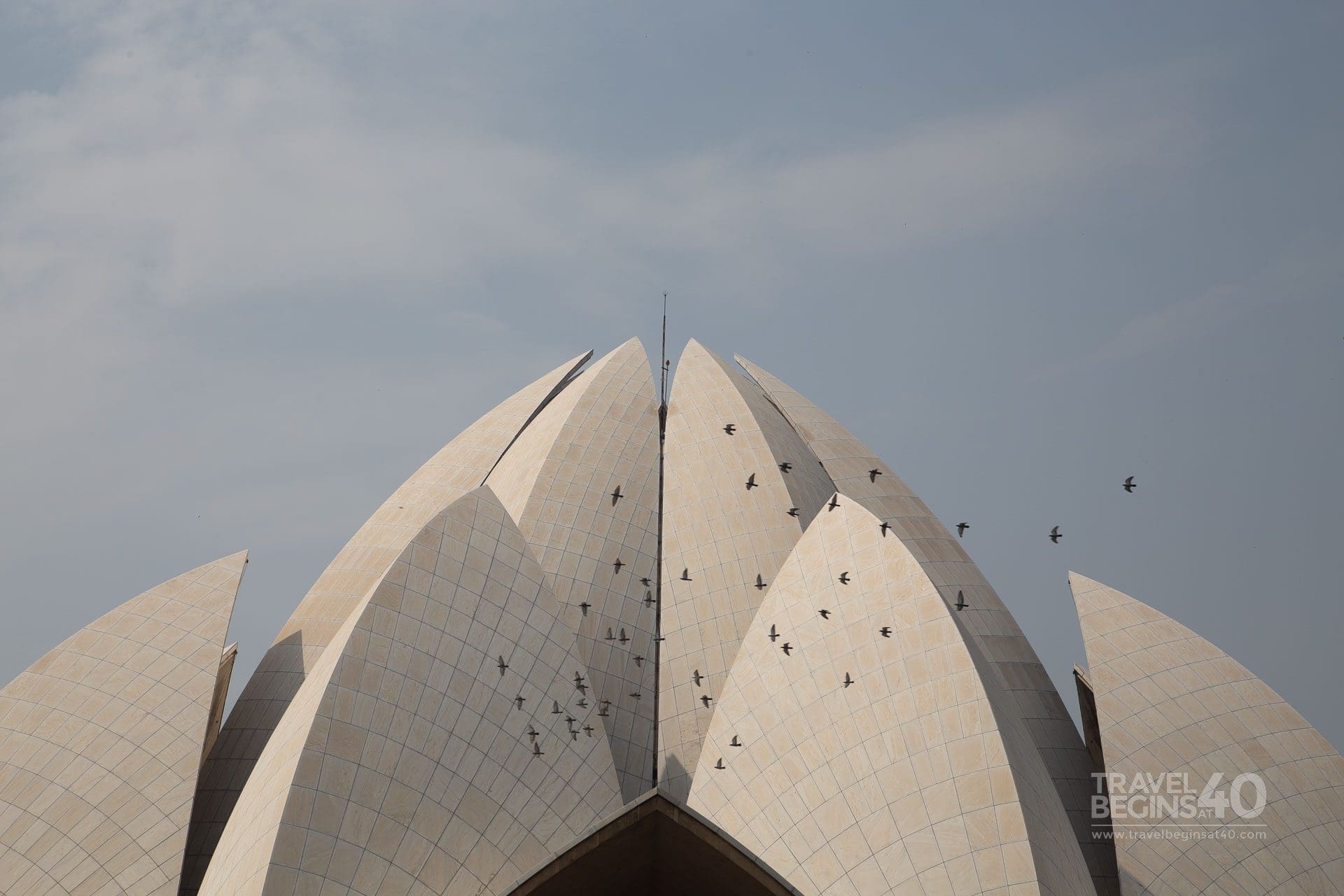 Monuments to Markets: Things to Do in Delhi, India
Joe Ogden
Posted on 2nd Mar 2023
If you're planning a visit to India, Delhi should definitely be on your itinerary. As the country's capital city, Delhi is a bustling metropolis that offers a rich cultural heritage, impressive historic sites, and plenty of modern attractions. We visited Delhi for a few days at the end of 2022 on the way back from discovering Life and Death in Varanasi. In this post we'll discover our favourite things to do in Delhi, India.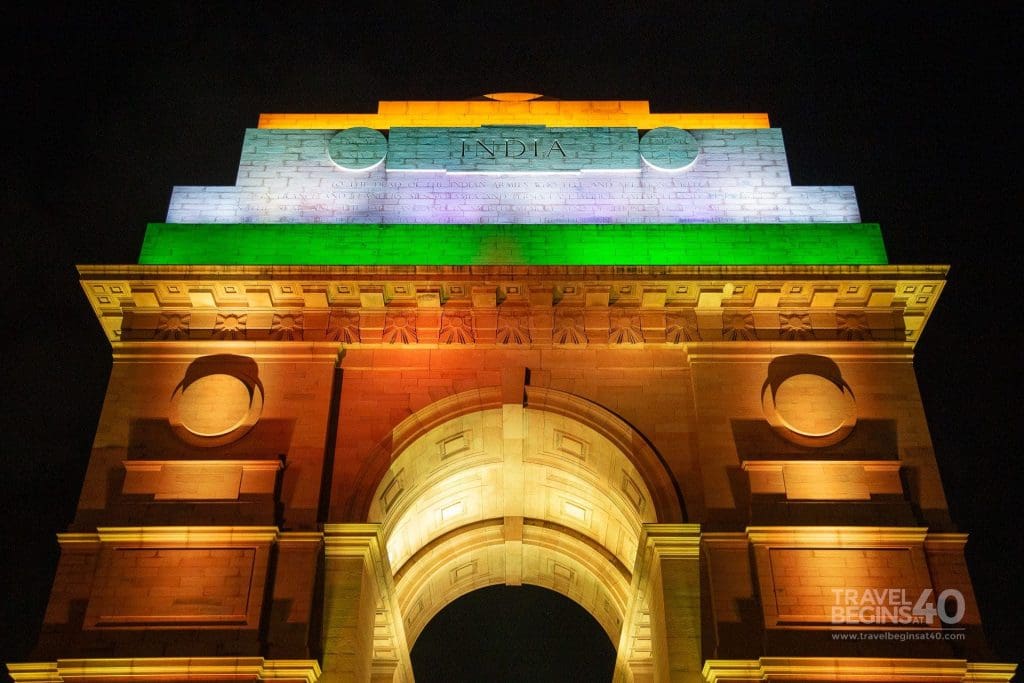 India Gate
India Gate is one of the most iconic landmarks in Delhi and is a must-visit for any first-time traveller. Built in memory of Indian soldiers who lost their lives in World War I, India Gate is a war memorial that also serves as a popular spot for locals and tourists alike. You can take a stroll along the surrounding gardens and enjoy a picnic or simply take in the impressive sight of the towering structure. Be sure to visit India Gate at night when it's lit up in all its glory.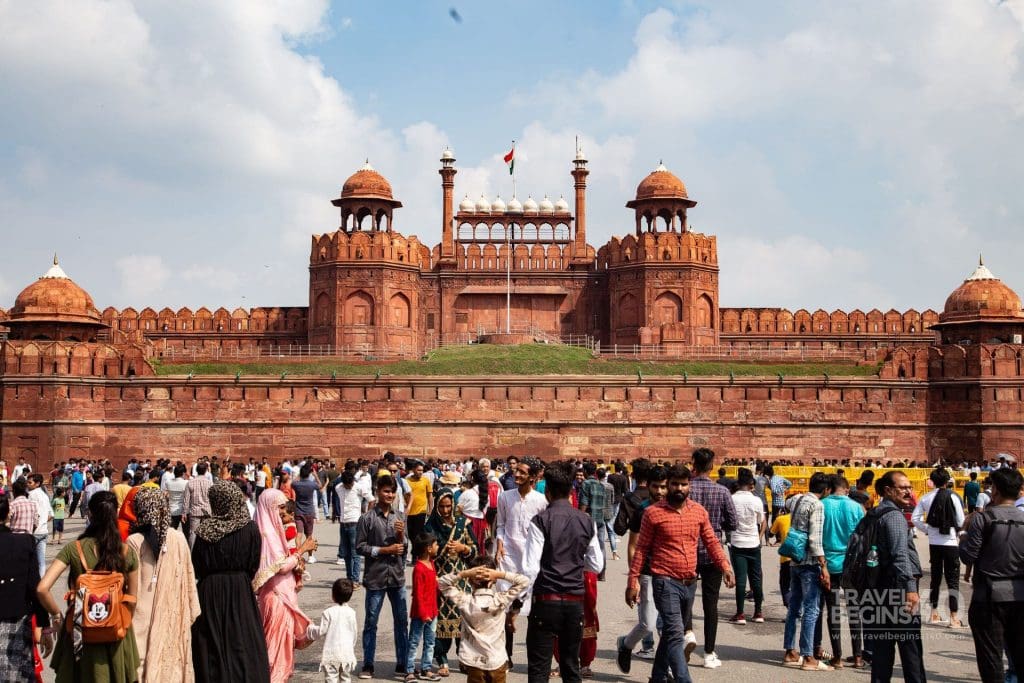 Red Fort
The Red Fort is another impressive historic site that you can't miss in Delhi. Built in the 17th century, the Red Fort was the residence of the Mughal emperors for nearly 200 years. Today, the fort serves as a museum where you can learn about India's rich cultural heritage and marvel at the stunning architecture. Beware of visiting at weekends or public holidays or you may find the queue to get in is hours long.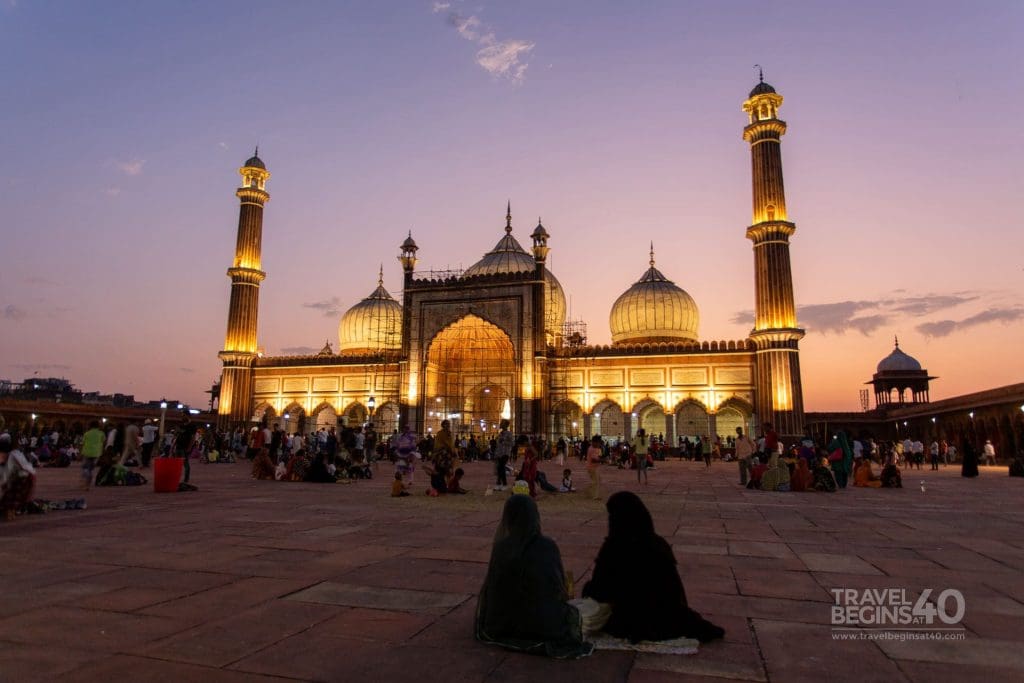 Jama Masjid
Jama Masjid is one of the largest mosques in India and a masterpiece of Mughal architecture. The mosque was built by Emperor Shah Jahan in the 17th century and can accommodate up to 25,000 worshippers at a time. Visitors can take a tour of the mosque and its surrounding courtyards, admire the intricate carvings and calligraphy, and climb the minaret for stunning views of the city. This stunning mosque is best visited as the sun is setting, you should catch the sunset before everyone is herded out around 6pm.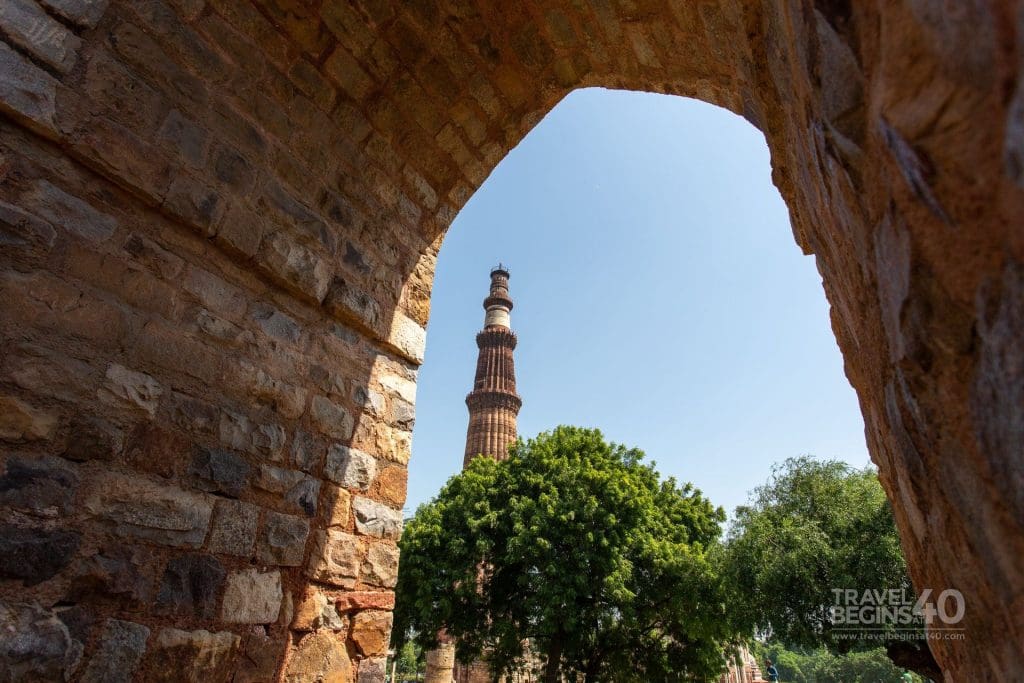 Qutub Minar
Qutub Minar is a Unesco World Heritage Site and one of the most impressive examples of Indo-Islamic architecture in India. The tower is over 73 metres tall and was built in the 12th century. Visitors used to be able to climb to the top of the tower but that was stopped after a tragic accident when a powercut left the interior plunged into darkness causing a stampede. The grounds are extensive, so take your time to explore the nearby ruins of the Quwwat-ul-Islam Mosque and the Iron Pillar of Delhi.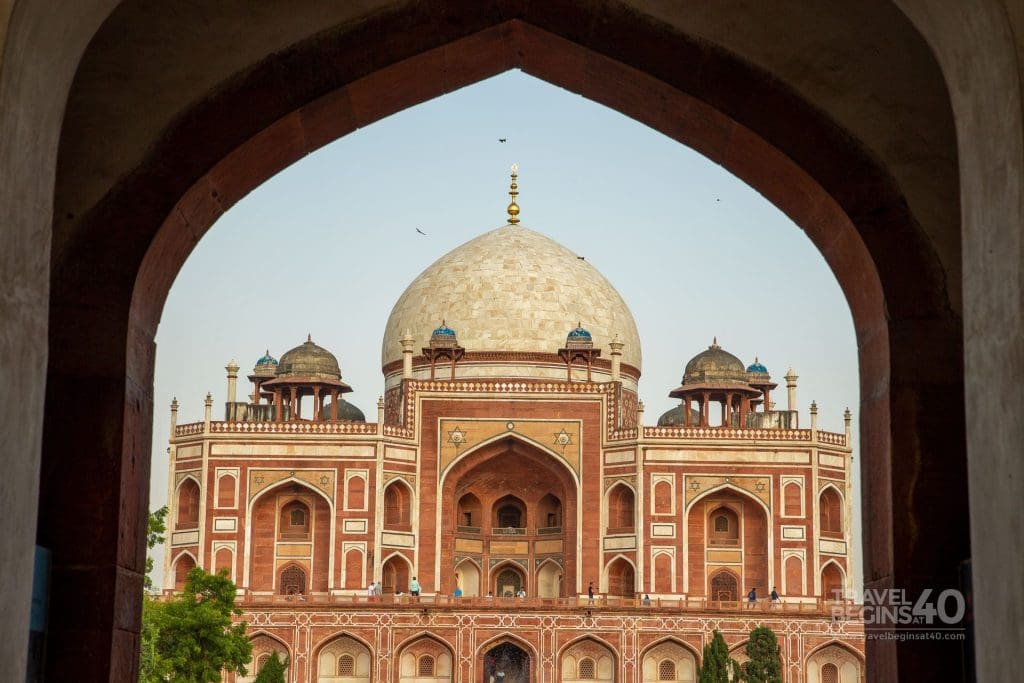 Humayun's Tomb
Humayun's Tomb is a stunning example of Mughal architecture and the first garden-tomb in India — inspiring a series of monuments culminating in the Taj Mahal itself. Built in the 16th century, the tomb is the final resting place of the Mughal Emperor Humayun and his wife. The tomb features intricate carvings, Persian-style gardens, and a number of smaller tombs and monuments.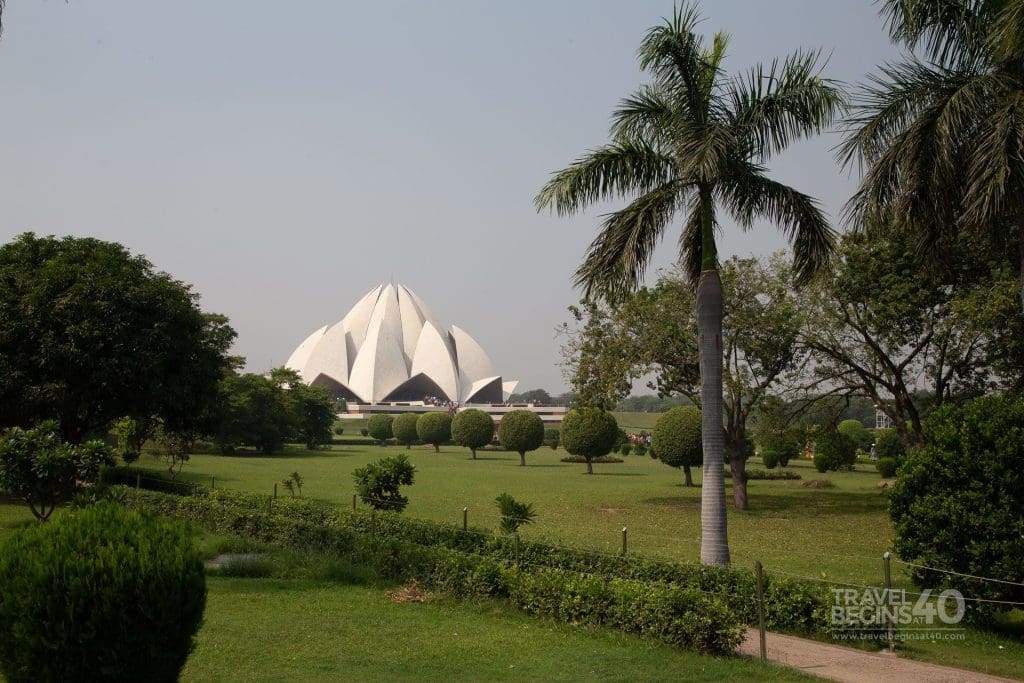 Lotus Temple
The Lotus Temple is a stunning modern architectural marvel and a major attraction in Delhi. Shaped like a blooming lotus flower, the temple is a Bahá'í House of Worship and welcomes visitors of all faiths. The serene surroundings of the temple offer a peaceful respite from the hustle and bustle of the city, and the architecture is breathtaking. Like many attractions in Delhi, it can get extreme busy at weekends and holidays, so try to visit during the week.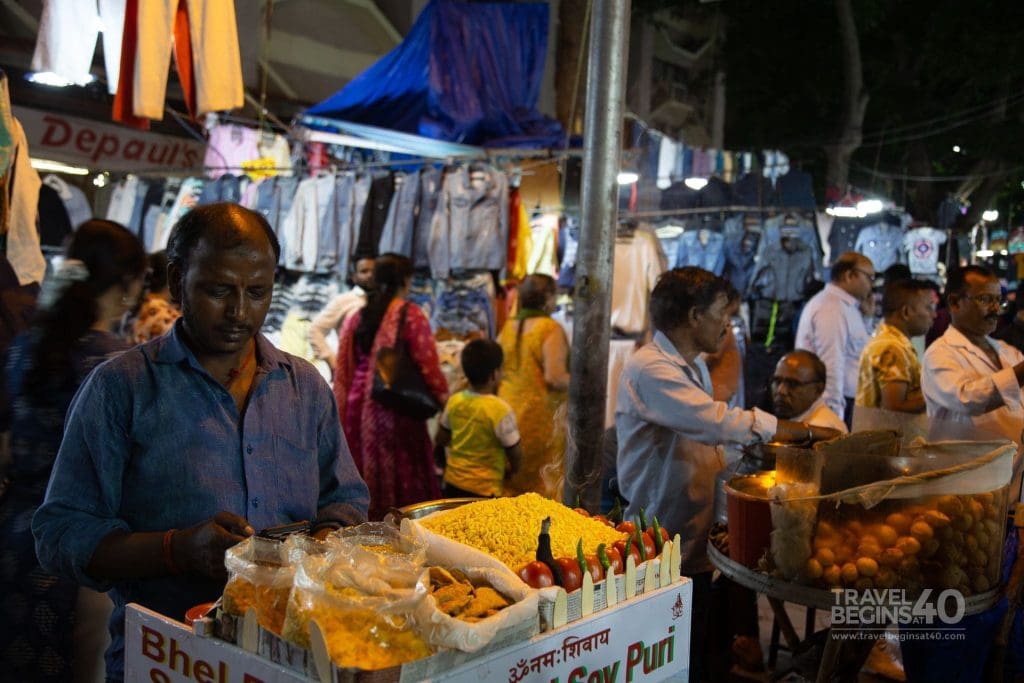 Janpath Market
Connaught Place is the centre of high end shops and Western brands, but if you're looking for a more traditional shopping experience, head to the nearby Janpath Market. This bustling market is known for its colorful textiles, jewellery, handicrafts and souvenirs. The market is a great place to pick up unique items that you won't find anywhere else.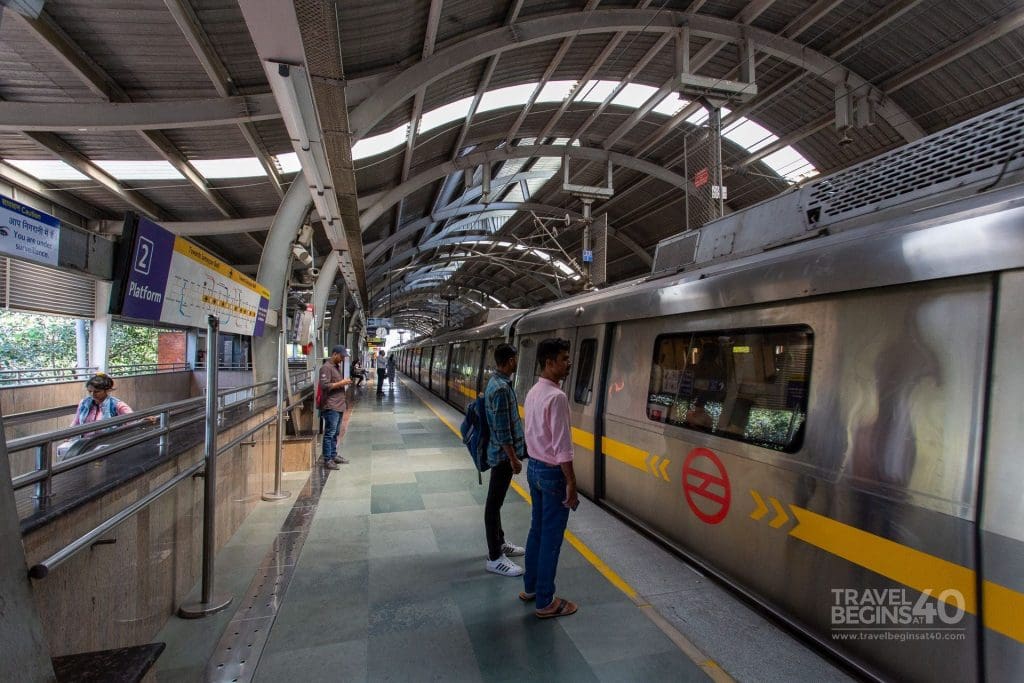 Getting Around Delhi
Getting around Delhi can be a challenge, especially during peak hours when the traffic is heavy and the streets are crowded. However, there are several transport options available that can help you navigate the city easily and comfortably.
Metro
The Delhi Metro is one of the most efficient and convenient ways to travel around the city and was our preferred mode of transport. It's a modern and clean system that connects almost every part of Delhi and its suburbs. The trains are air-conditioned and run on time, making it a great option for tourists who want to avoid the hassle of traffic and congestion on the roads – and haggling with rickshaw drives. Some metro stations have one-day tourist passes available which take the hassle out of buying tickets, but don't seem to be available everywhere.
Auto-rickshaws
The green and yellow auto-rickshaws, also known as tuk tuks, are an iconic and popular mode of transportation in Delhi. They are convenient for short distances and can weave through traffic easily – sometimes recklessly. Be sure to negotiate the fare with the driver before getting in, as they often overcharge tourists. You should also be clear on your destination – some will try to take you to a souvenir market that obviously pays them a commission. If you are using the metro to get around you will often have to jump in a rickshaw for a short distance from the station to your destination.
Taxis
Taxis are another option for getting around Delhi, but they can be expensive and often get stuck in traffic during peak hours. You may want to use taxis for longer distances to places the metro doesn't go. We didn't use a taxi at all but you can reportedly book a taxi through ride-hailing apps such as Uber or Ola, which are widely used in Delhi.
There are many more things to do in Delhi
This list just scratches the surface of the number of things to do in Delhi. The city is one of the largest in the world and has been of great historic and cultural significance for centuries. You would need more than a few days to see everything Delhi has to offer.
The atmosphere in Delhi is a constant assault on the senses. From the heat and humidity, to the incessant honking of horns on the roads, to the sheer numbers of people living their lives in the hustle and bustle. Even the busy Southeast Asian cities of Bangkok and Jakarta do not feel nearly as crowded.
Read more of Joe and Amber's India adventure discovering the equally overwhelming Varanasi.
All photos by Joe Ogden.
Joe Ogden
Joe is Travel Begins at 40's webmaster and resident photographer. As a career freelancer and lifelong traveller he was a "digital nomad" before they had a name for it. He's based in Phnom Penh, Cambodia from where he travels the region while keeping an eye on website alerts.