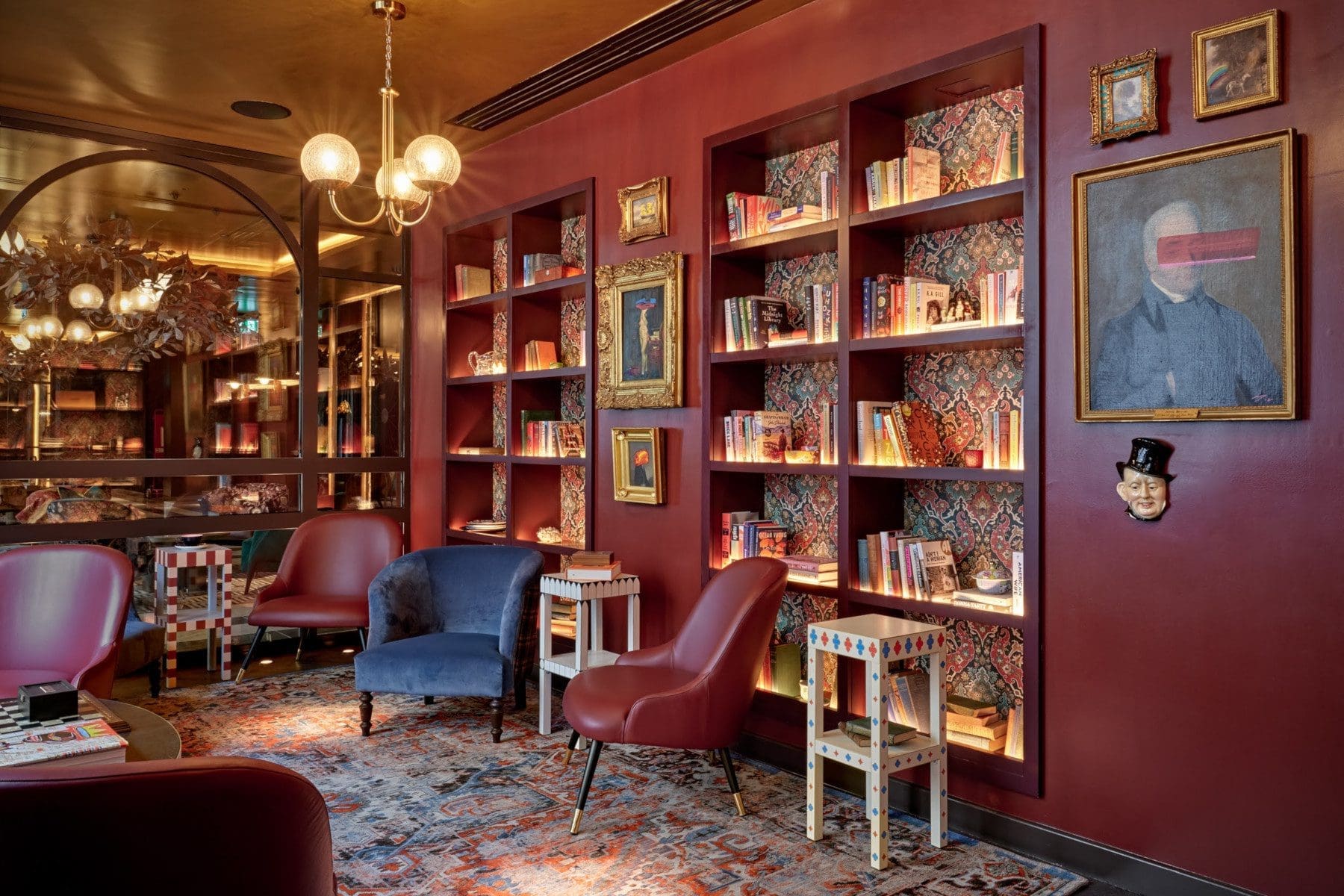 The Other House in Swinging South Kensington
Roger Hermiston Eileen Wise
Posted on 4th Mar 2023
Roger Hermiston and Eileen Wise check in at The Other House London, to discover a new way to stay in Town.
Back in the 1960s, it wasn't just Carnaby Street and the King's Road that were swinging. For folk/rock artist Donovan, the 'poor man's Bob Dylan', the coolest part of town was South Kensington. 'Come loon soon down Cromwell Road, man, you got to spread your wings,' he sang in his catchy 1966 number 'Sunny South Kensington', the flip side to his biggest hit 'Mellow Yellow'.
Half a century on is South Ken, always a haven for art and culture, swinging again, capturing the 21st century zeitgeist? Pay a visit to the area's newest boutique establishment in Harrington Gardens, just around the corner from Gloucester Road tube, and you can start to believe it.
The Other House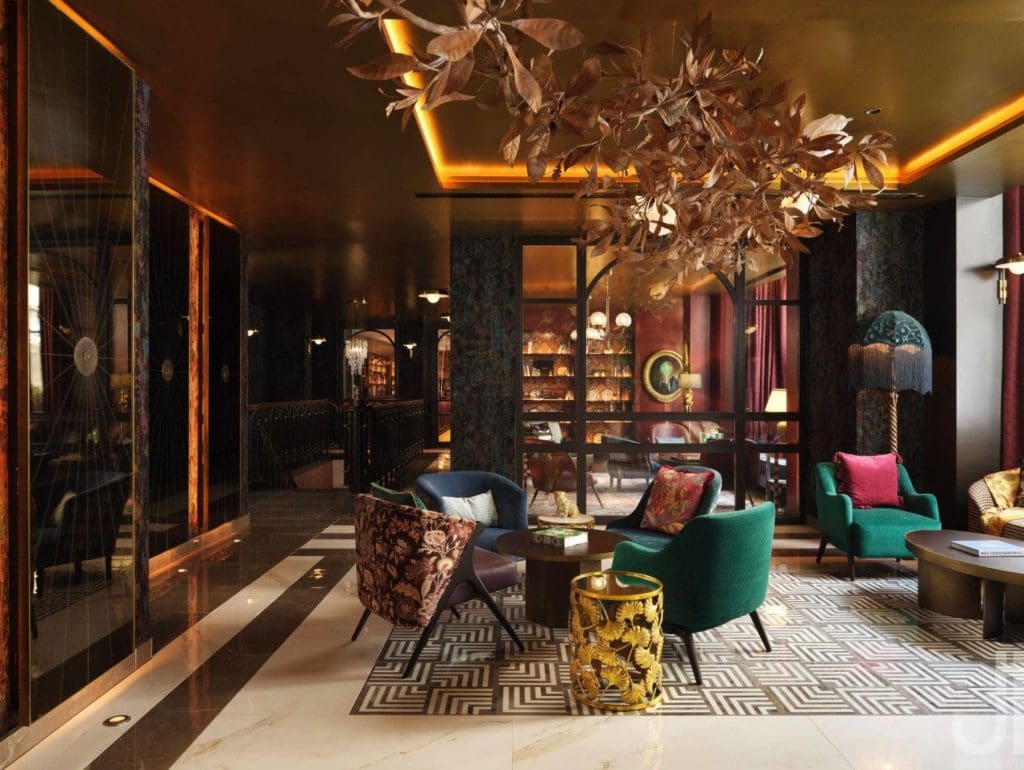 The Other House, which opened last summer, embraces a brand new hospitality concept for the capital, a combination of an apartment-style stay with hotel-like services. Its mantra is 'your home for as long as you're in town' or 'another place you call home'. Its 237 guestrooms are called Club Flats, and they can be taken for a day, a week, or even a year. But with its library, its dining room and its bar, The Other House also possesses the attributes and the feel of a funky, luxurious hotel.
What is guaranteed is that this apartment block-cum-hotel-cum Residents' Club, spread over eleven elegant Georgian townhouses, will dazzle you with some of the most imaginative, innovative and dramatic interior design work you could possibly envisage. This is stunning maximalism, stopping you in your tracks as you wander through the public rooms which all have their own rich distinctive style and vibe.
Library and Cocktail Bar
The library for example, a gorgeous, rich room, with velvet and leather dark red and blue armchairs and sofas accompanied by colourful cushions with animal motifs, dark wood bookshelves with an eclectic display of quality novels from Arthur Miller to Raymond Chandler, Lawrence Durrell to Cormac McCarthy. And on the walls a good proportion of The Other House's quirky 100-strong collection of 'upcycled' or 'disruptor' art – discarded 18th century oil paintings (staid portraitures or uninspiring landscapes) destructively yet creatively daubed with bright colours to give them a new lease of life, a Warholesque appearance.
Then there's the Owl and Monkey cocktail bar, cosy, inviting, with jade marble floors, trademark gold leaf chandeliers on the ceiling and the most beautiful wallpaper at the back depicting a jungle-type scene, monkeys scrambling for berries watched over by wise owls, all enveloped in leaves and plants in vivid colours of green and blue.
Elsewhere The Keeping Room has more a feel of a gentleman's club, dark, restful, with three little nooks for more secluded encounters. But there is a baby grand piano should the mood take a group, and it is in this room where some of the most exotic animal decorations and sculptures find a place – a snake curled up on a small table, a monkey with an enormous tail acting as a book weight, cushions with beautiful depictions of panthers and pheasants.
A Natural Vision at the Other House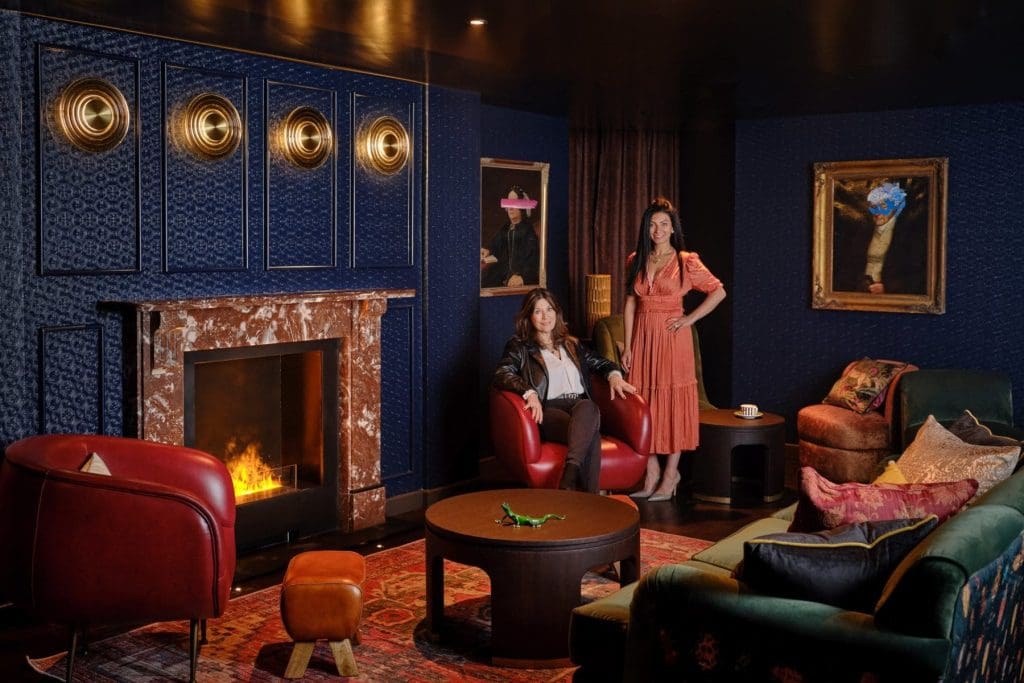 The natural world – especially the animal kingdom – is dear to the heart and a central part of the philosophy of The Other House's designer, Egyptian-born Marie Soliman, who is the founder and creative director of Bergman Design House. Marie, dubbed the 'chameleon of chaos' by GQ magazine, brought great experience to this project, having designed fine hotels all over Europe, a lodge in Botswana, and a number of super yachts. Her latest venture is a 'hidden restaurant' concept in Vancouver's Chinatown.
Marie painted and sculpted from very young, and at aged 10 sold her first wood sculpture to a friend of her father's for £10. The success of that early transaction only hastened her towards the artistic and commercial worlds.
"You have to be joyful, you have to be whimsical, you have to push some boundaries," she says about her design work. "I think when people step into a place like The Other House they are not just looking for the usual fine things – they want to be surprised."
But the overall vision for The Other House came from its dynamic Founder and CEO Naomi Heaton, who will open The Other House Covent Garden next year and has a third planned for Belgravia. Naomi's extensive (30-year) experience in the private rented property sector, together with her entrepreneurial vision, persuaded her that London was ready for something different.
"There seemed to be this artificial divide between hotels, which are transient, and apartments that can be rented for up to 90 days," she says. "But in fact the people visiting them just have different requirements at a particular point in time – but essentially they want the same thing, a quality service and experience."
Technology and Sustainability at The Other House
Technology is at the fore of your experience at The Other House. It had already been factored into the plans, but one consequence of the pandemic was the realisation that we all have to work and live a lot more remotely. A bespoke app enables you to effectively manage your whole stay here, from booking, checking in, ordering room cleaning and laundry, and bar service. There's even a designated area downstairs where takeaway deliveries can be picked up. But for older folk like us, at times apprehensive about the techno world, The Other House does provide very reassuring and charming young reception staff – named 'jacks' – to help you out.
Along with the theme of the natural world comes a serious commitment to sustainability. Materials with a low-environmental impact were used to build the place, natural products are used wherever possible, nothing goes to landfill, and British artisanship is to the fore. Naomi says The Other House is well-placed to receive a BREEAM certificate, the world's most significant assessment of a sustainable building.
The Other House Club Flat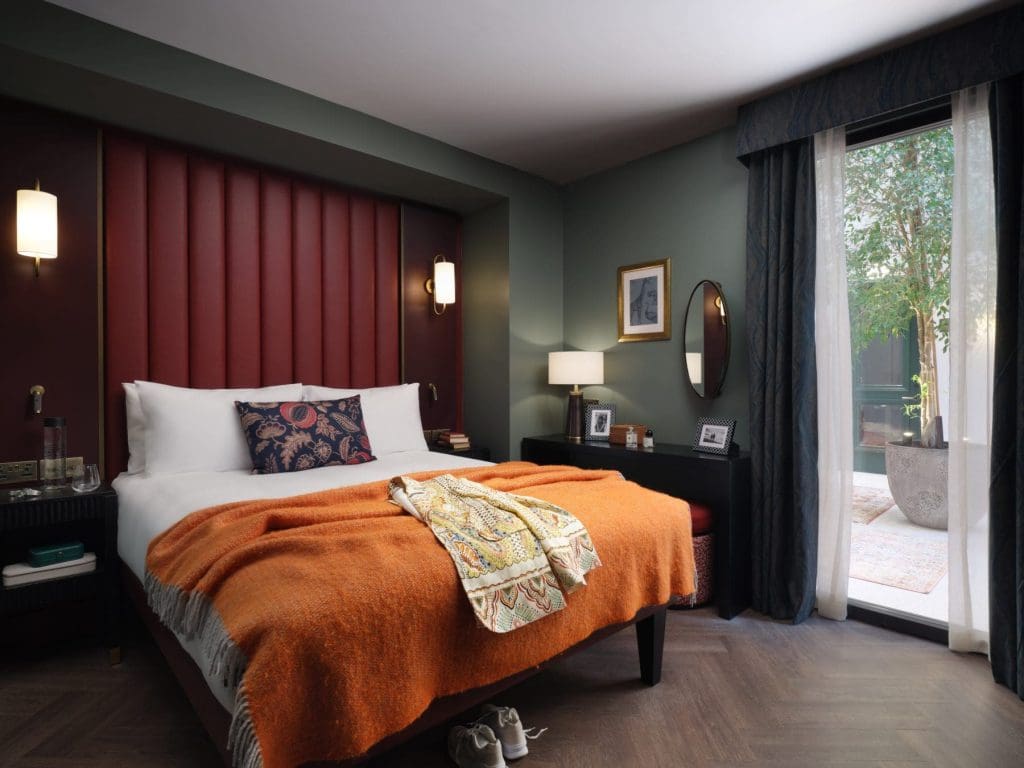 We checked in (not on the app this time!) to our Club Flat 'address', No 17 O'Brien on the fifth floor. The flats are intriguingly named after renowned artists, scientists and celebrities who walked the streets of South Ken – Franklin (as in Rosalind, co-discoverer of DNA), Marley (as in Bob) and Langtry (actress and King's mistress). We were initially stumped by the name O'Brien, but were reminded that Mary Isobel Catherine Bernadette O'Brien was much better known as Dusty Springfield.
Ours was a Club Classic, a studio style flat with a nicely-designed open-plan sitting room and integrated kitchen/diner, separated by a decorative screen from a comfortable king-sized bed and ensuite shower room. But we had a peek at a range of other flats of different sizes and aspects, including Club Attic at the top of the house with panoramic views over the rooftops, Club Atrium in the courtyard overlooking the greenery, the very spacious Club Vaults down below (designed for groups or families) with three bedrooms), and the spectacularly designed Club Turrets (in the final throes of construction).
We didn't have time to try out The Other Space, the house's wellbeing retreat – vitality pool, state-of-the art gym, yoga studio and meditation hub – but did linger in the beautifully light, Mediterranean-style Hogsmire courtyard adjoining it.
Cocktails at the Owl and Monkey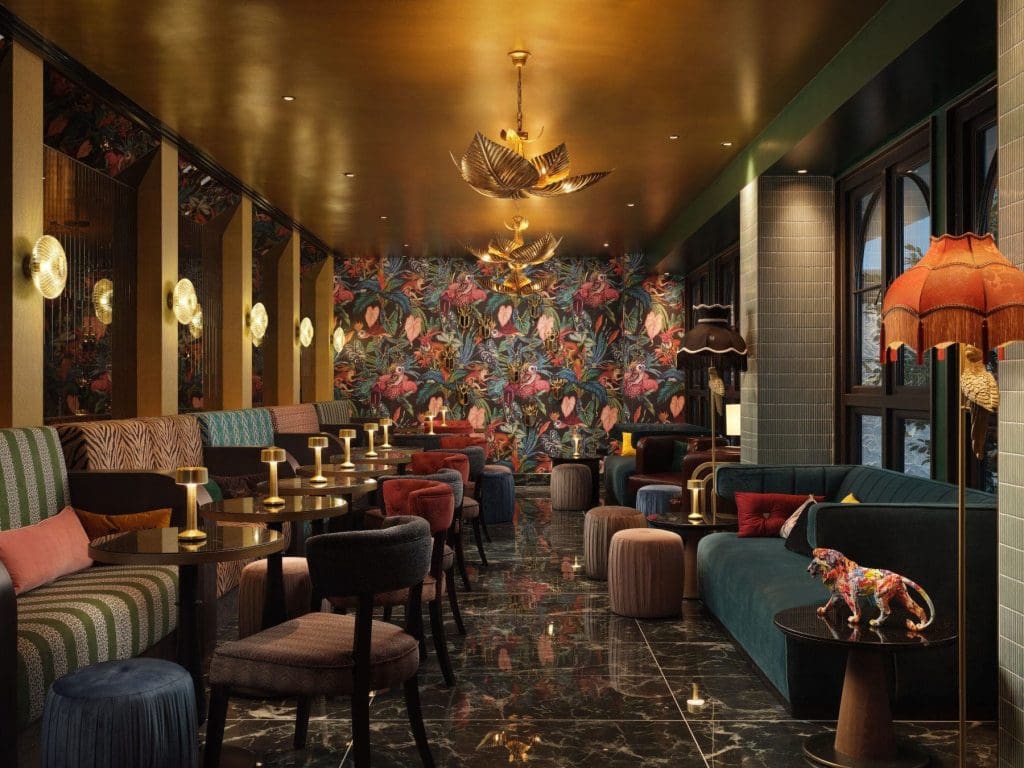 By then it was time to head down to the Owl and Monkey and enjoy cocktails before heading out for something to eat. Eileen settled for her customary margarita, which she pronounced excellent, while I plumped for a house special, the appropriately-named 'Monkey See Monkey Do' (rum, sake, pineapple juice), which was most refreshing. We also tucked into a couple of small plates – whipped feta and padron peppers and wild mushroom arancini with parmesan – which were delicious.
In fact, you could satisfy your hunger with four or five of these small plates if you weren't in the mood for venturing out. But we were, as we had spotted a very old favourite restaurant on an earlier walk and were lucky to have reserved a table.
South Kensington has a wide range of eateries, of course, but if you're looking for somewhere with character, somewhere brimming with history, somewhere with excellent old-fashioned service, then you couldn't do better than Daquise restaurant on Thurloe Street.
Dining at Daquise
Daquise has been serving traditional Polish cuisine since opening in 1947. It was a favourite haunt of Edward Raczynski, President of Poland in exile, who was fond of the dumplings and goulash, and made it his unofficial headquarters for many years in the long battle to overthrow the communist regime in his country. The walls are also lined with evocative black and white photographs of Polish politicians in wartime, the best of them nearest the door, showing Winston Churchill and his foreign secretary Lord Halifax in the garden of 10 Downing Street in August 1940 with Polish premier General Wladyslaw Sikorski and his foreign minister August Zaleski. The quartet had just signed the Anglo-Polish agreement.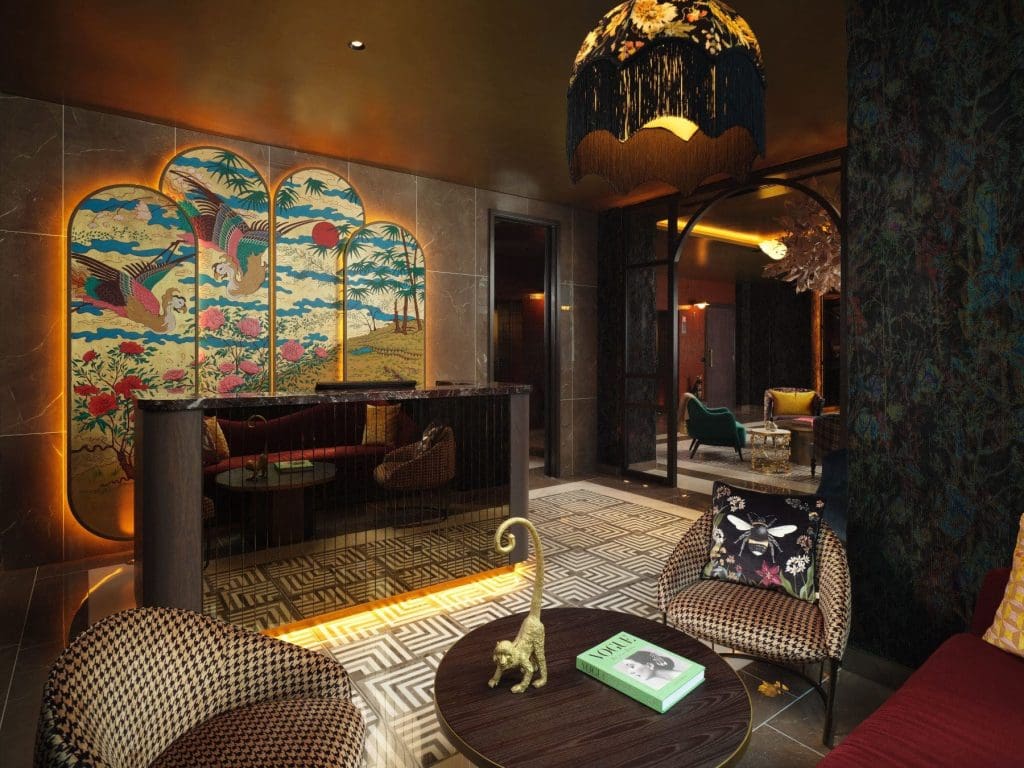 The history doesn't stop there. Thrillingly for spy fans, in the early sixties Daquise played host to none other than 'good time girl' Christine Keeler and Soviet naval attaché (and KGB spy) Yevgeni Ivanov, whose dangerous liaison ignited the infamous Profumo affair.
Crisp white tablecloths, the wide room humming to the sound of intelligent conversation – no intrusive music here – and the tables treated to good-humoured, unobtrusive service. It was no wonder the place was packed on a Wednesday night. The food was wholesome and great, tomato soup followed by Pulpety cielence (veal meatballs in a dill sauce with mash potato).
A Trip to the Natural History Museum
South Kensington boasts elegant stucco houses, pretty mews and delightful garden squares, but the jewels in its crown are the museums on Cromwell Road. It was years since we had been to the Natural History Museum, so when we discovered there was an exhibition of engravings by the great American naturalist and painter John James Audubon we set off eagerly on the ten-minute walk from The Other House.
We had forgotten what a massive, imposing structure houses the museum, designed in the Romanesque style with some added Gothic Revival. Through the front doors, past the towering skeleton of Hope the blue whale in Hintze Hall, dodging the groups of highly excited children, we were at first waylaid by an extraordinary exhibit, a very moving depiction of the sadly near extinct Northern white rhino.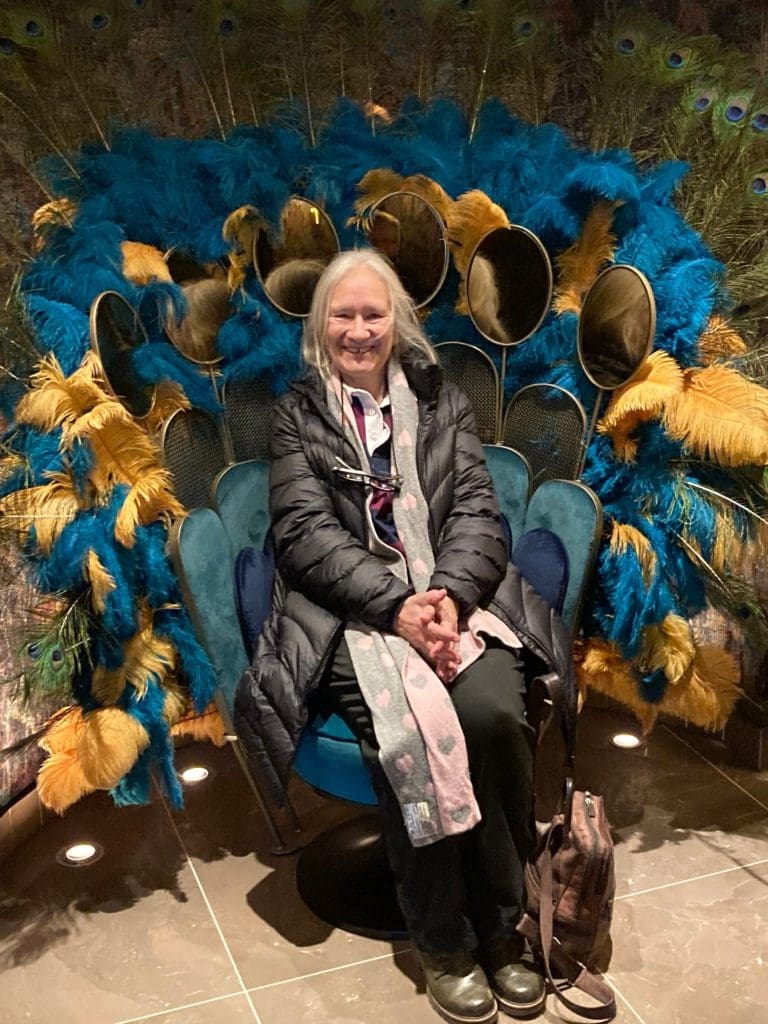 It's a video installation, a digitally recreated, life-sized beast, moving ponderously in its cube-shaped box just as it might on the plains of Africa. Its behaviour, movements and sounds are informed by rare research footage shot of the last Northern rhino herd.
We found Audubon a few yards further down the corridor. The stock of the great bird painter has fallen somewhat in recent years as the focus has turned to his unabashed links with slavery. There is, too, despite his obvious love of the species, the matter of his shooting birds, as he preferred to work with freshly dead specimens.
But nothing can detract from the magnificence of his paintings, the vivid, better than life portraits, which culminated in his great work The Birds of America, published in the 1830s. Amongst the highlights we were able to view were Audubon's contentious yet majestic Bird of Washington, a species of eagle he claimed to have discovered, and the dramatic engraving of a violent scene when a red-tailed hawk descends on a group of northern bobwhite quails.
Breakfast at The Other House
Back at The Other House, on the morning of our departure we ate in its main dining venue, The Other Kitchen, a buzzing all-day street café serving casual breakfasts and lunches. The granola and homemade fruit compote, toast and a mixed berry smoothie were enough for us, although the 'Humongous' sandwich (Cumberland sausage, eggs, mushrooms, bacon, cheese and tomato in toasted ciabatta) is on the menu for those with health appetites.
The Other House may be cool and quirky but it is very comfortable too. We paused for one last contact with the exotica – sitting in the flamboyant peacock chair/throne, thronged with mirrors. Then we made our way back to Suffolk, our animals and our own herd of peacocks (yes it's true!).
---
The Other House
For further information on The Other House South Kensington or to book a stay, click here.
Roger Hermiston Eileen Wise
Roger was Assistant Editor of Today on BBC Radio 4, while Eileen headed up the global PR for The Economist and Reuters. When not travelling near and far, Roger writes narrative 20th century history books such as 'The Greatest Traitor' and 'All Behind You, Winston', and Eileen now works as a counsellor from their Suffolk cottage. They have a remarkable menagerie including a pony, two donkeys, three cats, two peacocks and a guinea fowl.