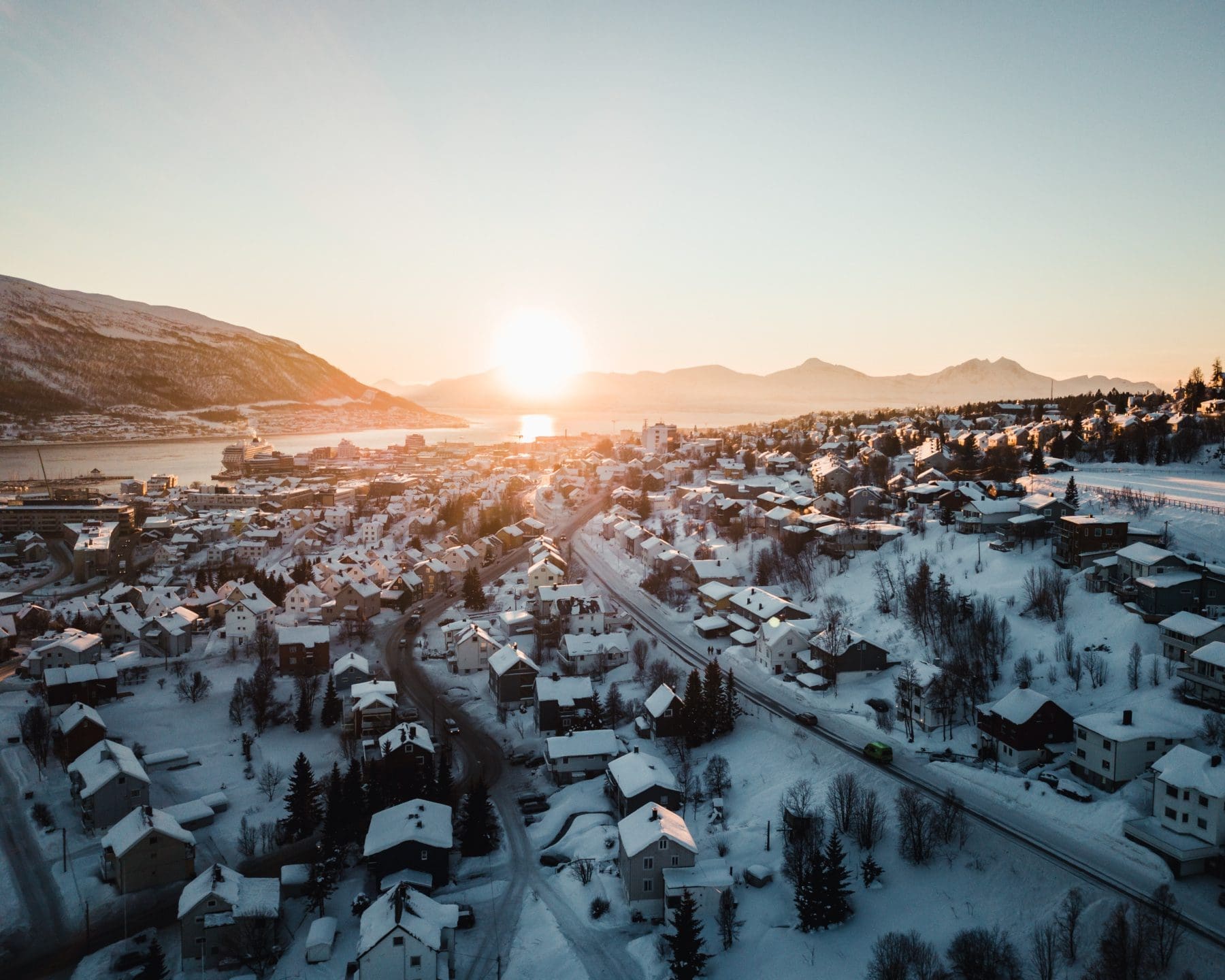 Tromsø Norway: Reindeer and Northern Lights
Mark Bibby Jackson
Posted on 29th Mar 2023
Mark Bibby Jackson concludes his trip through Norway from Bergen to Fjærland in the city of Tromsø in the Arctic Circle where he follows the Northern Lights, watches a reindeer race and goes on a fjord cruise.
There are moments when I really do feel that I have the best job in the world. Standing in a frozen field in the middle of the Arctic Circle with sleet pelting into my eyes, surrounded by reindeer eating food pellets from my open hands was certainly one of them.
Feeding Reindeer in Norway
It was towards the end of my week in Norway. I had already visited beautiful Bergen and had ridden on the Flåm Railway, but in truth it was meeting reindeers in their natural environment that I had been looking forward to most.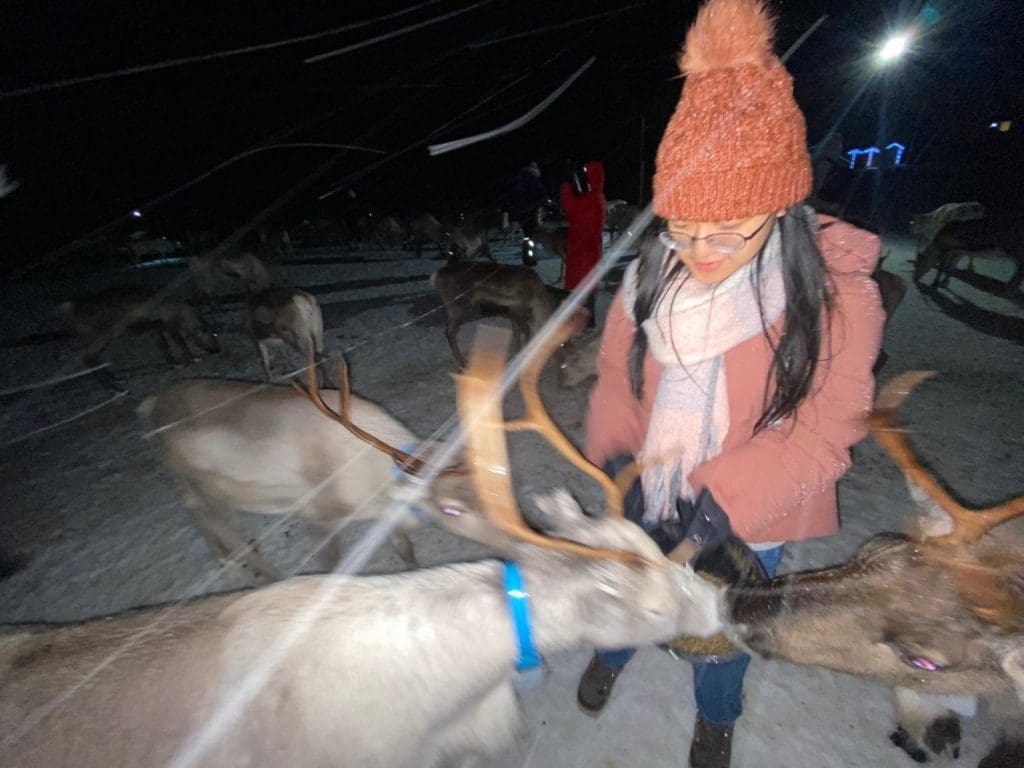 Our Sami experience is in the village of Breivikeidet just a short ride from Tromsø in Norwegian Lapland. Per, our Sami host, guides us to the pen in which the Sami protect and feed their reindeer through the winter months before leading them to graze in the arctic wilderness through the summer. Then he gives us a bucket each and invites us to feed them.
I burst through the gate faster than Usain Bolt in a wind assisted time trial, my left hand full of the pellets of grain and Omega 3 that sustain the reindeer through the harsh Nordic winter. Soon, I was engulfed by reindeer eating from my hand. It was a wondrous feeling. I stroke the reindeers' soft backs trying to avoid their antlers as per Per's instructions.
Reindeer are unique in that both the male and female of the species have antlers. Male reindeer lose their antlers around September, just before the mating season, while females lose theirs in May just after giving birth to their offspring on the same spot that they were born themselves. Apparently the female reindeer eat their antlers to enrich their milk for their young.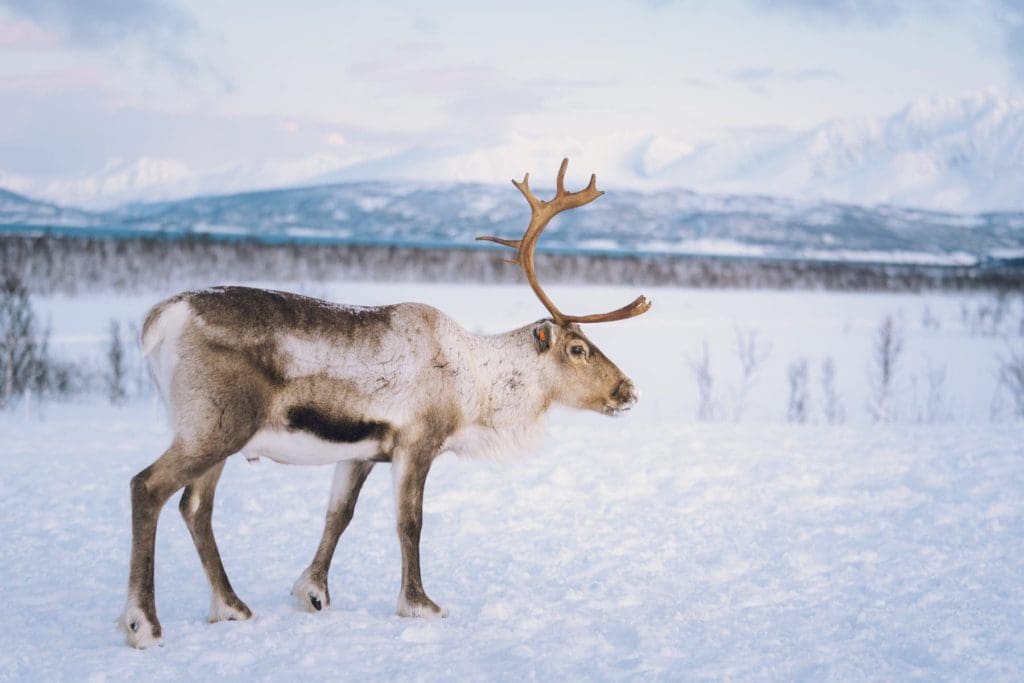 Sami and Reindeer
It seems as if we are only with the reindeer for minutes, but it is more like an hour before we retreat to Per's hut for dinner, warmth, and a talk on Sami culture and their relationship with reindeer. Apparently there are 80,000 Sami people who live across Lapland, half of which in Norway.
The number of reindeer is strictly controlled with only Sami allowed to own them. There are around 4,000 reindeer in total, of which Per and his family own 300, of which 15% are male.
They reindeer are kept at Breivikeidet in October or November, making the return trek to their grazing land in May when the reindeer give birth to their young. The trek takes several days, during which one of the Sami parents stays home with the children. Eventually the families meet up at the end of the trek and have a celebration.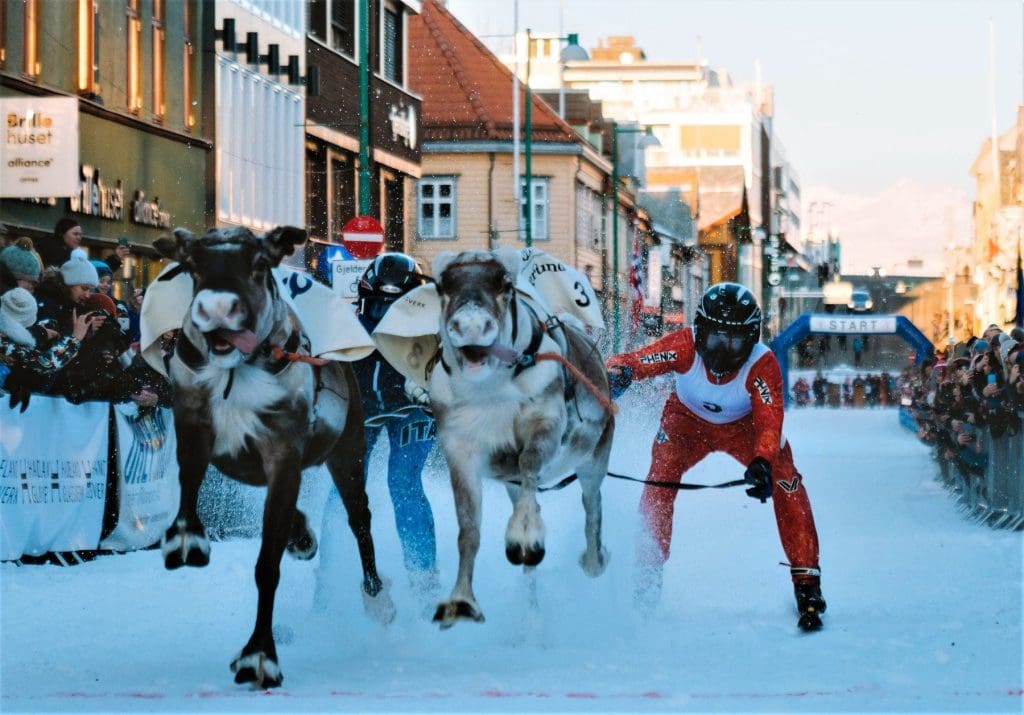 Reindeer can live to around 20 years old, although Per's oldest is 14; a bad tempered reindeer who prefers to stay in the nearby woods rather than with the noisy young reindeer in the pen. Stray reindeer and the young are prey to five predators: brown bear, lynx, wolves, wolverine and eagles, as well as man, of course. All this Per explains as we are served bidos, a traditional Sami reindeer stew. Fortunately, there is also a vegetarian option.
The driving sleet prevented us from going on a reindeer sledge ride. It also meant that any prospect of seeing the Northern Lights were quickly dispelled. We also didn't hear Per's chanting a traditional Sami joik as he had a cold.
Reindeer Racing
Earlier in the day we had heard some joik as we watched the Norwegian Reindeer Racing Championships in the main street of Tromsø. The event is part of the Sami Week, organised by Midnight Sun Marathon to coincide with National Sami Day which falls on 6 February.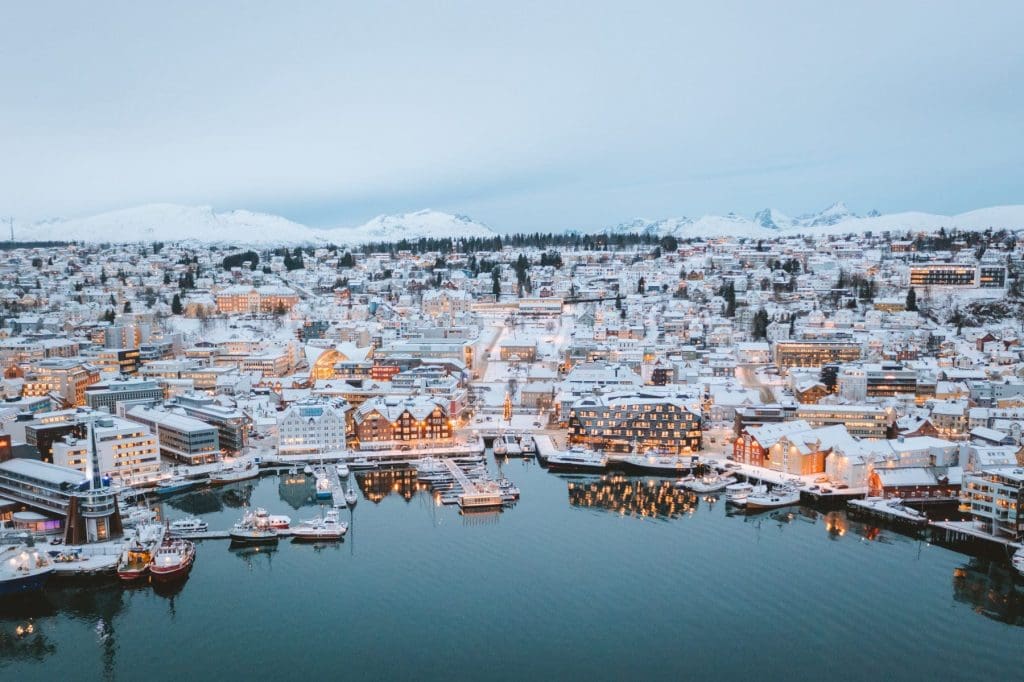 Amazingly, the course was constructed in four hours overnight. First, the reindeer are paraded before us and then we see the first race. The reindeer can reach up to 60kph dragging their ski 'jockeys' behind them.
It is a spectacular event that seems to have attracted most of Tromsø's inhabitants as well as many tourists. It takes somewhere around 17 or 18 seconds for the reindeer to cover the course, which is a snip over 200 metres. The organisers are keen to point out that stringent tests are carried out to ensure the reindeers are fit to race – one was withdrawn on the eve of the Championship. In between races there are some snowshoe races, which presumably helps to give some rest for the reindeer.
Tromsø: Museums, Breweries and Galleries
Tromsø is in the far north of Norway, 350km north of the above the Arctic Circle. It is the third largest city in the Arctic Circle after Murmansk and Norilsk. The city centre is located on the island of Tromsøya and connected to the mainland via a scenic bridge.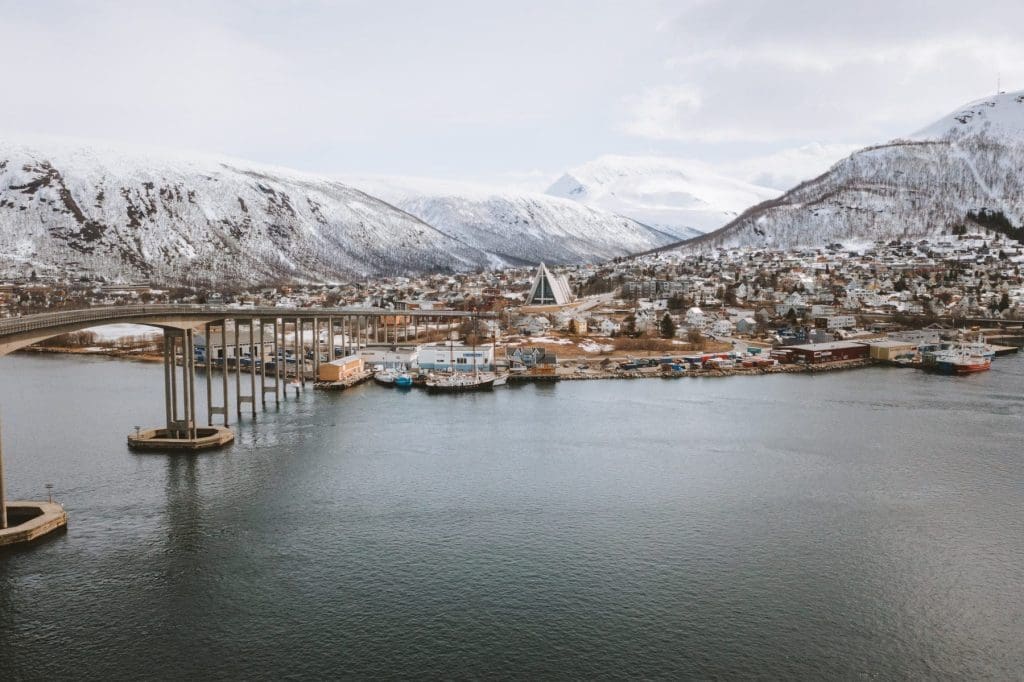 The area has been populated since the end of the Ice Age. Archaeologists have discovered buildings dating back 9,000 to 10,000 years. Tromsø was given its city charter on 20 June 1794, and rose in importance as Bergen lost its monopoly in the cod trade. In the 19th century, it was dubbed the Paris of the North, possibly due to the elegant dress of the inhabitants that surprised visitors from the south.
However, the epithet could also apply to the attractiveness of the city centre, where wooden houses were built between 1789 and 1904, when they were banned due to the risk of fire, as elsewhere in Norway.
Skansen is the oldest house in Tromsø, built in 1789, while the Polar Museum is situated in a wharf house built half a century later. Tromsø Cathedral, the only wooden cathedral in Norway was built in 1861, while the modern Arctic Cathedral was built in 1965.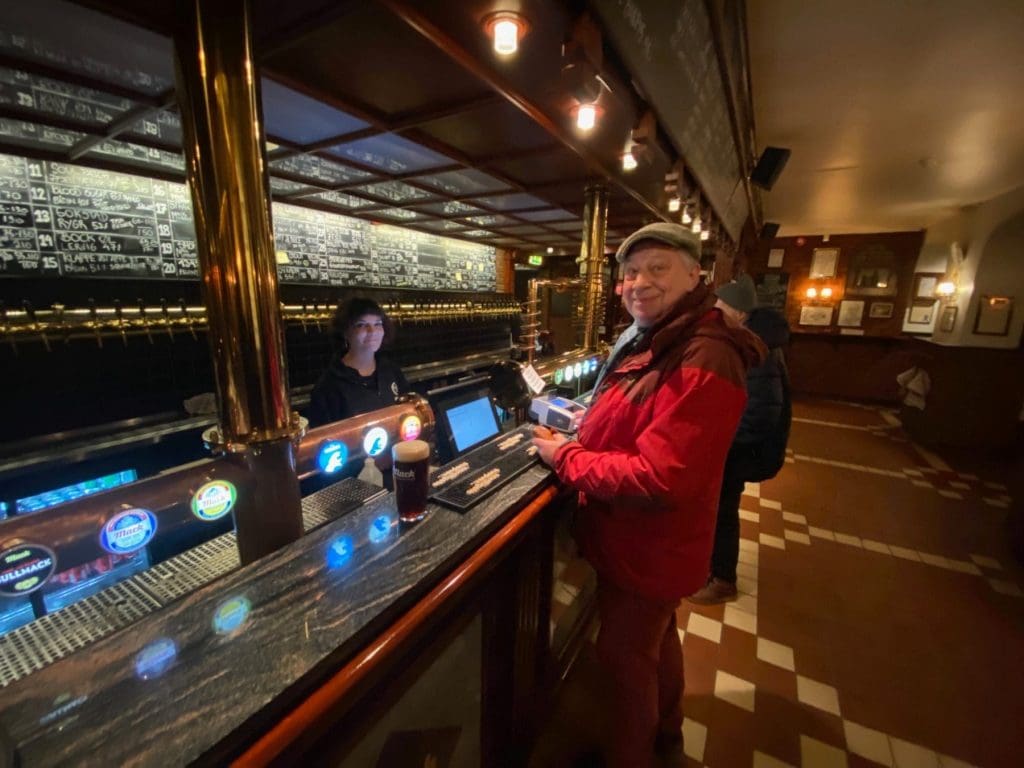 We spent a pleasant few hours walking around the town and exploring some of the museums, including the Tromsø museum and Troll Museum, galleries and Polaria aquarium, with its seals and jelly fish. The success of the city was driven by its importance in the fishing and whaling industries, as well as a departure point for explorers heading further north. There is a statue to Roald Amundsen close to the Polar Museum.
However, the highlight of our city tour was downing a beer at to Ølhallen, the ale hall at Mack, the Tromsø brewery which is arguably the most northerly brewery in the world – there is a craft brewery on Svalbard – and has been brewing here since 1877. There is a cosy atmosphere to Ølhallen, and I highly recommend the smoky stout.
Chasing the Northern Lights in Norway to Finland
The previous evening after an early dinner at the excellent Bardus Bistro, we set off on a Northern Lights Chase.
Like with many travellers, seeing the Northern Lights, or aurora borealis, was high on my non-existent travel bucket list. However, as our excellent guide Trine was at pains to point out you really do have to moderate your expectations. While you might be lucky and see dancing pink and purple lights with the naked eye on your first Northern Lights expedition, the reality is that it will be a much more subdued experience, namely a green arch.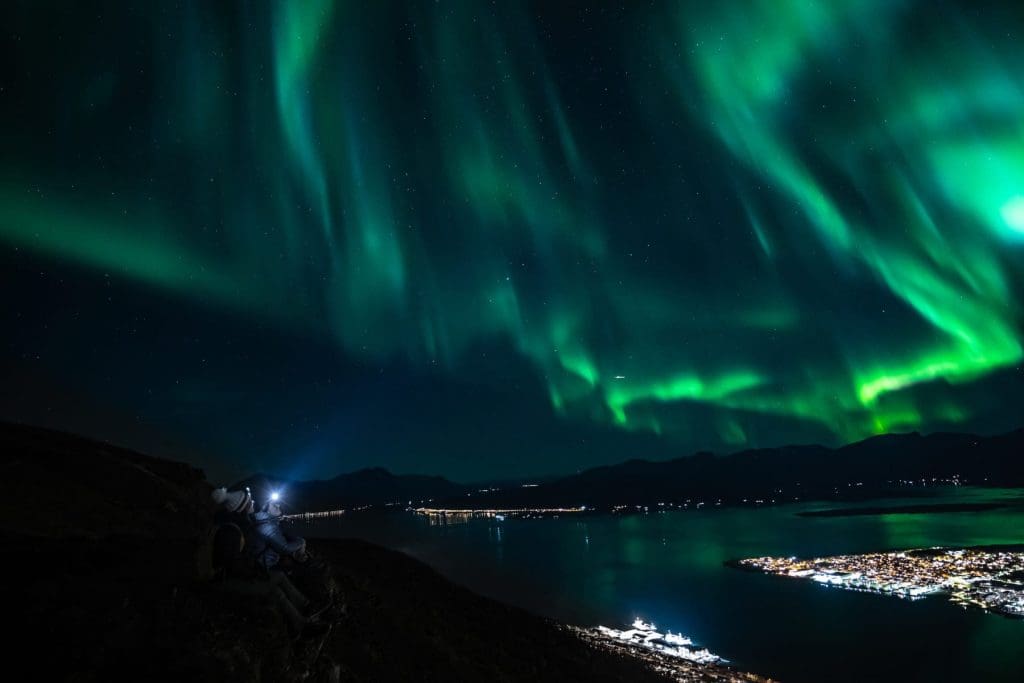 So, ours proved as we headed off into the darkness guided by numerous apps and feedback from other Northern Lights spotters. Eventually we stopped at the side of the road where Trine assured us we could see the Northern Lights. I stared out into the night sky and all I could see was a vague white blur in the sky.
This is the other point to Northern Lights watching – they are far more visible through the camera lens than with the naked eye. So, as Trine assembled her camera and tripod, I stood behind her and saw the Northern Lights through the display screen on her camera. However, Trine did rate our experience as a 1 on a scale to 10, so you might be luckier than we were. Perhaps the highlight of our trip was crossing the border to Finland – there were reports that the lights were more visible there, where we stopped for hot chocolate and marshmallows before returning to our hotel around 2.30 am.
A Norwegian Fjord Cruise
For our final day on our trip through Norway, we went on a Fjord Cruise aboard the Arctic Eagle. This was an excellent boat trip to Ramfjord and the former NATO submarine base where we could peek inside the tunnel where the submarines entered. Our multi-tasking captain Håkon cooked an excellent fish soup – the best we had in Norway – while navigating the boat and explaining some of the history of Tromsø and the fishing industry.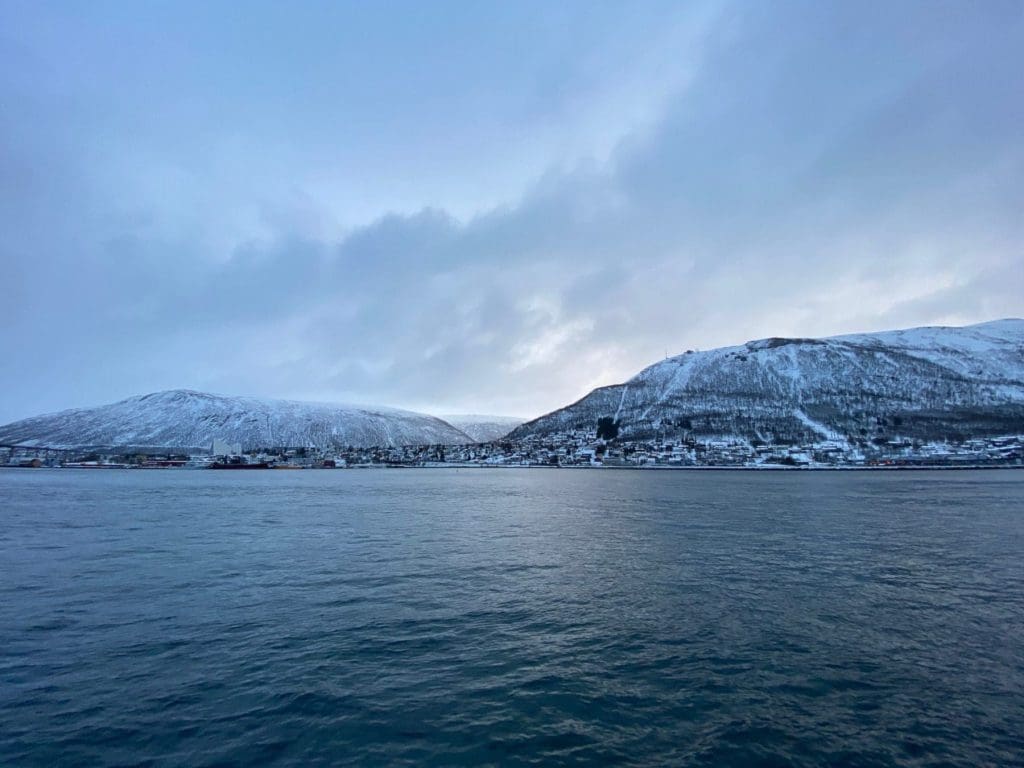 Their most popular trip involves snorkelling with whales in the fjords, which can be taken during the whale watching season from October to January. They also do a Northern Lights cruise.
The weather changed constantly through our two-hour ride. Snow followed a glimpse of sun but there were sufficient breaks in the clouds for us to enjoy the most spectacular arctic landscape.
Standing on the deck watching the birds wing their way above the surface of the ocean through my Swarovski Optik Binoculars, which I had brought especially for the trip, was a relaxing and invigorating conclusion to our week in Norway.
---
Tromsø Norway and Northern Lights Photo Gallery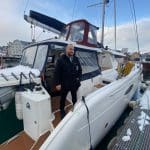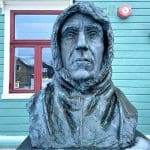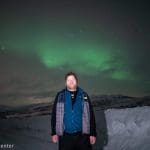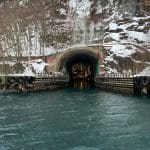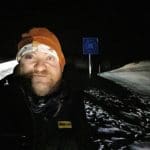 ---
Flights to Tromsø
Mark was a guest of Norwegian airline Widerøe, in partnership with the tourist boards of Fjord Norway and North Norway. Widerøe flies daily from London and twice daily from Aberdeen (once on Saturdays) to its hub at Bergen, from where there are frequent connections to Tromsø and other towns and cities in Norway.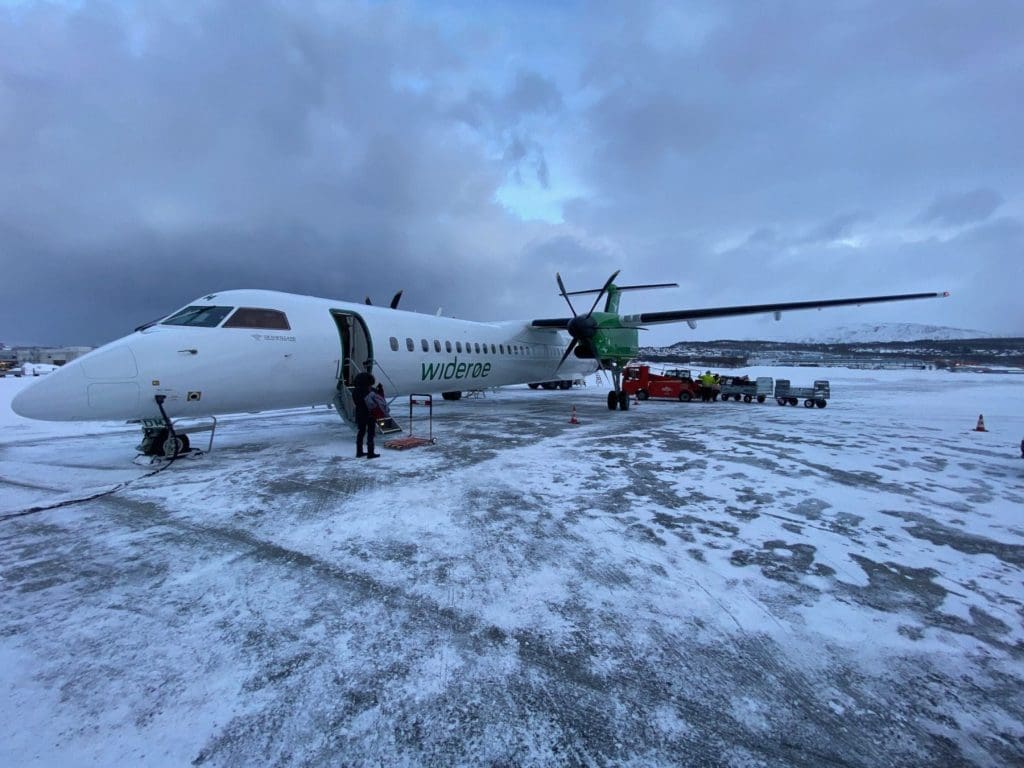 Holiday Extras
Mark parked his car at Heathrow using Holiday Extras, the market leader in UK airport parking, hotels, lounges, and transfers. Last year most of their customers saved at least £100 on their airport parking vs the price they would have paid on the gate. With Flextras, if you need to cancel or amend you can without charge. Seven days parking at Purple Parking Meet and Greet, Heathrow Terminal 2, is available from £125.09. To book, visit: https://www.holidayextras.com/ or call 0800 316 5678. Price searched on 22 February 2023 for arrival on 23 March 2023.
Accommodation in Tromsø
We stayed at Thon Hotel Tromsø, which after a topically frosty reception proved a convenient and comfortable place to stay with an excellent breakfast.

SWAROVSKI OPTIK's NL Pure 32 Binoculars
Mark was loaned SWAROVSKI OPTIK's NL Pure binoculars. The NL Pure 32 comes with two magnification options, 8x and 10x, and when combined with the impressive field of view, compact design and light weight, offers a remarkably, versatile binocular. The NL Pure also comes with a variety of optional accessories including the VPA variable phone adapter, allowing users to connect their binoculars to a smartphone and capture those unique moments. Further details available here.
Northern Lights Norway
Fore further information on Northern Lights holidays, and other things to do in North Norway visit: https://nordnorge.com/en/
Things To Do in Tromsø Norway
For information on thing to do in Tromsø, visit: https://www.visittromso.no/.
---
Main image: Tromso in winter, Photo Vegard Stien, Visit Tromso.
Mark Bibby Jackson
Before setting up Travel Begins at 40, Mark was the publisher of AsiaLIFE Cambodia and a freelance travel writer. When he is not packing and unpacking his travelling bag, Mark writes novels, including To Cook A Spider and Peppered Justice. He loves walking, eating, beer, isolation and arthouse movies, as well as talking to strangers on planes, buses and trains.