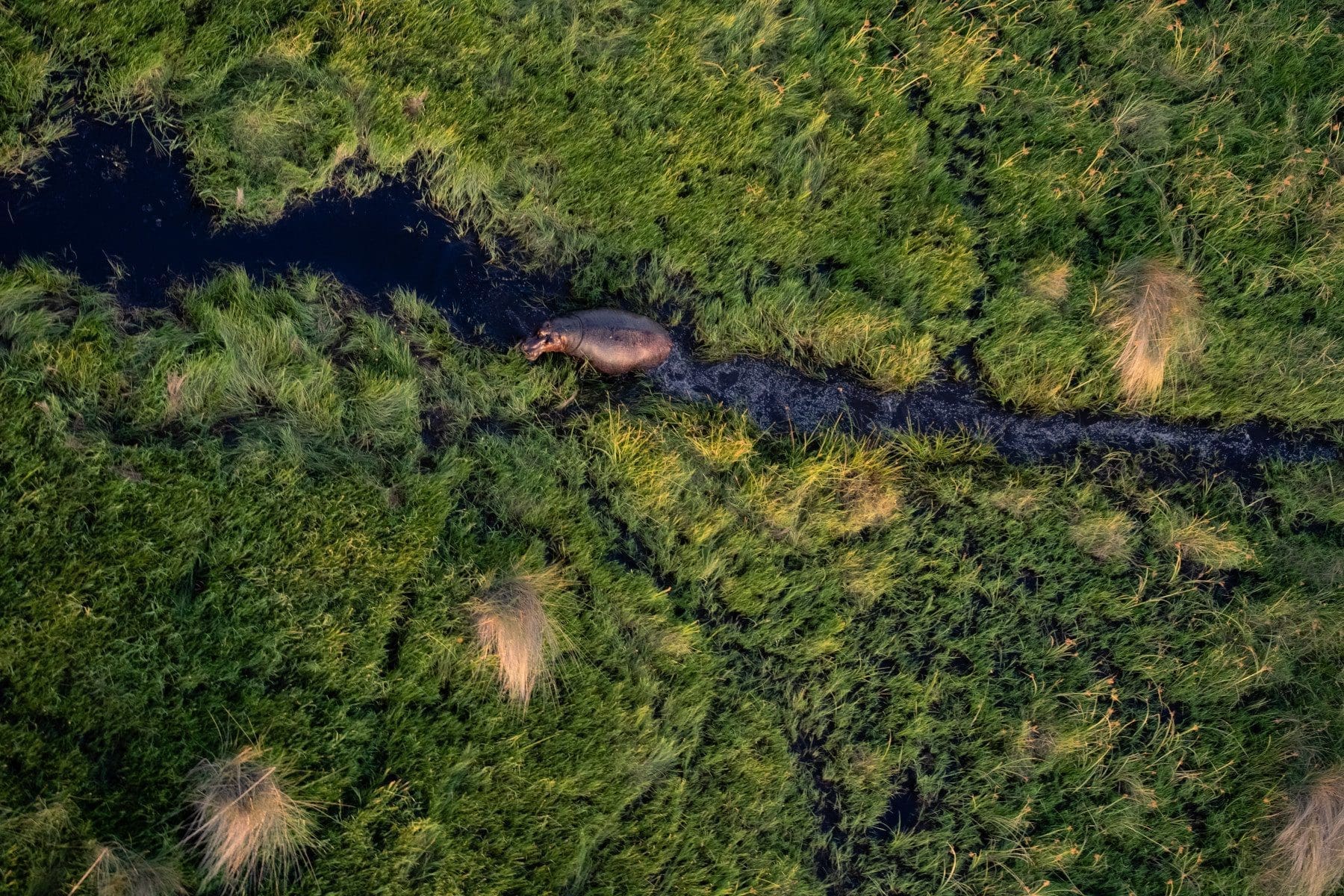 Safari in Botswana II: The Okavango Delta
Roger Hermiston Eileen Wise
Posted on 23rd Apr 2023
Roger Hermiston and Eileen Wise continue their safari in Botswana, visiting the Okavango Delta.
The second half of our trip to Botswana took us to one of the Seven Natural Wonders of Africa, and the jewel in Botswana's environmental crown. The Okavango Delta is the largest inland delta in the world, with the wide Okavango River sinking into the dry sands of the Kalahari Desert, creating crystal clear lagoons and channels, reeded islands and fertile floodplains. It's a stirring place, and one of the last, great natural sanctuaries.
The Duba Explorers Camp, at the extreme northern reaches of the Delta, is built on an island (reached by a long wooden bridge) which is shaded under a canopy of mature jackalberry, leadwoods, mangosteen and fig trees, and surrounded by water channels and expansive plains.
Safari in Botswana: Duba Explorers Camp
We arrived there on the first of the two exhilarating helicopter rides we took on this trip. Once our Cessna touched down at Duba, we quickly clambered into a four-seater Bell Jet Ranger from the company Helicopter Horizons for a ten-minute ride to Duba.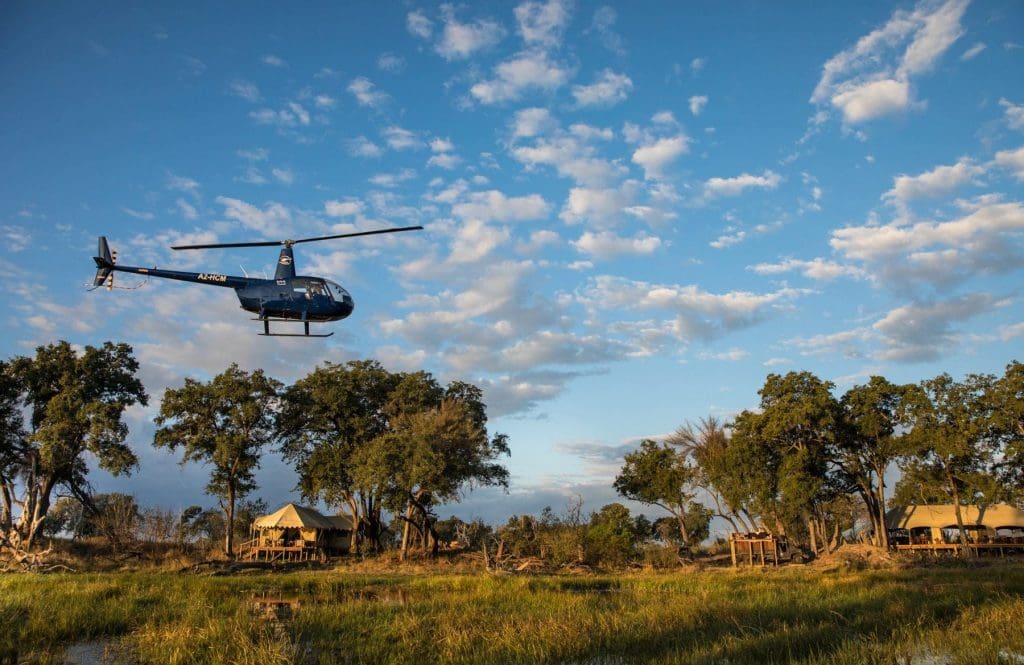 Any nerves we might have had were settled by our calm young pilot Aron, a native of Stockholm and a fan (I would later discover) of Blackadder. No jokes on this first flight, at least to begin with, as, headphones on, we absorbed an experience neither of us had had for many years. But dipping low over the delta, seeing the big ears of the elephants flapping below us and the horns of the surging water buffalo, was a thrilling new perspective on the wildlife below. And on our second flight Aron took the doors away to enable us to enjoy an even more wondrous birds-eye view.
Justin and Vero run the Duba Explorers Camp with an easy, relaxed style. Over a magnificent five-course tasting meal that night – the food at all camps was uniformly excellent, with natural tasty ingredients, and always delivered with panache – Justin was illuminating on the controversial subject of hunting in Botswana.
Visitors will naturally abhor the work of trophy-hunting poachers, but if they also object to the killing of big beasts away from the private reservations (some are now allowed in law) they should bear Justin's experience and perspective in mind. On the day, as a young boy, when he was due to leave for boarding school, lions entered his village and headed for the goat enclosure, swiftly killing the animals and, at a stroke, taking away the village's livelihood.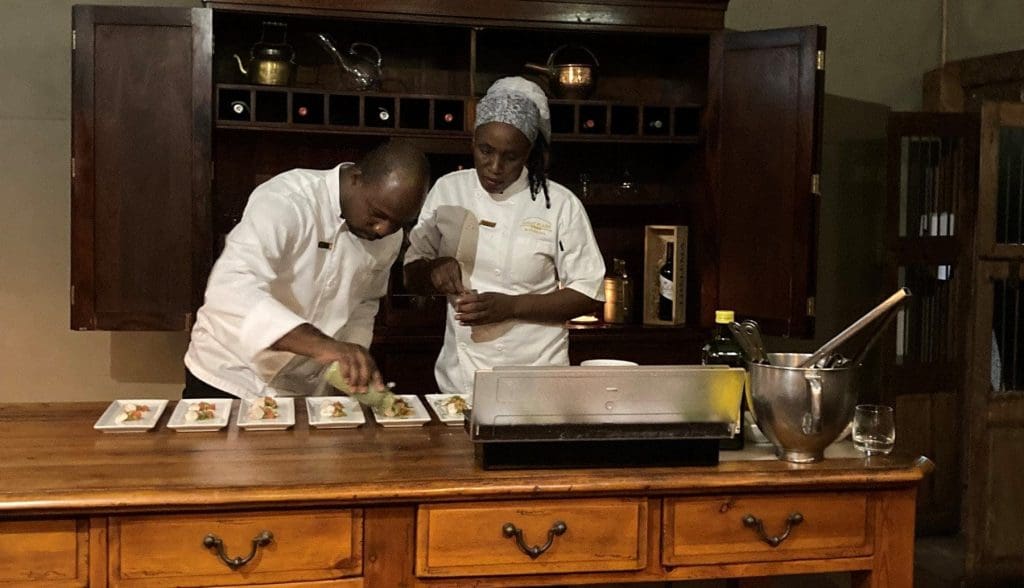 A big beast awaited us that night when, along with our fellow dinner guests, we were being escorted back to our tents by torchlight. The huge, dustbin lid-sized footprints were the clue. It was the first – and no doubt the last – time in our lives when we would face an elephant roadblock.
Zak, our guide, shined the torch on him, just a few yards away from the path, as he chomped his way through the undergrowth. Zak pondered whether we should ease past but wisely decided against it, so we headed back to the central area where he transported us all in a Land Cruiser, via a much more circuitous route, back to our tents.
We saw elephants aplenty in the reserve at Duba Explorer, including one sad-looking male with deformed tusks which had grown inwards and now criss-crossed each other. Zak assured us, however, that he would be able to eat satisfactorily – defending himself against attack would be his problem.
Nature is brutal, 'red in tooth and claw' as Tennyson once wrote, and we would see a vivid example of that later. But there was also comedy to be had in observing Duba's animals – none more so than with the arch troublemakers, the Chacma baboons.
They had made the trees near our tent their home, chirping and grunting constantly. But out on the drive they showed they did take discipline in the troop seriously, when we watched a teenager run hell-for-leather along the plain to escape four adults who appeared intent on administering some severe discipline for whatever misdemeanour the youngster had committed.
The bush was alive to the noise of other monkeys in the troop whooping and cackling as they watched the chase. Then the teenager sought refuge up a tree, but as he raced along a long branch it suddenly collapsed beneath him and he was sent tumbling to the ground.
It was at Duba Explorer that we really hit our stride with our birdwatching and the quest for the 111 species we had commenced at Selinda Camp. A beautiful little light blue woodland kingfisher took up residence on the handrail of the stairs leading to our tent. Out on our drive we spotted not one, but six eagles, the African Fish with its white head, chest and neck the most splendid.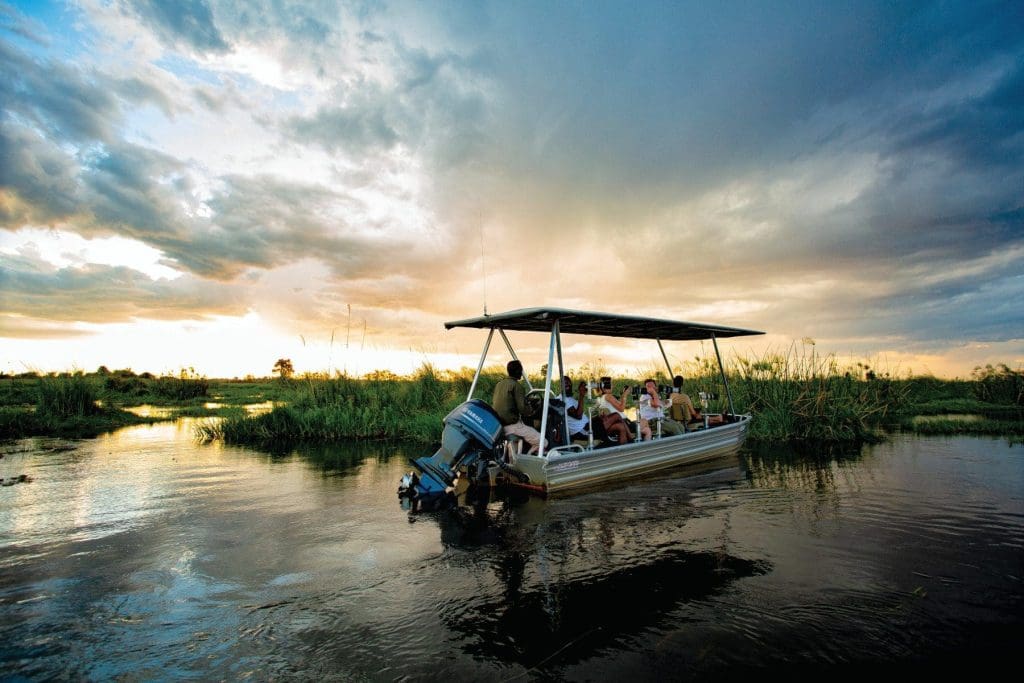 In the wetter areas the African jacana (the 'Jesus Bird') was a regular sight, while the aptly named Grey Go-Away bird sang all around us, warning other species of predators. But perhaps the most fascinating of all was the ground-loving Southern Ground Hornbill, a stunning big black bird with extensive brilliant red face and throat wattles.
In African culture, the southern ground hornbill has inspired a variety of beliefs. Some view it as a harbinger of evil and death, perhaps hosting angry spirits. For the Ndebele people, killing them (incredibly the birds can live to 70) is taboo and will bring death upon the killer. More benignly, cultures like the AmaXhosa believe the bird can bring rain and end droughts.
Safari in Botswana : Duba Plains Camp
We had suffered our morning of rain when we prepared to leave for Duba Explorer, but conditions were perfect, clear, bright and warm, when Aron delivered us by helicopter to our third and final destination, Duba Plains camp.
Duba Plains, at the heart of the Okavango Delta, has six bespoke suites (one is two-bedroomed), all designed to blend into the landscape and evoke the classic African safari of the 1920s and 30s, when the likes of the writer Ernest Hemingway (The Green Hills of Africa), parading in safari jackets, multi-pocketed vests, helmets and khaki shorts, were seduced by the savannah.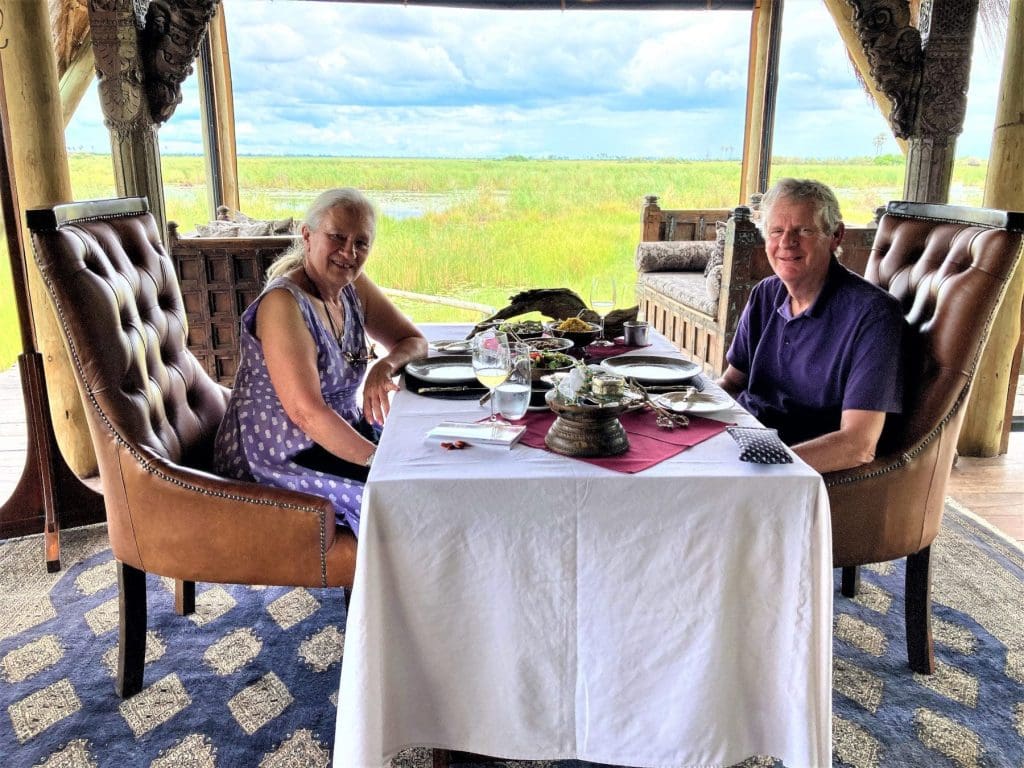 All the Duba suites are raised on recycled railway-sleeper decking and all have amazing views of the surrounding floodplain, with a constant stream of wildlife roaming past.
We elected for some downtime in our comfortable suite, which – appropriately after our experience in Selina – had wonderful photographs of leopards by Beverly on the walls. In the evening we made our way to the central area, a huge deck under a canopy of ebony trees, where we enjoyed a sundowner with other guests and prepared for dinner.
We had already enjoyed one sumptuous five-course tasting meal at Duba Explorers. Now we steeled ourselves for six courses – all washed down with excellent South African wines from the cellar. We started with parmesan croquettes on basmati rice, followed by pickled radish, celery and grapefruit salad, then lamb rack, brussels sprouts and butterbean tagine.
A pause for wine and reflection, then spinach chicken roulade, orange and thyme sauce, followed by aubergine parmigiana, butternut and rosemary puree, and a sweet of orange bread, sabayon sauce, pastry cream, pineapple, ginger biscuit crumble and poached mixed berries. Delicious food, natural ingredients, all delivered with a smile and a story from the staff.
The Okavango – A Place of Beauty, Danger and Violent Death
The following morning would see our final outing before the long journey back to UK; Mots (our new guide) and Lizzy, our constant companion, were determined to make it a memorable one. As the description for a novel from the South African thriller writer Tony Parks, who we had grown to like, puts it, "The Okavango – A Place of Beauty, Danger and Violent Death". We were about to witness all three in the animal world.
Beauty on this 33,000 hectare reserve came in the form vast herds of elegant red lechwe antelope and the zeal of zebras. Danger appeared in the guise of an incredible sighting of a male lion, the king of the Tsaro pride, who we first spotted atop a termite mound, and who would eventually stroll nonchalantly right in front of our vehicle as he patrolled his domain. Later we would come across the pride, resting, yawning, grooming around a bush on another mound.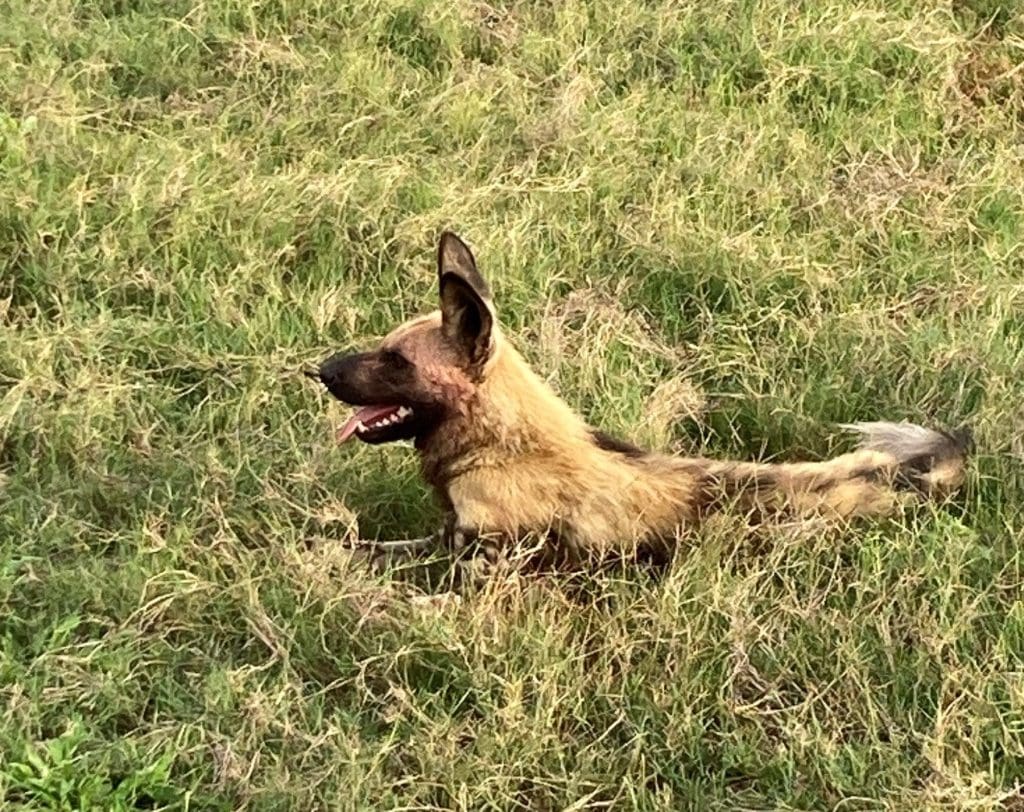 Last arrived Violent Death, in this case for a red lechwe at the hands of three wild dogs. We had wanted to see the wild (or 'painted hunting') dog, as it is one of the most endangered of Africa's great predators, now threatened with extinction. Even in the customs area of Maun airport there was a WANTED poster on the wall, calling for the public to send in sightings of the animal.
But we weren't quite prepared for the drama of the furious chase, the scattering of hundreds of antelope and the relentless honing in on the straggler, and then the sheer savagery of the kill. Suffice to say, a more pleasant sight some time later was to see the three adult wild dogs making their way to their three puppies, who were cavorting happily in the long grass. Hope then, that Duba's wild dog population is on the increase.
As South African singer and civil rights' activist Miriam Makeba said, "Africa has her mysteries and even a wise man cannot understand them. But a wise man respects them." We left the Okavango privileged to have encountered a good slice of that African wonder. And yes, we had earned our Hall of Fame caps for our birding – with a final total of 144.
---
Click here for more information about Great Plains Conservation. Main images courtesy of Great Plains Conservation.
---
If you have enjoyed this leg of Roger and Eileen's safari in Botswana, read their first adventure at Botswana Safari: Selinda Camp.
Roger Hermiston Eileen Wise
Roger was Assistant Editor of Today on BBC Radio 4, while Eileen headed up the global PR for The Economist and Reuters. When not travelling near and far, Roger writes narrative 20th century history books such as 'The Greatest Traitor' and 'All Behind You, Winston', and Eileen now works as a counsellor from their Suffolk cottage. They have a remarkable menagerie including a pony, two donkeys, three cats, two peacocks and a guinea fowl.