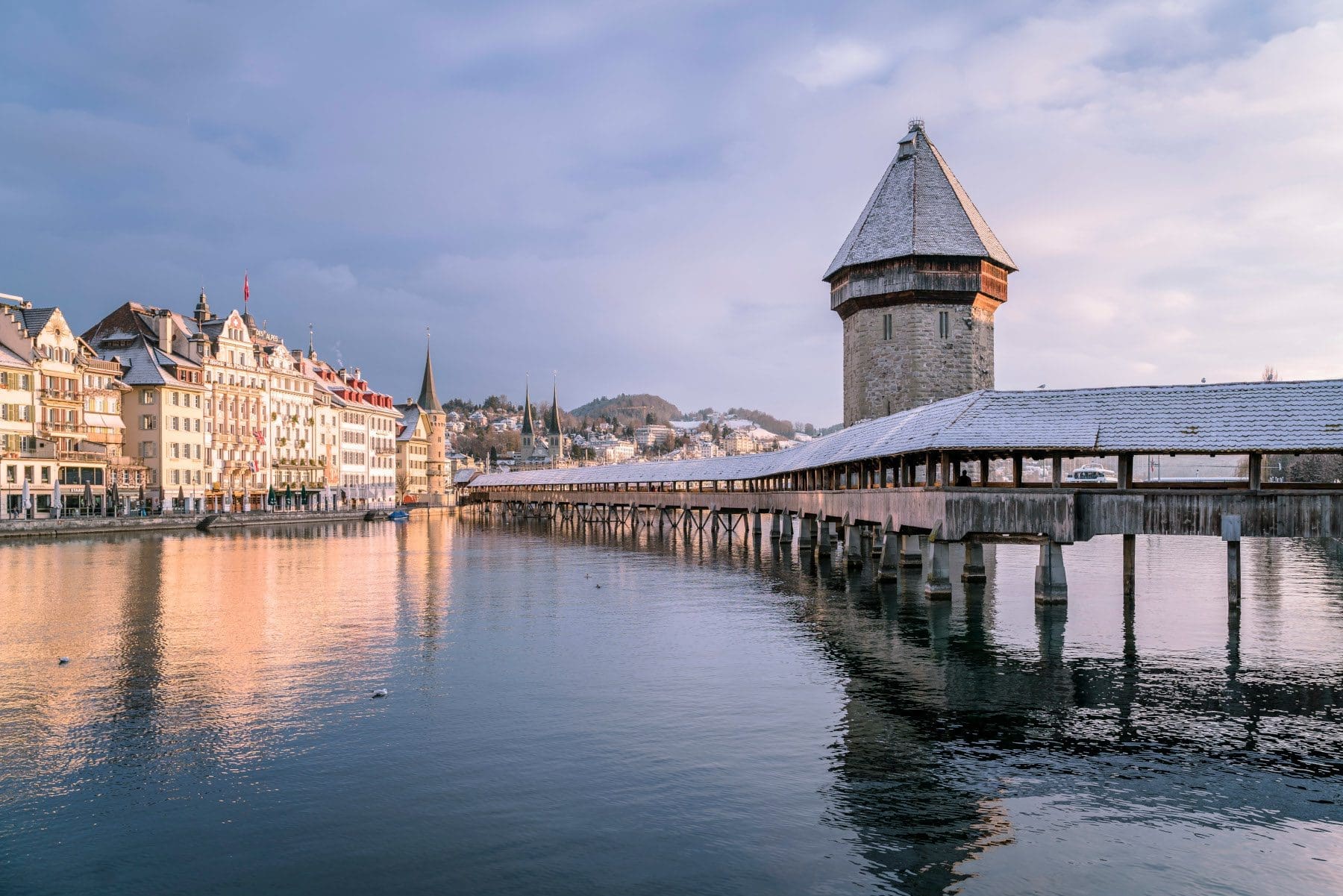 Spa's the Limit at Bürgenstock Hotel and Lucerne Switzerland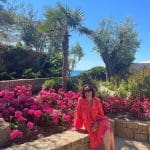 Maria Boyle
Posted on 8th May 2023
Maria Boyle visits the medieval city of Lucerne and visits one of its most historic thermal spas and also the Bürgenstock Hotel & Alpine Spa, Switzerland's largest spa.
Switzerland has long been synonymous with stunning mountains and lakes, clean air thanks to the majestic Swiss Alps, and some of the world's most famous retreats focused on wellness and relaxation.
For the optimum wellbeing weekend, the ideal starting spot is the picture-perfect city of Lucerne, just an hour's train ride from Zurich. Located in the centre of Switzerland, it sits at the foot of the Alps, along the River Reuss and the edge of Lake Lucerne.
Lucerne has long been the 'go to' wellbeing destination ever since Queen Victoria and her three children visited in 1868 and spent five weeks taking in the sights, fresh air and breath-taking scenery.
The old part of the city is car-free, and its cobbled streets are lined with independent shops and fresco-adorned historic houses, making it a fascinating place to wander around.
Lucerne Hotel
We chose to stay overnight in the newly opened Lubo boutique hostel, a historic 18th-century building located in the medieval part of Lucerne. Billed as a fully automated, digital hotel – basically this means online check-in and mobile keys –, its 41 spacious and immaculate rooms are spread over six floors and make for a comfortable stay. Rokko Café adjoins the hotel and serves great coffee, breakfasts and, as the day progresses, bao buns and high-end cocktails.
Lucerne Walking Tour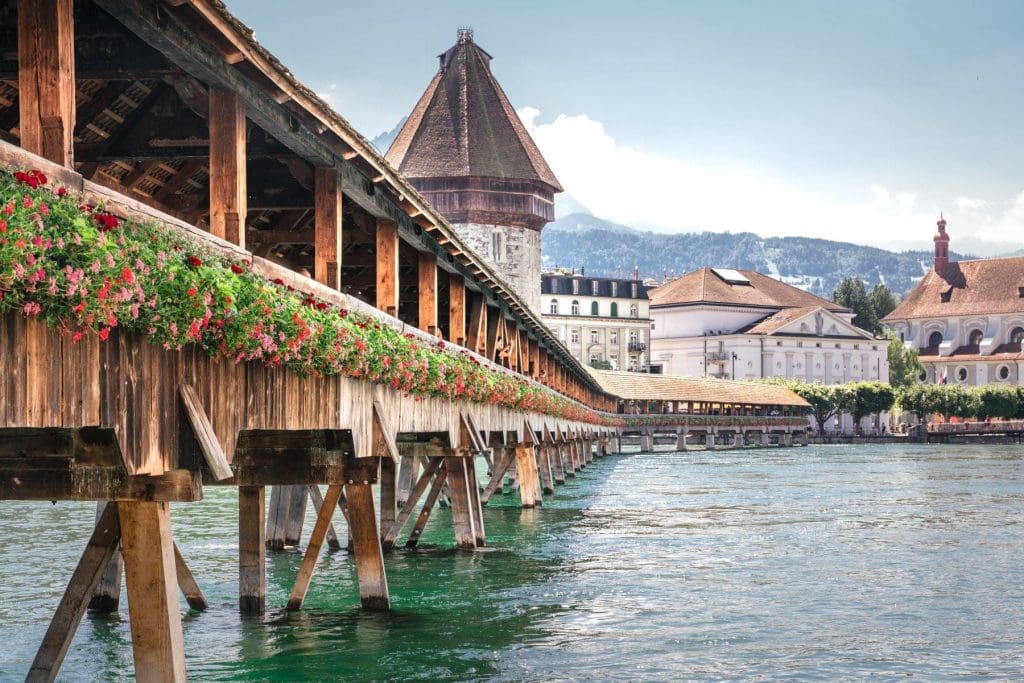 With just 24 hours to take in the sights, we enjoyed a walking tour of the city, visiting Kornmarkt, the medieval square with its town hall and tower, the Saturday market stalls, and also the city's beautiful Jesuit Church which was built in the 1660s and is Switzerland's first Baroque sacred building.
The tour took us across Lucerne's famous Chapel Bridge – the largest wooden covered bridge in Europe. Dating back to the 17th Century, this medieval bridge contains paintings that depict Lucerne's history.
After a quick stop to the city's oldest chocolate shop – Au Cachet: la maison du chocolat – we headed uphill and walked along the old city walls, which were built in 14th century, and are considered to be one of the longest (nearly 900 metres) and best-preserved fortified walls in Switzerland.
Dining in Lucerne
Lucerne has plenty of great eating and drinking spots from pavement cafes and bars to Michelin star establishments. During our stay we enjoyed aperitifs at Die Storchen, which is located in the old part of the city, great Italian food at Bacio della Mamma and Spanish tapas and paella at Bolero, located in the livelier part of the city which is abuzz at night.
Spa time!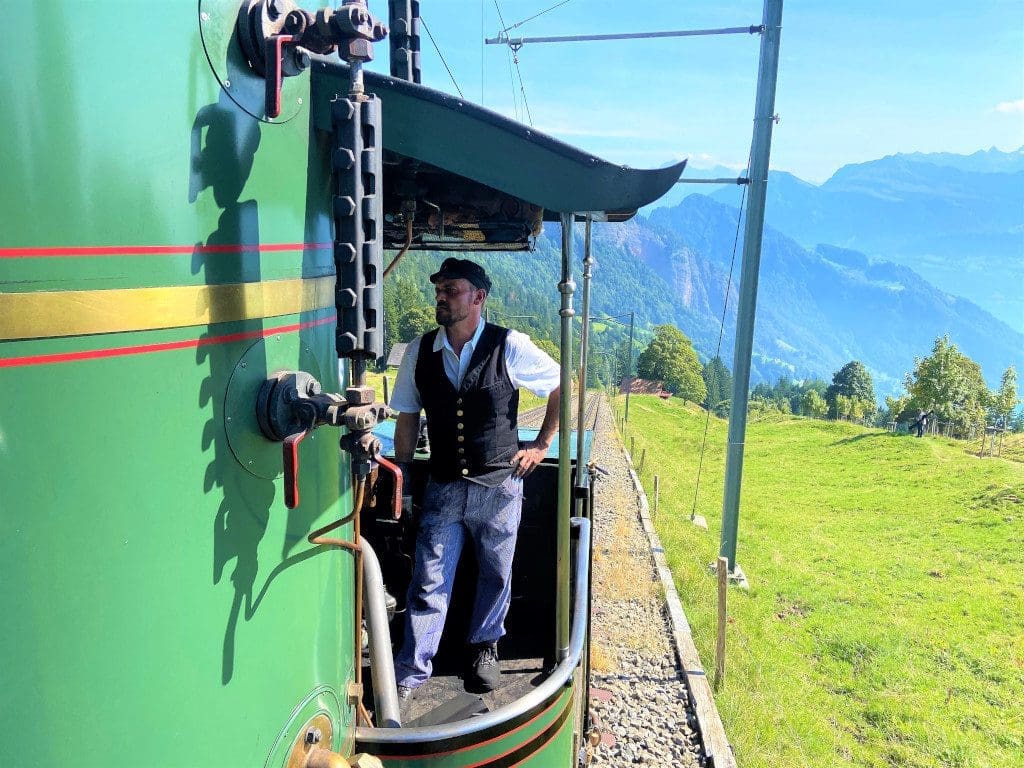 Day two and it was time to head to the mountains. Lucerne's central location allows visitors to enjoy a range of activities and experiences whatever the budget. There are multiple spas around Lake Lucerne and in the mountains, so visitors are spoiled for choice.
First up was one of Switzerland's oldest mineral baths, located just over an hour away from Lucerne. Armed with our swimsuits, we took the boat to Vitznau and then jumped on to Mount Rigi Railway for an 18-minute scenic ride uphill to the historic Mineralbad & Spa Rigi Kaltbad.
Designed by renowned Swiss architect Mario Botta, the baths are known for their healing waters have been a destination for wellness for some 600 years when the first bath chapel was built in 1545.
They are a popular destination for both residents and visitors given the spa includes indoor and outdoor pools with whirlpools, massage jets, a crystal spa, steam room and sauna, and is a great way to spend a few hours followed by a tasty lunch at Rugistübli which is located right next to the spa.
Breath of Fresh Air at Bürgenstock Hotel
For the ultimate spa experience, we left the city and took a hybrid catamaran and crossed Lake Lucerne before embarking on the Bürgenstock Funicular. Built in 1888, it is the oldest electric funicular railway in Switzerland and took us up the mountain and direct to the entrance of the five-star Bürgenstock Hotel & Alpine Spa.
The luxurious retreat is the epitome of understated elegance, set on a forested ridge 500 metres above Lake Lucerne, with amazing panoramic views.
Bürgenstock has a rich history. The historic hotel was built in 1873 and was a magnet for the European rich and famous including Hollywood stars given its idyllic location.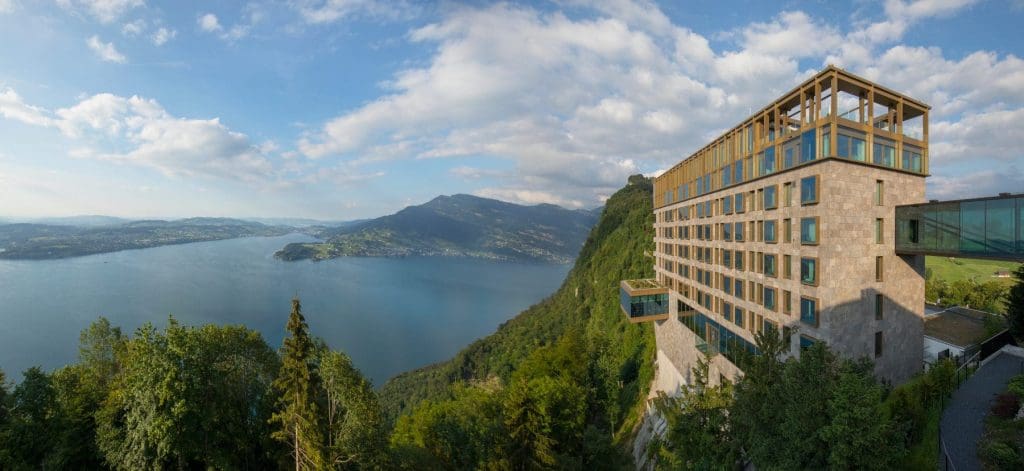 During the 1950s and 1960s, celebrities such as Sophia Loren could be spotted lounging by its kidney-shaped Hollywood Pool. Loren lived in the resort for many years, Audrey Hepburn did too, and married Mel Ferrer in Bürgenstock's little white chapel in 1954. All this and more is part of the Bürgenstock story, now recorded for posterity in the Museum Corridor in the hotel.
This year sees Bürgenstock celebrating its 150th birthday and the team is planning to do it in style. It really is the ultimate place for wellbeing, to catch your breath, be at one with nature, away from screens, indulge your senses and feel on top of the world, physically, mentally and spiritually.
In the Bürgenstock Hotel there are 102 rooms and suites, all have the wow factor – with the best views guaranteed.
Our room oozed luxury, with quartz stone walls, American walnut floors, an elegant Italian marble bathroom with twin basins, a lounge with a double-sided fireplace, a super-comfortable king-sized bed and dressing room and desk space. An overhanging window seat presented a perfect spot to sit in with a coffee or glass of champagne and take in the incredible views of the lake and mountains day and night. The bathroom was equally impressive with a rain head shower, a double bathtub with Aqua di Parma amenities, and the fluffiest of towels.
Spa's the Limit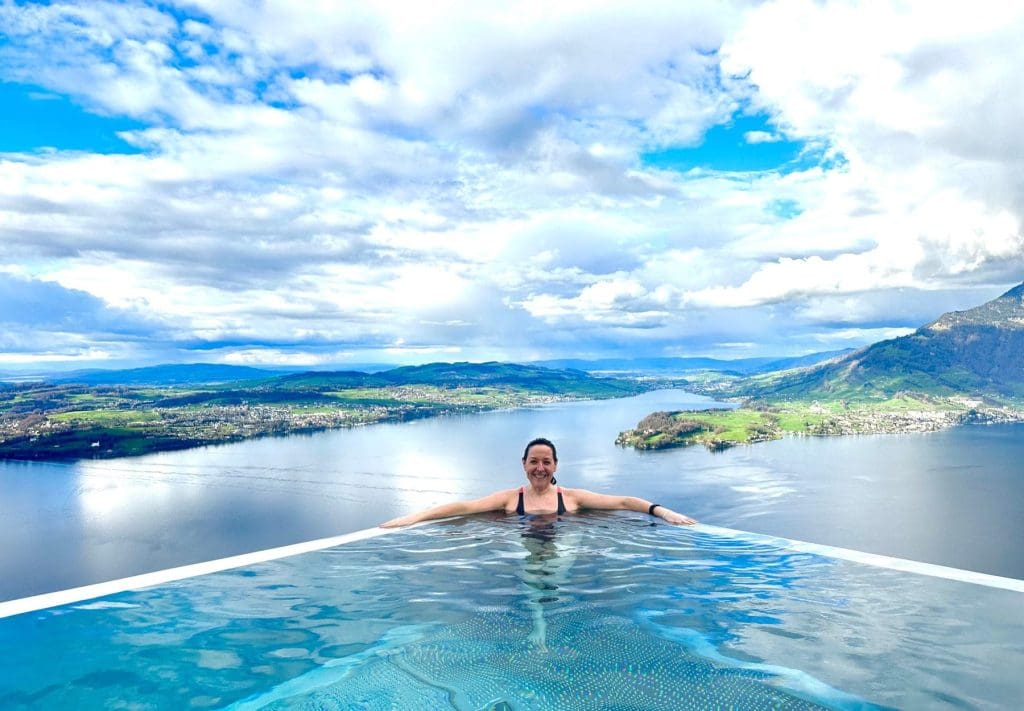 As well as its three championship tennis courts, bike paths and walking trails, the 152.8m Hammetschwand lift (which is the highest exterior lift in Europe), a nine-hole golf course, 69-seater cinema, kids' club, the hotel has an award-winning Alpine spa which lays claim to be Switzerland's largest spa – all 10,000 square metres of it.
This offers the ultimate spa experience, spread over three floors, with its five pools including an outdoor infinity pool cantilevered over the property to make you feel as if you are floating, offering perfect views of Mount Pilatus, Mount Rigi and Lake Lucerne. Guests can experience four different saunas, an Alpine Rasul steam bath, relaxation rooms, a silent room, hammam, a salt bath to enhance skin hydration and reduce inflammation, funky nap shells, an ice room and well-stocked gym. It is a joy to be in, tranquil and relaxing, and also fun to explore each area and experience wellbeing to the full.
The spa also has 13 luxurious treatment rooms staffed by highly experienced therapists. I opted for an hour-long KOS Paris Full Body Invigorating Massage that consisted of delicately scented oils applied to the skin as the therapist performed a series of stretching movements to release stress and tension through soft kneading motions. Bliss.
A View to Dine For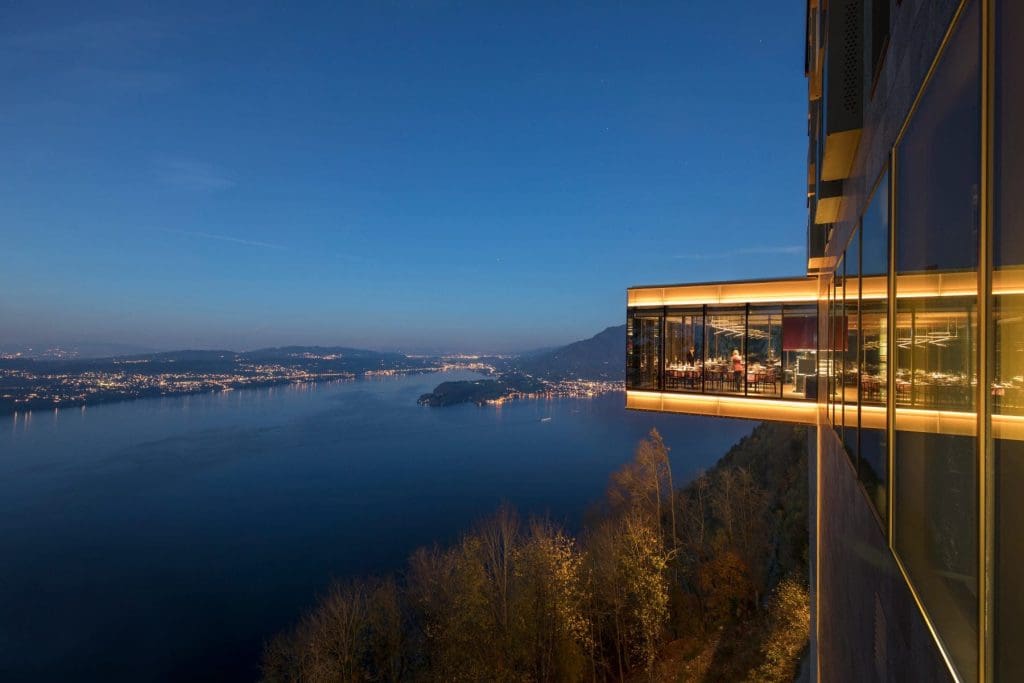 Bürgenstock has a choice of ten restaurants and bars offering a range of eating and dining options. For lunch, we enjoyed a delicious vegan-friendly vitality salad followed by pan-seared sea bass with vialone nano risotto, saffron beurre blanc and wild broccoli during lunch at The Lakeside Bar & Cigar Lounge. The lounge has floor to ceiling windows spanning six metres, offering more stunning views of Lake Lucerne and the mountains.
Another foodie highlight was dinner at Spices. Housed in a glass box, suspended 450 metres above the lake, the restaurant offers an excellent choice of Asian cuisine, bringing authentic cooking and fabulous flavours from Japan, Thailand, India and China, perfect for the resort's international clientele. We opted for the Chef's Menu and every dish was exceptional and service matched perfectly.
For our last night we had dinner at The Oak Grill. Dishes are super fresh, with meat sourced from local farmers, fish from nearby lakes, and the menu also had an excellent choice of vegetarian and vegan options.
The verdict: Lucerne a True Wellbeing Winner
A weekend in Lucerne delivers on the wellbeing stakes – with a chance to enjoy fresh air, take in the truly incredible views, be at one with nature, and relax and feel rejuvenated. With its vast choice of wellness offerings, visitors can experience wellbeing at both ends of the budget and feel like they have turned back the clock every minute spent in Lucerne.
---
Flights to Lucerne
Swiss Air flies from London to Zurich. One-way fares start from £76 to Zurich swiss.com
The all-in-one Swiss Travel Pass which can be used on the train, bus and boat network. Prices start from £186 for a three-day second-class ticket mystsnet.com.
Bürgenstock Hotel & Alpine Spa
Lake and mountain view deluxe room from CHF 1,400 includes breakfast and access to the spa. Day packages for the Alpine Spa start from CHF 270 per person (includes return boat from Lucerne and funicular to Bürgenstock. https://burgenstockresort.com/en
Lucerne Hotels
Prices at The Lubo are from CHF 120 to 250 CHF for a double room per night (depending on the season).
Things To Do in Lucerne Switzerland
For more information on Lucerne luzern.com/en and for Switzerland, MySwitzerland.com
---
Main image © Lucerne Tourism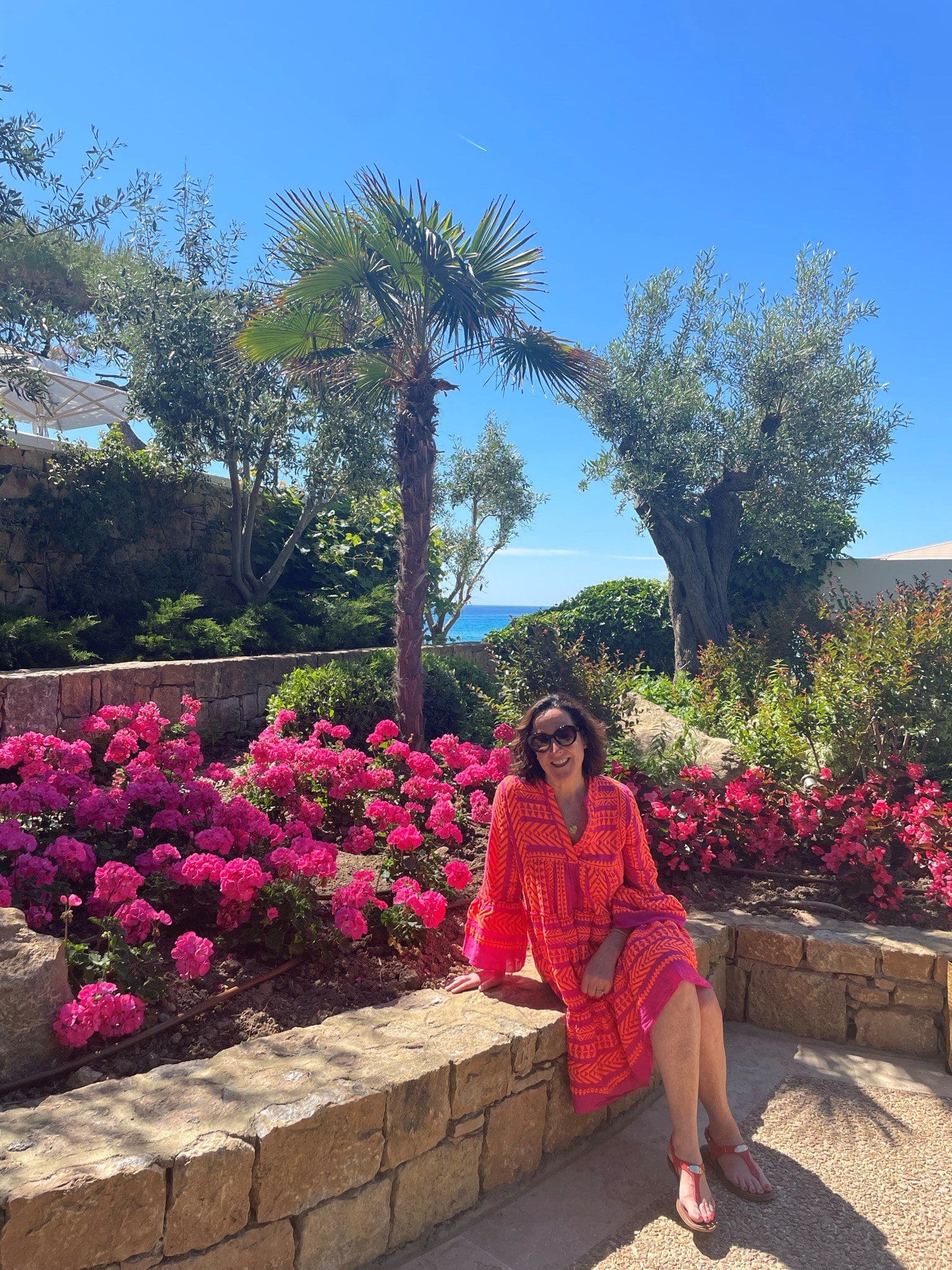 Maria Boyle
Maria is a luxury travel writer and also consults luxury brands on PR. Her passion for travel started in her teens and has taken her around the world. Favourite destinations include Costa Rica, South Africa and Italy.