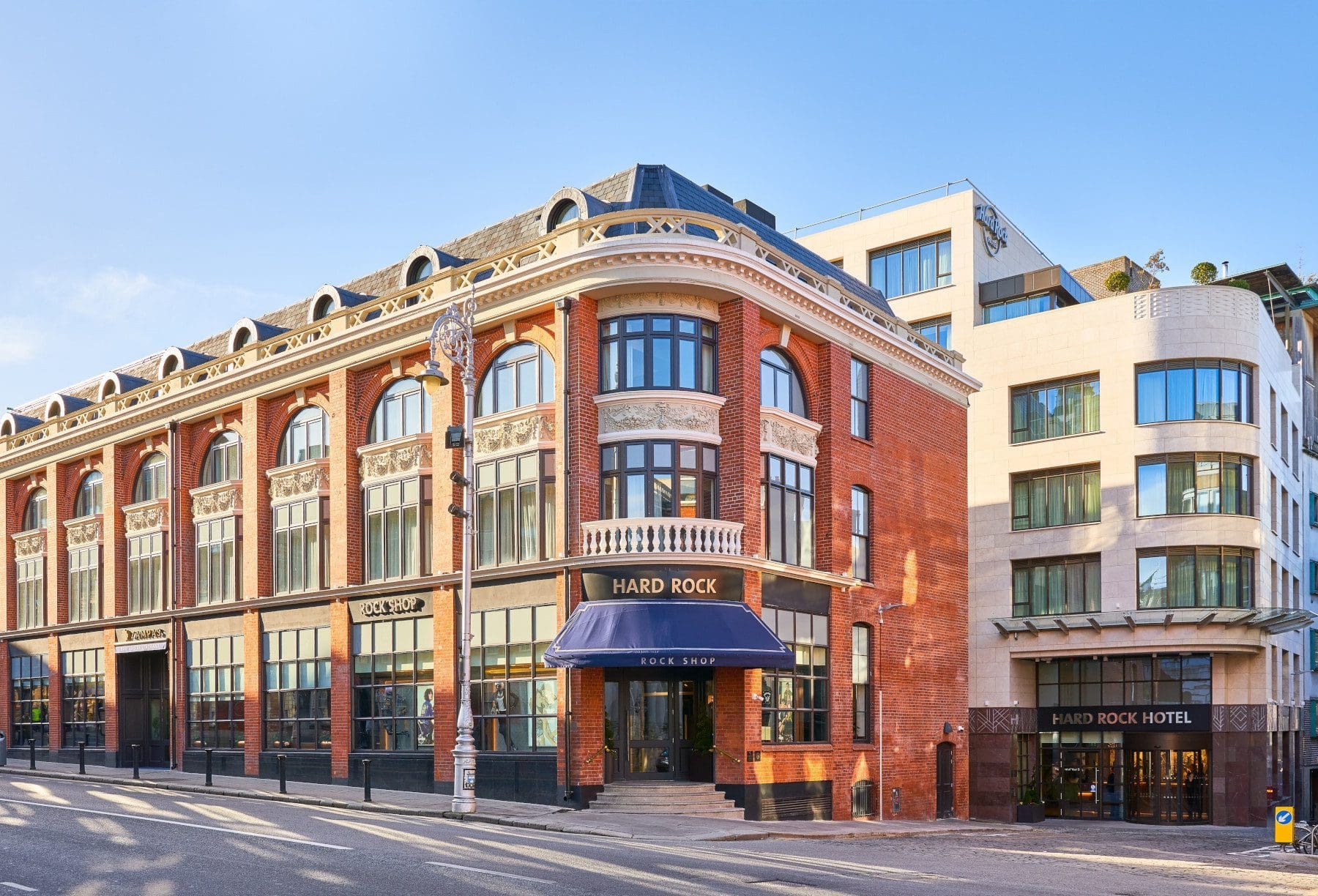 Blowin' in the Wind at the Hard Rock Hotel Dublin
Roger Hermiston Eileen Wise
Posted on 28th Jun 2023
On a visit to the International Literature Festival Dublin, Roger Hermiston and Eileen Wise have a very musical stay at the Hard Rock Hotel Dublin.
Our journey through the lobby in Dublin's Hard Rock Hotel had already produced enough evidence to satisfy the most ardent collector of music memorabilia – David Bowie's orange boiler suit for the video of "Blue Jean', an Aria guitar signed by all the members of The Cranberries, a t-shirt from the wardrobe of Kurt Cobain, and the case that held Janis Joplin's autoharp.
But there was even better to come as we ventured into the hotel's snazzy Zampas restaurant. There, in a glass case on the wall next to the bar, was a simple, unimpressive-looking instrument, but one which had famously helped to blow away the cobwebs of the fusty folk and rock scene in the early 60s – a classic Hohner Marine Band harmonica, owned and played by Bob Dylan on epoch defining songs such as 'Subterranean Homesick Blues' and – of course – 'Blowin' in the Wind'.
Rock and Roll Museum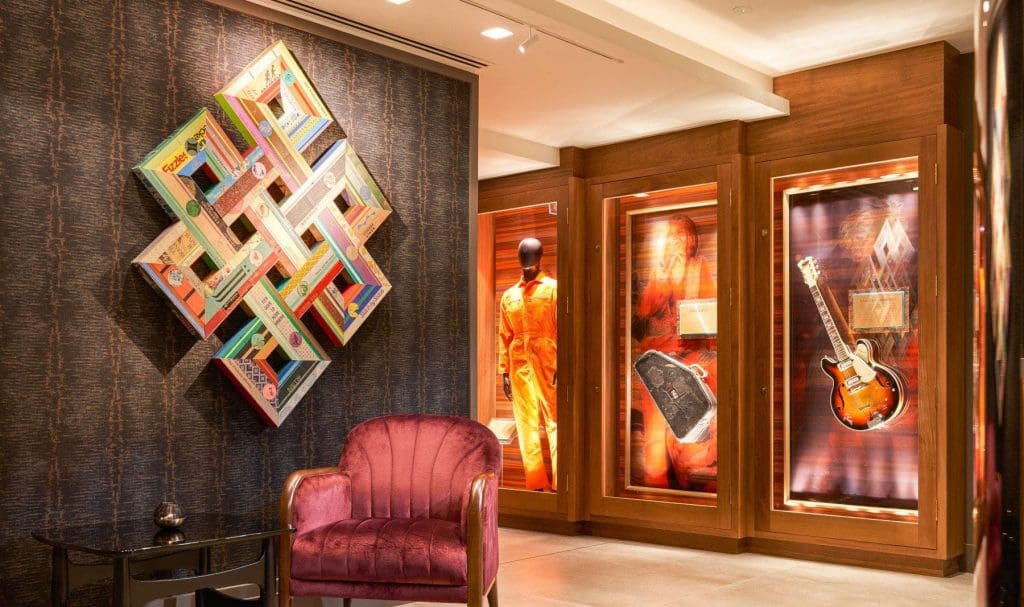 Bob's mouthpiece might have been the highlight, but we studied many more fascinating musical mementoes – numerous signed guitars, Jim Messina's banjo, Charlie Watts's cymbals, jackets, posters, programmes and much more ephemera – dotted all over the hotel. There is naturally more than a smattering of artefacts from Irish idols, led by U2, The Boomtown Rats, Thin Lizzy and Van Morrison. Indeed the hotel is a veritable rock and roll museum – it has an attached Rock Shop – all in keeping with the sound and music concepts of the Hard Rock brand (the Hard Rock Café is not too far away in the centre of Temple Bar).
But the Hard Rock Hotel, which only opened in 2020, is a franchise of the international brand, a distinct business in itself. We were staying there for three nights while we attended events at the International Literature Festival Dublin (more of that later) and explored more of the city's literary legacy.
Hard Rock Hotel Dublin
This new kid on the block of Dublin hotels (of which there are many you would rate excellent) is a breath of fresh air, sassy, colourful, vibrant, with young, enthusiastic staff eager to help – none more so than the engaging assistant restaurant manager Guilherme Antonagi Bonadia.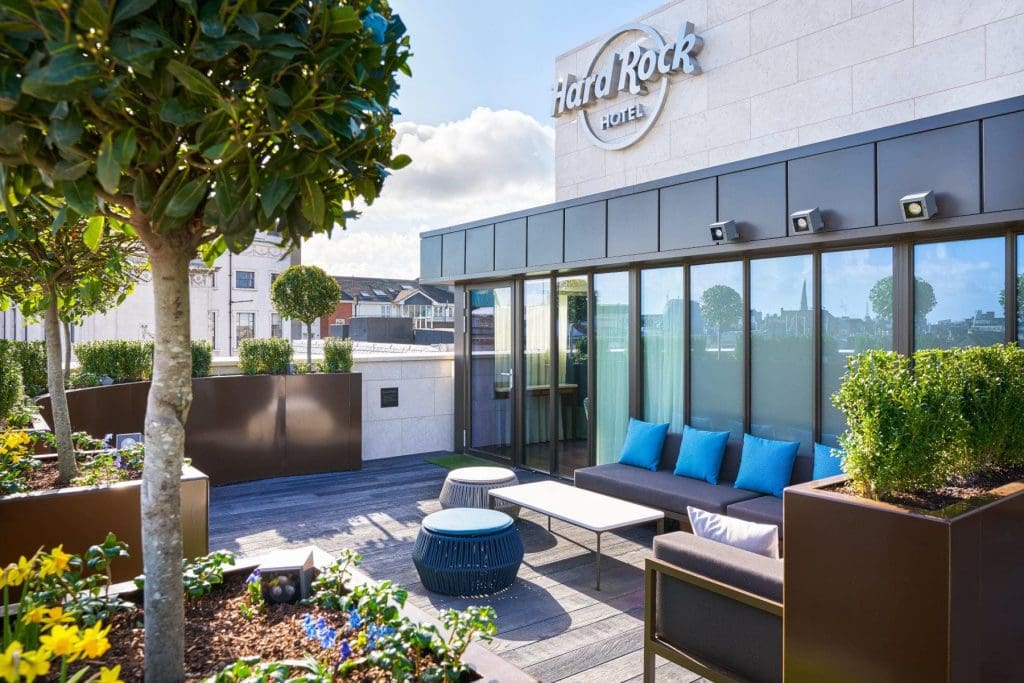 The splendid red brick building (an amalgam of the old Exchange House and Fashion House) is perfectly positioned on the corner of Exchange Street Upper and Dame Street – near the castle and across the road from the magnificent Georgian edifice of the City Hall, and right on the edge of the buzzy Temple Bar scene.
Our second-floor room (the hotel has 120 rooms and suites) had the rock trimmings too, with paintings of The Edge and Phil Lynott on the wall, and little guitar motifs on the pillows. We took advantage of the complimentary Crosley vinyl turntable to play a little Frank Sinatra – but in some rooms (soundproofed of course) you can send up for a Fender guitar to indulge in your own jam session.
But the room also met the requirement of any good hotel, to be clean, comfortable and quiet. And also – because the reverse has been the case in too many establishments we've stayed at of late – it had a waterfall shower that was spacious and easy to operate. The sleep-inducing king-sized bed was much appreciated after a day's footslogging around the capital's streets.
Zampas Restaurant and Pinocchio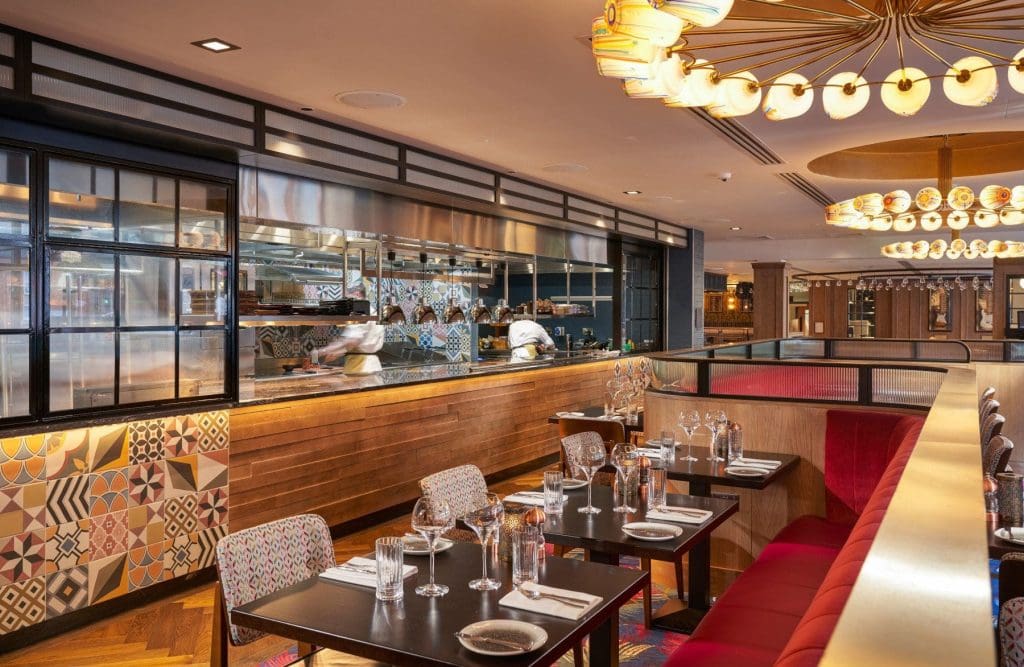 The Zampas Restaurant, where Dylan's famous harmonica resides, 'brings Lima to Lord Edward Street', presenting traditional Irish food with added Peruvian ingredients. Typical examples of this original combination might be brisket beef tacos, chicken causa or corn tostados. We enjoyed our grilled Peruvian spiced ciabatta for lunch, washed down with a dry Italian white, before we headed out for the 25-minute walk to our Merrion Square Park venue for the literary festival.
Actually, in the course of our stay, we found an excellent Italian restaurant, Pinocchio, just around the corner from the hotel. In particular the fresh mozzarella here was the best we have ever had – milky, tender and mild. The place was packed out both nights we went, and it was no surprise to learn that it also doubles as an Italian cookery school.
We settled into a routine of setting off to the festival venue mid-morning, wandering first through the lively Temple Bar area, then hugging the busy street alongside the River Liffey before making our way through the grounds of the magnificent Trinity College – even catching a cricket match one afternoon. From there it was just five minutes to well-to-do Merrion Square and its pretty park, with the slouching statue of Oscar Wilde greeting you at the first corner.
International Literature Festival Dublin
Now in its 26th year, the International Literature Festival Dublin (ILFD) featured the usual impressive and eclectic mix of international fiction and non-fiction authors, poets, lyricists, playwrights and screenwriters. As an added bonus this is the centenary year of one of Dublin's most beloved and beguiling writers, Brendan Behan, and there was an evening of song and story associated with him.
The ILFD hosts the Dublin Literary Award, which promotes excellence in world literature and – at £100,000, twice the amount of the Booker – is one of the biggest prizes in the field. This year the unexpected winner was Katja Oskamp, the 52-year-old East German writer whose book 'Marzahn, Mon Amour', part memoir, part collective history, reads like a love letter to the inhabitants of what was once the German Democratic Republic's largest prefabricated housing estate.
We listened as Katja – who was joined on stage by her translator Jo Heinrich – told the stirring story of her life, how after she failed to gain recognition as a writer she decided to turn to chiropody as an alternative profession. Her experiences with her patients in Marzhan then gave her the material and the inspiration to try writing once more, and turn their intriguing tales into a fascinating book.
It was back to rock and roll with our second event. Paul Charles, Northern Irish agent, manager and concert promoter has had an impressive list of clients – The Buzzcocks, Ray Davies, Don McLean, The Waterboys and Van Morrison to name but a few. He managed his first act at the age of 15, and his love of music and his obvious, natural empathy came across in a captivating hour, punctuated by well-known songs illustrating stories in his life, sung by a young guitarist with a lovely voice.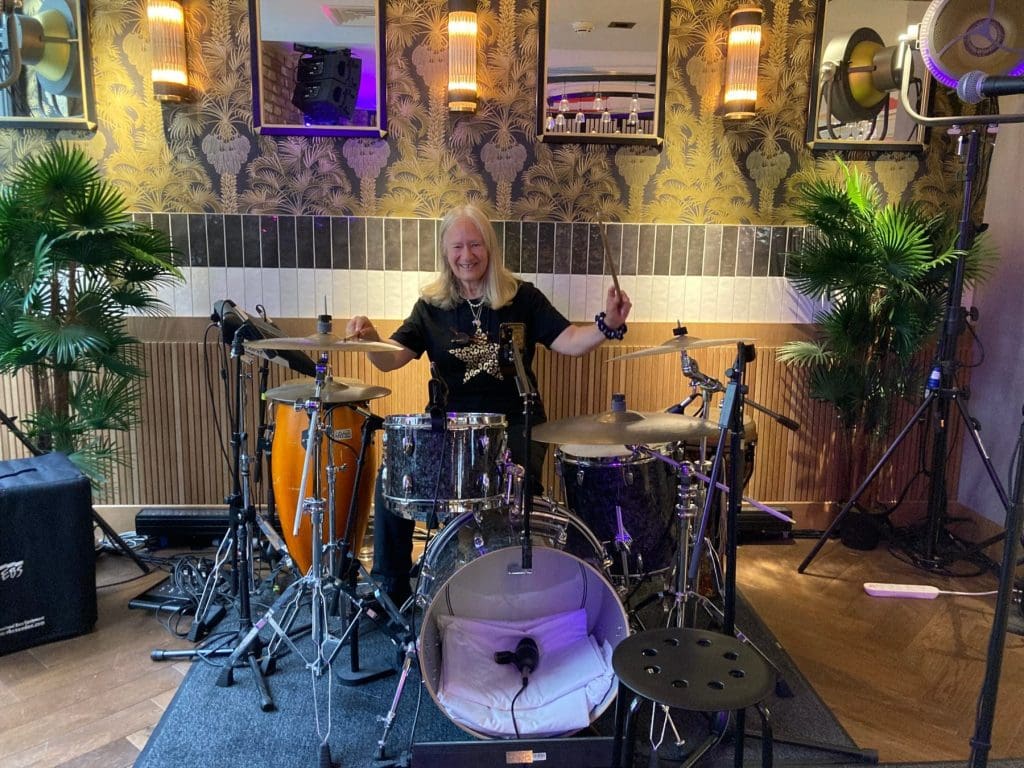 Literary Walk around Dublin
The following day we joined twelve other festival goers for a literary walk around Dublin, stopping at sites – a theatre, museum, bar and shop – which illustrated the battles some of Ireland's great writers have had over several centuries with the literary censor.
As our young guide Aisling Smith (herself an aspiring playwright) told us, Ireland once had a 'Committee on Evil Literature' (1926) and, with the heavy influence of the Catholic Church always present, superb novelists like Edna O'Brien have had to fight the censorship of a conservative state until well into the 1970s or 80s.
An Evening with Joseph O'Connor and Richard Ford
For our last night we joined large audiences for two events featuring a couple of the big beasts of contemporary fiction, Ireland's Joseph O'Connor and America's Richard Ford. O'Connor was teamed up with a gifted young Irish writer, Niamh Mulvey, in a discussion entitled 'Standing on the Shoulder of Giants'.
O'Connor is indeed a giant of world literature, with brilliant historical novels chronicling the Irish famine and subsequent emigration, the American Civil War, and – in his most recent book, 'My Father's House' – the exploits of an extraordinary Irish priest in helping Jews and allied soldiers to freedom in occupied Rome in the Second World War. Incidentally, to pursue the music theme, O'Connor has written the best book ever about a rock band, 'The Thrill Of It All'.
O'Connor was in characteristically loquacious form, as was Ford, who explained to an engrossed audience why he was bringing the curtain down on his everyman character Frank Bascombe, who first featured in 'The Sportswriter' back in the 1980s and whose exploits have featured in four more of his novels since then – 'Being Frank' the latest, and almost certainly the last.
Cruise to Dun Laoghaire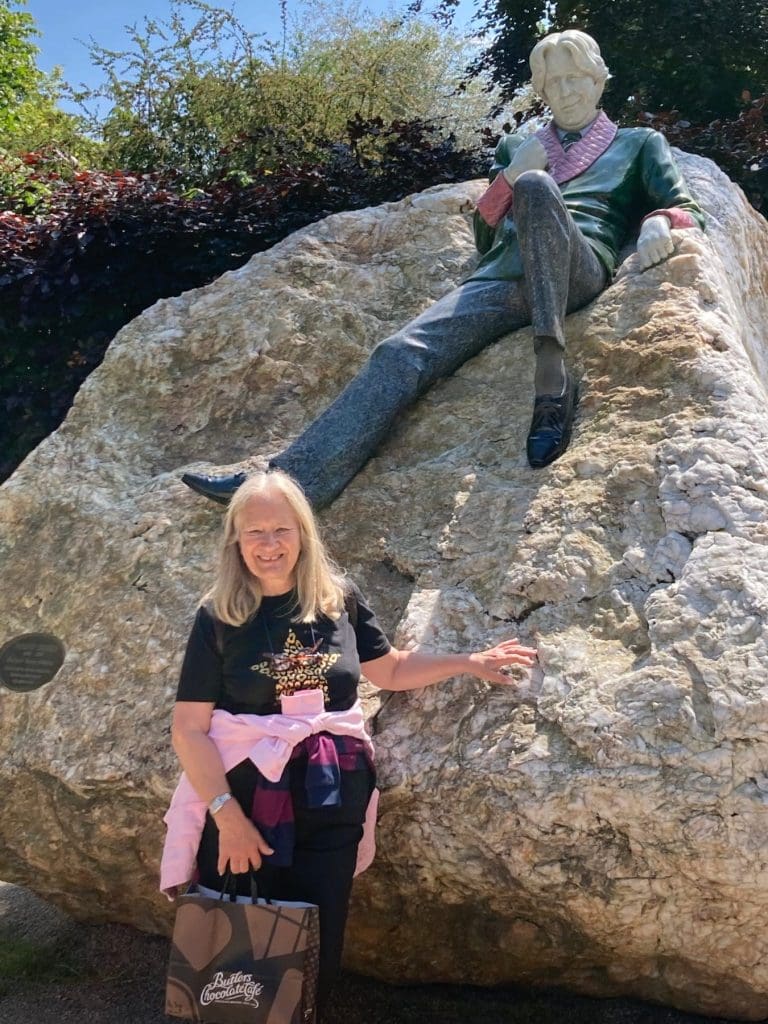 On a glorious sunny morning without a cloud in the sky, it seemed right to leave the heat of the city and head out on a Dublin Bay cruise to Dun Laoghaire (phon: Leavy). Down in the docks at Sir Rogerson's Quay some of Europe's most original architects and designers appear to have run riot in recent times. Witness the Samuel Beckett swing bridge across the Liffey, designed by Spain's Santiago Calatrava, the spar and its cables shaped like a harp, the national symbol for Ireland. Or the Dublin Convention Centre on the other bank, designed by Irish architect Kevin Roche and known to the locals as the 'leaning coke can'.
The automated female guide recounted stories of brave Irish warriors repelling the Vikings as our boat cruised steadily past the giant container ships and out of the Docklands. Landing at Dun Laoghaire, we noticed a sign for the James Joyce Martello Tower and realised there was one more literary landmark we had yet to visit.
The Martello towers – forty-foot high with eight-foot thick walls – were built along all the coastlines of England, Scotland, Wales and Ireland in 1804 in anticipation of an invasion by Napoleon. When Trafalgar (1805) stopped the little French general in his tracks, over the years they were often converted into unusual accommodation by those who had the money and the inclination to do so.
The James Joyce Tower – in the affluent village/suburb of Sandycove, full of lovely Georgian villas and fine Victorian and Edwardian architecture – never belonged to the man himself. It was the property of Joyce's university friend, Oliver St John Gogarty, who invited him to stay there in September 1904.
Joyce lasted just six days before he abruptly left after a bizarre incident at midnight with a loaded revolver. He never returned, but drew enough inspiration from his stay to set the opening scene of Ulysses here. Today it's a marvelous little museum in his memory, which includes a first edition of the great book (number 819 in the batch of 1,000) published by Shakespeare and Company in 1922, letters from 'Jim' to his wife Nora and friends, photographs with friends and family, his plaster death mask, his guitar and a tie he gave to Samuel Beckett. If you can make it up the tight winding stairs to the gun platform at the top, the 360-degree view is spectacular.
After a tasty meal in a Thai restaurant on Sandycove's attractive, bustling main street, we took the little DART train back to the city. It was our second visit to Dublin in eight months, but rest assured we will be back again soon.
---
Hard Rock Hotel Dublin
If you would like to stay at the Hard Rock Hotel Dublin, click here.
Further Dublin Travel Reading
Follow Roger and Eileen as they visit the Land of James Joyce and Literary Giants – Travel Begins at 40. Or follow Mark Bibby Jackson on his Things To Do in Dublin in 48 Hours – Travel Begins at 40.
Roger Hermiston Eileen Wise
Roger was Assistant Editor of Today on BBC Radio 4, while Eileen headed up the global PR for The Economist and Reuters. When not travelling near and far, Roger writes narrative 20th century history books such as 'The Greatest Traitor' and 'All Behind You, Winston', and Eileen now works as a counsellor from their Suffolk cottage. They have a remarkable menagerie including a pony, two donkeys, three cats, two peacocks and a guinea fowl.